I can recall the day when I lost sight of my dream.
Today, while skimming 360 magazine for its feature story on cover girl Sanaa Lathan, I came across an almost missable "spotlight" feature on rapper Dej Loaf. It included only one quote from her:
---
I think back to when I was hating my day job but promising myself something was going to come from NOT giving up on my music. I want to represent Detroit well and give hope to others out there just like me. My lesson is: Don't get comfortable in something you don't like. Dream big. And write it down!
That stuck out to me in a major way. And here is why:
As we get older, the worlds between our reality and our imagination tend to grow further apart. I remember when I started my first real job at the age of 16. I worked in a huge department store called Marshalls and to this day, it is the most physically demanding job I've ever had. I was a sales associate who worked everything from the fitting rooms to the "floor" (which was always painful because Marshalls is a retailer of both clothing and home furniture items and at a petite 5'2, it was not fun moving misplaced items back and forth across all that square footage of space). It was also horrific doing price checks for items that would-be thieves would switch the tags on. You would think that a place that sells designer clothes at cut-rate prices would detract  theft but nope- many Marshalls' shoppers wanted their stuff for $Free.99 or as close to it as possible and their sticky fingers made my teenage life a living retail-hell.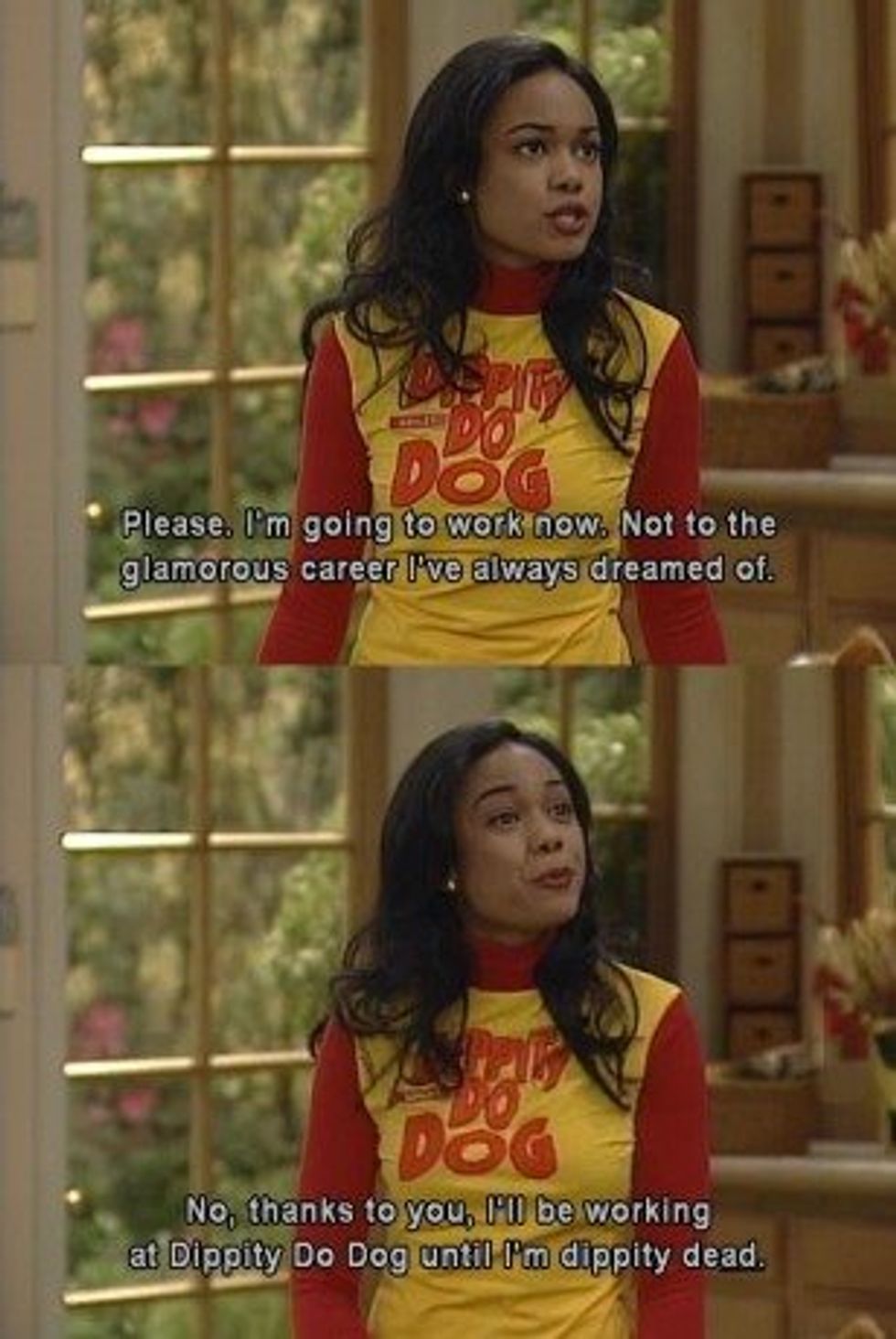 But one thing I will say, in-between adjusting my adolescent body to sleepless nights (I'd work there straight after school and into the maxed labor-law hours of 11pm for minors, and then do homework into the wee hours), and my aching arms and legs, I was always super upbeat. As a matter of fact, I used to pass time at work daydreaming about how the burden of Marshalls was a blessing in a disguise- it was teaching me what I absolutely did not want to do for the rest of my life, and I was grateful to have learned this lesson on life now than later. See, Marshalls couldn't buy my precious petite, Sweet 16 soul at $6.15 an hour- no ma'am. And although back then (and to this day) I'm not  above making an honest living, I would not accept living a life that wasn't for me. And what wasn't for me was spending 3/4's of my week on my feet moving around but still not making "moves," if you catch my metaphor.
[Tweet "I don't mind working hard, but working dumb?? Miss me with that."]
Later in life, I'd go on to always work honest jobs- retail, food, office, hospitals- you name it. While getting my other satisfaction in life for free- my degree and my unpaid-to-paid position in radio as the head of promotions. I would later graduate and move to New York, find some work to get by before landing a job as the Editor-in-Chief of a Hip Hop website that paid me $42,000 a year (not bad for fresh out of school, with no kids and catching a 'steal' on rent for my apartment.) I was living the life.
And then it happened.
I would later lose my job as an editor due to downsizing and I'd be thrown back into the work industry. I snagged a job as an assistant manger of a restaurant and thought, "I'll just grind and look for my dream job in the journalism world on my off days." But that was impossible with my hours. Constantly on call, I later got caught up in making a buck-- heck, I needed to. I was no longer daydreaming really but rather, accepting my life for what it wasn't. I enjoyed the little free nights I did have off to either sleep or just meet co-workers for happy hour. Happy hour didn't require much dress up or make up and was the perfect downtime  between my rarely seen bed and the next rigorous day of work. But then it hit me one day:
[Tweet "I came to New York to make moves but now, I simply just "moved" to New York."]
Oh no. I had become that girl. Customers at my job would tell me "Girl, you should be on radio. That voice!" "You're such a people person, you need to do entertainment." "Do you want to be a reporter or something?" My responses: "Thank you!" "Maybe, you never know!" "Yes, I do want to be on TV one day..."
I would amuse some of my staff with stories of my career in radio and entertainment as if it were ages ago versus just a year ago. When we played music during closing hours, I'd say "I remember interviewing him. Favorite interview ever," "She is so sweet in person, you'd never guess it," Etc. And they'd ask me "Really? So what are you doing here?"
Even I didn't know anymore. Until I realized:
[Tweet "Comfort became a crutch. I grew used to what I hated but it's also what I knew."]
And there was comfort in that too.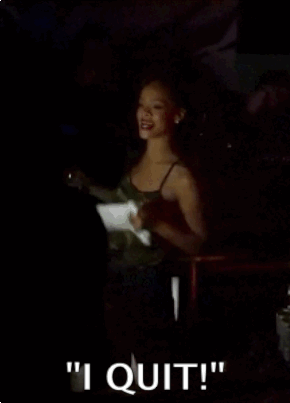 So after 6 months, I put in my two weeks notice and I quit. I moved back home with my mother for the other half of the year. Not being one to "not work," I made looking for a job, my "job," except this time, I focused solely on searching for my dream career. I'd lost track of my life but I was determined to get back on course. I made sure when I searched for work, I searched for those positions made solely of my dreams, not my desperation.  I woke up early and went to Starbucks or Dunkin Donuts five days a week, 6-8 hours a day. I only took my "lunch break" once I reached a certain quota of resumes and emails sent for the day, and went in with it!
After over six months of applying for work at posh media offices and digital outlets I fantasized about working for, I got a response from my employer now, Necole Kane, and ironically, it was to work on a new site that she wanted to launch "xoNecole."  It was only in the planning and beta-stages at that moment. Since she needed more help with the gossip site she was running at the time, I found myself working for NecoleBitchie.com instead and made myself extremely flexible in my roles. I'd do everything I knew how to do (even transcribing videos daily) and learned everything I didn't, only asking Necole for help as an absolute last resort.
I remember working my first job for her-- the red carpet for the TLC biopic for 'Crazy.Sexy.Cool,' and her later telling me to bill her for an invoice that was the same rate I once made in a day's work in just one hour. I was so uncomfortable with doing so since I felt I owed her for the experience- so I told her "I'm fine! I had so much fun- really, I did." Necole laughed and told me "No girl," while instructing me to send my invoice over and that business doesn't work like that. It was a huge lesson for me on getting paid what you rightfully deserve and earn- plus a lesson on "When you're doing what you love, it never feels like work." I was so humbled and grateful to say the least (thanks Nik!) The crazy thing is, 18 months later,  I'd have the opportunity to be a part of xoNecole when it finally launched!- just going to show that everything that is meant to be will always come back around full circle.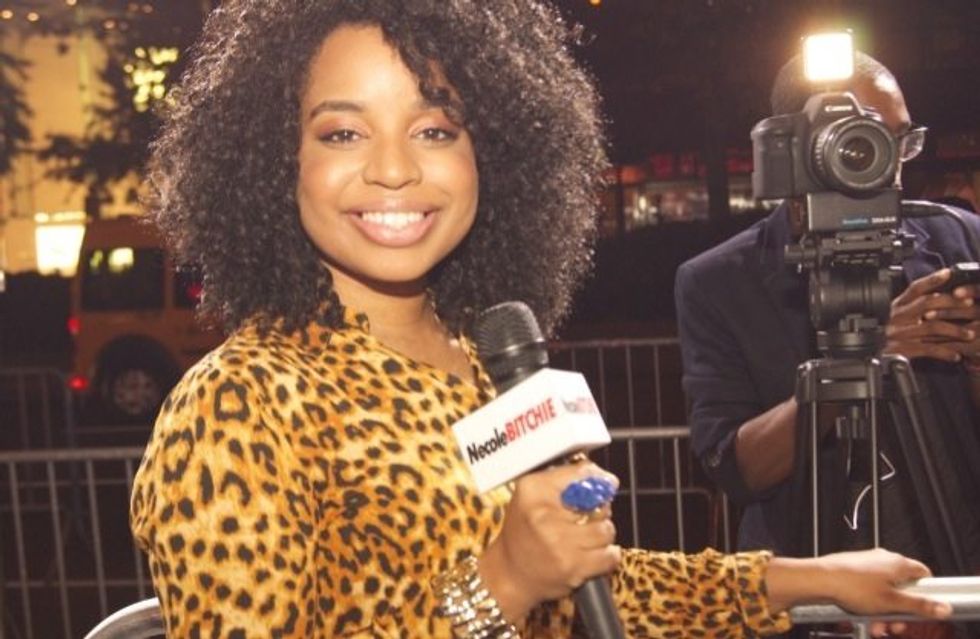 Dej Loaf's quote is so dope because it shows you the dangers of settling for what you know in exchange for going for what is new. When she said "Don't get comfortable in something you don't like," it really resonated in me. Comfort is often failure disguised from stopping us from being our best, so be weary!
Push harder. Dream big. And never give up in the final hours of hard work. There is magic in the last minutes- so don't you dare stop dreaming for one second!