Many of us are faced with a rush of insecurity when getting undressed and have to face ourselves in the flesh.
I, for one, have struggled with body image for years–coming to terms with my thick thighs that rub together pre-pregnancy and accepting larger boobs, post-two babies. Years ago, I hated the thought of being intimate in the nude and I refused to purchase full length mirrors because I dreaded the sight of my body. But in witnessing the progression of body-positive photo campaigns and being introduced to models that celebrate curves, I've been on a long-term journey of self-acceptance. I also celebrate and respect those who find confidence in the skin they're in.
---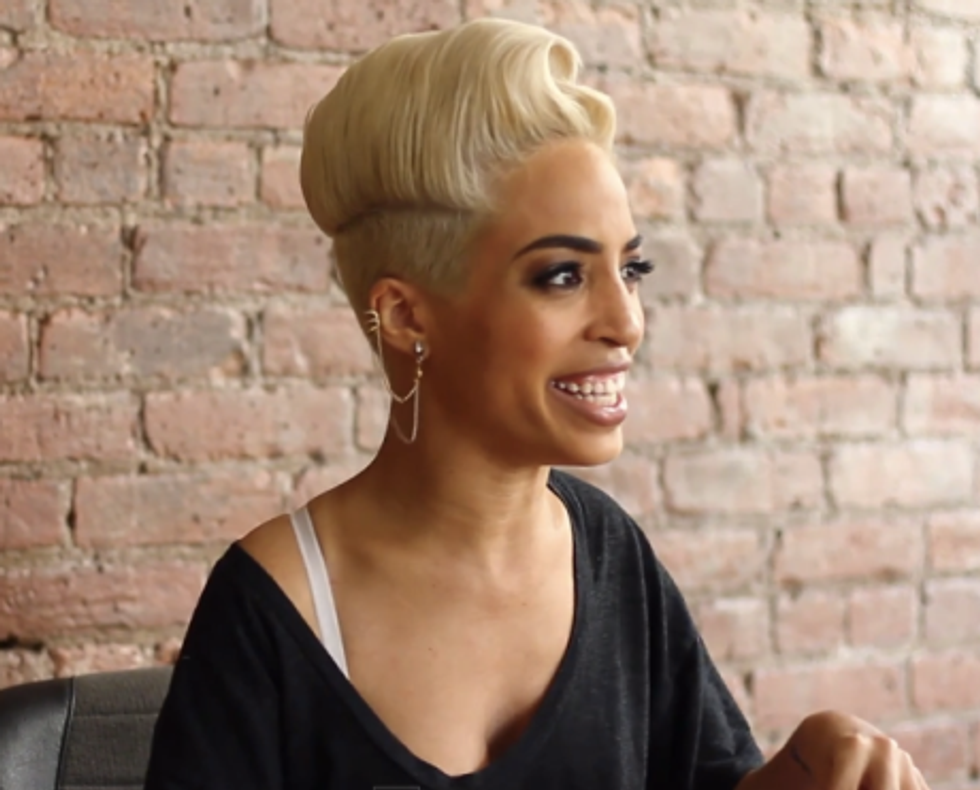 I logged onto Facebook this morning to find a video of Diesel model and executive editor of "We the Urban," Jillian Mercado, as one of the many participants of the "What's Underneath" web series. Created by Elisa Goodkind and her daughter Lily Mandelbaum of StyleLikeU, the project came to life in hopes of having women from all walks of life discuss their personal experiences with body image, acceptance and style. Although I'm pretty late on the series, I was captivated by the start of the videos:
We asked a select group of individuals to participate in a project in which they will remove their clothes to honor how style is not the clothes you wear. It is not about wanting to be someone else. It is knowing who you are, it is comfort in your skin. It's what's underneath.
Mandelbaum tells TODAY.com, "The primary objective of the project is to empower people to realize that true style is not about money, trends, Photoshopped imagery or a singular ideal of beauty. By asking people a series of intimate questions about style, body image and self-expression, while simultaneously having them remove their clothing, we want to show people that true style is about the authentic person inside the clothes, their confidence, their spirit and their willingness to express themselves honestly."
Mercado is introduced and is asked what her style says about her, to which she responds, "confidence." The interviewer delves into questions about her disability and Mercado's certainty in who she is plays a part in each answer that follows. Diagnosed with cerebral palsy and later, muscular dystrophy, Jillian Mercado removes articles of clothing after explaining how she expresses herself, her insecurities, vulnerability and self-beauty.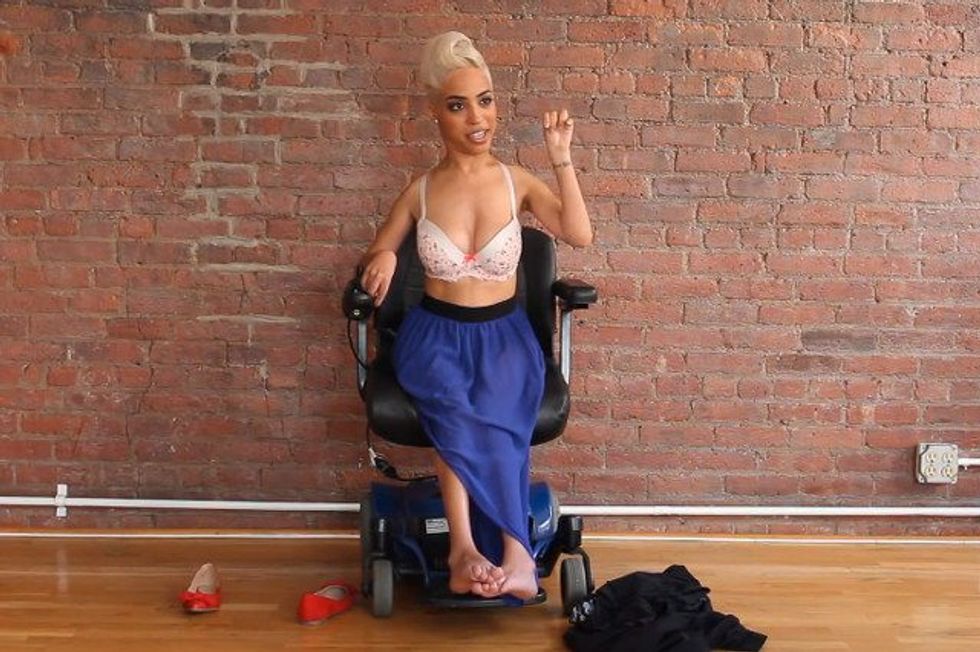 Interviewer:

Can you talk about the biggest insecurity that you had to overcome?

Mercado: Yeah, actually, showing my legs. Being in a skirt right now is like, "What?"

Interviewer: Do you ever feel insecure of going out, and like going to pubs and stuff like that?

Mercado: I actually get mad when people question why I go out, even the simple notion of dating People are like, "What? But how?" So they have to be careful. It's almost like I am an art exhibit or an alien.

Interviewer: Can you talk about when you feel the most vulnerable?

Mercado: When somebody pushes me, like literally push, in like the chair. Today I brought this chair. I have this other that's a manual chair, that I can't push myself, but somebody pushes me, and that's where I feel my most vulnerable. Even the simplest thing as going to the kitchen, or the rest room, or my room, wherever, I have to ask somebody, and I'm not really used to asking for anything.

Interviewer: When do you feel the most beautiful?

Mercado: When I went to Venice, I went for a fashion show, and right out the airport it's my billboard for the campaign I did, and I was like, "Whoa, I look so beautiful there!" It's always really hard to just look in the mirror and say, "Wow, I'm so pretty today," but I think that moment kind of triggered something.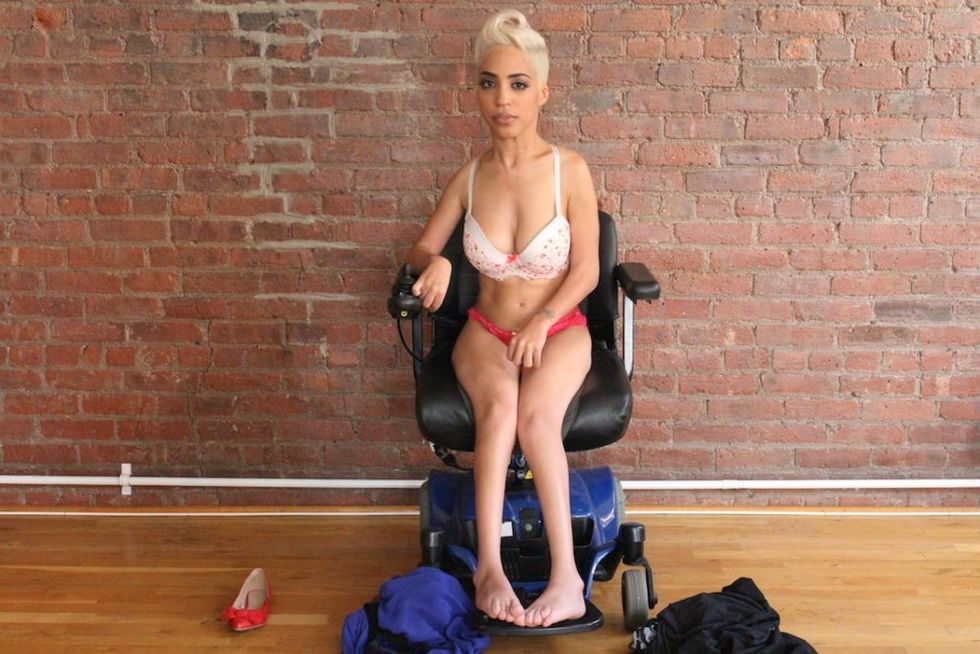 I sink more into the video as Jillian Mercado sits upright and glowing in a wheelchair, in nothing but her underwear. She closes with a simple gem that'll be prevalent for years to come when the interviewer asks her why it's beautiful and perfect to be in her body and skin.
"If you have big boobs, embrace it. If you have big thighs, do it. I mean, it's really boring to see the same people, so if you're different, that's sunlight in somebody's world."
[Tweet "My perception of my body hindered me from opportunities, leading me to believe that I wasn't worthy..."]
My perception of my body hindered me from opportunities, leading me to believe that I wasn't worthy of having certain things. Even last weekend at a banquet, I struggled with getting into a dress I ordered and had a moment of discouragement and self-loathing. But Jillian's words–no matter how many years ago they were recorded–resonated with me this morning. The assurance she felt within herself and her response to how she turned her struggles into strengths ("I'm not going to sit in a corner all my life, just crying about something that I really can't change") reminded me of my abilities to make things happen, regardless of my appearance. Sometimes, we may think we have it worse than the next person, but Mercado's proclamation of being different and the light that comes with it is an affirmation that our uniqueness is found in diversity; what matters is what's underneath.
If you didn't think you could make magic happen this week, watch Jillian Mercado strip down confidently with a disability, and be encouraged.
You can find more inspiring videos from the What's Underneath project here.