Jasmine Sanders and I have two things in common. One, we both rep the South. Her hailing from the Columbia, South Carolina, and me just three hours north from a state made semi-famous thanks to Petey Pablo and his infamous anthem "Raise Up." Our other commonality? We both had this silly thing where we rarely showed our legs up until high school, hiding the scrapes and bruises of active lifestyles behind pairs of jeans—mine on a short and pudgy frame, hers on a tall and slender one.
---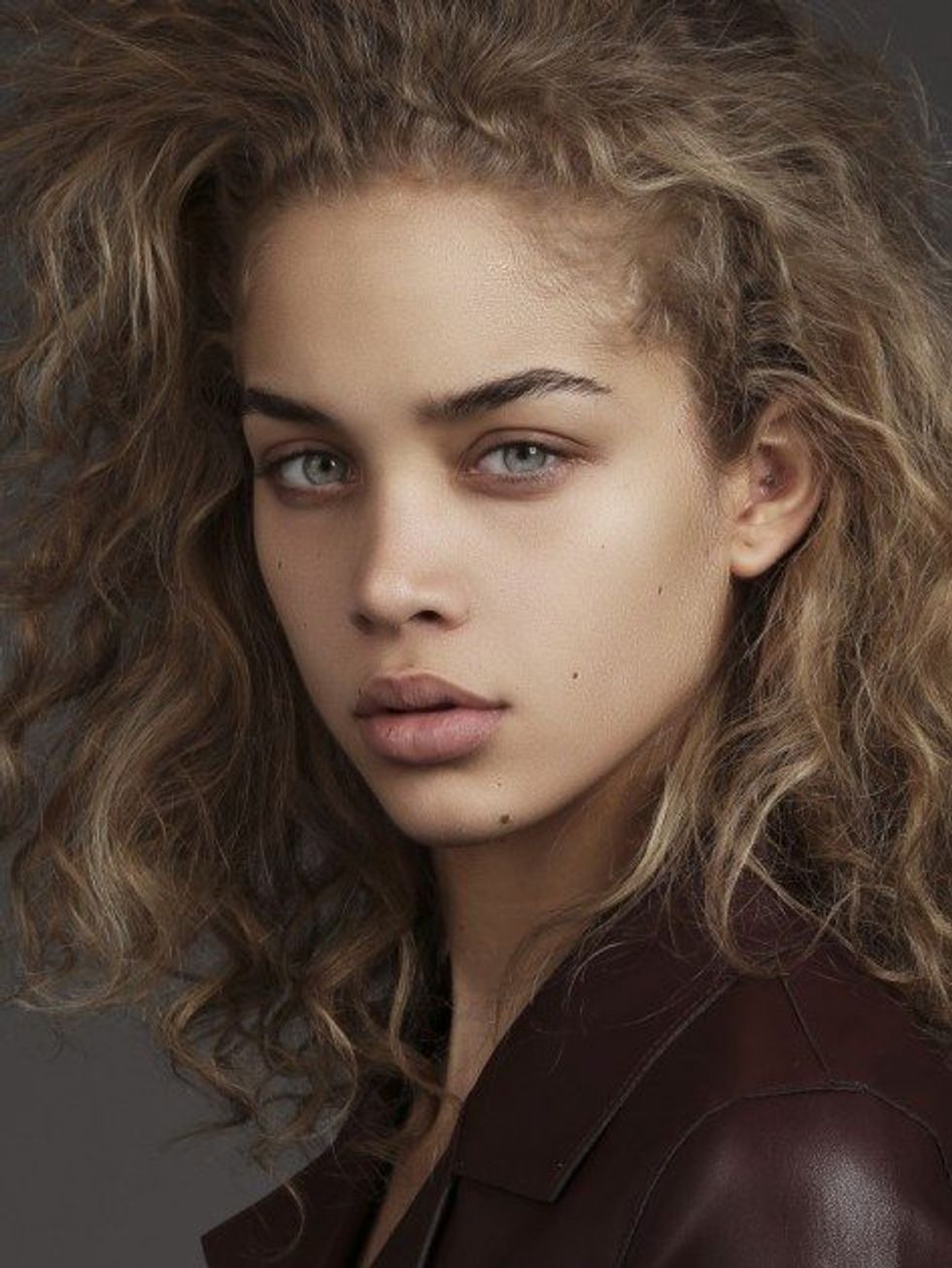 "Now you can't keep me out of shorts. It's hot, I'm in LA," she says, both of us laughing as we think about how far we've come from our childhood insecurities. Thank God for growth.
To the world she's the "Golden Barbie"—a 5'9 model with cascading blonde curls and creamy skin who has been captured by famous photographers such as Patrick Demarchelier (at the age of 14), graced the pages of Vogue, Seventeen, Lucky, and Galore, covered the walls in Forever 21, Charlotte Russe, and Aldos and graced the billboards in Times Square. Her pouty lips hold an occasional smirk that suggests something sensual lies behind her blue eyes, maybe even a little wild and free. But to her family back in South Carolina she's Jasmine the tomboy, who at the age of 13 traded in cleats for a pair of heels when family-friend and agent Sheilah Dixon introduced her to modeling. "She was the first person in the industry to believe that I can take modeling further than what I ever expected."
She's referring to being in an industry where your paycheck is often determined by your look. Let her fans tell it (1.3 million on Instagram), she's the dream girl of many. An exotic mix of German and Black with hints of curves unusual for high end models, but perfect for those of the urban nature. Yet Jasmine remembers a time when many prospective clients dismissed her look. While most teenagers spent their adolescent years fighting for the approval of their peers, she was battling insecurities brought on by those twice, sometimes three, times her age. Summers in New York meant spending hours in front of clients being critiqued and criticized on everything from her weight to not being Black enough or mixed enough to capture a certain image. She cried a little, then her resilience kicked in.
"You had to shut down your emotions. I had to learn to walk into a room and have 10 interviews a day, 30 minutes each back-to-back and have them look into my photos and dissect me and tell me if I was a good or not. I had to really register that it's not if I'm good enough, it's if they want me for their actual job. I don't have to be their look."
[Tweet ""It's not if I'm good enough, it's if they want me for their actual job." "]
Having her mom during those first few years of her career where she was jetsetting to New York and Paris at any given moment was crucial to her emotional development.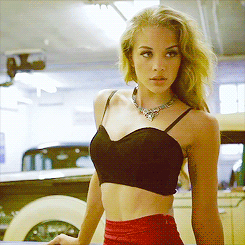 When things got tough—when the weight of not being "good enough" was too much to bear—Mama Sanders was there to offer her a shoulder to cry on. "She's my best friend. I needed somebody to be there when I did break down. I needed somebody to be there when I might not be comfortable as the girl next to me that's 16 and able to jump into a bikini in two seconds."
As her portfolio grew so did her confidence.
Looking for a change of scenery, the Southern bred model moved to LA and began booking back-to-back campaigns with clients such as Forever 21 and Bebe, as well as more urban brands like Nike. But becoming the face of billboards also came with unwanted attention.
"Half of the people that they say I dated I didn't at all. I have a black dad that was in the military and raised southern, and he's not having me run around with half of these rappers who ya'll see me with. Obviously I was there for a reason or hanging out. It's too much."
The rumors have faded and all that matters is what's real. For now, that's her relationship with former E! News Host Terrence J. The couple have been dating since March but took their relationship public this past October.
Related Post: From Homeless to Hollywood: How Terrence J Turned His Dreams Into Reality
In 2010, she was linked to R&B artist Chris Brown, who confessed in an interview with Angie Martinez that the couple was dating, but not officially together. Then there was the supposed kiss with Rob Kardashian, the one-night celebration with Jeezy, and the love affair with Nick Cannon. In the court of law there's not enough evidence to convict her of her love crimes, but in the world of media and entertainment, speculation without solid proof kept the model in the headlines.
Not only was she catching heat from the press, but even her fans had a few unwarranted words about her weight after noticing that she was no longer rocking her baby fat. At 22, she learned that she had a dairy allergy. Eliminating the food group caused her to lose weight and catch the attention of blogs and fans who accused her of having an eating disorder.
"Honestly, it hurt my feelings. And then seeing fans say stuff like, 'I don't want to follow you because of this.' You always have to look past it. There's always people that are still pushing for you, but I feel every other girl's pain. Just like you can't go around calling somebody fat, it's not nice to go around calling somebody too skinny. You never know the situation."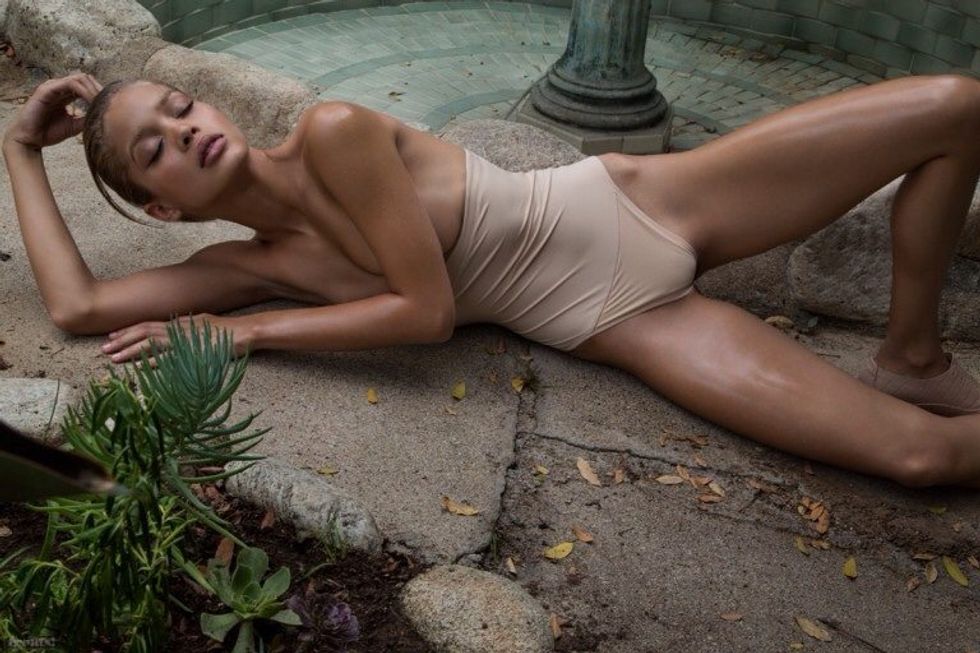 Jasmine Sanders for Treat Magazine
[Tweet ""It's not nice to go around calling somebody too skinny.""]
Despite the rumors and the backlash, Jasmine continues striving to not just be a pretty face, but a memorable one. At one point she was deemed an urban model, but says that she tries to find balance between being in urban and high fashion. The biracial beauty looks to break barriers in the fashion world as a face of the new generation—one where racial and ethnic lines are blurred. "I'm just happy to see clients that normally go in a certain box break out of that, because it's been so much of the cookie cutter, everybody looks the same, and I'm like the world is not going to be like that. Look and see how many people are mixed up now, you have to sell to everyone."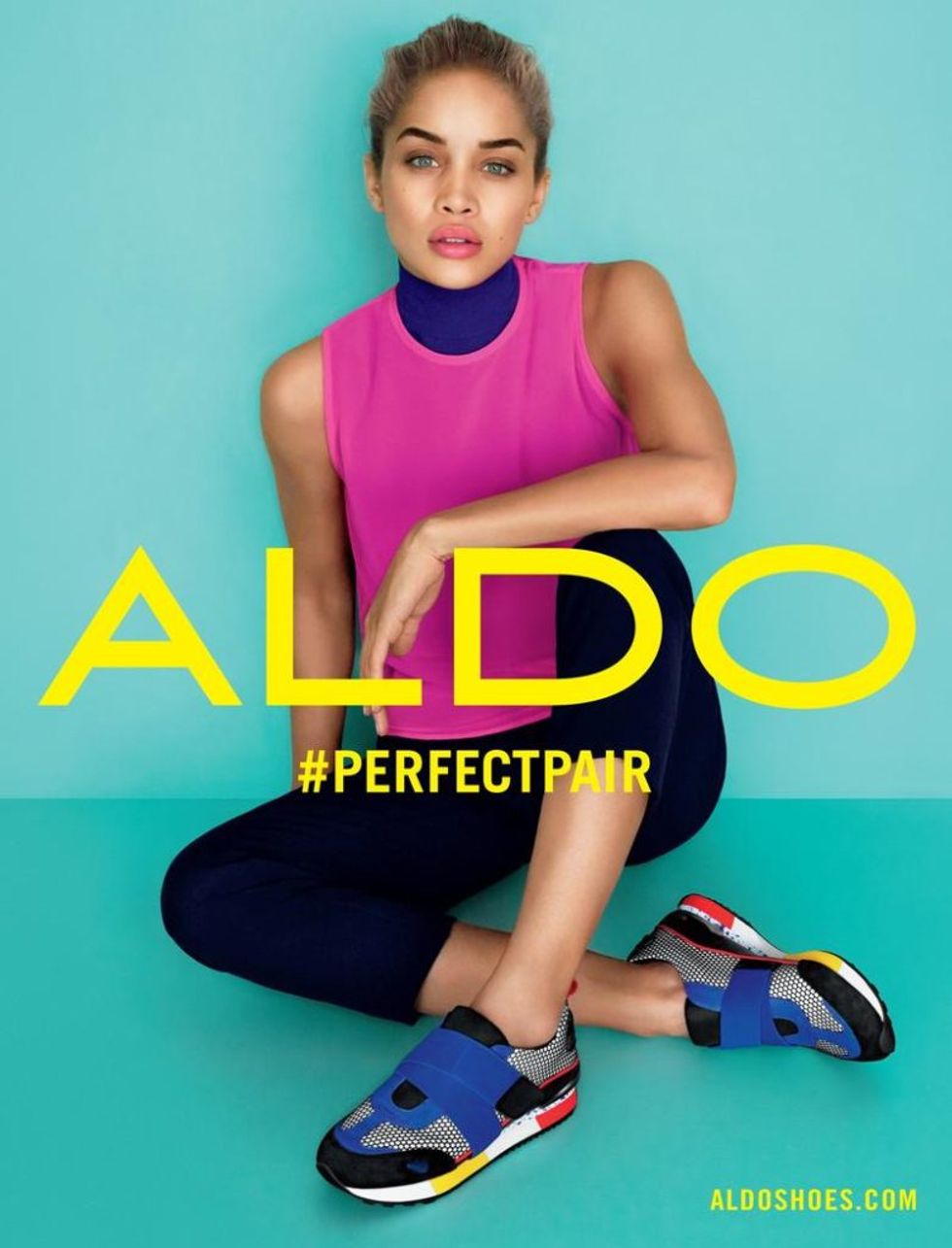 It seems that years of watching her idol Tyra Banks switch her hips down runways is paying off. At 24, a young Tyra was doing high fashion photo spreads and breaking barriers as the first African American model to cover Sports Illustrated. At the same age, Jasmine is in the process of creating her own legacy. She shares a recent experience that she had with an Aldo store manager who came up to her in the Beverly Center and thanked her for representing their product. "He's like, 'I'm happy to see somebody that looks like other people that we see shopping here.' To be one of the girls to change the look for Aldo, I feel like their campaigns were going a certain way. I feel like not just for me, but I feel like they got a lot broader with what they were doing."
Not every opportunity is the right fit though, and she's very particular about what clients she chooses to work with and products she endorses. Everything she says "yes" to is a reflection of who she is and what she represents—a glam chick who also likes to rock Timb's and Jordan's. "I'm constantly trying to better myself or go in the direction that I feel is what I want to represent," says Jasmine. "I feel like this year has been a good transition point for me, I've been able to show every side. I'm trying to break out of the athletic fitness and urban box and show people that I do a lot of beauty stuff, I do high fashion—I just had Vogue post about me yesterday. Those opportunities are the ones that I'm excited about because everything that I do isn't always glorified."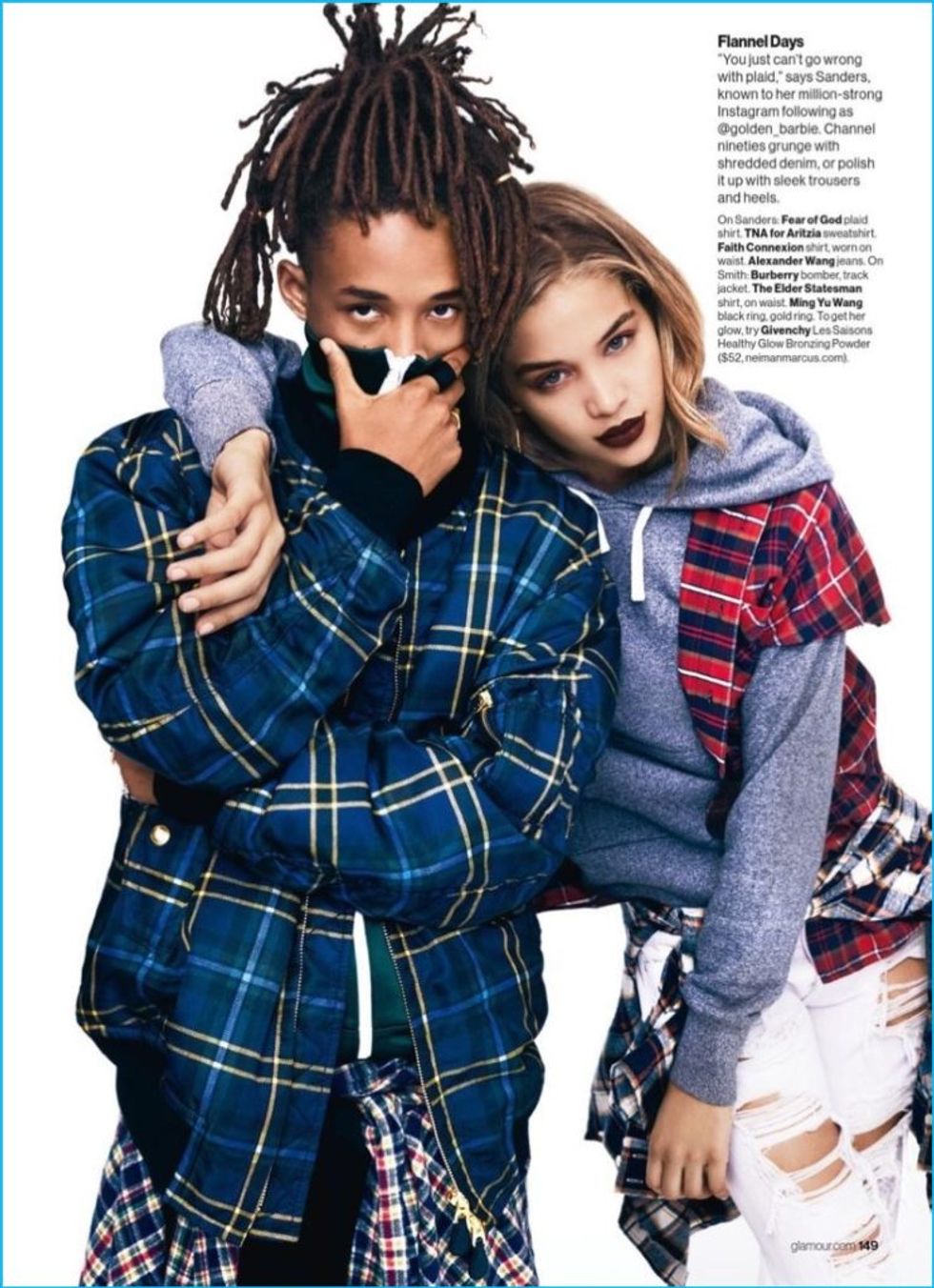 The pressure of having all eyes on her can sometimes be overwhelming, but keeping a group of badass chicks around her keeps her grounded. When the Golden Barbie first touched down in the Golden State, she struggled to build genuine friendships. She was too nice, too catering, and too uninterested in the party girl lifestyle of many of her peers, but soon found a solid sisterhood amongst fellow boss ladies Raye "Raye Raye" Boyce and Massy "Mankofit" Arias. "It's very sketchy to have certain friends. Me, Massy, and Ray—that's the crazy three musketeers. We're all workaholics, but when we all sit down and stop and finally talk about boys and stuff like that, everything gets good. We like to have fun and goof around and everything."
While she's not exactly singing "no new friends," she's very much one that's loyal. On any given day you can find her kicking back with her besties from middle school, whom she says she can't operate without. What you won't find her doing is posting every moment of her life to the 'gram.
"I [still] can't believe I have people who want to look at me like that. I feel like I'm boring. In my real life I do stuff, but I'm not one to take pictures of everything. I just asked Philip can you take pictures of me? He's like for what? We're regular."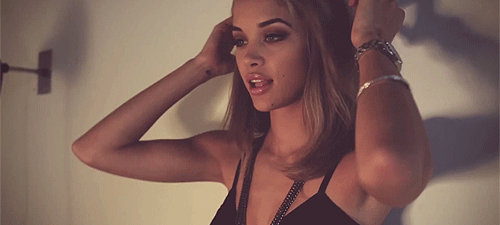 To her millions of fans, regular may not be the right word, but humble certainly is. Being strong in an industry built to both cover up and expose your flaws certainly keeps her ego in check, and on the journey to becoming America's next top model, being a woman who knows herself is just as important for survival as being able to step back and take care of herself.
"We're always having to be strong, you always have to have that mask on and take care of everybody, but you have to know that sometimes you need to be taken care of. To break your wall down, and talk more, read, vent, listen to music, and meditate. Because if you're not centered and taking care of yourself, you're not going to be able to take care of others."
[Tweet "If you're not taking care of yourself, you're not going to be able to take care of others. - @golden_barbie"]
Wise words.
Catch some of Jasmine's amazing photo spreads and ad campaigns in the photo gallery!