No matter where you live, dating and trying to find a person you click with is a tumultuous, and sometimes trying journey.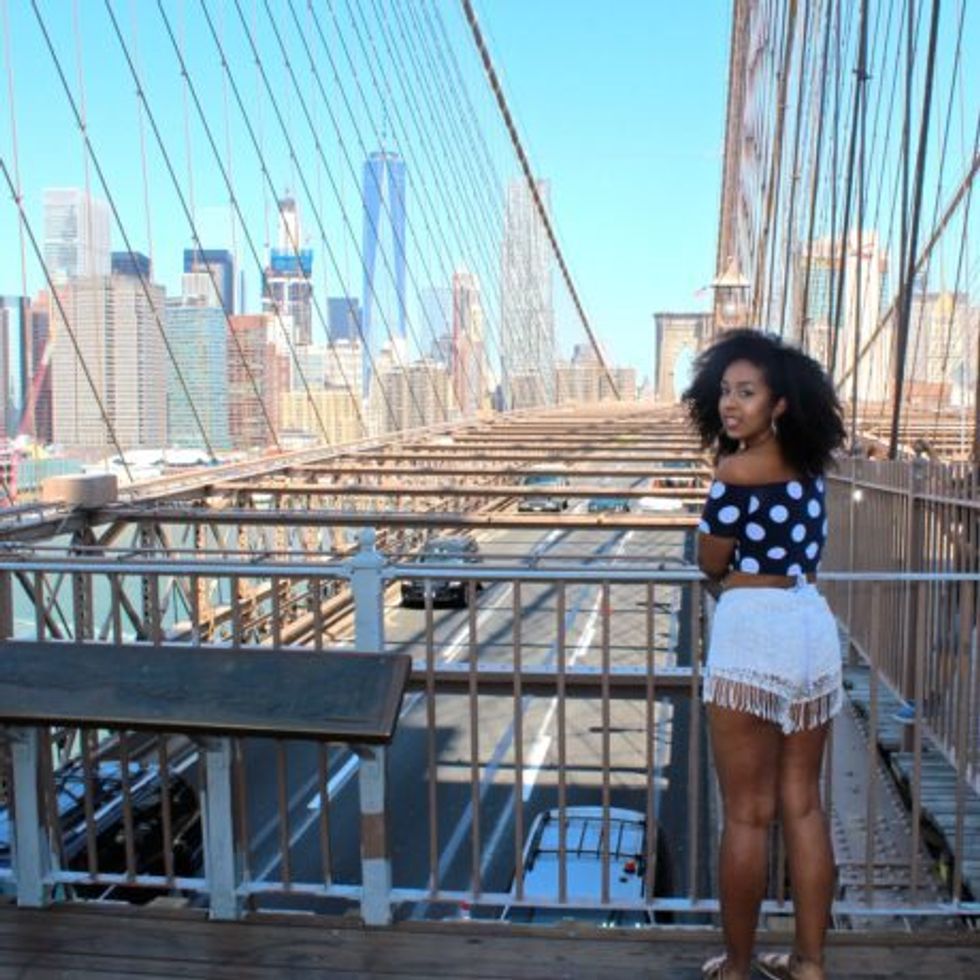 Dating in NYC was actually way better than London
---
But, for me, growing up as the only black person in my family seriously influenced my dating preferences and how I presented myself to the opposite sex. The past 10 months of traveling, however, has helped broaden my tastes, date people within my race (for the first time), and, in the process, truly accept who I am.
Up until I began traveling 10 months ago, I'd lived in London my whole life and never really connected with any guy there.
I'd had one serious boyfriend (from NYC) and lots of semi-serious flings but I've never been in love.
So when I left my city, a small part of me kind of hoped I'd also meet the man of my dreams underneath a swaying palm tree on tropical island somewhere or, on the spiral staircase of a cosy hostel, like in the movies.
I didn't.
But for the first time in my life I've begun to date men who look more like me: I've starting to date black guys. And although I haven't fallen in love with any of them, I have fallen more in love with myself  because of it, this past year.
[Tweet "Dating black men has helped me fall more in love with myself."]
For me, dating black guys has helped facilitate a transition from self-hate into self-love. And it's not because they were any "nicer" than my white exes or even that I felt more comfortable with them. Rather, I've just chosen to embrace an aesthetic I previously ignored -- because I previously didn't accept my own appearance.
Some Background
As I've previously written, I grew up denying my blackness because that's what I was taught. My upbringing was within an exclusively white community and my white parents explained that I was a "genetic throwback" to cover up the issue that was staring us all in the face: that my Mother had an affair. I was told repeatedly that I "wasn't black" and suffered silently with identity issues and persistent feelings of alienation. So it's no wonder then, with all that denial, coupled with the fact all my male role models were blue-eyed and fair-skinned, that this also became my default "type" when seeking a romantic partner.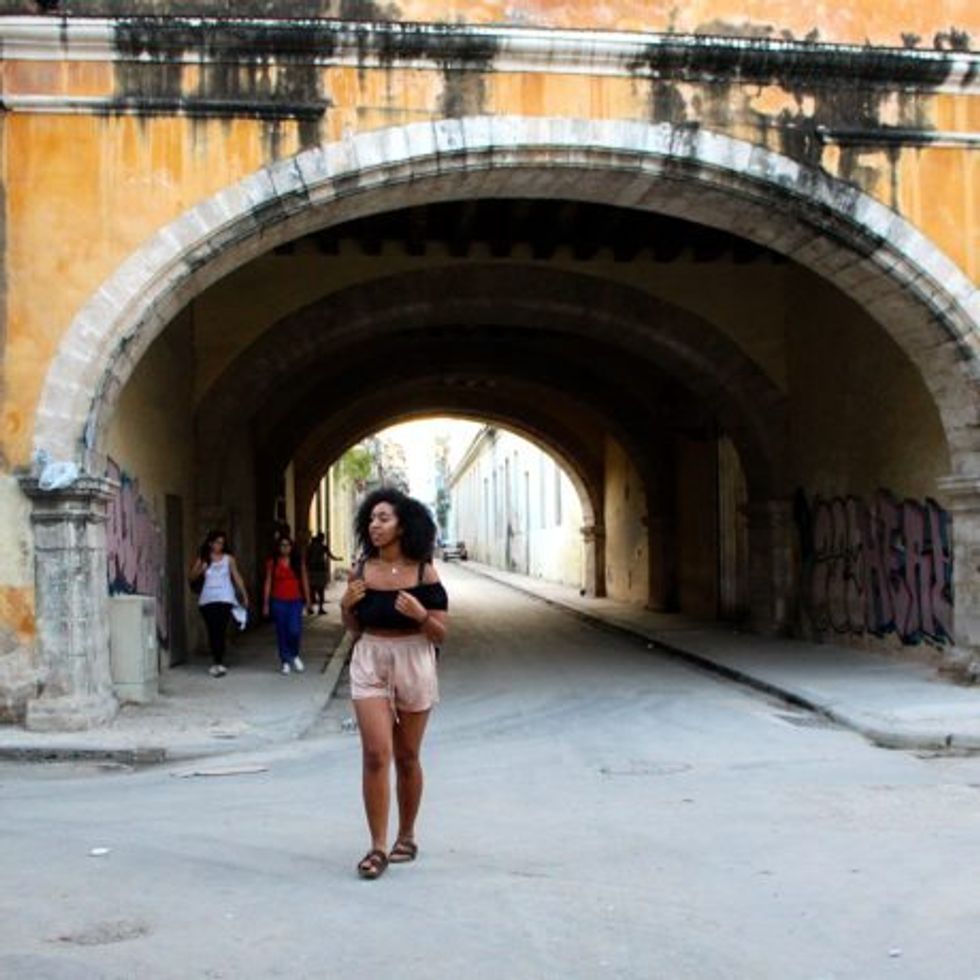 As a teenager in London, I resented the way in which black and brown men approached me more frequently than my all-white group of friends. Mainly because I didn't see myself as black or brown and culturally, I was also very white. When talking about the issue with one of my best friends at the age of 17, I remember her saying, "Don't go for a black guy, you can do so much better."
It was confusing. But for a long time, I actually believed this.
Although I could see I wasn't white, blackness -- and by association, black men -- represented an ethnicity that I knew nothing about and so, I shunned them. Up until the age of 20, I had lived in one of the most multi-cultural cities on the planet, but had only ever kissed one or two people who weren't white. And I'd never slept with anyone other than white guys. Although my parents never, ever espoused any kind of racism and would have been happy with whomever I brought home, I didn't want to be marked as even more of an outsider in my community. So, I opted for freckle-spotted, milky-skinned men, like the ones who surrounded me in England and Ireland.
I was embarrassed that black men could see what I always vehemently denied: that I was one of them.
Then last year, it was confirmed that my real Father was black. And after the initial hysteria, I was...relieved to embrace that part of myself. I went traveling and deliberately sought to inhabit black spaces.
Here's what dating some black guys along the way has taught me:
USA
I moved to Crown Heights, NYC for five months last summer and instantly felt more accepted when dating; guys were so incredibly forward and when they found you attractive, they weren't shy in letting you know (so different to London!). For the first time in my life, I actually felt overwhelmed with options. Instead of being the black sheep of my group of friends back home with my frizzy curls and dark skin within a sea of whiteness, in NYC I was "light-skinned" with "good hair"; terms that were alien to me and weren't ever used in my white community.
I dated a dark-skinned guy for three months in the city and although he was nice, there was no connection there for me. We stopped talking when I went to Nicaragua.
[Tweet "In NYC, I was "light-skinned" with "good hair"; terms that were alien to me."]
Nicaragua
The Corn Islands are a group of Caribbean islands off the coast of Nicaragua where locals speak Spanish and Creole. For two months, I lived and worked there whilst dating a local boy who worked in a lobster factory. With him, the island life started good; the sex was incredible, the relationship intense, and, at the beginning, I was really attracted to him. However, I soon began to notice the anti-black, misogynistic sentiment that seemed to plague the entire island. He'd introduce me to his Creole-speaking friends as his "white gal" or "the girl from England", which really bothered me. Here I was on this journey of self-discovery and a black man in the Caribbean was calling me white!
He'd also criticize my hair, which also blew my mind. "You should straighten it...Most girls here don't wear their hair natural," he said to me on more than one occasion. Then, the sex started to get really one-sided and when I tried to voice my concerns, he wasn't interested. I ended things (dramatically, by kicking him out of my apartment at 3 am one night) when he said he "didn't care" whether or not I was enjoying sex with him.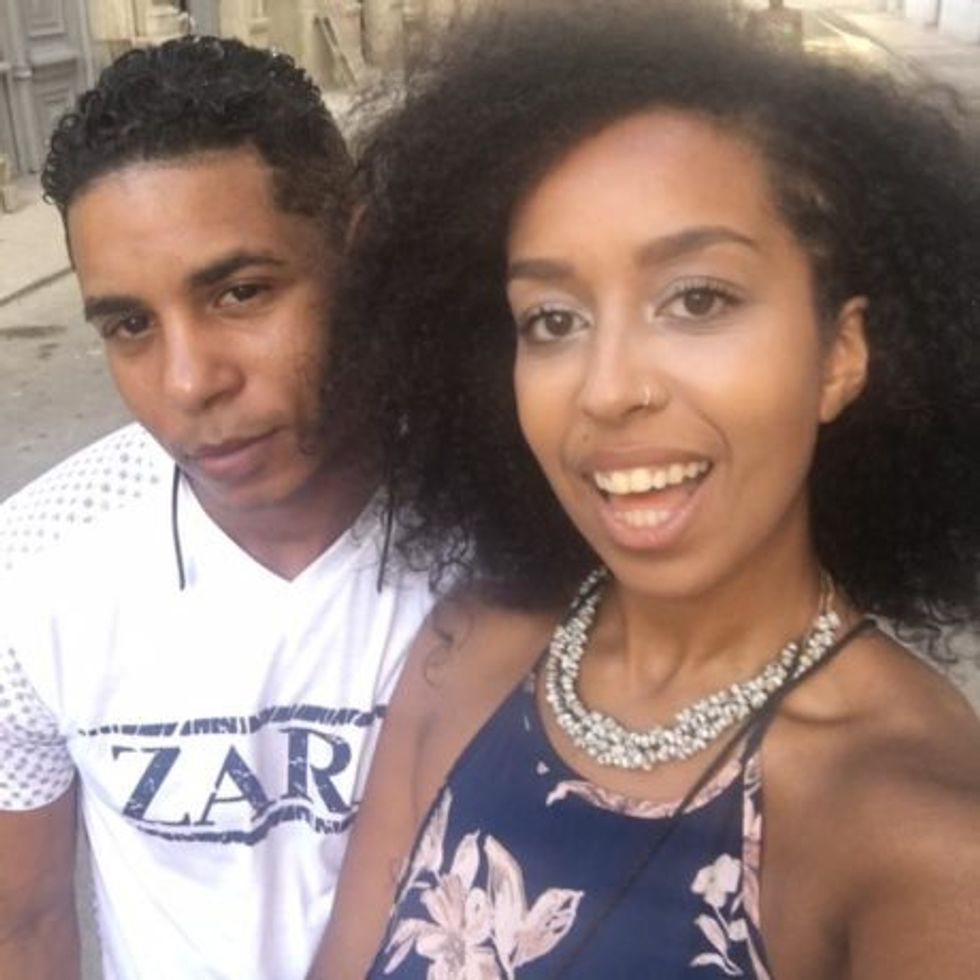 Cuba
A month in Cuba was the black experience I'd been waiting for all my life. Although a Cuban tour guide told me racism is currently on the rise in the country, the Communist government succeeded somewhat in creating a racial utopia. In Cuba, I felt accepted, celebrated, and at home. The country is a rainbow of black, brown, and tanned bodies, and I was often mistaken for a Cubana. When staying in a Cuban homestay in Havana for NYE, I hooked up with a Cuban guy and we spent a few lovely days together. I was treated like family and called his novia after a few days.
Yeah it was intense, but my Cuban boyfriend was kind, complimentary, excellent in bed, and so very proud to be Afro-Cuban.
Other Cuban men I danced with and spoke to were super-suave, totally gorgeous, and very dangerously charming.
Dominican Republic
I'm currently based in Santo Domingo, the capital of the DR, and so far, have just been on one coffee date with a local guy. Without over-generalizing, I'm seeing some parallels with Cuba; the men here are also intense, gorgeous, and slightly overbearing. They seem to be a little more preoccupied with the shade of my skin though. One (black) guy told me, "You're beautiful, but if I brought you to certain spots, people would be annoyed because you're black." Another group of guys once shouted at me to get in the shade so I didn't get darker. Unfortunately, my threshold for misogynoir reached capacity some time ago, so I'm not sure if I'm down for more dating here.
What I've Learned
I've noticed that as I've gradually rejected my parents' views on race and discovered my own identity last year, I've become more attracted and more open to men of color, particularly those who remind me of myself. That unapologetic love that I've developed for myself has altered the way in which I perceive beauty and the appreciation I have for men who share my skin tone, my features, my hair, etc.
Dating people who reflect my image hasn't necessarily meant that I've been treated any better or worse, but I no longer have a set type and my mind is now open to whoever I click with. I also feel prouder and more confident as a black/mixed woman and hope that my travels (and my dating habits) have erased some of my preconceived notions on black masculinity, pulling me out of my own denial in the process.
I'm heading back to London for the summer and I'm excited to see if being more at peace with myself will put me in touch with the kind of guy I'd love to meet. If not, at least I'm more accepting of myself.
What are some ways dating has helped you step closer to self-acceptance? 
Related Post: My parents made me think I was white my whole life