Welcome to the holidays, where everyone is trying to hurry and purchase a gift for their loved ones (and sometimes their unloved ones) for Christmas at the same damn time.
---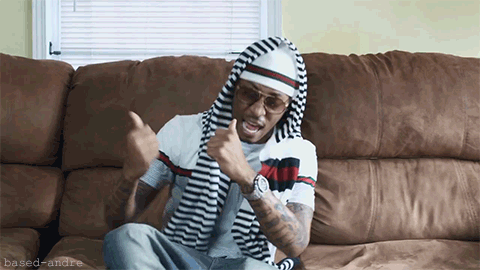 Maybe you're looking to buy something unique and fly for your people, and you don't want to go through the hell of finding a parking space, and walking the equivalent of three football fields across a busy mall.
Well it looks like you rolled up on the right website, because I have a list of black owned Etsy shops with some raved about products that you can purchase from the comfort of your living room. Woot!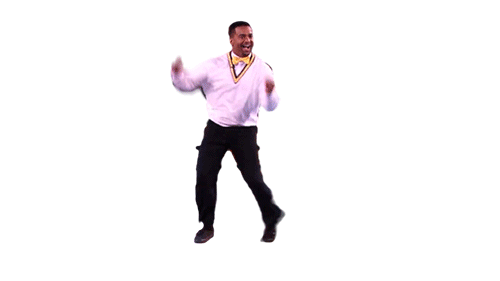 I just saved you a tank of gas and probably a trip to court after you attempted to beat that one lady up for popping fly at Auntie Anne's Pretzels. I'm here to help you, Queen.
That said, check out these awesome gifts from some black-owned Etsy businesses, and get to know the owners, below.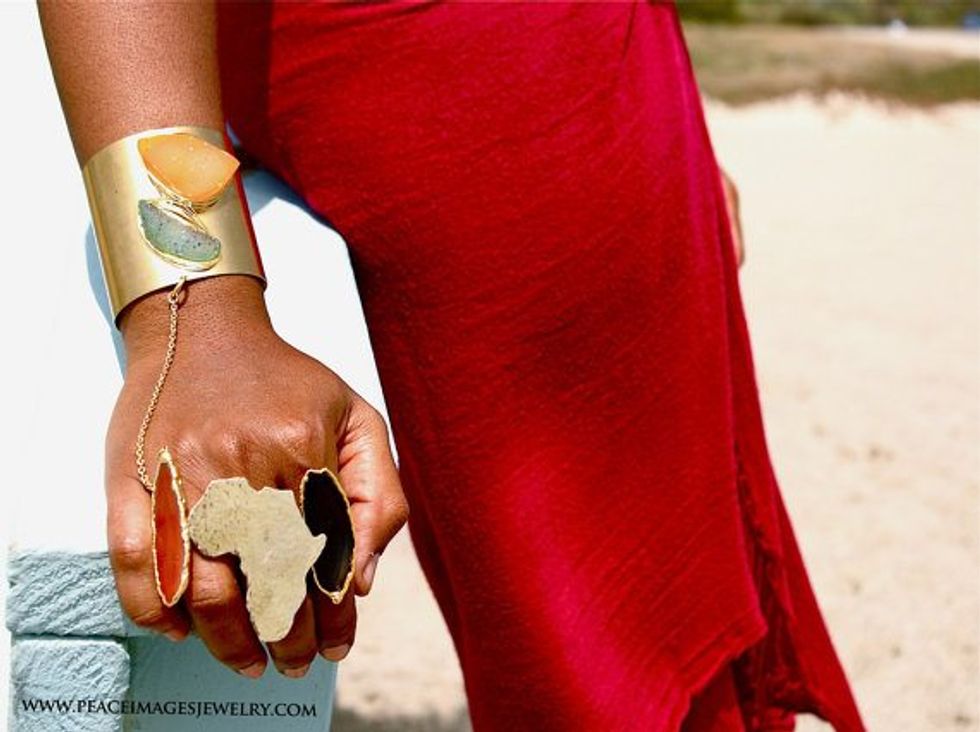 This Etsy shop has been in business since 2008, and features some very pretty African inspired accessories. From the earrings, to bracelets, to finger cuffs, these accessories are as inspiring as they are gorgeous.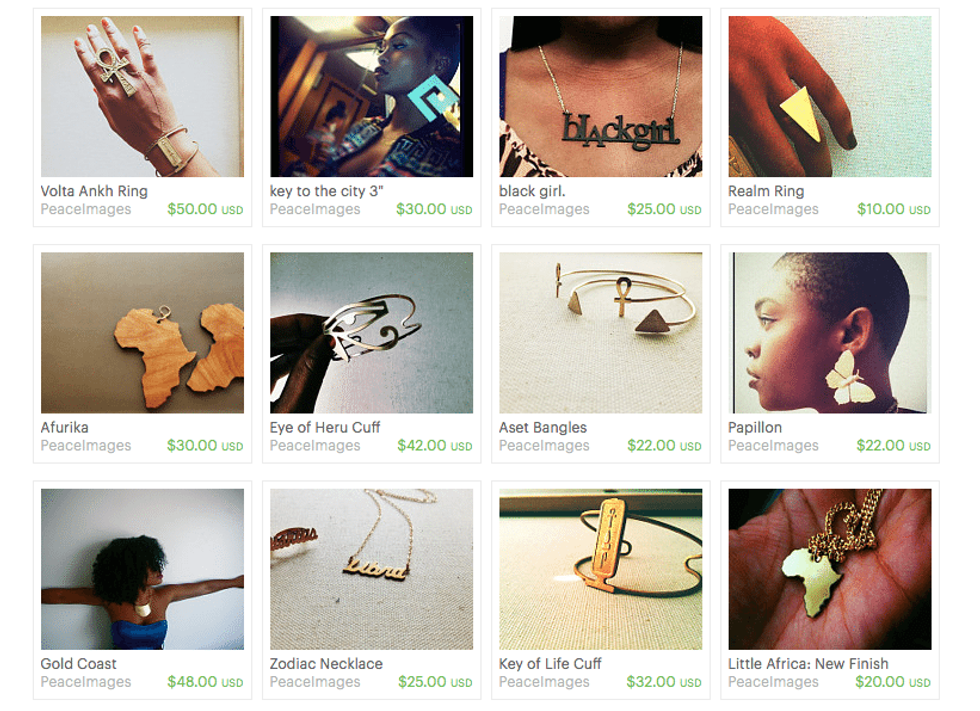 If the Africa ring isn't your style, check out the cute "Realm Ring."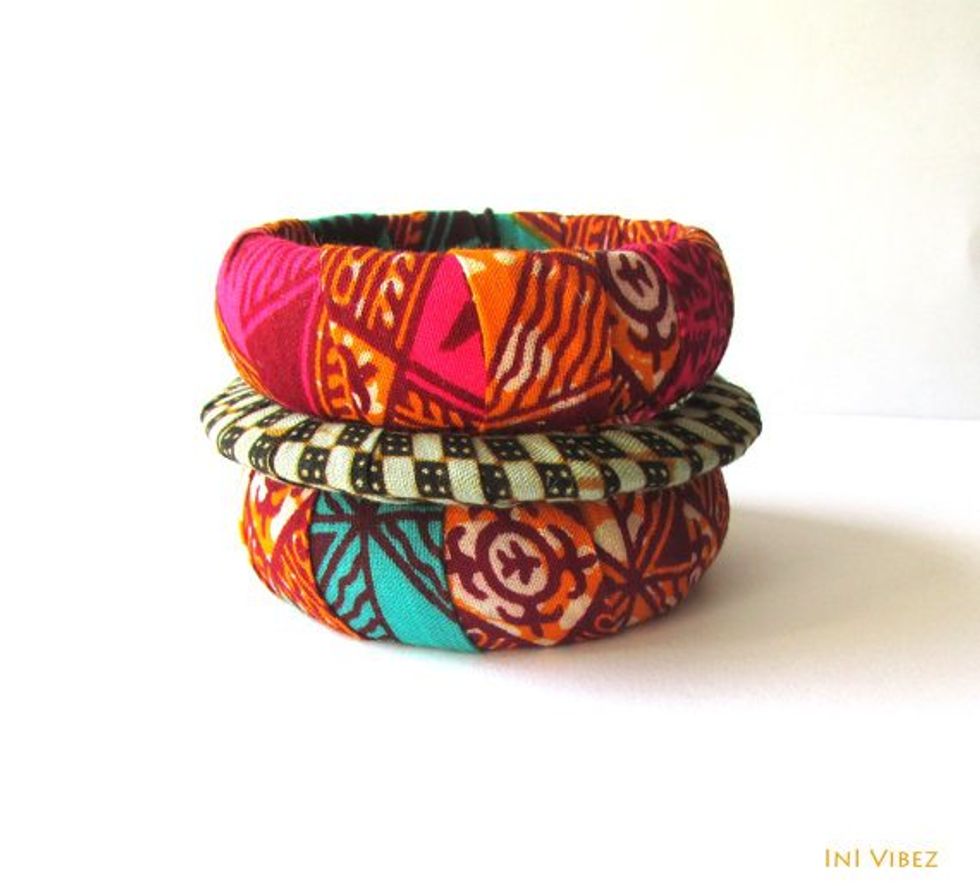 The African inspired accessories from Ini Vibez shop is beyond gorgeous, so it's no wonder why the bangles are some of the most popular items from this shop. In fact, one of the reasons why Aisha - the owner - started the shop was to embrace African history through culture. She says,
All my pieces are crafted solely with my hands and loving energy in my little apartment here in Brooklyn. Which serves as not only home but work studio, and school for my 3 girls...so there is a lot of creating and creative energy in this space.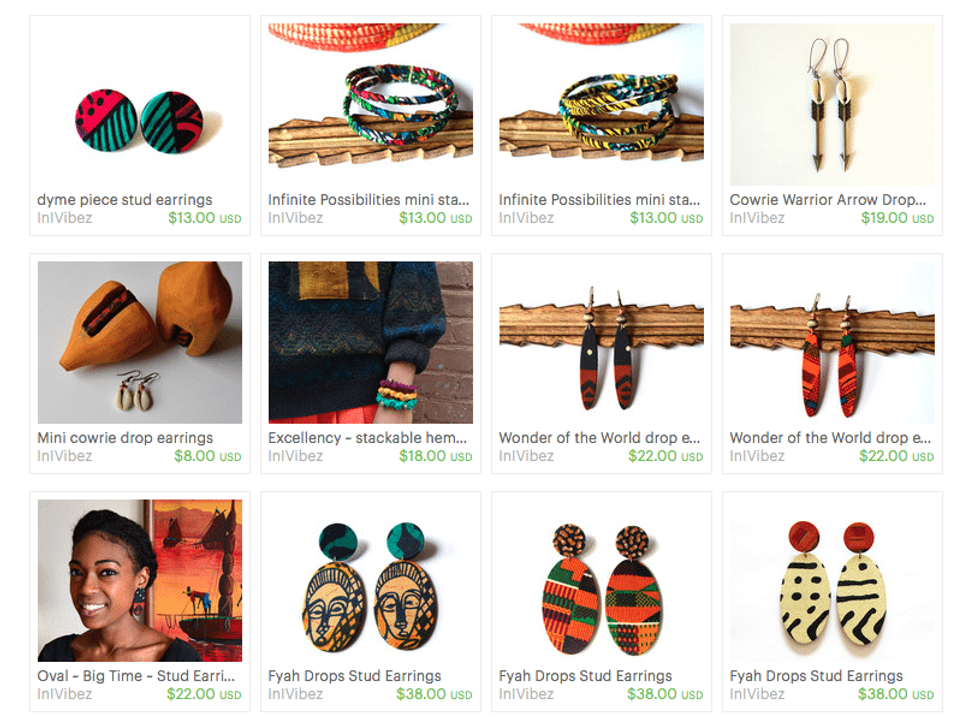 I am forever inspired by shapes, prints, the eclectic styles of the peoples I bump into on the streets of BK. Tribes women, mother, aunts, granny, friend, daughters all inspire my line. The energy of my ancestors, pure love of a home continent that I have yet to smell, touch and see in this time fuel much of the works. Pops of color, Studs, Prints, Classic shapes....so much inspires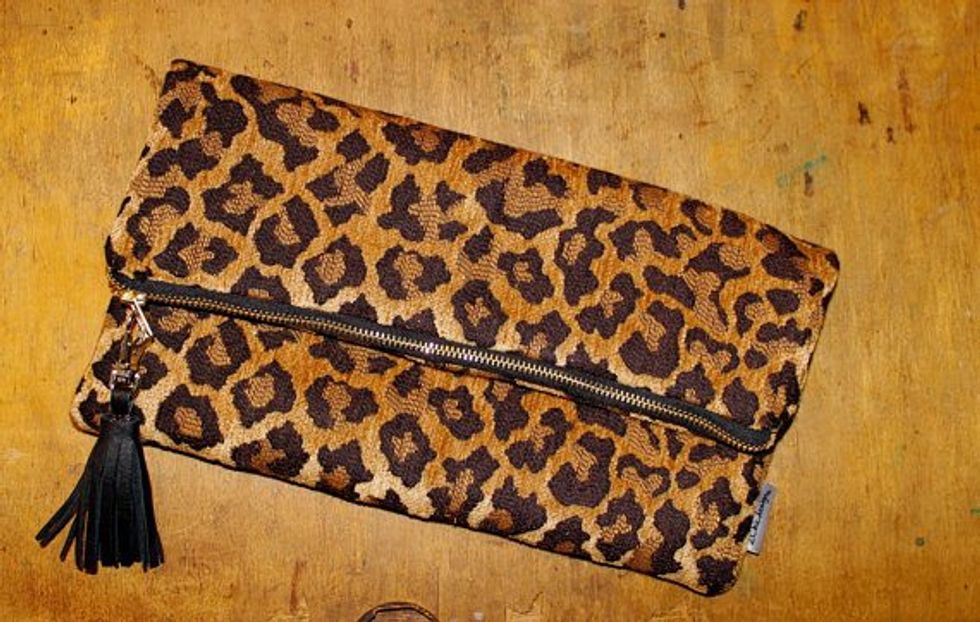 As if this purse wasn't cute enough, it gained more popularity after it was featured on "Think Like A Boss Lady". Since then, it's one of 2 Chic Designs' most popular items.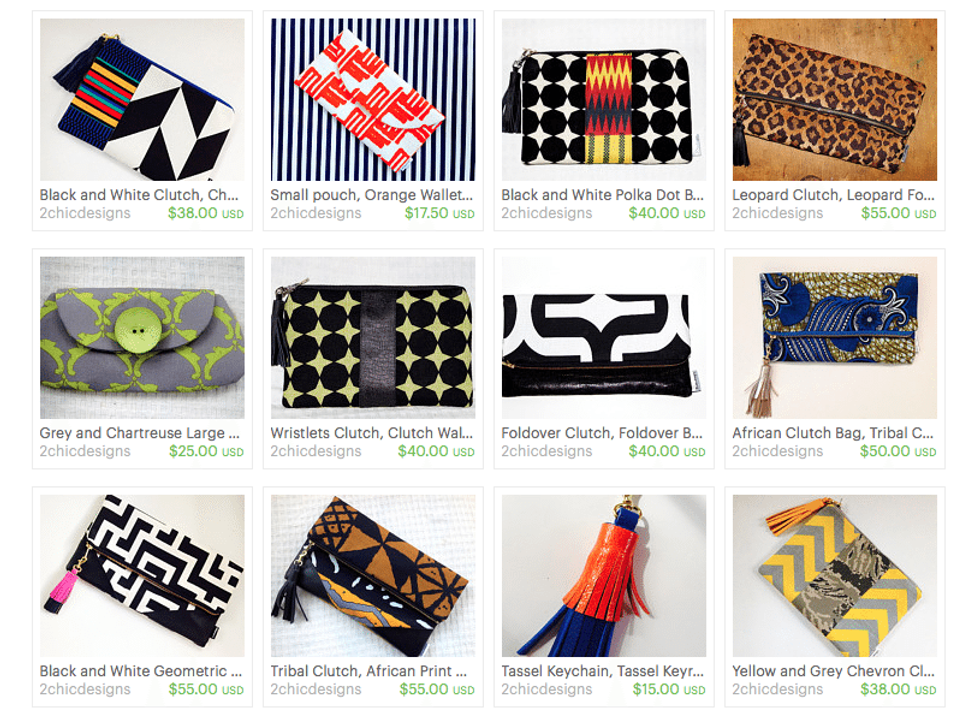 If leopard print isn't your thing, there are several clutch purses with cute textures available on the site. Cynthia, the owner, had this to say about her Philly-based bag store.
I am inspired by colorful and unique fabrics designs. I usually study fashion and color trends, when I'm designing a collection. It starts with a sketch, then the fabric selection, and the shape of the bag that brings it to life. I also do customize pieces and enjoy working with brides and their wedding parties.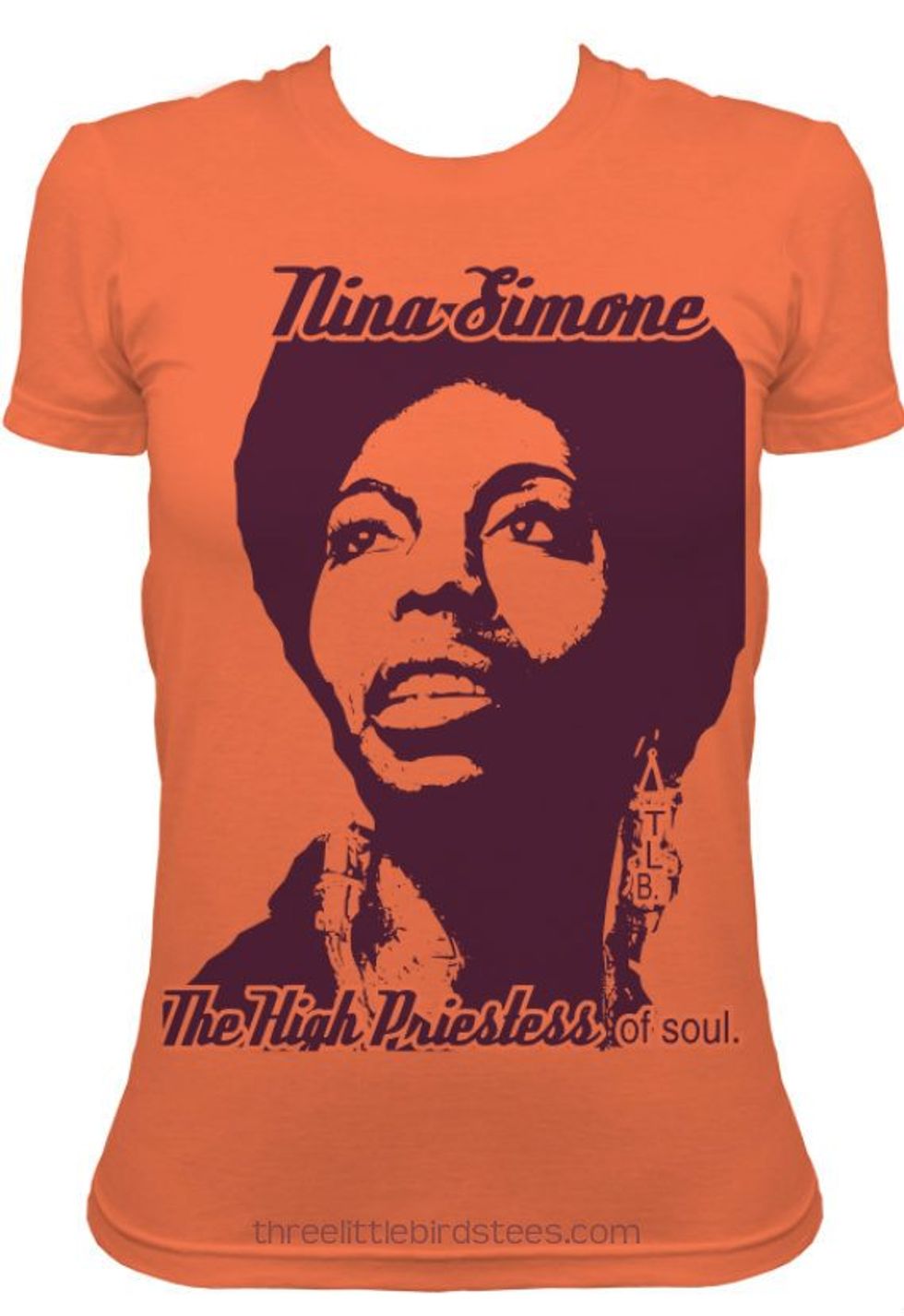 This cute tee is definitely the stand out item in their Etsy shop. The baby rib tee is 100% cotton, and comes in coral (pictured above), red, and turquoise colors.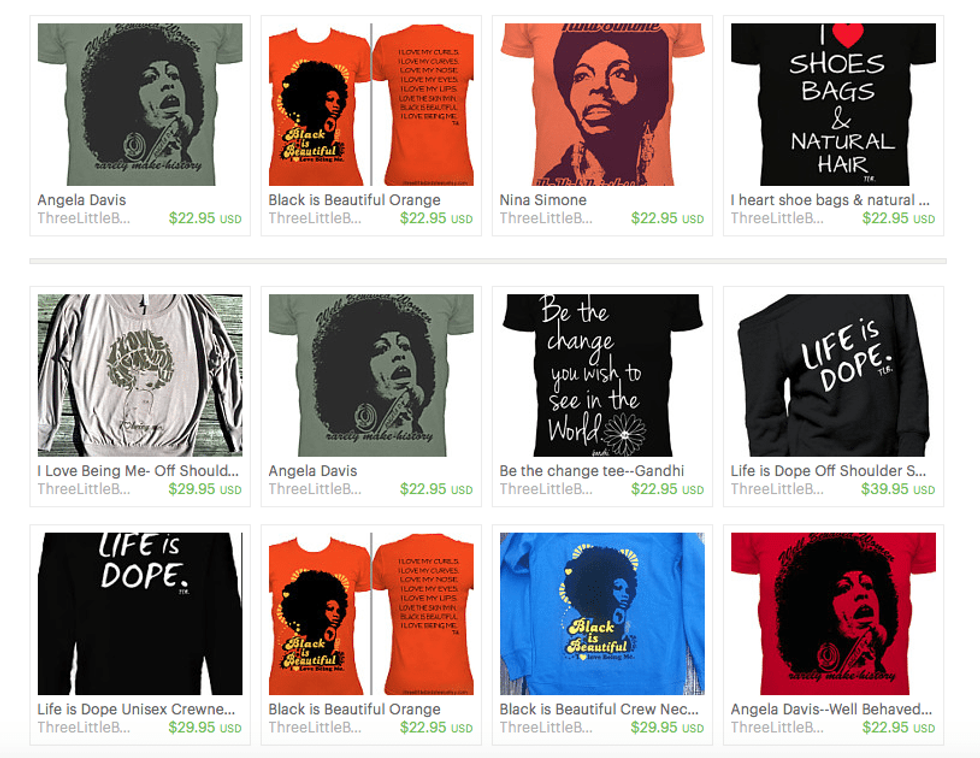 There isn't much information about the owner of this shop other than the fact that it's owned by a black woman from Philly. What we do know is that we love the messages on the printed tees, and the images of beautiful black women on the shirts are dope. Show them some love, and cop one.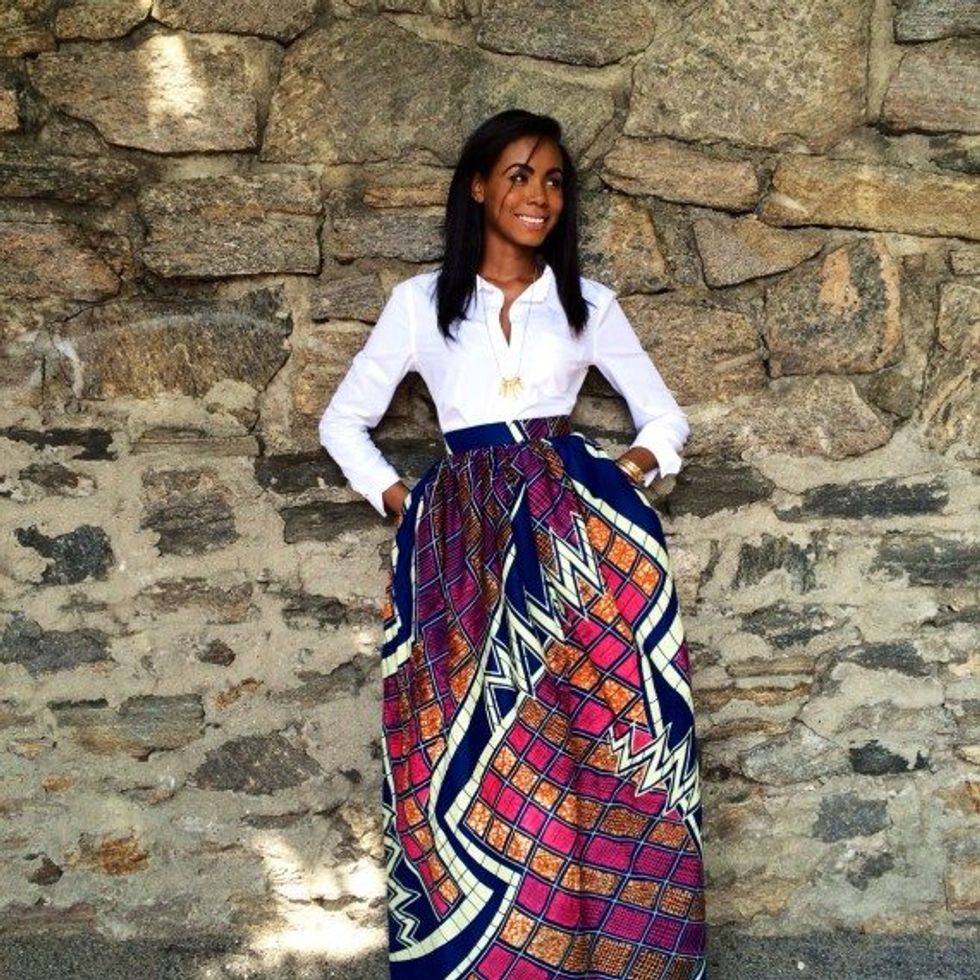 chenburkett.com
From the Ankara skirts to the African Print Geo Trousers, everything in their shop is absolutely stunning, especially this maxi dress. The beautiful, custom printed dress is made of cotton, and sits 45" long from the waist.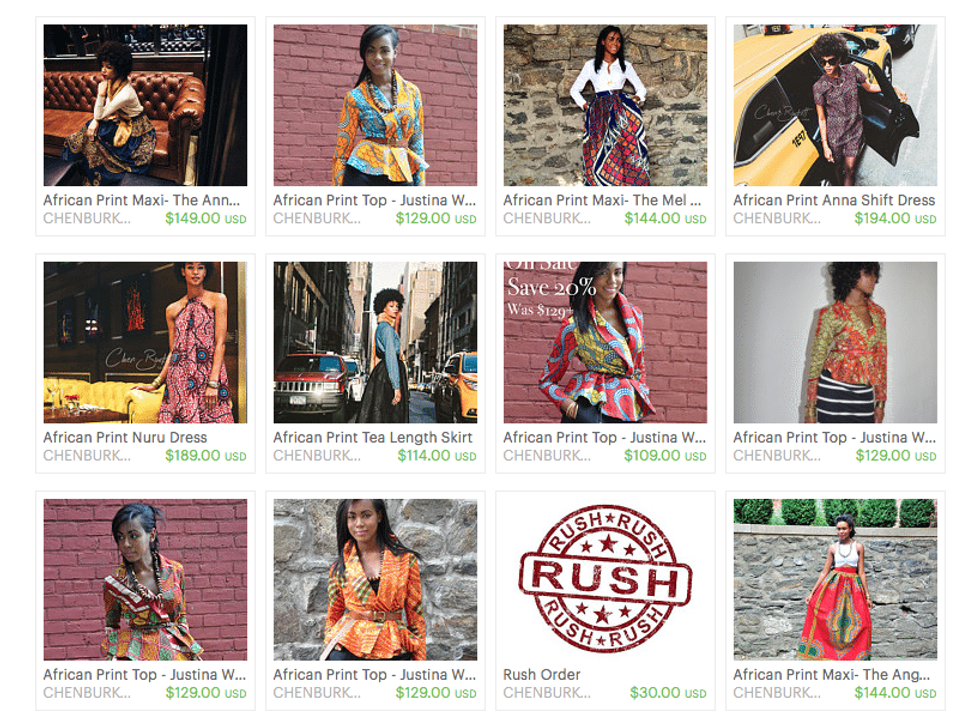 The shop has moved from Etsy to their official website, chenburkett.com, but it's definitely worth mentioning. Owner Chen B. says that her heritage is what inspires her work.
My collection reflects styles I love and are all drawn from my heritage and family in Antigua, Ghana and Great Britain. I try to find a perfect marriage between the regal silhouettes I was surrounded by as a child and a modern yet classy fit suitable for everyday wear.
6. Twist of Fate 14K white gold and diamond engagement band from Beautiful Petra ($3,000)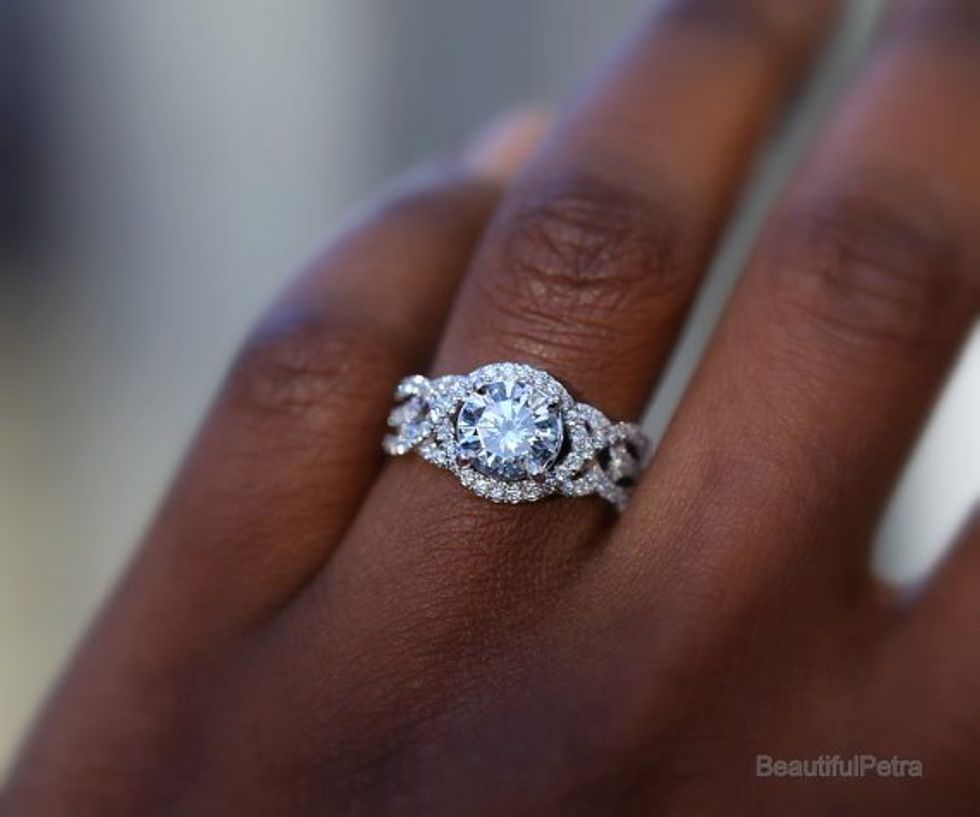 From Beautiful Petra on Etsy
If you're in the market for a diamond ring, this is the site for you. Their most popular ring seems to be this Twist of Fate band, which looks stunning on any hand.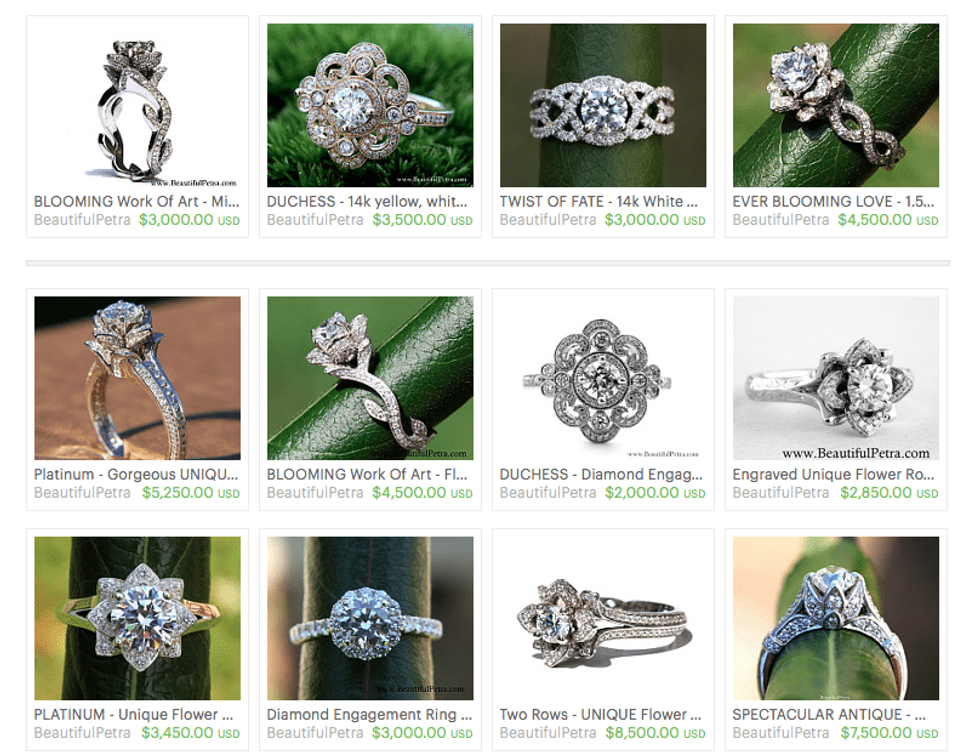 What's good about this shop is that their merchandise comes with a no risk, five-day 100% money-back guarantee, they only use high quality conflict free diamonds, and it's fully ensured during shipping. It also helps that Beautiful Petra is one of Etsy's most trusted sellers.
With 619 positive reviews, and more than 1,300 sales, it's definitely a shop you'd want to check out for a beautiful gift.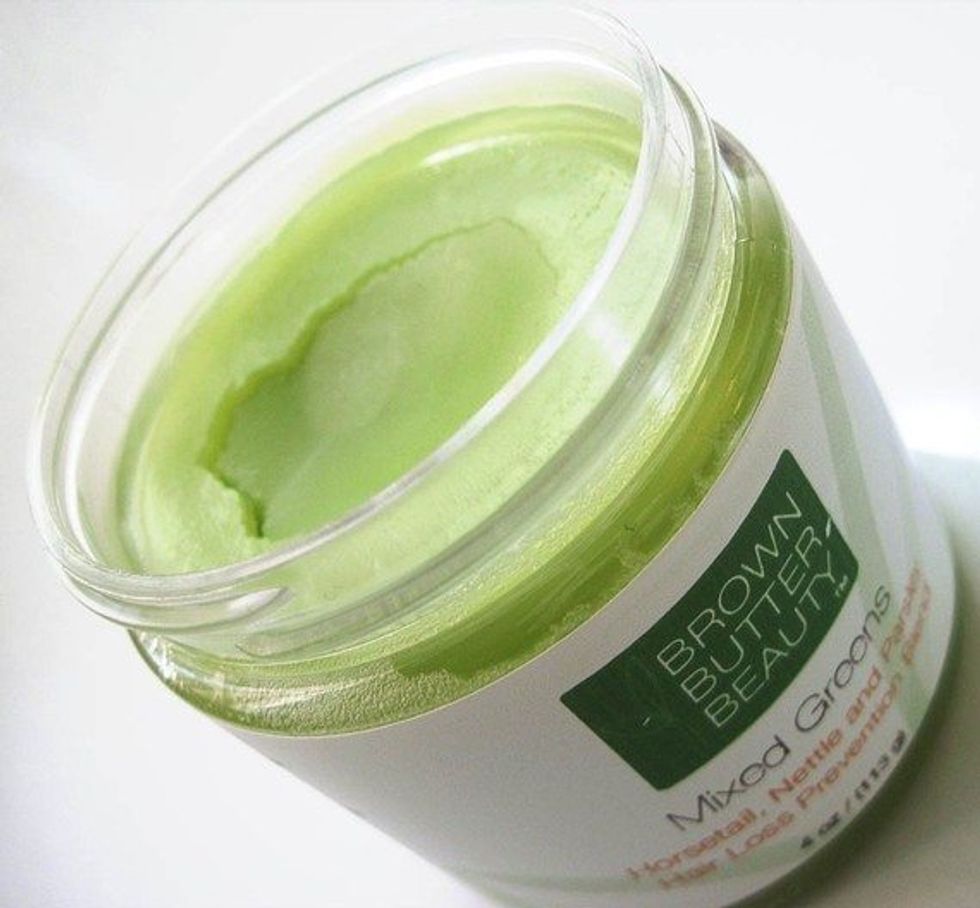 From Brown Butter Beauty
This is one of their most popular products that customers seem to love. The company touts organic horsetail, nettle, and parsley as part of their formula for strengthening hair and preventing breakage. To top off the spa feeling on your scalp, Brown Butter Beauty also incorporated Almond Oil, Olive Oil, Coconut Oil, Cocoa Butter, Safflower Oil, and Wheat Germ Oil to give your mane the life it needs to be healthy and beautiful.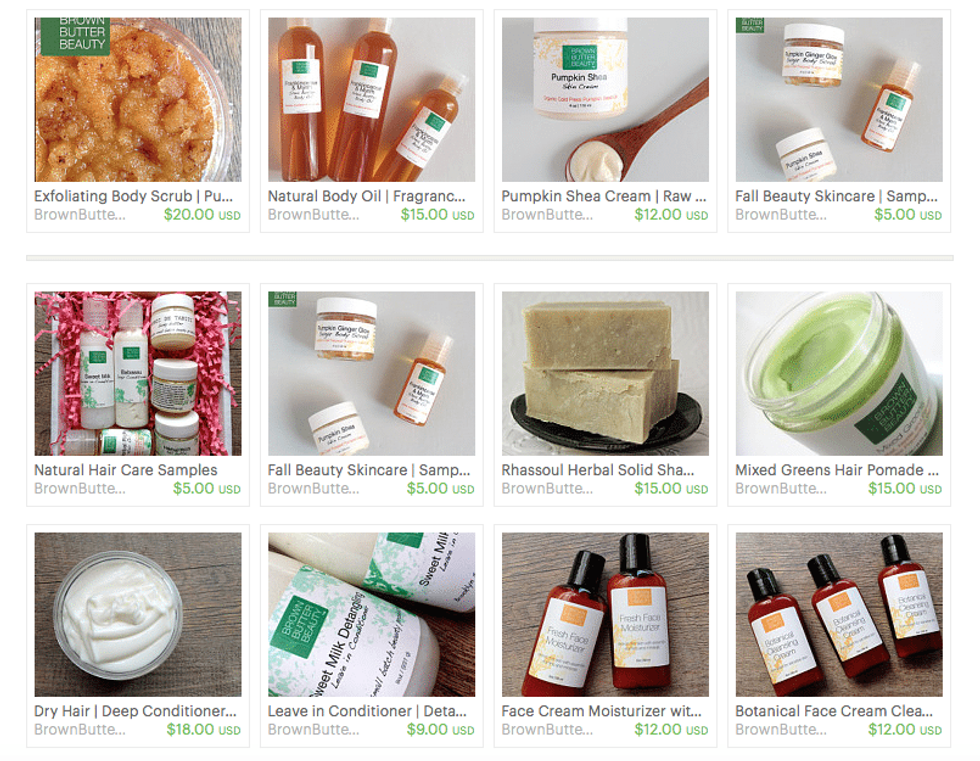 This line of skin products was created with a lot of love and care. The owner, Christine Gant of Brooklyn, NY, decided to restore her skin and health after years of working as a museum photographer with no real self care. Her life began to change after cleaning up her diet, taking time to care of herself, and using natural vegetable oils in her hair. According to her website,
Christine's passion for photographing global artifacts and studying other cultures lead to her research on global beauty preparations and cultural home remedies. She studied the benefits of essential oils, herbs, flowers and product formulation. In her research she learned of the many beauty traditions of cultures from around the world and their ingredients. Including tinctured Tiare flowers in coconut oil from Tahiti called Monoi de Tahiti oil. Shea butter from Ghana, Babassu oil and Maracuja oil from Brazil, Moroccan Rhassoul clay and Argan oil. She incorporates these beneficial ingredients into the Brown Butter Beauty line.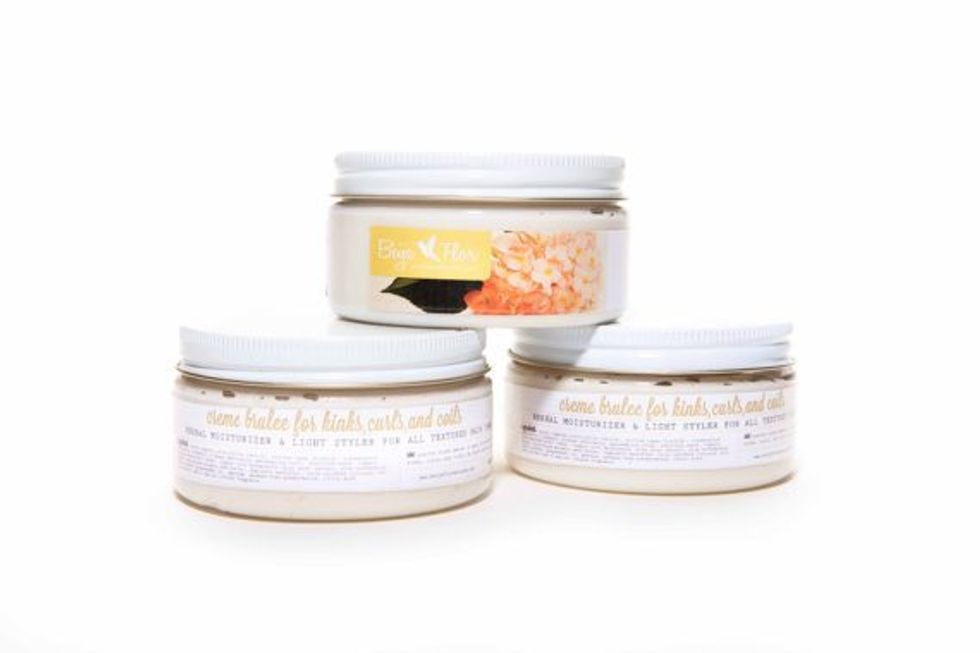 This is one of their most popular items, as reviewers say that the organic leave-in formula is perfect for their curls and kinks. According to the seller,
The formula starts with an infusion of healing herbs such as rosemary, burdock, murumuru butter, aloe extracts and Coconut Oil add shine, moisture and protection.This is the perfect conditioner for hair types that are dry, brittle and prone to breakage. This product also serves as a light styler to give hold and texture.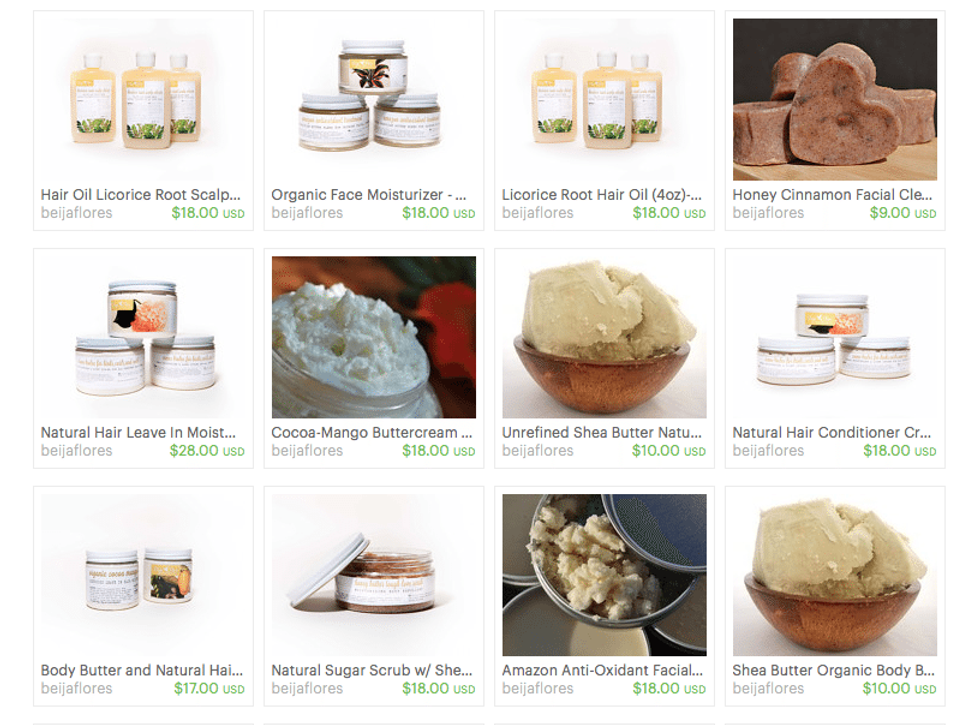 The Oakland-based, organic skincare line has some products that has definitely peaked my interest. The Amazon Antioxidant Treatment that treats blemishes, eczema, and psoriasism, The Honey Butter Tough Love Scrub, and the Cocoa-Mango Buttercream Body Butter and Hair Moisturizer are products that I am definitely interested in trying.
With more than 1,500 positive reviews of their products, it's no wonder why so many people love their shop. What's even better about this shop is that all of their products are natural. They said on their website,
Our vegan/vegetarian products are free of harmful petro-chemicals, made from raw vegetable based ingredients, preserved naturally, follow FDA standards, and are kind to your body and pocketbook.
Did we miss any awesome Etsy shops that carries your favorite products? Drop us some links below.