Whether you're a fervent fan of Empire salivating in front of your TV screen every Wednesday night, or you don't get the hype of the Lee Daniels' creation, there's without a doubt that Taraji P. Henson IS Empire. Taraji's gone from Yvette, Shug, and Lauren respectively in film, but her standout role on FOX's number one show has the world looking at her as none other than Cookie Lyon (or the supportive homegirl that repped for Black girls everywhere at the Emmy's).
---
And while she may be a fictitious character, Cookie's closet has influenced a slew of women around the country with daring Moschino prints or bold black and white staple pieces that are found on 5th Avenue in New York City. FOX was even kind enough to give the enthusiasts the run down on Henson's attire on Empire, with links for her "looks-for-less" here and there.
An associate editor at the New York Times magazine accepted a challenge on behalf of Cosmopolitan.com, where she became one with Cookie Lyon's fashion choices, and the results were pretty flawless if you ask us! Jazmine Hughes, the new kid on the NYT block, struggles to find comfortability at her new job, often questioning her spot and skills at the publication. So Cosmo (styling by Senior Style Editor, Charles Manning) gave Hughes some items to see if dressing like a boss (in my best Rick Ross voice) would assist in her feeling better about accepting her accomplishments. "Hey, if Cookie can regain the space she'd lost, then maybe I can carve some space out for myself," she said.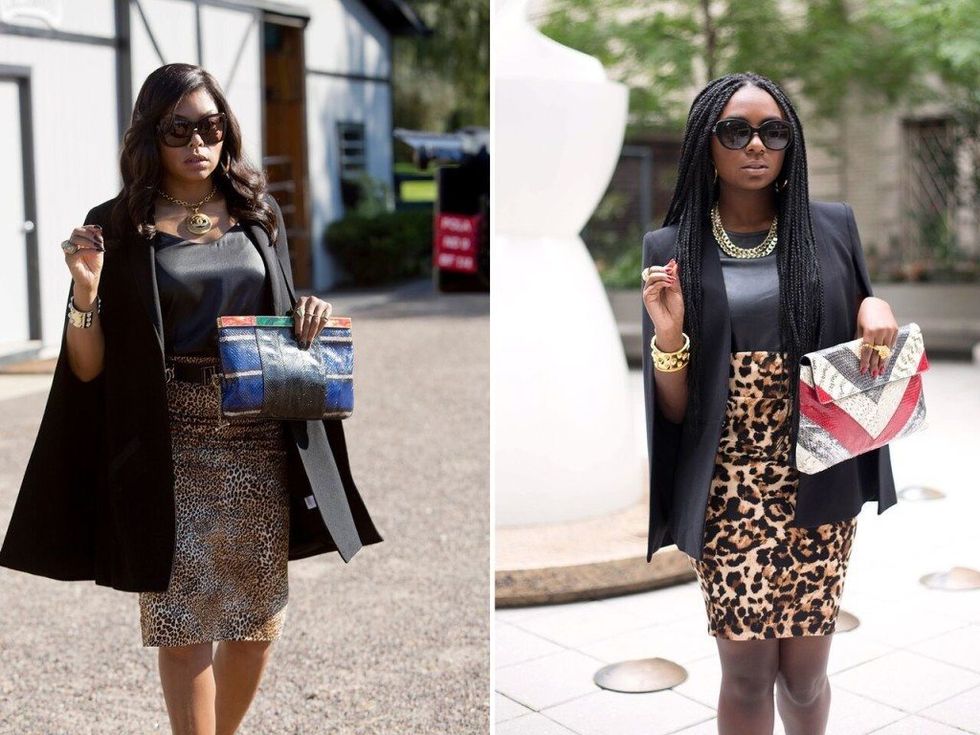 Photo Credit: Kathleen Kamphausen for Cosmopolitan.com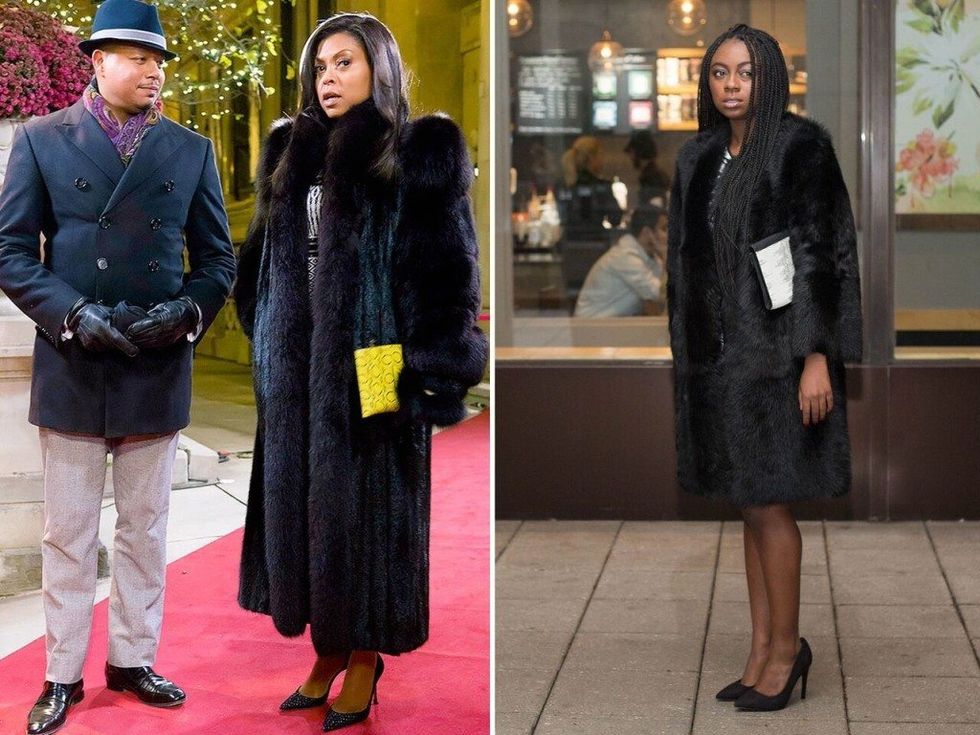 Photo Credit: Kathleen Kamphausen for Cosmopolitan.com
Jazmine's awesome essay includes her thoughts on how her coworkers at the Times treated her in all her leopard-printed glory, asking if she felt any different stepping outside of her usual skinny jeans and Converse apparel. The associate editor admits her discomfort in leather pants (we don't know how you do it, Kanye) and opens up about the labels placed on Black women when we choose to wear specific clothing that 'pops'–"ghetto" and "sassy."
My exterior now telegraphed something totally different from my norm, and I didn't quite know how to deal with it. Everyone I knew treated me the same — I'd smack them if they hadn't, a Cookie trait I was born with — but I could feel strangers reading me differently.

Photo Credit: Kathleen Kamphausen for Cosmopolitan.com
It is through the behaviors and glares of those same strangers that questioned her appearance–physically and at the New York Times offices on Eighth Avenue–that she finds the power of Cookie's closet and her place as an associate editor.
Dressing like Cookie for five days wasn't the secret elixir to my anxieties, but here's what I learned: How to say "f-ck you." I didn't say it to the sidewalk man — I'm a lady for goodness' sake, I work at the New York Times — but I started saying it to anyone who had wronged me that week (street catcallers, people who entered the subway before I exited, men), which meant I had to say it to myself. This is Self-Improvement 101: One of the first steps to solving a problem is to figure out who is causing it — and sometimes that person is you. I was angry with myself — for psyching myself out, for convincing myself that I didn't belong to a place that had welcomed me with open arms, for wasting time meandering instead of improving, for not just learning how to spell the word "February." So I did it: Fuck you, self, for being so goddamned scared. No one can improve the situation at hand more than you. No one knows this more, at least on FOX's Wednesday night lineup, than Cookie.
She mentions that challenge evolves into a game of 'What I Would Wear if I Were Rich and Ridiculous?' and finds herself more self-accepting of who she is and what she does because of what she wore.
That's the magic of Cookie Lyon.
Check out the entire photos of Jazmine Hughes' amazing and accurate transformation into Taraji's character and her essay here. Let us know if she nailed it!
If you're a fan of Cookie's closet and have tried to incorporate some of her styles into your day-to-day wear, send us a picture at @xonecole!