Although all of our hair journeys are different, I always find it interesting when folks say that the winter season is the most brutal when it comes to their hair. For me, it's probably right about now because, between the heat, the shrinkage and, when I do swim, the chemicals in the water — it's a challenge, making sure that my hair doesn't dry out, as I strive to handle it with care on the days when it wants to act like a matted mess.
---
Can you totally relate to where I'm coming from? If so, I wanted to take a moment to share with you some of the summertime haircare tips that have held me down over the past several years. 12 hacks that are easy, affordable and can definitely help you to keep your inches straight through Labor Day and beyond.
1. Get a Cute Swim Cap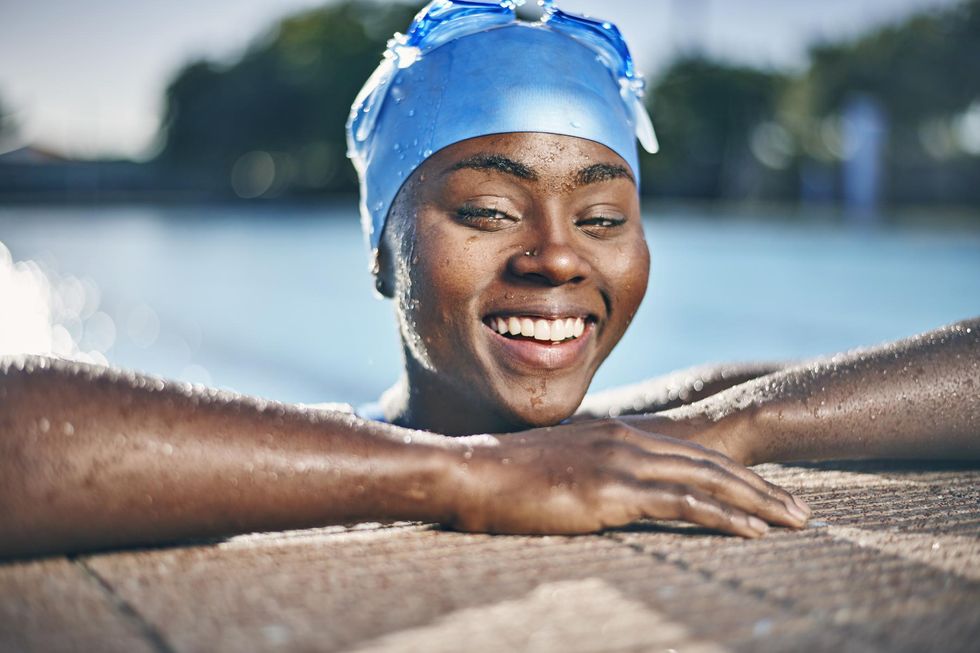 Y'all see that straight up bullshishery that the Tokyo Olympics have been pulling on us? I don't just mean the runners; I mean them banning swim caps for Afro-textured hair. Yeah, I knew that when they put a ban on protesting beforehand that we were in for a ride. Anyway, if a part of what makes you hesitant to swim more often is you want to protect your hair from the salt and/or chlorine that's in the water, I definitely recommend getting yourself a swim cap. If the other thing you're worried about is how crazy you might look in one, these days, there really are cute designs available (so much better than what a lot of us grew up with). Etsy is one place that has some. Just go to the site and put "swim caps for Black women" in the search field.
2. Or Wet Your Hair Before You Swim
On the other hand, if you don't mind getting your hair wet but you still don't want the water to damage your hair (because saltwater and the chemicals in swimming pools can both be pretty drying), a cool hack is to wet your hair beforehand.
Since our hair is a lot like a sponge, if it's already absorbed water, that makes it harder for ocean or swimming pool water to penetrate it. The more you know. The more you freakin' know.
3. Give Yourself a Hot Oil Treatment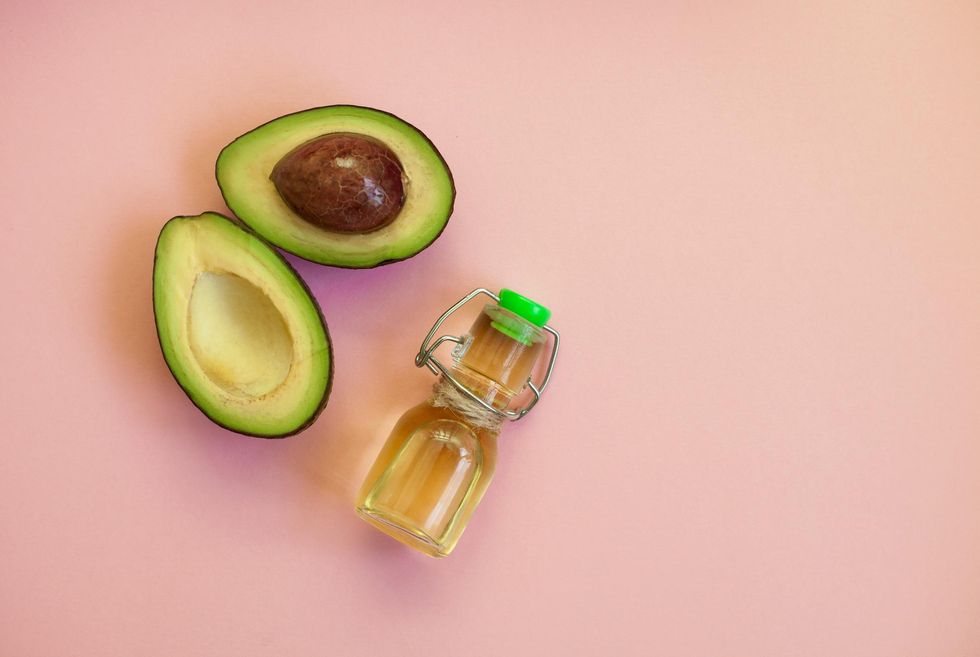 While it might seem odd to hear me talk about applying anything hot to your hair when it's already hot as hell outdoors, you really can't go wrong with treating your tresses to a hot oil treatment during this time of the year; especially if you battle with dandruff, dry scalp or a lot of frizz (which can happen when your hair lacks moisture or it's time for your ends to be trimmed). The combination of the heat from the oil along with the nutrients from the oil of your choice (coconut, grapeseed, argan, sweet almond, avocado, rosehip and apricot kernel oil are all great options) will help to stimulate blood flow to your scalp which will help to strengthen your hair's follicles over time.
Your best bet would be to put one-fourth of the oil into a microwave-safe bowl. Zap it in the microwave for 15 seconds. Put your hair into 4-8 sections and apply the oil to your scalp and hair. Massage your scalp for about 10 minutes. Then allow the oil to continue to penetrate for 30 minutes. If you then shampoo and rinse thoroughly, you will notice a real difference; especially after following this next tip.
4. Put Some Jamaican Black Castor Oil into Your Shampoo or Conditioner
With the summer heat being as brutal as it is, you definitely need to make sure that your hair keeps moisture in it on the regular. One way to do that is to add some Jamaican Black Castor Oil to either your shampoo or your conditioner. Since the properties in the oil help to strengthen the cuticles of your hair, strengthen your hair's follicles and reduce breakage, as well as add quite a bit of moisture to your locks, putting a tablespoon of it into your shampoo can replace any moisture that your hair might lose during the shampooing process and adding it to your conditioner can make your hair that much softer after rinsing the shampoo out. Tropical Isle Living has some XX dark oil (which basically just means that it's extra detoxifying) that I've been using for a while now. I can definitely see a difference when it comes to how my scalp and hair feel.
5. Use Honey and Sour Cream to Reduce Shrinkage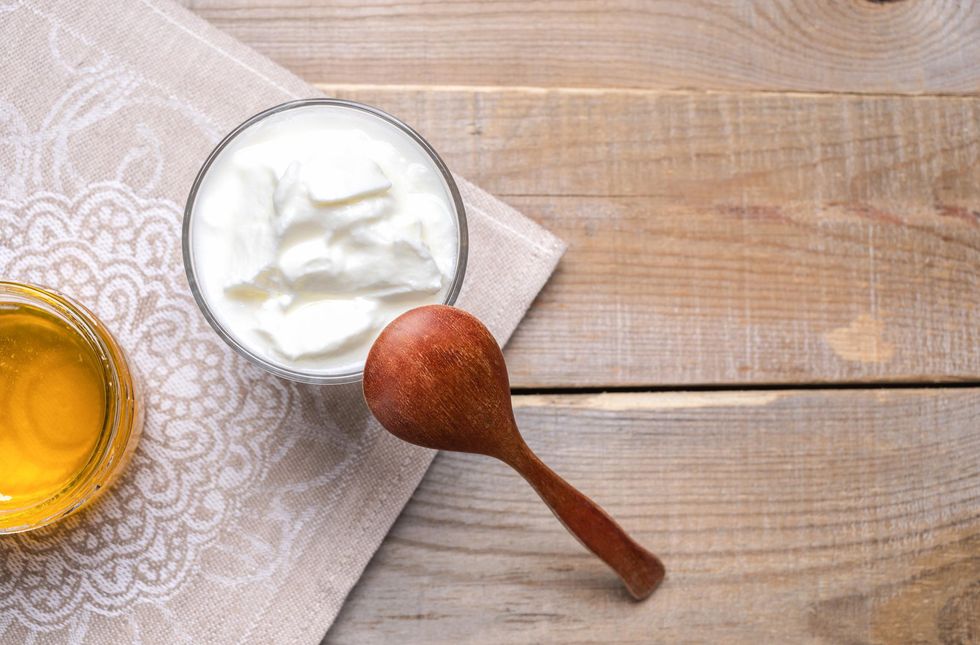 If experiencing a lot of shrinkage is the main thing that has you concerned, something that can help to reduce that is lactic acid. Guess what it's found in — honey and sour cream! Straight up, if you make a hair mask that has both of these ingredients in it, not only can it give your hair a moisture boost (because honey is a natural humectant and sour cream is made up of 20 percent fat), it can also help to elongate your hair's natural curl texture too.
Just mix a half cup of sour cream with two teaspoons of honey and a teaspoon of sweet almond or grapeseed oil. Apply the mask to clean damp hair. Let it sit for 25-45 minutes and rinse out thoroughly, first with warm water and then with cool water (to seal your hair's cuticles). If you decide to go with a wash 'n go, you should notice that your hair has a bit more length to it, just from the mask alone.
6. DIY a Moisturizing Spritz
If, outta nowhere, your hair feels dry or your scalp needs a little bit of relief, nothing is more refreshing than pulling a handy spritz bottle out of your purse. What's even better is one that you made yourself! A moisturizing hair spritz that consists of rosewater (it'll restore the pH balance to your hair); Aloe vera juice (it smooths your cuticles and reduces frizz); raw honey and/or vegetable glycerin (they're both humectants which means they pull moisture from the air); chamomile oil (it soothes your scalp), and 5-7 drops of lavender oil (it contains strong antimicrobial properties to fight bacteria and moisturizing properties to soften your hair) will pamper your hair from dusk until dawn — and vice versa.
7. Ease Up on the Edge Control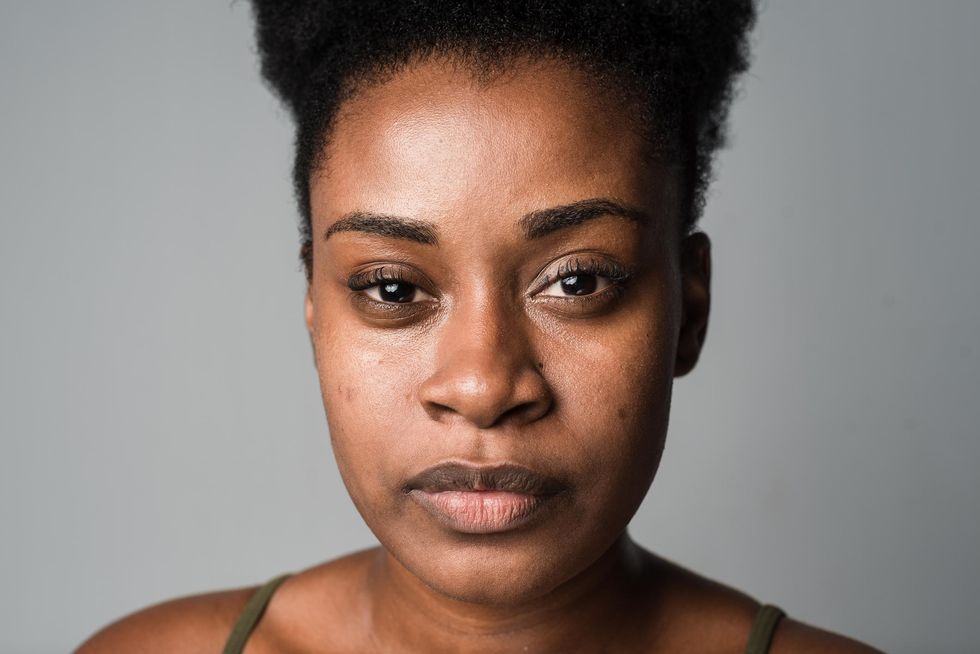 I know y'all like those super sleek edges yet I'm gonna be honest with you — even if you go with a brand that doesn't contain any alcohol (or you make some of your own), sometimes the oil from the control combined with the extra sweating that you typically do can cause the perfect storm when it comes to breakouts. Plus, wanting to lay your edges all of the time can put a lot of pressure on your already fragile temples which can result in breakage. So, as much as it might pain you, try and ease up on edge control for the summer. Wrap your hair up in a scarf or rock a straw hat instead. You'll still be cute and trust me, your edges will be oh so very grateful.
8. Chill Out on Permanent Dyes Too
I'm gonna be honest with y'all. The only permanent (boxed) dye that has not read my hair for filth by causing all kinds of breakage issues is Revlon's Colorsilk Luminista. I think it's mostly because it is ammonia-free. And shoot, even with it, I still have to be mad intentional about keeping my hair moisturized because it makes it a little drier than I would like. Bottom line, if you still want to maintain the strength and integrity of your tresses so that you'll have some extra inches to brag about come the fall and winter seasons, it really is best to leave permanent dyes alone. One, because a lot of them do contain ammonia which is super drying and damaging and two, the heat is going to try and zap whatever moisture you do have. Please try not to help it do that. This is a great time of the year to play with some hair color wax. The hues are vibrant. And because the wax is super temporary, you don't have to worry about experiencing any breakage. You can literally sport a different color each day without any of the dry brittle drama. Excellent.
9. Make Some SPF Spray for Your Hair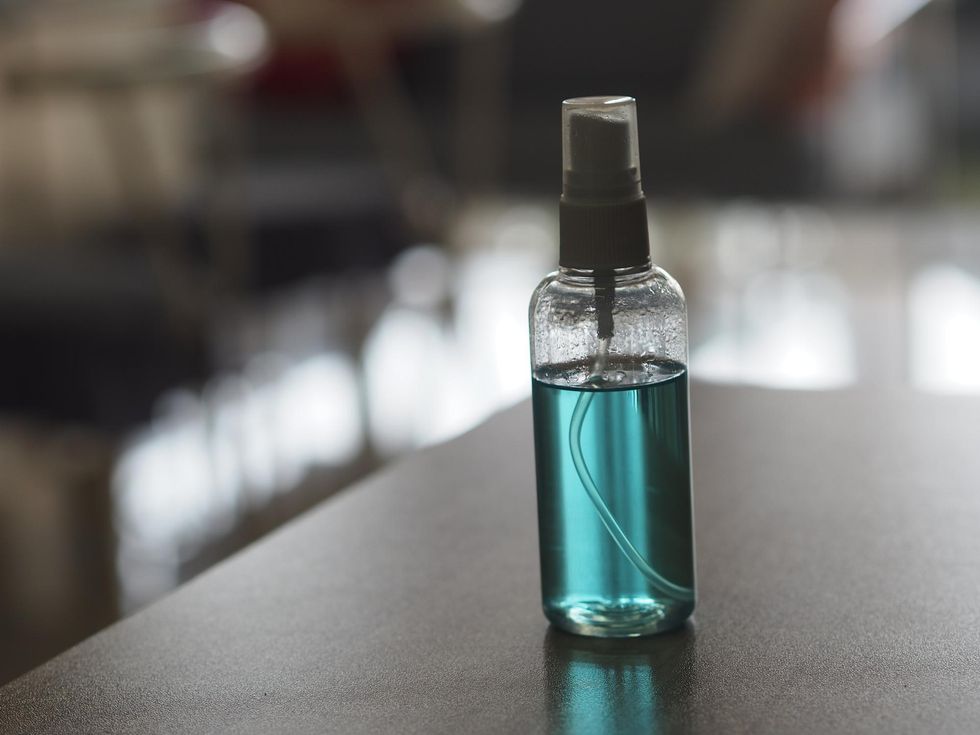 Something that a lot of us — and by "us", I mean Black folks — don't think about is protecting our hair from the damage that UV rays can oftentimes cause. While there are sprays that you can find at your local drugstore, another route that you can take is to make some of your own. It's really not that hard (or expensive) to do. And if you add an ingredient like zinc oxide to your spray, you can be sure that you're in good shape because that is a natural product that reflects the rays for the sun so that your hair isn't penetrated with constant heat.
All you need to do is fill up a spray bottle with some distilled water. Then add a tablespoon of the zinc oxide along with a teaspoon of your favorite carrier oil (sweet almond, grapeseed, jojoba, argan and avocado are all really good) and 5-7 drops of your favorite essential oil. Shake the bottle and then lightly spray your hair before heading out. It's a great way to protect your hair and enjoy a favorite scent at the same time.
10. Baby Those Ends
Your ends are the oldest parts of your hair. This means that they need the most TLC if you truly want to retain length. You need to deep condition your hair every wash day. You need to seal your ends on that day too. Heat needs to be used minimally and you definitely need to apply a thermal heat protectant (cream will give you the most penetrating coverage) before blow drying and using a flat iron. As much as you can "tuck your ends in" so that they don't get exposed to outdoor elements, the better. Sleeping with a humidifier at night can give them some extra moisture while you sleep. Naturally stretching your hair out at night by braided or twisting your hair and then applying a mixture of coconut milk (it's loaded with vitamins B, C and E as well as fatty acids) and jojoba oil (it's filled with antioxidants) to your ends can reduce the chances of them splitting.
Y'all, it really can't be said enough that a lot of us don't get the inches that we want — not because our hair isn't growing but because we aren't retaining length because we're not taking good care of our ends. This summer, please make sure that you do.
11. Leave the Shears Alone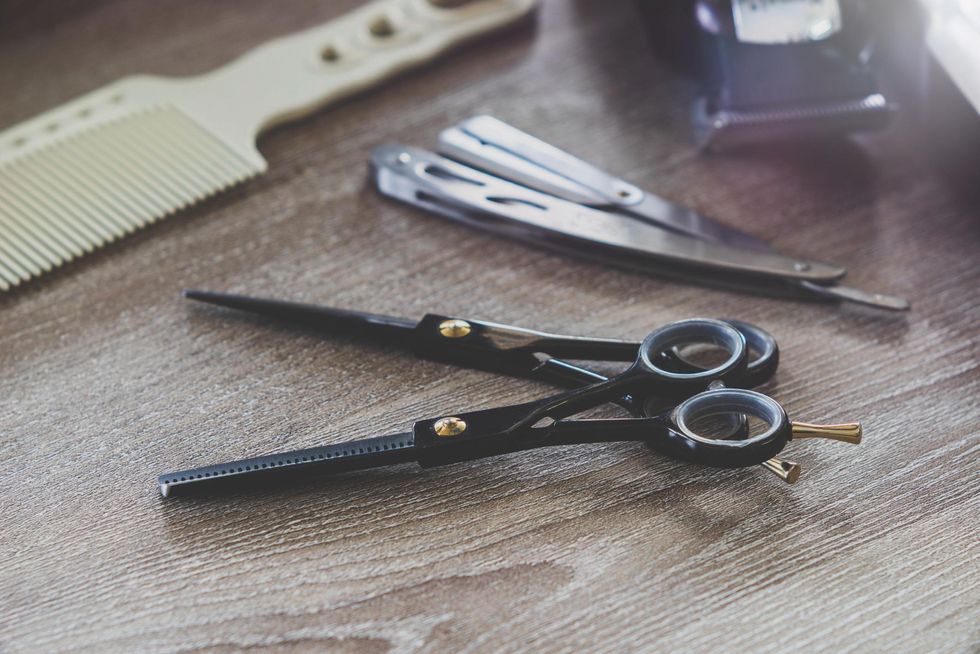 While it's always a good idea to trim fairy knots and split ends away, try and leave your hair alone as much as possible during this time of the year. Between protective styles like braids and twists, turbans, scarves and straw hats, there's no need to have your hair all out all of the time. Tuck in those ends that I just talked about and try and let your hair grow through September. If you do, you might be pleasantly surprised by what you have to show for it by the time you need to pull your sweaters out.
12. Have Fun with It
Knotless braids. Twist outs. Top knots. Butterfly locs. Passion twists. These are just some of the natural looks that are big-time trends this summer season. And the moral to the story with this final point is — try one. Then try another. Then make something up! So long as you are doing the routine maintenance that your hair requires, there is nothing wrong with getting super creative and having an absolute ball with your hair. After all, our textures make that oh so easy to do!
Join our xoTribe, an exclusive community dedicated to YOU and your stories and all things xoNecole. Be a part of a growing community of women from all over the world who come together to uplift, inspire, and inform each other on all things related to the glow up.
Featured image by Getty Images