Initially, I believed the scent of a woman was something that only us women cared about. While I knew my weaknesses for men who cared about the scent they wore and invested in a statement cologne, I didn't think men were bothered by our Chanel choices or are Marc Jacobs Daisy dreams.
---
But I was wrong.
The more I spoke to men, the more I realized that we were one in the same with how scents worked and although they might not be concerned with a price tag, they affiliated certain scents with certain memories - an involuntary action that occurs within both sexes as a result of our olfactory sense memories. Thus, the descent into madness based on the fragrance your partner wears can be something that's mutually felt.
I know what smells leave me captivated by a man, but I decided I had to turn the tables and ask men directly to learn what feminine wiles spoke the most to their masculinity. At least, as it pertains to perfumes their women love to wear.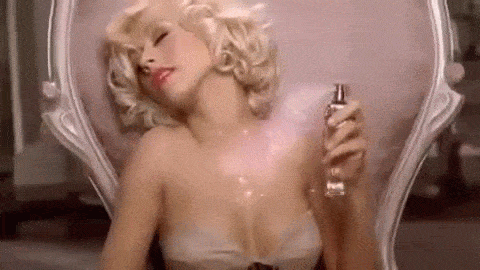 Below, five men share the scents that drive them wild and the women who inspired them:

Beyoncé Midnight Heat
"My wife wears this Beyoncé perfume that comes in a purple bottle. I'm not sure what it's called but it smells amazing. It's fruity but vanilla. She knows I love it so she makes sure to wear it for me during our date nights Thursday nights." – Corey, 30
Described as, "The fruity floral gourmand opens with juicy top notes of Dragonfruit, Starfruit and Armenian Plum. The heart is a vivid floral bouquet built upon the Purple Mokara Orchid, Queen of the Night Black Tulip and Purple Peony. Finally, the base seduces the senses with Warm Amber, Patchouli and Sandalwood."
Beyonce's Midnight Heat, $15.97; amazon.com

Marc Jacobs Daisy Eau du Toilette
"I got my girlfriend a bottle of Daisy perfume for Christmas. It was my first attempt at buying a girl a gift and I think I did a damn good job. She wears it every single day and it's so weird because the smell is so her. It's light and feminine and smells so sweet. That's my girl in a nutshell." – Stephen, 25
Described as, "Sophisticated, with a touch of whimsy, violet captures the eclectic, timeless flavor of Marc Jacobs' groundbreaking feminine designs. Always elegant, always enchanting—but not too serious—Daisy is a sparkling floral bouquet, spirited and fresh, wrapped in comfort and warmth."
Marc Jacobs' Daisy Eau du Toilette, $58

Calvin Klein Euphoria for Women
"I like sweet and floral smelling fragrances, but too much of that screams old lady for me. I like Euphoria a lot because it has that, but the spice in it makes it a little more mysterious and seductive. I think about sex oddly enough (laughs). I've smelled other things on women, but so far Euphoria is my favorite." – Ryan, 27
Described as, "The fantasy of black orchid creates a captivating oriental fragrance that blends exotic fruits, seductive florals, and a creamy signature."
Calvin Klein's Euphoria for Women, $55

Estee Lauder White Linen
"Hands down, (it's) my favorite scent to smell on my girlfriend. It just smells fresh. The thing about the smell of freshness is that I think about fresh sheets and that makes me think about messing them up again which means I think about messing her up again. TMI, but that's how my mind works (laughs), I love scents like that." – George, 27
Described as, "the very essence of a perfect day: early Spring breezes tinged with the fragrance of fresh flowers and endless blue sky."
Estee Lauder's White Linen, $42
Scented Body Wash
"I can tolerate some scents, but if I'm being real and perfectly honest, her body wash, what she uses on her skin as oil or lotion, what she uses to style her hair – that's all I need. Those things for me make up a woman's scent. Perfume can be too much sometimes. Just come as you are." – Michael, 33
What are some fragrances you've used that drive a man wild? Share with us in the comments below.