From the basketball court to the courthouse, where did it all go so wrong?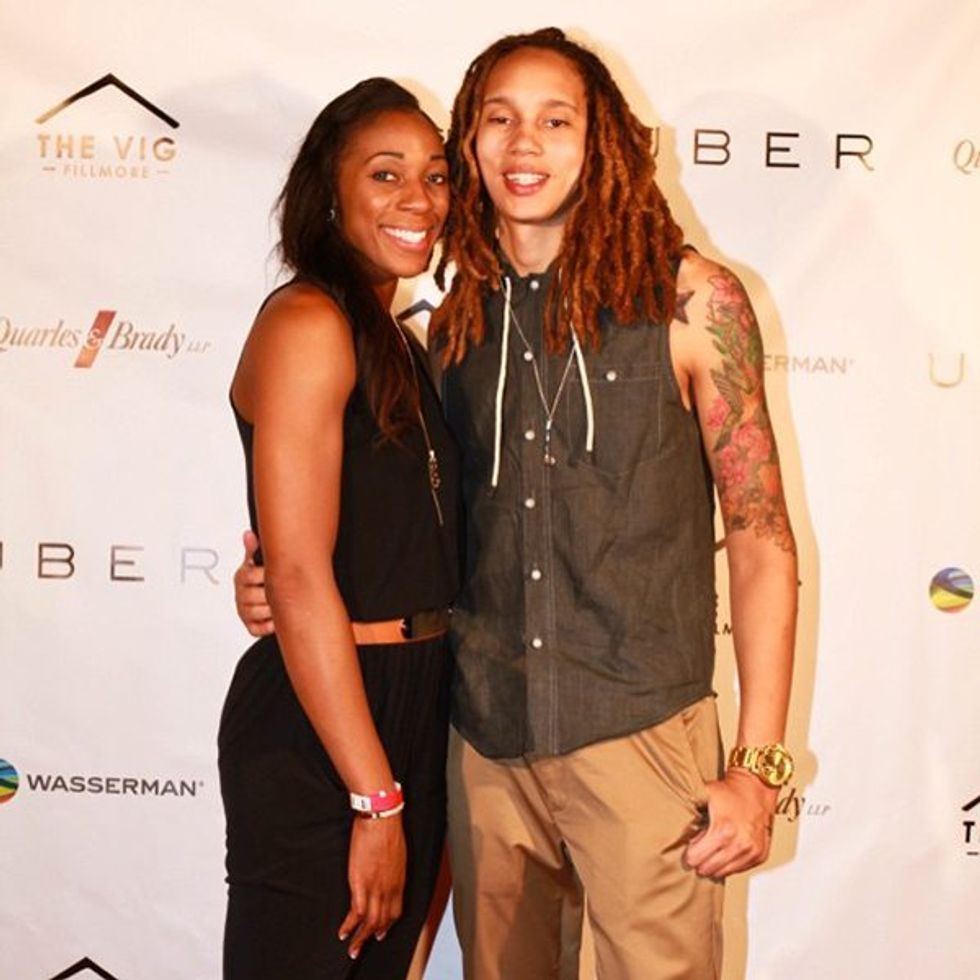 By now, must of us have followed the spiraling love story of Brittney Griner and Glory Johnson, the WNBA girlfriends turned wives turned mother(s) who managed to get arrested, married, pregnant and separated in a record six weeks. (Their marriage, however, lasted only 28 days). The ladies, who connected at a basketball camp in Las Vegas back in 2013, were already engaged by 2014.  A few weeks before their big wedding this past Spring, they were both arrested for domestic violence, where they'd later be suspended from the league for a total of seven games each.
---
However, despite the doubters, Brittney and Glory would make it down that aisle two weeks later, with Glory announcing her pregnancy the following month and Brittney filing for annulment the following day. Brittney also requested to be void of any initial consensual obligation to their twins, born via Invitro Fertilization.
So what happened?  Well in short--a lot!
Until now, the former couple have remained relatively silent regarding the split aside from Brittney's emotional breakdown on ESPN-W. However, all of this was due in part to Glory's high-risk pregnancy, and her decision to remain stress-free.
After giving birth prematurely to five-month-old twins, the new single mother and inactive WNBA player has decided to open up to Cosmopolitan magazine, in what is one of her most revealing interviews to date, and it is filled with a few red flags to look for in your potential spouse and relationship lessons throughout.
Hint: If you rush a crush, you just might crash!
Here's a few things I learned:
1. Don't Rush into Marriage. Get to Learn Your Potential Life Partner.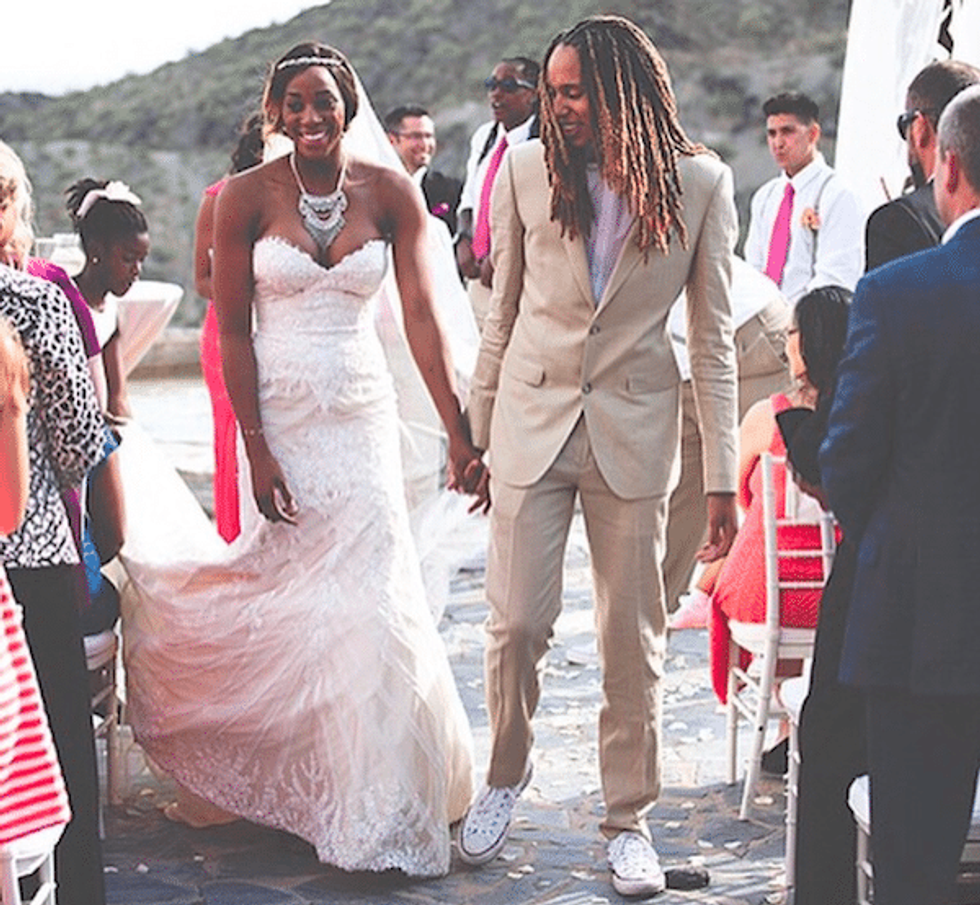 During her tell-all to Cosmo, Glory confirmed what most of us already knew: That she wasn't ready for marriage.  She also wasn't completely sure she was ready to date a woman, however she reveals that Britney's persistence had her locked in:
"Not a lot of people understand it. They wanted me to be a lesbian who converted from being straight," she says. "It just doesn't work for me like that." She remains straight, she says. She simply fell for an individual. "I've had men that needed to step up more as a man than Brittney," she says. "I was set.
In her interview, Glory describes the evening of her engagement, saying that she was at a party with then-girlfriend (of less than a year) Brittney, when Brittney sat Glory down in the center of the room, got on one knee, and asked Glory to be her wife.
"I automatically started crying.I was just shaking my head like, it's too much for me right now [but I nodded 'Yes']. I just needed to get away from everybody. You see all these lights flashing and all the cameras. I was boohooing, hiding my face in her shirt.

"Was I ready for it? Probably not [but] what am I going to say, no? All the cameras are in my face... "I was happy at the same time. It was something that I wanted."
2. Be Mindful of Making Permanent Decisions based on Temporary Emotions
Glory opens up about having taken a year off from basketball, per her fiancé Brittney's request, to travel more with Brittney since the long distance was placing a strain on their relationship. At the time, the ladies were a few months into being engaged and Glory was playing basketball in Russia and Brittney in China. Since Glory already forfeited her season, they decided it was the best time to get pregnant, and Glory pursued Invitro Fertilization almost immediately. Connecting with a specialist in their hometown of Phoenix, Brittney chose the sperm donor--"a blonde, blue-eyed man," according to Glory: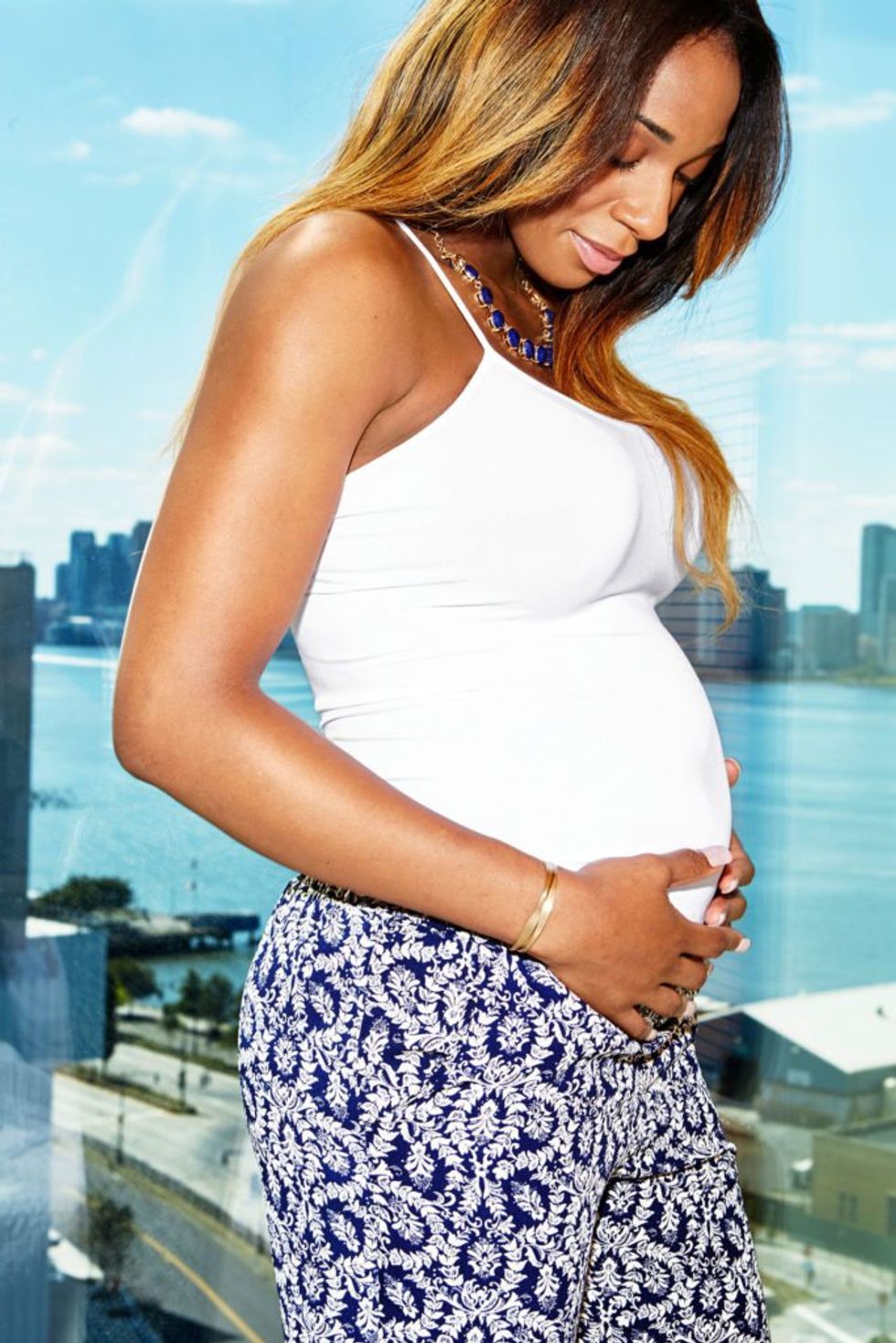 [Glory Johnson] She pulls out her phone and plays a pair of videos shot by Griner that she's never shared before. In one video, the women are at the fertility clinic, joking about their future kids, with Griner referring to herself as "Dad." In the other video, Johnson takes her pregnancy test in the bathroom while Griner watches, playfully teasing her fiancée. Griner says to Johnson, "Even if you're not pregnant, I still love you."
3. Know the Home You are Sharing with Someone- Including Everything in It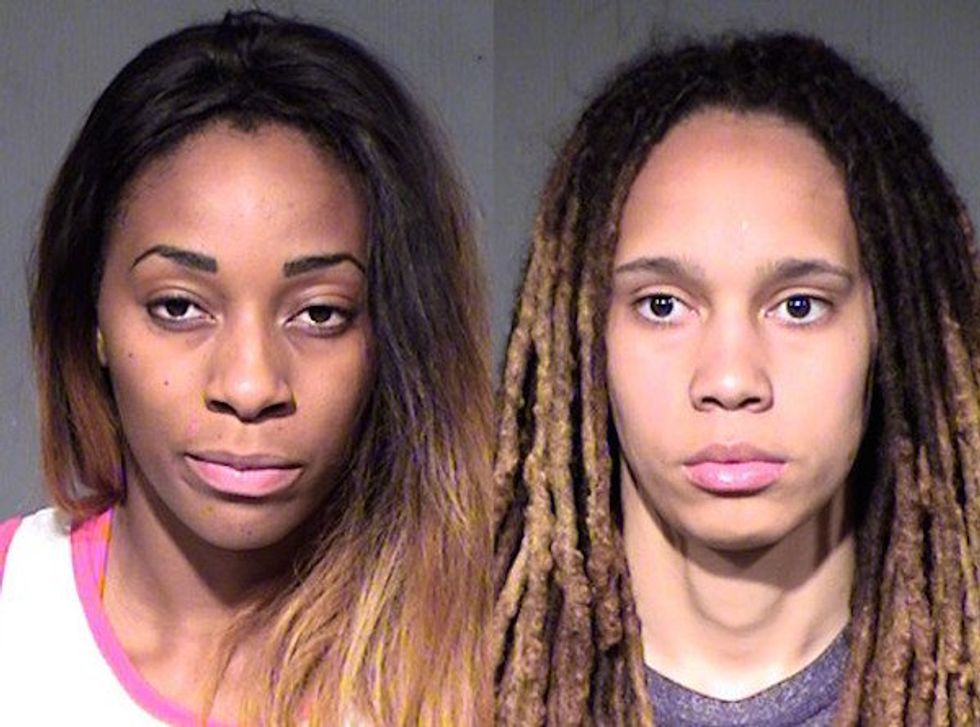 On the night of their big fight and arrest, Glory says her sister Judy called the police out of fear that Brittney was going to use her gun during the fight between her and Glory. Apparently, Glory's sisters Judy had moved in with the couple as a nanny in preparation for the family that Brittney and Glory were planning to have. Although neither ladies have confirmed or denied whether Glory was pregnant at the time of the fight, it is made clear that she was actively in the process of IVF (Invitro Fertilization).
Judy claims to have seen a gun in the house, although Glory was unaware of it. It was later confirmed through another witness, Grace Johnson, that there indeed was a gun in their home. So while the couple fought, it was Brittney's threat to Glory that raised a red flag:
We (Brittney and myself) were fighting. We were scrapping. Her eyes were dead black. I thought I could talk to her but she was not there."

She [then] recalls Griner saying, "I've got something for you" and heading to the bedroom. At that point, her sister Judy Johnson called 911... Judy says her fear that Griner was going to get the gun was the reason she called 911. "I thought the situation was way out of control and something needed to be done," she says.
Arizona law permits guns and other weapons in the house without a permit. Details of the gun were left out of the WNBA's public statement and detail of the fight because Glory wanted to "protect her fiancé." Glory
4. You Can't Save Everyone; Worry About Yourself Too
During her interview, Glory discusses Brittney's "suicidal thoughts" being one of the leading reasons why she stuck it out in their relationship, hinting that she felt responsible for her fiancé's well-being:
"I packed up all my stuff," she says, sending her fiancée reeling. Griner broke down and locked herself in the bathroom. Johnson began to worry about Griner's state of mind. Griner has spoken publicly about having had suicidal thoughts in her youth. "I knew she had that side of her," Johnson says. After clearing the room of sharp objects, Johnson decided to stay, she says, because she feared what might happen if she left.
[Related: Rihanna's Talks Having Savior Syndrome for Chris Brown]
5. Consider the Consequences of Forfeiting Your Financial Stability to Live Dependent on Another
Johnson now finds herself in a financial fix. She makes half of her estimated $90,000 salary while on leave from the WNBA and will make no pay overseas or from endorsements while off the court. Meanwhile, she says she is stuck with bills for the IVF, wedding, and furniture for the Phoenix home, among other expenses. A judge denied a request from Johnson for temporary spousal support of $20,000 a month, but she could potentially file for child support. Separately, a judge denied Griner's annulment request, meaning the two would need to divorce.
"I can't do this by myself," she says. "I have male friends, sweet guys that are offering to help me, and I'm not handling it well. I'm pushing it away because I don't trust anybody. I hope I get to a point where I can give somebody a fair chance, because I was so trusting before."
6. Although it Takes Two- Sometimes Closure Will Be A Party of One
In the perfect world, it'd be nice to think that moving on from a breakup includes the help of some closure from your ex, but that's not always the case. You may not even always get an explanation for their actions, and that's frustrating. Sometimes you will receive support from family and friends, and other times, may have to move on all on your own. Glory makes it clear that to this day-- marriage, babies and pending divorce and all-- she still hasn't heard from Brittney.
"I don't understand. I want to understand. I have dreams about it sometimes. One dream I had, we sat down and talked about it for the first time.

After all the things that she put me and my family through, I should hate this person. But at the end of the day, I still worry about how she's taking all this."
That's tough! Here is to hoping that things eventually work out for both ladies and for the babies as well.
Have you ever rushed into a relationship and suffered the consequences later? What are some lessons you learned in return?