Far too often on the quest for love, we search outside of ourselves.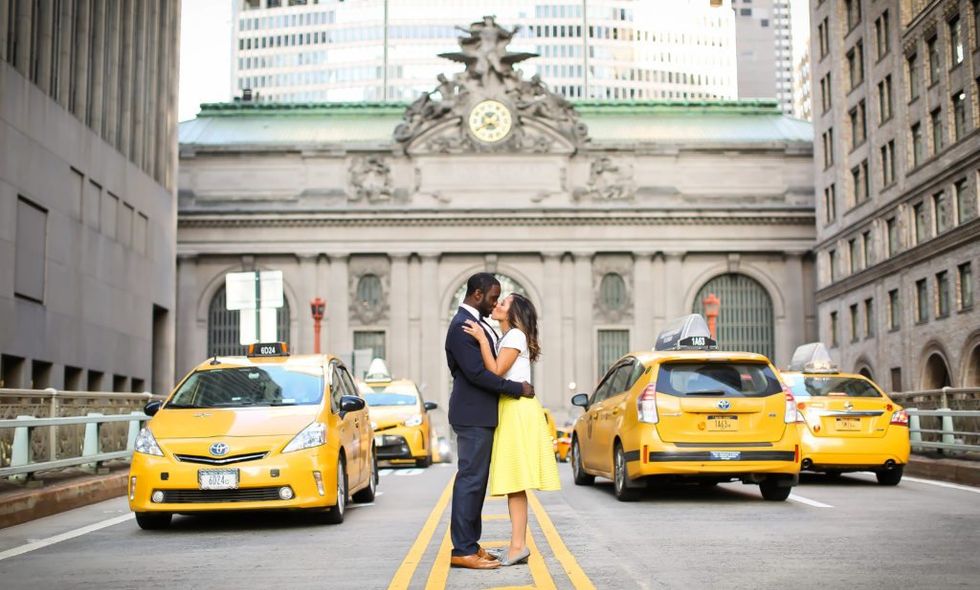 We look in places we wouldn't normally look, attend functions we dread, and participate in activities we don't love in the vain hope of meeting that special someone. While there is absolutely nothing wrong with expanding your network and trying new things, it gets tricky when you do those things with a motive to find a mate. I think the better way, arguably the best way, to find love is to do what you love. It worked for me!
I absolutely love to travel and I met the love of my life and fiancé on a flight to Kenya.
[Tweet "The best way to find love is to do what you love."]
Some people are single and content – to that group, kudos! Others, understandably, struggle with not having a partner by the time in their life they felt they'd be in a relationship. It's too easy to spend your single days focusing on the fact that you are single or things haven't turned out as you'd hoped. Instead of expending energy on the negative, try instead to focus on the positive. You have so much time to fall in love with the number one person in your life – you!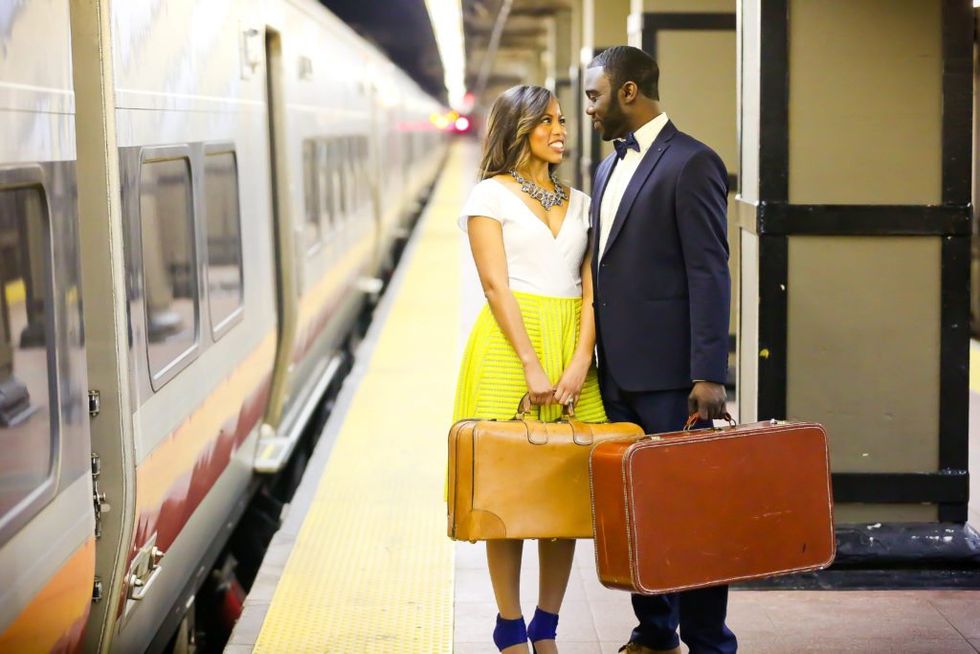 Spend time figuring out what you love, what excites you, who you are and who you want to be. Without fail, this will make you a better person and ultimately a better partner. Eight years prior to meeting my fiancé, I uncovered my love for travel and from that point on, I made it my mission to see as much of the world as possible.
I took some trips with friends, but a great deal of the trips were alone. The happiness that I gained from traveling far outweighed any of the perceived negatives of solo traveling. Had I waited for a partner or the perfect situation to do what I love, I wouldn't be the person that I am today and may not have met the man of my dreams.
When you do what you love and feel passionate about it, you begin living your authentic life. On that authentic path, you meet people who are already in alignment with who you are and where you're going – isn't that awesome!
[Tweet "When you do what you love, you begin living your authentic life."]
By being authentically you, you attract the best people for you. Here are the four reasons why doing what you love can have the added bonus of discovering a healthy relationship:
1. You are happy!
This is most important. When you are fulfilled, content, and on a path paved with things you love, you are operating at your best. That means you do not feel the need to be completed by anyone – you are already complete. Being in that position is a great place to be for yourself. The cherry on top – happiness is attractive!
While there were definitely times that I wished for a companion during my single seasons, I can honestly say that the majority of the time, I was happily single! When you use your freedom to do what you love, it's very hard not to be happy. Because I love to travel, I did it as much as possible-- I lived in 3 countries and visited 27 before meeting my fiancé.
2. You share a common interest.
When you meet someone doing an activity that you love, chances are that person is interested in that activity too. There is a built-in launching pad for a great conversation (no awkward small talk here!) Down the line, if things progress, you have a shared activity that you both genuinely enjoy and can continue to bring you closer together.
Travel brought us together and we continue to travel throughout our relationship. We dated for 20 months and explored 20 destinations (8 international and 12 domestic) before getting engaged London. Our journey has been beyond joyous because we do what we love together. You can see some of our travels on Instagram @ThatCoupleWhoTravels.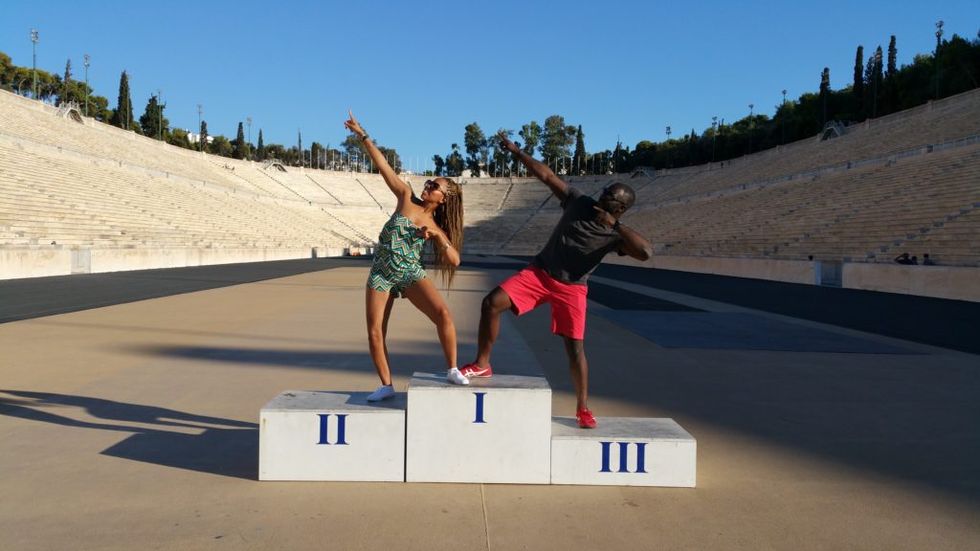 Us in Athens, Greece
3. You can be more comfortable being yourself right away.
You know, sometimes we take the representative version of ourselves on first dates and to places where we are looking for love. This often leads to wasted time and heartache after getting to know that real version of that person and vice versa.
When I started dating my fiancé, I remember telling my friends how refreshing it was not to deal with games and gray areas. Things were very black and white. Not only did this make it easy to be together, but it also allowed us both to put our guards down and fully walk in love. I attribute this to us knowing early on what we were getting in one another—both the good and the bad.
[Tweet "It allowed us both to put our guards down and fully walk in love."]
4. You stay connected to what makes you, you.
When we first start dating someone new, more often than not, the bliss of romance keeps us snuggled under our new lover and maybe away from our normal routines. Hey, it happens to the best of us! When you meet someone with shared interests, chances are higher that you'll both continue pursuing that interest. That is healthy for the both of you – while falling in love is great, we must be careful not to totally lose ourselves in it.
At the risk of sounding #basic, one of the most inspiring quotes is from Ms. Carrie Bradshaw herself: "The most exciting, challenging and significant relationship of all is the one you have with yourself. And if you can find someone to love the you that you love, well, that's just fabulous."
So, go be your best self. Do the things you love. Live your best life and perhaps, on a day you least expect it, the person you've been hoping for will come along.
- Co-authored by Martina Renea, the other half in That Couple Who Travels, and Jessica E. Johnson, the happily married BFF who gives awesome advice
What do you love to do? Has your love led you to love? Share your stories with us in the comments below.
---
Martina Renea is passionate about being well traveled and inspiring others to do the same. She has visited over 30 countries and lived in 3. Determined to let nothing stop her from seeing the world, she did a ton of solo traveling. But now she mostly travels with her fiance. Check out their travels on Instagram @ThatCoupleWhoTravels.