One look at Nana Agyemang, and there's no doubt that she is a boss. Take her perfectly curated Instagram feed that exudes the glitz and glam of Black girl luxury, travel, "it girl" fashion, and indulgence, for example. There is a unifying theme of daring to take up space in a world where people like her aren't often showcased. It's also a theme that lends itself effortlessly to her overall mission. In a world where we are made to feel as though we are invisible, Agyemang seeks to make Black and Brown voices and faces both felt and seen.
---
As the CEO and founder of the ever-growing EveryStylishGirl media company, she is doing just that. "I would like to uplift the social and economic status of Black women in America and specifically in the media," Agyemang shares of her life purpose. "I want us to fulfill our potential and overcome obstacles put in our way by society."
Since the age of 14, growing up in rural Ohio, Agyemang has been adamant about acting as a vessel for opportunities for Black and Brown women of color in spaces. This started with her role as a photojournalist in high school and changing the covers of her yearbook to more closely resemble the Black and Brown faces she saw walking the hallways. However, when branching into media, she noticed that despite having a seat at the table, many of her peers weren't. There was a marked lack of diversity in fashion and media, both front-facing and behind the scenes. Instead of seeing the lack of representation and diversity as an obstacle, Agyemang sought to find solutions.
And a solution, she found.
To fulfill her mission of career advancement and professional growth opportunities for Black and Brown women, Agyemang launched EveryStylishGirl in 2016. First an Instagram page only, ESG has since evolved into an inclusive media company with a directory for job placement and networking opportunities, as well as the annual Sip N' Slay conferences.
"Every day I aim to create more opportunities for my sisters, in hopes that we can build our own tables instead of waiting for a seat at someone else's," she explains.
The next woman's opportunity doesn't take away from hers and it is that empowerment that has kept her media company flourishing all these years. In the last year, Agyemang quit her job leading social for The Cut to focus on ESG full-time and has been seeing nothing but abundance since.
The multi-hyphenate hustler recently chatted with xoNecole about not quitting your daydreams, her biggest career mistakes, and why it's important to share the title of "boss" as a CEO.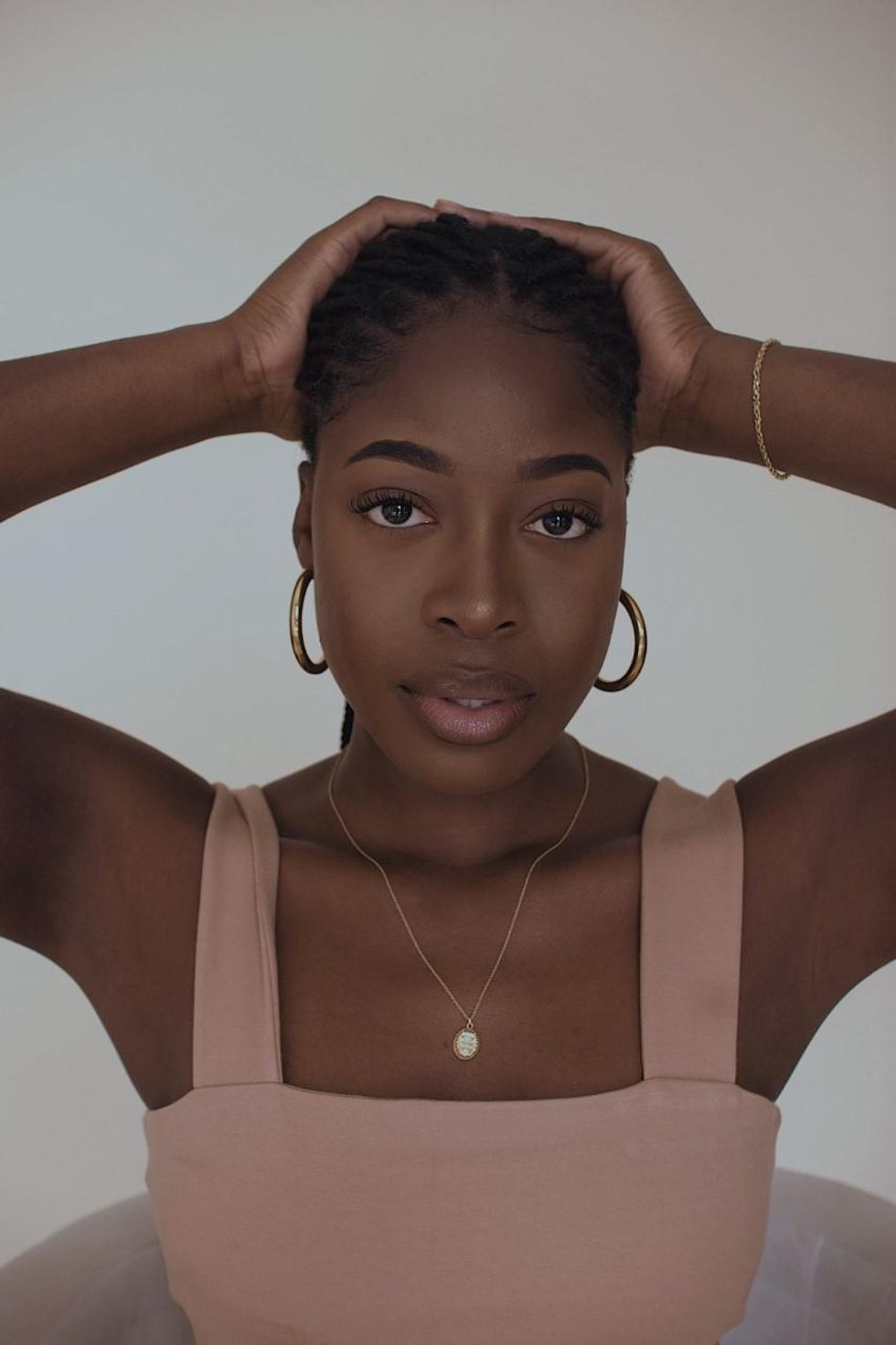 Courtesy of Nana Agyemang
xoNecole: What was your earliest memory of feeling seen as a Black girl (or a Black woman) in media?
Nana Agyemang: In high school, I signed up to be a photojournalist for the Yearbook Club because I always felt like our yearbook lacked diversity. When I took over the role I made sure our covers had Black and Brown faces and voices. Before that, I didn't really see much representation in school. I definitely didn't see it in mainstream teen magazines in the early 2000s either.
Do you think the lack of seeing yourself or people like you led to you wanting to pursue media in your profession?
100% percent. The lack of representation scared me. I thought to myself I was never going to see Black women on multiple magazine covers or even a September issue and it scared me knowing this was the industry I wanted to partake in. But it scared me so much I jumped on the opportunity to change it. In a way, the trepidation gave me the motivation to cover the stories of my sisters.
What were some key opportunities of growth that were important for you to tap into as you scale your business? 
I recently left my role leading social media at The Cut to pursue EveryStylishGirl full-time and, while I loved being in the editorial world, it allowed me to grow my businesses and connect and amplify so many more women than I could imagine.
How did a Master's in journalism and your work with EveryStylishGirl translate to owning a lane career-wise as a contributing social editor for The Cut? 
Honestly, getting into that position was so serendipitous. I was out to lunch with another editor friend, Indya Brown, who worked at The Cut at the time, and she mentioned they were hiring a social editor and she wanted me to go after it. At that time, I had never worked professionally for a traditional news company as a social editor and I didn't believe I had the skills to do it.
But I realized I was wrong because not only did I work as a social editor for myself for EveryStylishGirl but I launched my own successful social media company and grew it to 50K followers in under three years. Also, to top it all off, I did have a Master's in multimedia journalism. Therefore, all that self-doubt was once again just fear getting in the way.
Speaking of job titles and roles, how do you feel the work you've done in the past has acted as a roadmap to what you are doing now in life? 
The job that has been most beneficial to my career growth has been the job I created for myself. Starting my own business in college is the main reason why I was able to get my foot in the door at The New York Times, ELLE Magazine, and The Cut. I always tell people, "Don't sleep on your daydreams." And I mean it because that side hustle will one day become your full-time job. It will get you in rooms and spaces much quicker than others who don't have a side hustle or small business. You're ahead of the game because you are your own lawyer, accountant, boss and copy editor, and content creator.
You have built immense skills in such a short period of time and that's a specialty not everyone can say they have experienced. It makes employers value your work ethic and know you can be scrappy and creative when needed. I thank ESG for everything I have today career-wise and I owe it to myself for creating my successful career.
"I always tell people, 'Don't sleep on your daydreams.' That side hustle will one day become your full-time job. It will get you in rooms and spaces much quicker than others who don't have a side hustle or small business. You're ahead of the game because you are your own lawyer, accountant, boss and copy editor, and content creator."
At EveryStylishGirl, I've noticed that you have given everyone on your staff some variation of the title of "Boss," why is that? Do you think it is important that everyone feels like a leader on your team although you are the CEO and founder?
Yes, because we are all bosses. We might be on different levels but everyone is a boss because you wake up every day and choose to show up. It's not easy to be Black women, and we already have so much against us in the business world. It feels uplifting to carry that boss title when you go into work and know that you have to live up to that boss status. You have to lead, inspire and motivate those around you.
Access is important to you, especially when it comes to inclusivity, how can media do better at providing access to women of color and promoting inclusivity in their hires?
Hire women of color! You can't improve inclusivity without ensuring your teams are diverse first. This is one of the reasons we launched the EveryStylishGirl Biz directory. There is no longer an excuse for companies to say they can't find Black or Brown talent when there are resources to do so.
What is ESG doing to speak to those gaps specifically?
EveryStylishGirl's focus is elevating women of color through multiple channels. Our directory is a concrete way for us to bring women of color into companies at all levels while also creating visibility around these opportunities for these women to see them and apply. We consistently post job opportunities from our directory partners on social media so that women can see these opportunities firsthand and have the know-how to apply.
As a founder, what have been some of the biggest lessons you've learned about running a business? 
Always find a mentor. You are only going to grow and improve if you talk to those who have experienced what you have coming. I learned that the key to success is to ask questions and know that no question is ever a dumb question in business. It's dumb to not know the answers or pretend that you know it all because that will get you nowhere. I highly recommend every business owner have company advisors and mentors. My mentors have saved me time, money, and unnecessary mistakes.
Have you ever experienced a major failure or mistake in your career? How did you bounce back? 
My biggest mistake in my career was staying in a job for too long where I wasn't appreciated. I spent days frustrated and unhappy about my job but I was worried if I left I wouldn't find another job in time to keep up with my rent and financial responsibilities so I held onto my job as a crutch and it kicked me in the butt in the long run. I regret not listening to my gut and my intuition. It wasn't until I was let go from the company that I felt creative freedom. It was that moment ESG took off and my personal brand took off.
"I held onto my job as a crutch and it kicked me in the butt in the long run. I regret not listening to my gut and my intuition. It wasn't until I was let go from the company that I felt creative freedom. It was that moment ESG took off and my personal brand took off."
In a world where there is an unconscious divide between having a 9 to 5 and quitting your job to be your own boss, why was it important to you to have both? 
A 9 to 5 is important because you get professional experience and earn income while you're trying to figure out how to grow your business. It is also a great way to build a network and net worth. Grow your contact list, cultivate relationships, and learn the ins and outs of the company, especially if it connects to your side hustle.
How are you able to successfully maintain a thriving business as a CEO and founder while maintaining a successful career as contributing social editor for NY Mag and The Cut? 
Discipline is key. It truly takes discipline to say no to social outings with friends, vacations, and other distractions. I was in a hyper-focused mindset because I knew what my end goal was. My goal was to get the Cut to a strong following online, build an engaged community, create relationships, and transition into being my own boss. Once you know what the end goal is it's easy to have the focus to stay on track and cut out distractions but without that roadmap, I would have been lost.
How do you think being an employee feeds into your role as a CEO, if it all? How do you think being a CEO pours into your role as an employee?
I'm sympathetic to my employees. I understand what it's like to be learning and working for someone else's brand and trying to gauge their voice. It takes time and patience. I always give them that space to grow and I take them in as mentees. I am genuinely invested in their growth and getting them to the next level in their careers.
In a lot of ways, when I look at you and your brand, it seems like you embody the phrase, "I am my ancestors' wildest dreams." What would you tell women who might have fears surrounding creating and cultivating a life that speaks to them?
Spend five to ten years becoming an expert in something. It could be working a 9 to 5 for ten years or working on a side hustle for ten years, but if you could just do one of those then you could put yourself in a position to become an expert. When you become an expert, you can put yourself on the market to sell something. Once you have a business to sell something of your own, you can work towards being your own boss.
And lastly, who is Nana Agyemang outside of what she does?
I am very close to God because without God I wouldn't be where I am. I am incredibly loving and goofy at times. I love being around people that make me laugh. I enjoy self-care. I invest in good candles, perfumes, and leisure experiences. Lastly, I invest heavily in the success of my friends and family. I go above and beyond to help those around me get to the next level. I'm a giver and lover.
For more of Nana, follow her on Instagram @itsreallynana. Follow ESG @everystylishgirl and @everystylishgirlbiz.
Featured image courtesy of Nana Agyemang