---
Harper's BAZAAR recently released a series of of family portraits that puts Kmart Portrait Studio to shame. The "BAZAAR ICONS 2018: The First Families of Music" issue features some of music's biggest names and the offspring that will carry on their incomparable legacies. Shot by Mario Sorrenti and styled by Carine Roitfeld, the issue features Erykah Badu and her two daughters, Puma and Mars, alongside other big names in the music industry including Mariah Carey, Kanye West, Lionel and Nicole Richie, and Christina Aguilera. In the issue, the parents share their advice and hopes for their children, and the images are breathtaking.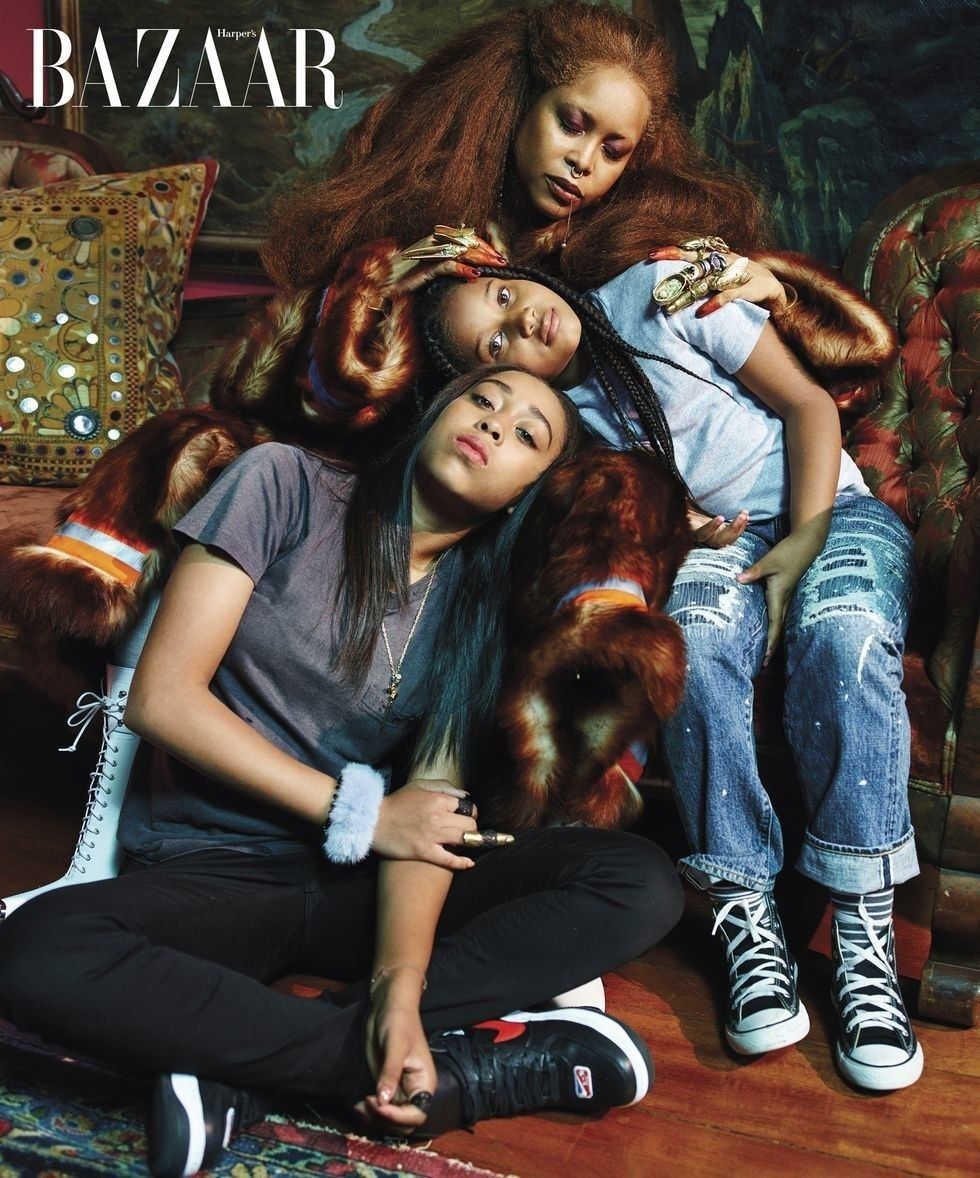 Mario Sorrenti for Harper's Bazaar
The great Muhammad Ali once said, "Service to others is the rent you pay for your room here on earth." Erykah Badu seems to share this same sentiment and tells Harper's BAZAAR that aside from doing what she says, she wants her kids to use their gifts to improve the world around them. She says:

"I want my children to use their gifts in order to do service for others. That is, to make sure that their gifts are serving something bigger than themselves. And to do what I say."
Regardless of some of her past controversial statements—of which she has characterized as misconstrued—Badu is an indelible figure in the culture. From her Instagram posts to her fashion choices, Badu is the epitome of eccentric—even mystical. A self-described healer, she is also a practicing doula. She is not only giving her kids amazing advice, she is also practicing what she preaches.

Many people think of a doula or a midwife as someone that is simply there to assist a mother during childbirth. But as the singer, actress, and activist explains, being a doula is much more than coaching a woman through labor pains.
"In my definition of a doula, when the spirit comes in we don't know where they're coming from, we just want them to feel good."
Having helped over 40 spirits enter this world, the Baduizm singer takes her roles as a doula and spirit guide very seriously. As someone who gave birth to her own three children at home, Badu is especially familiar with what the body and mind goes through when giving birth without the aid of an epidural or pain medication. But she is also attuned to the fact that birth is such an incredibly beautiful experience, if it's done right.
"We don't know where these babies are coming from—their souls, or their spirits of mind, or if they're born wholly as soon as they get here—but whatever it is, I just want the environment to be one of tranquility for the mom and dad and everyone involved. A home birth is about being able to create exactly what you want, because it's such a violent moment inside of the body that you want everything else to be as beautiful as it can be. So I started studying to be a doula and got my certification in 2011 and now I'm in training to become a midwife. I'm almost there and before I know it I'll be able to open my own practice, if that's what I desire."
Badu has a new patient on the horizon. Supermodel and one of the faces of Fenty Beauty Slick Woods recently revealed that she is pregnant with her first child. Many gravitate towards Woods because of her unique signature look and rebellious spirit. Badu and Woods are seemingly a match made in heaven, and the singer plans to coach Woods through her pregnancy as well as the birth of her son. Woods recently told ELLE UK that she looks up to Badu as a mother, and "boss-ass bitch." Woods told the mag:
"She's a mommy role model. A mother I look up to, who kills her shit and is a boss-ass bitch."
Despite her numerous Grammy, Soul Train, and NAACP awards, Erykah Badu is much more than her musical legacy. Badu, "Erykah Badoula" as her clients affectionately call her, has found her calling through helping other mothers share in the joy she has found in motherhood.
"Nothing gives me more pleasure than being the welcoming committee for a mother's new joy."
Being of service to others is one of the most rewarding experiences we can have as citizens of this earth. Combine that with bringing new life into this world, Badu is a great example to her kids and the rest of us that becoming a part of something bigger than ourselves is the an incredibly spiritual experience that enriches the lives around you as well as your very own.
Check out the other stars that were featured in this month's issue in the gallery below!
Featured image by Mario Sorrenti for Harper's Bazaar