"And her smile is her best curve.."
One time for diversity expanding into a place of landing curves on the covers of magazines. My how times have changed!
---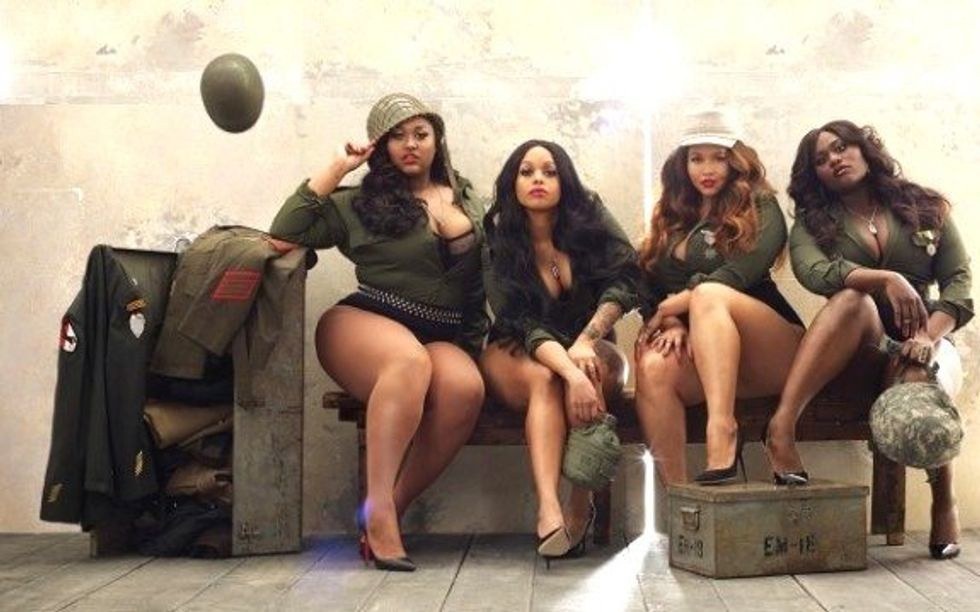 For the past six months, EBONY magazine has been releasing a slew of statement covers, a few of which have celebrated the Black female in all her glor-ayyyy!
Just this past Fall, the coveted editorial honored the various faces of the Black supermodel world, with everyone from vitiligo model Winnie Harlow to the gorgeously fierce and albino Diandra Forrest gracing the cover.
Now for Spring, it looks like the plus-sized queens reign supreme! EBONY takes it a step further from recognizing the many brown faces that create the Black woman in to the various, voluptuous frames that we also come in. Deemed the "Body Brigade," singers Chrisette Michelle (33) and Jazmine Sullivan (28) join actress Danielle Brooks (aka "Tasty" from Orange is the New Black, 26) and blogger/swimwear designer Gabi Fresh (26) for a stunning cover of figure-8 greatness that looked a little something like this: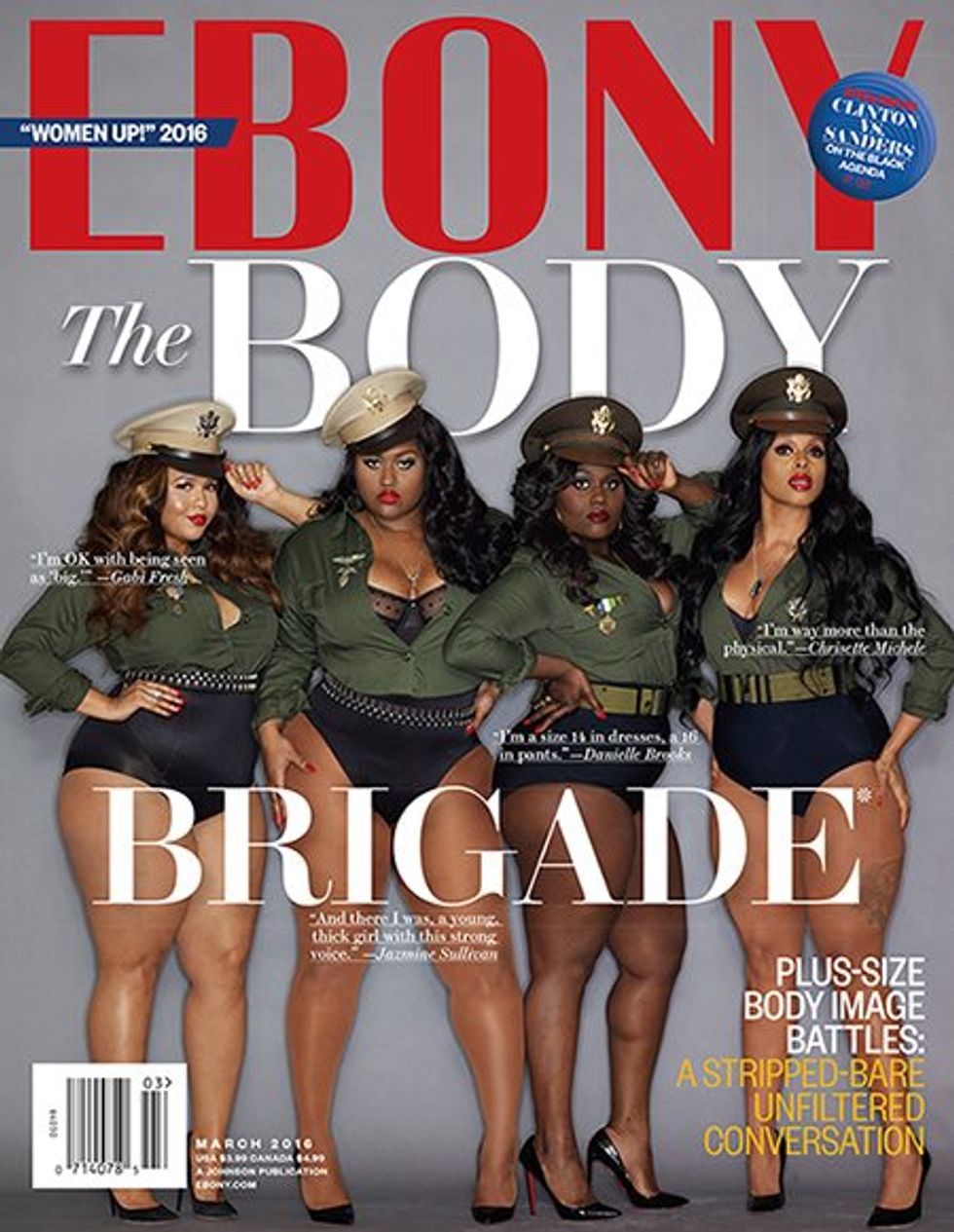 Written by writer and fellow curvy-girly Tomika Thompson, April's EBONY is more than just a literal issue, it also deals with the issues of the thin line between body shaming and body celebrating. Tomika describes that her interview with Jaz, Chrisette, Dani B and Gabi took place over a grandiose family-style meal (with wine of course), while the ladies dished over their dishes and bonded over body politics:
"Those of us who identify as chunky, curvy, plus-size, big, ample, full-figured, BBW, big-boned, thick, voluptuous, heavy-set or fat are fully aware of the obsession-rejection, push-pull, love-hate relationship society has with our physiques. What others may think about what we do or don't eat doesn't matter; the greater judgments, regardless of whether they are favorable, come from within.

Although African-American women have the dubious honor of weighing in as the most obese of any group in the country (recent national data finds that 80 percent of Black women are considered overweight or obese), it's worth noting that nearly 70 percent of Black men are overweight or obese as well, compared with 71 percent of White men and 63 percent of White women."
Thompson goes on to break down the heavy burden that weight can often play on one's self-esteem depending on cultural influences. She continued:
"To be a "brick house" or "thick" has never been a sin in Black America, and not surprisingly, overweight Black women are also reported to be happier with their bodies than White women across the weight scale. The perceived White women's coveted "skinny" status is not a universal goal for their Black counterparts; some of us who wear size 12, 14, 16, 18, 20 and up actually like ourselves as we are."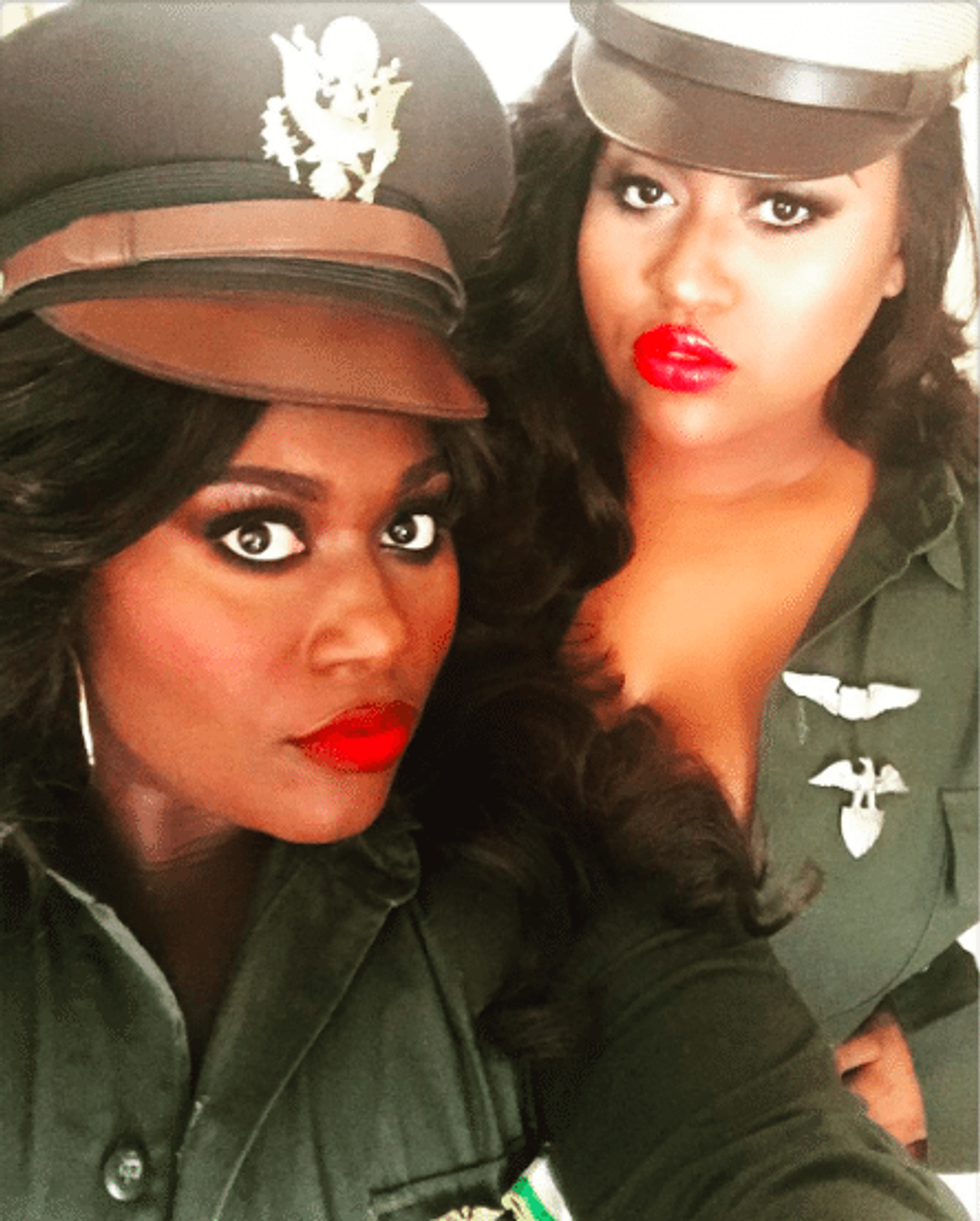 Actress Danielle Brooks and Jazmine Sullivan
The bigger picture of health is also brought into the play, as a disclaimer that this is more than just an magazine glorifying what some may say  is the promotion of a poor body image. But rather, this month's EBONY is intended to dismiss the myth that "big" always means unhealthy. Or unfit. Or -bigger- better yet, unhappy.
In her writer's letter, Tomika goes on to discuss the debatable message behind Oprah's 2015 Weight Watchers commercial as well as promises to reveal that "whether you are someone who could have joined us for the meal or someone who has never engaged in the body image battle, you will learn how critical, complicated, contradictory and sometimes completely satisfying the relationship between big Black women and their bodies is."
Many of the ladies from the spread took to their Instagram and Twitter to express their satisfactory regard with the EBONY coverage, including Chrisette Michelle whose words resonated with me on a personal level:
"I never knew I was 'Curvy' until I was asked 'what's it like to be a curvy girl in the music industry?' Our bodies occur to people more than they occur to us and sometimes we have to stop and sit to talk about them. Beauty comes in all shapes and sizes and when the issue of curves is deleted, we will all just celebrate beauty. For now... Let's talk about me and my girls sexy ass CURVES! I'm on the cover of @ebonymagazine!!! HALF NEKKID!!! And I'm SO PROUD!"
What's promising about this issue (as I cross my fingers that it will be all as it is described to be with a side of fly flicks of course), is that at 5'2 and 145 lbs, I can relate on a smaller scale (no pun intended) about the trickiness behind thickness. What Tomika said about 80% of Black Women in America being deemed "overweight," is no surprise seeing as to how the weight of many curvier women allocates differently depending on your genetics and body type, and much like Chrisette, I too was surprised the first time I was told I was overweight.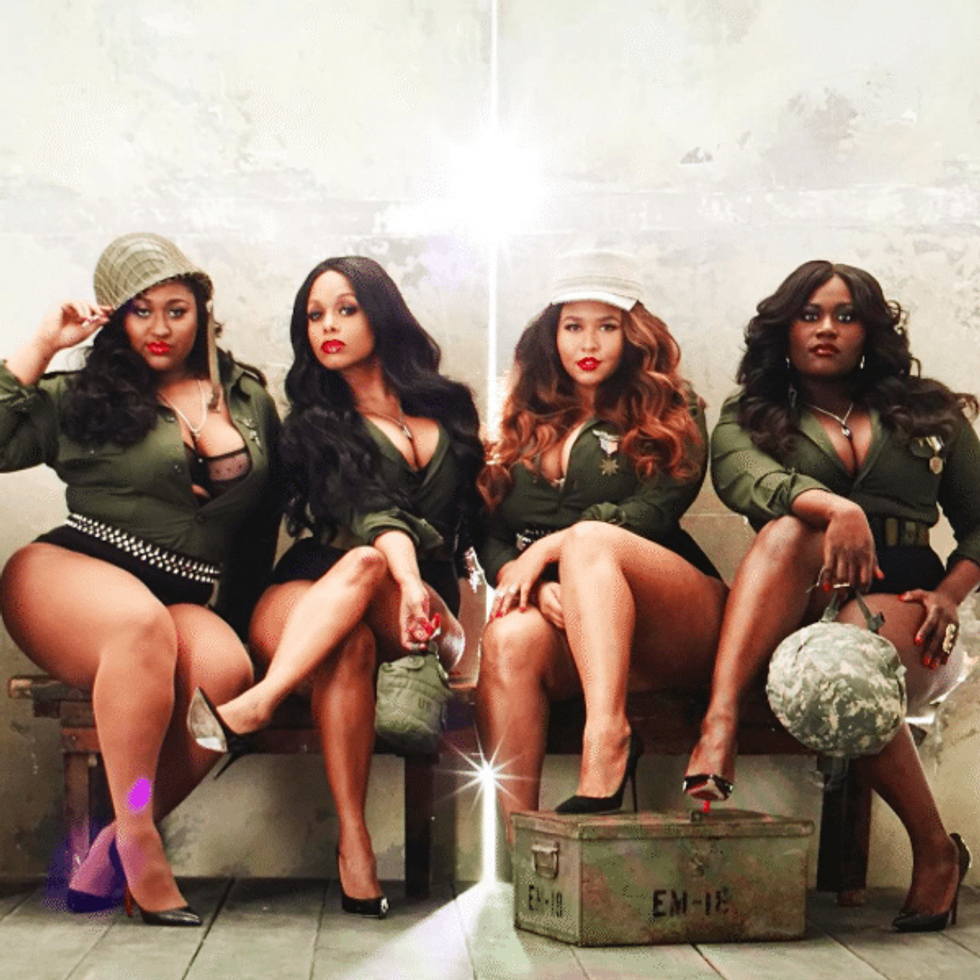 It was back in 2012 and I was eight lbs lighter. My doctor made a mention of my overweight status since he himself was shocked, having figured me to about about 10 lbs less just from looks alone. I also had high blood pressure. He assured me though that I was mostly healthy and contributed my ability to "hide" (or rather, hold) my pounds deceptively to being that of pear shaped, along with a past in athletics since I used to be a competitive gymnast!
After encouraging that I eat better and workout more in order to control my slight hypertension, I  was forewarned by my physician to not be discouraged if I start gaining weight versus losing it, since training may lead to my fat turning into muscle. And that although I'll appear tighter and toned, the weight of the muscle will have the scale tilting on the upwards end. Since then, I have added on some pounds per working out more (and brunches!!), but as promised, I fit better in my clothes and appear slightly leaner. This all goes back to ditching the myth that bigger always means unhealthy, since this is not always the case.
Either way, it's great that the discussion regarding body images in media is being brought up, and hopefully this issue can help continue to break even more beauty barriers!
One time for the body brigade gracing that April issue! What are your thoughts on this issue and weight and body perception in the Black community?