It's official- Draya Michele has swapped popping bottles for making bottles, and "congrats" are most certainly in order!
---
Earlier today it was confirmed that Draya and her fiancé, Orlando Scandrick, are indeed expecting their first child together. The model and actress, who kept her big bump low-key for months, finally confirmed the news to PEOPLE that she is pregnant with her second child: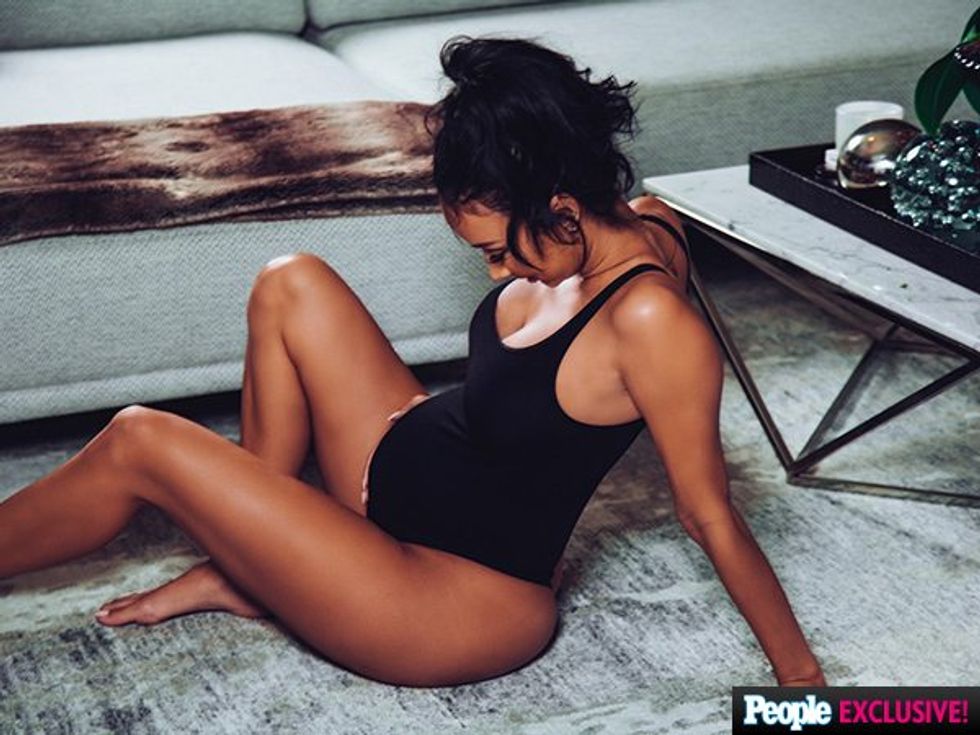 "I'm not sure what made me decide to take a home pregnancy test, but I decided on taking two at the same time "They were both positive and I was instantly excited. We made an appointment to see the sex of the baby for 16 weeks, but surprisingly at 12 weeks, our doctor was able to see that he was a boy. Technology and ultrasound machines are much more advanced then 13 years ago when I had my first child."
This will be the 30-year-old's second son, and Orlando's first. Currently Draya has one 13-year-old, Kniko, and Orlando is the father of twin girls, Taylor and Tatyana, who turn six this month.
Draya, who is entering her third trimester (how did she keep that thing a secret?!), admits that she is still staying fit through diet and exercise--mainly cardio. The mom also revealed that her favorite part about her pregnancy has been the nap times, considering she is still working full time. Her least favorite part, however, was keeping it a secret from teen son Kniko:
"I just had to buckle down and tell him. I honestly felt really bad keeping it a secret from him so I made sure that he was one of the very first people that I told. He's excited to be a big brother and wants to teach him soccer."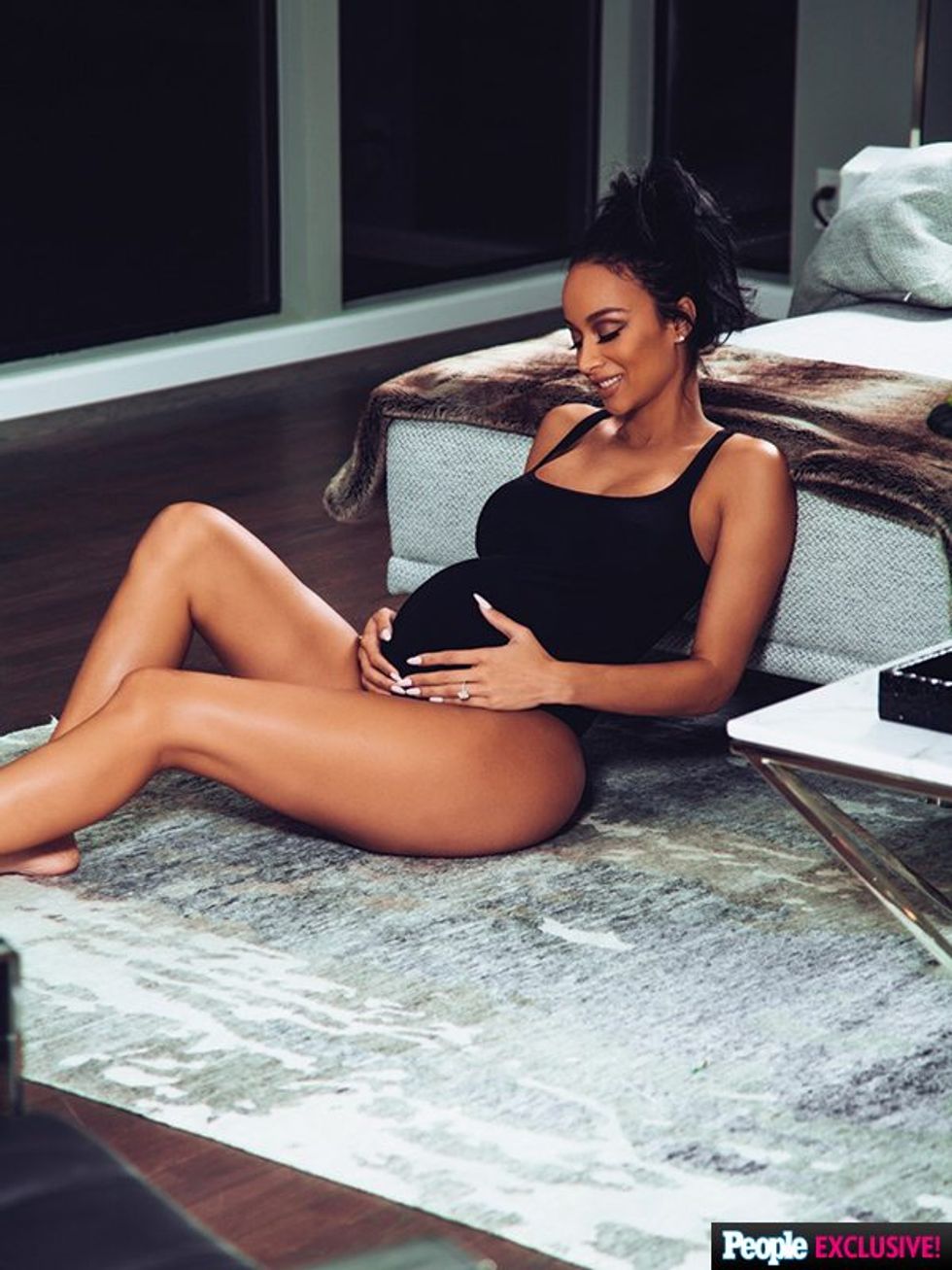 She also promised that she plans to keep on being the mother-hustler that she is, working on her lucrative business Mint Swim, as well as confirming (via Tweets) that she has a sneaker deal on the way around the same time as her due date.
"I plan on working on the 2016 summer collection of Mint Swim and I have a few movies premiering as well as a TV show. I'm a very busy lady and I love taking my bump to work with me."
Get it! Draya has been very open about her transition into a family woman ever since going half on a home and co-parenting with boyfriend of three years, Orlando. She even thanked Orlando last year for "adding" to her load when he introduced Draya to his twin girls, to which Draya willingly and lovingly admitted to enjoying her new role in their lives.
But along with being a mommy-figure to Orlando's girls, Draya has also signed up to be a role-model to all women turning down from the turn up, and who aspire to go higher in life.
As a matter of fact, just a few days ago, Draya offered up some kind words of encouragement to former Taz Angel, "Kinky." Taz Angels is a group of women who reside in one home and are paid to go on dates and to attend parties with celebrities. The women also co-host private parties of their own in their boss Taz's home.
After eight years as an Angel, Kinky revealed that she would be moving out of the mansion and moving on with her life. Draya stood by the ex-Taz Angel's decision, saying:
"It's never too late to use your platform for good. We all have the ability to change and grow and everyone deserves a second chance. I think it took a lot of guts to write this and I wish you the best!"
Unfortunately, Draya received some flack from people who laughed at both Kinky and Draya, accusing Draya of trying to "delete Kinky's hoe-ness." Instead of clapping back, the mother-to-be simply expressed in a few tweets that she is just here to inspire young woman to grow up, glow up and GO up. She even told the young lady to "lean on" her.
"I feel like because I have a lot of followers, I'm obligated to set a better example for the young girls that follow me. Sometimes, I feel like a sort of mentor... so I'm used to girls taking their hurt out on me. I'm strong enough baby girl. Lean on me.

Responsibilities. I respect it. I'm just happy I'm in a position to be even slightly influential. That's huge!"
Looks like this pregnancy is giving Draya her second maternal wind, and she's just here to see more young women win. As a matter of fact, along with the big pregnancy news, Draya also took to her Twitter today and tweeted that this year she plans to use her position in business to help others come up, too: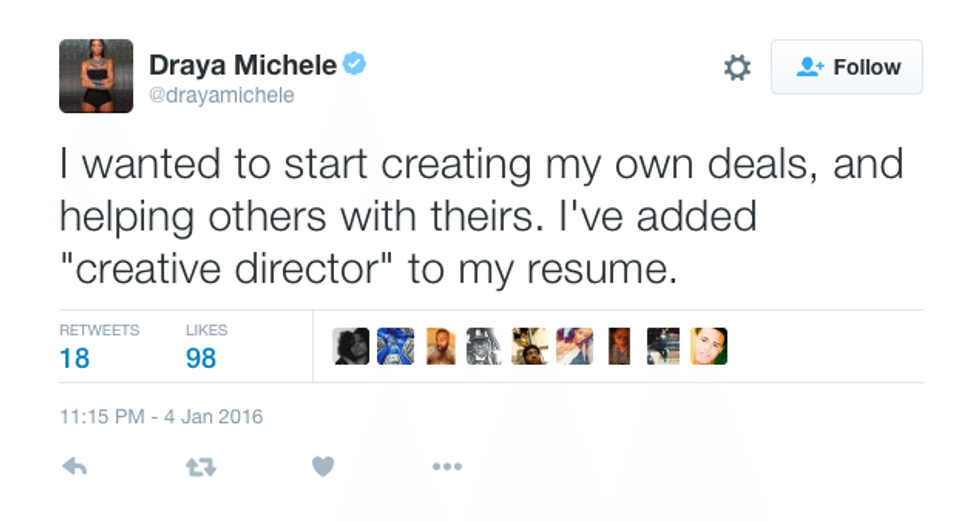 Even when asked in her interview with our Managing Editor on her hopes as both a wife and mom, Draya replied:
"I think that we're here to uplift our men and raise our children. And being a mom means believing, leading by example, and trying to set a blueprint and create a legacy for what you created."
You go girl! Rooting for you and your growing family!
[Related: The Evolution of Draya Michele from Fine Ass Girl to Fearless Ass Woman]