Draya may have toned down her sexy, but she's turned up her style.
...And honestly, we can get with it.
Draya Michele has done a complete fashion 180. These days, she is her sexiest and ironically, it's not with the assist of a novelty Mint-Swim bikini. We're talking about her lifestyle and fashion makeover that is every bit of slay.
---
Last night, the mommy-prenuer attended Rihanna's second annual Diamond Ball and was sure to turn heads on the red carpet. Mixing a bit of model with modest, the 30-year-old Michele opted for a black, ballerina-inspired Todd Patrick tutu and sleek bun to finish the look.
The Mint-Swim CEO took to her Instagram to post flicks and break down her choice of gown, and the bigger picture behind her playing dapper dress up for the evening. While giving praise to her glam squad, Draya especially thanked her stylist Kailani for assisting her in making her outward appearance match her inner growth:
"Just want to thank everyone who helped me get ready for the event especially my stylist @kailaniraye. We have been growing together for some time now and I respect the direction you are helping me take. I don't often get invited to such prestigious events, and I really wanted to make sure I felt like myself. I had 2 other designer gowns that were absolutely stunning, however I can admit to you guys that I'm not confident enough to take such fashion risks yet. I'm also very aware of the shape of my body and how it can take a couture dress and make it look slightly cheap because of my curves."
Draya went on to describe the inspiration for her outfit, while revealing that her choice to dress conservative actually gave her a boost in confidence that she might have missed had she opted for a "sexier" fit:
"I felt most confident in this last minute outfit, inspired by black swan and Sex In the City. I smiled and glowed on the red carpet and in the party all night because I wore what I felt good in. Special thank you to the @stello family who ALWAYS takes special care of me for events, and they knew how nervous I was about the gown choices."
She also thanked her fans for following her growth as a woman,
"And thanks to the girls like me, who don't mind taking baby steps and being patient to get where they need to be in life. ❤️"
Draya's closing note probably came from the fact that last weekend, when Ayesha Curry received flack for her tweets on today's fashion, people flung Draya into the mix as though she was the anti-Ayesha, either using her as an example or as the exception:
Draya handled the situation with class, and tweeted out the following response: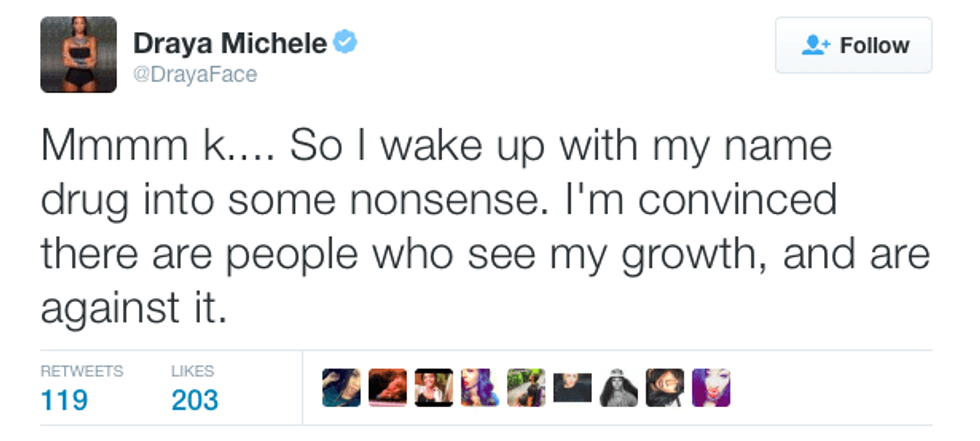 The reality is, Draya's style has been on the up and up right along with her life. With the evolution of Draya from fine ass girl to "fearless as woman" mom and fiancé, this entire year she swapped out dressing less for dressing for success--and we ain't talking typical pantsuits and blazers: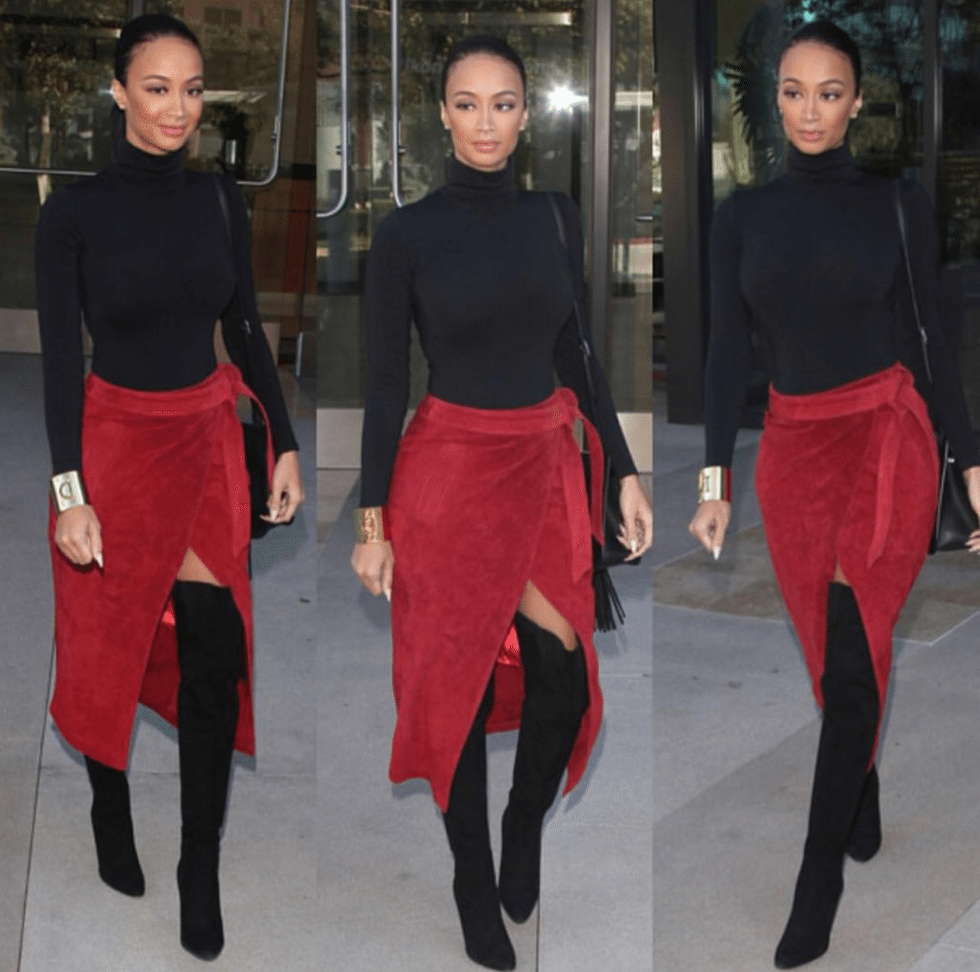 Swagging in Suede- Draya opts for a turtleneck but doesn't sacrifice her sexy in with this suede slit-skirt and thigh-high boot combo. Classy Combo!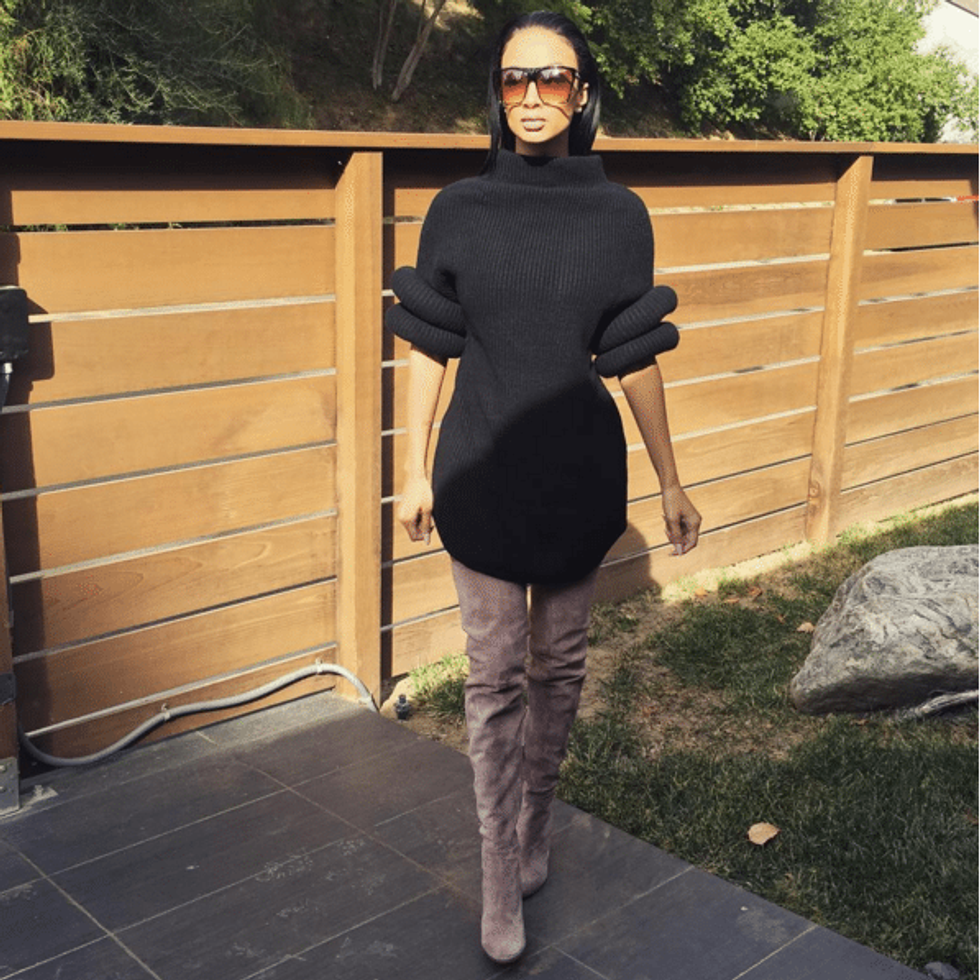 Cruel Summer-- in the winter! Draya teeters between seasons as she opts for mini sweater dress that she pairs with thigh high boots and a pair of killer sunglasses.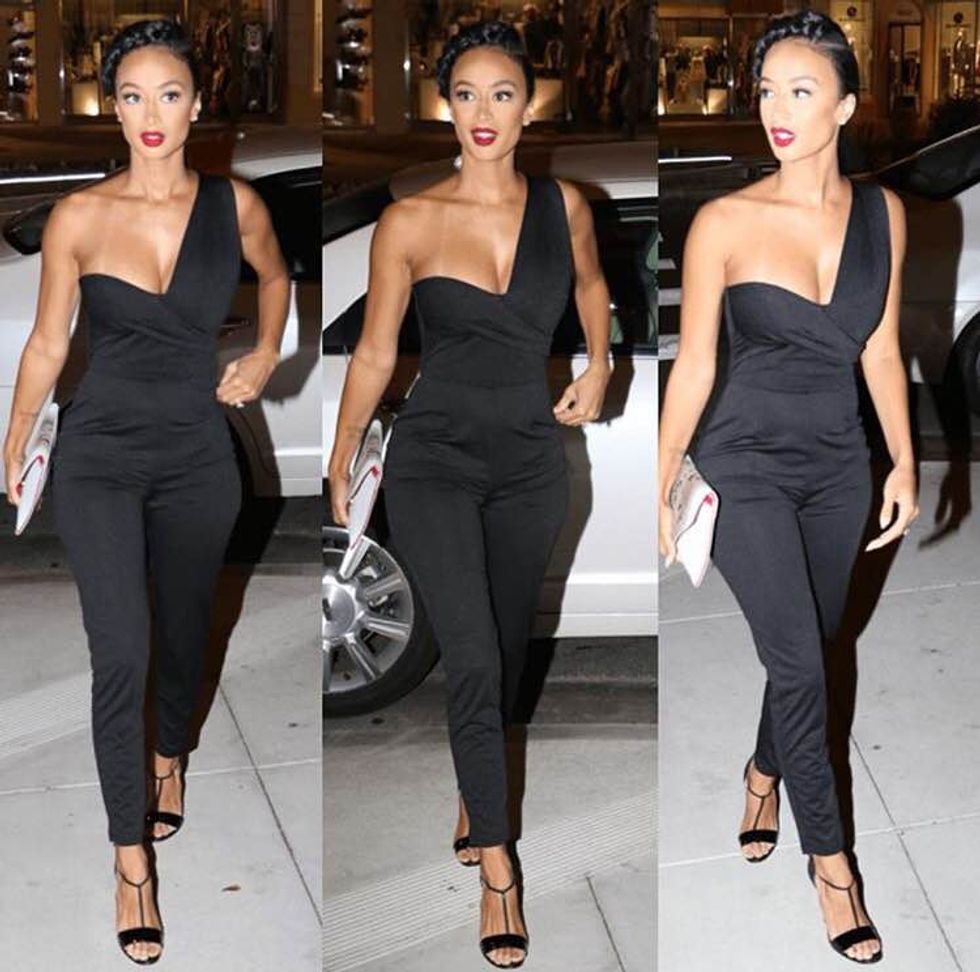 Balancing Class Act! Draya lets the girls out (well, at least one of them) in this awesome one-sleeve jumpsuit that shows off her killer curves. Paired with a red lip and a cute braided crown.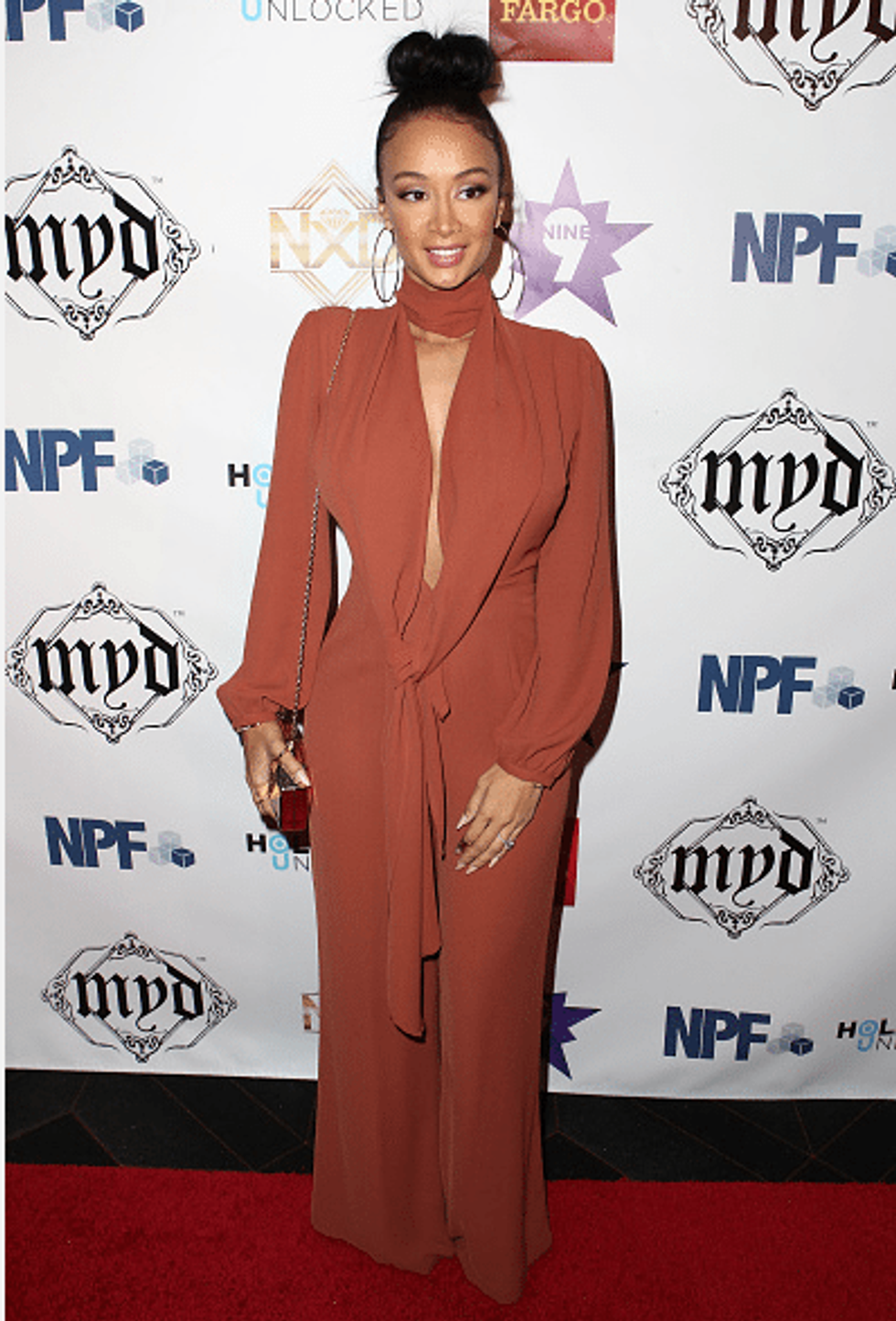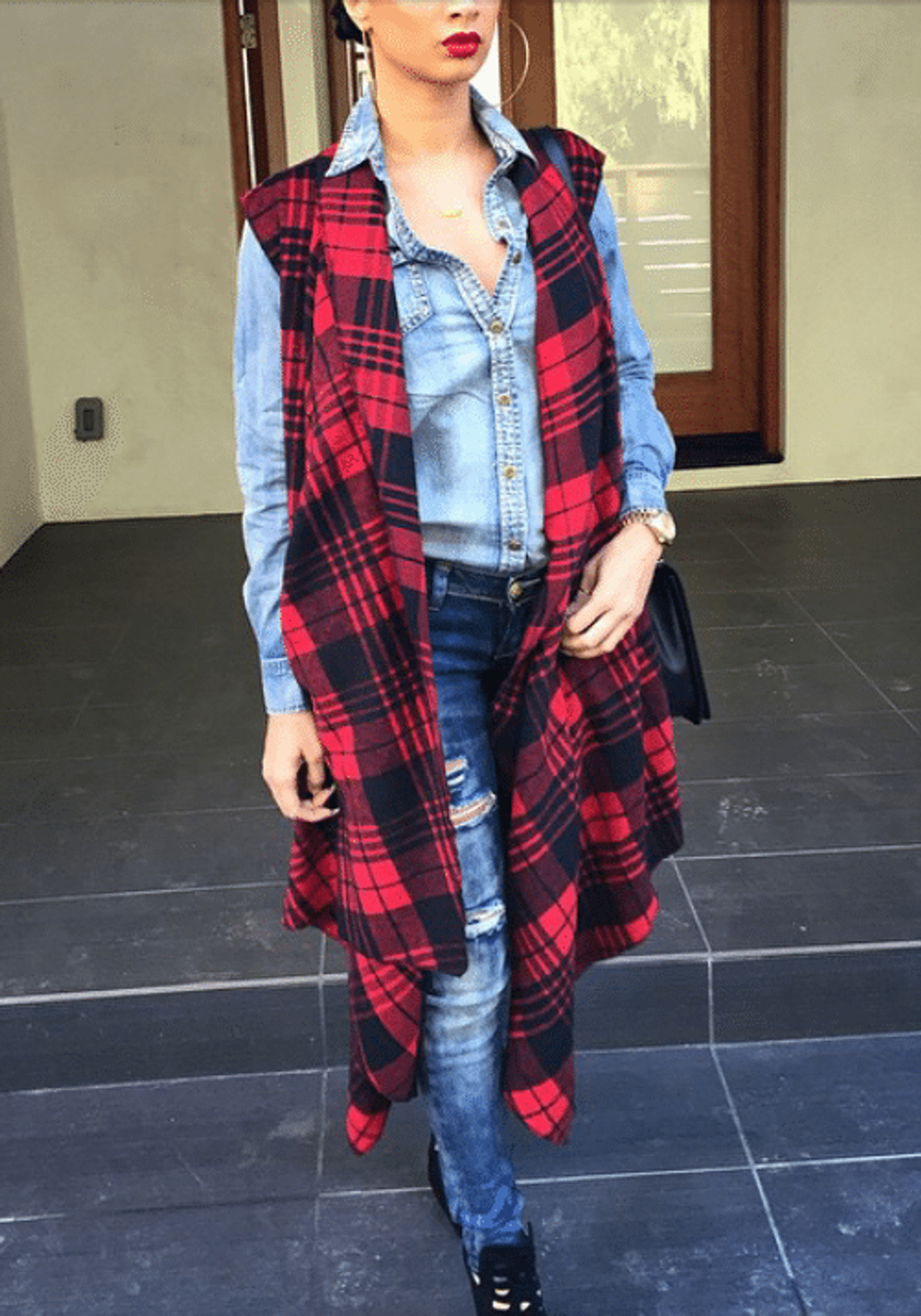 Denim Dame! Draya is layers of lovely in this all denim look and plaid overlay. Cute!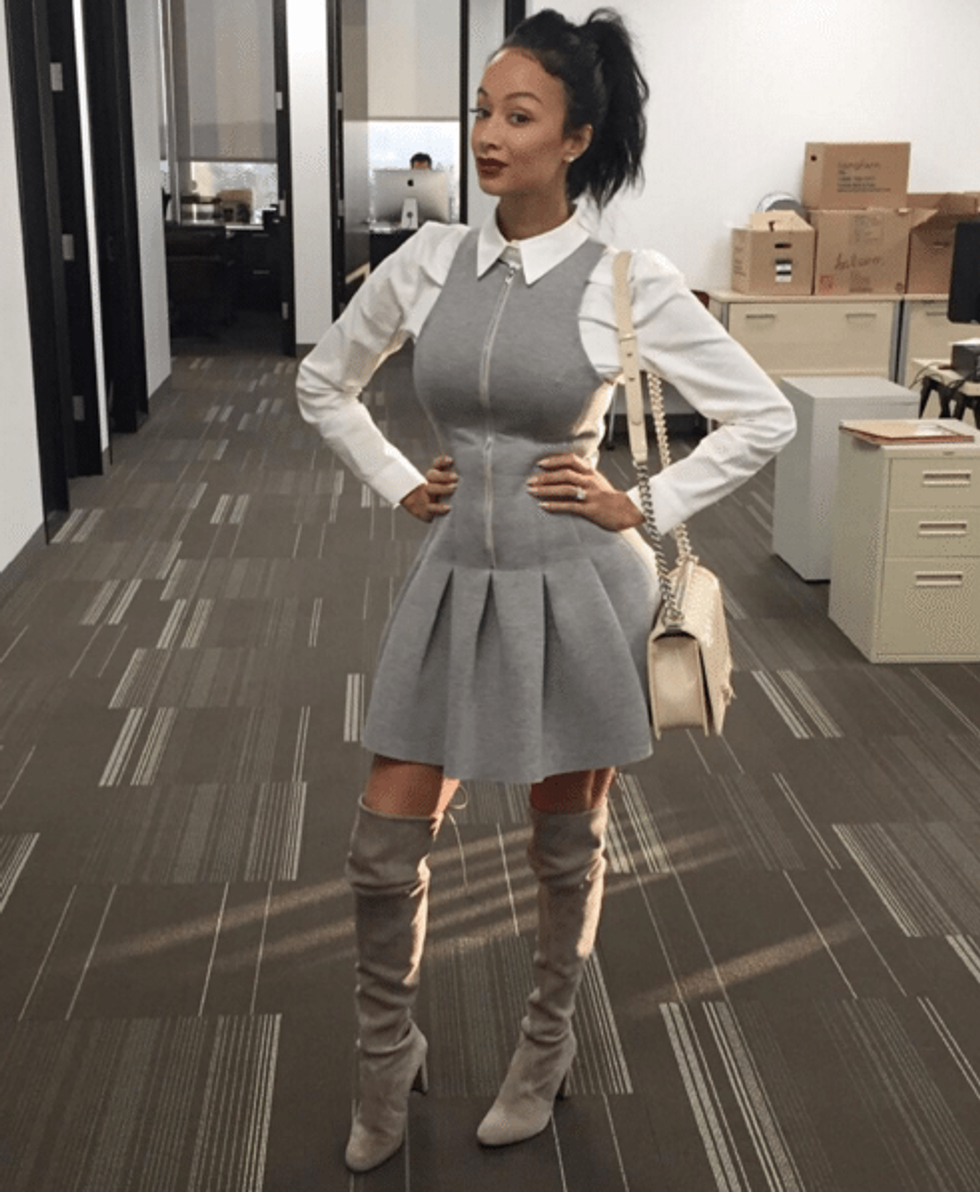 Work hard, slay hard. Draya takes a quick flick at the office in this grey jumpsuit, white button up and boots. Clearly, Suede boots are her thing this season.
I think the best part about Draya's new style is that she hasn't sacrificed her sexy, she has just simply redefined and refined it. At the end of the day, we all grow up and grow out of certain trends. Not to mention, Draya has been very vocal about her blended family and wanting to be an example a a good woman to his fiancé's twin daughters.
Earlier this year, Draya opened up to Dope Magazine to discuss what turning 30 has meant for her:
[At 30] you feel different. Mature. More confident. More composed. It's time to start seeing more of the world as a woman. Travel and learn new cultures.
You go girl. Check out tons more looks from Draya's fashion evolution in the gallery below: