Today's generation of entertainment watchers are in love with power couples like Jay Z and Beyoncé, Kim and Kanye, or Angie and Brad. But every couple, whether they're commanding entertainment headlines or not, longs for a love like David Bowie, and cosmetics guru, Iman.
---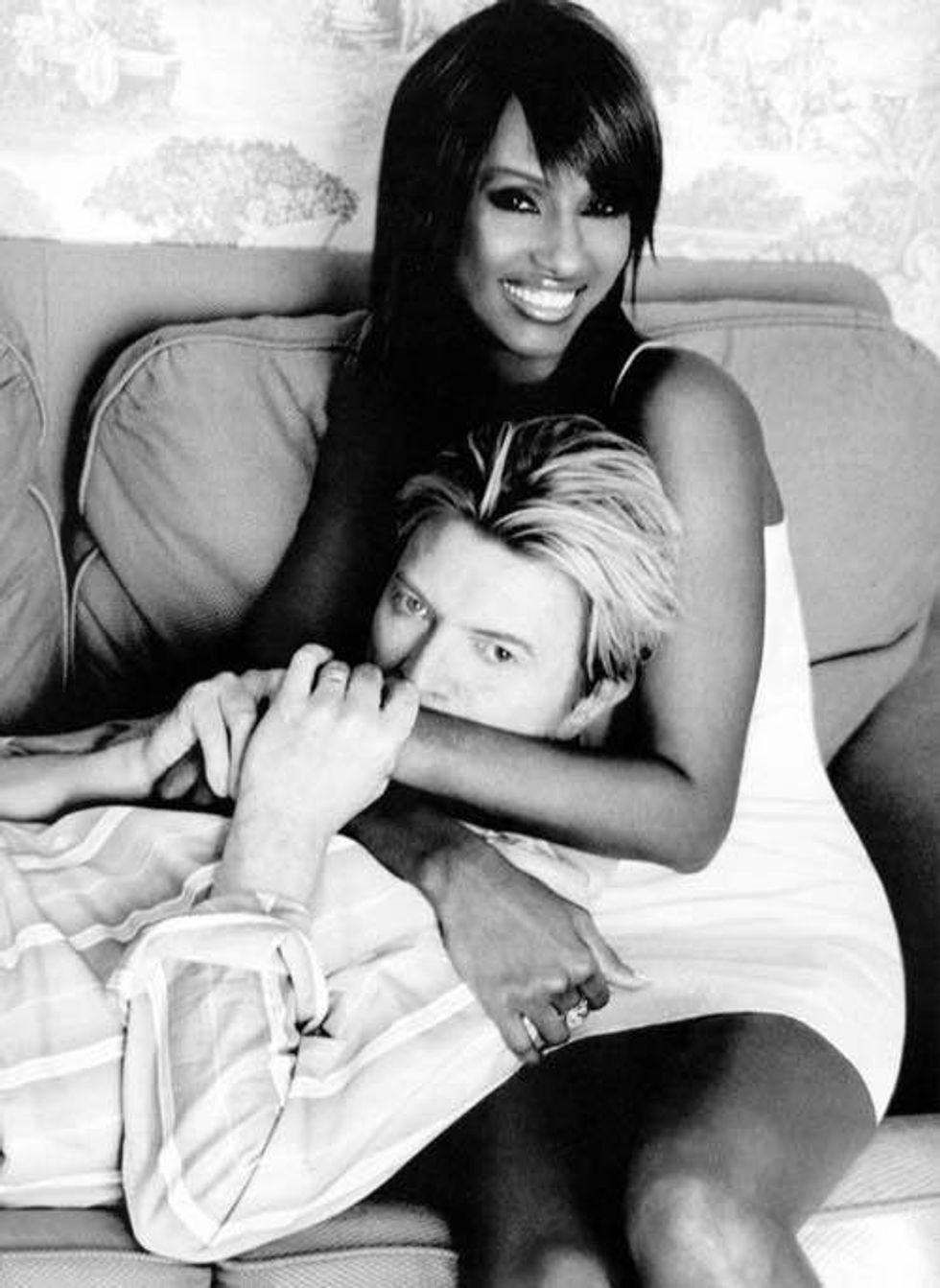 The Hollywood power couple gave us 25 years worth of #RelationshipGoals, and every moment was like magic. Watching the English rocker fall head over heels for Iman in front of cameras is something all couples strive to attain.
Unfortunately, the final chapter of the rock legend's life story has come to a close, as he died Sunday night after an 18-month battle with cancer. Although he's gone, his footprint in the music industry, and his example of how to love a woman unconditionally, is everlasting, and will live on for generations.
If you don't know much about David Bowie, don't worry. I've compiled several facts about the legendary rocker who influenced several generations of musicians: Luther Vandross, Mick Jagger, Snoop Dogg, Dr. Dre, P Diddy, Kanye West, Mark Ronson, and Lady Gaga. But I would be remiss if I didn't also include the most magical moments from David and Iman's legendary Hollywood love story. Take a look below.
1. He was the original "Mr. Steal Your Girl," sometimes while wearing makeup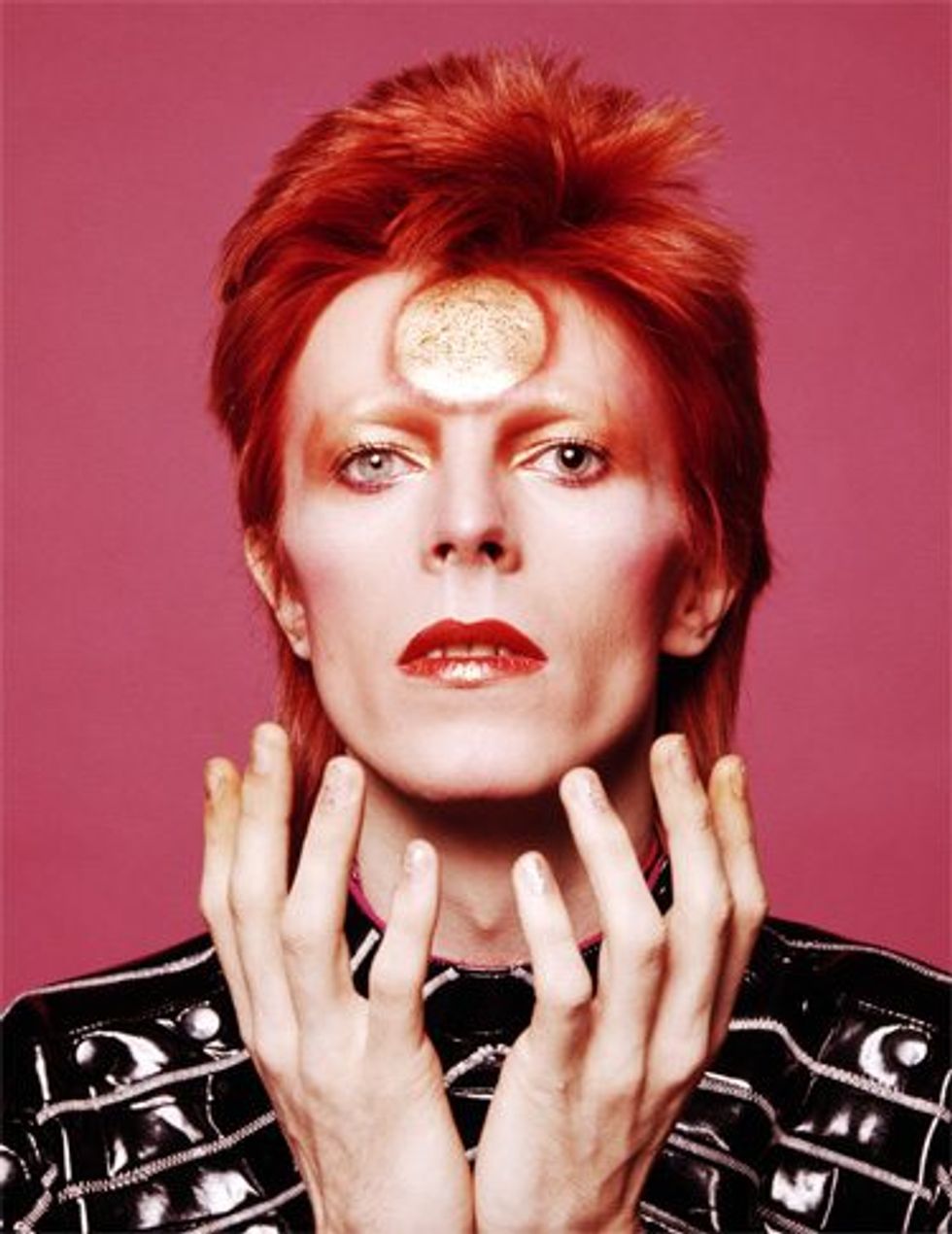 Back in the 80s, it was pretty awesome to see guys tap into their feminine sides, while snatching up ladies left and right. Music listeners knew that while Prince could effortlessly pull this off, David Bowie was also a repeat offender in this realm. According to New York Magazine,
collaborator.The other stamp he left on fashion: an embrace of androgyny, a stance that looks more and more prophetic given the rise of gender blurring on and off the runway. He favored skintight jumpsuits, teetering platforms, feather boas, and even the Michael Fish "man-dress" (that's what the designer called the maxidresslike style) he wore on the cover of the The Man Who Sold the World, reclined odalisque-style. He had a knack for finding designers who understood his unique needs: Kansai Yamamoto was the genius behind his ultra-wide-legged Ziggy Stardust jumpsuit and remained a longtime collaborator.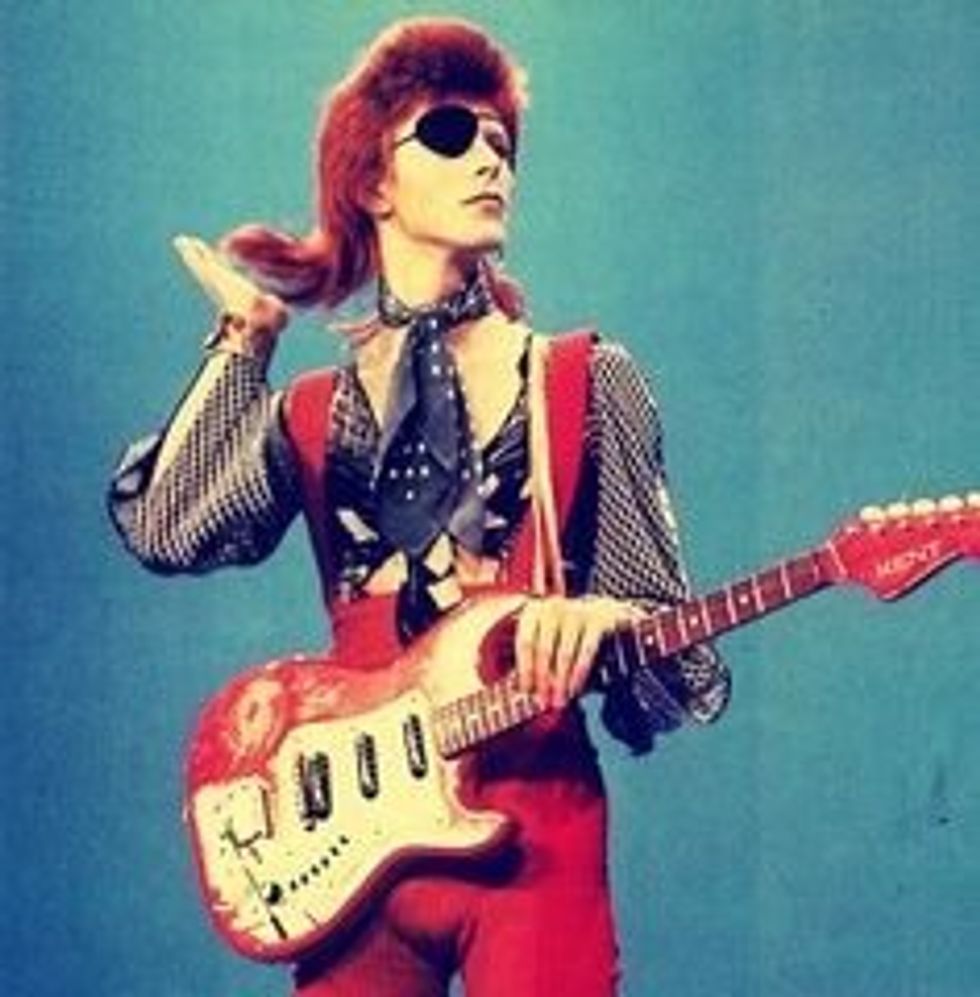 According to some music historians, David's stand out style is what created "glam rock." That means without him there would be no rock gods like Queen, Bon Jovi, Kiss, or Aerosmith. Could you imagine a world without Steven Tyler? I can't even picture the thought.
But glam rock was very impactful, especially back in the 70s and 80s. Although it's not really clear whether he was actually bisexual, how he presented himself before the world was revolutionary. Just "doing him" allowed gay teens of his time to know that it was okay to "do them" as well. It was a message that truly changed the lives of teens struggling to find their identities in a heterosexual world.
2. David Bowie always knew the magnetic influence of great music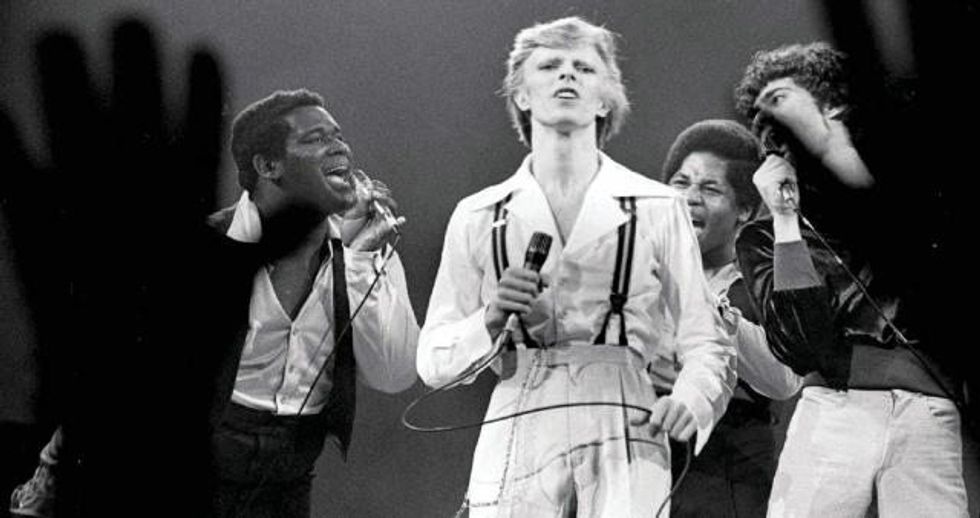 Without David Bowie, some musicians would still be struggling to find a hit, and possibly a career. The rock legend was instrumental in shaping the career of legendary singer Luther Vandross, who toured with him as a back up singer in 1973.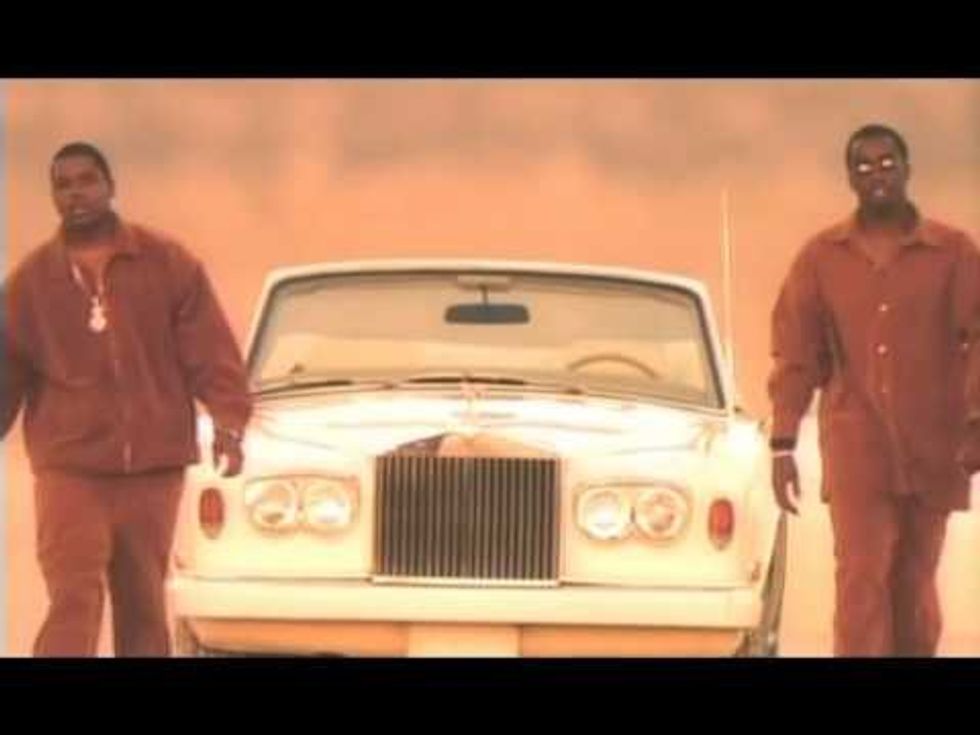 Puff Daddy and Mase sampled David Bowie and Queen's legendary song "Let's Dance" for their Hip Hop hit "Been Around The World".
Fast forward to the 80s and 90s where rappers like Public Enemy, Vanilla Ice, Puff Daddy, Jay Z, and ODB sampled some of his hits for their own songs. Even Janelle Monae and Snoop Dogg can't get enough of his music. Seriously, he's influenced every musician on the planet.
3. David Bowie found love, and never let go
David Bowie and Iman
David Bowie first met Iman on a blind date in 1990, and he was smitten with her the first time he laid eyes on her cocoa-colored skin. Iman, who had just gotten out of a relationship three years earlier with pro-basketball player Spencer Haywood, wasn't ready to dive into a relationship with a musician. But David wasn't going to let go of his new "bae" for anything in the world. He once told HELLO Magazine,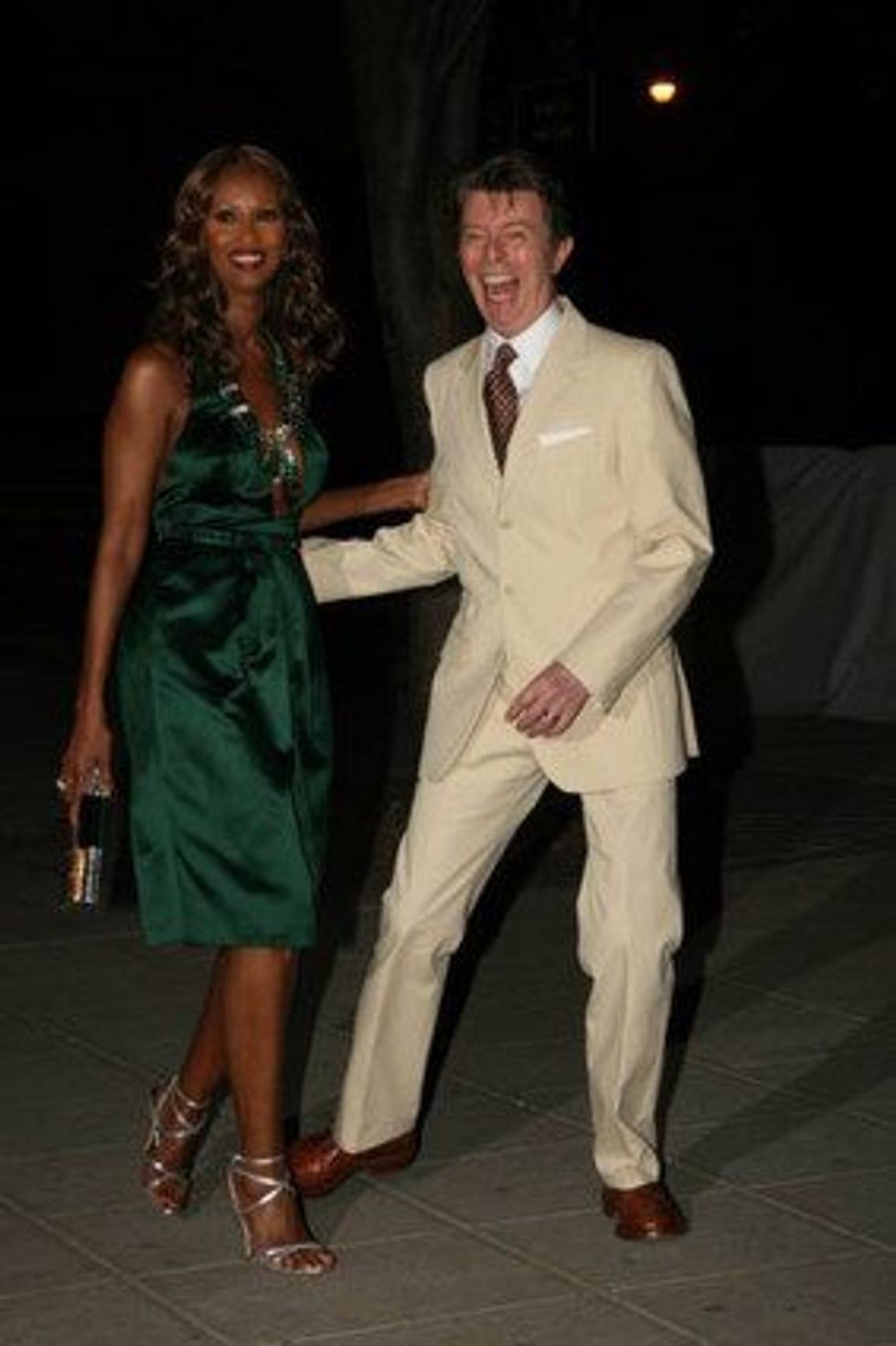 "My attraction to her was immediate and all-encompassing. I couldn't sleep for the excitement of our first date...That she would be my wife, in my head, was a done deal. I'd never gone after anything in my life with such passion in all my life. I just knew she was the one."
Iman also once said in an interview that David was so deadset on locking her down that he started naming their children the night that he first met her! As sweet as this was, Iman still wanted to protect her heart. But how he wooed her did not go unnoticed. She once said in an interview,
"His actions spoke louder [than words]...We were dating for two weeks and I was coming from Paris and I got to L.A. at the airport and the doors open to the plane and I come out and I see all these people taking a picture of somebody. And he was standing there, flowers in hand, no security. That was when I knew he was a keeper. He didn't care if anyone saw."
4. Everyone around the world felt the love between David and Iman on their wedding day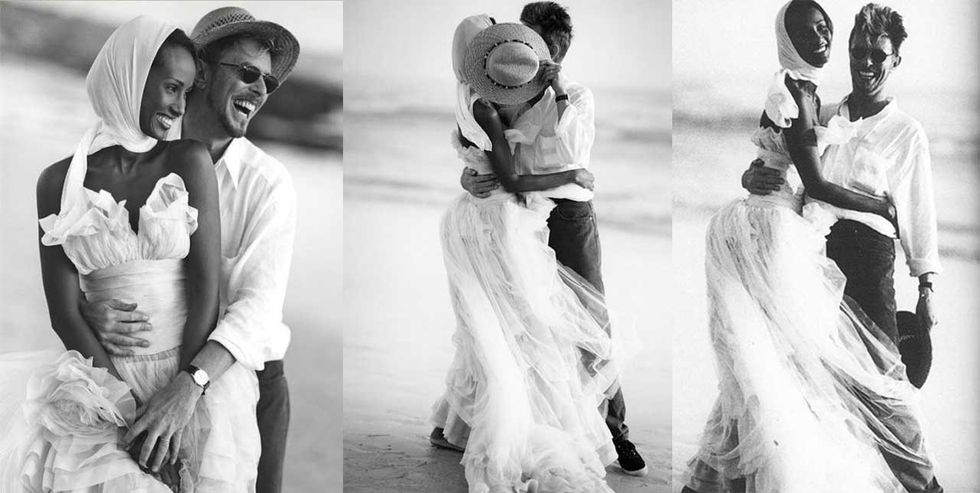 Their wedding was everything! Even after 25 years of marriage, their ceremony still has tongues wagging.
The couple wedded in a private ceremony in Switzerland back in 1992. In an interview with People, they gushed about their nuptials a month before the ceremony.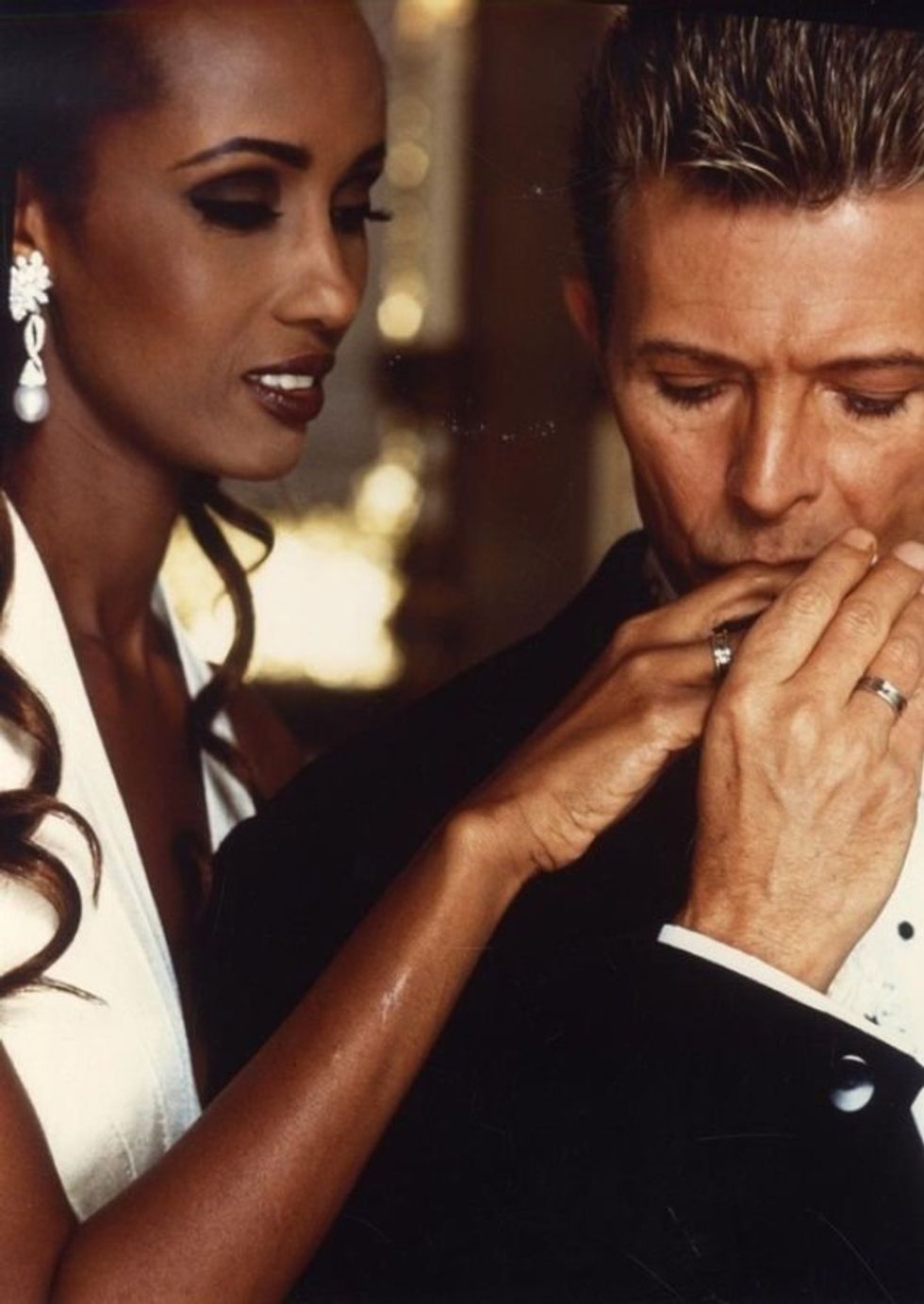 Bowie describes his intended's "overwhelming beauty" as "a smoky blend of Sophia Loren and Audrey Hepburn." He's already given her the tribute of a 10.5-carat canary diamond; she has honored him by having a Bowie knife tattooed on her right ankle. "My life is good," Iman declares. Not to mention exhilarating.
5. David didn't do marital arguments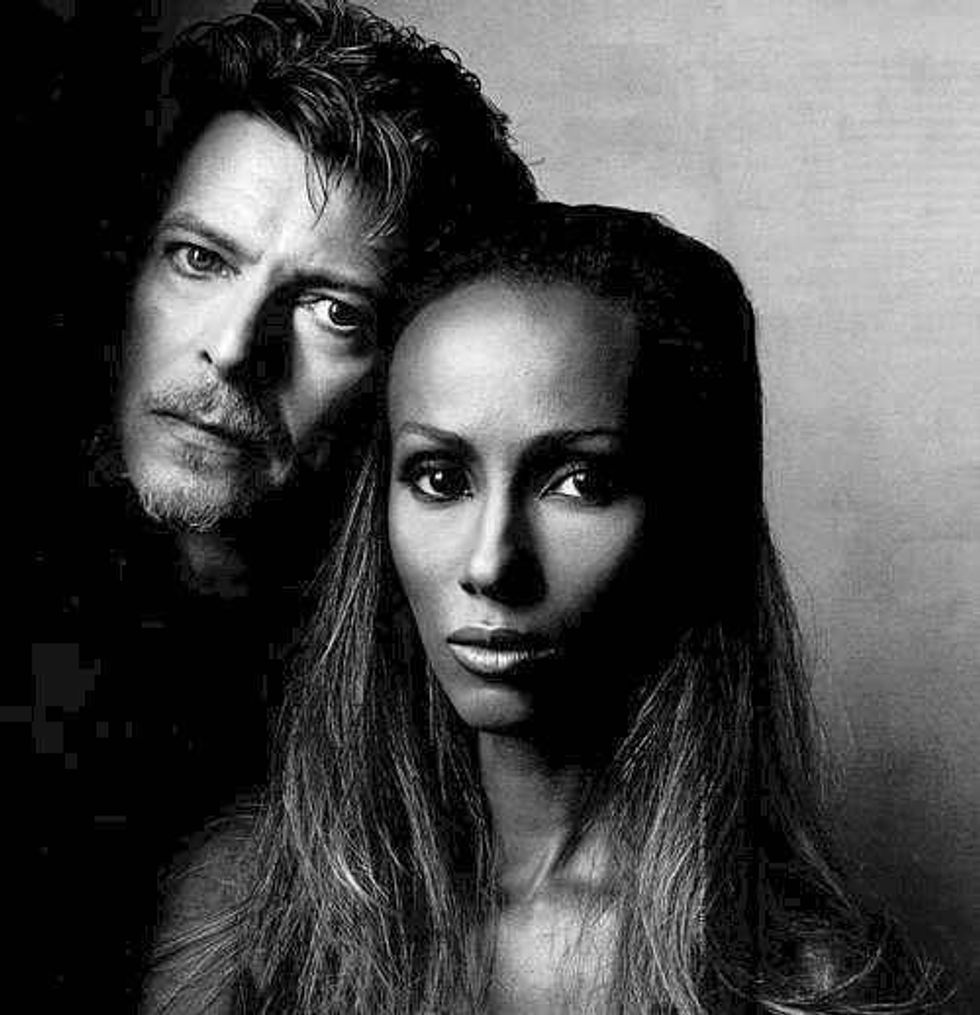 Anytime Iman said something about her husband, the world listened and took notes, because she always had something amazing to say about him. According to People, she said,
"David doesn't fight...He is English, so he just stays quiet. I'm the screamer. Then he always makes me laugh. It's like cabaret. I keep him entertained, too. I still fancy him – totally! – after all these years."
6. David loved watching Iman bring home the bacon and cook it too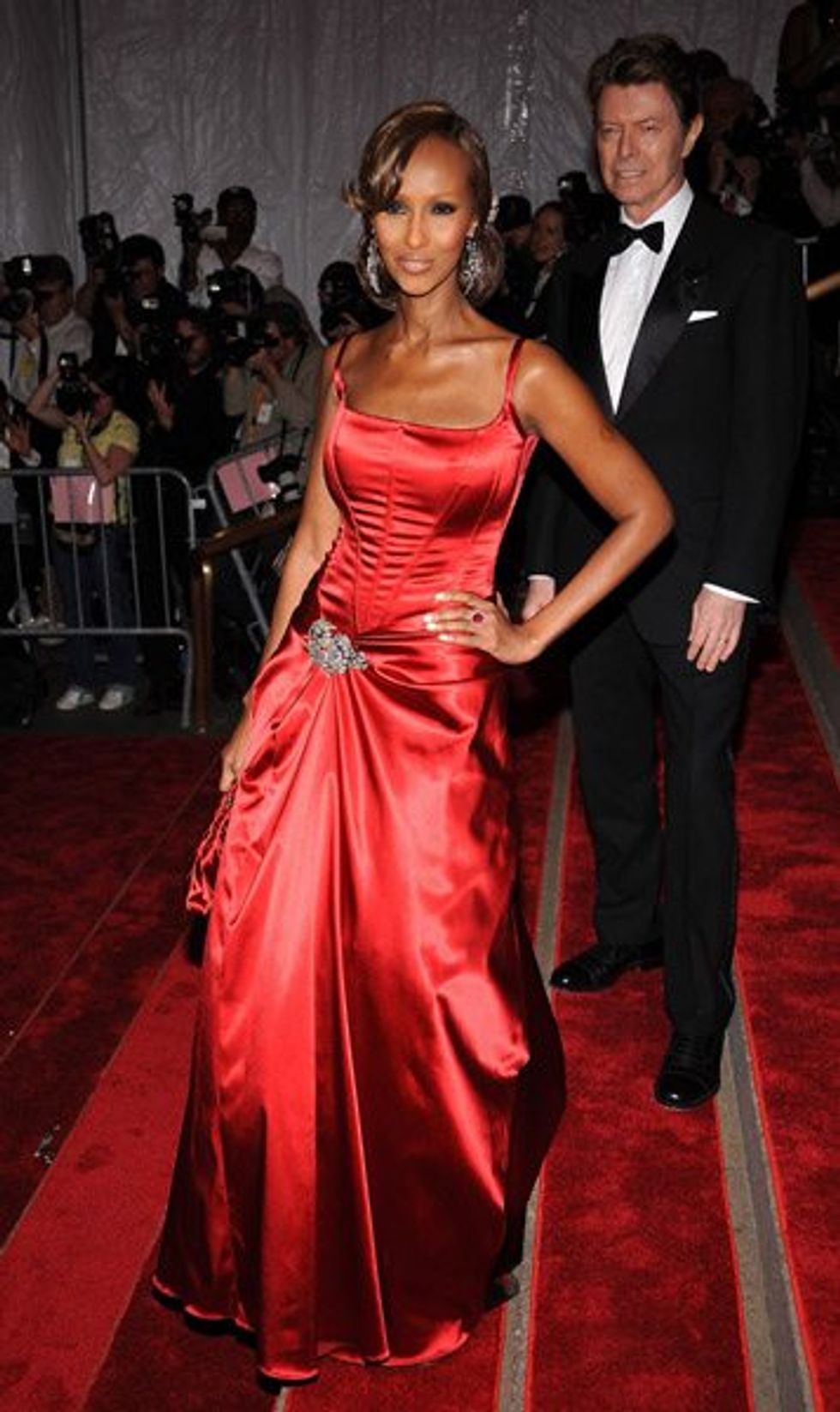 Iman and David on the 2008 Met Gala red carpet.
One of the best things about their marriage is how he wasn't afraid to let his wife shine. Watching the two attend charity events together was nothing short of amazing. In nearly every photo, he looked at his wife as if he was happy the world knew him by her name. Now that's the kind of love everyone wants!
What David loved the most about his love was that she knew how to keep her business and home life separate. According to People, David said,
"She's uncanny at keeping the business at her office and the woman at home. But she's a mom 24/7."
6. David and Iman absolutely adored their blended family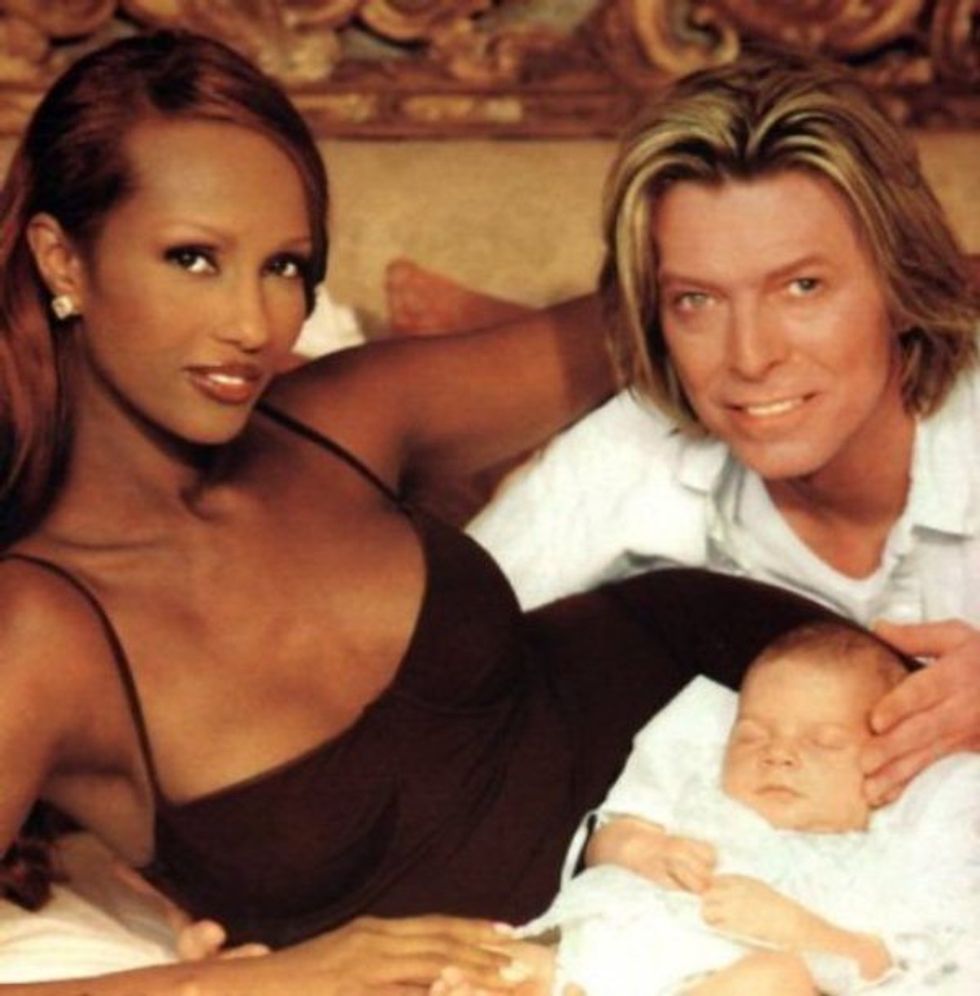 David and Iman graciously accepted their roles as step parents. David and Iman's blended family included David's son Duncan Jones, from his previous marriage to Angie Bowie, and Zulekha Haywood, Iman's daughter from her previous marriage.
In 2000, the power couple had their youngest child Alexandria "Lexi" Zahra Jones, who they often said was their "miracle baby." Before she discovered she was pregnant, Iman had undergone several unsuccessful IVF treatments, and as a result, they were looking to adopt a child. The surprise pregnancy left the two overwhelmed with joy. Iman told New York Magazine,
We've always been very close, but if it's possible we've been drawn even closer. There's a joy or a contentment that's almost palpable to both of us. Overnight, our lives have been enriched beyond belief.
David leaves behind three beautiful children, his wife, and millions of fans who loves him to pieces.
Take a look at some of David's most iconic images, and get the feels from his insanely romantic love affair with Iman, in the gallery below.
­