First thought walking into Sevyn's dance class: Oh great. I'm the
 non-dancer of the group.
---
Second thought: I picked the wrong day to wash down an Egg McMuffin with an ice coffee for breakfast.
Truth be told, unless you count my Caribbean influenced hip-whining or me shaking my money-maker, I'm more of the "two-step" type of chick versus the "8-count" style of gyal. So when I recently received news that singer Sevyn Streeter was hosting a dance class in New York City in lieu of her new single "Shoulda Been There," and that I (of all people) was assigned to cover it, I did what any rhythmless, pseudo-health enthusiast does under stress:
Poured a huge glass of wine and prayed for the best.
A week later, I found myself at a dance studio located in the hub of midtown Manhattan, and my early arrival allowed me to get acquainted with the other dancers and fans while marking my territory as the "funny" one in the group. You know, the one who can't keep up with the routine worth a lick, but during warm up wins the hearts of her peers so that they won't laugh too hard at my pain once we begin.
Defense mechanism on fleek. Clearly, I was nervous to say the least!
Half an hour later into stretching, we began learning the routine per the instructions of our choreographer, Tiana. I was flustered and definitely smiling through the agony of trying to keep up with the group. Although I wasn't the only one falling behind in steps, I felt so insecure about being part of the "Rhythmless Nation" in a world of expert movers and shakers.
Finally, as we ran the routine back for the umpteenth time, Sevyn walked in, as naturally smooth and cool as she wanted to be. Upon hearing her song blaring through the speakers, Sev popped a spot front and center of the group, and while facing the mirror, got right into the routine, quickly picking up majority of the moves with the help of the dancers' reflections behind her.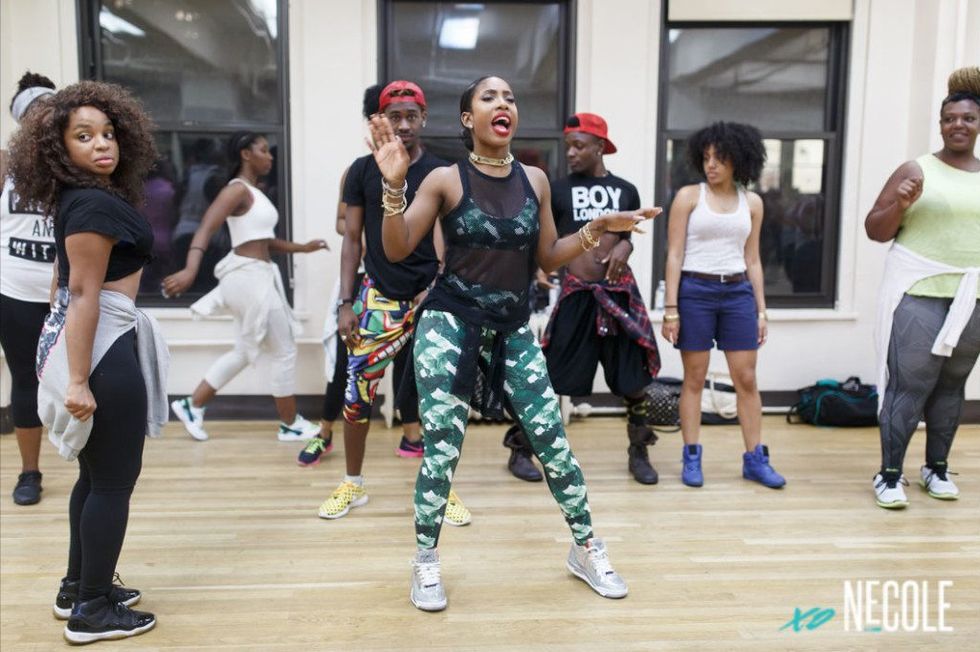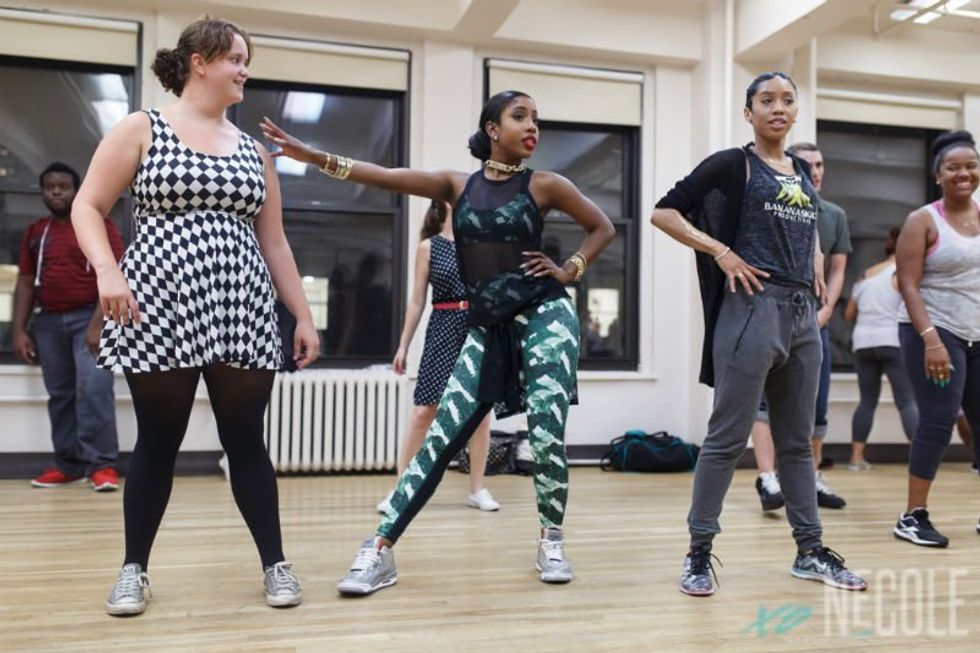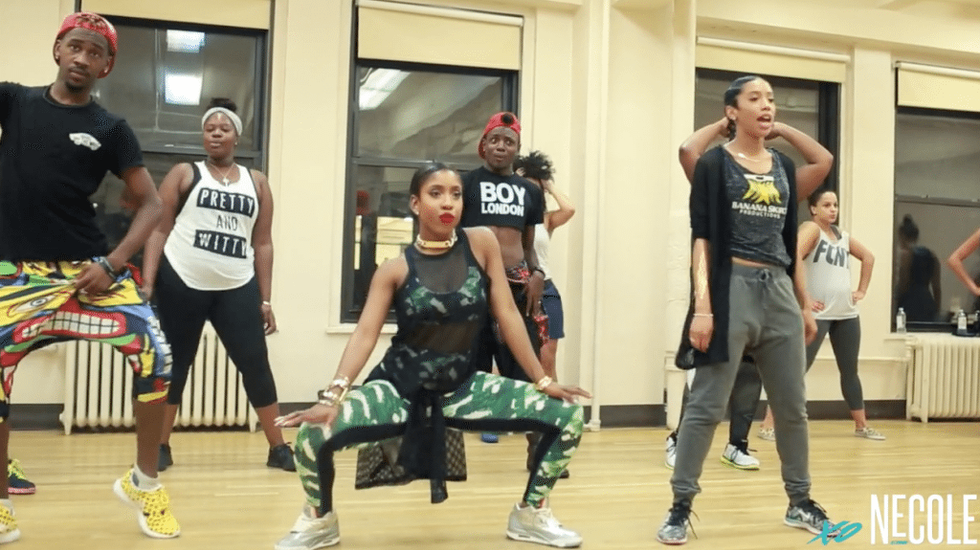 She was a natural!
In the end, we all clapped and cheered and came in for a group hug. The energy in the room was everything.
After the singer "hey, what's up, hello"-ed the attendees, I spoke to Sevyn on the side and told her off rip, I was the "Aunt Viv" of this group. Remember the episode on Fresh Prince where Aunt Viv attended the dance class? Yeah, I made sure to tell Sevyn that I was Aunt Viv in the beginning of the episode (not to be confused for when Aunt Viv returned to that very same class by the end of the episode, to slay all the haters)!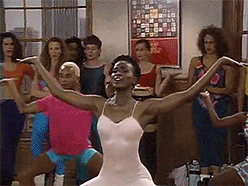 As soon as I said it, Sevyn immediately caught on and bursted into laughter, even doing the infamous crab-dance from the episode. At that moment, I could literally feel my nerves leave my body with each "ha." By that point, I was so grateful for the release of tension, and so ready to perform the remainder of this class with confidence. Unlike Janet Hubbert when she played Vivian Banks, I couldn't guarantee that I'd "magically" become a dance queen by the end of a 22-minute episode (or in this case, the end of an hour and a half long dance sesh), but I could guarantee that by any means, for the remainder of class, I was going to have fun, be carefree, and dance like "no" eyes were on me. By that point,
I figured that if I'm going to be a bad dancer, I might as well be the best version of the worst-me.
When the music played back I moved and grooved in that mirror. I laughed, stumbled, hesitated, and twerked when I didn't know the steps, but most importantly, I got my life in the midst of my non-dancing strife! Call me crazy, but I even suspect that I may have gotten better towards the end.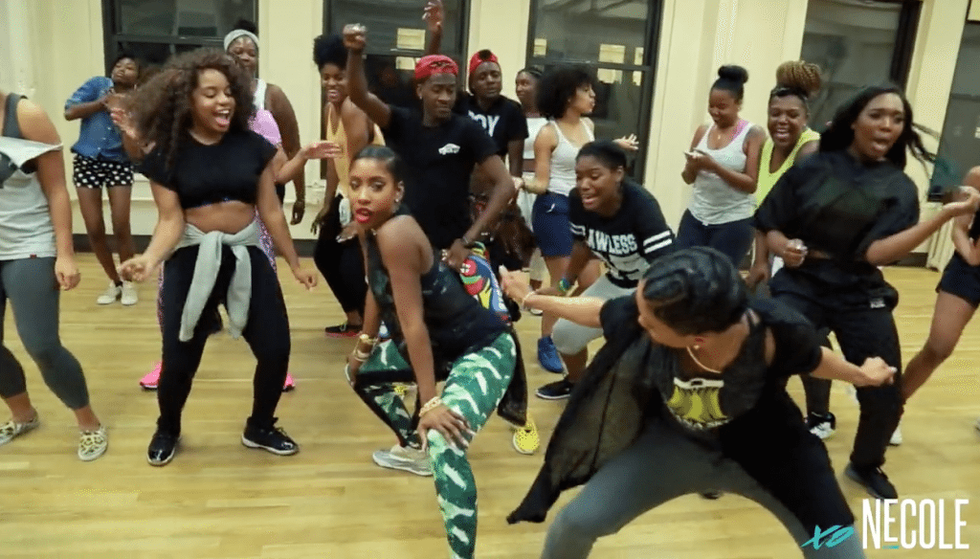 When class was over, I personally thanked Sevyn again for an amazing time.
During the train ride back home, as the soreness from that night's dance class crawled into my joints, a smile couldn't help but creep up onto my face. See, I'm really big on living in the moment and not just simply being "present," and for a second, I almost lost sight of that at Sev's dance class due to my own insecurities. I don't want to be the person that is too busy being scared or stressed to ever enjoy myself. Because to me,
Precious moments are bigger than just getting a good pic, but rather, they're about making amazing memories.
I'm so glad that with the help of some good music and people, I don't have to look back at my time with Sevyn and her Summer Dance series and think, "I shoulda been there."
Because I already was.