Pregnancy might be a belly full of pride, but there is no denying that it can also be a pain in the a-s-s.
---
If you follow tabloids and gossip sites, the snapback on some of your favorite celebrities make the pregnancy process look so easy -- and losing weight afterward, even easier.  Between former Basketball Wives star Draya and R&B singer Teyana Taylor, you would think it's these celebs lived in the gym (Teyana has made it clear that she hasn't been in the gym at all since giving birth to baby Junie but she looks amazing, how sway?!)
But is that all a facade?
Zoe Saldana, who is a mom to 1 year old twins, opened up about her post-pregnancy woes. Instead of focusing on her snapback, the new mom has been taking the time to instead focus on adjusting to motherhood and her post-baby body, while revealing to Us Weekly that it has been less than fun:
Zoe Debuts Post-Baby Body at the Academy Awards

"It hurts to be in heels still! I [always] thought, 'I'm going to live forever, heels every day, Louboutin, here we go! But there's something that happens to your body hormonally, and it's not just the weight that you acquire, but your nerves, your muscles…Everything hurts and feels uncomfortable!"
However, all pain aside, the Star Trek actress admits she'd rather carry around the extra pounds than to worry about the weight or pressure that all moms, especially those in the limelight, feel when it comes to losing weight after birth. Zoe insisted on opening up about her struggles with her post-natal body and health in an attempt to be honest with an issue that many women go through, but most don't see in the media:
" I've witnessed, throughout my years in this business, women who hide in a cave and don't come out until they're a size zero, and that is a very misleading message.

You have to remind yourself that everything takes time. I feel bad for those women who are desperate and want to bounce back three months after having a baby. It's more like - 'Breastfeed! Stay home! Sleep! Your kid is only 3 months old, what are you going to the gym for? Catch up on f—king reruns of some sort!' I definitely took a break and trusted that my body was going to bounce back when it was ready. I never wanted to push myself."
It can be tough sometimes with the images we see in media to not compare ourselves to other women. Body-envy doesn't discriminate, and can only be worse when dealing with the hormones that come with having just given birth. The insecurities of having gained more than a few new pounds, stretch marks, etc., is enough to have a woman feeling foreign in her own frame. Sometimes when we see beautiful mamas, like the seemingly flawless Ciara (who took the following photo just months after having 9 lbs, 10 oz "Future Jr."), and we tend to think "What's wrong with me?"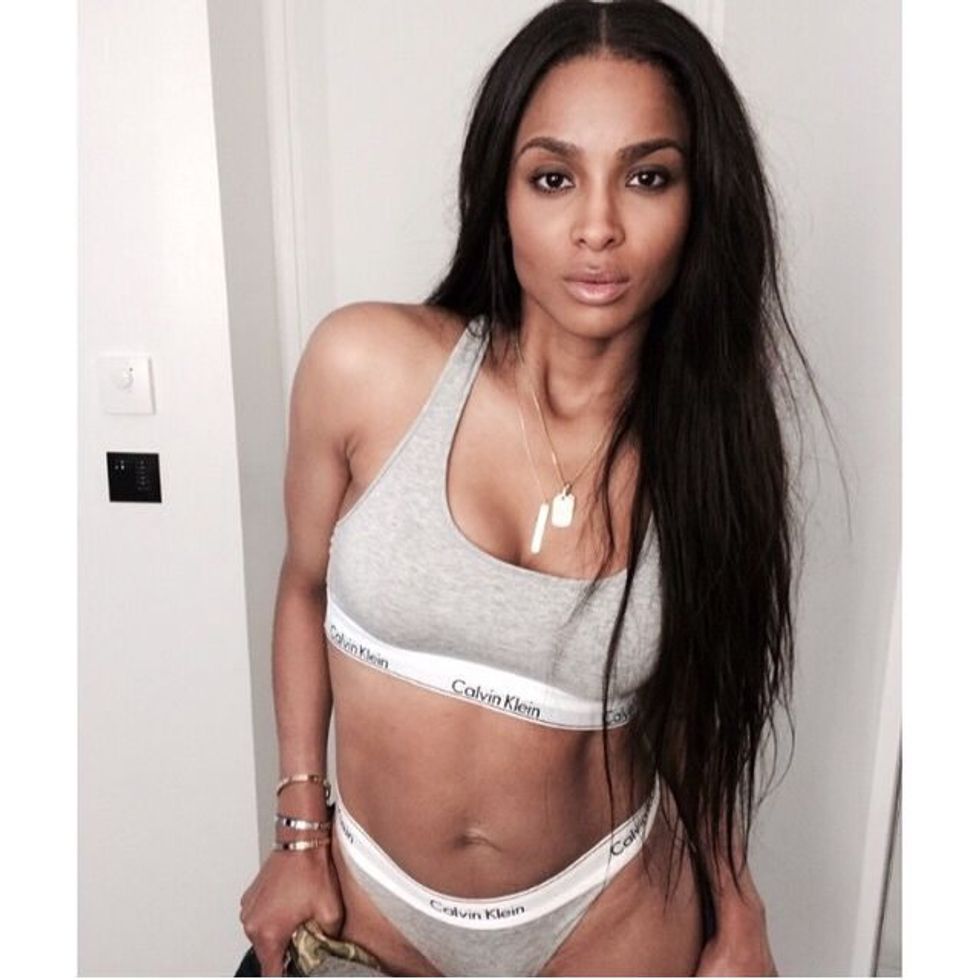 Ciara shows off 60 lb weight loss in a matter of 5 months after giving birth to son Future Jr.
Fellow actress and The Real co-host, Tamera Mowry-Housely admitted that's exactly what she was asking herself after failing to shed some added stubborn pounds after giving birth to her first child, two-year-old son Aiden. The now mother of two opened up to Us Weekly, after she grew tired of beating herself about it, while unapologetically accepting the fact that she makes big babies -- and is proud!
"There's a lot of pressure [to lose weight and] at first you're shocked. You're like, 'My body's completely different.' Your boobs are in your face, you have stretch marks, you have curves that you never had before…. My husband said, 'Happy girls are pretty girls,' and he keeps telling me that. Enjoy the phase that you're in. I'm enjoying it!"
Tamera also admitted that she "wanted to spend time bonding with my baby, not killing myself at the gym," which makes more than enough sense for the working wife and mother. It's bad enough she was already missing sleep, so if something else had to be sacrified-- it might as well be the gym (at least until she adjusts!)
Twin sister Tia also chimed in and shared the same sentiment with Tamera, while also reminding new moms that it took them nine months to gain that weight, and it's natural if it takes as much time- if not more- to get rid of it:
"I remember when I had my baby. I was looking at everybody like 'Damn, how are [other women] on the beach after two months in a bikini? What the hell are they doing?' I went to my OB because I thought something was wrong with me, because that's all I would see! And she said, 'No, honey, that's fine.'

I think if you ask any pregnant mom, they're like 'I want my body back,' but it takes time. It takes nine months for your body to get that way and it's putting on that weight on purpose."
All this to say, that as women, especially new moms, all of our bodies are different, as are our recovery times when coming down from having rented our entire womb out for nine months. Hopefully the honesty in our journeys, and willingness to offer advice to one another, can serve as support to all women and mothers.
What are your thoughts on the pressures to bounce back after a baby?