When it comes to life, there are two disadvantages black women are faced with.
One, not being born a man and two, not being born white. Some may say the same rules apply to the industry too. So when a man of color finds himself in a position of power, there is often pressure to conform to the Hollywood standards in order to both play and stay in the game.
---
But not for Chris Rock.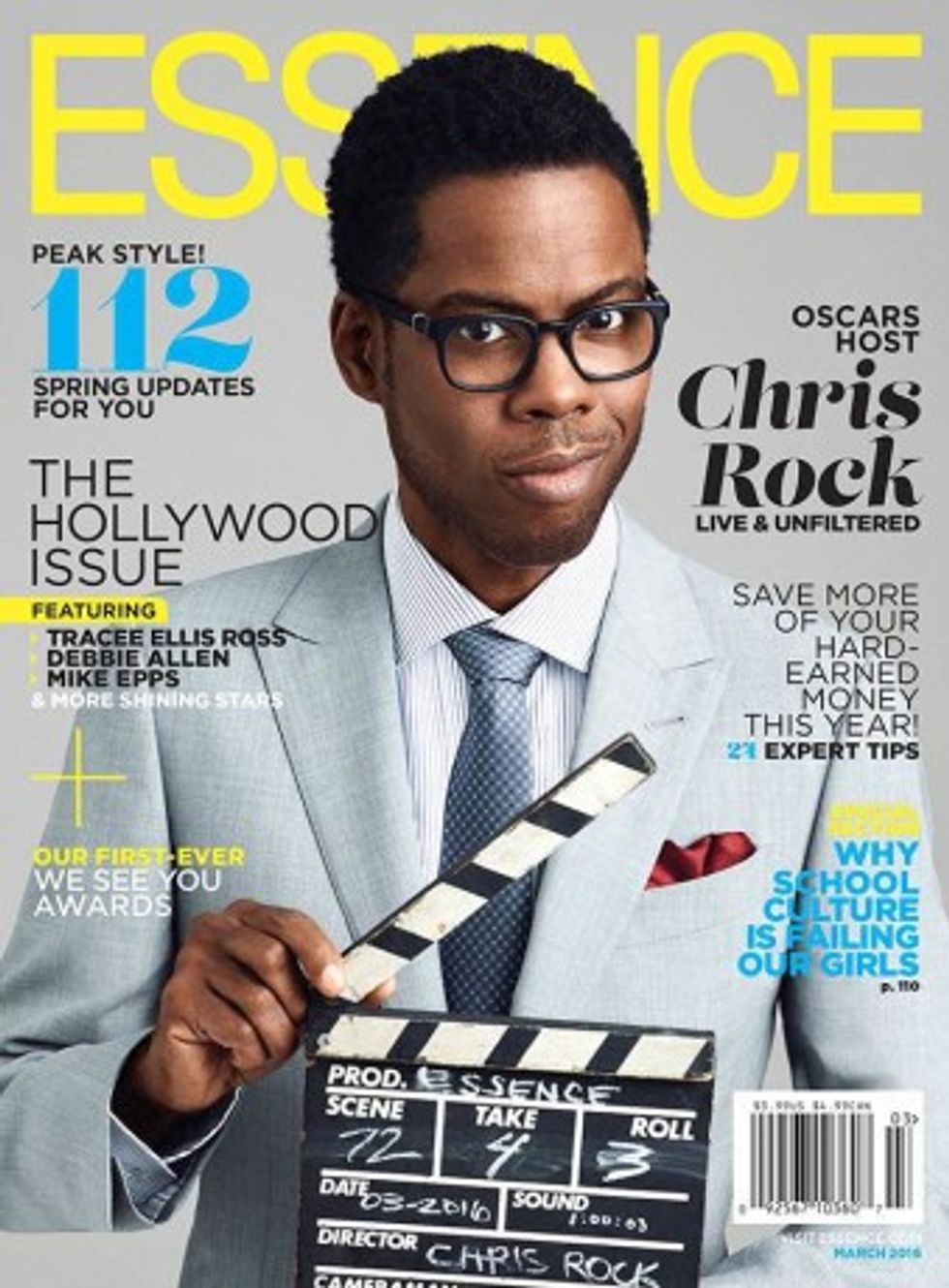 The comedian and actor is gracing the cover of this month's Essence magazine, and he has a lot to say about diversity as he gears up to host the 2016 Oscar's for the second go around. This is a conflicting interest for the 51-year-old actor since there are zero Black actors nominated for awards despite last year's "Beasts of No Nation," with Idris Elba, Will Smith's "Concussion," Michael B. Jordan's Rocky-spinoff "Creed" and the young men of "Straight Outta Compton," the biggest music biopic of 2015. The irony is, Chris may be the only Black actor gracing the stage of the award show by default since he is hosting the show. Some have even called for Rock to boycott the ceremony as a whole.
However, never one to stay mum to controversy, Chris felt the need to not only give his take on the Oscar's lack of diversity issue, but to speak on a lesser known, lesser acknowledged minority of people- Black women in Hollywood. The family man and father of two gorgeous daughters revealed to Essence magazine that as he climbed the Hollywood ladder, he was asked to cast non-Black leading ladies:
"I've never done a movie, any movie [even] the silliest movie, where someone, some studio person hasn't gone, 'Does the girl have to be Black?' It happens every time."
Rock went on to further support his point, admitting that not only did he have to fight to get actress Tichina Arnold cast as the mom in Everybody Hates Chris, a sitcom-biopic based on Rock's own life, he hinted that they wanted to cast a non-Black woman for the role.
Wait, what?
"I think everything I've ever done has had a significant role for a Black or brown woman. I refuse not to. I've never gone into battle without a Black woman, you know, a movie battle. With Tichina Arnold in Everybody Hates Chris, I had to fight for Tichina. I'm not even going to tell you who the network wanted. She's literally as good as Tina Fey or Julia Louis-Dreyfus or any of these chicks. They're like, 'Tichina who'?'"

Chris Rock with real-life mom Rose Rock and Daughters Zahra and Lola Rock at the 2015 Kids' Choice Awards
It's interesting that Rock would bring up this issue on Hollywood's lack of desire to pair two Black leads in a movie. Back in 2005, while promoting the movie "Hitch," who he co-starred alongside Eva Mendez, actor Will Smith spoke up on the racial politics of casting during an interview overseas with the Birmingham Post:
"There's sort of an accepted myth that if you have two black actors, a male and a female, in the lead of a romantic comedy, that people around the world don't want to see it... We spend $50-something million making this movie and the studio would think that was tough on their investment. So the idea of a black actor and a white actress comes up—that'll work around the world, but it's a problem in the U.S."

Will Smith and Eva Mendez in 2005's "Hitch"
Although Will's interview was over a decade ago, it's clear that very little has changed based on Chris' most recent recount of the industry standard, well as the Oscar's colorless list of nominees this year.
Rock continued to open up to Essence, saying that Black women aren't even in the same category of the "Women get paid less in Hollywood" conversation, but are in a much lesser, sub-category of their own:
"Black women get paid less than everybody in Hollywood. Everybody's talking about Jennifer Lawrence's [letter about making less money]. Talk to Gabrielle Union. If you want to hear stories, talk to Nia Long. Talk to Kerry Washington. They would love to get to Jennifer Lawrence's place, or just be treated with the same amount of respect."
The letter that Chris is referring to is when actress Jennifer Lawrence addressed making less money than her male co-stars, something she found out about per last year's SONY hack and email leak. In response, Jennifer blamed herself for her lack of pay, admitting that she didn't fight hard enough  for more money since she was already blessed to be making millions, a fight that we're sure many "other" women can hardly afford to be in:
"When the Sony hack happened and I found out how much less I was being paid than the lucky people with dicks, I didn't get mad at Sony. I got mad at myself. I failed as a negotiator because I gave up early. I didn't want to keep fighting over millions of dollars that, frankly, due to two franchises, I don't need. I didn't want to seem 'difficult' or 'spoiled.' At the time, that seemed like a fine idea, until I saw the payroll on the Internet and realized every man I was working with definitely didn't worry about being 'difficult' or 'spoiled.' And based on the statistics, I don't think I'm the only woman with this issue."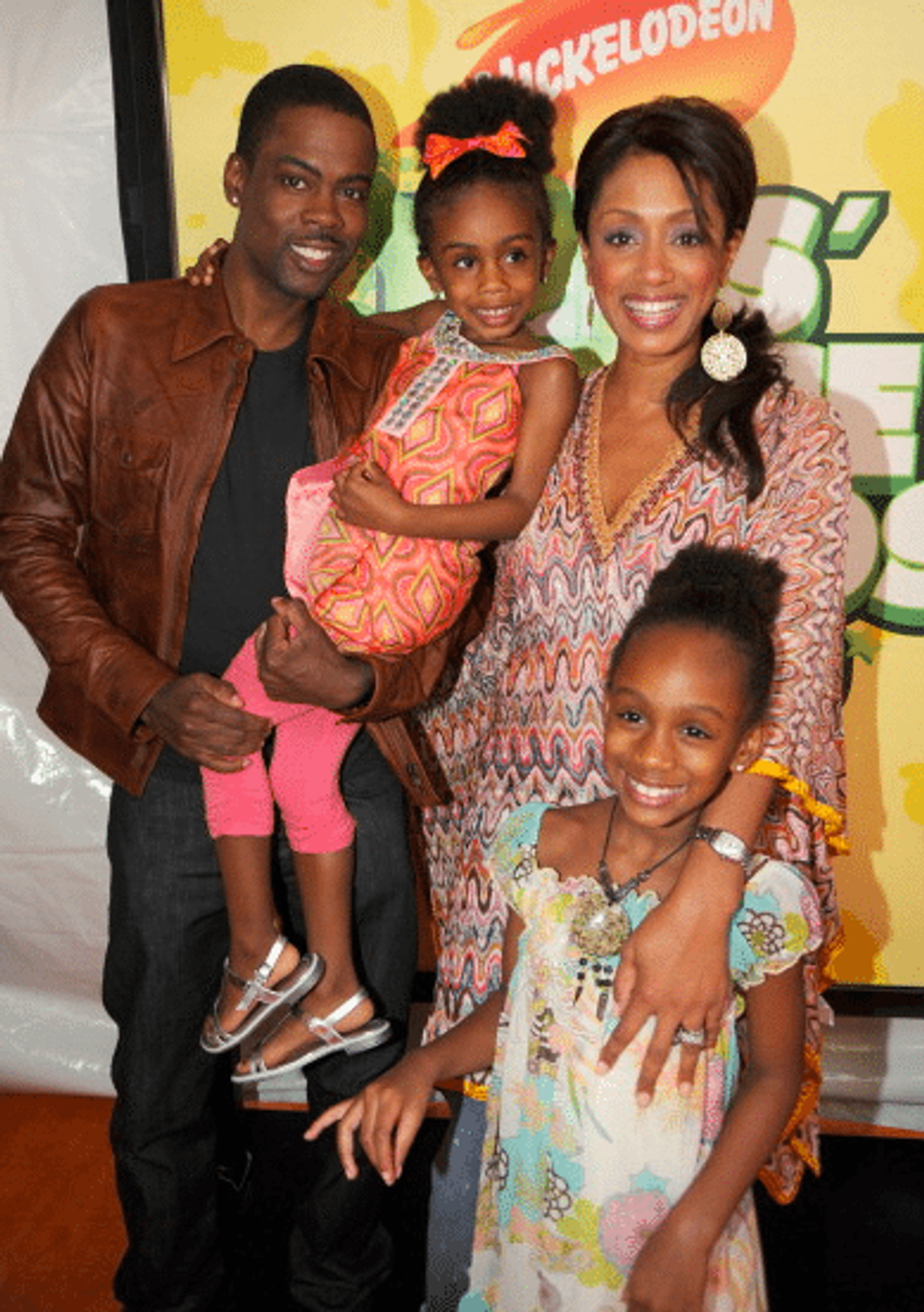 Chris Rock and daughters Zahra and Lola Rock with Wife Malaak Rock at the 2009 Nickelodeon Kids' Choice Awards
Sigh, from Jada Pinkett Smith to Chris Rock, it's nice to see both women and men in privileged positions speak on matters that continue to impact our community each day.
It's hardly a surprise that Chris would take such a strong stand for women seeing as to how his 2009 documentary "Good Hair" (which took an in-depth look into Black women's gravitation towards weaves, perms and other beauty goods that supply a multi-billion dollar annual industry), was inspired by Rock's youngest daughter Lola. At the time, Lola came up to Chris crying and complaining about not having "good hair," at only three years old. This prompted Chris to turn this into an entire film based on the Black hair culture.
I have to salute Chris for his choice to be candid when he could just so easily stay quiet. After all, talk may be cheap but it can often have its repercussions when speaking against the grain. So salute to him!
What are your thoughts on Chris' revelation on Black women in the industry?