Cardi B has stayed more than true to her money-making persona by always being on go.
---
Shortly after the success of "Bodak Yellow", she had three hit singles under her belt with "No Limit" and "MotorSport", secured a tour with Bruno Mars, and had a highly anticipated debut album in the works. And just as quickly as she became one of the hottest artists climbing the charts with hit after hit, motherhood came knocking at her door.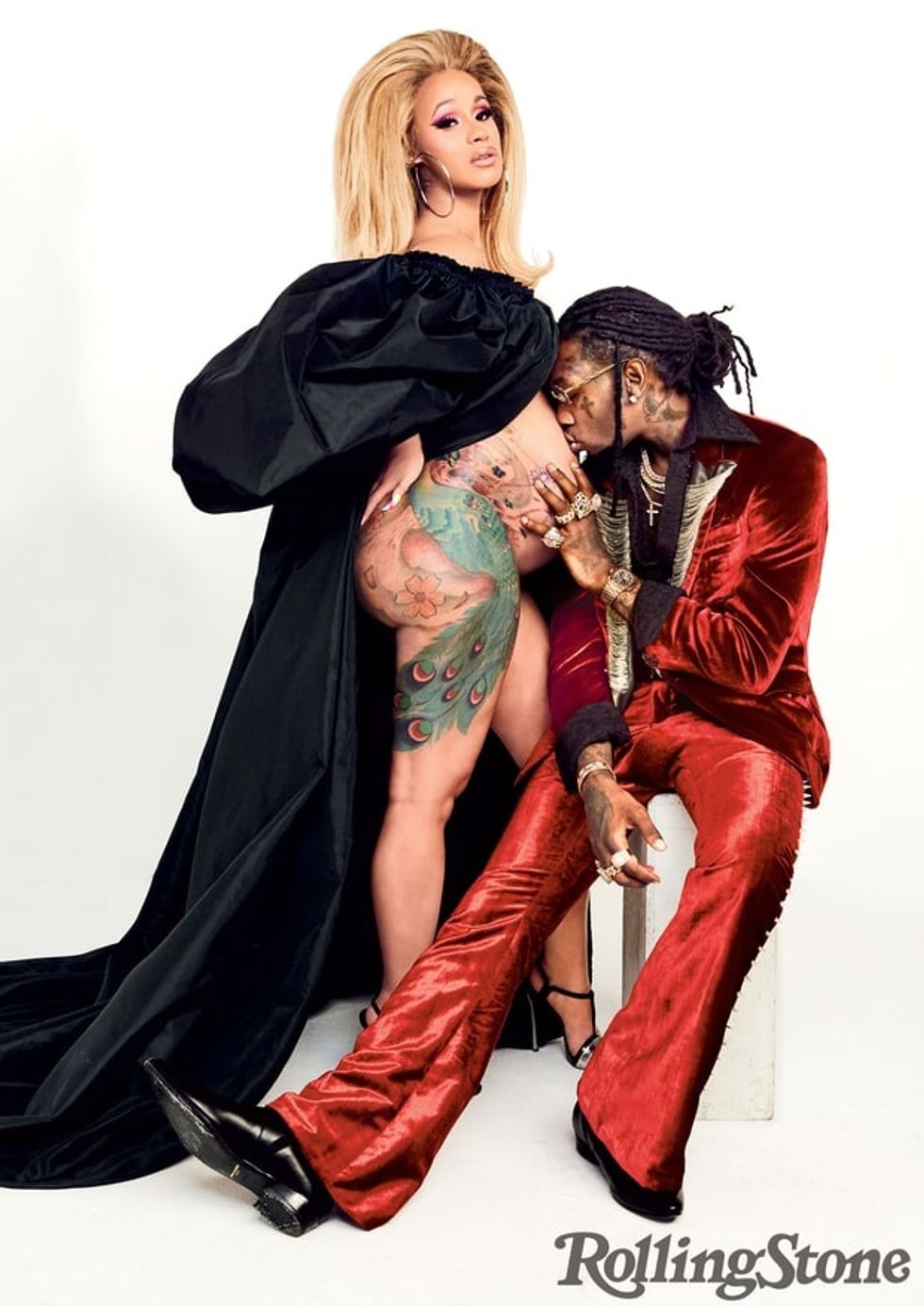 Ruven Afanador for Rolling Stone
In her recent interview with Rolling Stone, Cardi spoke about the mixed reactions surrounding her surprise pregnancy, which in turn fueled her own self-doubt of the future of her career.
"A lot of successful women have kids, and a lot of successful artists have kids, but not at the peak of their career. It was like, 'You can't do this. This might fuck up your career.'"
But even through the overwhelming emotions of her pregnancy and the media's speculation, Cardi couldn't shake her hustling mentality. She was still making club appearances and shot the music video for "I Like It" while five months pregnant. If she was going to bring a child into the world, she was going to grind ten times harder so they could fully live out their dreams like she did, but without experiencing the poverty that pushed her.
After sleeping in studios to finish Invasion of Privacy, her big reveal on Saturday Night Live and the end of the album's promotion, Cardi with only seven weeks of her pregnancy left can now relax and focus on her baby shower and her fiance, Offset.
"I want a lit baby shower. My baby shower's not starting at no 5:00. My shit is going to start at 9 p.m. because that's how I celebrate, that's how Caribbean people celebrate. I don't like baby showers that be at 5 p.m. in the backyard, eating, cooking hors d'oeuvres. Nah. Shit, I might even drink some red wine. Red wine's healthy, right?"
Rolling Stone calls Cardi and Offset's relationship "a hip-hop love story." The two worked past Offset's cheating scandal that was caught on video and the object of media fodder and have remained together. In the interview, Offset shared his love for Cardi's authenticity, as well as her ambition:
"We really love each other. She's real. I wanted real. I also wanted successful. My mama was the man of my household. Guys, fellas! You'll lose your wife trying to stop them from being the best they can."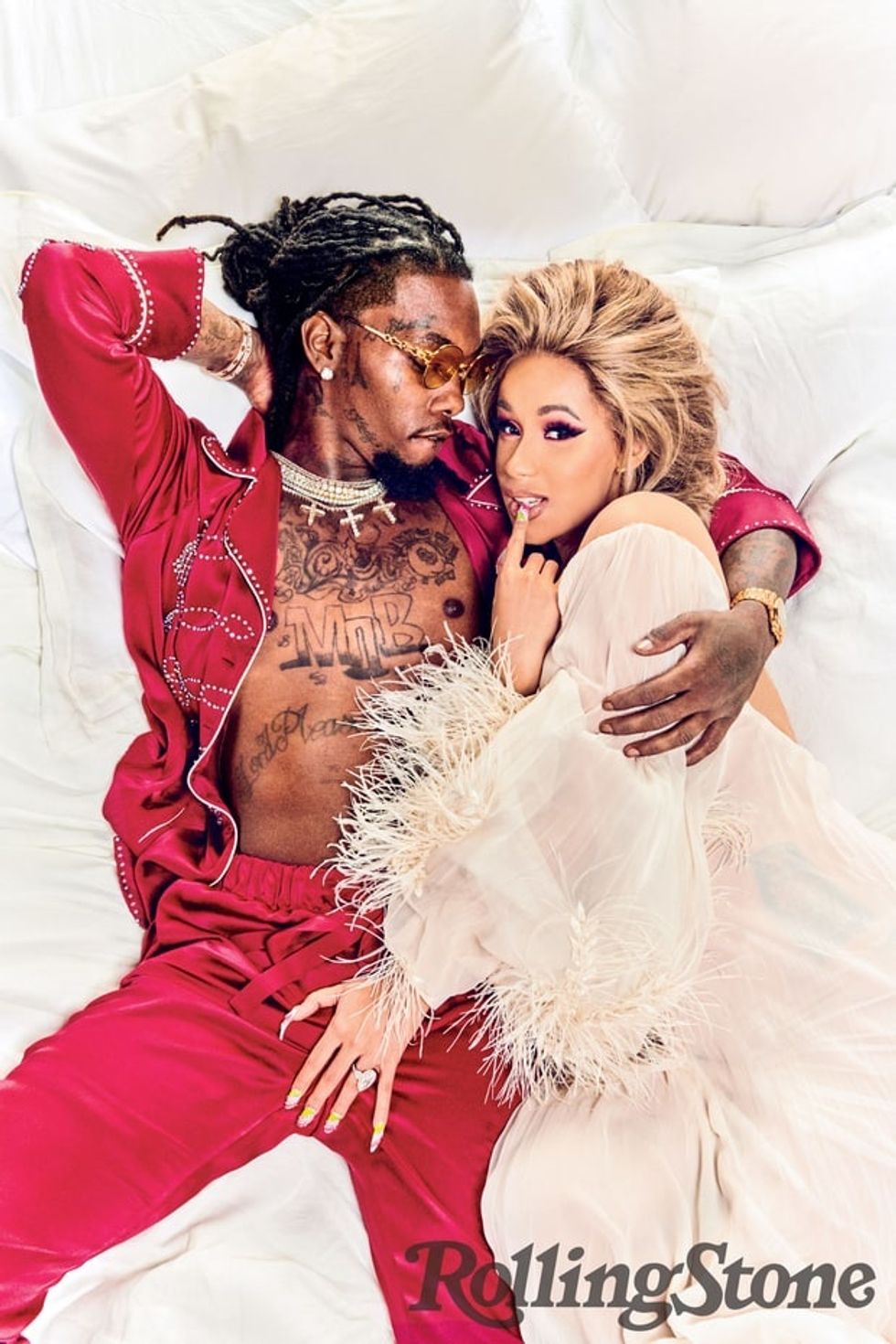 Ruven Afanador for Rolling Stone
"We work. With a day off, we'll be in bed all day, just enjoying each other's company. It ain't about going to no movie, no dinner, nothing. We can go eat McDonald's or Wendy's. She might want a chocolate Frosty. We done so much bizarre shit with each other – rings and cars and chains. We got that out of the way."
Offset plans on building an empire in Atlanta, so the two and their baby girl will be living in his hometown. And while Cardi might be away from her grandma's home in Washington Heights, she wants everyone to know that, after the pregnancy, both her street credibility and sex appeal will stay in tact.

"Just because I'm a mom, my street credibility's not gone, my sex appeal's not gone."
While growing up with a Trinidadian mother, Cardi's household was full of strict rules and discipline. For her own daughter, she wants them to be BFFs and doesn't want to miss a moment even on tour with Bruno starting September.
"What I envision is my tour bus has my own personal room, and I just want to be with my baby. Only time I don't have my baby with me is when I'm getting my hair done, makeup done, performing. I don't want to miss one second. I don't want to miss no smiles, I don't want to miss no new movement, I don't want the baby to confuse me and the babysitter."
Check out the full Rolling Stone interview here.
Featured image by Ruven Afanador for Rolling Stone