There was no doubt that the 88th Annual Academy Awards ceremony was going to be awkward given the fact that zero people of color were nominated for top acting categories but were invited to be presenters at the shindig.
---
There were also no doubts that host Chris Rock was going to make white people cringe with his super awkward jokes. But as much as it was anticipated, talked about on social media, and used as discussion topics among black movers and shakers in Hollywood, no one could have prepared us for the awkwardness that was last night's ceremony.
It was seriously awkward. Like, Chrissy Teigen's awkward face "awkward."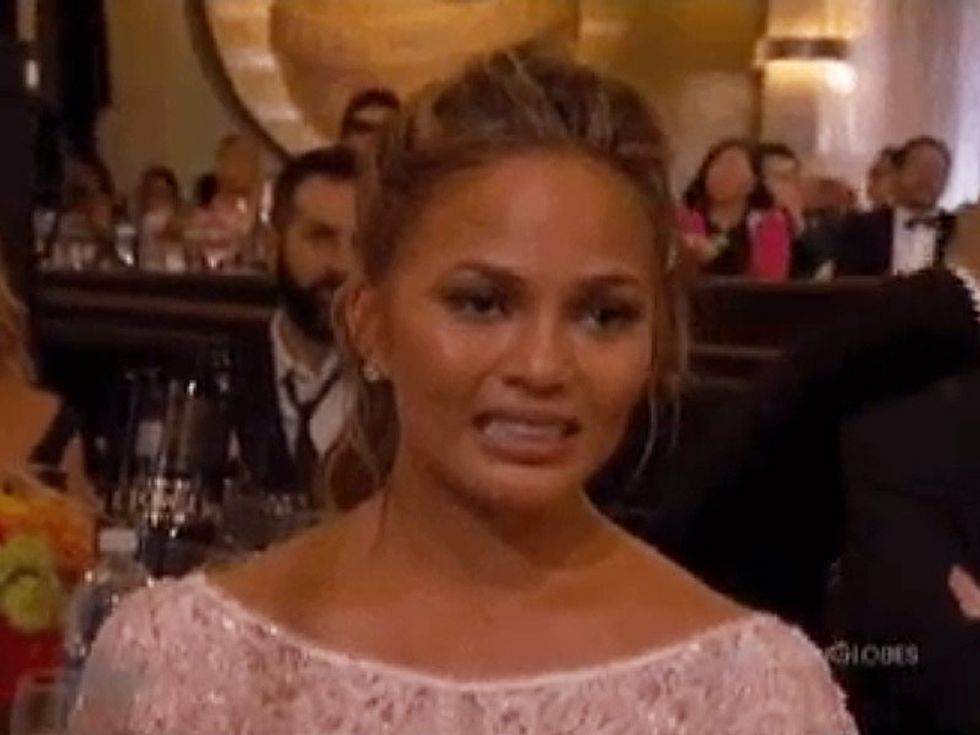 I'm not saying that Chris Rock failed as a host. As far as social media goes, there was mixed reactions. Some people think he did great as he mocked Hollywood diversity (all night), had his daughters serving Girl Scout Cookies like super cute pie hustlers that no one could say no to, and of course that cringeworthy Stacey Dash moment.
It's going to take some time to really ingest what Chris Rock was saying last night, because he really is a brilliant comedian. He could say something today that makes absolutely no sense, and tomorrow you may find yourself slapping your knees and crying with laughter at his exact same joke.
But that doesn't mean we can't talk about which jokes had us feeling uneasy, and he had a lot of those moments. Let's talk about them.
1. WE KNEW CHRIS WOULD BE UNHINGED THE MOMENT HE STEPPED ON STAGE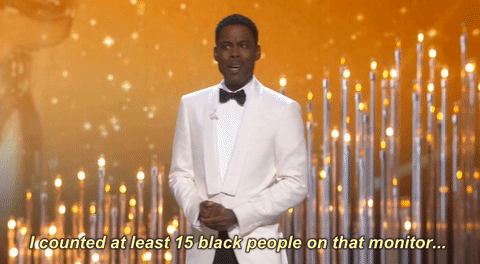 If you felt uneasy before the Oscars, where Chris Rock joked that he was only the host because "Ellen said no," then he re-ignited that feeling when he stepped on the stage with Public Enemy's "Fight The Power" blaring as his entrance music. That was the point where my husband and I knew that no one in the room was safe, and they probably should have planned for an awkward moment exit plan. We were right in the assumption.
As soon as Mr. Rock started talking, he began tackling the elephant in the room with a huge set of balls. The first words to come out of his mouth were,
"Man, I counted at least 15 black people on that montage. Hey! Well, I'm here at the Academy Awards, otherwise known as the White People's Choice Awards."
2. HIS MONOLOGUE WAS SAVAGE
Chris Rock's hosting duties slightly shifted as a result of #OscarsSoWhite, boycotts, and discussions on the lack of Hollywood diversity. He suddenly had to address the largest issue of the night - that no people of color were nominated in top acting categories - in front of a room full of white people.
He didn't disappoint. At first.
You realize, if they nominated hosts, I wouldn't even get this job.

You all be watching Neil Patrick Harris right now. But, here's the crazy thing. This is the wildest, craziest Oscars to ever host because we've all this controversy. No, no black nominees, you know? People are like, "Chris, you should boycott. Chris you should quit. You should quit!" How come it's only unemployed people that tell you to quit something?

No one with a job ever tells you to quit. I thought about quitting. I thought about it real hard, but I realized they're going to have the Oscars anyway. They're not going to cancel the Oscars because I quit. And the last thing I need is to lose another job to Kevin Hart. I don't need that. Kev right there! Kev makes movies fast. Every month. Porno stars don't make movies that fast.
This is the part of the monologue where people started to feel uncomfortable, depending on who you ask.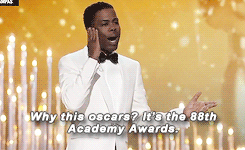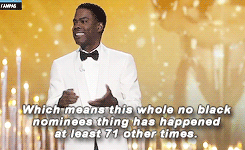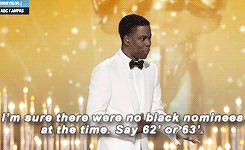 Now the thing is, why we protesting? That's the big question. Why this Oscars? Why this Oscars, you know? It's the 88th Academy Awards. It's the 88th Academy Awards, which means this whole black nominees thing has happened at least 71 other times.

OK? You've got to figure that it happened in the '50s, in the '60s, you know? In the '60s, one of those years Sidney didn't put out a movie. I'm sure there wasn't no black nominees some of those years, say '62 or '63. And black people did not protest. Why? Because we had real things to protest at the time.

We had real things to protest! Too busy being raped and lynched to care about who won best cinematographer. You know, when your grandmother is swinging from the tree, it's really hard to care about best documentary foreign short. What happened this year? What happened? People went mad. Spike got mad. Sharpton got mad. Jada went mad. And Will went mad.
This is the part where some people either contemplated turning off the television, or jumping up to give Chris a "hallelujah."
New York Daily News writer Shaun King was seriously not feeling Chris' monologue, and took some time out to write scathing criticism about it, where he said that he almost cut off the tv.
Sadly, though, Rock is missing out on the fact that more unarmed African Americans were killed by police in 2015 than in ANY of the previous 88 years of the Oscars. While it may be hard for some to think of our present day problems on that scale, these are the cold, hard facts.

In essence, Chris somehow found a way to simultaneously oversimplify what it meant to be black in the Civil Rights Movement while also drastically downplaying the size and scope of the injustice we face today.
But Glamour writer Anna Moeslein thought the bit was pretty funny, and the right delivery, considering what he was up against.
The entire monologue was tightly-written, mind-blowingly hilarious, and full of truths. He's exactly the host we needed to have this year.
Diversity wasn't the only thing being shaded during Chris' monologue. He also took a jab Hollywood in general, including Will and  at Jada Pinkett-Smith, where he said,
Jada boycotting the Oscars is like me boycotting Rhianna's panties. I wasn't invited!
3. THAT DIVERSITY SKIT WITH WHOPPI GOLDBERG, LESLIE JONES, AND TRACY MORGAN WAS JUST...
The words"real" is probably the best way to describe the skit Chris Rock introduced featuring three black Hollywood actors trying to make their way into roles reserved for white people.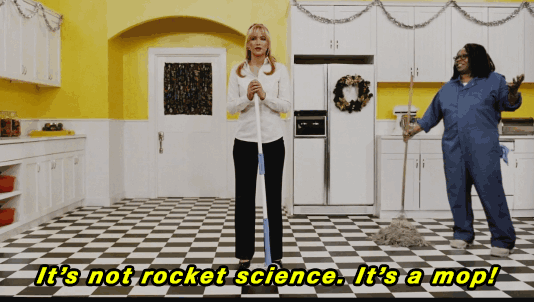 First up was Whoopi "swabbing the deck" and simultaneously shading actress Jennifer Lawrence in a fictional recreation of the movie Joy.
As Jennifer Lawrence struggled to get a word out, Whoopi hit her with a barrage of "realness."
"Say something. Maybe one day they'll make a movie about a skinny white lady who invented a mop...Of course a black girl would have to invent a cure to cancer before they even give her a TV movie."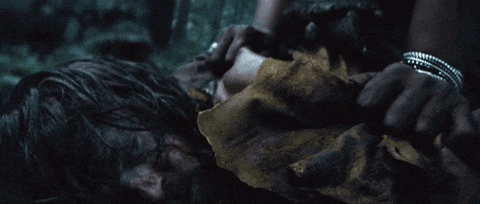 4. STACEY DASH REARED HER HEAD MADE AN APPEARANCE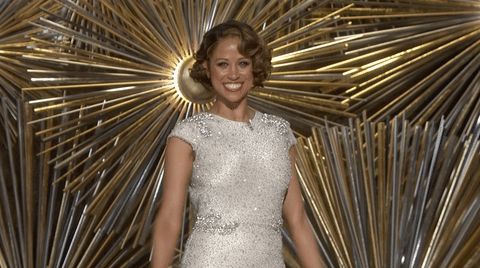 Just when we thought that we left Stacey Dash far behind after she questioned the Oscar's boycott, and said that she didn't think there was a need for Black History Month, she made an appearance on stage last night.
I already knew that whatever she had to say wasn't going to go well, whether it was hilarious or not, and I was right.
Chris Rock gave a short speech about how the academy was taking steps to help actors of color find jobs. That's where he introduced Stacey Dash as the Academy's new "Director of the Minority Outreach Program."  She had this to say when she stepped out on stage,
"I cannot wait to help my people out. Happy Black History Month. Thank you!"
.@realstaceydash makes a special cameo at the #Oscars, and the crowd had no clue how to react https://t.co/RO5WqpCgWC

— IJR (@IJR)1456712836.0
And this was Mrs. Legend's face while Stacey Dash was on stage. Lawd!
Chrissy Teigen is the best at award shows. #Oscars @chrissyteigen https://t.co/h6wYle8PL2

— Elizabeth C (@Elizabeth C)1456711430.0
And of course the Weeknd's reaction: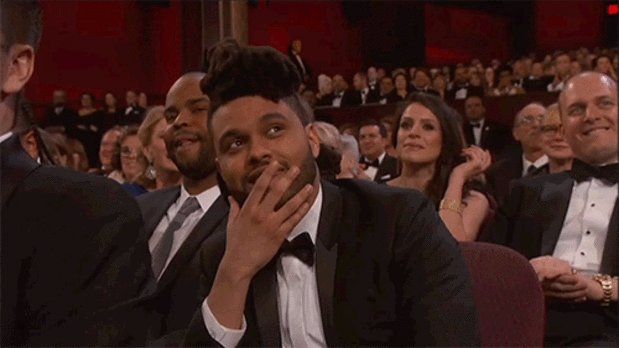 Stacey took the time to address why she was in the room to begin with on her blog, where she says,
When they added ME to increase the diversity, I'm sure many black people rolled their eyes. I'm not "black enough," they say. But guess what? I've heard that all my life. I would rather be a free thinking, black than a cookie cutter black who thinks – and votes – just like all my friends.
Child...Read the rest of her blog here.
5. WHEN CHRIS ROCK ASKED BLACK PEOPLE ABOUT MOVIES WITH WHITE LEADS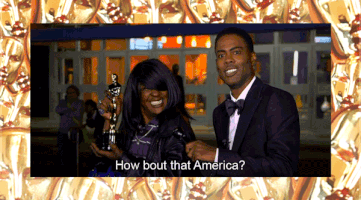 This bit was just funny and sad.
Chris said that he wanted to get a fresh perspective of the Oscar's from moviegoers, so he went to a theater in Compton, Calif. He asked them how they felt about the nominees, if they had heard about the controversy, and other small talk.
Then he asked them if they had seen any Oscar nominated films in theaters, like Spotlight, Brooklyn, and Bridge of Spies, and they had barely even heard of the titles. One women said, 'Where are you getting these movies from?...I come to the movies all the time..."
He also asked them all of thew saw Straight Outta Compton, and they all had seen, and loved it.
The skit ended with Chris giving everyone a real Oscar, while they told Hollywood how they felt. It was mostly positive, and one man said, as he held an Oscar,
"This just should not just [be] white, it should be Asian, Hispanic, there's so much talent out there of all races." 
See the funny moment below.
.@ChrisRock goes to Compton to talk movies. #Oscars https://t.co/Tj8sEaVbDb

— The Academy (@The Academy)1456716494.0
6. WHEN HE TAUGHT HIS LITTLE GIRLS AND THEIR SCOUT TROOPS HOW TO HUSTLE 
[embed]https://media3.giphy.com/media/l2JJHkCSa87gF2DO8/200.gif[/embed]
At this point in the ceremony, when he started asking attendees if they wanted to buy some Girl Scout cookies from his cutie pie little girls, I knew that the program had tanked in ratings. In fact, news today said that this year's ceremony hit an eight year low.
According to Deadline,
Declining to an 8-year low, that's down 6% from the 24.6/39 that the ceremony got last year in early results from the 56 markets across the country. That 2015 Neil Patrick Harris-hosted Oscars were matched with the 2011 Oscars for the third worst the Academy Awards has done in MM ratings since the last time Rock fronted the gig in 2005 – only 2009's Hugh Jackman-hosted 23.3 and 2008's Jon Stewart-hosted 21.9 were lower. 
Ouch!
The good news is that Chris' daughters hustled a crazy amount of bread, and raised more than $65K for their Girl Scouts chapter. Who can be mad at that?
The other good news is that one of Hollywood's ugliest secrets is being addressed on a national stage where everyone impacted by the lack of diversity can join the conversation on and off social media. At least it's a start.
Did you watch last night's ceremony? What were your thoughts?