Who doesn't love a good hack, especially when it's one that actually makes your life a hell of a lot easier? We've all seen them in practice, popularly on TikTok or passed down to you by a smart and savvy auntie or friend. They're ways we can work smart, not hard, decreasing the stress in our lives. They can also save us money and ensure that we're maximizing our earnings to build the quality of life we want.

Here are a few lifestyle hacks that can help you go from broke to financially free. Try these simple tweaks and see how they'll benefit your pockets: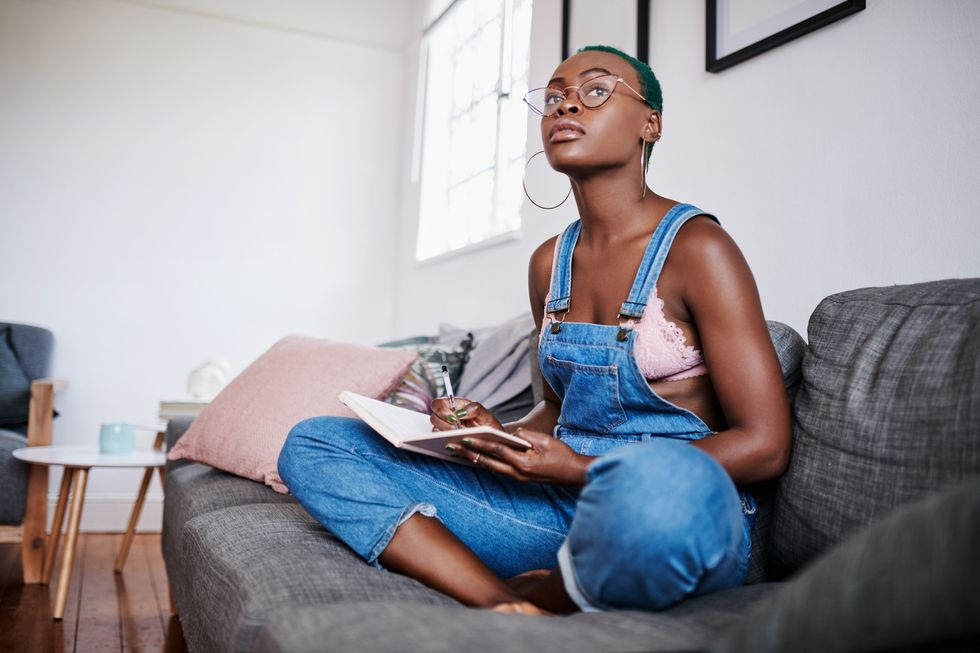 Laylabird/Getty Images
​1. Practice mindfulness, especially when it comes to food, fashion, and other product consumption. 
Mindfulness is defined as "the practice of becoming more fully aware of the present moment—non-judgmentally and completely—rather than dwelling in the past or projecting into the future." Research has found that Black millennials and Gen Zers are more likely to give in to impulse buying, especially via social, which is something that can definitely affect your bottom line in all the wrong ways.
Also, with impulse buying, you're typically getting something you'd never planned to purchase in the first place, feeding a need for that instant gratification of getting something that, while it might be the best bargain, pair of jeans, or "limited," isn't going to push you toward your financial goals.
The same goes for food. Sometimes we spend recklessly, buying produce we know we aren't going to eat before it goes bad, or we impulsively eat at a fast-food spot knowing good and well we probably could've cooked a much better meal home (with the aforementioned produce).
With mindfulness, you're able to pause, breathe, and truly meditate on your choice in the moment. Take note of how you feel, why you're doing what you're doing, or why you're having the urge to spend. That way, you might be less likely to continue wasteful consumption habits and save money in the long run.
2. Carry and use cash and stick to a daily, weekly or monthly limit. 
Many of us shop with cards and it's so easy to just tap, buy, and go. If you keep a certain amount of cash on hand–and stick to that limit for when you're out and about— you're less likely to overspend. (And y'all know I love a good study to back up what I write, so read that here.)
Now, I know this might not work with larger purchases or things you'd like to buy with your credit card (for those points and that boost to the credit score, sis!) but if you're simply going out to run an errand, are purchasing groceries or getting your nails done, why not try using cash so that you'll literally have to inconvenience yourself in order to overspend? Some small businesses even offer discounts for using cash instead of your debit or credit card, so be sure to ask.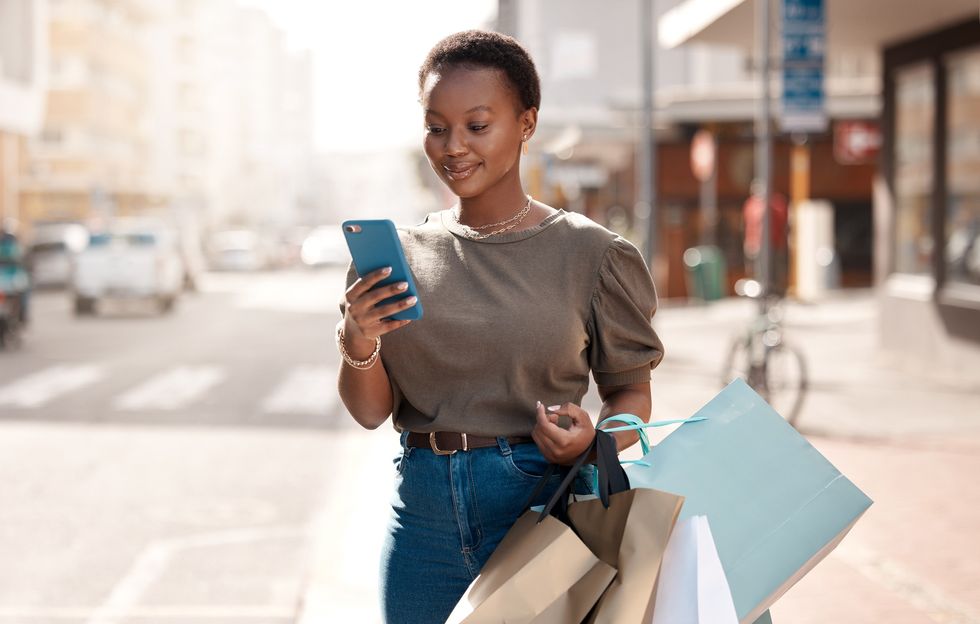 PeopleImages/Getty Images
​3. Only use credit and debit cards that offer rewards or points, especially for larger purchases.
I know, I know. We just talked about using cash. But if you're a frequent traveler, love to stay in hotels, or are constantly using your card for the same sorts of purchases, it's a smart move. Airlines, hotels, and retailers offer credit cards that allow you to accrue points or get discounts when you use them, saving you money in the long run if you're smart about it.
For example, you don't want to be buying $700 VIP Beyoncé concert tickets on a credit card but struggle to pay the bill—along with your other necessary expenses—each month. You do, however, want to get a credit card that offers perks like pre-sale access, first dibs on the best seats, or one that you can use the points to buy concert tickets with, especially if you're a super-fan or frequently use your card for entertainment splurges.
Talk with a representative, read the fine print, or discuss the perks of each card with your local credit union or bank to be sure you're making smart decisions in this regard. (Here's a great list of top-rated credit card and debit card options to get you started.)
4. Stop doing everything solo and group up. 
Again, another contradiction from me. I'm a huge fan of solo anything, but in this case, there's power in numbers. Whether it's travel or shopping for household items, when you can, grab a partner or group. Oftentimes rates for hotels and trips are much more affordable in groups, as there are discounted rates based on the number of people. The same goes for hotel and resort bookings.
Also, when shopping for almost anything, why not carpool, combine lists, and buy in bulk? With all the buy-one-get-one-free options or discounts for buying multiple units of something, it's a good look if you can swing it. Or when eating out, try dining with groups in order to split the bill and costs. It's a great way to get more social (since that horrible pandemic has disconnected many of us) and to save money in the long run.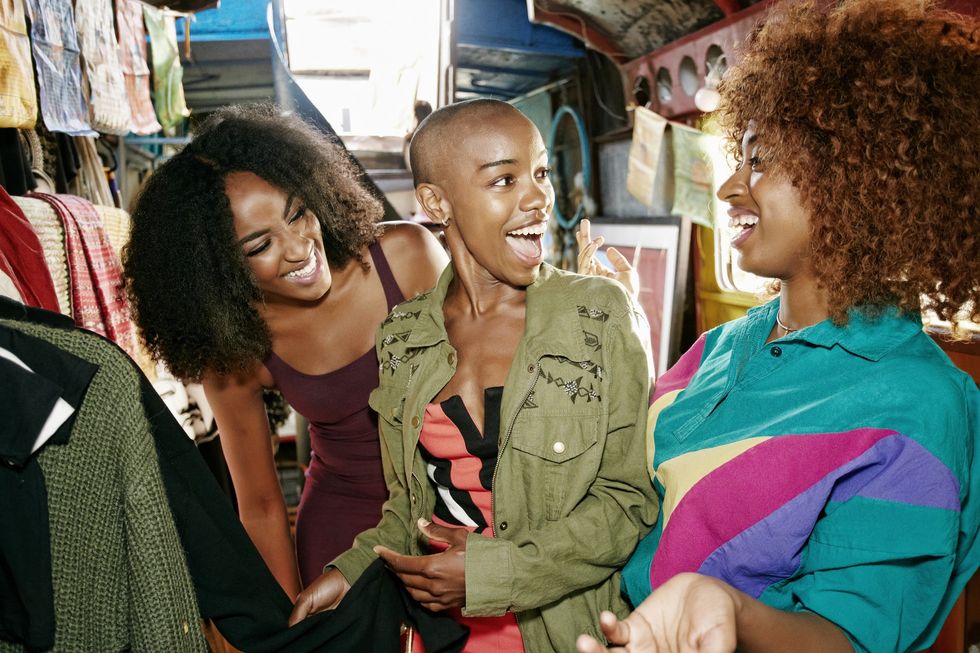 Peathegee Inc/Getty Images

​5. Put a 24-hour "hold" on making purchases of all kinds. 
Just like hotels do in case you tear up their stuff, you can simply halt pulling the trigger on purchases for a day. Unless it's a bill that needs to be paid, a necessary expense, or an emergency, give it a day of thought before actually buying or spending money on those small things that add up and can be money leeches.
I actually apply this to almost every purchase decision I make simply because, after journaling and really looking at my bank statements, I found that I tended to shop or eat out when I was feeling anxious, stressed, or sadness.
One day I looked around and found three of the same graphic T-shirt from Target in my closet, four jars of the same expensive protein powder (with two that expired!) in my kitchen cupboard, 10 new wigs of the same texture and length gathering dust on the packaging, and five huge Eco Styler gel containers that I know could last me through the next two years.
Now, when I wait a day, I find that the majority of the things added to my Amazon wish lists or that I just abruptly thought to go to Target and buy just aren't must-haves, and I figure out how to smartly spend the money elsewhere (like buying a cheap plane ticket to Jamaica, saving up for retirement abroad, keeping an emergency fund for my 9-year-old car, or paying my health insurance.)
And it isn't even about denying yourself pleasure. If it's something that you really want and it's still there to buy the next day (or the next month or year even), it's meant to be, sis. (I've even gone back sometime later to find out an item was on sale or that the same item was listed for a lower price elsewhere.) Practicing a bit of restraint and patience can lead to a major blessing, and I've saved a lot of time, money, shame, and space implementing this hack.
As with anything, a "hack" isn't helpful unless applicable to your end-of-the-day goals, so be sure to just take a look at where you'd like to improve financially, and what life you'd like to create for yourself, and apply these accordingly.
Let's make things inbox official! Sign up for the xoNecole newsletter for daily love, wellness, career, and exclusive content delivered straight to your inbox.
Featured image by South_agency/Getty Images
It's always empowering to see women deliberately taking action to change the world—unapologetically taking up plenty of space and using the fullness of multiple talents to do so. And speaking of empowered women, if you don't know the name Meena Harris, you need to get to know it.

Beyond being the niece of Vice President Kamala Harris, Meena Harris is an activist, author, lawyer, and host who founded Phenomenal, an empowering clothing and merchandise line that went viral in 2020 after being worn by celebs including Lizzo, Tracee Ellis Ross, and Jessica Alba. (The proceeds went toward advocating for Black political power and communities of color.)
From merch, things went further into Phenomenal Media and impact marketing campaigns with the launch of Phenomenal Productions, which has a focus on content and partnerships that give voice to the stories of women and historically excluded communities. The platform also has an online community of more than 720,000 on Instagram alone.
And if even the mere mention of the word 'phenomenal' piqued your interest, yes, it is indeed a nod to our favorite literary icon, Maya Angelou, whose 1978 poem "Phenomenal Woman" is a certified mantra and a timeless classic.
Auntie Maya would proud.
Now, as co-founder of Phenomenal Ventures, a firm that invests in top enterprises, fintech, and commerce startups, Harris has yet another milestone to celebrate, furthering her mission to build impact and create legacy through action. The company reportedly closed $6 million in a debut early-stage-focused fund.
Firms including 776, Tribe Capital, Slow Ventures, and founders from tech companies including Dropbox, Quora, and Pinterest were all investors. Nearly half of the fund's investors self-identified as women and 12% as Black.
The new fund allows Phenomenal Ventures to participate in pre-seed to Series A rounds, averaging amounts from $100,000 to $500,000, according to TechCrunch. The fundraising process took about a year, and the first half of the fund was closed in the first three weeks of fundraising.
Harris partnered with Helen Min, a former marketing executive, and colleague, for Phenomenal Ventures, an idea that came about in 2021, TechCrunch reports. "We feel really confident in our ability to succeed, but also wanted to start modestly and just do the work, despite some of the uncertainty around the economy," Harris told the publication.
Let's make things inbox official! Sign up for the xoNecole newsletter for daily love, wellness, career, and exclusive content delivered straight to your inbox.
Featured image by Leon Bennett/Getty Images
The whole subject of code-switching, as it stands now, makes my skin crawl, especially when I see other Black women promoting it as a positive thing to do. And as grown-ass working Black queens, especially those of us in fields that are majority male or majority white, we've all done some form of code-switching.
When you totally change the way you speak, your mannerisms, your tone, or any other way of communicating, you've earned your place in the Code-switching Club, sis. And if you're among the scores of Black women who have felt they've been forced to code-switch simply to survive and pay the bills, let me tell you now: I chose, a decade ago, to never code-switch to the point of inauthenticity and mental turmoil again, and today, I'm challenging you to do the same.
Before we go any further, let's get into more about what exactly code-switching involves. Research has found that people find code-switching "professional," and that the act can indeed "facilitate career advancement, connection and other forms of success." As much of this can be true since code-switching comes with its rewards, I have found, as a Black woman who has worked in both corporate and small-business environments, that the definition and sacrifice of self for us goes way beyond just speech.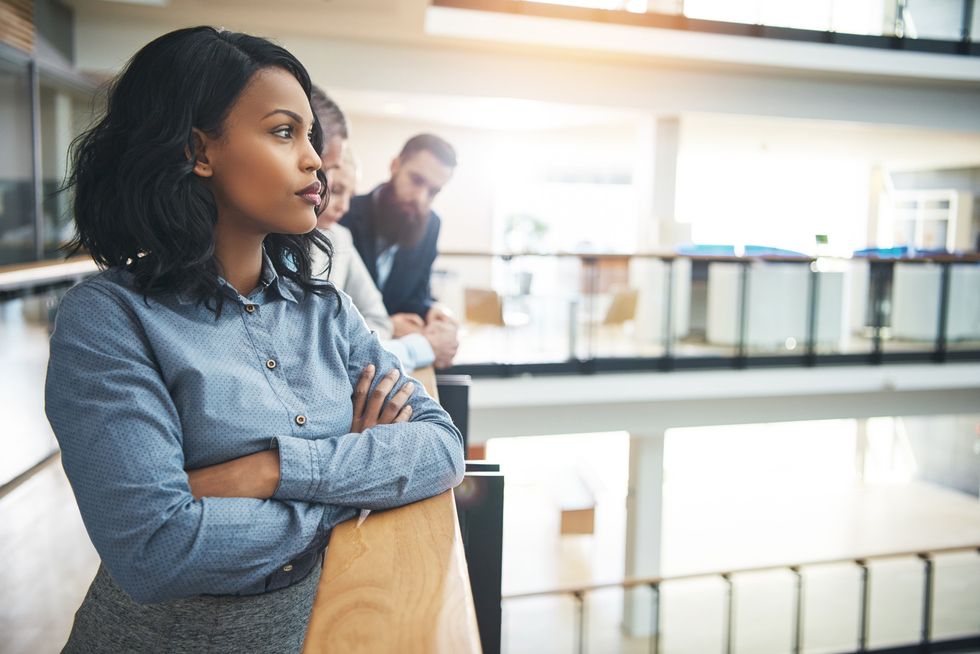 FlamingoImages/Getty Images
In my experience, if I spoke too loudly, I was labeled "ghetto" or "uncouth." If I spoke too much with my hands, used slang, or didn't enunciate every syllable, I'd be considered unreliable, uneducated, or not trustworthy. If I used analogies that are smart but rooted in "urban" or Black culture, I'd sometimes be laughed at like I was the company comedian.
Code-switching has been found to take an "emotional toll" on Black professionals especially. The motivation behind code-switching involves being accepted in environments where you feel you have no choice but to blend in or totally change who you are during your office hours just so you can pay the bills or advance up the ladder.
This involves fighting against what is called "stereotype threat," and can "undermine motivation and trust and cause underperformance." We all know that as Black women, communication goes beyond just our words and phrases, into the way we use gestures, dress, and our overall powerful swagger. For us, the promotion and rewarding of code-switching (both passively and overtly) are stifling, discriminatory, and, dangerous. It's also rooted in bias and white supremacy. Yep, I said it.
It's one thing to be respectful, eloquent, graceful, and emotionally intelligent. Those are all amazing leadership qualities and skills that are necessary for anybody in any business or social arena. But it's a whole other thing to put Black women in a monolith and force them to totally change who they are every day--- women who are already disenfranchised in the workplace, face double discrimination, are disproportionately underrepresented in the C-suite, and already have to fight to "lean in" and take up space.
So how did I thrive by not code-switching? Here's how I navigated my rebellion against an age-old so-called norm in the workplace: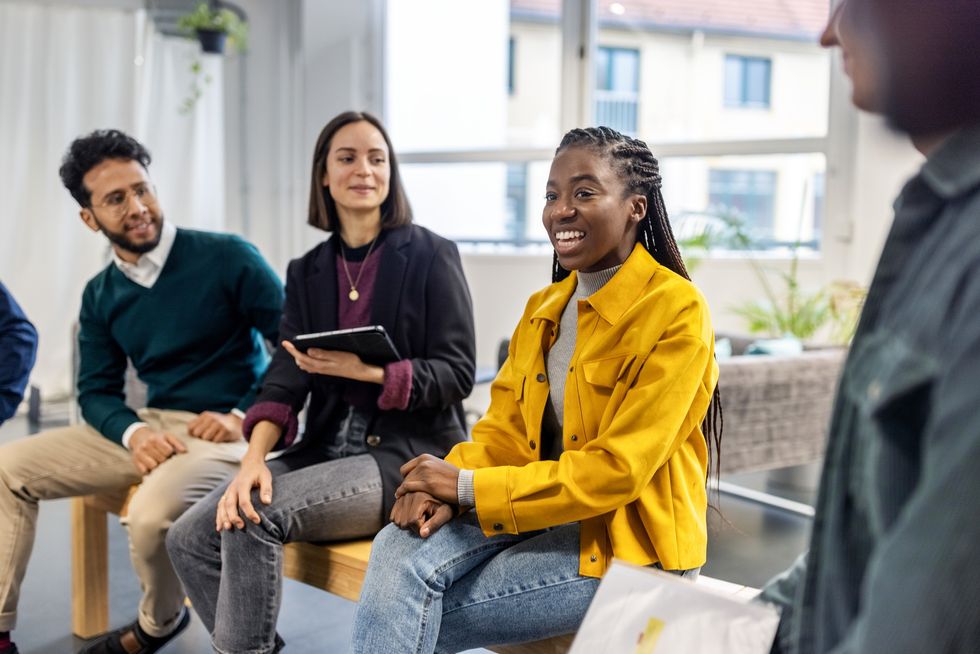 Luis Alvarez/Getty Images
1. I aligned myself with organizations, opportunities, and companies that were a fit for my personality, career goals, and values.
I like to change up my hair without a bunch of judgments and questions, and I'm okay with bluntly letting someone know that I'm not in the mood to explain why or how. I like to use slang (hell, even patois), and I talk with my hands. I laugh heartily and I'm passionate about what I do, so yes, sometimes my tone is louder than a whisper. I have a deep Virginia country accent or a very-suspect Trinidadian-Jamaican one, depending on the situation. And all of the clients and publications I work with respect and love those things about me.
Not all Fortune 500 companies are created equal when it comes to truly facilitating diversity and inclusion, both in good and bad ways, but you can indeed find a company where you can just be yourself (whatever that means for you) while doing work that is impactful, challenging, and rewarding.

Go on informational interviews, ask questions about diversity resources and company culture, connect with others who work for your dream brands to get a sense of what it's like in the office, and look up folk on LinkedIn to discern if that company's mission, values, and vibes match with your goals and values.
Also, why not look outside of the corporate realm and work for smaller brands, nonprofits, or startups? I've found that I have the most freedom to just be me working with entrepreneurs or companies that aren't yet at the 500-global-locations stage. Many of the companies I've worked for or with were either Black-owned or women-led, and I've had the most fulfilling career experiences with those types of companies simply because their goals, way of doing business, and priorities were similar to mine.
2. I got real with myself about my personality and communication styles in the workplace--the good, the bad, and the ugly.
I'll be honest here: I've had to get some major mentoring and even pursued a master's degree to learn how to better communicate as a leader. I've found that when I feel slighted or upset, for example, I'm more apt to be super-disrespectful and off-putting, which indeed is unprofessional and alarming to co-workers and clients. I know I'm a good leader, love to help people, and have the experience to guide others, but I keep it very real with myself when I fall short and the actions I need to take to improve.
While code-switching can be demoralizing in certain situations, sometimes we have to confidently know ourselves in order to determine when it's necessary and when it's not.
For example, I've found that raising my voice or tightening my tone can be problematic if a difference of opinion happens, so I've learned to smile, take a deep breath, think first, listen clearly, then respond. I also know I have a strong presence in any situation, and my energy when I walk in a room is super-noticeable. It's a bittersweet gift. (I have always been bossy, and I've had to play leadership roles in my household since childhood, so that can also be misunderstood or taken the wrong way.) Thus, if I really want to serve or get people to endear themselves to me, I can be a bit more graceful in my approach or try not to immediately criticize or correct someone.
The key realization here, though, is that these are all self-improvement actions I take, as a human being, after consistent self-reflection, therapy, training, and journaling, not trauma responses due to being afraid of embodying some unfair Black woman stereotype.
If you're not sure of your strengths and weaknesses as they relate to your workplace communication and experiences, try an assessment like CliftonStrengths, talk with a trusted workplace bestie or mentor, or hire a career or life coach to troubleshoot scenarios and process through your communication styles.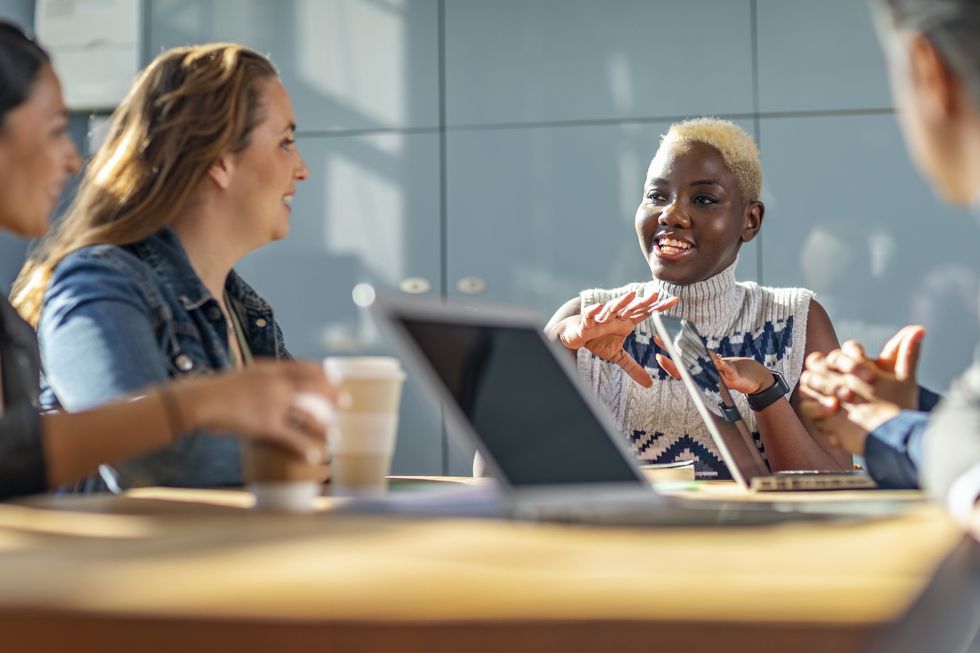 Compassionate Eye Foundation/David Oxberry/Getty Images
3. I stopped taking jobs just for the money and focused on my ultimate lifestyle goal and purpose.
I know, I know. This can seem challenging for many of us who have bills to pay and other very expensive obligations. Hear me out: So, instead of staying in a workplace or employment situation, that for me, became toxic simply due to the fact that the culture just wasn't a good fit, I went freelance and decided to take my risks there. If I had to work a customer service or remote tech job in between---just to pay the bills--- yet still have the freedom to seek out the real fit where I could be myself, so be it.
Just as some of us can sacrifice to get that six-figure job at a place where you're okay with cutting off your braids, turning into a whole different character, or wearing a black wig over those red curls (not judging sis; I see you and love you!), some of us must sacrifice in order to reach our end goal of radically saying no to doing those things.
It's everyone's right and unique journey as to what they deem important in order to reach their career goals (which connect to life quality and vision) and being able to wear my hair and nails the way I want, respectfully speak when and how I want, and having the freedom to communicate in ways that are both effective and genuine to me is more important in the grand scheme of things. (Also, these freedoms allow me to connect with the audiences I feel called to serve, thus, I have no choice but to do so.)
I spent years just not being myself, paying so-called dues, and have felt the negative residual effects of doing that. It's wasted years that I could have used pouring into becoming the best, most authentic version of me, and it was a relief to finally say, "Nope, pick somebody else. I'm not the one anymore." And you can, too, sis.
Featured image by Maskot/Getty Images

Whenever there are talks of a possible recession and reports of mass layoffs, there's always that fear that you might be next on the chopping block. (And hugs and love to you if you've recently felt the dread and sting of no longer being employed. I've been there.) As with anything in life, it's a good idea to be prepared for the best—and the worst—when it comes to your career, especially since the unemployment rate for Black women over 20 rose more than 5%.
While I know it's already challenging to handle the bare requirements of adulting and survival, there are ways you can practice something called "career cushioning" where you ensure that you're always booked and busy regardless of the economy or your company's up-and-down budget restraints. It's like when you're dating and keeping your options open. You might like that day job, but you're always checking for what else is out there and ready to pull the plug if something better comes along or you're no longer fulfilled.
1. Be sure your skills are transferable and up-to-date.
Any talents that make you unique and top-tier are to be cherished and nurtured. So if you have the gift of gab, play close attention to detail, are super-organized, are great with numbers, have a unique way of presenting ideas, or you're super-creative, these are all soft skills you can use at almost any job and in almost any role if you leverage them properly.
Transferable skills are those you can use across industries, like effective communication, tech savvy, adaptility, or excellent leadership. Think about our favorite bosses, like Rihanna, Oprah, Courtney Adeleye, or Pinky Cole. All of these women have diverse skills and passions and have not only reinvent themselves, but make money putting their multi-hyphenate talents to good use.
Document what you're great at and keep track of how that has manifested through successful completion of projects, company results, sales numbers, and other factors that show you're a competitive and competent professional in your field.
Also, make sure your knowledge and training are up-to-date, that you're tech-proficient, and if further education is required for an advanced degree, certifications, or updates, you're on top of them.
Getty Images
2. Keep a side-hustle going.
Not everyone is into have a whole second job or business, but if this is something you've been dreaming about doing, now is the time to start. And it doesn't have to be something expensive, time-consuming, or stressful. If its within your company contract limits and does not serve as a conflict of interest, try doing something different but related to the work you're already doing.
If you have a hobby or talent you can monetize (like crafts, fashion design, entertaining, or teaching) try doing that one or two days a week or building up a full part-time business around it. This is especially important if you already feel burned out and want to leave your job anyway.
3. Network for job leads—and even interview—while employed.
Oftentimes, people find new opportunities through their personal and professional network, and for those who are thinking about self-employment as their next step, this is especially important. The best client and job leads can come from someone you've worked with, go to church with, or a fellow member of an organization.
If interviewing while you still have a job, be sure you're not breaking any contract rules associated with your employment and check the details on your applicable non-compete agreements.
If there are no issues there, there's no harm in interviewing elsewhere even if it's just for the practice or to see what's out there. Informational interviews are still a thing, so you can try that route as well. Plus, if your company happens to lay you off, you'll already have recruiter numbers and contacts who were already interested in you anyway, making the process of finding new employment that much easier.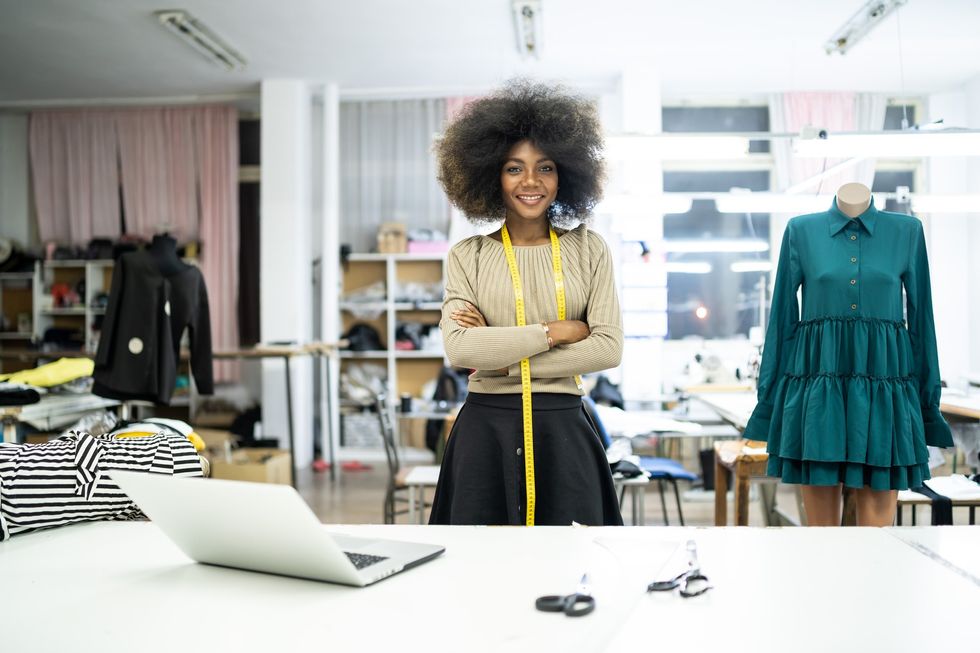 valentinrussanov/Getty Images

4. Cultivate an intra-company network of mentors, work besties, and advocates.
When we think about keeping our options open, oftentimes there's a sense that the options have to be outside of our current employer. However, you never know if maybe a better role or opportunity might be at your same company, just in a different department. Also, coming from someone who has been on both sides of a layoff, oftentimes certain people are kept simply due to the fact that they had more supporters and advocates at the company rooting for them to be retained. And even during the times in my career where I was laid off, my network was essential in the quick rebound I experienced each time.
Authentically network and partner with people in multiple departments where it makes sense, and be of service when you can. It shouldn't be some fake, surface connecting that screams, 'I'll use you if I need to.'
Open yourself up to learn new things and meet new people, get to know how others do their jobs (without being too intrusive), network sideways (like our good sis Issa Rae recommended) and stop skipping those company happy hours. Another good way to network is to volunteer for the causes or nonprofit events that your company's leaders are passionate about.
5. Stay connected to your college's alumni resources.
After a certain number of years being away from the yard, many of us sleep on alumni services. Big mistake. Sometimes you can get job search aid, find out ways you can advance your education, or connect with others in your industry who might not only be friends but future colleagues.
It doesn't matter if you graduated two or 20 years ago, being an alumni of your school is still important, and those resources are there for a reason. Tap in today and enjoy reconnecting with your peers while strengthening yet another career safety net.
6. Always think outside the box when it comes to types of jobs and roles you can fill.
If you've been known for one job or skill for a long time and have been great at it, it can be hard to imagine doing anything else. And while some of us think we have job security due to the years we've given an industry or company, things can change quicker than the time it takes to get coffee from the break room.
Be proactive about how your skills and training can be used for different types of jobs or for a whole different industry altogether. If you love public speaking or making TikTok videos, why not level up and pitch yourself to brands or organizations?
If you've made advancements or innovations in your industry or have a fresh take on a trending issue, write a blog or book or try consulting. Also, open up your horizons to working in other markets or even another country, and find ways to be strategic to position yourself to transfer and travel if necessary.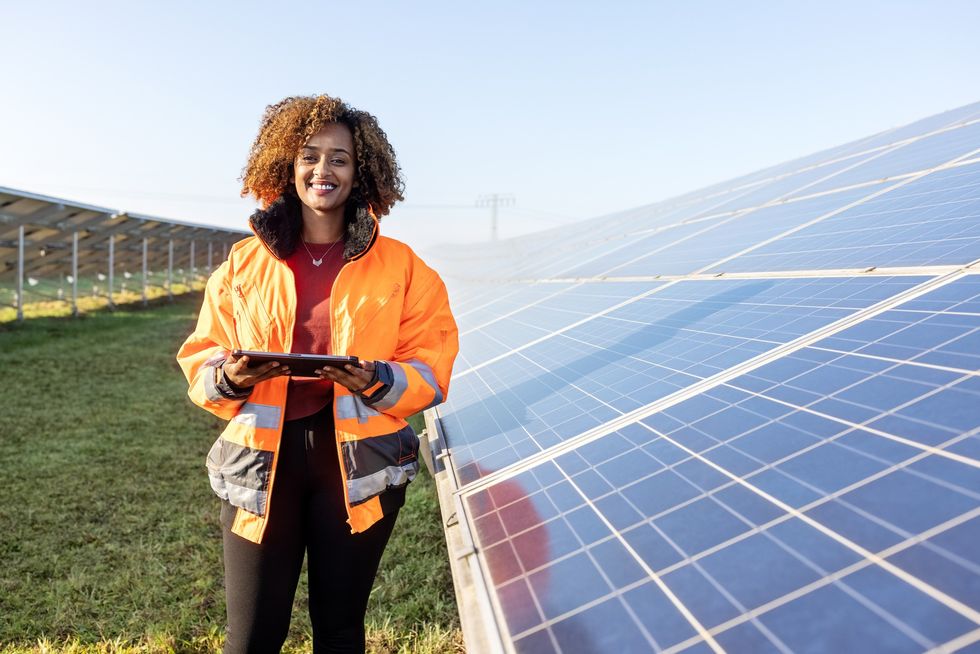 7. Get your financial house in order.
Whatever job you take, be sure you've taken advantage of all of the benefits, profit-sharing, retirement funding, and other financial resources available to you so that if you have to leave that company, you can cash in or rebuild your emergency reserves. And don't sleep on insurance, real estate, or stock market investments.
It's such a relief when you have a bit of financial cushioning to soften the blow of a job termination, making it all the more blissful for you to simply focus on either taking a break or going for the next opportunity coming your way, refreshed and ready to excel. I once used my severance and savings to consult full-time and travel. It was the best three years of my life.
If you're not sure about benefits and financial resources at your current job, ask your boss, the HR director, or a professional at your bank about your options. Write down a layoff plan (or create a Google Doc or spreadsheet) and get to know where your money is and how it's flowing (i.e. that budget sis), so that you can be prepared in case of a sudden job loss. For many of us, a recession-proof career lies solely in having financial freedom, and that's a real boss move.
Bonus: If you're unhappy at work or don't enjoy your career, pivot.
Knowing when it's time to throw in the towel on that job when things just aren't working—when you're disgruntled, bored, stuck, or simply not being challenged—is super-important, especially since those negative feelings will eventually show up in the quality of work that you do. And while performance isn't the end-all-be-all to reasons why people get laid off, it can be a major defining factor depending on the circumstances. (And if we're talking about getting fired, sis, you don't want that smoke. I know some of y'all work in industries where licenses could be suspended or revoked, or you could face fines and jail time due to neglect, underlying anger, or exhaustion.)
Why waste more time at a job or in a field that you don't truly give a damn about? Being on a road of self-learning and self-exploration can lead you to sustainable career fulfillment despite the poor state of the economy.
Get to know your values, why you do the work that you do, how it affects your wellness, and how it contributes to the quality of life you dream of having, and use that foundational knowledge as your guide to ensuring that you're always the leader of the pack and winning no matter what.
Let's make things inbox official! Sign up for the xoNecole newsletter for daily love, wellness, career, and exclusive content delivered straight to your inbox.
Featured image by People Images/Getty Images
They say that God works in mysterious ways—both in the face of our greatest losses and biggest wins. And while the road to uncovering the reason and 'why' behind such marvels may seem dim, what's later relieved often lights the path to our purpose. And thus was the case for Brittney Winbush, founder of the breakout candle brand, Alexandra Winbush (AW).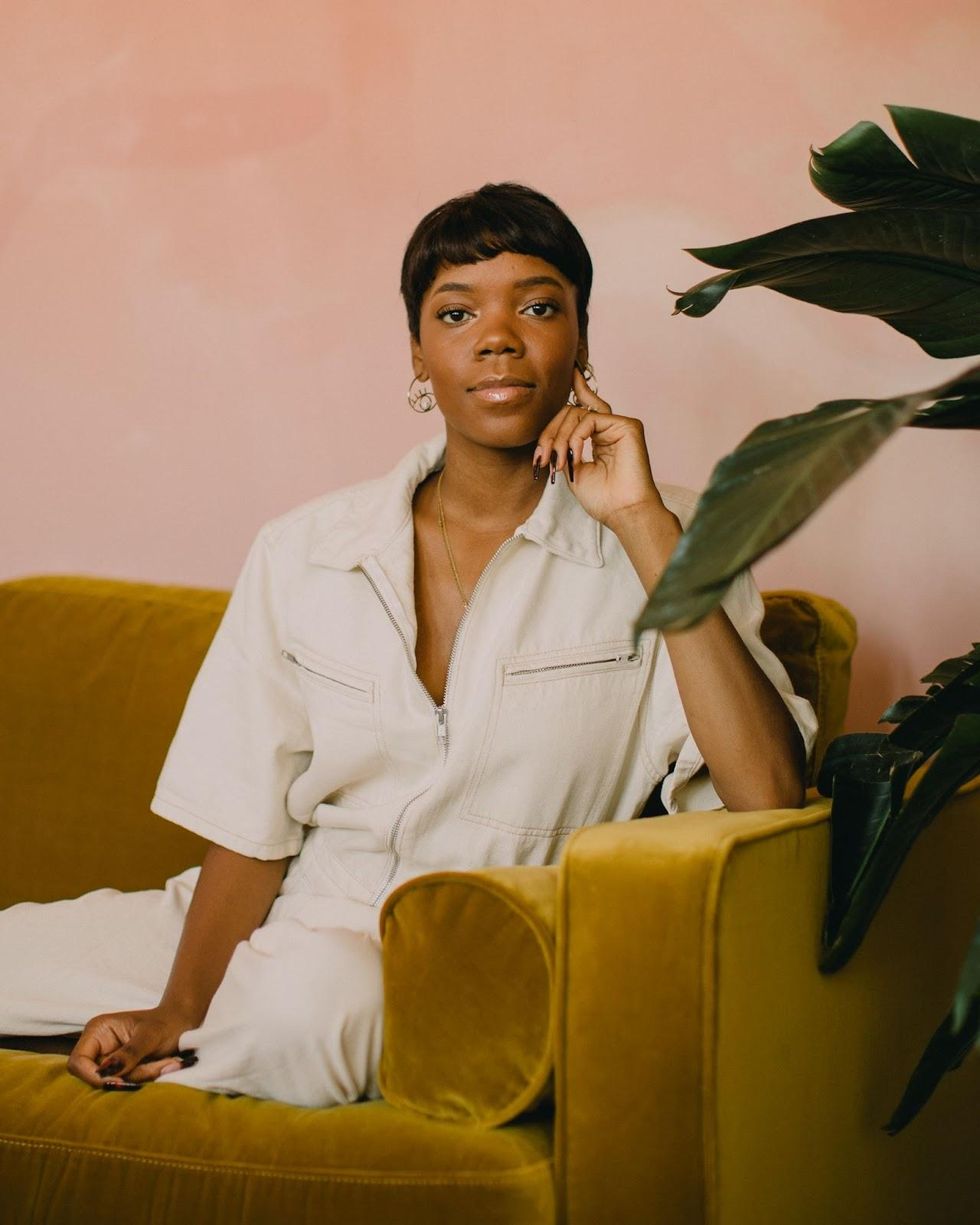 Photo Cred: Mark C. (Mark Clemmons @mark.c)
After experiencing a house fire during college, much of what Brittney called home was unrecoverable. "I was like, why did this happen? Why did it happen in my room? Why was I the only person that lost something?" she tells xoNecole. As the aftermath of the fire brought on waves of anxiety and depression, Brittney began to reestablish a sense of stability back into her life through her sacred self-care trinity: music, tea, and candle making. "Now I have this routine. Now I'm tapped in, open, and happy to talk about my journey with anxiety and depression," she says. "I found comfort in candles and tea and music, and I was able to build a business out of it."
What came from the ashes was a brand that's rooted in self-care and grounded by an ever-growing community that's found a safe place to land during life's toughest moments. "I always say that AW is for your bad days," she shares. "Everybody's bad day isn't a house fire, but it could be a rough day at work, tension in your relationship, or what none of us saw coming: a global pandemic that puts you in the house for a year. I create products for those days."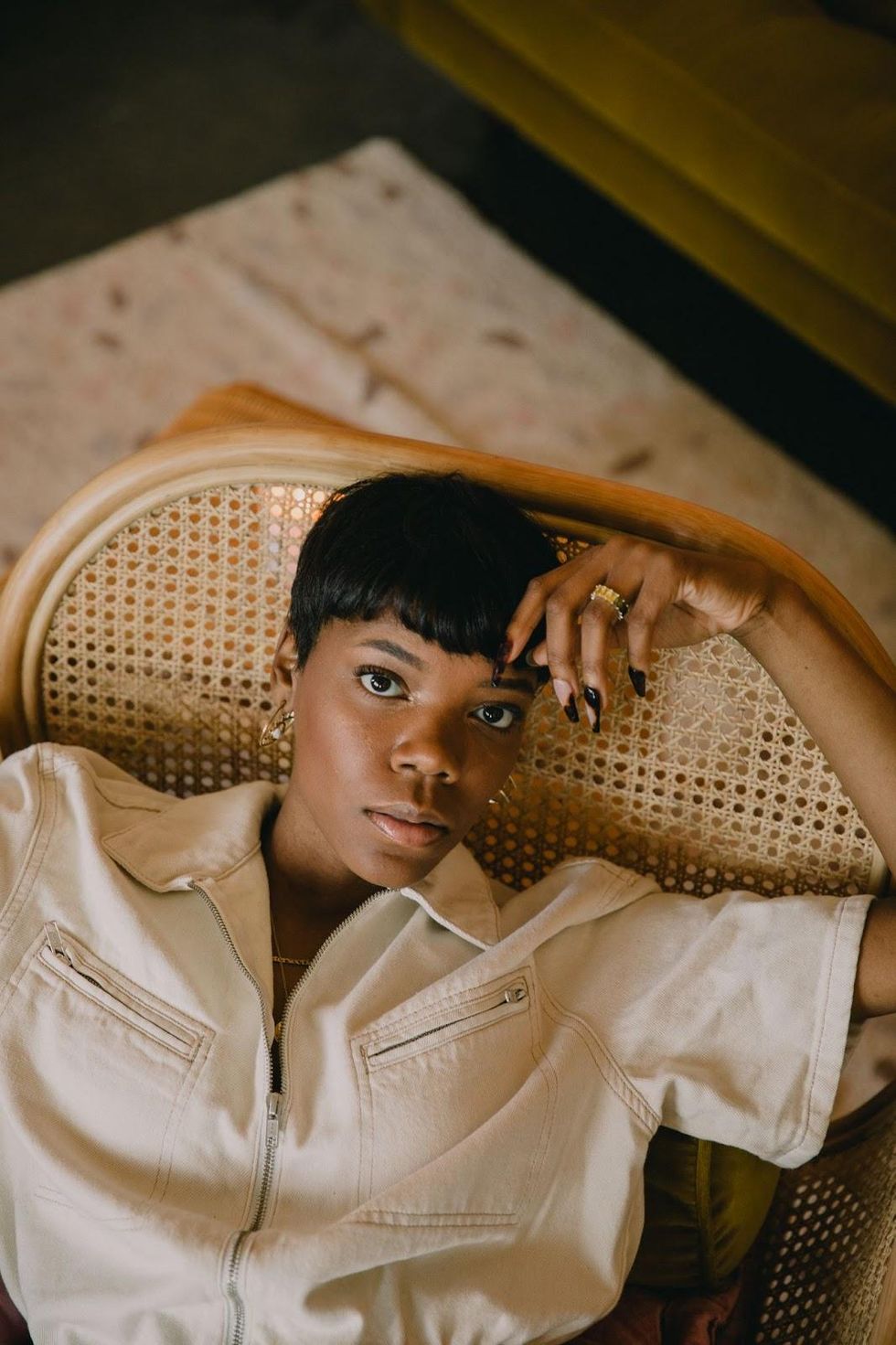 Photo Cred: Mark C. (Mark Clemmons @mark.c)
Supplying a product that allows her customers to take a load off, this wellness founder has found her sweet spot. Through her curated playlists, aromatic candle line, and teas, Brittney is proving that peace of mind and ease can be found in the small moments we make for ourselves. "The combination of escaping with scent, sitting down with a cup of tea, and enjoying whatever music I want in that moment, feels like the perfect three," she says.

And as she embarks on a new chapter in life, having recently celebrated her 30th birthday, Brittney is confident that wherever it leads her, she can always return to the home within.
"I thought at 30, I needed to be somebody else. But now that I'm here, I'm happy with who I am," she reflects. "I'm leaning into the newness of, 'hey, I thought I needed to have it all figured out,' but I don't — and that's actually exciting."
"I'm excited to figure it out and be on this next part of my journey and see what the next decade brings for me."
xoNecole: As someone who is in the business of self-care, how has your relationship with self-care evolved since starting your business and what does it look like for you today?
Brittney Winbush: Self-care is ever-changing for me. I always say the biggest form of self-care is listening to yourself. There's no one particular practice, although I do have the things that I always can go back to, on any given day, I might need something different. Some days I need to get on the phone with my mom and talk about whatever or nothing at all, other days I need to close my laptop and only do things that make me happy. I'll go to yoga or the spa.
The best form was self-care is me being honest and listening to myself when I want to do nothing, ask for help, or be alone to pray. It's listening to those things and doing it.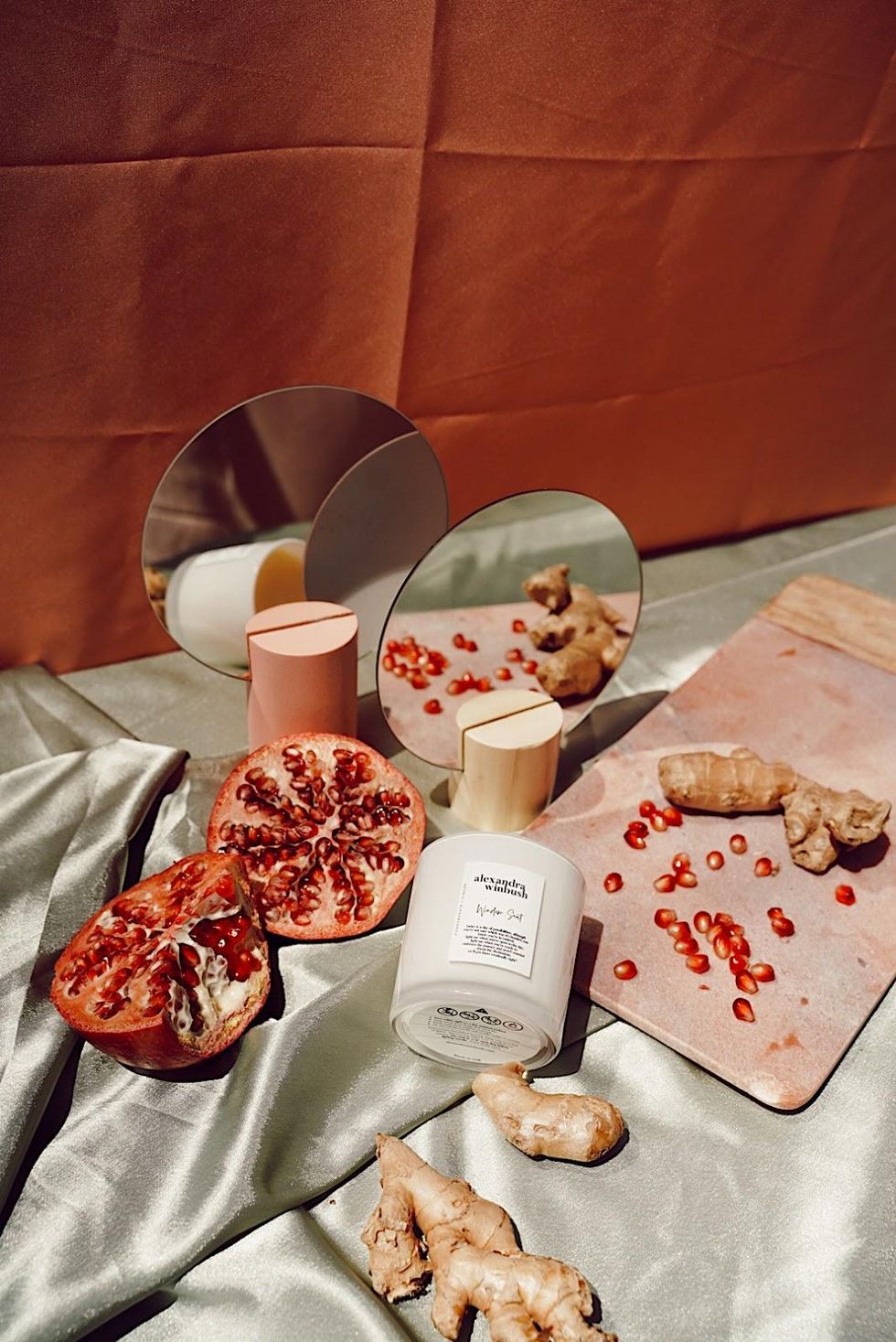 Photo Cred: Skylar Marshai (@skylarmarshai)
xoN: In the age of social media, entrepreneurship can be so glamorized and highly curated. But what would you say is something that has been a challenge for you to adjust to on your journey, and what have you learned from it? 
BW: As a small business in the digital age, really big things happen really fast. You could be having slow sales one day, and then the very next day, Issa Rae can post about your business and you can have the most amount of orders that you've ever had. Because you're a small business, and it's so insular, the moment eventually goes.
So take time to revel in those things that happen, because when other things come in, it'll just be a moment that passes. It's okay to sit in those moments and take them in because when you let them pass you might not be thinking about the lessons or the celebration part—but take in every moment, big and small.
"It's okay to sit in those moments and take them in because when you let them pass you might not be thinking about the lessons or the celebration part—but take in every moment, big and small."
I'm literally in church talking to God asking Him to guide me in my business, take lead & just give me a push because I've been feeling off lately. I grab my phone to take notes from the sermon & see this notification from ISSA FREAKING RAE. pic.twitter.com/C9cC43rl5q

— Brittney 🕯 (@voguebritt) August 18, 2019
xoN: Speaking of Issa Rae, back in 2019, you got a major shoutout from her highlighting your "September Sixth" candle. What did your now-viral moment teach you about the power of preparation? 
BW: I think sometimes with a business, especially a small, Black business, and with the lack of capital that Black businesses have in the playing field, that we start at such a different place than a lot of other businesses. There's only so much you can prep for sometimes. There are certain things you don't know until it happens.
The best thing you can do is be prepared for flexibility. I feel like I held on to the moment as best as I could and got the orders out. But oh my gosh, that was like a hell of a time. I felt bad for my roommates, they couldn't walk through our apartment because orders were everywhere. I was shipping further than I ever had before. Candles are breaking in transit. Those are things I couldn't prepare for because you don't know until you know. The most I could do was be prepared to be flexible, be prepared to learn, and then be prepared to be transparent along the journey.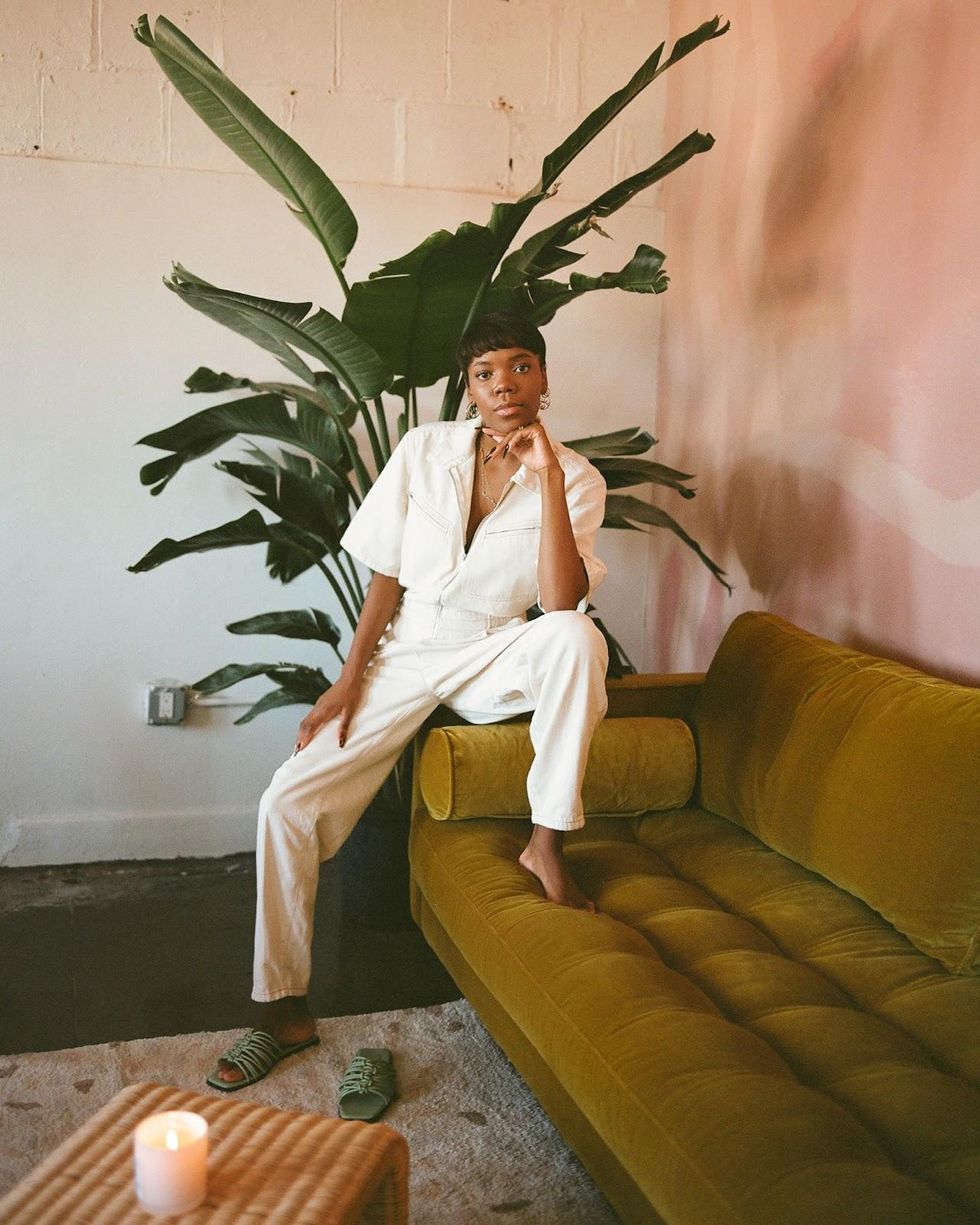 Photo Cred: Mark C. (Mark Clemmons @mark.c)
xoN: You have such a solid, supportive group of friends in your circle. As a creative, how has your community played a role in the growth and trajectory of your business? 
BW: Oh my gosh, it's everything. AW is nothing without our community. A part of that is my really close friend circle and the way that they've supported and helped me with this business every step of the way. From the very beginning, AW has been community-driven, and I think that stemmed from my own personal brand and community that I had before I launched AW. There was a community of people that already trusted me because before I had products I still talked about the house fire, my anxiety and depression, and things I was doing for myself—so they already trusted me.
Once we built AW, the community grew with people that were open to sharing bad days and good products.
xoN: One of the things I admire about your brand is that the aesthetic and design all feel like an extension of who you already are as a person. What tips do you have for aspiring entrepreneurs who are looking to create a product or service that fits their passions and lifestyle? 
BW: If what you're trying to do is a medium of self-expression and a part of the passion you have, then you have the biggest tool already there. Start with what you have. It's okay to put in the groundwork silently. It's okay if you even do it loudly, but no one's paying attention. But just start with the little things in whatever you have. And if you're building something out of love and passion and a reflection of you, it's going to attract the right people. You just have to put yourself out there and lean into your resources and your people.
"If you're building something out of love and passion and a reflection of you, it's going to attract the right people. You just have to put yourself out there and lean into your resources and your people."
There's this Issa Rae quote where she talks about how sometimes people are trying to network up but you need to network laterally. There are people right next to you who are doing amazing things and are killing in their industry. Link up and create.
xoN: Overall, I think we're all pretty excited about what's to come from your brand. What can your supporters expect from Alexandra Winbush this year? 
BW: You can expect to see us a lot more in public. We'll be celebrating our five-year anniversary in April, which I'm really excited about. We also have a brand new candle coming out in February. It's called "Plum Wine." It's incredible. I'm obsessed with it. So expect new products throughout the year that we'll be putting out and we'll have some in-person events so we can get back around each other and love on each other as a community.
For more of Brittney, follow her on Instagram @voguebritt. Shop Alexandra Winbush here.
Featured image by Mark C. (Mark Clemmons @mark.c)
Business is not just about who you are, it's about who you know. You should be considering all factors when entering the business field, and look to your strengths and relationship compatibility in your birth chart for further clarification. When it comes to working together with others and finding your perfect business partner, Astrology can give you intel as to who you work the best with and what strengths you and others bring to the table to create the ultimate success.
Different factors in the birth chart highlight compatibility not only for love but for business ventures as well. Some signs are ruled by the same planet which makes working together more compatible for them, such as Pisces and Sagittarius who are both ruled by lucky Jupiter. Other signs have a talent for the mind and for intuitively knowing what others need such as Aquarius and Virgo, which makes working together a powerful combo for the world. Fixed signs such as Cancer and Libra, share the same modality which makes them both have a similar way of initiating projects and having the will to make things happen, making them some of the most wealthiest signs in the world.
When it comes to Astrology, there are many ways to look into your strengths, weaknesses, and prospects in business, and by looking at your Sun Sign, Moon Sign, and the signs in your 2nd, 8th, 10th, and 11th houses you can determine who you are most compatible with in business. We've created a breakdown of some of the best business partners in Astrology, and which sign you should consider working with in your new ventures.
Featured image by Maskot/Getty Images