There's nothing like finding a good TV series or movie to watch on your favorite streaming services. The summer is the perfect time to explore what's new and exciting or revisit an oldie but goodie. Both Netflix and HBO Max have some exciting and new releases for July. From HBO Max's Rap Sh*t, which is presented by Issa Rae to the season three premiere of Ludacris' Netflix animated series Karma's World, there are plenty of options to choose from. So get your streaming on below.
Here is the full schedule of what's coming to Netflix and HBO in July.
What's New On Netflix: July 2022
July 1
Stranger Things Season 4 Volume 2 – Netflix original movie
A Call to Spy
Big Daddy
Blue Jasmine
Boogie Nights
Catch Me If You Can
Deliverance
Falls Around Her
Final Score
GoodFellas
I Am Legend
Insidious
LOL
Mean Girls
Miss Congeniality 2: Armed and Fabulous
Natural Born Killers
Old School
Police Academy
Semi-Pro
Seven
Snatch
The Dark Knight Rises
The Dirty Dozen
The Pursuit of Happyness
The Talented Mr. Ripley
The Terminal
Vampires
Wyatt Earp
Zero Dark Thirty
July 3
Blair Witch (2016)
Oh My Baby Season 1
The Art of Incarnation
July 5
Attack on Pearl Harbor: Minute By Minute Season 1
The Secret of Skinwalker Ranch Season 1
July 6
Control Z Season 3 – Netflix original series
Girl in the Picture – Netflix original documentary
Hello, Goodbye, and Everything in Between – Netflix original movie
King of Stonks
Uncle from Another World
Fast & Feel Love
July 7
The Flash Season 8
Karma's World Season 3 – Netflix original series
VINLAND SAGA Season 1
July 8
Boo, Bitch – Netflix original series
Capitani Season 2 – Netflix original series
Dangerous Liaisons – Netflix original movie
How To Build a Sex Room – Netflix original documentary series
Incantation – Netflix original movie
Ride on Time Season 4
Jewel – Netflix original movie
The Longest Night – Netflix original series
Ranveer vs Wild with Bear Grylls – Netflix original interactive special
The Sea Beast – Netflix original animated movie
July 11
For Jojo – Netflix original movie
Team Zenko Go Season 2 – Netflix original animated series
Valley of the Dead – Netflix original movie
July 12
Bill Burr: Live at Red Rocks – Netflix original special
How to Change Your Mind – Netflix original documentary series
My Daughter's Killer – Netflix original documentary
July 13
Big Timber Season 2
CHiPS (2017)
D.B. Cooper: Where Are You?! – Netflix original documentary series
Hurts Like Hell – Netflix original series
Never Stop Dreaming: The Life and Legacy of Shimon Peres – Netflix original documentary
Sintonia Season 3 – Netflix original series
Under the Amalfi Sun – Netflix original movie
July 14
Kung Fu Panda: The Dragon Knight – Netflix original animated series
Resident Evil – Netflix original series
July 15
Alba – Netflix original series
Country Queen – Netflix original series
Farzar – Netflix original animated series
Love Goals (Jaadugar) – Netflix original movie
Mom, Don't Do That! – Netflix original series
Pan
Persuasion – Netflix original movie
Remarriage & Desires – Netflix original series
Uncharted
July 18
Live is Life – Netflix original movie
My Little Pony: A New Generation: Sing-Along – Netflix original movie
StoryBots: Laugh, Learn, Sing Collection 2: Learn to Read – Netflix original animated series
Too Old for Fairy Tales – Netflix original movie
July 19
David A. Arnold: It Ain't For the Weak – Netflix original special
July 20
Bad Exorcist Seasons 1-2 – Netflix original series
Virgin River Season 4 – Netflix original series
July 21
Jurassic World Camp Cretaceous Season 5 – Netflix original animated series
July 22
Blown Away Season 3 – Netflix original series
My Village People
One Piece (New Seasons)
The Gray Man – Netflix original movie
July 25
Gabby's Dollhouse Season 5 – Netflix original animated series
July 26
August: Osage County
DI4RIES – Netflix original series
Shania Twain: Not Just a Girl
Street Food: USA – Netflix original documentary series
July 27
Car Masters: Rust to Riches Season 4 – Netflix original documentary series
Dream Home Makeover Season 3 – Netflix original documentary series
The Most Hated Man on the Internet – Netflix original documentary
Pipa – Netflix original movie
Rebelde Season 2 – Netflix original series
July 28
A Cut Above – Netflix original movie
Another Self – Netflix original series
Keep Breathing – Netflix original series
Oggy and the Cockroaches: Next Generation – Netflix original animated series
July 29
The Beauty Queen of Jerusalem Season 2 – Netflix original series
Case Closed: Zero's Tea Time / Detective Conan: Zero's Tea Time – Netflix original animated series
The Entitled – Netflix original movie
Fanático – Netflix original series
Purple Hearts – Netflix original movie
Rebel Cheer Squad: A Get Even Series – Netflix original series
Uncoupled – Netflix original series
What's New On HBO Max: July 2022
July 1
A Kind of Murder
A Simple Plan
Act of Valor
Angels in the Outfield
Arbitrage
Backstabbing for Beginners
Baggage Claim
Blanes Esquina Muller (AKA Blanes St and Muller)
Bringing Out the Dead
Catch a Fire
Code of Silence
Confidence
David Copperfield
Doctor Who: Eve of Daleks
Sin City (Unrated Version)
Godzilla (1998)
Goodbye, Mr. Chips
Hollow Man (Director's Cut)
How to Screw It All Up (AKA Cómo mandarlo todo a la mierda) – Max Original Season 1 Premiere
I Spy
Indecent Proposal
Julia
La Ciudad De Las Fieras (AKA City of Wild Beasts)
Last Night in Soho
Lisztomania
Lone Survivor
Lord of War
Losing Isaiah
Mrs. Brown, You've Got a Lovely Daughter
Mrs. Winterbourne
One for the Money
Overboard
Pawn Sacrifice
Postcards From the Edge
Rio 2
Running Scared
Safe (2012)
She's Having a Baby
Sleepers
Sleepless in Seattle
Snow Day
Spy Kids
Spy Kids 2: Island of Lost Dreams
Spy Kids 3-D: Game Over
Suite Francaise
That Awkward Moment
The Bachelor and the Bobby-Soxer
The Con is On
The Counselor (Extended Version)
The Great American Pastime
The Heat (Extended Version)
The Impossible
The Legends of Zorro
The Other Woman
The Plot Thickens Season 3 Premiere
The Raid
The Satanic Rites of Dracula
The World's End
This is Elvis
Thoroughbreds
Universal Soldier: Day of Reckoning
Warrior
What's Eating Gilbert Grape
July 2
Before Midnight
Sidewalk Stories
July 7
Miss S – Max original Season 1 premiere
The Visitors – Max original Season 1 premiere
July 9 
Mad Max: Fury Road
July 10
The Anarchists – HBO limited documentary series premiere
July 11
Tuca & Bertie Season 3 premiere
July 12
Craig of the Creek Season 4C premiere
Edge of the Earth – HBO sports documentary series premiere
The Bob's Burgers Movie
July 14
FBoy Island – Max original Season 2 premiere
Vote for Juan (Vota Juan/Venga Juan), Season 1 and 2
Vote for Juan (Venga Juan) Season 3 – Max original premiere
July 15
Kung Fu Season 2 premiere
The Rehearsal – HBO comedy series premiere
July 17
Rat in the Kitchen Season 1 premiere
July 19
We Baby Bears Season 1D premiere
July 21
Almost Fly – Max original Season 1 premiere
Pacto Brutal - O Assassinato de Daniella Perex – Max Original Documentary Series
Rap Sh!t – Max original Season 1 premiere
The Last Movie Stars – Max original 6-part documentary premiere
July 23
Walker Season 2 premiere
July 26
Bugs Bunny Builders Season 1A premiere
July 27
We Met in Virtual Reality – HBO original documentary premiere
July 28
Citizen Ashe – Max original premiere
Love Monster – Max original Season 3 premiere
Pretty Little Liars: Original Sin – Max Original Season 1 premiere
Wellington Paranormal – Season 4 premiere
July 29
Superman & Lois Season 2 premiere
The Milestone Generation
Let's make things inbox official! Sign up for the xoNecole newsletter for daily love, wellness, career, and exclusive content delivered straight to your inbox.
Featured image by Getty Images
As a Black woman, Kelis knows how important it is to work with other Black women, help each other and give each other opportunities. The "Milkshake" singer has always been a voice for female empowerment with her popular female anthems like "Caught Out There" and "Bossy" and in a chat during Refinery 29's Unbothered Presents The Glow Up festival, Kelis opened up about the Black women behind her legendary career and how Black women should create safe spaces for ourselves.
In a clip she uploaded to Instagram, she said "I have a Black female OB. I have a Black female business manager." She also mentioned that one of her managers is also a Black woman.
"Like for me, that for me is a safe space," the mom of two explained. "I need to be able to know that when I call you about my business, about my child, about whatever it is, that I'm talking to someone who speaks my language for real."
"Because they know if I win, we all win. It can't be the other way around," she continued, "It wasn't designed to be that way. So for me, that's the safe space. I want people who look like me, who talk like me, that's what I want. That's what makes me feel good."
Kelis received a lot of praise for her comments including from TV host Tanika Ray who wrote "This!!!! Reflection is everything and vital for success."
Kelis has been diversifying her career since her first album Kaleidoscope in 1999. The "Jerk Ribs" singer is also a chef and often shares recipes as well as food she's grown on social media. She also sells organic beauty and culinary handmade products.
This is one of Kelis' first public speaking appearances since her husband Mike Mora passed away from stomach cancer in March. He was 37 years old.
Featured image by Leon Bennett/WireImage
Money Talks is an xoNecole series where we talk candidly to real women about how they spend money, their relationship with money, and how they get it.
Full-time content creator Yvette Corinne has made waves in the content creation space. On the outside looking in, while some might feel like you have to have hundreds of thousands of followers in order to make a full-time living as an influencer, Yvette has managed to bring in six figures with a highly engaged Instagram community of more than 24,000 followers. And how did she do it? Well, her journey to wealth wasn't one without struggle. The Los Angeles-based micro-influencer got her start in content creation through blogging in 2016. That would lead to her growing her following on Instagram, which allowed her to balance her part-time retail job with being a part-time content creator.
Income from brand deals and partnerships eventually led to her toying with the idea of quitting her job to pursue influencing full-time. But she had a specific goal in mind before she felt confident enough to make the leap. The 32-year-old tells xoNecole: "I knew it was possible to go full-time in 2019. I kept telling myself if I can make at least $4,000 a month consistently, then I can quit my part-time job. All the while I had a goal to save $5,000 just in case I needed money when one of my brand payments came late. Well, about four months in a row I made the amount of money I desired, but I was still scared to quit my job."
Although she planned to quit her job at Topshop in March 2019, Yvette ultimately decided to stay on until the company's closing in July of the same year so that she could collect unemployment as an additional safety net in case things didn't go as planned. She left the retailer with about $3,000 saved. About a month into full-time content creation, she shared, she received the confirmation she needed to know she was on the right path. "I got my first big campaign. It was $5,000! That made me feel like, 'OK, Yvette, you can do this.'"
Keep reading to learn more about Yvette's budget breakdown, the lowest she's felt about finances, and the jobs and salaries that led her to what she does now for a living.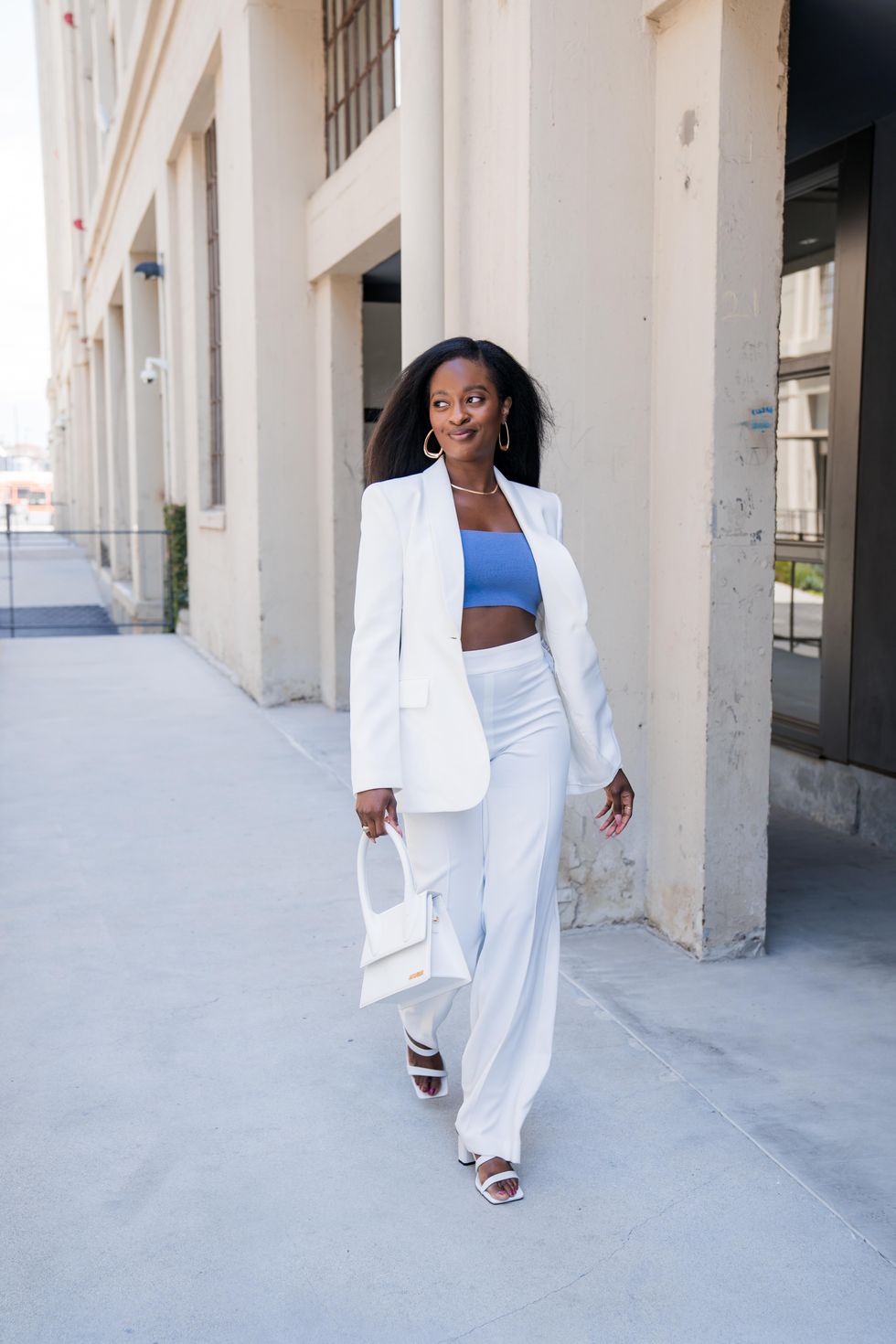 Courtesy of Yvette Corinne
On the jobs she worked before doing what she currently does:
"I've actually never had a full-time job. When I moved to L.A. after undergrad, I went straight into my master's and didn't have time to work full-time. So I picked up part-time work at Zara and then, after graduating, I didn't know exactly what I wanted to do. I quit that job and was unemployed for a few months and then started working at other retail jobs for the holiday season. Shortly after I got hired at Topshop doing their admin, [it was] still part-time because I started taking modeling and content creation seriously. In the midst of that, I transferred to the personal shopping department. I worked as a personal shopper until I eventually was a full-time creator. My pay started at $12/hr at Zara, $13/hr doing admin, and then $15/hr as a personal shopper."
On how much money she makes a year: 
"Last year I ended at about $180K and this year, if everything stays consistent, I expect to make at least $200K. No month is the same, but this year I started off the first quarter strong and basically booked enough gigs to cover my necessary expenses. That has really set the tone for this year."
On the lowest she's ever felt because of her finances:
"2020 was the first year I made six figures, but in the first quarter of 2020 before lockdown, I was struggling. I remember needing $4,000 to cover my bills, my new apartment down payment, and making sure I was making all my payments on time while I was waiting for checks. My unemployment stopped and I was patiently waiting for the net60s and net90s (the 60-day and 90-day period from when an influencer fulfills their obligations and thereby is expected to receive payment for their deliverables). It was a struggle! Thankfully my mom gave me the money, and I paid her back as soon as I got back on my feet that same year. A true definition of anything can happen in a year."
"Mentally, I was stressed because the lockdown was shortly after and I had no idea if brand deals would be a thing anymore. But I just prayed and prayed that God would show me my next steps and He did! The year turned around and I made about 75% of my income in the second half of the year! Now, I don't really worry about finances, because I know God's got me."
On the revenue streams she uses to diversify her income: 
"My streams of revenue are mainly brand partnerships which consist of me creating content for brands to use on their website, social media, and/or newsletters, and sponsored posts that I post on my personal social media accounts. Another stream of income that I have is affiliate marketing."
On how she approaches budgeting and tracking expenses: 
"I use a spreadsheet and I have a budget planner that I love from a new company called MSTRPLN. I use Trello to track my brand deals and invoices/payments since I don't have a manager to do those things for me."
On whether she is a spender or a saver:
"I consider myself both! I worked hard to enjoy the lifestyle that I have. I treat myself and make sure I am not saving to the point where I am not enjoying my money. I've always been obsessed with finance and I am a true Capricorn. If you know you know! When it comes to saving money, I live for a cushion. I have a few savings accounts with different banks. I have one tax savings account where I transfer money into as soon as I get paid to have it when it's time to pay the man. [I also have] an emergency savings account that I transfer a certain amount of money to until I reach the goal I want to have there. For me, that's about $30,000 because I want to have at least six months' worth of money to live off of just in case.
"My last savings account is my house fund! Hopefully, I'll be engaged soon (laughs) and my boyfriend and I will be planning to get a house within the next few years. So we both have been saving for that moment separately, in our own personal savings accounts. I put a certain amount of money in each account every time I get a check!"
On unhealthy mindsets about money she had to let go of: 
"There was a time where the savings was all I cared about and I didn't want to spend money. The first time I spent a lump sum of money (it was for my electric car down payment), I felt like a weight was lifted off my shoulders. I didn't feel attached to money as much because I knew that it was going to come back."
On the money mantra she lives by:
"'Money comes to me and through me. Period. I am no longer attached to money because I know that it will and can come back to me."
Yvette's Basic Monthly Budget Breakdown
Apartment: $2,200; My portion of the rent because I live with my boyfriend, and yes, we split the bills. I have no problem with that. I have an office in our townhome, so I write off that room for my taxes.
Utilities: $300
Food: $750
Car: Luckily, I have an electric vehicle, so it cost me like $50 a month to charge! I spend $250 on car insurance.
Self-care: $250
Overall Savings/Retirement: $20,000 in emergency savings; I'm still working on my retirement with my new financial adviser. It's all so new to me. Building my emergency savings has been the most important thing for me because I don't want to experience the stress that comes with waiting on checks ever again.
For more of Yvette, follow her on Instagram @yvettecorinne.
Featured image courtesy of Yvette Corinne
Jennifer Hudson is taking her talents to daytime television. The singer has accomplished many things in her career. After first capturing the attention of many on season three of American Idol, the "Spotlight" artist won the hearts of audiences everywhere when she starred as Effie White in the 2006 film Dreamgirls, leading to her securing an Oscar for her riveting performance.
She recently became the youngest female and second Black woman to become an EGOT winner after receiving a Tony for A Strange Loop. Before that, she won two Grammys, one for her debut album in 2009 and another in 2017 for The Color Purple Broadway recording, and she received a Daytime Emmy as an executive producer for Baby Yaga in 2021. On the heels of her newly EGOT status, the multi-hyphenate shared the news that her talk show will premiere on her birthday.
I can't believe I get to say this, but welcome to my show !!! ✨ Let's light up daytime beginning September 12th ! Wait a minute that's my birthday !!! pic.twitter.com/YzIrUgmCp4

— Jennifer Hudson (@IAMJHUD) June 16, 2022
"I can't believe I get to say this, but welcome to my show !!!" she tweeted. "Let's light up daytime beginning September 12th! Wait a minute that's my birthday !!!"
The Respect actress also opened up about what fans can expect from the show in a statement.
"I have experienced so much in my life; I've seen the highest of the highs, the lowest of the lows, and just about everything in between but as my mother always told me, 'Once you think you've seen it all, just keep on living,'" she said.
"People from around the world have been a part of my journey from the beginning — twenty years ago — and I'm so ready to join their journey as we sit down and talk about the things that inspire and move us all," she continued. "I have always loved people and I cannot wait to connect on a deeper level and let audiences see the different sides of who I am, the human being, in return."
The Jennifer Hudson Show will premiere on the Fox network.
Let's make things inbox official! Sign up for the xoNecole newsletter for daily love, wellness, career, and exclusive content delivered straight to your inbox.
Featured image by Dia Dipasupil/Getty Images
Father's Day may have come and gone, but any time is the perfect time to celebrate the men in our lives who have helped us in a multitude of ways. And for some of us, fathers have played a major role in how we view wealth, manage our finances, and hustle for the best out of life. According to recent research, more than 80% of American adults believe that parents are "the most responsible" for educating their children about money,
We caught up with a couple of power women to talk about the money lessons they learned from their fathers, and the lessons they hope to pass on to their children: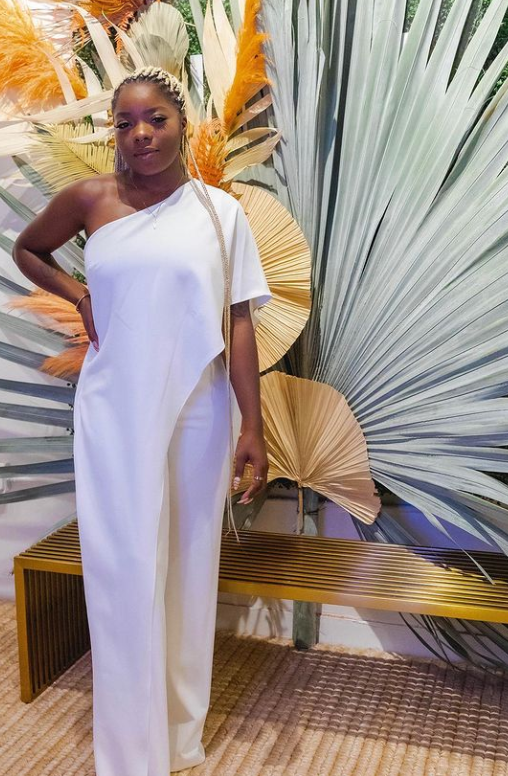 Instagram/simply.savonne
SaVonne Anderson's father, James Anderson, was an entrepreneur who graduated from Rutgers University and would later launch Anderson Aquariums. "He worked full-time in public education until 2007 when he pursued his aquarium maintenance business full time," she recalls. "I watched him successfully transition his hobby into a side gig, into a successful career that provided for our family."

Anderson got bit by the entrepreneurial bug as well, and now runs her own brand, Aya Paper Co., offering eco-friendly stationery. It's a product that reflects her passion for advocating for the environment and creating sustainability that will decrease waste.
She says one of the best pieces of advice she received from her father was when she landed her first job, working at a summer camp at 14. "My dad helped me set up my first checking and savings accounts, and the first thing he taught me was to put something in my savings all the time. It's a simple habit that I still remind myself of to this day to make sure I'm always planning for the future," she said.
Anderson also would accompany her father to work as a child and would be tasked with handling checkbook balancing and keeping receipts. "As I got older, he helped me set up my first investment account and create a plan for how to pay student loans. Now as an adult with my own six-figure business and family to plan for, he is my No. 1 supporter from the sidelines and always reminds me that I have a lot of lessons and experience to rely on when things get hard."
She also learned a key lesson about enjoying the money you earn and the freedom it can bring. "Growing up, he worked very hard to make sure our family was always taken care of, often at the expense of doing things for himself. However, in recent years I've seen him slow down, and spend more time and money on things that bring him joy. He showed me that managing money doesn't mean simply hoarding it, but using it to create a life I love."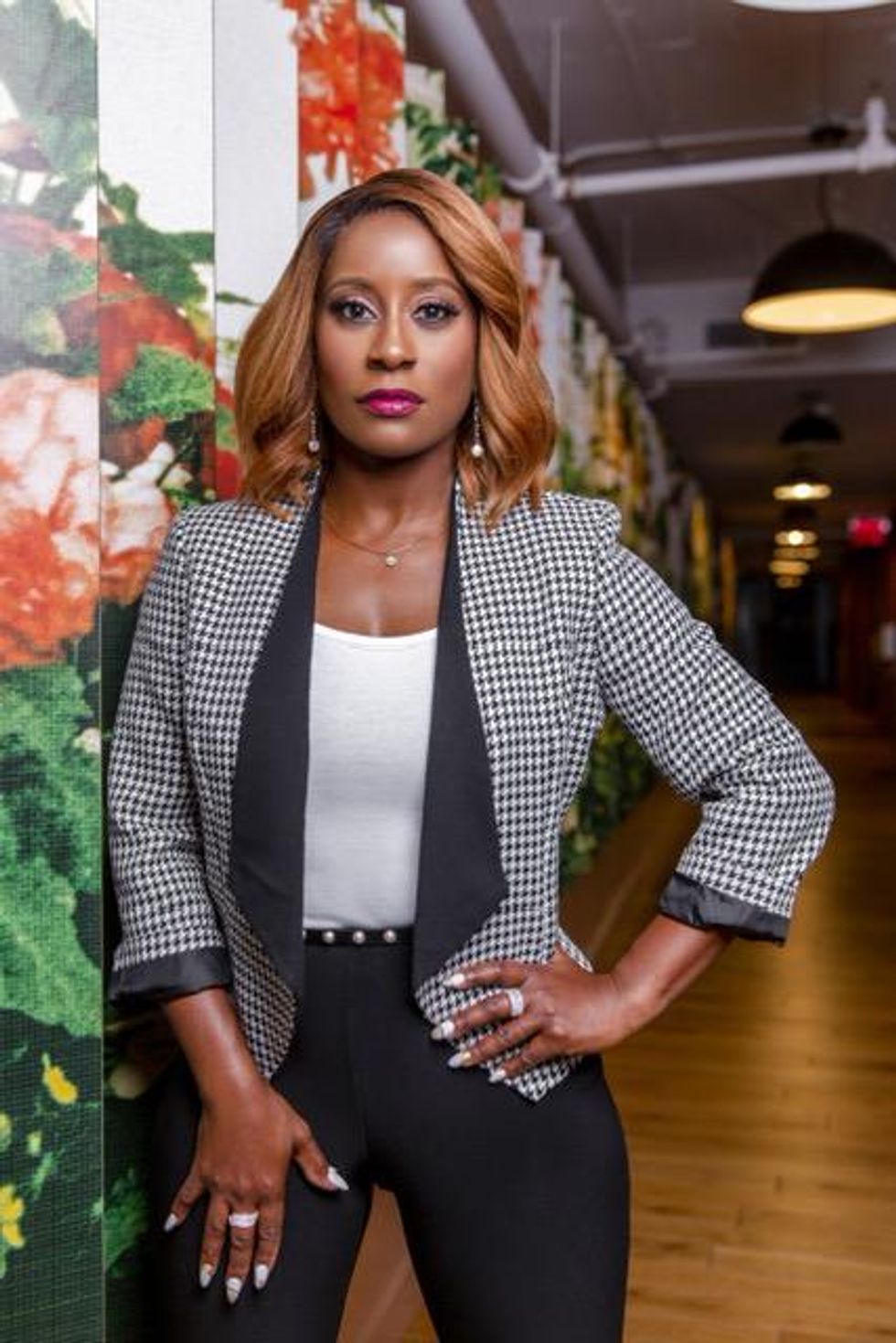 Courtesy of Aryis T. Scales
Aryis T. Scales, President, Walker's Legacy Foundation
Aryis T. Scales spent her early years living with her father after her parents' divorce. She describes him as a "free spirit" who advocated for Black pride and power. One prolific memory she has of her father when it comes to money advice involved a real-life lesson on values that she got when she was 10 years old. "He said, 'Never sell your soul to the devil.' And I remember this conversation like it was yesterday," she recalled. "We were in the bathroom, and I had the hot water on and I said 'Daddy, what if somebody offered you [money], would you place your hand under this hot water and let it burn you?' And he said 'Little Bit, no. And don't you ever sell your soul to the devil.' As soon as you start doing things that are in that nature or vein, you're selling your soul and you don't want to do that. As I think about my journey and relationship with money, I always strive to have a relationship that's healthy, and a relationship that allows me to be authentic and true to who I am."

Her father passed away when she was a teen, and she is grateful for that early memory and other moments she was able to share with him. "He was a renaissance man, true and true. Just very eclectic, a non-conformist, not traditional and he was a Black nationalist," she added. "Growing up for me was my norm but it was unique compared to my friends and other kids in the neighborhood. I'd be in the house and he'd always be having these intellectual circles at the house. At any given day, it would be men and women sitting around talking about building Black economic power or Black liberation. He volunteered and had a center called the African Center where they did a lot of educational classes for people in the community."
She also remembers her father struggling to keep a job due to his free-spirited nature. "He was definitely a nonconformist. He was always in and out of work. Part of that is what also influenced me in the way that it did because I wanted to make sure that I always had financial security and stability."
Today, Scales balances her 9-to-5 as the president of a foundation whose legacy stems from hair industry pioneer Madam C.J. Walker, advocating for Black women in business. She's also become a successful entrepreneur in her own right, founding Abel Vision Enterprises, an organizational consultancy.

"I like to enjoy myself, but I just never want to be someone whose lifestyle is contingent upon me, essentially selling my soul. Always having to think about chasing money just to have a certain car, live in a certain neighborhood or to have certain clothes. I have all of that but I still do it in a way that's below my means," she shared. "I make sure I pay myself first. Whatever I make, I don't care if it's from a paycheck, a contract, or a speaking engagement, 30% of that off top goes to me and goes to an investment or a savings or a new venture because I want to make sure I have security and freedom."
Let's make things inbox official! Sign up for the xoNecole newsletter for daily love, wellness, career, and exclusive content delivered straight to your inbox.
Featured image by Getty Images
Beyoncé is finally coming! The Beyhive has been patiently (and not so patiently) awaiting a new album from their queen and it is almost here. Social media has been in a frenzy all week after the "Upgrade U" singer removed her profile images from her social media pages and then on June 16, Tidal tweeted that the new Bey album was on the way.
Beyoncé
RENAISSANCE
July 29 pic.twitter.com/ZenmtPQM9W

— TIDAL (@TIDAL) June 16, 2022
The album is titled Renaissance and fans can also buy a special collectible box set on the "Bow Down" artist's website Beyonce.com. There are four box sets in total for $39.99 and so far we know that it will include a Renaissance box, T-shirt, and CD. Renaissance is set to drop July 29 and it will be the mother of three's seventh album not including The Lion King: The Gift soundtrack.
The frenzy for Bey continued after she dropped images from her British Vogue July 2022 photoshoot.
British Vogue's editor-in-chief Edward Enninful shared that the superstar wanted to "play in fashion like never before" which they did for the shoot. In one photo, Beyoncé is dressed in gold sequins from head to toe, and in another one, she is giving biker chic goddess. The concept of the photoshoot became "a vision of glittering retro-futurism," according to Edward.
He also gave a little insight into what the 28-time Grammy award winner's new music sounded like.
"Instantly, a wall of sound hits me. Soaring vocals and fierce beats combine and in a split second I'm transported back to the clubs of my youth," explained Edward. "I want to get up and start throwing moves. It's music I love to my core. Music that makes you rise, that turns your mind to cultures and subcultures, to our people past and present, music that will unite so many on the dance floor, music that touches your soul. As ever with Beyoncé, it is all about the intent. I sit back, after the wave, absorbing it all."
The oh-so-clever Beyoncé hinted at the name and sound of her album title during her August 2021 Harper's Bazaar interview when she was asked about new music. "With all the isolation and injustice over the past year, I think we are all ready to escape, travel, love, and laugh again," she said.
"I feel a renaissance emerging, and I want to be part of nurturing that escape in any way possible. I've been in the studio for a year and a half. Sometimes it takes a year for me to personally search through thousands of sounds to find just the right kick or snare. One chorus can have up to 200 stacked harmonies. Still, there's nothing like the amount of love, passion, and healing that I feel in the recording studio. After 31 years, it feels just as exciting as it did when I was nine years old. Yes, the music is coming!"
Beyoncé Releases the First Single from 'Renaissance,' "Break My Soul"
​World stop. Carry on. Beyoncé released the lead single "Break My Soul" from her upcoming seventh album Renaissance on June 20. Stylized as "6. BREAK MY SOUL," news of the single dropping first hit when Queen Bey changed her bio to reflect the single's impending arrival. The song is a house-inspired dance track that features vocals from Big Freedia (their second collab following the 2016 mega-hit "Formation") and a sample of the house music classic "Show Me Love" by Robin S. Lyrically, the song seems to be the upbeat, unapologetically positive anthem that could be a mantra of self-love and personal freedom for years to come. As the singer sings, "Bey is back."
Featured image by Mason Poole/A.M.P.A.S. via Getty Images
This article was updated 6.21.22