Landing a job interview is already a feat in itself, but actually getting through it feeling like you've won is a whole other issue. Whether it's a dream job that you want in order to take your career to the next level or that promotion at your current job, it's likely you'll be thrown a few curve balls by way of tough questions. They're often common and a tad basic, but they can bring about feelings of uncertainty, anxiety, or confusion.
It's okay, sis. We've got you covered. Here's how to answer tough but common job interview questions confidently and win. (And don't be afraid to practice answering these with a trusted friend, mentor, coach, or even in the mirror with yourself, if that's what will really ensure you stay on ready.)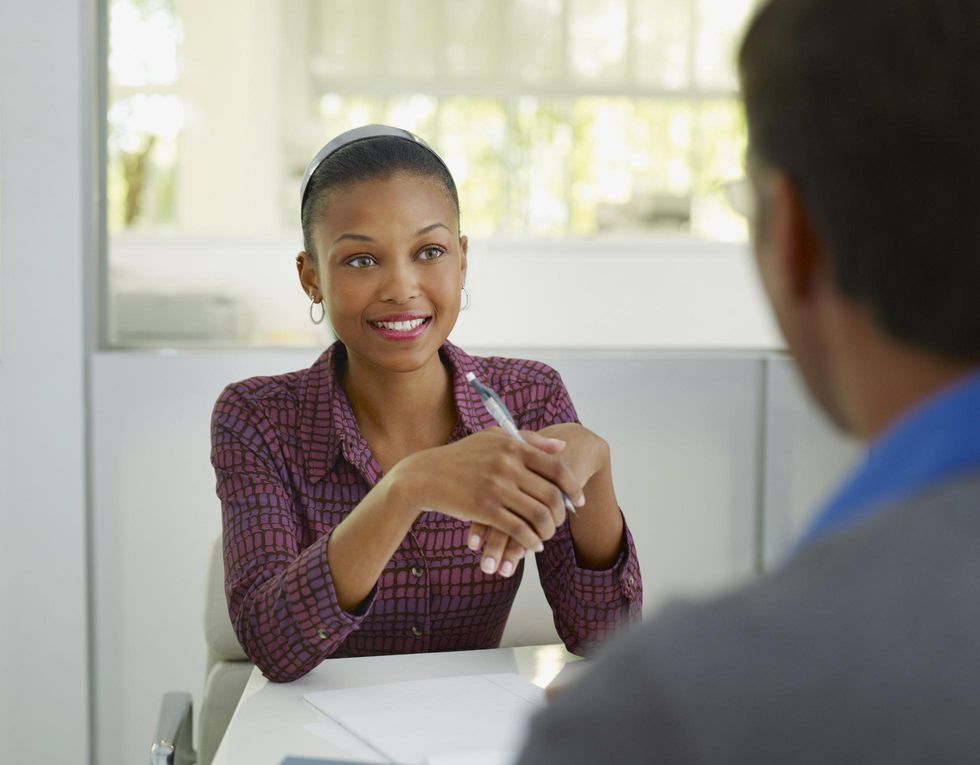 Chris Ryan/Getty Images
1. "Can you tell us more about yourself?"
As someone with almost 20 years of experience in my industry and who has worked for businesses large and small, I've always had to fight the urge to say, "Well, didn't you read my resume?" (And I've felt this way even when I was just starting out. You definitely don't want to say that though! Ha!)
While the person interviewing might have read your resume (or, in my experience being both an interviewee and interviewer for a job, might have just gotten your resume 10 minutes before the interview), this question often serves as your opportunity to put your resume in your own words. Talk about the things you're most passionate about when it comes to your job (working with teams, corresponding with customers, being a problem-solver), mention your educational and training background, and include one or two key roles you're proud of having shined in.
This is actually a great first question in an interview because, for me, it allows me to control the vibe and energy of the conversation. I always find the most confidence in remembering my "why" when answering, and I know that just being myself is key. Also, as my faith denotes, if a job is for me, it's for me. If not, God always has something else that is.
Add a bit of personality and elaborate on not only the key points of who you are professionally, but who you are personally as well. (Just be sure that what you say related to your personal life reflects professionalism and is actually relevant to the job you're interviewing for.)
Don't ramble. Take a breath between sentences and remember to smile. Imagine if you were in an elevator and you only had a minute to tell someone about yourself in a way that lets them know who you are, what you offer, and things you love about your career experience.
A big tip for answering this question: Do a bit of research on the professionals who will be interviewing you. Look up the HR department or the person's email on LinkedIn or Google. Don't focus on befriending them online or making them a Facebook friend. Simply take note of a few things that might be relevant to the position or relate to them on a professional level.
And you don't want to get too personal or thirsty (Think, creepy blind date who tells you what you were last doing based on your IG story or keeps asking you about a mom they never really met but saw in one of your posts). Again, be sure to only talk about things super-relevant to the role you're applying to or the skills required for it.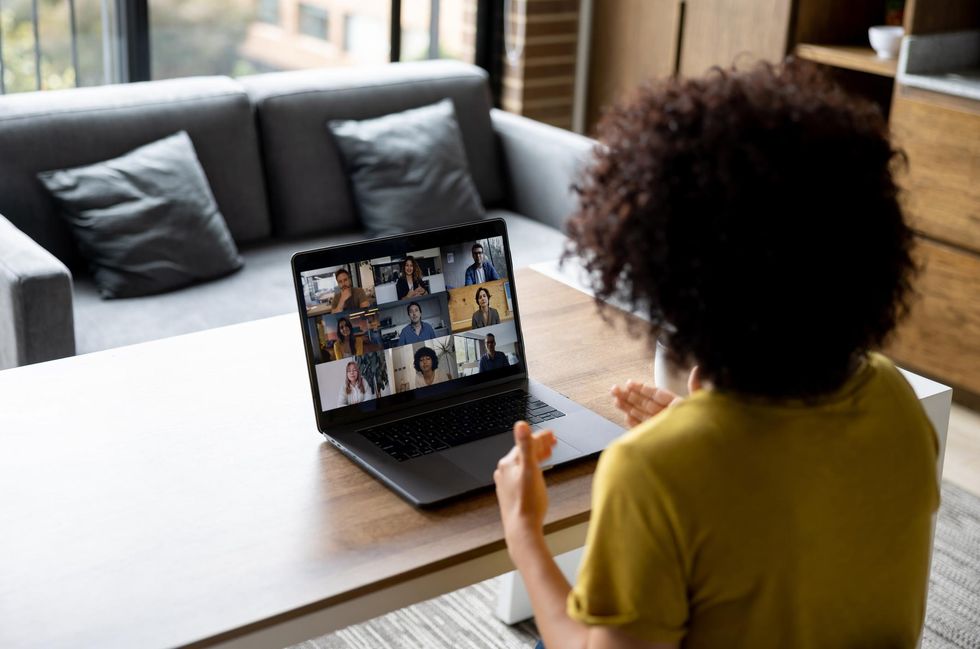 andresr/Getty Images
2. "What's your biggest weakness?"
Again, it's like "What??? Why?" But, again, don't respond in that way. (I swear these are my immediate reactions to these sorts of "common" interview questions.) The key to answering this one is this: Oftentimes this is asked to see how honest you will be, if you're a leader in self-correction, and if you have skills that include self-awareness and self-reflection.
This is not a time to bash yourself or tell them what you think they want to hear. Think about areas of leadership, communication, or strategic thinking that you either are actively working on or plan to actively work on.
For me, for example, I've always had a weakness for perfection, and I'll often do something at least two different ways just to make sure I have a plan B if plan A doesn't work or isn't enough. I'd also over-edit my work or re-write something several times, trying to make it "perfect," until my previous editors would have to say, "Enough Janell. We've gotta file this. Give us what you've got." This is indeed something I'd been working on (and I've since gotten better at not doing). So I've said in an interview or two: "I've learned from my previous managers that, as a leader, you have to trust your instincts and experience and go with plan A." I'd then add in details on an example of this from a previous project I'd worked on that was successful when I didn't second-guess myself so much and went with my gut.
If you have a self-perceived weakness of, for example, overexplaining things, challenges communicating criticism to those on your team (i.e. being too nice), or find it difficult being an introvert among extroverts, this is the time to mention it. Definitely don't just say, "Well, I'm great. I have no weaknesses," or offer up insights that will totally get your resume thrown in the garbage ("Oh, I'm always late, even if I leave my house on time," or "I just can't seem to get organized, and I often find myself being scatterbrained." Trust me, I've heard these before and the team always wondered, "Did this person intend to waste our time today?")
A big tip for answering this question: You don't have to do too much oversharing here. You'd hate to be that person who was a tad bit too transparent about weaknesses in a job interview but had very little to say when it came to talking about accomplishments or impact. It's a clear red flag, so just be as concise and direct with this one as possible and allow the interviewer to probe for more (or not).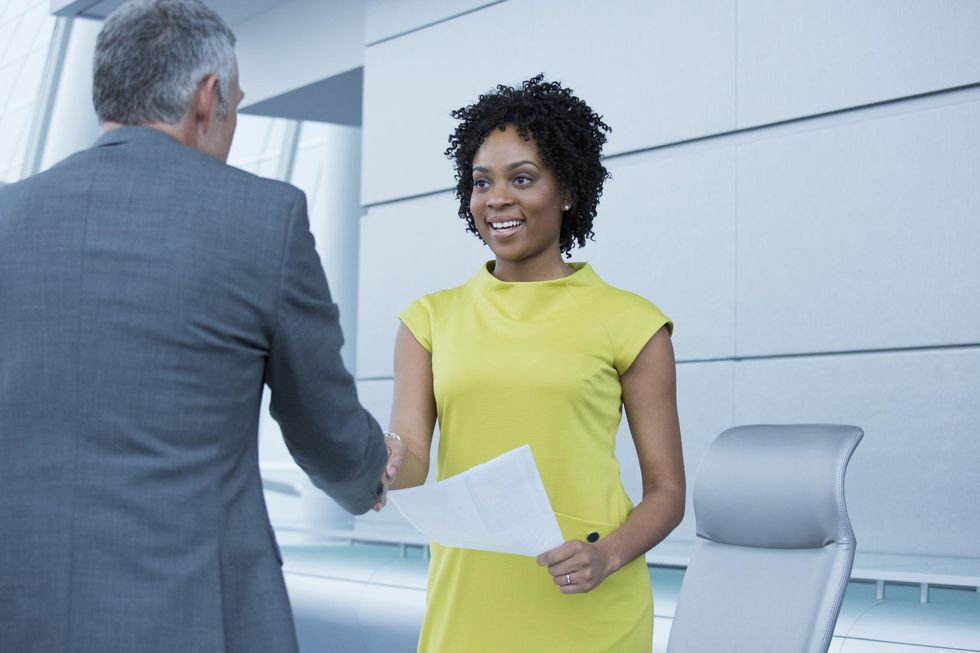 Ariel Skelley/Getty Images

3. "Why should we hire you?"
Here's another question that should show you did your research on the company and the people you might be working for. It's not something to respond to with vague statements like, "I'm a people person, and I'm a go-getter," especially if you're interviewing for the position of a manager, senior leader, or director.
In almost every situation where I've had a hand in hiring someone, the candidates who showed that they'd done their homework and actually applied what they knew about the company in talking about why they'd be a great fit for the position either made it to the next round of interviews or were hired.
It's good to lean on three key things when answering this question: your personal "why," your actual experience (and being confident in how relevant your credentials, unique talents, and skills are to the role), and how those previous two can be woven together in order to be an asset.
I once applied for a job because I knew I wanted to transition into magazines after having worked for newspapers for much of my early career. I thought it was a long shot. I'd only interned at a magazine one time before, and while it was still journalism, working for a magazine publisher would be totally different from working in a newsroom.

I knew I not only had education, experience, and transferable skills but that I'd be great at the job because I'd wanted it for more than a decade. I told the interviewers, "Along with my degree and my love for storytelling and editing, I've dreamt about working here, at this publication, since childhood. The stories you've done highlighting ________ are something I've wanted to work on since reading your articles in my Granny's den. My great uncle, her brother, was a respected entrepreneur as well, so I know how important it is to highlight those stories. He built his businesses during Jim Crow, the Reagan-era recession, and the recession we're in right now. I've always had a passion for telling stories of the voiceless, of leaders and those who overcome, and I've loved the reach of magazines in doing that. It's what I feel called to do, especially for an audience such as yours."
I made it through three whole rounds and got the job. I was so happy because, at the time, I was pretty burnt out from working in newspapers and wanted a change that would not only revive me but place me on a path I'd always wanted to be on.
A big tip for answering this question: If your why is clear and on the up-and-up, answering this question will be a breeze. If not, you might want to reconsider applying for the job altogether. I don't care if it's a job dipping fries at a burger joint or leading a Fortune 500 marketing team, your why matters. Focus on talking about your skills and allow what motivated you to apply in the first place (your kids, financial goals, lifestyle aspirations, or career fulfillment) to be the silent foundation for informing your approach. (In other words, you don't have to say, "I applied for my kids," or "I need the money," but your actions and prep for answering this question should reflect that you mean business and that you must get the job).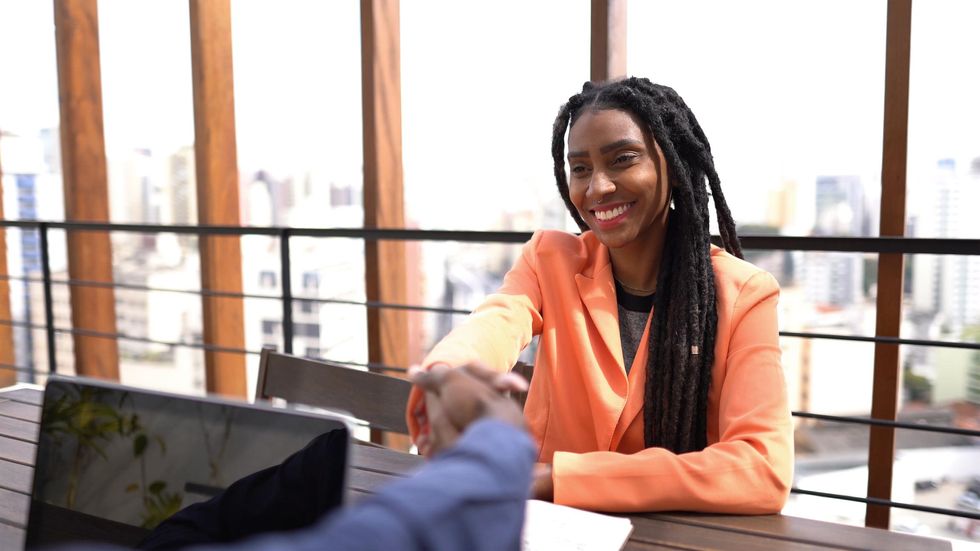 FG Trade/Getty Images
4. "What's led you to look for new employment?"
There are several variations to this question such as, "Why did you leave your last position?" In this case, you definitely want to be truthful, since, depending on some state laws, your former employer can not only be contacted and asked about you but some might even offer specifics on the circumstances of you leaving.
A good way to approach this one is to put positivity at the forefront. If the previous job simply wasn't a good fit, state that. If you're interested in strengthening certain skills and feel that the new position will offer the opportunity to do that, say that. If you've relocated and are looking for a fresh start, say that. (And you don't even have to volunteer details on why you relocated, especially if it's related to health, marriage, or family. In some states, for example, it's illegal for an interviewer to ask questions that might introduce the chance of discrimination, especially those related to the aforementioned.)
Lead with what was positive about the previous experience and how you'd like to further build upon that, even if it was a job you didn't like or one that ended in a way that wasn't the best.
I once decided to move on from a job simply because I'd outgrown the position and really didn't see any chance of me getting promoted (both via title and financially) in the time I wanted to. At the interview for my next job, I simply told them, "I've led teams that did amazing work on projects I'm proud of, and I'd love to continue being an asset to grow and learn in a different capacity at this company." I kept it short and sweet, and the interviewer moved on.
If you've had an employment gap, you can approach answering this question in the same way. When I first began my grad degree studies, I didn't work in the capacity I had previously. I really wanted to focus on being a student and having schedule flexibility, and I worked jobs that were totally unrelated to my core career in order to do so. Later, when I was getting closer to the end of my program and knew I could give more time to a job more closely aligned with my career passions, I simply stated how much I'd learned about myself, about discipline, and about leadership, in pursuing my degree and that I'm now ready for applying what I've learned in my next chapter.
When it comes to tough interview questions, just remember to come to the table knowing who you are and why you're there. Rely on the boldness and greatness of what you offer the world and why you're even applying in the first place. Be strategic, practice answering these questions with someone, and seek out your destiny without hesitation. God's speed to you!
Featured image by dragana991/Getty Images
In a world much fairer than the one we currently occupy, Angela Bassett shelves would be adorned with multiple Oscars. While watching the latest installment of the Black Panther franchise, I was reminded of the sheer brilliance and excellence of the actress who has blessed audiences with her boundless talents for over three decades now. I wasn't the only one captivated by Bassett's performance, with some people even going as far as to suggest that Bassett might garner award recognition for the role.
To borrow from her husband, actor Courtney B. Vance, when talking about his wife in the Nov/ Dec Essenceissue: "I don't know anybody else like her. She's once in a generation; once in a lifetime. I always tell her that the world is waiting for her Oscar so that we can lift her up 30 years past when we should have."
xoNecole takes a look back at some of Bassett's stand-out roles.
1993: 'What's Love Got To Do With It' 
In her career-defining role, Bassett stars as rock 'n' roll icon Tina Turner in a biopic about the legendary singer's career and tumultuous relationship with her ex-husband Ike Turner. The role would earn Bassett her first and currently only Oscar nomination. In a 2018 interview with Watch What Happens LiveWith Andy Cohen, Bassett agreed with the host when he said that he felt like Bassett was robbed of the Academy Award that would end up being awarded to Holly Hunter.
This wasn't the first nor last time Bassett would prove that she could portray a real-life person. She has also played Michael and Janet Jackson's mom Katherine Jackson in The Jacksons: An American Dream as well as historical figures such as Betty Shabazz, Rosa Parks, and Coretta Scott King.
1995: 'Waiting to Exhale'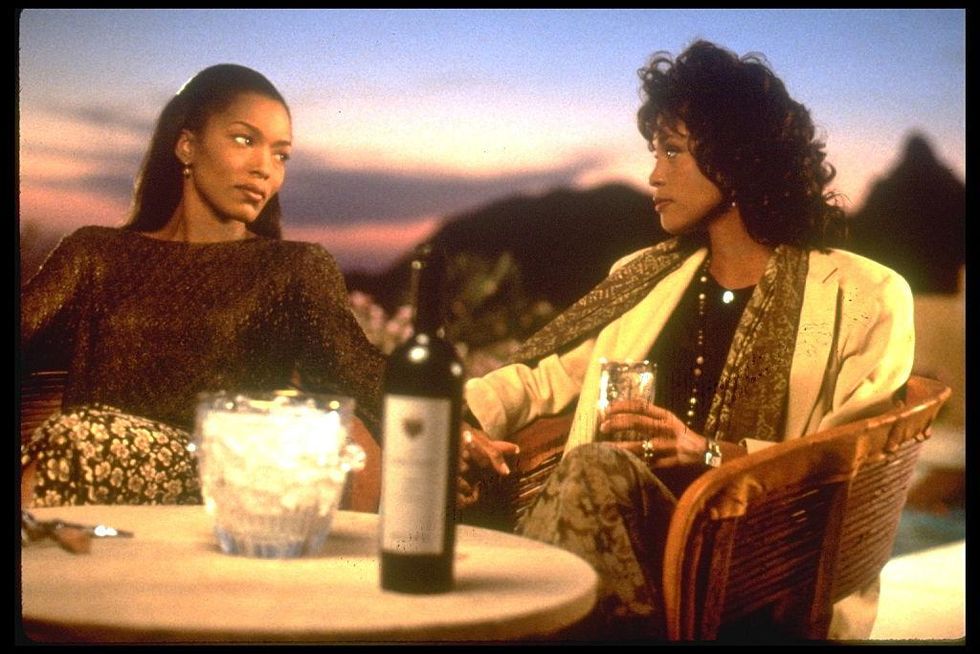 Frank Trapper/Corbis via Getty Images
This classic film based on the Terry McMillan novel of the same name boasted a star-studded ensemble cast that includes Loretta Devine to thee Whitney Houston. But it was Bassett who stole the show when her character Bernadette lit her unfaithful ex-husband's car on fire after going on an emotional tirade. The scene would go down as one of the most iconic in film history while also invigorating every woman scorned who watched it.
1998: 'How Stella Got Her Groove Back' 
In another Terry McMillan film adaptation (which is based on a true story), Bassett plays the titular Stella as she sojourns to Jamaica after her divorce and meets a young, fine local played by Taye Diggs. Bassett's role would once again inspire Black women across the country to find their own groove again.
2006: 'Akeelah and the Bee'
In what would be the breakout role for a then-unknown Keke Palmer, Bassett plays the mother to Palmer's character who is a spelling bee prodigy. Marking her third on-screen appearance with actor Laurence Fishbourne, Bassett plays the concerned mother role the only way she knows how.
2022: 'Black Panther: Wakanda Forever'
Returning as Ramonda, the queen of Wakanda, Bassett is every bit as regal as she was in the first film. With her role expanded in the wake of Chadwick Boseman's death, Bassett delivers a stunning performance that many think will finally secure her second chance at Oscar gold.
Let's make things inbox official! Sign up for the xoNecole newsletter for daily love, wellness, career, and exclusive content delivered straight to your inbox.
Feature image by Emma McIntyre/WireImage
Let's make one thing clear, we support Black women– period. Megan Thee Stallion has become the latest example of the mistreatment Black women often face when speaking up for themselves. Since July 2020, when reports first surfaced that Megan, born Megan Pete, was allegedly shot by singer/ rapper Tory Lanez, she has had to deal with the dual trauma of the initial shooting and the subsequent harassment by Lanez, his fans, powerful people in the music industry, and the overall effort to discredit her.
Gun violence is an issue that continues to disproportionately impact Black women. According to a 2022 study, "Black women are three times more likely to be fatally shot by an intimate partner compared to white women." (Megan has denied having an intimate relationship with Lanez.) During a particularly fraught time in hip hop, when we've lost so many artists to gun violence, including the recent murder of rapper Takeoff, it's difficult to witness the continued minimizing and victim blaming of Megan by her peers in the business.
xoNecole has compiled a timeline of the events that unfolded following Megan's shooting, including members of the industry who have seemingly undermined her story.
Let's make things inbox official! Sign up for the xoNecole newsletter for daily love, wellness, career, and exclusive content delivered straight to your inbox.
Feature image by Rodin Eckenroth/ Getty Images
Sometimes the best solutions aren't found in reinventing the wheel but instead found through getting back to the basics. That is a truth that helped founder and CEO Abena Boamah-Acheampong sow the seeds that would eventually make her clean beauty brand Hanahana Beauty bloom. Birthed from a place of needing nourishing skincare products to combat Chicago's harsh, cold weather, Abena happened upon a solution for dry skin by turning to a trusted product she grew up on, shea butter.
This time though, instead of just using the raw material, the Ghanaian-American began formulating different products in her kitchen until she landed on three body butters, lavender vanilla, lemongrass, and eucalyptus. And after trying the products on her family and friends, the former algebra teacher said goodbye to education and hello to the beauty space with the launch of her brand, Hanahana Beauty.
Since launching in 2017, Hanahana Beauty and its holy grail Body Butters have become more than a skincare and wellness brand. In addition to providing skincare essentials for melanated individuals, Abena wanted her brand to have a social impact that offered levels of sustainability for not just herself, but for the Katariga Women's Shea Cooperative–where she sources her shea butter–through her Hanahana Circle of Care, an organization that provides healthcare access and education and wellness activations.
Today, Abena is preparing for retail expansion following her recent launches in Revolve and JCPenny, as well as looking for new ways to create access to the brand by listening to her community and focusing on what they want. In this conversation with xoNecole, Hanahana Beauty founder, Abena Boamah-Acheampong talks with us about the importance of creating a sustainable beauty brand, how her time in Ghana shaped Hanahana Beauty, and what advice she gives to the next generation of Black women entrepreneurs.
xoNecole: When did you realize you wanted to go into the skincare and wellness space?
Abena Boamah-Acheampong: In 2014, I was teaching and in grad school, and started making shea products for myself, because the cold weather in Chicago was drying my skin out. I'm Ghanian. So the first thing that I thought about was shea butter. I grew up using it and wanted a better product instead of the raw material.
I became interested in the wellness space, through the eyes of what it would be like as a therapist in beauty. But around 2017, as my parents and my friends began using the products, they encouraged me to start something. And that's when I decided to start a business. But even then, I was more so interested in the social impact.
I felt like the beauty industry was unsustainable, and it didn't make sense to me. I realized how much money was being made and saw how there was a lack of sustainability. So as I started, I became more interested in beauty and wellness as a business and a brand. But all of it came back to me being both an educator and a graduate student, and how to create levels of sustainability through people or whatever I wanted to do.
"I became interested in the wellness space, through the eyes of what it would be like as a therapist in beauty. But around 2017, as my parents and my friends began using the products, they encouraged me to start something. And that's when I decided to start a business. But even then, I was more so interested in the social impact."
xoN: How much time did you spend with the Katariga women in Ghana as you were developing your brand? What did you learn from them? And then how did your time there shape Hanahana Beauty?
ABA: I launched in 2017 but didn't go back to Ghana until after. There, I met the producers of Katariga Women's Shea Cooperative, and that experience shaped the whole look of Hanahana Circle of Care. After finishing grad school in 2018, I moved to Ghana and lived in Accra. I was going back to the city of Tamale–which is where we source the raw materials–once a month.
And during the first seven months to a year of living in Ghana, the Hanahana Circle of Care began as an initiative surrounding healthcare and access to it. Because the women there felt that that was what they were lacking. So we held bi-annual healthcare days along with monthly health education and just kept growing. During this time, we began to look at what are some things that we, as a brand, have access to. And what can we give access to?
Then, in 2021, we decided that with all of the work that we had been doing–where we were pulling money from our sales to do this work–how do we now just create it, so it's more sustainable and expanding? So how do we look at access to healthcare in a way that we can mobilize it? So that's when we formatted it to become a fiscal sponsor.
We worked with The Body: A Home for Love–a nonprofit founded by Deun Ivory–who is our fiscal sponsor. When I launched Hanahana, being a B Corporation was always something that I strived for and now the Hanahana Circle of Care is moving into becoming a nonprofit.
xoN: How many products did you initially launch and how long did it take for you to develop them?
ABA: We launched with three shea butters: lavender vanilla, lemongrass, and eucalyptus. We also launched the shea balm which, at the time, we called the exfoliating bar. I had been making the products since 2014 and just working on different formulations for myself. And in December 2016, I went home to see my parents and told them that I wanted to start a brand. I already knew the formulas because I was working on them for three years for myself and my friends and family, so it took me three months to launch the brand.
Now, if I was launching a whole brand today, I would think of it very differently. But that time was perfect for me because people got to grow with me as a founder, as a person, and as a teacher who was making products. They got a chance to grow with the brand from the time I was making products in my kitchen to now having a team and doing different launches.
xoN: How was the transition from being an educator to pursuing entrepreneurship full-time? 
ABA: My transition came from a place of me having to do it. I was in my second year of grad school and had been teaching for two years. When it came to my third year of teaching, I had to decide to move into finishing my master's program and that's when I started Hanahana. But when I finished in 2018, I moved to Ghana and was a therapist for maybe six months while still building the brand. And in 2018, I was just doing Hanahana full-time.
I feel like I didn't realize [the career transition] because, for me, it was more so the idea that I wasn't going to apply to anything else after grad school. I remember talking to my parents because they wanted me to get my license. But I felt like if I couldn't make it in Ghana, then I would keep doing therapy.
While in Ghana, though, I was inspired to continue taking the creative entrepreneur route. And if Hanahana didn't work out, then I had already realized how my skills as a teacher and everything that I learned as a therapist worked in the creative and entrepreneurial space.
"I have to prioritize my growth to be able to prioritize anything. A lot of times in this self-care era–and in spaces where you're promoting self-care–people find themselves promoting and centering self instead of growth. And I think when you center growth, you're going to think of how you affect people through work, through your personal life, all those things."
xoN: What have you learned about yourself since launching Hanahana Beauty and how would you use that to inspire the next generation of Black women entrepreneurs?
ABA: I've learned that I have to prioritize my growth to be able to prioritize anything. A lot of times in this self-care era–and in spaces where you're promoting self-care–people find themselves promoting and centering self instead of growth. And I think when you center growth, you're going to think of how you affect people through work, through your personal life, all those things.
So I think that's important because as entrepreneurs, and especially as Black women entrepreneurs, we're told to focus on one thing. But then how do you build this brand if you want to be a mom, or if you are a mom, or if you're just being a Black woman in general? Sometimes capitalism can be very consuming and it really pushes us to a level of self-centeredness and also lack. And I feel like when you prioritize growth, it allows you to see every situation as a new opportunity for yourself to grow.
Featured image courtesy of Abena Boamah-Acheampong
Many of us often feel like there's not enough time in a day to do all that we'd like to, even with the best time management hacks and tricks. Recent research has shown that almost 50% of people have reported that they "do not have enough time to do what they want to do," even when, again, according to research, more than half of us outsource chores to make more time for, well, doing what we want to do.
Why does it seem like Sunday is just Monday Eve—like we aren't truly getting a full 48 hours at least to have that "me" time or to simply enjoy activities that aren't attached to housework, responsibilities, grocery shopping or trying to get ahead of work we'll face on Monday?
Even as a self-employed professional with a pretty flexible work lifestyle, I feel the same way, and while my work day might differ from a 9-to-5er, the responsibilities and sense of obligation to tasks are quite similar.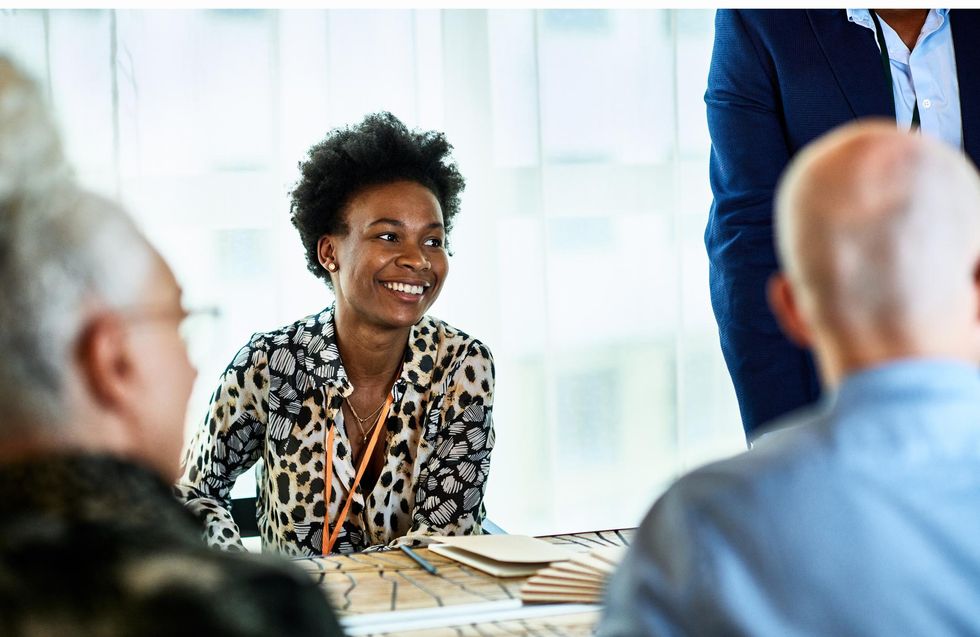 Getty Images
One weekend, I found myself having a mini adult tantrum, coming to terms with the reality that I'd spent the bulk of my free time doing housework, making Target and Ikea runs, and finally cleaning up the disaster that is my office. In a moment of calm after that storm, I thought to myself, "What's the real issue here? We stopped working 9-to-5s to get rid of the Sunday Scaries, so what's the deal?" Beyond the usual challenges of life, I absolutely love the clients and brands I work with. So, I had to figure out what was behind the anxiety and annoying lump in my throat.
I went down a Google rabbit hole, and there it was: the 4-day work week. It's what Belgium, Japan, Spain, and the United Arab Emirates have adopted, by law, in some form or another. There are even companies in the U.S. that have incorporated three- or four-day work weeks at some time or another (with some currently adhering to such policies) including Basecamp, Kickstarter, and thredUp.
While this sort of work structure might not work for all industries or jobs (especially those centered on emergency or healthcare services), it's worth thinking about if your job can accommodate it. Here are the top reasons it might be a good fit and insights that you could literally take to your boss to propose a change: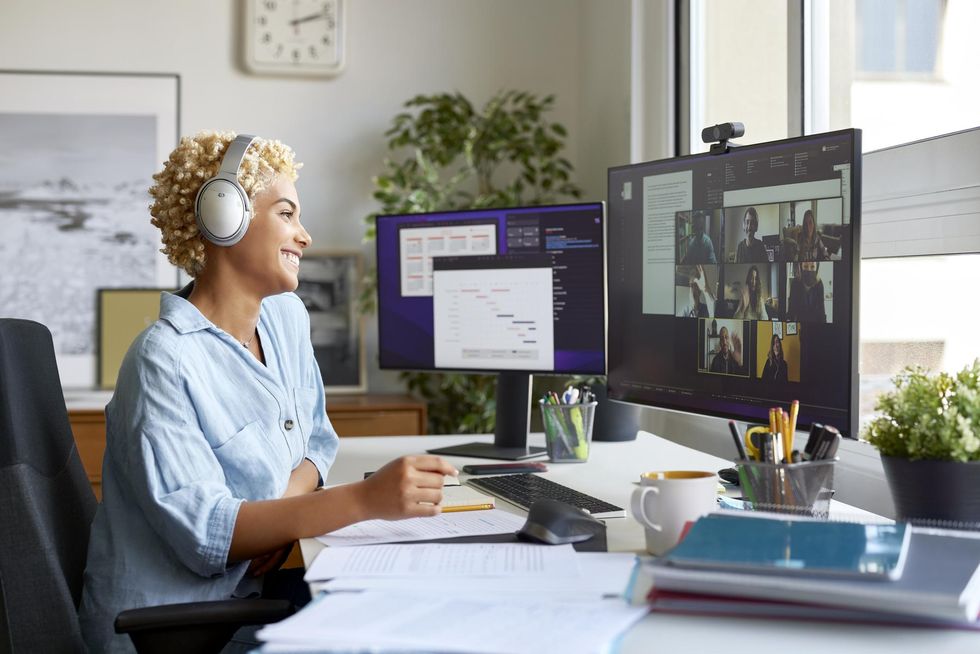 Getty Images
It helps combat absenteeism.
Research published by WeForum shows that the rate of absences for working professionals often decreases with the four-day workweek structure. In 2020, British companies that incorporated such schedules reported saw these benefits, and at the 2022 Davos World Economic Forum, a United Arab Emirates government official stated that he saw a 55% decrease in absenteeism among employees with a four-day workweek implemented.
According to Basecamp's website, their employees have 32-hour work weeks in the summer, and there's a clear indication that this is done to ensure that professionals are working at their best and with balance. "Keeping our hours at work limited forces us to prioritize the work that really matters," the U.S.-based company's site reads. "A healthy amount of sleep and a rich and rewarding life outside of work should not be squandered for a few more hours at work."
If your company has been plagued by high turnover or people constantly calling out, this might be a good reason to bring to your management team as to why the four-day work week might be good to consider. And with phenomenons like quiet quitting and the Great Resignation being issues for many companies, it's a consideration worth prioritizing.
It is linked to better productivity.
According to the Bureau of Labor Statistics, full-time U.S. workers work 8.5 hours per day, and for a 5-day workweek, this amounts to 42.5 weekly hours. Stanford University research shows that hourly productivity drops significantly after 50 hours per week, and after 55 hours per week, productivity is so low that any hours worked beyond that are not even worth the effort. In another study, almost 2,000 professionals who were surveyed admitted to doing work-related tasks for only 2.5 hours during a day, often spending other hours on the internet, scrolling through social media, or procrastinating.
Research has also shown that professionals have indicated they can do their work in fewer hours, with one survey showing 51% stating they could do their jobs "to the fullest extent" in 40 hours or less.
Again, in proposing such a change to your manager or HR department, there should be an issue with productivity that exists. You can also go another route by presenting the facts of your exemplary performance, how the effect of cutting your hours allows you to continue to thrive in your role and won't hinder another team member's or department's success, and evidence of how you spend your work day. This is a great way to rally for a four-day workweek for yourself.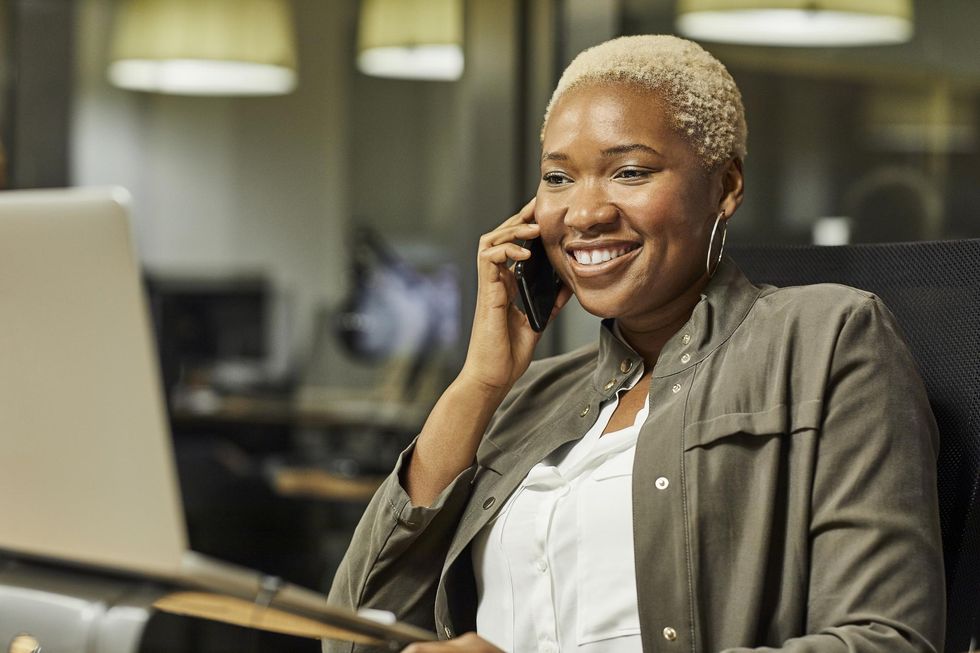 Getty Images
It's the competive thing to do to keep talent.
Let's face it: Since COVID-19 shifted how businesses function, the traditional way of looking at how much time we spend at work (or even in the office) has gone by the wayside. While we all can't necessarily take four days off per month and do our jobs well, some of us have found that by adjusting the way we manage our time, utilizing technology and automation to our benefit (Heeeey email, food delivery, and automatic payment scheduling!), and really tapping into what matters to us in life beyond a job title or office, the approach to working "hard" has changed.
With at least 20 large powerhouse companies in the U.S. incorporating the practice and hundreds of other small businesses and startups having already adopted it as a major new-hire attraction, there are options out there to work not only remote but to have one day a week off. And there are companies that don't decrease the pay in those 32-hour schedules. If you're an amazing professional with unique talents and skills, go where the company's practices and principles match the lifestyle you're building (or want to build).
Just remember, when asking your management team or boss for a four-day workweek, there are several factors at play that go beyond an individual need. Do your research on the issues your company faces, the impact a four-day workweek would have on the whole company, and the pros and cons of it.
Featured image by Luis Alvarez/Getty Images
Bold statements allow us, as Black women, to affirm ourselves, be sure we are heard, and let the world know we are to be loved and acknowledged. They unite us, spark healthy discourse, and allow us to build community in a way only we can.
"I'm Black and I'm proud."
"Reclaiming my time."
"My Black is beautiful."
These are all rallying cries of pride and joy, and for entrepreneur Bianca Kathryn, one bold statement is helping to enhance the conversations around what it means to be a Black woman of richly diverse cultures and experiences. As an Afro-Latina whose father is African-American and whose mother is Mexican-American, she's adding her own unique perspective to the global narrative, telling the story of millions of other women who can tap into both their Hispanic and African heritage through Yo Soy AfroLatina, a brand that offers apparel, accessories and mugs.
The foundational premise of her company speaks volumes in the way of empowering Black women in the Hispanic community, with products that feature prominent sayings like, "Mija, I'm busy," and imagery that encompasses what it means to be a woman at an intersection of cultures.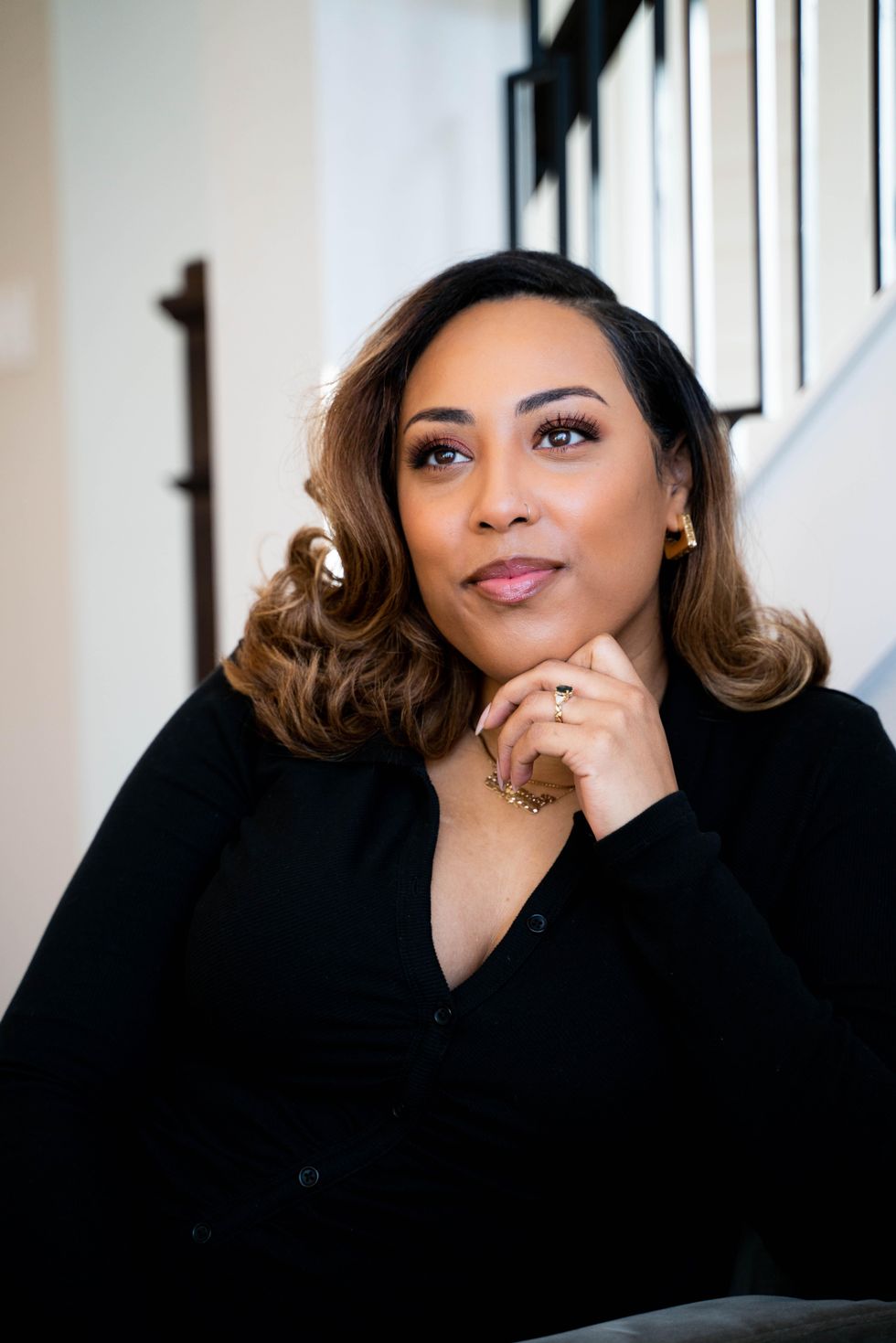 Launched in New York in 2017 as a "passion project," Kathryn got serious about expanding Yo Soy AfroLatina into a viable e-commerce business in 2020. She's now been able to not only grow the company's community on Instagram to more than 16,000 followers, but also curate a website where she offers more products that are relatable, practical, and fun.
"I was on my journey of learning more about Afro-Latinas. It was just really learning more about my identity, especially as I was coming into myself as a Black Latina woman," she says. "It's one thing to grow into your identity in having your parents around you, but as I left for college and left my home state [to pursue] my career, I was having all these new experiences, which really ignited something in me to learn more about my culture. I created this small collection of T-shirts, hats, and mugs and all of it was basically phrases or things that pertain to my culture in some way or another."
In the beginning, she adds, she had no intention of turning it all into a business, and she'd juggled her day job working in social media marketing for a major TV powerhouse while self-funding to scale. "I love mugs and I love coffee—and that's a part of our culture—so, I wanted to come up with phrases and statement pieces that could not only spark conversation but empower you at the same time," she adds. "I was just having fun with it. When I realized the impact of what I was doing, I said, 'Okay, I think I need to shift my gears a bit and I need to put on my business hat and transfer this passion project into a small business. I had that epiphany around the start of the pandemic and ever since then I've pivoted my approach."
Kathryn says many of her personal experiences related to culture and identity as an Afro-Latina have informed her passion for continuing to promote support and sisterhood for Afro-Latina women, starting from her roots in Detroit, to her time working in New York, to spending time in Los Angeles, to today, having a base in Houston. She's had the opportunity to navigate personal and professional growth in several major cities that have large, influential Hispanic communities. Along the way, she's flourished in that journey, one that includes seeing how stereotypes can be perpetuated and how oftentimes, people can create a certain vision of what they believe a Latina woman should be or embody.
"It's interesting having those experiences with your own people," she says. "I have to remind some that the Latina community comes in so many shades and colors. We have different hair textures and body types that you really cannot tell me if I'm Latina or not simply because of what your family looks like or what you see on TV.
"We are not a monolith. I think with the help of social media, a lot of people have slowly learned what a true representation of a Latina looks like. And we're still learning."
For Kathryn, continuing to represent, not only via her brand but through her speaking engagements and social platform, is all about remembering her mission to provide a space for Afro-Latinas to feel welcomed, loved, and seen.
"To be an entrepreneur in 2022 means you just don't give up," she says. "I think to be an entrepreneur nowadays is staying focused and not easily getting distracted by what you see on social and what your competitors are doing—staying close to your brand and your vision as to why you created your business. That's what I try to do every day."
For more of Bianca Kathryn, follow her on Instagram @biancakathryn_.
Featured image courtesy of Bianca Kathryn