Graduation season is a bittersweet time that we don't quite know how to feel about until the fateful day when we remove our training wheels, walk across the stage and truly become the masters of our future. Along with saying goodbye to claustrophobic dorm rooms and early morning classes, we also are forced to take a hard look at what we plan to do with our lives, and if you were anything like me as a grad, you had no f*cking clue.
---
All my college career I had to fight for my degree, and when it was time for all of it come to an end, the only thing I could really think was, 'well, what now?' The prospect of beginning a new life after higher learning may be both overwhelming and exciting but if student loans are hanging over your head, you know like I know that Sallie Mae is not here to let you be great.
Last weekend, 369 Morehouse graduates were relieved of that burden and blessed with a $40 million liberation gift that would ultimately change the trajectory of their lives. During their commencement ceremony, Denver-born billionaire and philanthropist Robert F. Smith made a pledge to dissolve the student loans of the entire 2019 graduating class with a donation worth more than $40,000,000. He told the audience: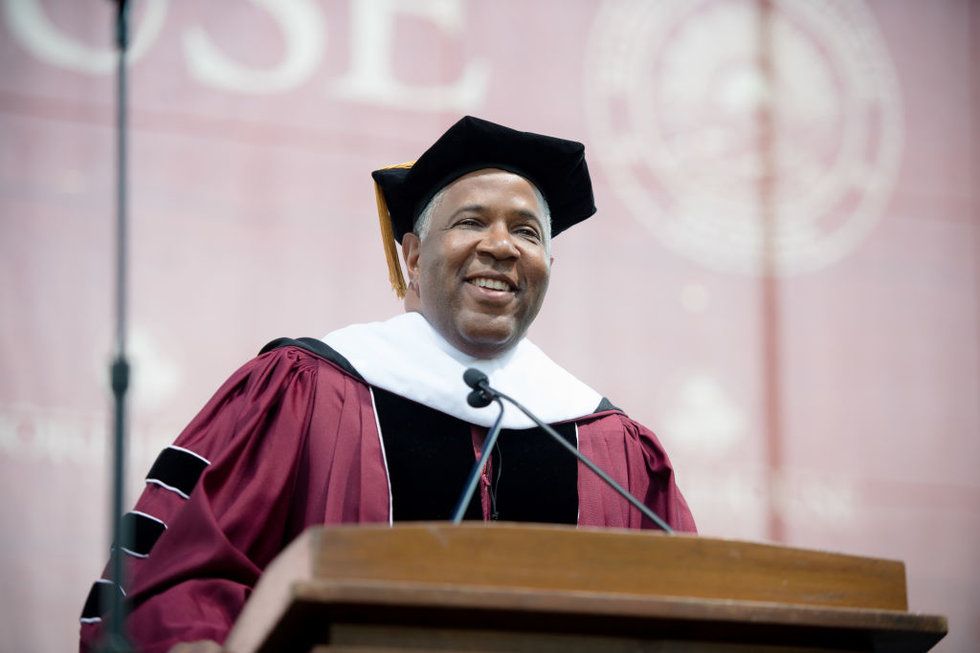 Marcus Ingram Getty Images
"On behalf of the eight generations of my family who have been in this country, we're gonna put a little fuel in your bus. I've got the alumni over there, and this is a challenge to you alumni. This is my class, 2019, and my family is making a grant to eliminate their student loans, and I know my class will pay this forward."
It took a few moments for the audience to truly digest the information that had just been relayed, but once they did, the crowd erupted in a wave of joy that only someone with thousands of dollars in student loans could understand. Mr. Smith explained that after years of being blessed, it was his choice to now become a blessing to the nearly 400 men that walked across the stage last weekend.
"I want my class to look at these (alumni) -- these beautiful Morehouse brothers -- and let's make sure every class has the same opportunity going forward because we are enough to take care of our own community. We are enough to ensure we have all the opportunities of the American dream."
The generous benefactor, who will forever go down in history as our rich Uncle Rob, is reportedly the richest black man in America with a net worth of $5 billion thanks to his wildly lucrative career in venture capitalism and is the physical embodiment of paying it forward. Eliminating student loans was way more than just a monetary donation, it was an act of kindness that Morehouse grads will remember forever.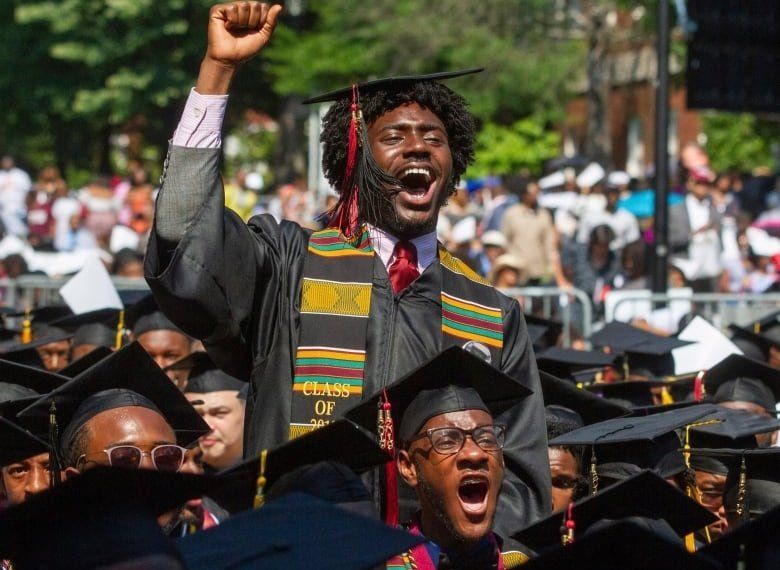 Steve Schaefer/Atlanta Journal-Constitution via Associated Press
Unlike our non-ethnic counterparts, little black girls and boys are often born into debt and robbed of their fair shot at the American Dream. According to the Morehouse grads of 2019, Uncle Rob's donation changed all that and put these educated Black men one step ahead of the game.
Elijah Nesly Dormeus, who is the first of nine siblings to graduate from college, lost his father at only five years old. After watching his mother work tirelessly at minimum wage jobs and taking out a total of $90,000 in student loans to get through college, Elijah said that this graduation gift was nothing short of a miracle and true reminder that all his mom's hard work wasn't in vain.

I don't know about you, but if this is how Morehouse rolls during grad season, I'm ready to pull a Mulan and submit an application right now, damn it. Congrats to all the Morehouse grads and cheers to your new life, one that's free of Sallie Mae's wrath and loan collections phone calls (praise Jesus)!
Featured image by Marcus Ingram Getty Images.