---
With so much happening in fashion, one of the things I've loved is the constant (and necessary) promotion of body diversity in major photo campaigns. As women become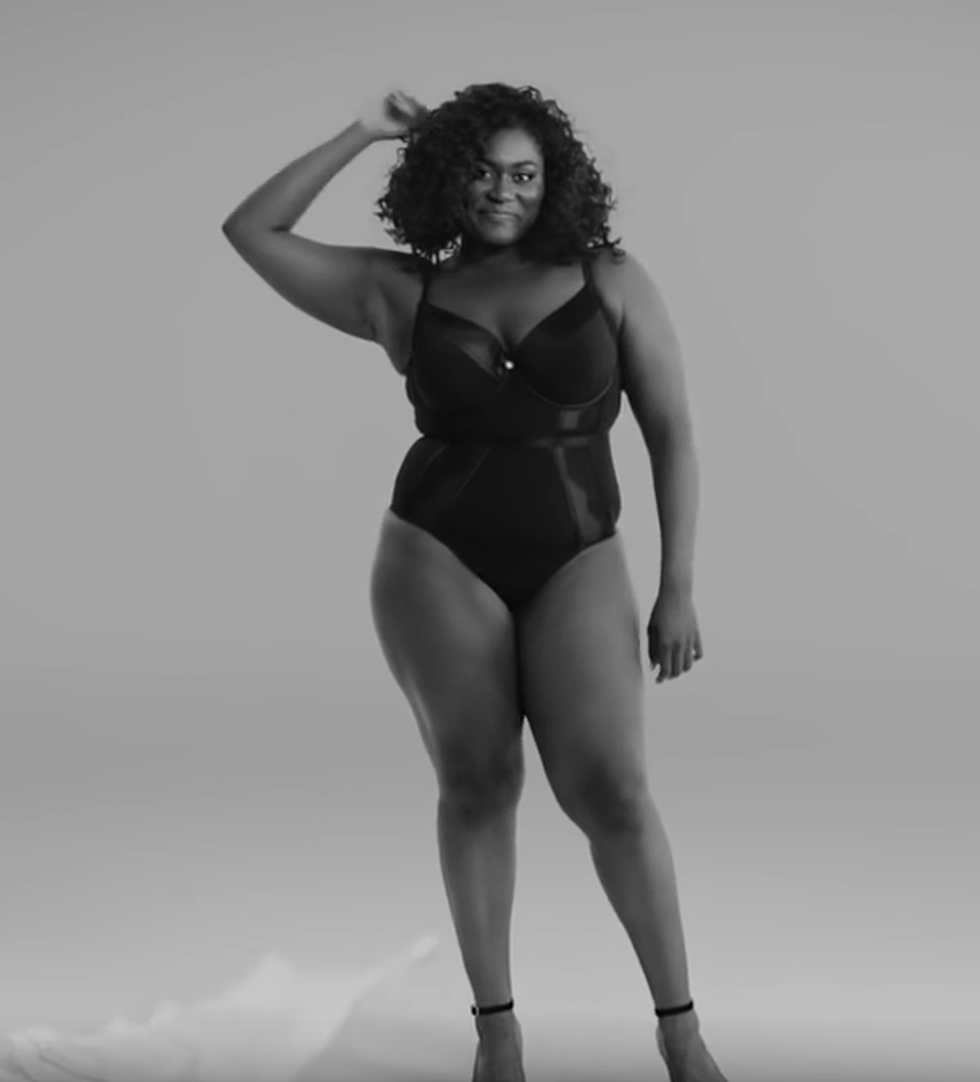 more conscious about how European standards isn't the end-all be-all, nor is the definition of beauty a one-size fits all theory, companies and publications have catered to exposing varying body types.
It was not too long ago that Lane Bryant kicked off their celebration of body diversity and ending body shaming with their 2015 #ImNoAngel campaign, which took jabs at Victoria's Secret, battle of the bra-style, and their endless need to feature slim models in their ads and on the runway. Then last year in 2016 they took it a step further with their #ThisBody campaign, which celebrated the diversity and beauty of bodies regardless of size. Danielle Brooks and Gabourey Sidibe were amongst the list of familiar faces in the ads that put an emphasis on the negative social media comments made about their look.
This year Lane Bryant is back with their new "I'm No Angel" campaign, which originally aired during the 2017 Emmy Awards, and it seems to be taking shots at the lack of body diversity with Victoria Secret. Some of our favorites Danielle Brooks and Ashley Graham got together with Candice Huffine and Denise Bidothe to open up about the insecurities they struggle with and the video is really powerful.
Last year while speaking with People about the campaign, Danielle Brooks expressed that she hoped that this campaign, and other body positive movements will help change the way women view their bodies:
There are brands out there, plus-size brands, that all they want to do is sell their clothes and be done. But Lane Bryant is not like that. We have a voice and we have a platform to really change the way that women look at their bodies , and we want to be a part of that. We want to do everything that we can to help push the needle in this world, especially I think Hollywood's standards of beauty are messed up and they need to be shifted and change and somebody needs to go in there with a big old boulder and just knock it down.
Lane Bryant isn't the first to take a stand.
Wear Your Voice magazine jumped on board to celebrate body positivity with their #BeyondBeauty campaign, which featured 18 women of contrasting body types. Founder and Editor-in-Chief of Wear Your Voice, Ravneet Vohra, said the campaign was birthed from reading the statistics of how the media serves as the catalyst behind self-doubt about body image.
As a media publication, we understand the responsibility media plays in our lives. According to the National Association of Anorexia Nervosa and Associated Disorders 47% of girls in 5th-12th grade reported wanting to lose weight because of magazine pictures while 69% of girls in 5th-12th grade reported that magazine pictures influenced their idea of a perfect body shape. As a mother of two young children, I want to make sure that the next generation of young people don't inherit our insecurities.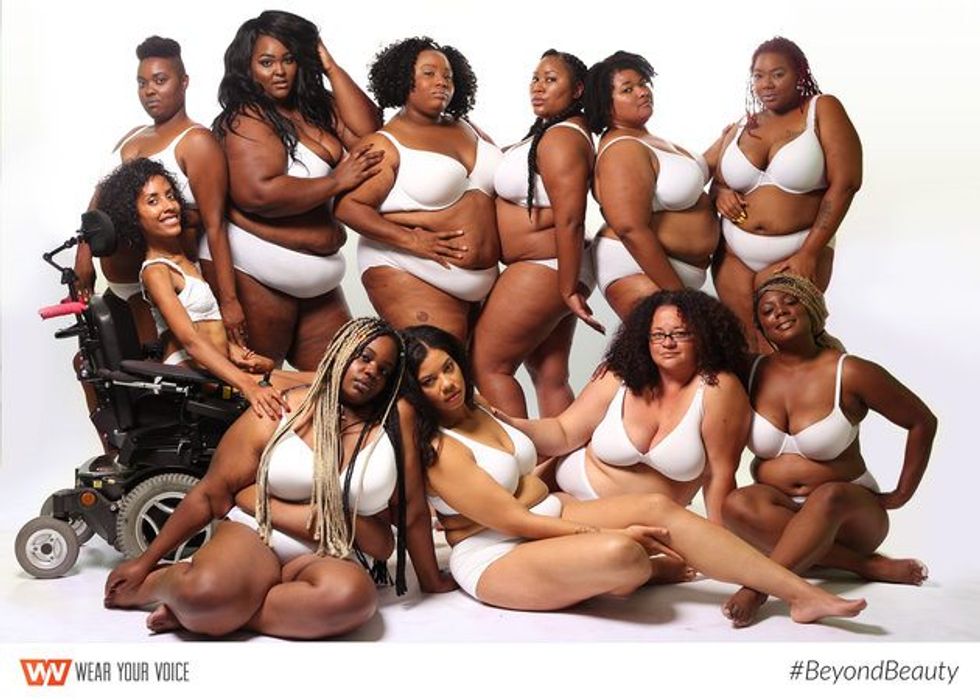 While many companies have diverted their attention to advertising more body-positive images for the sole purpose of garnering attention to their brand, WYV aims to let audiences know their all-inclusive body movement focuses more celebrating variety–without photoshop.
Related: Taraji P. Henson Takes Off Her Wig for CR Fashion Book : 'My Hair Does Not Make Me Beautiful'
"There is absolutely nothing we hate more than a body negative campaign created to sell products/make money/thrive off capitalistic culture, disguised as a body positive campaign...Rather than just sit back and watch,

Wear Your Voice

knew that as a conscious media publication, we had a responsibility to step in. We chose not to just speak the truth, but capture it in photographic form. We invited 18 women of all shapes, sizes, gender expressions, sexualities, and colors to participate in our body positive photo shoot in order to help us better represent a wider spectrum of bodies."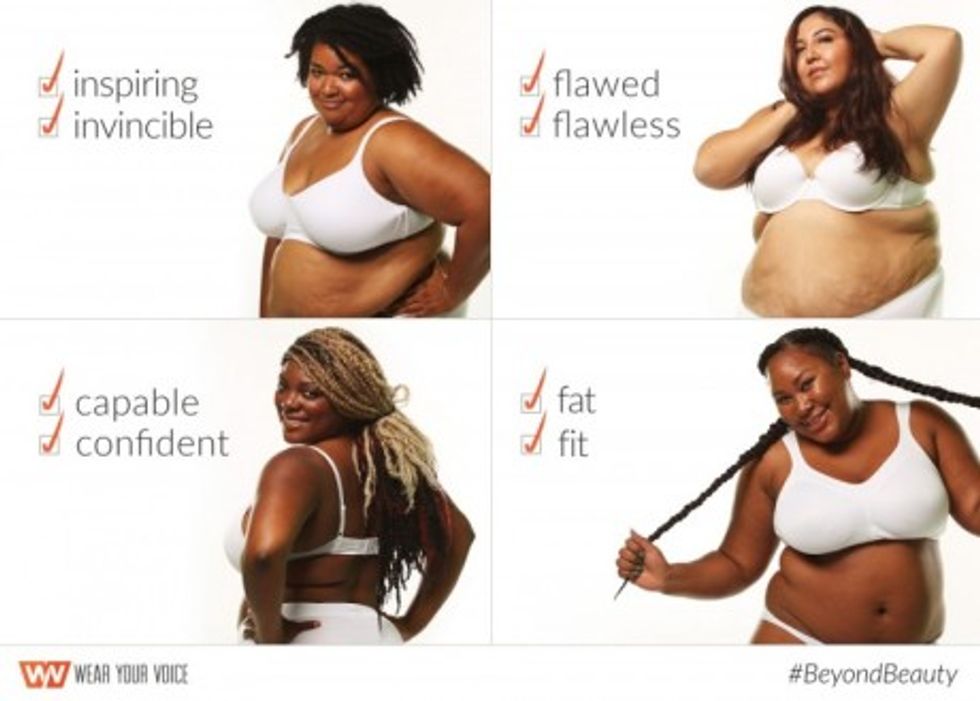 Photo Credit: Elena Kulikova
The photo shoot follows Wear Your Voice's self-love summer campaign, #DropTheTowel, where 10 women highlighted their bodies in swimwear in hopes of removing the notion that bikinis and bathing suits are reserved for smaller sized women.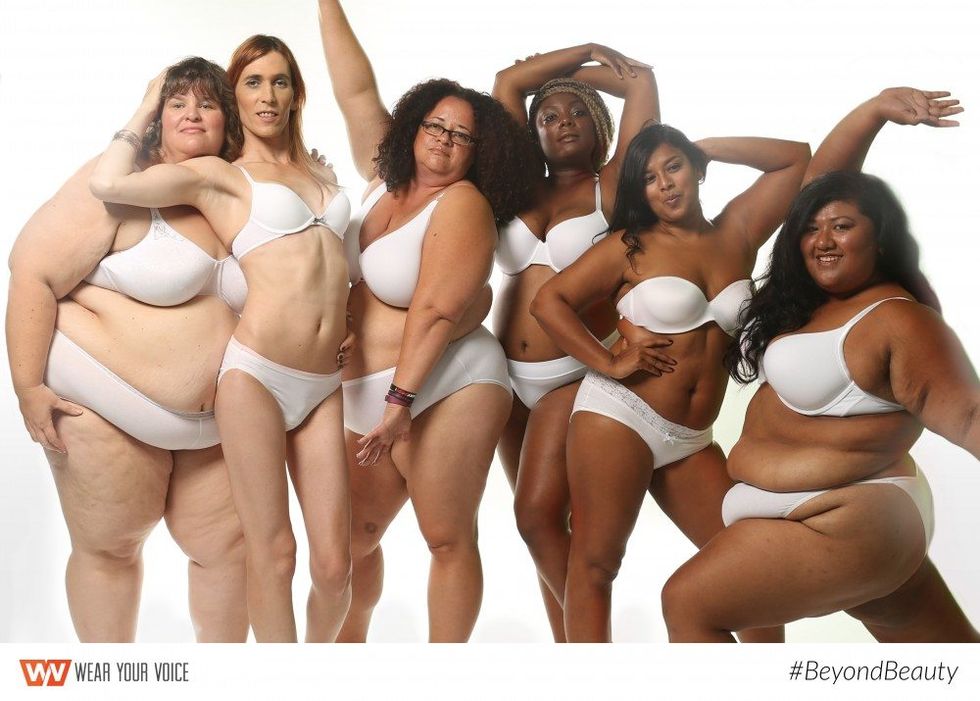 Photo Credit: Elena Kulikova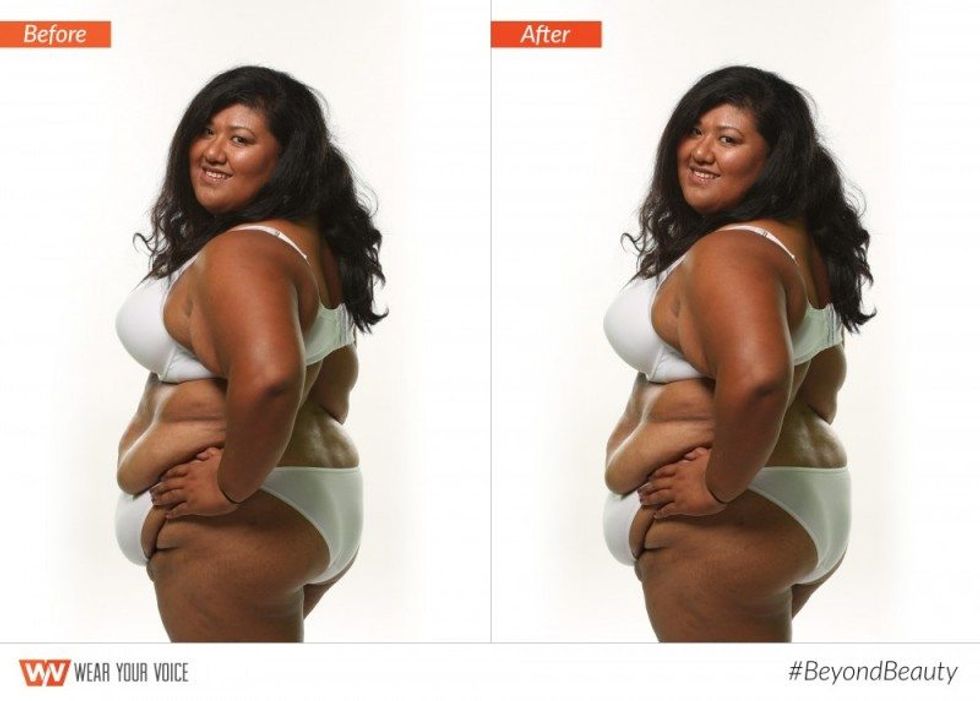 Photo Credit: Elena Kulikova
WYD says their vision "far extends beyond this one photoshoot–it is a campaign whose only selling point is self-love. We're not endorsing a product, we are supporting authenticity in all its forms. We are daring to look beyond this traditional and limiting idea of 'beauty' to see the strength that not only lies within, but that exudes from all."
By merging ethnicities, body types and sizes, and photographing women in a state where many women feel most vulnerable, the campaign's mission is accomplished. In honoring their individual bodies and celebrating the differing body types of other women in rare form, Ravneet Vohra's objective truly transcends societal standards and introduces us to what's beyond beauty.
What are your thoughts on brands embracing the body positive movement?