Yes, it's true. Fathers in the black community often get a bad rap.
---
Even with stellar examples of doting daddies, such as former President Barack Obama and NBA MVP Steph Curry, the absences of fathers in urban communities often leaves some women still searching for good examples in the everyday household. Luckily they don't have to go beyond their Instagram app to stumble upon model and artist Benny Harlem and his adorable daughter Jaxyn.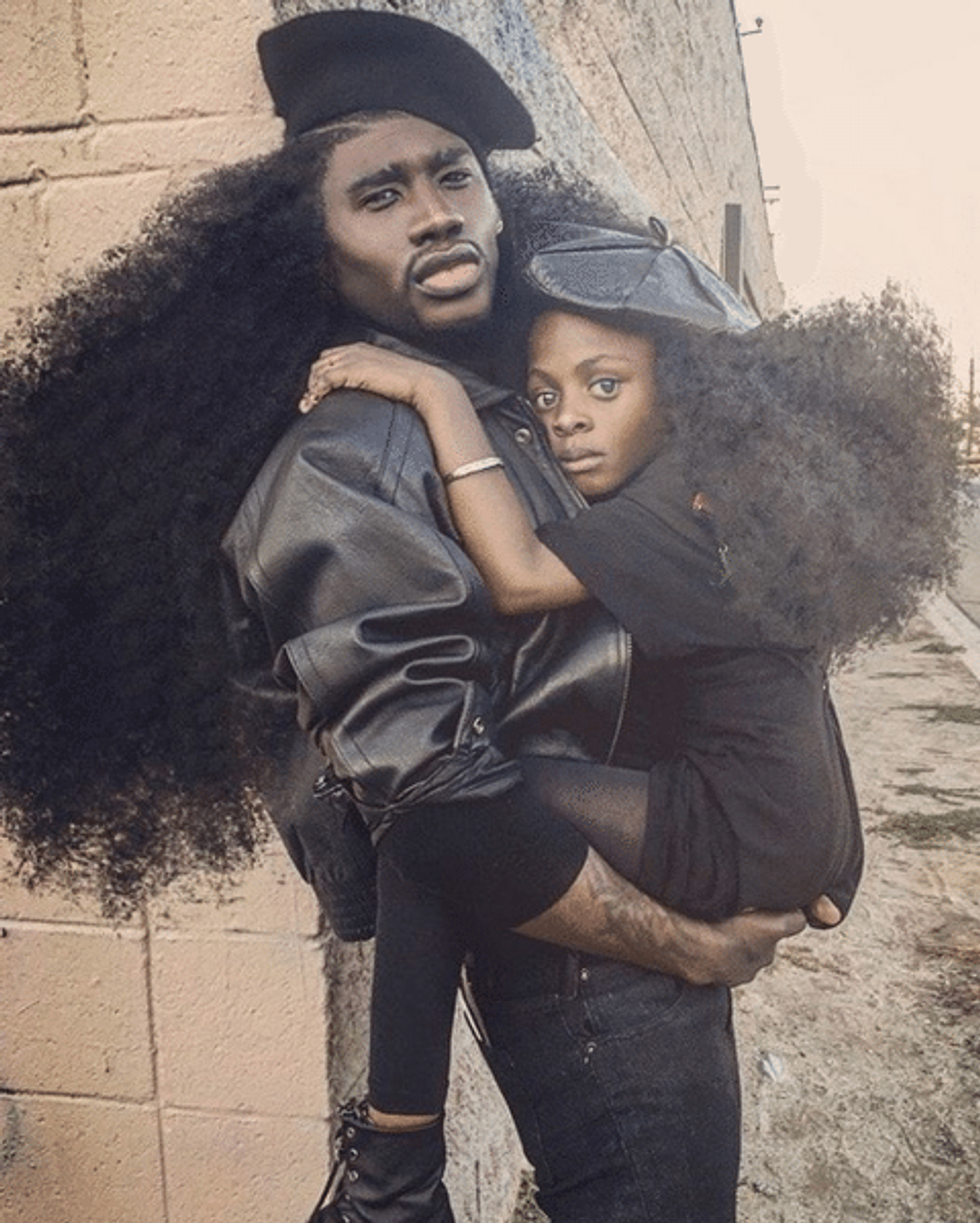 Hailing from Los Angeles, the chocolate-skinned daddy-daughter duo became a viral sensation after photos of the two donning African royalty garb hit the 'Net. Not to mention, both Harlem and Jaxyn have regal, waist-length natural hair that could make any natural girl type #GOALS under their Instagram pics. The two share kisses on the public platform and stand proudly in matching Black Panther-style berets. It's a sight that soon had women swapping screenshots in group chats everywhere as Harlem became the model dad.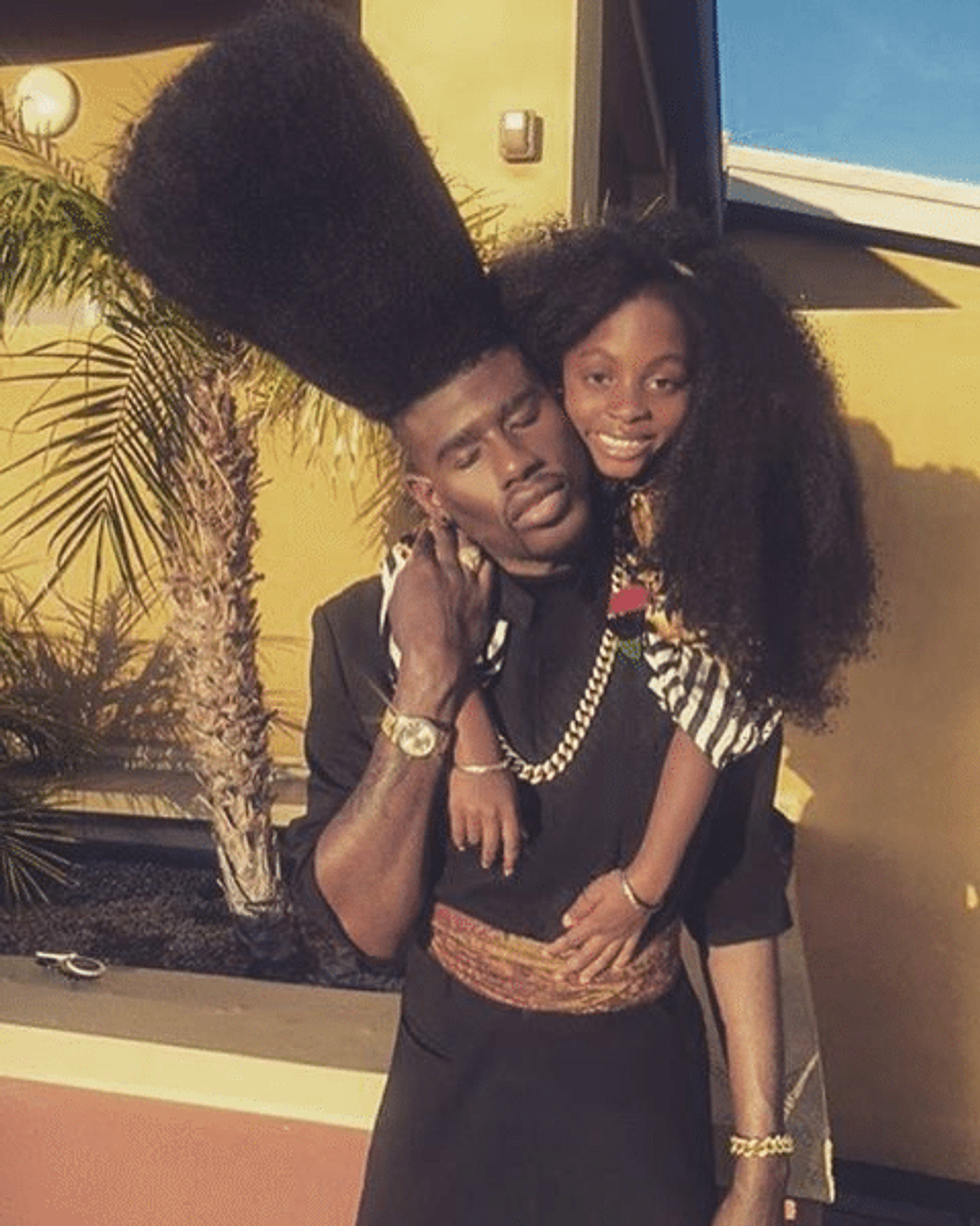 "If I didn't own [that responsibility] before, I guess I better own it now," Harlem says of proving the typical black American dad story is more myth than fact. Over the phone, his love for Jaxyn fills up the conversation. Every time he calls her "my baby" or gushes about her sparkling personality, it's clear he's a present father who's eager to hold her hand through this thing called life. But in a somewhat interesting plot twist, Harlem wasn't afforded the same blueprint for his exceptional fathering.
"I didn't meet my father until I was seven years old," he says slowly, pausing after every few words." At the time he was a football coach at a high school, so me and my family––my mother, my grandmother and my aunt––went to the football field of the high school and waited until the game was over. We went onto the field and my aunt said, 'Hey this is your son.'
He looked at me for about 10 seconds and said 'I don't have a son.'"
The devastating void of not having a father nearly shattered Harlem, who held onto the anger of an absentee father for years afterwards. Later, to compensate, he leaned heavily on the women in his family for emotional support and drowned himself in the arts, from Michelangelo to Grace Jones and Tupac. "I grew up around all women," he says. "I was the first man of my family, and my family took that very seriously. My family comes from women that don't have men. Women who have been left or abandoned. I didn't have a lot of uncles, so David Bowie and Tupac were the closest thing [to father figures]. I had a few stepfathers, and they did the best that they could, but all in all, it was just my my grandmother and my mom."
[Tweet "My family comes from women that don't have men; women who have been left or abandoned"]
It's the kind of love the ladies in his life poured into him that he pours into Jaxyn. "That was the first heartbreak of my life, but it was the turning point of my life, too," he says. "I turned that heartbreak into drive. And I teach my daughter to do the same."
However, his teachings for his daughter don't merely stop at heartbreak. He instills culture and the importance of representation into Jaxyn with things such as her most recent out-of-school homework: a report on Josephine Baker.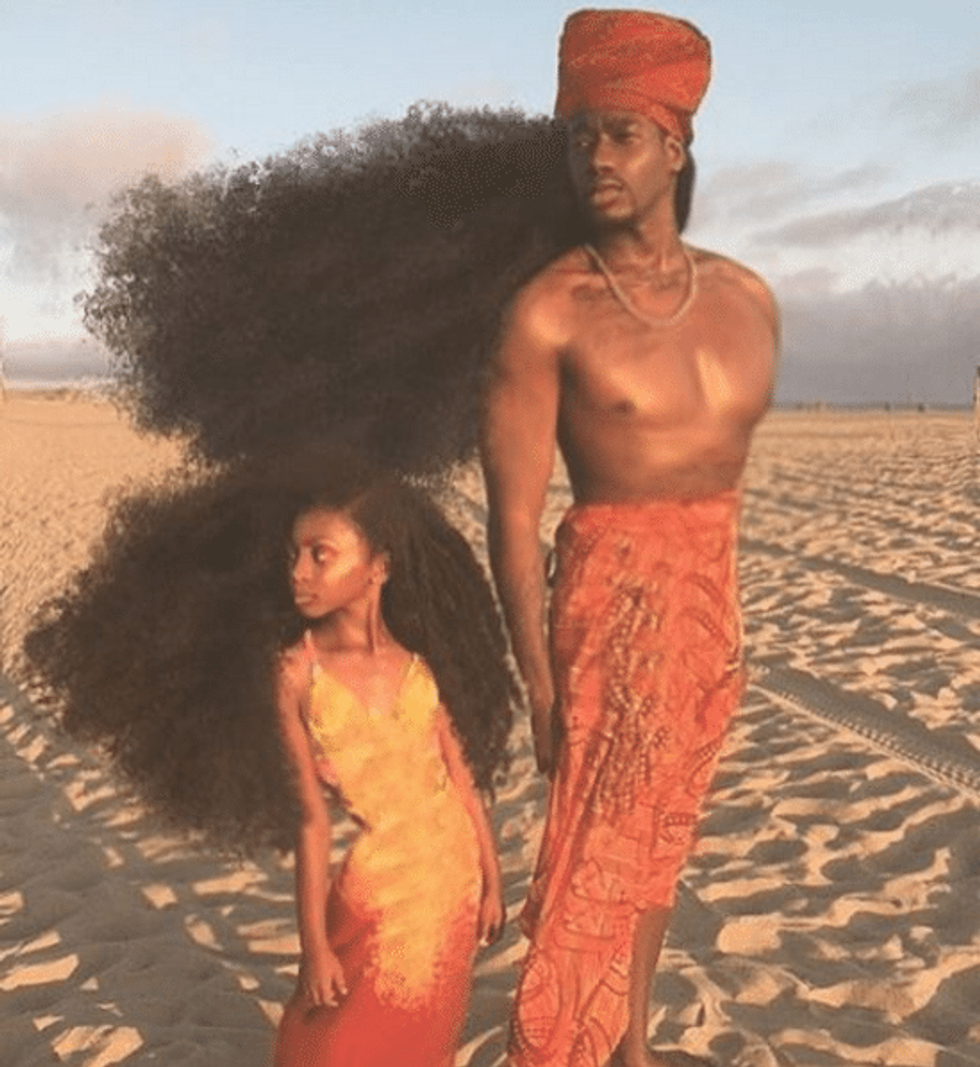 Because Jaxyn desires to become a professional dancer like her mother, Harlem mentions that she's on a drill team and wants to be rock a banana skirt for Halloween as an ode to the late dancer. She seems culturally well-round and mature when Harlem speaks of her, so when I ask her age, he brings her to the phone to shyly reply, "A young lady never tells her real age."
It's an adorable moment that shows she's completely in sync with her pops, who declined to tell his age earlier in the call. But while he's teaching her that the arts matter and age is nothing but a state of mind, he also ensures she understands the most important thing young magical black girls need: self-love.
"I put my child on a pedestal. What my daughter knows is that if she loves herself first, love will align in her friendships, relationships, and all aspects of her life."
I've had situations where boys already have approached her cause she just has an aura that attracts people. And that scares me. I'm a fearless man, but when it comes to her, I cannot play. She's a beautiful girl who's gonna be a pretty woman, but I teach her to love herself first. She doesn't need to seek that in a man or from watching TV or her friends."
For now, Harlem just wants to be her role model. And it seems to be taking shape as they wear similar "crowns." One glimpse of his IG pics is proof that the apple didn't fall too far from the tree in terms of their similar natural tresses. "Anything that's meant from us comes from the ground or from nature," he says of what he puts into his and her full-bodied mane.
"I look at our hair like a plant. Most plants need natural ingredients to grow and stay alive, and honestly, our souls and our bodies need the same thing."
In my family, we make our own shampoo, just as we take the time to make our own meals. It's just a discipline."
So, while Harlem celebrates another Father's Day, where do him and his father stand now? "He found me when he was 18, and still to this day we're in an OK place. He tells me all the time how much me being in his life is important to him."
And as for his daughter?
[Tweet "My only concern of my daughter is the nobility of her character. I teach her to demand respect."]
I teach her to walk in her natural elegance, and I make it a point to show her that she's protected daily. That way, she remains fearless."
You can keep up with Benny and his daughter Jaxyn on Instagram: @BennyHarlem