---
When the whole family is the MVP....
Last June we watched Warrior Steph Curry and his entire family thrust into the spotlight, including his now 3-year-old daughter Riley, wife Ayesha. By now, we all know that Steph is far from a one-man army, at least not at home.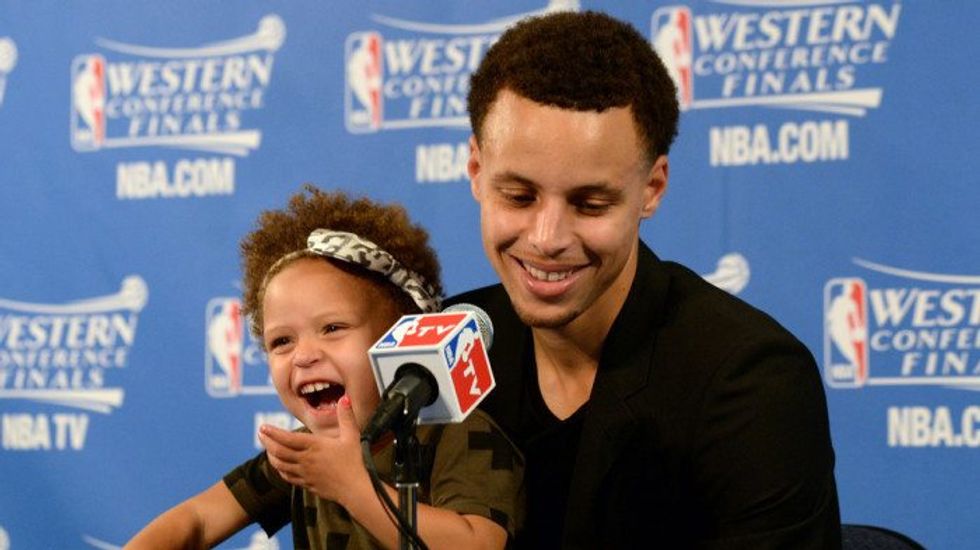 Aside from the assist of his Blue and Yellow team on the court, the 27 year old father and husband gives all credit to his leading lady, Ayesha (whom he met in a church youth group) and the sacrifices she's made by taking a backseat in her and career to allow him to fully live his.
In an interview with HelloBeautiful Ayesha detailed some of the sacrifices and adjustments she's had to make in her life when she decided to become a full time wife and mom, as well as being Steph's backbone.  Here's a few things we learned about the couple during the interview:
1) Faith is the foundation for their relationship
"[Faith] is the foundation for everything that I do, really. It's not so much that about the religion, it's more so just about the relationships that I have with God and making sure that I pass that on to my kids. With my relationship with my husband, it's what it's founded on."
[easy-tweet tweet="Faith is the foundation for everything that I do." user="- @AyeshaCurry"]
2) Ayesha Gave Up Her Acting Career To Be A Stay at Home Mom & Lifestyle Blogger (In Steph's 2015 MVP  acceptance speech, he acknowledged Ayesha's lifestyle sacrifices that allowed him to be the man he is today)
After having my daughter I kind of made a career change, and so I was trying to figure out what I wanted to do where I could be home with her and still have something for myself. My main reason for doing all of this, is that I felt like at the time being a mom and being a wife wasn't considered cool, and maybe it was a little bit looked down upon."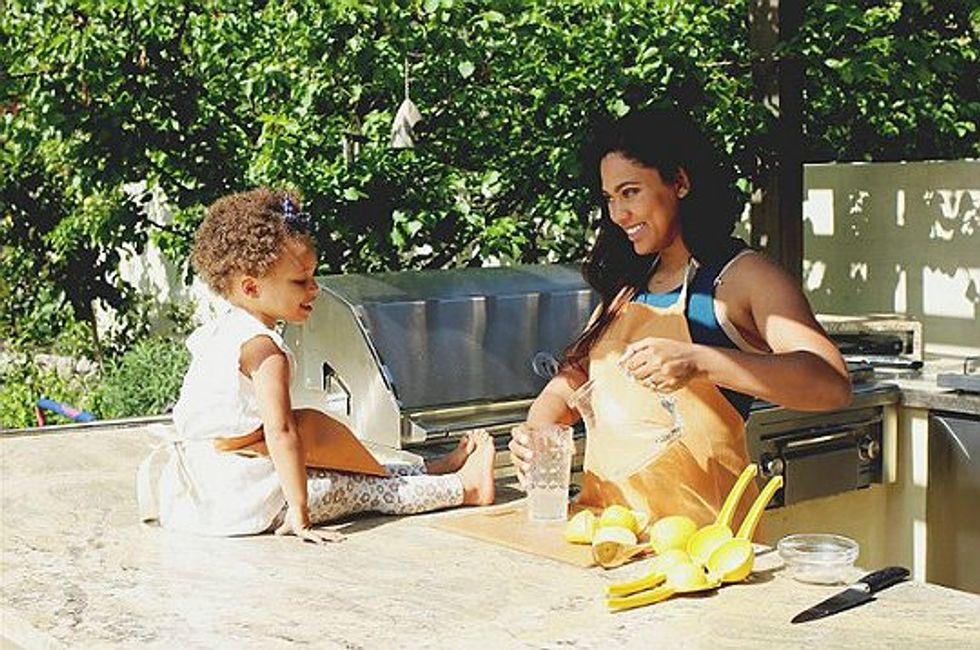 So I decided to start the blog just as a place where I could share all of my recipes, because that's what I do, I love to cook. I figured, why not try and make a career out of it? It's everything that brings light into my life and makes me happy, or things that interest me, so it was Little Lights of Mine."
Ayesha is now taking her cooking talent to the public with a cookbook on the way!
Related Post: Ayesha Curry Reveals New Cookbook Cover
3) Riley Gets Her Personality From Both Parents
"We're huge goof-offs. We don't take much of anything too seriously. Steph and I have always been super silly, even growing up individually in each of our families, we were kind of the goofballs of the bunch. So together, I feel like it's just a hundred times more ridiculous."
4) It's Important For Ayesha To Teach Riley To Embrace Her Natural Hair
"I would love to instill in her to be fearless, unapologetic, and just true to herself, especially nowadays with social media [and its instant judgment and criticism.] I hope she learns to take all that stuff with a grain of salt.
Also, as a young black woman, I hope she just learns to love herself. Even with her curly hair, I've noticed some comments, and I think her hair is beautiful, and I hope she grows up loving it. She talks about her hair all the time, and she says that she loves her curls, so I hope as she gets older she embraces that and doesn't let anybody tell her differently."
[easy-tweet tweet="Be fearless, unapologetic, and just true to yourself." user="- @AyeshaCurry"]
6) Communication (and avoiding being to submerged in social media) is key to a successful relationship
"The advice I'd have is to make sure that regardless of what's going on individually in your lives, make sure you come together in the evenings and pray together, or just talk about your day. I think communication is just key, and I feel like especially today, with social media and the internet, there's a lot of distance between people. Make sure you make time for each other as often as you can."
Many times "basketball wives" get stuck with the stigma that they have it easy or took the "easy way out," by choosing to stay at home and raise the kids, while spending their husbands money of course. When in reality, some of the biggest sacrifices one can make is readjusting their entire dream and placing their career on hold in order to be a full time parent. These men are constantly traveling and make sufficient enough income where one parent could easily stay at home and raise the kids and be a foundation for the family.
Related Post: Would You Put Your Goals on Hold for Your Husband's Hustle?
Peep plenty of more pics of the family turning up to Golden State's 2015 win (and a surprisingly sleepy Riley) all on page 2.