They say "no one man should have all that power," but clearly they weren't talking about women here!
---
Pardon our French but-- women in entertainment are doing the damn thing! This month the lovely Ava DuVernay graces the November cover of Elle magazine's commemorative "Women in Hollywood," issue. And for good reason! After breaking industry barriers in film, and even snagging her own Barbie, the Selma director and growing icon is one of eight lucky women to land the highly coveted front page of the publication.
So it's safe to say...we're clapping over here!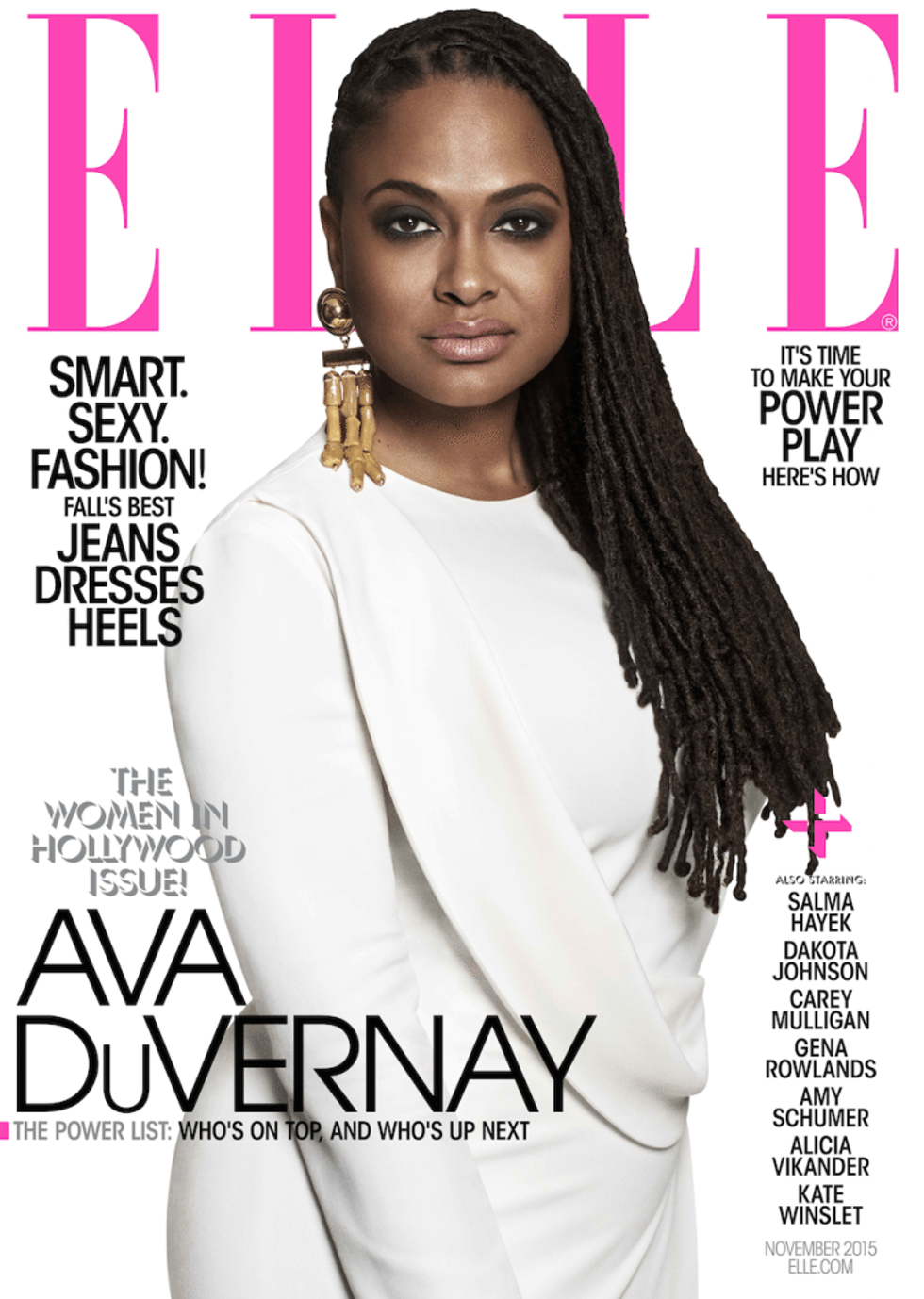 Inside, Hollywood's newest go-to director opens up about her future projects, including the upcoming series Queen Sugar on the OWN network, as well as her new film, Venus Vs., a self-titled docu-film on none other than tennis pro Venus Williams. Ava says:
"It was fascinating to really explore Venus Williams as the first of her kind, the first to break down the wall—so young, so graceful, so gracious, so at the top of her game."
Ava also opened up about the importance of her ever famous MLK and civil rights biopic, Selma, and her willingness to humanize the characters in an effort to help audiences better understand and feel inspired by the fact that at the end of the day- these historic super heroes were everyday people-- just like us!
"It was important to me when I took over the film and rewrote the script that there were those silences and spaces where these icons are being people."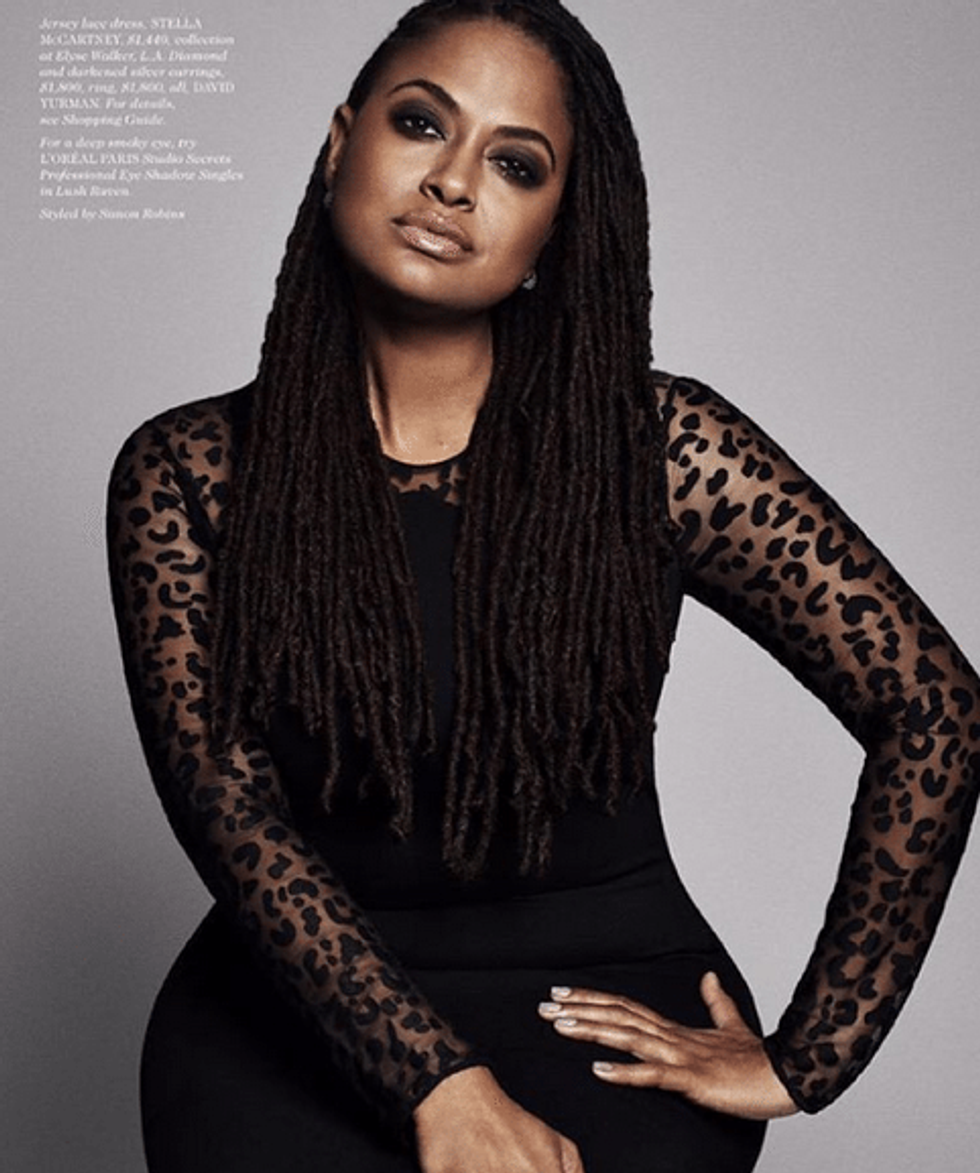 The other covers are graced by the likes of comedian Amy Schumer, Carey Mulligan, Dakota Johnson, Kate Winslet, Salma Hayek, Gena Rowlands, and Alicia Vikander.
And while we'll have to wait to snag the issue when it hits newsstands next week, Ava tweeted to fans that she's righteously representing for all the sisters with her Elle cover-- and we mean all!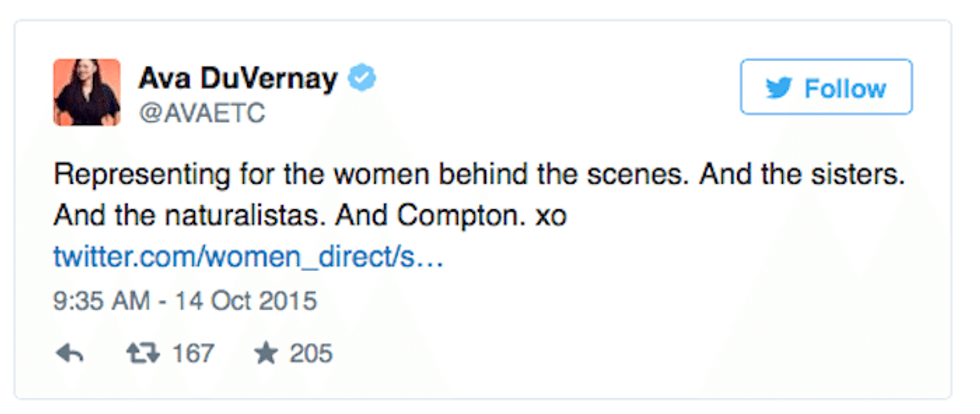 "Representing for the women behind the scenes. And the sisters. And the naturalistas. And Compton. xo"
Ava landing the cover of 'Elle' and being on their "Women in Hollywood," list is epic for obvious reasons but also major in a whole other way. Just to bring you up to speed, before she was snagging magazines features, snatching Oscar nominations and rubbing elbows with the likes of everyone from Oprah to Hollywood's elite, the lovely Miss DuVernay was a publicist for a whopping 14 years-- that's a a good chunk of her entire professional life and adult being.
However, just five years ago, the 43-year-old director took a chance on her purpose in life by transitioning out of her long-time career in marketing & publicity, and began her journey in directing films.  According to Ava, it's important to remember to take the small steps to get to the big dream:
I think the real thing is just to begin with small steps. I think most people think their dream needs to happen all at once. What I realize is that your dream can happen a little bit at a time but each step -- it may take a little longer--but you can savor and learn from it.
Last year, Ava also opened up to Jezebel about why she kept her day job and eventually created her own marketing & PR firm, while honing her craft and being patient for her film-making dreams to unfold:
 "There is something in our culture that says your dream or the thing you're pursuing has to happen immediately and all at once, and that is destructive to the creative spirit. I just embraced the idea that this was going to be a gradual exploration of the thing I was interested in—making films—and gave myself permission to go slowly. I didn't beat myself up for the fact that I had a day job. I considered how I could strengthen myself through my day job so that one was feeding the other.

It's kind of like the very famous actor-waitress parallel. One time an actor told me that every time they approached a new table, they'd try a new character as practice. So I would sit in on other people's sets as crew and ask myself how I'd have shot that scene, and where my camera would be. American culture is the overnight success and "right now" mentality—it's just destructive, and we should resist it and go our own way."
Ava is proof that not allowing comfort to become your crutch, and not settling for good when you can be "great," certainly has it's awards. Not to mention the very valuable virtue of patience being key! Last year, she also spoke to students and aspiring artists at the New York Film Fest, breaking down the importance of creating opportunities where there are none. She said:
[Tweet "It's not about knocking on closed doors, it's about building our own house & having our own door"]
Oh Ava, how we love thee!
You can pick up Ava's issue of Elle when it hits newsstands October 20!