It's a great time to be a girl boss. In a day and age when jobs aren't promised and security not guaranteed, many women are taking a leap of faith to follow their passions and create their own opportunities through entrepreneurship--and they're doing so in all industries. From beauty, such as Curlbox founder Myleik Teele, to lifestyle and travel, many women are saying goodbye to a steady paycheck in attempt to change the world with their ideas and inventions.
---
But being your own boss doesn't come without it's challenges. There's the late nights, early mornings, and endless sacrifices from family to your social life--and even then there's no promise that their grand ideas will yield immediate profits.
Sara Blakely, the inventor and founder of Spanx, once had this advice to entrepreneurs:
"Don't be afraid to fail. My dad encouraged us to fail. Growing up, he would ask us what we failed at that week. If we didn't have something, he would be disappointed. It changed my mindset at an early age that failure is not the outcome; failure is not trying."
[easy-tweet tweet="Don't be afraid to fail. Failure is not the outcome; failure is not trying"]
This is amazing advice, however, the reality is that women entrepreneurs aren't even given a chance to get their feet in the door when it comes to starting a business, let alone fail.  According to a report published by the Wharton School of Business, male entrepreneurs, even the plain looking ones, are overall 60 percent more likely to to pitch successfully to investor than women, even when the content of the pitches were the same.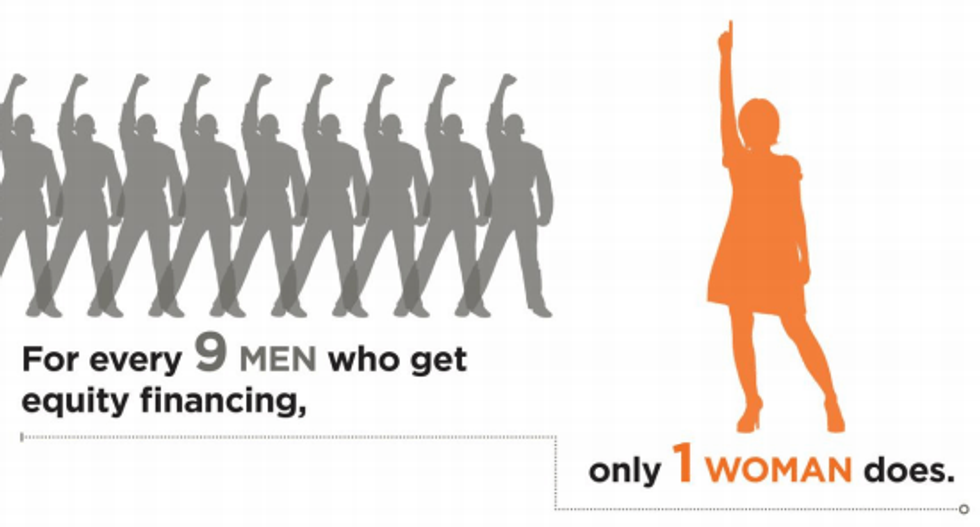 That sucks.
But if you're a lady in the Atlanta area, and you're trying to get your business off the ground, yet things are looking bleak, Mayor Kasim Reed wants to throw you a life preserver. According to the Atlanta Journal Constitution,
Now, city of Atlanta officials think they can do something to make the gamble a tad less risky. The city plans to spend about $1 million over the next two years on a new program that Mayor Kasim Reed has been talking about for years.

It will provide 15 entrepreneurs with free use of furnished downtown offices for 15 months, plus mentoring and training.
Yes, Mayor Reed has a ladies only club for women entrepreneurs, and it makes total sense. Women are already more than twice as likely as men to put money back into their communities when they have money. Also, according to  Alicia Robb, a senior fellow with the Ewing Marion Kauffman Foundation, which tracks trends in entrepreneurship, women's contributions to business have a proven track record in creating top financial success, top job growth, and stronger communities.
The women entrepreneurs have already been selected, and their businesses will be housed in Downtown Atlanta's historic Flatiron Building within 60 days. So this gives women the perfect excuse to align their resources, and apply for the next cycle.
If you meet the following criteria, you can apply for the city's entrepreneurial mentoring program:
Woman-owned business, locally based, who reside in and/or are licensed to do  business, within the City of Atlanta

Business maturity of 2 years and/or:

Total profit from business of $30,000

1-5 employees

Submission of application and participation in pitch competition to selection panel
Log on to atlantaga.gov to get your application, and find out how you can jump in this mentoring opportunity.