---
The table is where bread is broken and deals are made, but sadly, for generations, Black women have been barred from taking their rightful seat. Statistics show that although women of color are starting businesses more than any other demographic, they are also the least funded, proving that even today, we are not only lacking a seat at the table, but a place in the room.
This was a conundrum that didn't sit well with author and entrepreneur Arian Simone, who recently joined forces with Emmy-nominated actress Keshia Knight Pulliam to launch The Fearless Fund, a company that is on a mission to invest $5 million dollars in aggressive, scalable businesses owned by women of color that are seeking pre-seed, seed, or Series A stage funding.
The Fearless Fund aims to invest time, mentorship, and anywhere between $50-250,000 in early-stage, high-growth WOC-led ventures that have established at least $100,000 in revenue. According to Keshia and several other studies that prove that women in business are lit, although venture capitalism can be a gamble, betting on Black women always pays off. "Honestly, we are the sure bet. We are the people we should be betting on because we're having so much success in the space."

This is the reason that Arian, Keshia, and their investment partners have chosen to invest in companies like EnrichHer, a company that recently won the Fearless Fund's pitch competition at Facebook's Headquarters, that is not only profitable but has the potential to sustain a long-term relationship.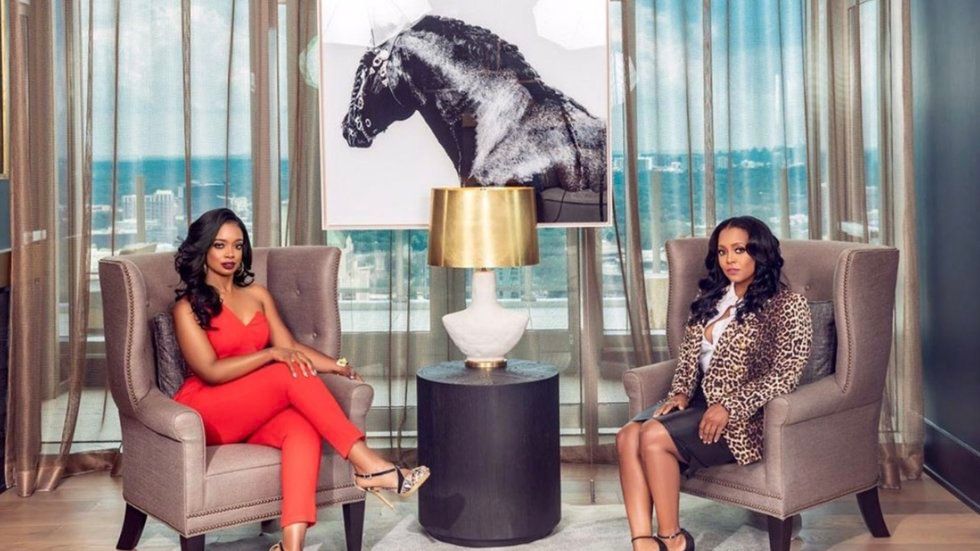 @dewaynerogers
Arian, the best-selling author of Fearless Faith + Hustle: 21 Day Devotionaltold xoNecole that as an entrepreneur at heart for the past 20 years, spearheading The Fearless Fund was a destiny that, for her, was both necessary and inevitable. Today, the serial entrepreneur has now become a boss in her own right but says she'll never forget the lessons she learned when she was a broke college student.

"I promised myself then, 'Arian, one day you need to be the investor that you're looking for," Arian shared. "Women of color are starting businesses more than anybody else, but they're the least funded. Women right now are getting 2% of venture capital funds and women of color are getting less than 1% and there's no need for that."

Historically, the table can be the most important piece of furniture in the whole damn establishment, and since Black women couldn't find a seat, Arian and Keshia built one. The duo recently sat down with xoNecole and spilled the tea on everything you need to know to break into the investors' club the right way.
Here are four things you need to know before seeking investment and giving up equity in your business:
1. Know How It Works
I must admit, Shark Tank is my sh*t, but after my conversation with Arian and Keshia, I discovered that there is a lot I don't know about the world of venture capitalism. Although it may sound great to have a mogul give you a couple hundred stacks to play with, the investment industry is not a game.
Although The Fearless Fund is here for all of the empowerment, the goal of their company is to eventually make their money back with interest. Arian told xoNecole, "The goal, of course, is you want to select companies that cover the cost of the actual fund. And in addition to that, you want them to have a strategy to exit the fund within a certain period of time."
Although seeking an investor may be a viable option for some companies, Arian explained that additional capital is not always needed to maintain a thriving business. "Some businesses do not need venture capital. Some businesses, depending on where they're looking for growth and scale, you need the capital in order to do that."
Ultimately, these bosses agreed that making the decision to give up equity in a company is a decision that each founder has to make individually based on their company's needs. "That's a discussion for each founder, based upon their business and where their own resources lie and what their end goal is. What is their exit strategy? Are they looking to get acquired? A lot of that is based on where you are in your company," Arian shared.
Keshia added, "Depending on what the end strategy is, you need to know how much equity are you leaving on the table for other investors."
2. Vet Your Relationships
Securing an investment from a partner isn't for the faint of heart, it's a long-term commitment that you need to investigate thoroughly before you make any deals. Arian and Keshia warned of the importance of vetting your check because if that investor just so happens to leave the relationship, they leave with the equity you gave up in the initial business deal. Arian explained, "I think something that a lot of people don't realize is that for a company, once you get to the pinnacle, a lot of the times, the founder of the company only really has maybe 20 to 25% ownership in that company."
It is for this reason, Arian says, that you should make sure you're getting in bed with one helluva partner. She continued, "With that being said, you want to make sure that they're aware this is a long-term relationship, that this is a good marriage."
Nothing in this world is free, especially not money, and it's important to keep this in mind when you're giving up ownership of your company. So when it's time to give some equity in your business in exchange for capital, make sure you think before you let it go, sis.
3. Invest In You First, Sis
Along with being aware of your strengths and weaknesses, Arian and Keshia also noted the importance of putting your money where your mouth is. To this dynamic duo, one of the most attractive traits of a potential investment is being able to see that they invested in themselves, first. Keshia said bluntly, "You can't expect people to believe and put all of their money and efforts behind your business if you're not."
Arian agreed with this sentiment and affirmed that it's hard to believe in someone who doesn't believe enough in herself. "That's really important because you're going out here and asking people to invest in your dream, but how invested are you in your dreams? And I feel me that's a telltale sign, because someone who's truly invested, truly dedicated and has already shown that they put in the work and the sweat equity, is important."
4. Pay It Forward
Fruit doesn't grow from the vine to be eaten by the tree. Let that sink in for a minute. One of the most telling signs of a boss is her need to put others on, and Arian and Keshia think it's time for you to boss up too, sis. According to these ladies, the most effective way to level up your life is to pour into someone else's. Keshia stated, "We are a collective, and Arian and I both operate from a space of abundance and knowing that there is enough for everybody. And when you've been poured into, even though yes, it's an investment that we expect a return on, there are so many other layers that are poured that are shared."
Even though these women are at a place in their lives where they can easily kick their feet up and relax, they've chosen to dedicate their lives to creating a table where we can all thrive together. "Empowerment will happen. When you are in the place where you can then pay it forward to ensure that you do it too."
Keep up with Keshia and Arian's latest projects by following them on Instagram and learn more about the Fearless Fund at Fearless Fund.
Featured image by @dewaynerogers.