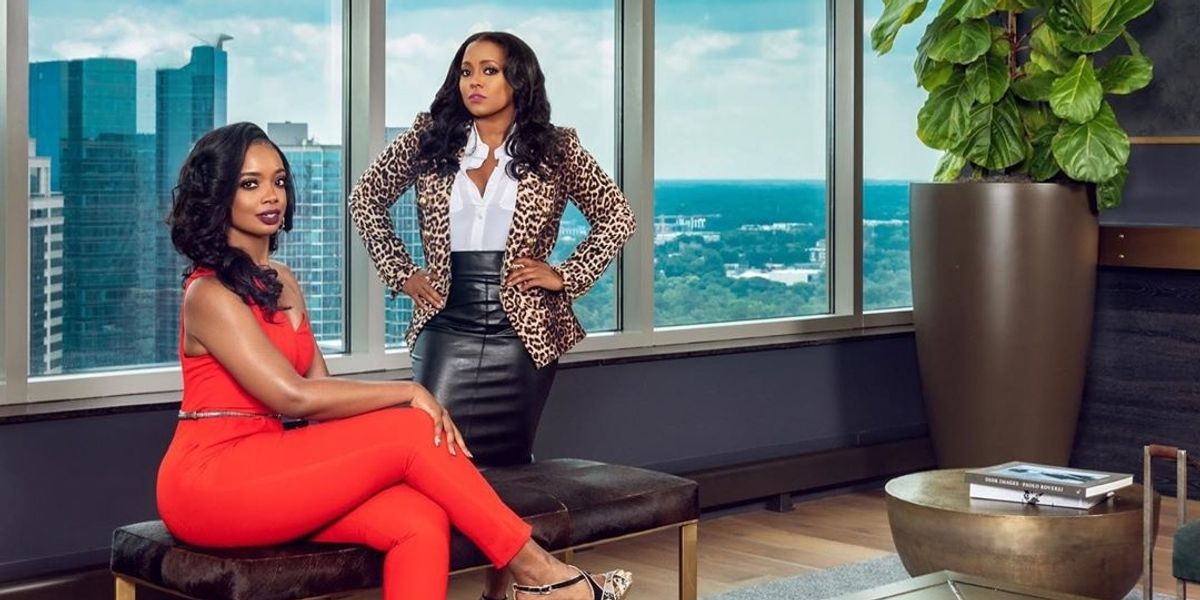 Business
Arian Simone & Keshia Knight Pulliam On The Why Behind Their $5 Million Dollar Investment In Black Women
---
The table is where bread is broken and deals are made, but sadly, for generations, Black women have been barred from taking their rightful seat. Statistics show that although women of color are starting businesses more than any other demographic, they are also the least funded, proving that even today, we are not only lacking a seat at the table, but a place in the room.
This was a conundrum that didn't sit well with author and entrepreneur Arian Simone , who recently joined forces with Emmy-nominated actress Keshia Knight Pulliam to launch The Fearless Fund , a company that is on a mission to invest $5 million dollars in aggressive, scalable businesses owned by women of color that are seeking pre-seed, seed, or Series A stage funding.
The Fearless Fund aims to invest time, mentorship, and anywhere between $50-250,000 in early-stage, high-growth WOC-led ventures that have established at least $100,000 in revenue. According to Keshia and several other studies that prove that women in business are lit, although venture capitalism can be a gamble, betting on Black women always pays off. "Honestly, we are the sure bet. We are the people we should be betting on because we're having so much success in the space."

This is the reason that Arian, Keshia, and their investment partners have chosen to invest in companies like EnrichHer, a company that recently won the Fearless Fund's pitch competition at Facebook's Headquarters, that is not only profitable but has the potential to sustain a long-term relationship.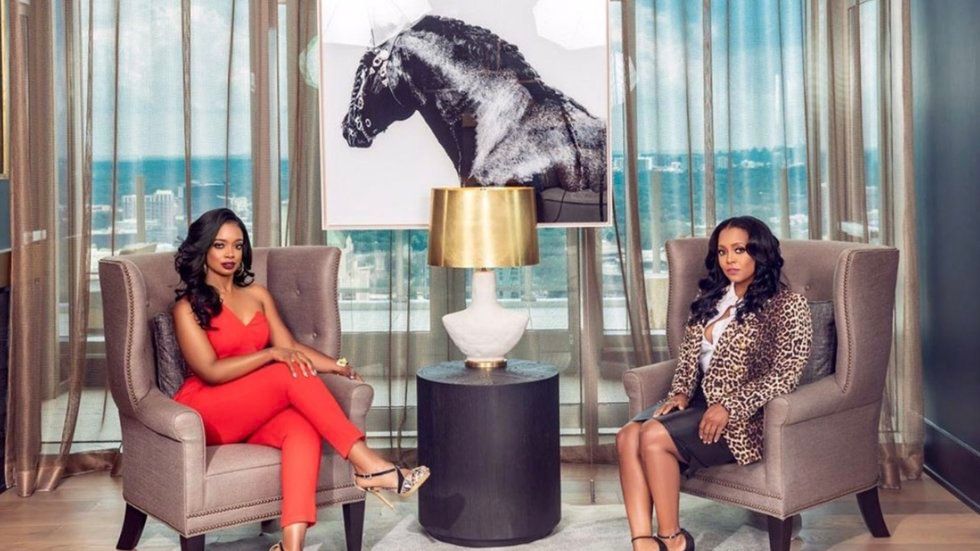 @dewaynerogers
Arian, the best-selling author of Fearless Faith + Hustle: 21 Day Devotional told xoNecole that as an entrepreneur at heart for the past 20 years, spearheading The Fearless Fund was a destiny that, for her, was both necessary and inevitable. Today, the serial entrepreneur has now become a boss in her own right but says she'll never forget the lessons she learned when she was a broke college student.

"I promised myself then, 'Arian, one day you need to be the investor that you're looking for," Arian shared. "Women of color are starting businesses more than anybody else, but they're the least funded. Women right now are getting 2% of venture capital funds and women of color are getting less than 1% and there's no need for that."

Historically, the table can be the most important piece of furniture in the whole damn establishment, and since Black women couldn't find a seat, Arian and Keshia built one. The duo recently sat down with xoNecole and spilled the tea on everything you need to know to break into the investors' club the right way.
Here are four things you need to know before seeking investment and giving up equity in your business:
1. Know How It Works
I must admit, Shark Tank is my sh*t, but after my conversation with Arian and Keshia, I discovered that there is a lot I don't know about the world of venture capitalism. Although it may sound great to have a mogul give you a couple hundred stacks to play with, the investment industry is not a game.
Although The Fearless Fund is here for all of the empowerment, the goal of their company is to eventually make their money back with interest. Arian told xoNecole, "The goal, of course, is you want to select companies that cover the cost of the actual fund. And in addition to that, you want them to have a strategy to exit the fund within a certain period of time."
Although seeking an investor may be a viable option for some companies, Arian explained that additional capital is not always needed to maintain a thriving business. "Some businesses do not need venture capital. Some businesses, depending on where they're looking for growth and scale, you need the capital in order to do that."
Ultimately, these bosses agreed that making the decision to give up equity in a company is a decision that each founder has to make individually based on their company's needs. "That's a discussion for each founder, based upon their business and where their own resources lie and what their end goal is. What is their exit strategy? Are they looking to get acquired? A lot of that is based on where you are in your company," Arian shared.
Keshia added, "Depending on what the end strategy is, you need to know how much equity are you leaving on the table for other investors."
2. Vet Your Relationships
Securing an investment from a partner isn't for the faint of heart, it's a long-term commitment that you need to investigate thoroughly before you make any deals. Arian and Keshia warned of the importance of vetting your check because if that investor just so happens to leave the relationship, they leave with the equity you gave up in the initial business deal. Arian explained, "I think something that a lot of people don't realize is that for a company, once you get to the pinnacle, a lot of the times, the founder of the company only really has maybe 20 to 25% ownership in that company."
It is for this reason, Arian says, that you should make sure you're getting in bed with one helluva partner. She continued, "With that being said, you want to make sure that they're aware this is a long-term relationship, that this is a good marriage."
Nothing in this world is free, especially not money, and it's important to keep this in mind when you're giving up ownership of your company. So when it's time to give some equity in your business in exchange for capital, make sure you think before you let it go, sis.
3. Invest In You First, Sis
Along with being aware of your strengths and weaknesses, Arian and Keshia also noted the importance of putting your money where your mouth is. To this dynamic duo, one of the most attractive traits of a potential investment is being able to see that they invested in themselves, first. Keshia said bluntly, "You can't expect people to believe and put all of their money and efforts behind your business if you're not."
Arian agreed with this sentiment and affirmed that it's hard to believe in someone who doesn't believe enough in herself. "That's really important because you're going out here and asking people to invest in your dream, but how invested are you in your dreams? And I feel me that's a telltale sign, because someone who's truly invested, truly dedicated and has already shown that they put in the work and the sweat equity, is important."
4. Pay It Forward
Fruit doesn't grow from the vine to be eaten by the tree. Let that sink in for a minute. One of the most telling signs of a boss is her need to put others on, and Arian and Keshia think it's time for you to boss up too, sis. According to these ladies, the most effective way to level up your life is to pour into someone else's. Keshia stated, "We are a collective, and Arian and I both operate from a space of abundance and knowing that there is enough for everybody. And when you've been poured into, even though yes, it's an investment that we expect a return on, there are so many other layers that are poured that are shared."
Even though these women are at a place in their lives where they can easily kick their feet up and relax, they've chosen to dedicate their lives to creating a table where we can all thrive together. "Empowerment will happen. When you are in the place where you can then pay it forward to ensure that you do it too."
Keep up with Keshia and Arian 's latest projects by following them on Instagram and learn more about the Fearless Fund at Fearless Fund .
Featured image by @ dewaynerogers.
Pretty Honore
Taylor "Pretty" Honore is a spiritually centered and equally provocative rapper from Baton Rouge, Louisiana with a love for people and storytelling. You can probably find me planting herbs in your local community garden, blasting "Back That Thang Up" from my mini speaker. Let's get to know each other: @prettyhonore .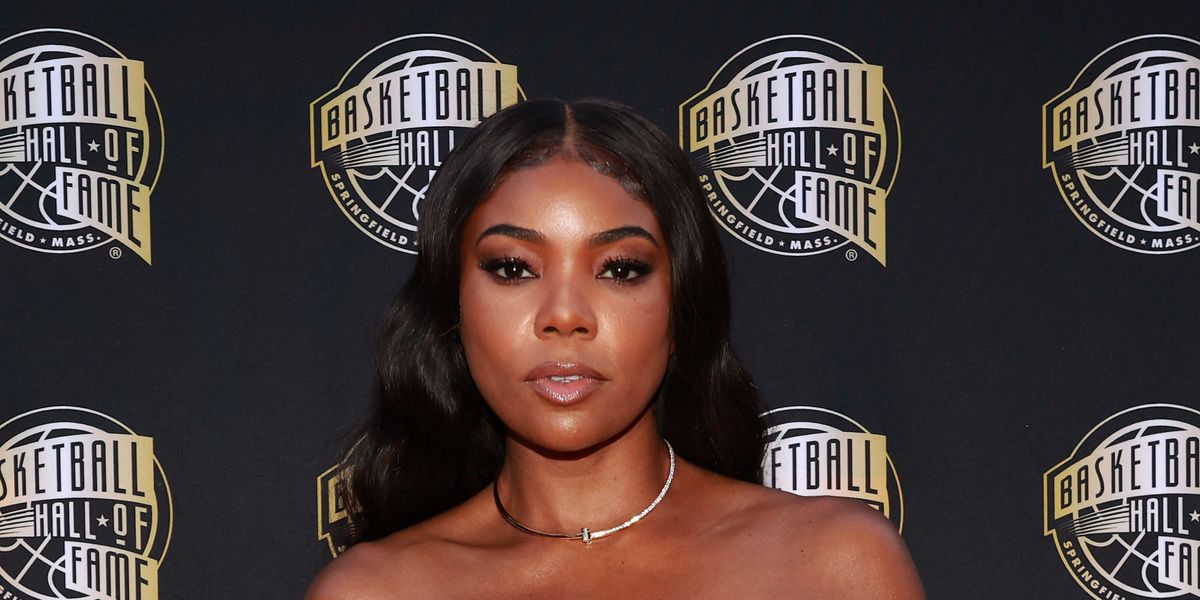 Whenever Gabrielle Union graces the movie screen, she immediately commands attention. From her unforgettable scenes in films like Bring It On and Two Can Play That Game to her most recent film, in which she stars and produces Netflix's The Perfect Find , there's no denying that she is that girl.
Off-screen, she uses that power for good by sharing her trials and tribulations with other women in hopes of helping those who may be going through the same things or preventing them from experiencing them altogether. Recently, the Flawless by Gabrielle Union founder partnered with Clearblue to speak at the launch of their Menopause Stage Indicator, where she also shared her experience with being perimenopausal.
In a xoNecole exclusive, the iconic actress opens up about embracing this season of her life, new projects, and overall being a "bad motherfucker." Gabrielle reveals that she was 37 years old when she was diagnosed with perimenopause and is still going through it at 51 years old. Mayo Clinic says perimenopause "refers to the time during which your body makes the natural transition to menopause , marking the end of the reproductive years."
"I haven't crossed over the next phase just yet, but I think part of it is when you hear any form of menopause, you automatically think of your mother or grandmother. It feels like an old-person thing, but for me, I was 37 and like not understanding what that really meant for me. And I don't think we focus so much on the word menopause without understanding that perimenopause is just the time before menopause," she tells us.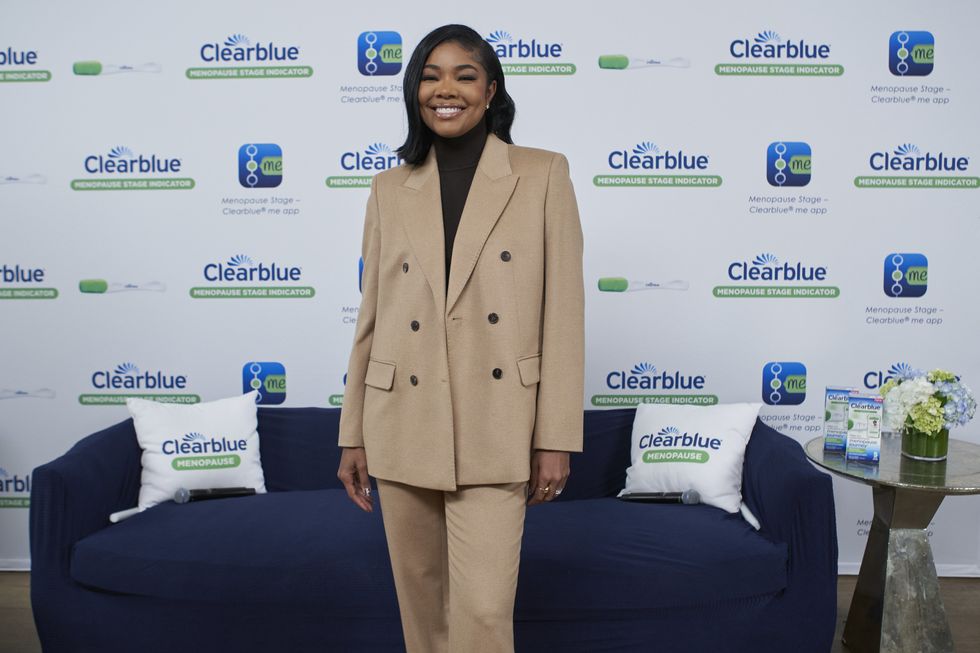 Gabrielle Union
Photo by Brian Thomas
"But you can experience a lot of the same things during that period that people talk about, that they experienced during menopause. So you could get a hot flash, you could get the weight gain, the hair loss, depression , anxiety , like all of it, mental health challenges , all of that can come, you know, at any stage of the menopausal journey and like for me, I've been in perimenopause like 13, 14 years. When you know, most doctors are like, 'Oh, but it's usually about ten years, and I'm like, 'Uhh, I'm still going (laughs).'"
Conversations about perimenopause, fibroids, and all the things that are associated with women's bodies have often been considered taboo and thus not discussed publicly. However, times are changing, and thanks to the Gabrielle's and the Tia Mowry 's, more women are having an authentic discourse about women's health. These open discussions lead to the creation of more safe spaces and support for one another.
"I want to be in community with folks. I don't ever want to feel like I'm on an island about anything. So, if I can help create community where we are lacking, I want to be a part of that," she says. "So, it's like there's no harm in talking about it. You know what I mean? Like, I was a bad motherfucker before perimenopause. I'm a bad motherfucker now, and I'll be a bad motherfucker after menopause. Know what I'm saying? None of that has to change. How I'm a bad motherfucker, I welcome that part of the change. I'm just getting better and stronger and more intelligent, more wise, more patient, more compassionate, more empathetic. All of that is very, very welcomed, and none of it should be scary."
The Being Mary Jane star hasn't been shy about her stance on therapy . If you don't know, here's a hint: she's all for it, and she encourages others to try it as well. She likens therapy to dating by suggesting that you keep looking for the right therapist to match your needs. Two other essential keys to her growth are radical transparency and radical acceptance (though she admits she is still working on the latter).
"I was a bad motherfucker before perimenopause. I'm a bad motherfucker now, and I'll be a bad motherfucker after menopause. Know what I'm saying? None of that has to change. How I'm a bad motherfucker, I welcome that part of the change."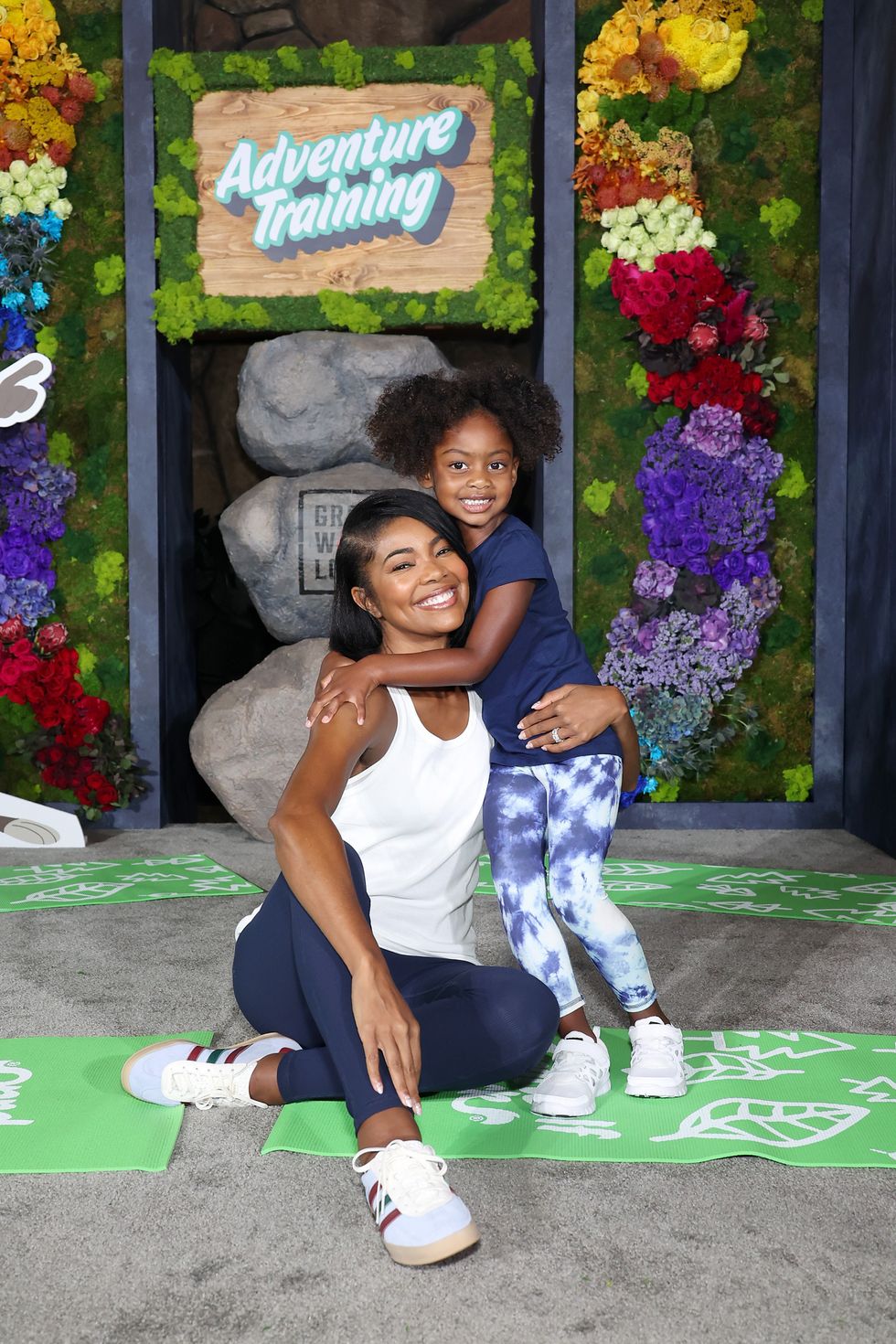 Gabrielle Union and Kaavia Union-Wade
Photo by Monica Schipper/Getty Images
"I hope that a.) you recognize that you're not alone. Seek out help and know that it's okay to be honest about what the hell is happening in your life. That's the only way that you know you can get help, and that's also the only other way that people know that you are in need if there's something going on," she says, "because we have all these big, very wild, high expectations of people, but if they don't know what they're actually dealing with, they're always going to be failing, and you will always be disappointed. So how about just tell the truth, be transparent, and let people know where you are. So they can be of service, they can be compassionate."
Gabrielle's transparency is what makes her so relatable, and has so many people root for her. Whether through her TV and film projects, her memoirs, or her social media, the actress has a knack for making you feel like she's your homegirl. Scrolling through her Instagram, you see the special moments with her family, exciting new business ventures , and jaw-dropping fashion moments. Throughout her life and career, we've seen her evolve in a multitude of ways. From producing films to starting a haircare line to marriage and motherhood , her journey is a story of courage and triumph. And right now, in this season, she's asking, "What's next?"
"This is a season of discovery and change. In a billion ways," says the NAACP Image Award winner. "The notion of like, 'Oh, so and so changed. They got brand new.' I want you to be brand new. I want me to be brand new. I want us to be always constantly growing, evolving. Having more clarity, moving with different purpose, like, and all of that is for me very, very welcomed."

"I want you to be brand new. I want me to be brand new. I want us to be always constantly growing, evolving. Having more clarity, moving with different purpose, like, and all of that is for me very, very welcomed."
She continues, "So I'm just trying to figure out what's next. You know what I mean? I'm jumping into what's next. I'm excited going into what's next and new. I'm just sort of embracing all of what life has to offer."
Look out for Gabrielle in the upcoming indie film Riff Raff , which is a crime comedy starring her and Jennifer Coolidge, and she will also produce The Idea of You , which stars Anne Hathaway.
Feature image by Mike Lawrie/Getty Images

If there's one thing that none of us can avoid (because we're technically doing it right at this second), it's aging . When it comes to longevity and having time to accomplish more things, that's a blessing. The flip side to this coin is a lot of things that we took for granted in our 20s, we have to become proactive about continuing in our 30s, 40s , and beyond — one of those things is taking really good care of our skin and hair so that we don't end up looking older than we are…or should. Because as much as I know, we like to say that " Black doesn't crack ," having more melanin doesn't automatically or necessarily mean that things like our diet can't still jack us up.
How is that? The reality is, with every year that blow candles out on our birthday cake, we lose nutrients. Along with that, an uptick in oxidative stress transpires. The combination of both of these things can lead to not only our organs aging but us aging on the outside, too.
One way to prevent this from happening is to spend less time in drive-thrus ( processed foods actually age our cells). Another is to take a vitamin supplement that is high in vitamins A, B12, and C, calcium, fiber, iron, and protein (since these are the nutrients that aging bodies reportedly need most). Still, another is to check out the following 12 foods — ones that are good for you on a myriad of levels and ones that can keep your skin and hair at a place where people will constantly be asking you if you're 5-10 years younger than you actually are.
Featured image by FG Trade/Getty Images