Once again, the cute face and tiny waists are in demand with women of all ages running to the gym like Jay and Bey on tour.
---
They are doing backbreaking crunches, unbearable planks, and dancing to hip-hop abs just to get that Coke bottle figure!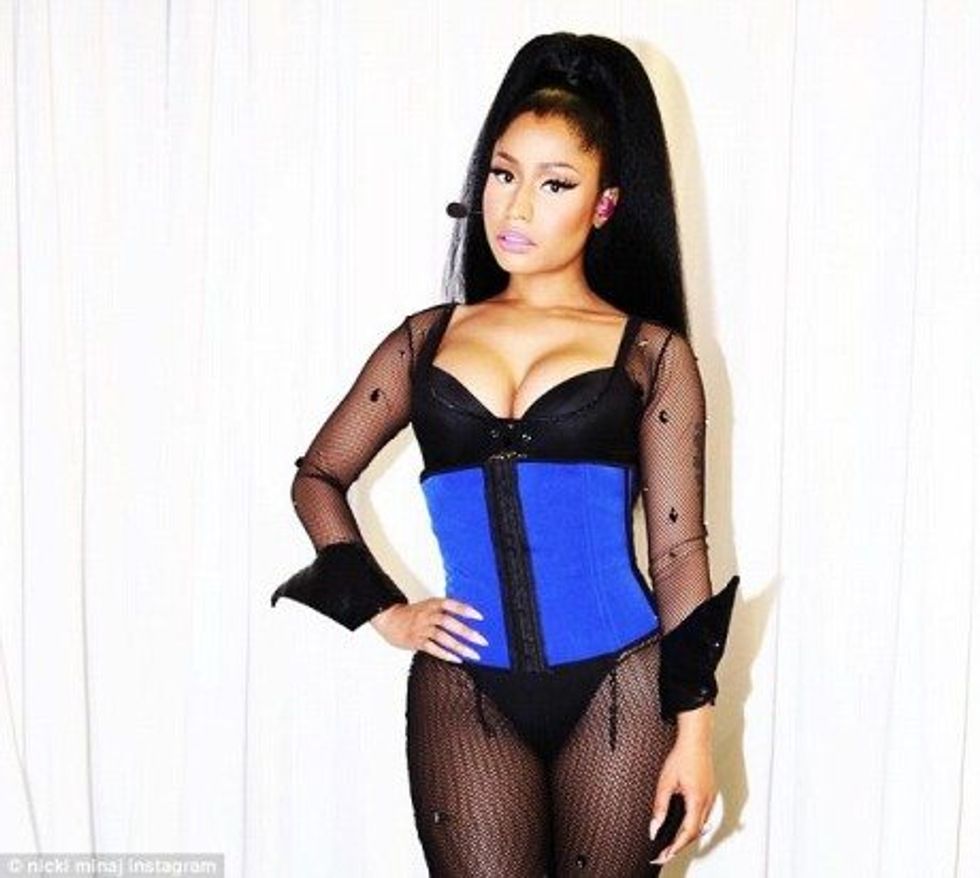 Nicki Minaj, Amber Rose and Blac Chyna have that hour glass figure on lock, and now that the youngest Jenner, Kylie, has joined the long list of waist training junkies, women as young as 16 have stated that they will be purchasing waist trainers to have their bodies ready for next summer. Yikes!
It is clear that men have taken notice to the hourglass physique, but have they ever stated that they want women to be as shapely as a black widow spider? Let's be honest, how many of us have actually asked our men what they think of the waist training trend?
[Tweet "If you like to look and feel your best, then you should eat well and live healthy."]
Out of curiosity, we surveyed a few guys on beauty trends that that they secretly hate recently, and the overwhelming consensus was 'Get Rid Of The Waist Trainers!!'  The irony is that most women wear them to look more appealing to men, and to shape their bodies to appear more curvy. (Small waist, wide hips are in!)
Here are a few of their responses:
"I don't care for them. Those waist trainers are killing their insides. Just because a "celeb" post it on Instagram doesn't mean she wears them. It just means she got a check to take a picture of it, and post it to the gram." (IG: @blogxilla)
"Waist trainers are cool, all women use them. They really go back to the 1400s and before; it's a part of female culture. I just think that women today think that's all it takes and that's dumb... you still have to work out!"- Anonymous (age 25)
"Nothing beats the real thing! Waist trainers are corny. If that's not your true form, be happy with what God gave you. There is a man that will appreciate your natural curves and not those that are an illusion and dangerous. "- Rian L. 
"For starters, one can argue that with the waist trainer, you're not on any pills. If you like to look and feel your best, then you should eat well and live healthy. I love the look of a garment when a woman wears a corset, but that would only be for an event, depending on your career. The waist trainer is a quick fix to looking slim, but I would suggest healthy eating and a workout regimen. – Andre Freeland (IG: @AndreFreeland)
"Get rid of waist trainers. They have girls looking like Mrs. Incredible." - Rashad C. (Twitter: @TheLastPradaG)
"One trend I definitely hate is the waist trainer. In my opinion, they aren't healthy and contribute to the growing number of body issues that women face. Working out is tough but the results will come and those type of items are a swindle.  Why would you want to smash up all your internal organs? It just looks like a torture device." - Jeff Johnson (IG: @jeffsays)
"I think that females should feel comfortable in their own skin and take pride in natural fitness." – Franky J (IG: @TheRealFrankyJ)
Although most men we surveyed love the sensual curves women desire, they stated that they'd rather their woman work on her natural shape by hitting the gym or doing Pilates to get her sexy on.
Tip:  Ask your man what he thinks of the waist training trend before you invest in something that won't appeal to your guy's eye.
Are you wearing a waist trainer? If so, what does your man think of the results?