---
"You've got to use what you've got, to get what you want."
Was the first line that came to mind once I read Amber's tips in the TIMES on how to get away with murder money from a man.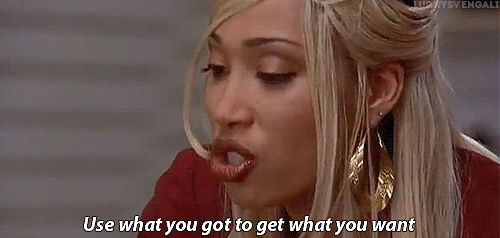 The infamous quote is from a hood classic film (and personal favorite of mine), The Players Club. In the movie, actress Lisa Raye plays a single mom and college student by the name of Diana, who barely gets by as a shoe saleswoman.
One day while assisting two strippers by the name of Ronnie and Tricks, Ronnie advises Diana to 'Use what she's got, to get what she wants,' convincing Diana to get into the strip club gig, where she'd soon go under a more desirable pseudonym of "Diamond." Soon after, the aspiring journalist would work the stage of "The Players Club" until she was able to successfully walk the stage at graduation four years later, trading in the pole and thongs for a cap and gown.
But as we all know, in the real world, things can be a little bit more tricky (no pun intended)!
Recently, Amber Rose kept her pro-woman agenda rolling when she sat down with TIME to discuss her newest book, How to Be a Bad B**tch. During the interview, the retired dancer touched on a few things, mainly her entrepreneurial spirit and having earned the right to be deemed a "mogul," crediting her business savvy to seven years of having to work the room:
"Being a dancer definitely was like being in business school, because I constantly spoke to people. I mean, I literally had to persuade a man to give me money out of his pocket--- and I apply that to my daily life."
In the words of mogul Jay-Z, "You can't knock the hustle." Nothing is wrong with learning lessons from moments in our life, be it those we are proud of or not. Luckily in Amber's case, she has always embraced her past as a stripper, and often refers to that time as the best years of her life.
Amber also went on to explain why she feels it's important to share her business savvy and experience with women:
"I feel like I'm in a position to give advice to women because I've made all of these mistakes. One of the biggest financial mistakes that I ever made was making a lot of money—I wanna say I made $1 million in 2011—and I spent all of it. And then after that, I had to pay taxes, and I did not have money for the taxes, and I was like, 'I cannot believe I did this.' And I really had to start over.

I know a whole lot of people that don't pay taxes. And it comes back to bite you in the ass. Trust me. So I did pay all my taxes off, and I feel amazing now, but it took a lot of hard work."
However, the interview took an interesting turn when the model and mom broke down how to "seduce" a man, with some feeling that Amb's advice teetered along the lines of digging for gold:
"As women, we're fortunate enough to use our seductive skills in order to be able to get money from our significant others. I also talk about seduction in the book. A lot of women don't know how to seduce a man. It is extremely easy once you get to that point, and you can get anything you want out of them. And I know it might sound messed up, but once you get to that point, it's not using. It's not using a man, it's literally getting what you want by any means necessary."
Now while I definitely agree with allowing help from your man, I do feel it necessary to be careful when accepting help from just any man. After all,
[Tweet "A thin line separates "help" & using a man. The repercussion can be costly if you cross it."]
The danger in Amber's art of seduction, as well as a few other tips in How to Be a Bad Bitch, is that the rules are disguised as universal tools and concepts for all women, but in reality they're not. They are for a particular woman with a level of confidence that far exceeds a certain regard. In this case, Amber's idea of seducing a man almost suggests a total disregard for either the man or the woman herself. After all, the term "seduce" was used loosely throughout her response, with hardly any real description or disclaimer for it. Does seduction mean flirting? Baseless sex? Placing yourself in dangerous, yet, profitable positions? These are all things to keep in mind when considering your safety.
[Tweet "Just because it produces profit now, doesn't mean it won't come without problems later."]
One important part of the very same feminist agenda that Amber is for is that while the idea of feminism is still very new and unclear at times, one thing for sure is that is about individuality. And while Amber's theory that all women have the power to seduce men to produce ends may be true, such a tool can prove to be destructive if not equipped with disclaimers.
What are your thoughts on Amber's seduction tips ladies? Let's discuss!
Check out the highlights from Amber's interview, as well as the actual interview, on the next page!