Remember back in the day when Diddy used to dance in videos in shiny suits, and throw the hottest parties across the nation? He's a serious multi-million dollar mogul now, whose company employs over 3,000 people across the world and is the visionary behind a television network that is setting trends among content curators and digital music platforms.
---
And although there's no party like a Diddy party, the annual Revolt Music Conference is far from the Diddy turn up everyone expects it to be. Music executives, producers, music artists, and social media personalities across the world flock to it in hopes to take away amazing industry contacts, as well as gain knowledge on how to become a successful brand.
One of the highlights of the weekend is #AskDiddy, an hour-long Q&A where Sean Combs (referred to by his staff as Mr. Combs), gives advice and lessons on what he's learned on success, staying encouraged, building a brand, and sacrifices.
All of this should be bottled up in a book, but here are a few things I learned from Diddy's #AskDiddy Q&A:
1) The Hardest Business Decision You May Make Is To Change
I would have to say, the hardest business decision I ever had to make was looking in the mirror at myself. When you get a lot of success, it definitely turns you into an a**hole. (Or it magnifies who you are, so you've had to have been an a**hole before.)
The hardest decision is you have to look from within and you have to start listening, and you have to start making some of the choices that's best for the business. Because right now, we have like thousands of people that work for 'Combs Enterprises' as a whole. So I can't make personal decisions like 'Yo, I gotta keep my boy on,' or 'I gotta do this,' or 'I feel like doing this,' because I'm making decisions for everybody.
And then also, the hardest thing, it really was a business and a personal decision, was to grow. Sometimes the hardest thing is change. And that personal change is one of the hardest business decisions that I had to make. It wasn't really about money. It was about what effect I was gonna have, who I was going to decide to be, and what my purpose was going to be as a business man.
[Tweet "Sometimes the hardest thing is change."]
2) When You Are Feeling Stuck, You Have To Always Remember That Success Does Not Come Easy
There's so many times that I felt stuck. I mean, I felt stuck even last week. I put this (Revolt Music Conference) together with my team and you know, I want to make sure it's right. I'm concerned like, 'We doing this in Miami. Everybody gon' be partying, it's gon' look like 'FreakNik.' We about to play ourselves. Sponsors is not going to understand the diversity that we have. It's gonna send out the wrong message of the multi-genre-ness of the music.' So I was kind of stuck, I was kind of confused as to what was going to go on, what was going happen.
That still happens to me. I don't know sometimes what the outcome is going to be. I don't know if I'm going to be able to answer the questions right. All I can do is just try my best. And that's what I stress to everybody.
[Tweet ""Success is not going to come when you want it to come." - @iamdiddy"]
God doesn't give you things when you want it to happen.' I wanna blow right now!!! I want to do this right now!!!' Matter fact, the more you say that, the more [God] is gonna push you back further and further.
You have to just keep grinding and keep working hard and know that, the people you look up to, we walking around our room confused, we in the bathroom crying sometimes, we feeling the pain, we about to get fired, we dealing with certain issues, same issues y'all dealing with. But while you have the chance on the come up, to be young and fresh and doing your thing, I would say 'Be free,' and understand that what don't kill you, makes you stronger.
So those problems, are small problems in the world. You know what I'm saying? The one last thing I want to say to you is- right now in Africa, people don't have water to drink. So how can you be complaining about what's going on, when people don't have water to drink? So that kind of puts it into perspective for me. Every single day.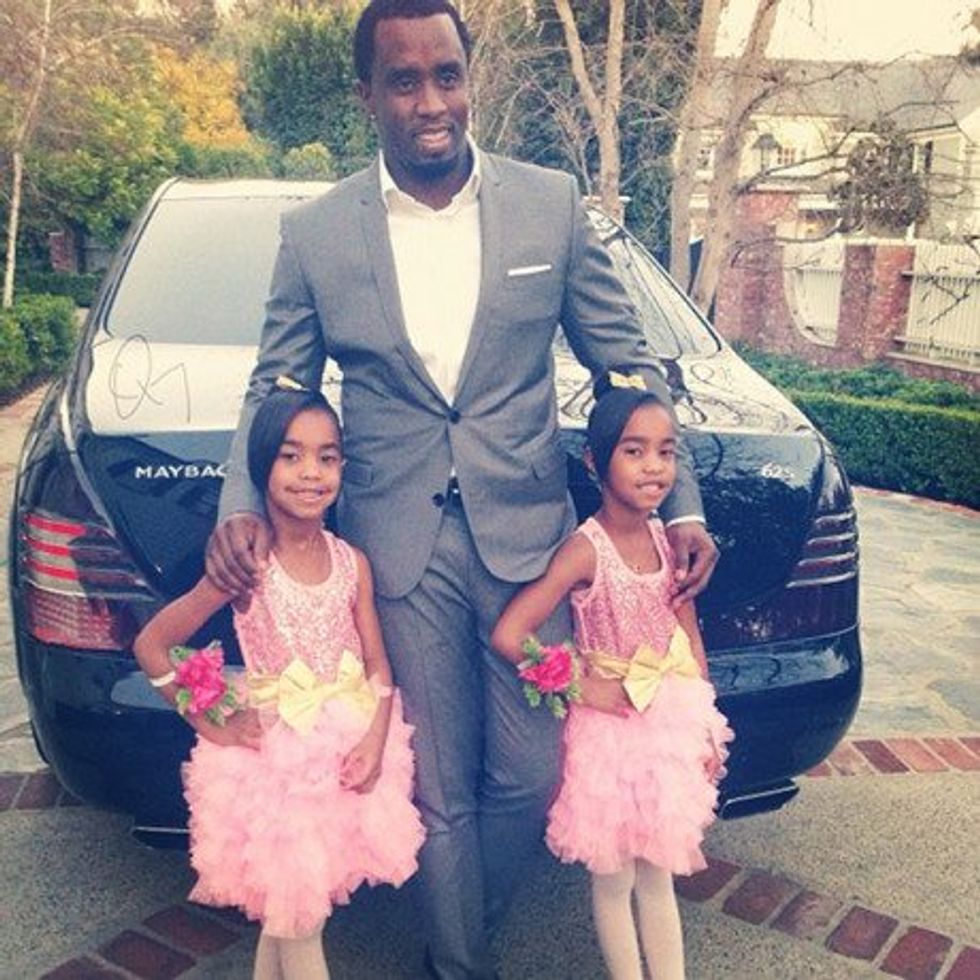 3) You Will Have To Make Sacrifices Your Family and Friends May Not Understand To Make It
Number one, I'm blessed to have a supportive family and I think that communication is key [and] that your family has to understand that 'I'm doing this for a reason.' If you are doing it for your family, there are going to be some rough sacrifices that have to be made.
Like, a lot of people have seen me on Instagram with pictures of my family but to be honest, I need to spend more time with them, you know? The pictures- sometimes what you can see on Instagram can be a little deceiving. I know I need to become a better father. I need to make more time. And my hard work has to get to a point where I make the decision where I say, 'These are the days for my family,' because that's really what I work for.
[Tweet ""If you are doing it for your family, there are rough sacrifices that have to be made." - @iamdiddy"]
But before then, you may be saying to your boyfriend, your girlfriend, or mom, 'You may not see me for three years.' It sounds crazy but that's what it takes sometimes. You may not see me because I'm going to be grinding every day.
It's no excuse for you not to call. You've still got to come [for] the holidays. It's just a fine line between being good and being great and being great is a little bit painful. And I don't think a lot of people have figured it out yet.  How to be super successful and also have great relationships with people. That's one of my goals, to be the first one to figure it out.
4) The Best Way To Build Your Brand Is To Remember That YOU Are Your Brand
One of the things that people don't realize is that every second you have, is a chance to build your brand. Every second, you are a representation of your brand. The way you address somebody, the way that you introduce yourself, what you have on, what you wear. If you want to look like everybody else and just have your hat to the back all the time, or you want to look like everybody else and just wear what everybody else is wearing and talk like everybody is talking or just walk like that, that's not a great representation to your brand.
[Tweet ""Every second, you are a representation of your brand." - @iamdiddy"]
You have to be diverse. And most important is you have to know that you are representing not just yourself but your family name. So when you are out there and the way that you are handling yourself, the way that you can sometimes just be quiet and learn, the way that you can not have no ego, the way that you can be dependent on to follow through and get the job done. No excuses. That's how you build your brand. That's how every day I try to build my brand. I try to get better every day and I know that I am the best representation of my brand. Because the thing that keeps you in this game or takes you out of this game is really your representation when it comes down to it.
5) Waking Up Early Is Crucial
Think about that every morning when you get up. Think about when you want to start your day at 2 o'clock. All the real money is made before 10am. I done took all the money off the table by the time some of y'all wake up. All the money is gone. So if you ain't waking up with a rooster- the ones that's getting money, me, the rooster, and some people from Asia and India, all the money is gone. So wake up early, get busy, have fun with it, represent yourself. Build your brand.
6) If You Want To Be A Force To Be Reckoned With, New York May Be Where It's At Vs. Los Angeles
I think the most shocking discovery for me is that, it's kind of hard to take care of business and do it the right way [on the west coast.] I'm just being honest [with the people who are really trying to be] a force to be reckoned with. If you wake up at 9 o'clock [on the West Coast], it's already 12 o'clock on the east coast. Your productivity kind of goes down. Your impact goes down. It takes you longer to break out from being a regional artist, or a regional executive, to being a local executive.
I live in LA now and it's really because of my kids. I had to get to a point where I had to start taking care of the number one corporation in the world, which is my children. And I just see them happier there not having them to run around and the intensity of New York. But as soon as they graduate, they gonna have to go to New York and deal with real life. Not saying that LA is not real life, I'm just saying that straight up- that's what I had. That's what has affected me.
Sometimes I wake up with anxiety. I gotta figure out how to go to bed so early so that I can wake up at like 7 o'clock and still be in the mix of things.
7) A Big Investment Into Self Is To Learn How To Disconnect And Live In The Moment
Russell [Simmons] has been teaching me how to be present and how to live in the moment. And I think it's a gift and a curse with the technology because we don't connect with each other anymore. We're not present. Our minds is always some place else. 'Let me check Instagram,' or 'I'm arguing on the iPhone with my girl. Let me get finished telling her what I was thinking.' We're so disconnected with what's going on.
[Tweet ""It's a gift & a curse with technology because we don't connect with each other anymore." - @iamdiddy"]
My mother, she wants me to just stop everything. Turn everything off. And just be here and listen to her. I would definitely say, one of the things that is helpful for me, is, I would go to this spot where the phones don't work and then, I found that my conversations and my relationships with people is just totally different when you're able to disconnect sometimes.
You think that the world is going to be messed up because you wasn't there on the phone or on the computer. But here is one thing someone told me this year:
'It's your funeral, it's one o'clock and all your friends came out, everybody is out. What do you think the one question is gonna be that your friends are asking? What's for lunch?'
So life is going to go on. So things are going to be alright if you disconnect. It's investing in yourself and your well-being.
Watch the full Q&A below:
Diddy also admitted that although he was an executive, he always wanted to be a star, and that leads to another lesson: "Karma is a mutha":
I never told nobody because I came in as an executive, but as y'all can see from all the videos I was in, I always kind of wanted to be a star. So Suge [Knight] was definitely right, if you didn't want to be on the label where the executive producer is all in the video, you shouldn't sign to Bad Boy. [laughs]

Yeah! Take that! Karma is a motherf--ker, remember that. Very important lesson.