I have never been the person who was fond of super fitted jeans. Speaking from personal experience, they are uncomfortable and rather smothering on my thighs. Boyfriend jeans has always been my favorite due to its relax fit that is pleasing for my legs. When they became popular over these last couple of years, I was ecstatic because of my grown love for them.
---
Now that it's fall, it is the perfect time to stock up on boyfriend jeans. From chunky knit sweaters to bomber jackets, there are numerous top options for you to pair up with these trendy jeans. You can rock sneakers, ankle boots, or even heels with these pants as well. I love seeing how ladies choose to style up (or down) their boyfriend jeans.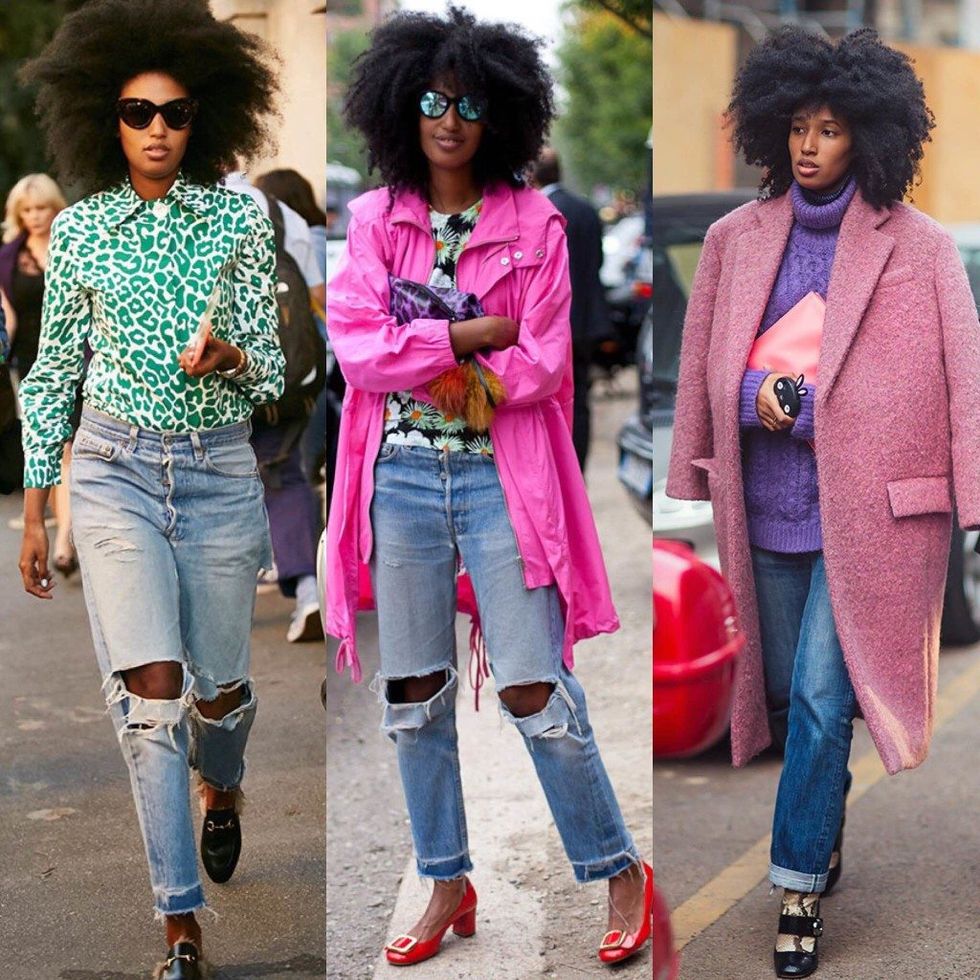 My favorite style icon for boyfriend jeans is Julia Sarr-Jamois. She is the Senior fashion editor for i-D Magazine, and is one hot commodity on social media. You can always find her on fashion Tumblr and Instagram accounts showing off her out-of-the-park ensembles. And from the looks of things, boyfriend jeans are her staple!
Here are 4 ways that Julia rocks her boyfriend jeans with style.
Slits and An Array Of Colors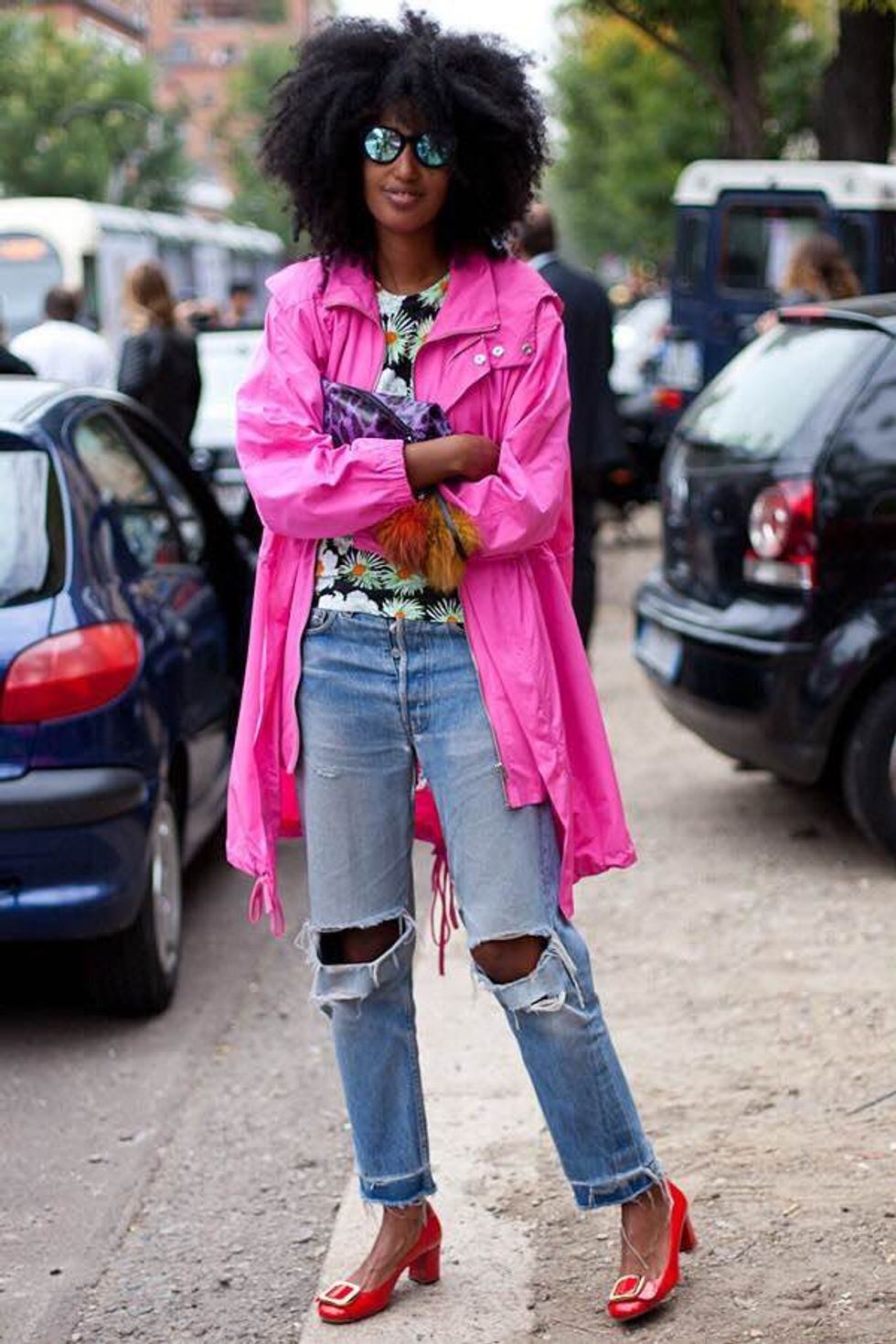 Julia knows how to have fun with some color. Her distressed boyfriend jeans looks like nothing more than perfection with her vibrant pink parka, printed top and ruby red pumps. If you are not a fan of color much, opt for a black parka and shoes instead to resemble this look in a more minimalistic tone.
Comfy Shopping Trip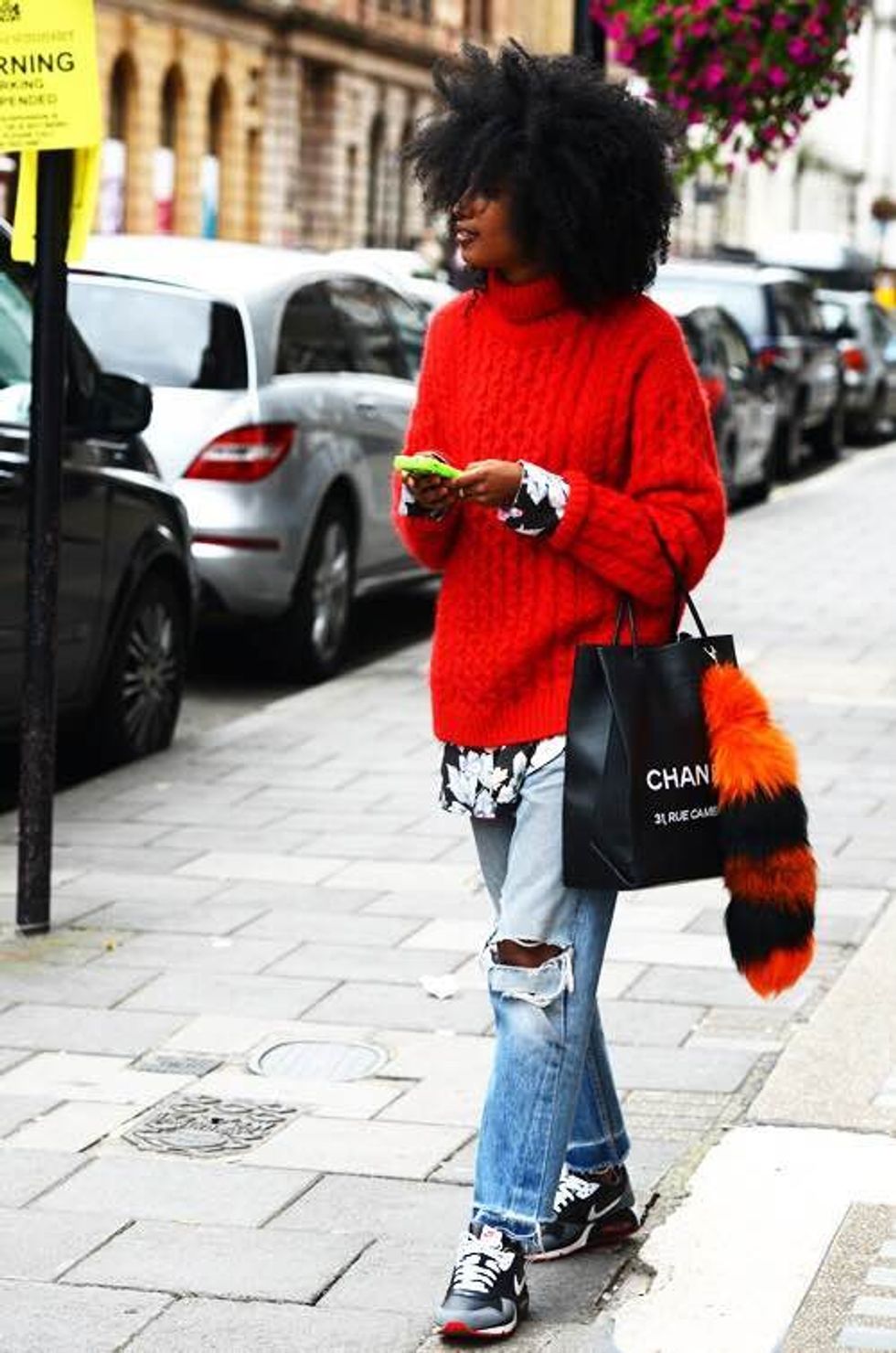 Boyfriend jeans is the best comfy yet stylish bottoms to rock this fall while shopping and running errands. Julia is extra cozy in her chunky knit turtleneck sweater and Nike sneakers which is perfect for the dropping temps. For my warmer climate readers, you can choose a gray t-shirt or plaid shirt as an alternative so you won't sweat too much while you shop until you drop. No one likes swollen, hurt feet so running shoes are the best shoe option for this occasion.
Printed Green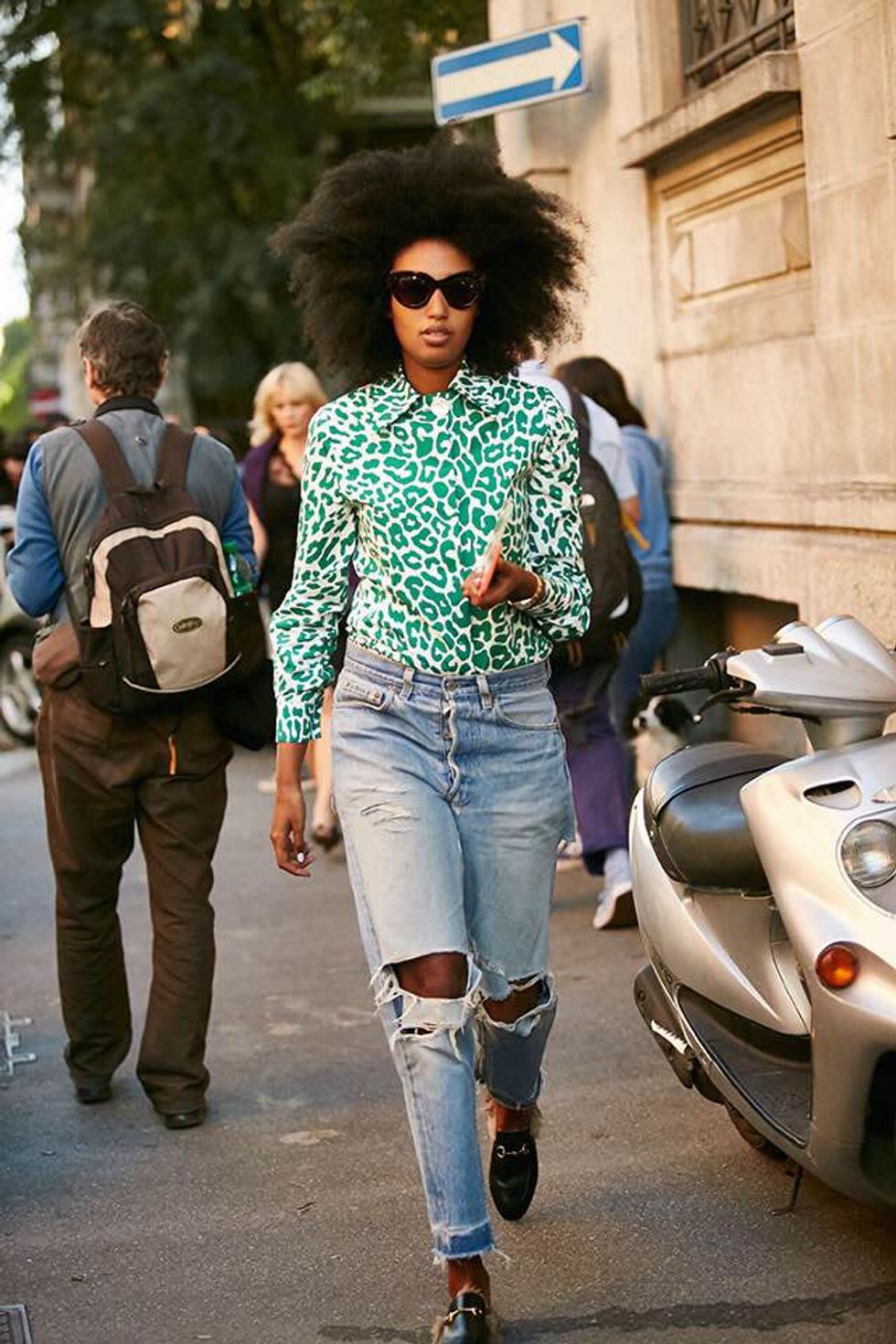 Printed tops with relaxed fit denim is the best and Julia knows this. Her green cheetah top has my full attention every time I stare at this photo. A python printed top will give you the same outfit appeal of you are looking for a print alternative.
Big Hair and Fierce Booties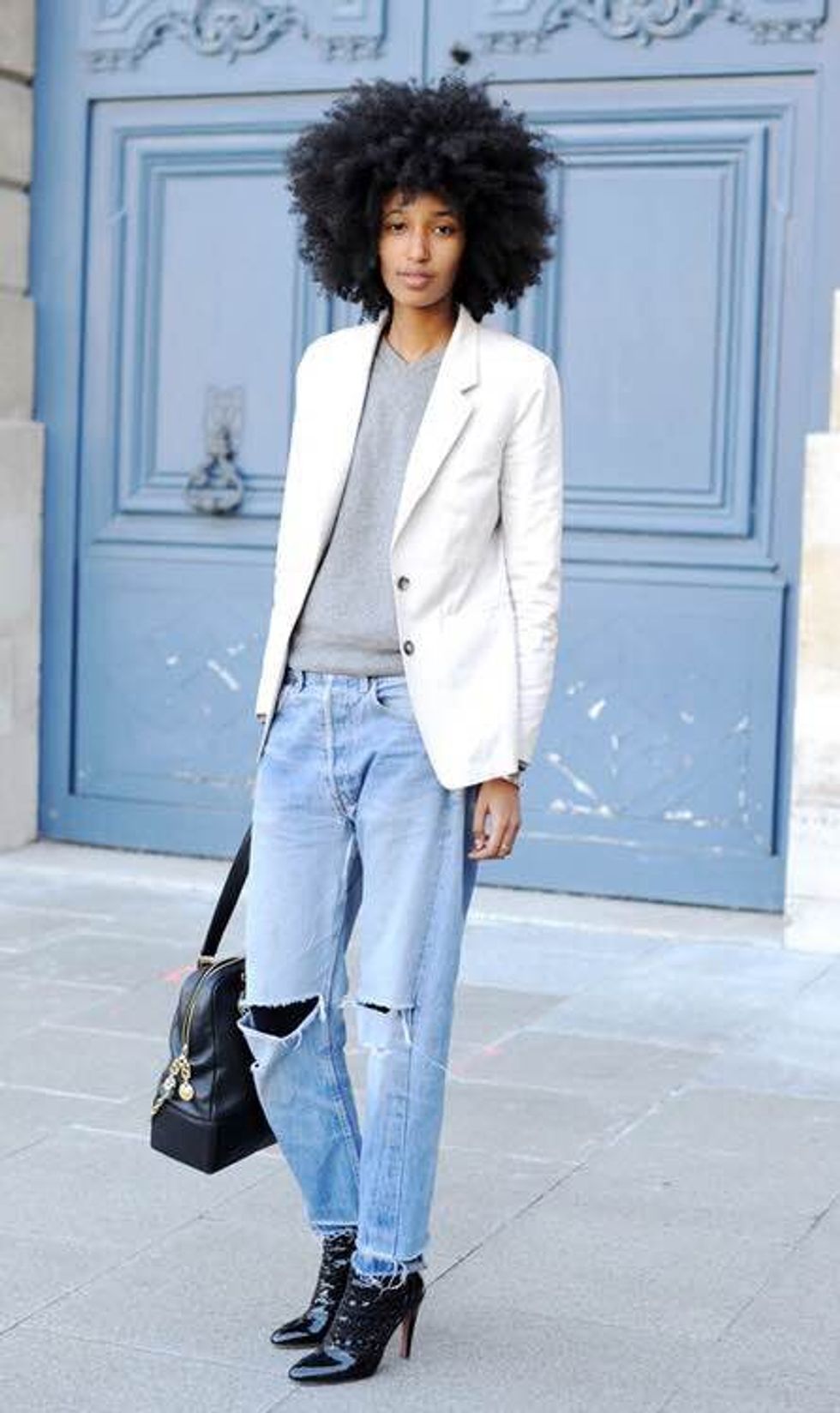 Julia's effortless fro is always the perfect match for her even more effortless style. Her big hair plus the cream blazer, boyfriend jeans and heeled black booties equals a great relaxed, chic look that you can play around. It would be fun to switch up the color or texture of the blazer and even strut in flat black boots as another approach to this chill look.
Did Julia give you a nice torch of boyfriend jean inspiration for the fall? Check out a few more ladies to add more fire to this boyfriend jean trend in our Photo Gallery!