---
What do you do when your man calls off your wedding just a week before strolling down the aisle? Well, have a feast of course.
While many women are secretly anticipating the day when prince charming makes it official by putting a ring on it, one bride-to-be found herself surrounded by $35,000 worth of food, decorations, and an empty banquet hall--minus her husband-to-be. (Wait...excuse me say what?!)
Instead of developing a cold heart due to her fiances cold feet, 27-year-old Quinn Duane dried her eyes and turned the reception into a celebration, inviting the homeless community of Sacramento to the swanky Sacramento Citizen Hotel to dine on appetizers, gnocci, salmon, and other delicious eats.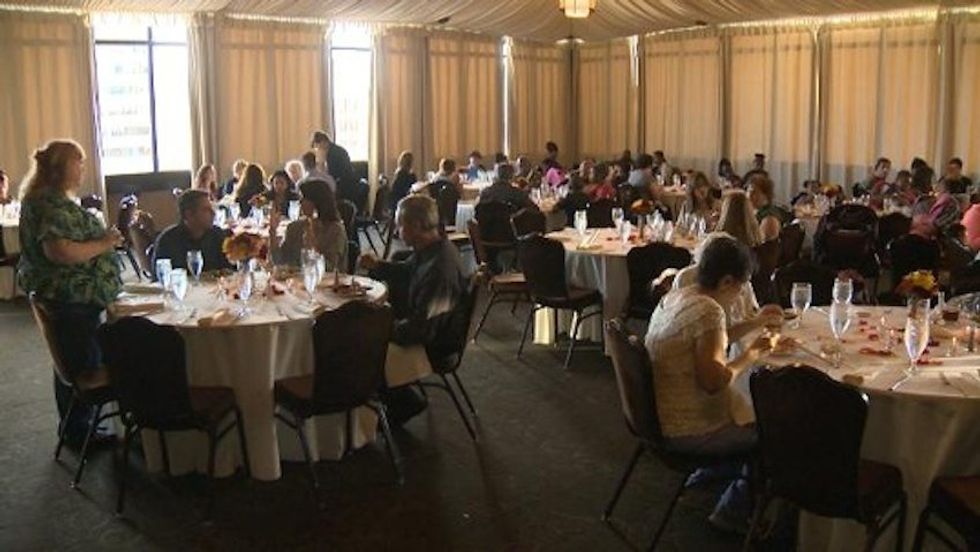 Needless to say, the attendees who ranged from single people to families with newborns were more than grateful for the opportunity to eat. One man and his family, which included a wife and five children, commented:
"When you're going through a hard time and a struggle, for you to get out to do something different and with your family, it was really a blessing."
Understandably, the young bride was not in attendance, but her mother made sure that people left the reception happy and full. The mom and bride will also jet off to Belize as the honey moon was also non-refundable. And while a few beverages and some nice island men won't completely fill the void in her heart, we hope that a little rest and relaxation will bring about a little bit of peace of mind.
It's not exactly uncommon for a man (or woman even) to get cold feet just before walking down the aisle.
And I can only imagine that the embarrassment is even worse when your story is made public, like when NBA-player Richard Jefferson called off the wedding to Kesha Nichols just five days before the wedding-- via email, no less! But as women tend to do, Kesha turned lemons into lemonade landing a spot on Basketball Wives, launching her own dance troupe, and even giving away her $10,000 dress to a lucky bride-to-be.
There's also the story of Atlanta news anchor Kimberly Kennedy, who's fiance and radio exec, Lew Dickey, bailed on her just the day before the wedding during their rehearsal dinner. She wrote about her public heartbreak in her book Left at the Altar, and says that the experience actually boosted her profile. What better way to tell your ex-boo "f*ck you" then to make a profit from the pain he caused you?!
Needless to say, I commend these women for staying strong during a time when they could've (and with every right) had a moment of weakness.
Ladies, before your man laces your finger with some diamond-studded beauty, you may want to make sure that he's really ready to take that leap before you have to leap on him for leaving you at the altar.
Have you ever been a situation where your wedding was called off? How did you handle it?
Watch the news report on Quinn Duane's wedding reception on Page 2