If you're a travel junkie, the last thing you want to think about when planning out your once-in-a-lifetime trip is what you're going to do with the textured bits on the top of your head. Yes, you want great pictures that will make people ooh and ahhh on the 'gram, but you don't want to spend hours curling or straightening when you could be exploring a new city and stuffing your face with foreign foods.
Let's face it, traveling with afro-textured hair isn't always a walk in the park, especially when ridiculous checked baggage fees make bringing our arsenal of potions, lotions, and curling wands highly unattractive. Besides, even if they cost nothing to carry, who wants to lug that 12 oz bottle of shea butter and that 1.5 inch Gold n Hot curling iron all the way to Amsterdam or Abuja or Asuncion? Not me, and you shouldn't want to either.
After over 20 years of traveling both natural and relaxed, however, I do have a few tips for taking care of our hair on the road. Allow me to share!
1. Protective styles are your friend
Travel can be taxing on your hair, so think about putting your locks into a protective style for the duration of your trip. I'm a huge fan of cornrows, single plaits, single strand twists, bantu knots or braided extensions: not only do they keep your hair neat no matter what the weather, they also require almost zero maintenance (more time to explore your destination!) and withstand even vigorous washing.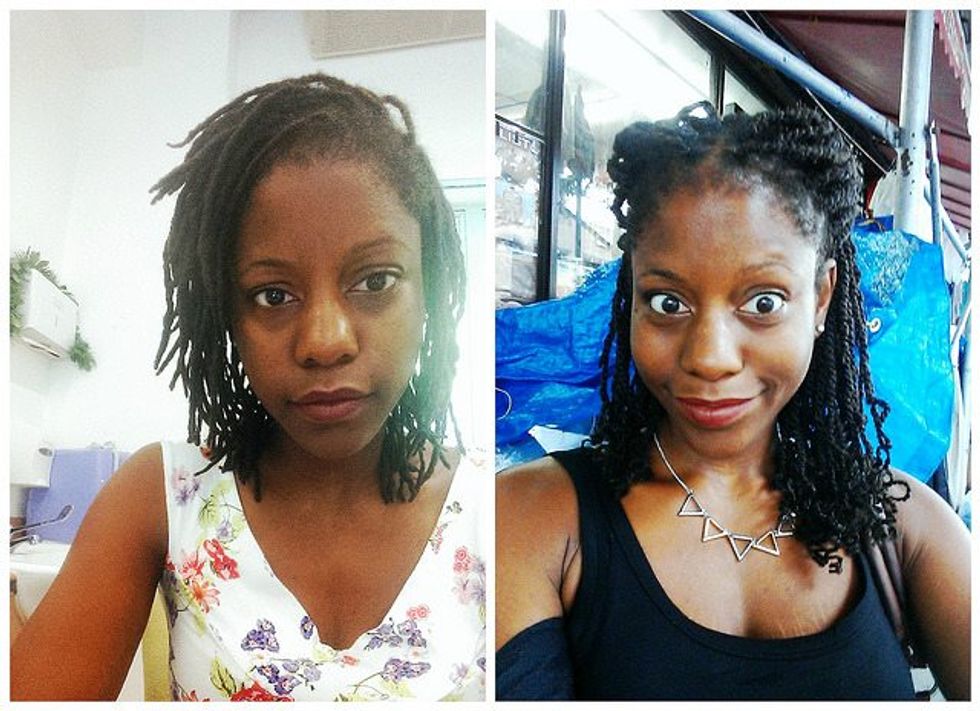 My latest protective hairstyle! Kinky twist extensions over my dreadlocs
2. Pack light(er): Think about co-washing
Many African-American hair gurus swear by skipping the shampoo and washing their hair with conditioner only. This is due to the tendency of shampoos to contain chemicals like sulphates, which dry out and ultimately damage the hair. Co-washing is a healthier alternative and leaving your shampoo bottle at home comes with the distinct advantage of making your luggage lighter.
3. Leave the curling iron at home; use flexi-rods instead
Ditch the annoying curling iron (which may or may not work abroad anyway due to differences in voltages overseas) and use flexible rollers to whip your tresses into stylish spirals. Flexi-rods are pliable so pack well; additionally they are better for your hair since they don't require heat-styling, which can be damaging. Environmentally friendly since they spare electricity, using them is also super easy: just dampen hair, add a little setting product, then wear overnight (sleeping in these curlers is relatively painless since they are squishy). Unravel in the morning and voila! Goddess status.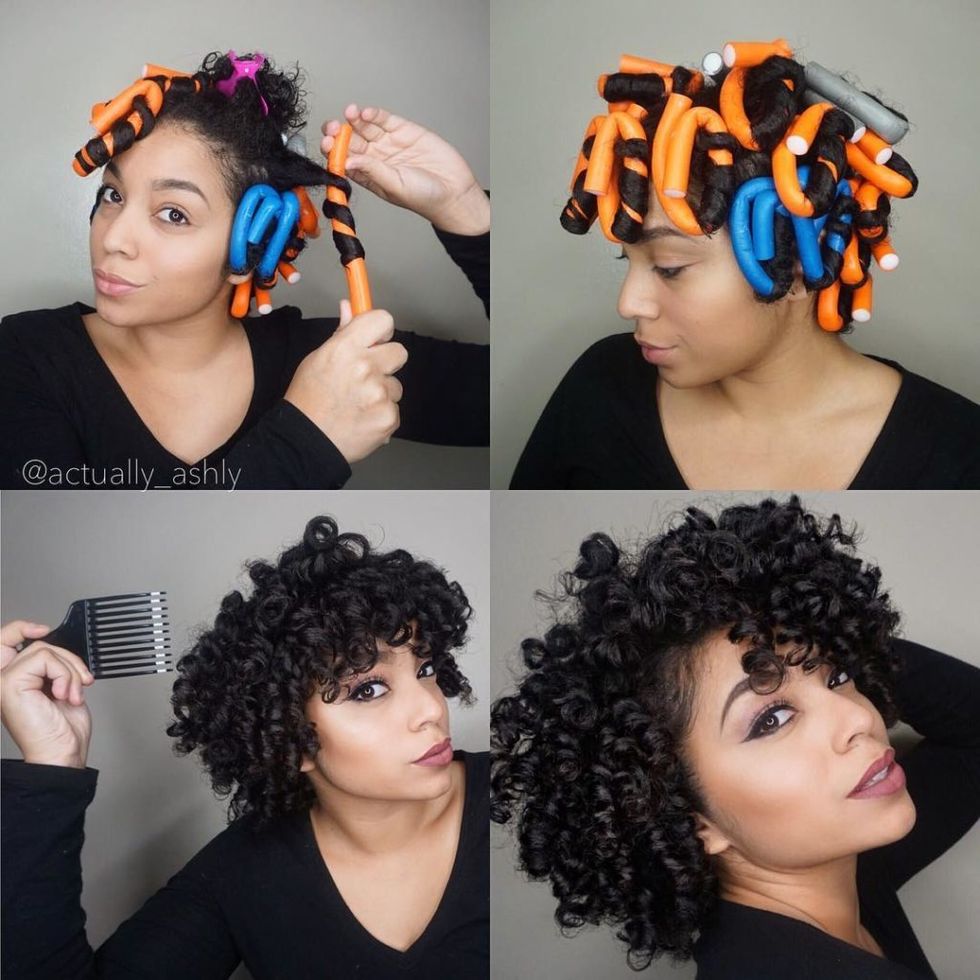 Photo Source: Instagram, @actually_ashly
4. Moisturize with olive oil or Jamaican black castor oil
Confession: I have scooped up a vial of olive oil from a hotel restaurant and used it in my hair once back in my room! I swear by both of these for sealing in moisture after a wash. They're cheap, easy to procure, and a little goes a long way. They can also be used as a holding/setting mold for curls (see #3 above) or bantu knots or twists.
5. Don't bring your big bottles of product; transfer to smaller plastic vials
Ok, so I totally get that you absolutely won't leave home without your Pink Oil Moisturizer. But there's no need to bring the whole bottle! Think about purchasing travel-sized containers (found at your local CVS, Boots, or Walgreens) and squirting the required amount into them-- they are decidedly easier to transport. You'll still look fly and save so much more space in your luggage.
6. Ditch the blowdryer and the hassle: Rock wash-and-gos
Achieve a great look whether you're relaxed or natural! Wash-and-go hair is an uncomplicated, undemanding, carefree style. It's as easy as it sounds: wash, moisturize, scrunch (this is optional), and go.
7. Don't forget your scarf, satin pillowcase, and/or durag
Keep your hair in place while you sleep and ensure those cornrows, bantu knot outs, and day-old wash-and-gos stay fresh for as long as possible. Tie your hair up at night and if you're really fancy and adamant about avoiding split ends, think about bringing your satin pillowcase along.
8. Bring a hat, head wrap, or wig for bad hair days
Whether out of convenience, necessity, or the desire to switch it up, throwing a wig or a head covering on your noggin is a welcome and fashion-forward change. My wig game is non-existent at the moment, but I'm hoping to pick up a few now that I live in the black hair mecca of New York City.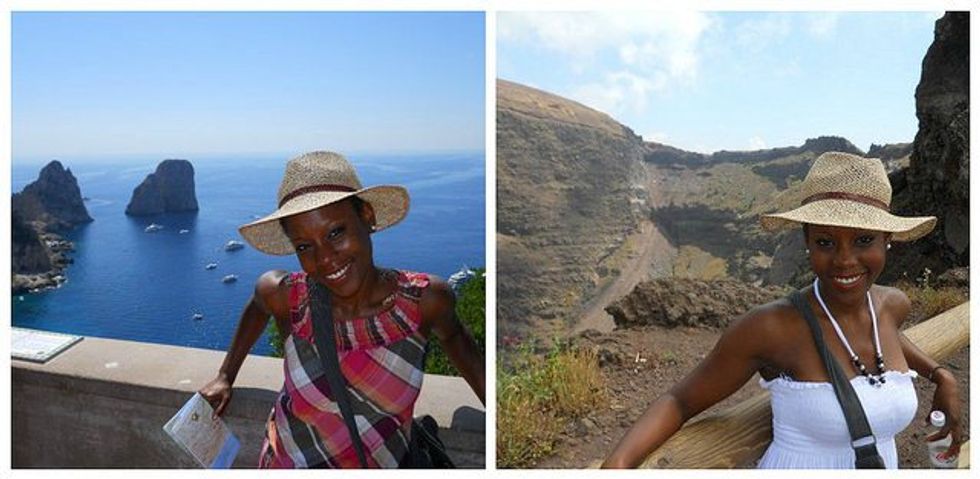 Wearing my trusty straw hat in Southern Italy, 2010
9. K.I.S.S.
At the end of the day, all my tips point to my motto of K.I.S.S.: Keep it simple, sistas! Remember, our trips should be a time to relax, explore, and have fun-- not worry about our hair! Keep your routines efficient and manageable, then keep it moving. Happy travels!
What do you think of my tips? Do you already employ some of these hair-wrangling tactics when you travel? Do you have any of your own tips to share?
---
A version of this article was originally published on Oneika the Traveller.