Something like Oprah and Beyoncé mixed with Pac?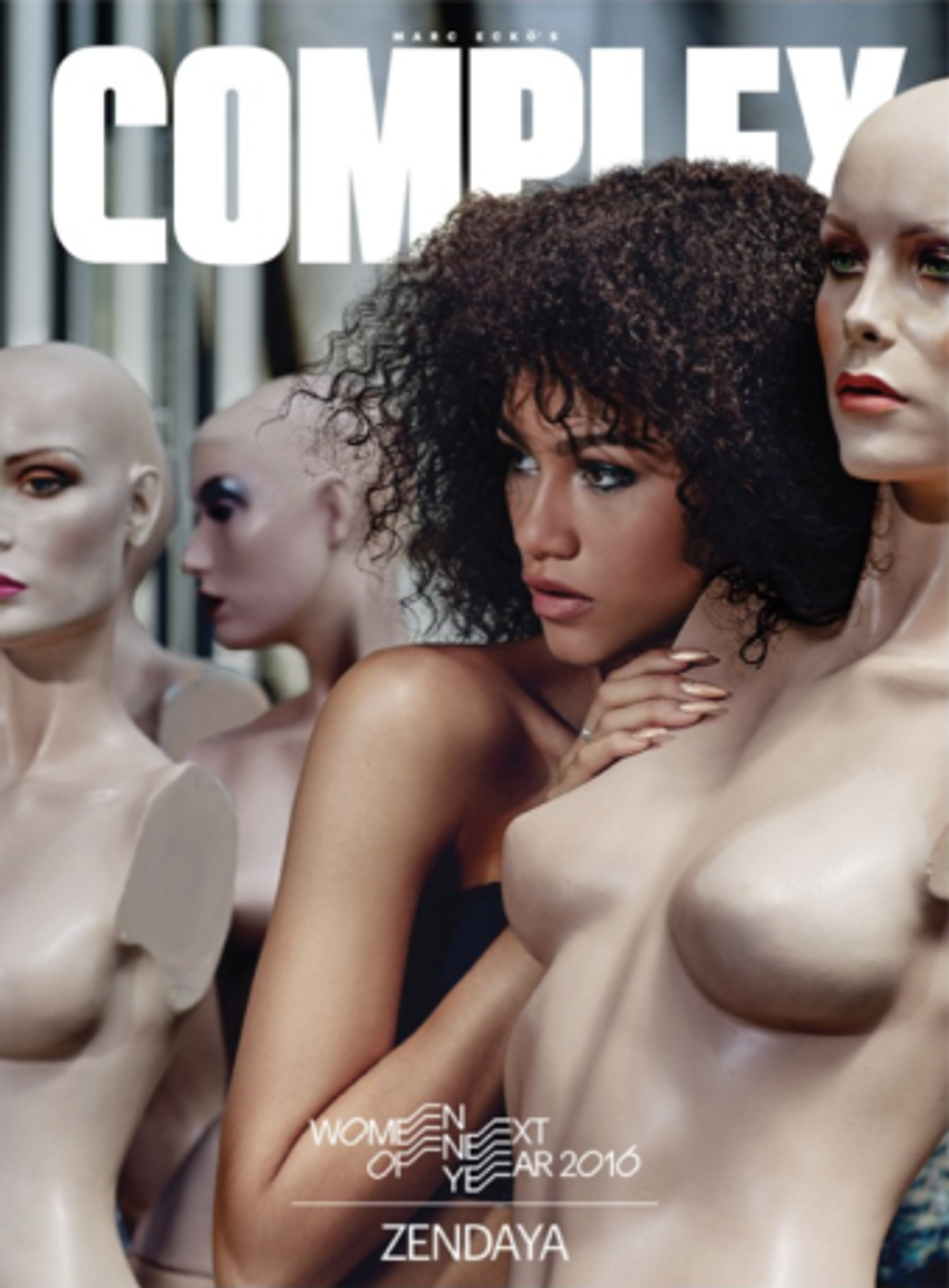 Here's eight more reasons to fall in love with Zey!
---
Just last week it was revealed that Ebony Magazine's "Power (100) to the People" list and cover featured actor-activists: Jesse Williams, Harry Belafonte and the Y.I.C (Youngest in Charge) Zendaya Coleman! And now, Complex magazine has deemed her their "Woman of Next Year." Cheers!
The 19-year-old actress and certified teen-queen sat down for an in-depth interview with the magazine. Expressing that she is "19 going on 80" according to her family and peers, it's pretty clear after the interview why. Fresh off a birthday trip to Dubai, succeeded by her charity work in Africa beforehand, the star of Disney's K.C. Undercover opens up about the importance of knowing your roots, staying true to yourself to avoid ever losing yourself (thanks Tupac), and why some roles are just not worth it, aka why she quit the Aaliyah biopic.
Check out 8 truths we learned about Zendaya in her candid Complex issue: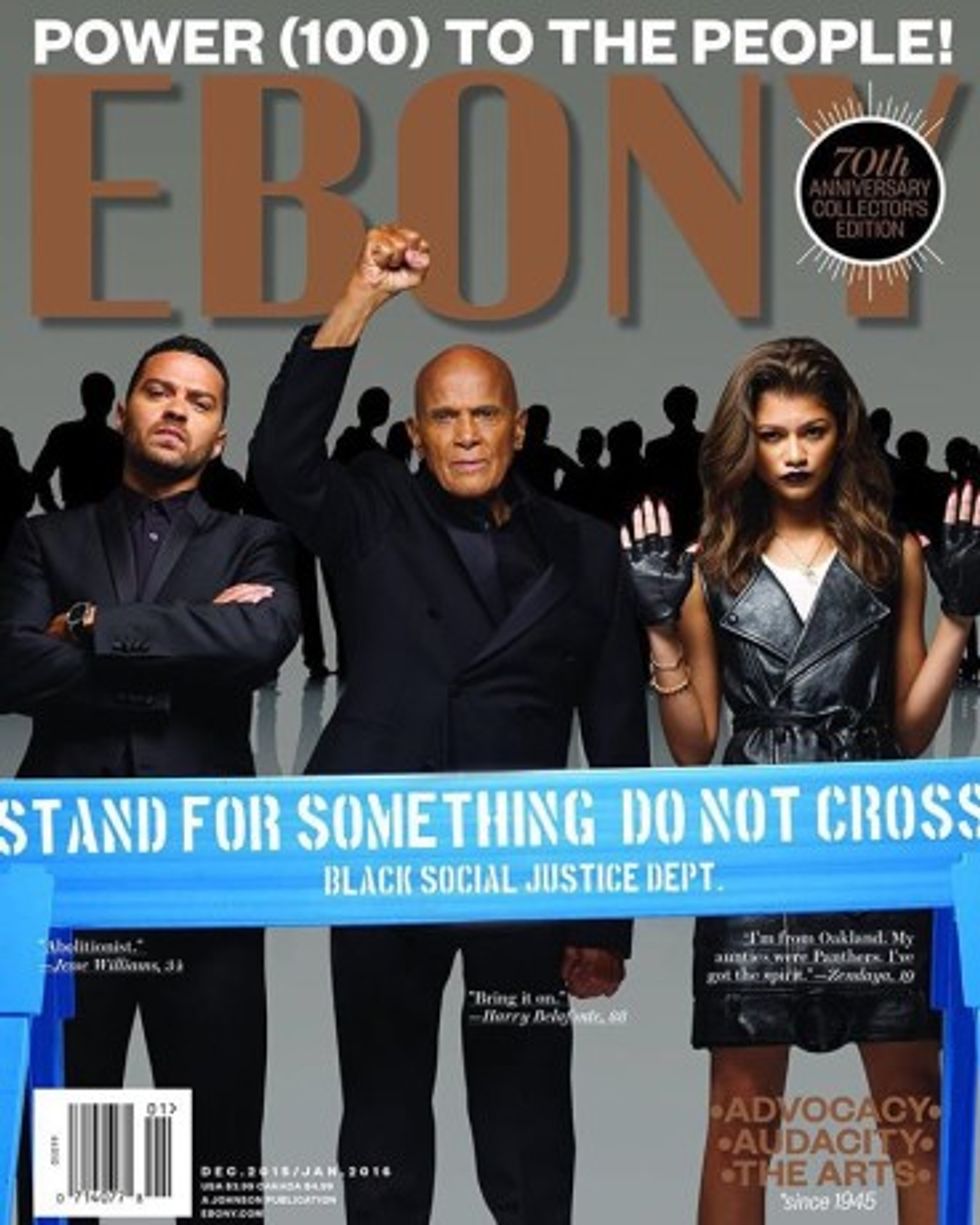 Zendaya Covers Ebony's 2016 Power 100 Cover with Jesse Williams and Harry Belafonte
1. She Frequents Africa To Stay Connected To Her Roots
For those who have been following Zendaya for the past few years, it's no secret that she feels a strong connection to her Zimbabwean roots and what it means to represent for young African and African-American girls everywhere. This is strongly in part due to her parents' pride in their own backgrounds--with Zendaya's father even taking a DNA test to reclaim his African name (Kazembe Ajamu Coleman).
The 19-year-old reveals that not only has she recently returned from doing charity in the motherland, but that she feels more people should make it a habit to connect to their roots:
"Being a young African-American woman, it's important to know where you come from. And I think there's a big disconnect with realizing that we're from Africa and knowing what's actually happening there and having a connection. I've always had that because my father took the steps to be in touch with his roots and where he comes from. He took a DNA test and reclaimed his African name. I have an African name and a French middle name. I have two parents who are very proud of where they're from. My mom and my grandma do tons of research on where we're from: Scotland and Germany. I think it's important that I help other young people gain at least the interest of knowing where they're from."
2. She Considers Herself a 'Real' Model -- "like Tupac Shukar"
Unlike most famous teens who crumble under the pressures to be the perfect role model, Zendaya accepts and embraces her position as one. Mainly because quite frankly, she's not playing a "role" at all.
"I think [being a role-model] is a responsibility, but like Tupac Shakur, I'm a real model. Which means: I'm not pretending to be something that I'm not, because like he said, people are going to be disappointed when they find out who you are, because it's not going to be what you presented to the world. So just keep it real. I'm a good kid and that's all.
3. She understands Miley....but won't be having a Miley Moment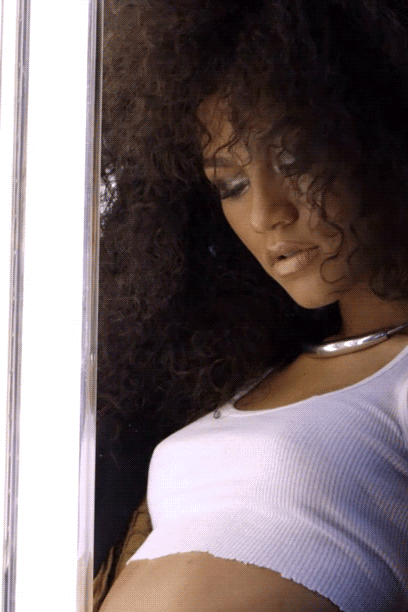 When asked what are her thoughts on her Disney peers today (specifically Miley Cyrus who went from being chaste and wholesome to twerking in thong unitards on stage and glorifying drugs), Zendaya says she understands:
"I think again it's that real model, role model thing. A lot of [kid stars] were forced into being role models and they had to pretend to be something that they didn't feel matched up with who they were. And that's because they started really, really young. So you've got to realize when you're really young you don't know who you are yet. And as soon as you figure it out, you've already been forced to become something that you didn't really know you signed up for. So it's like, I get it.There's a lot of pressure, so I completely understand. Everyone has their different ways of learning and growing and finding out who they are, and you can't fault people for that. Again, I think with all the prior Disney stars, at least you can say they are themselves now."


Do you think you'll have a Miley moment?


"No. That's why I said, in order to avoid those problems just be yourself from the beginning and be honest with the world, because that's the only thing you can do. There will be no surprises. I'm not suddenly going to be like woo, crazy."

4. The Aaliyah Role felt unappropriate-- so she backed out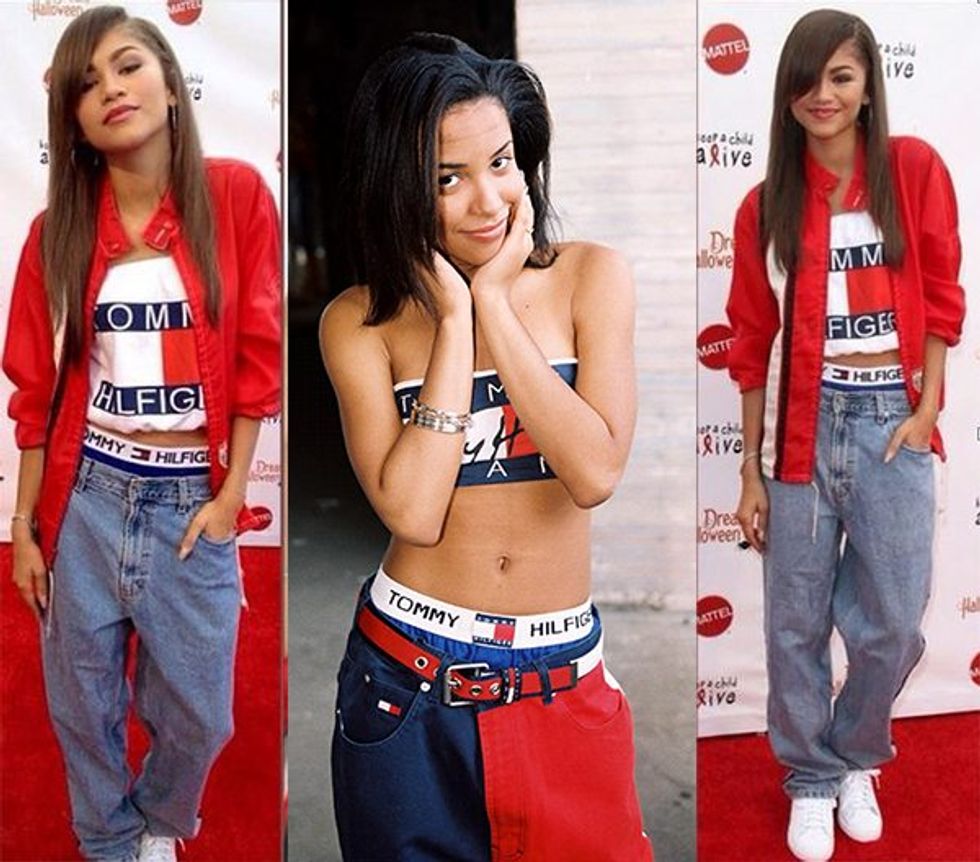 Two years ago, Zendaya was originally cast as Aaliyah for the Lifetime movie biopic produced by Wendy Williams. She was very proud of the moment, but quickly backed out of it with little explanation. Now she details why:
"I just didn't like the way things were going down. There were a lot of things that came to my attention that I didn't know about, about the family and production value. You just assume that things are taken care of when you step onto a project. But when you realize that things are just falling apart, you're like, 'This is not what I signed up for, this is not what I thought it was. This is not what I think is worthy of her movie.' It really ate me up inside. A lot of people thought that I knew that the family wasn't involved, and I didn't. I just auditioned like anyone else and got the job.I just thought that it was being rushed. I thought that there was nobody who really knew her on that project at all—literally no one. I can only know so much about someone from watching their interviews. I don't know what she was like in her kitchen talking to her mom. That would be rude of me to try to figure that out without knowing. If God forbid something were to happen to me, I wouldn't want my parents to have to deal with that. I just felt that it was inappropriate, so I didn't want to do it.

5. She Lives at (and sometimes works from) Home with Her Parents
The interview for Zendaya's Complex feature narrates meeting Zendaya at her shared home with her folks and siblings, while she chilled in a grey shirt and flannel pants.
"Her strong tie to her family is a huge factor behind how Zendaya stays grounded, despite having grown up in the industry. She still lives (and records music) under the same roof as her parents (both ex-teachers), who have kept her (and her five older siblings) humble and raised her to always remember where she came from. After all, they named her after the word meaning "to give thanks" in Shona, the language of Zimbabwe. Too good to be true? Maybe not."
6. She doesn't do "Industry Kids" and her Closest Friend is Her Niece (who is older than her)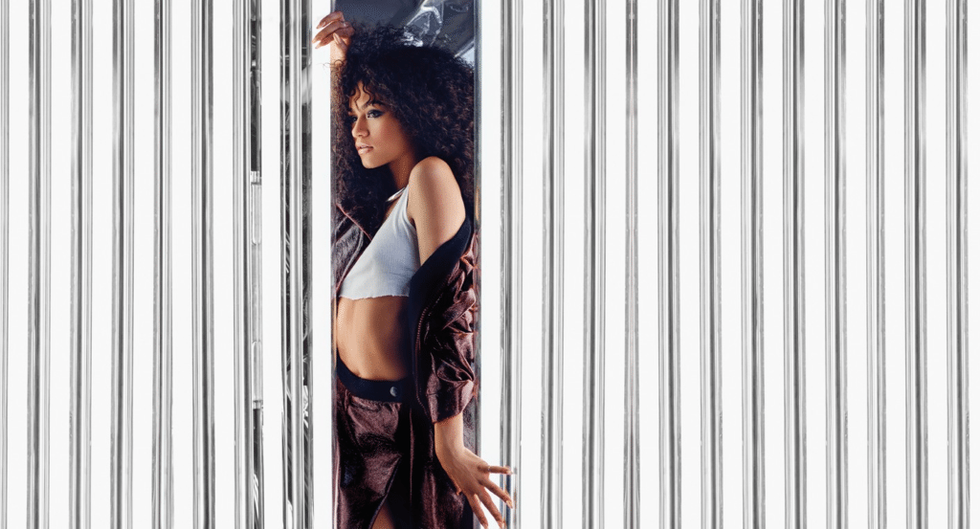 When asked who she chills with, not too surprisingly, it's not the Kylie's and other celebrity offsprings and trust fund babies. When asked who her "squad" is, the teen swiftly replies:
"I don't really have a squad, I just have friends. I think the closest person to me is my niece, who's 20. She lives in L.A. with my sister who's out here with her two daughters and husband. So I escape to their house all the time.My other best friend is actually Janet Jackson's dancer, Dominique. She's one of the best hip-hop dancers I've ever seen. My best guy friend, Trevor, I've known since I was 12. He's not an industry kid; I don't do industry kids. That vibe is just so weird because I feel like you want something from me. So he's not that kid."

7. She Lowkey Stans for Her Fellow Young Queens!
When compared to the likes of fellow teen actress, 17-year-old Amandla Stenberg, Zendaya has a "That's my girl" moment, and cheers on her friend, while saluting another young queen in the game:
"Oh yeah, she's the bomb. Freaking Amandla, who's so smart and so wise. She's just a great young person who's trying to not only be aware of her surroundings, but also speak on it, which is really, really cool. There's a lot of really good stuff happening. Yara Shahidi, who's on Black-ish, is so freaking cute and gorgeous."
8. Her Idea Career Formula is: Oprah + Beyonce + Shonda Rhimes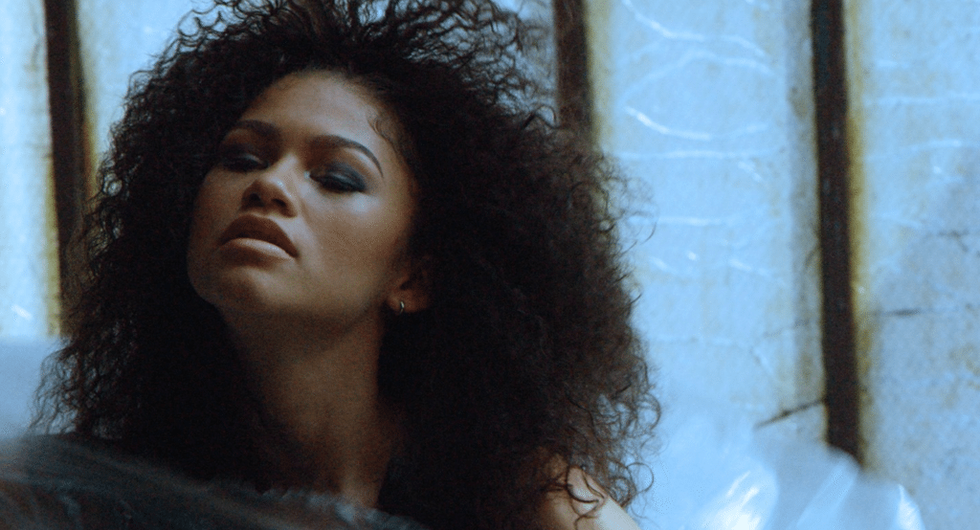 While expressing her desire to work on a Shondaland project of any sort, Zendaya is asked about what her dream career would be, and whose career she would like to one day model. She implies with a lot of imagination:
"Oprah plus Beyoncé... honestly, just because I feel like Oprah has that brand where it's like, it's trusted. If Oprah says she likes it, it must be good. She's a very trusted figure. She's like, 'This is the chai latte to drink; you're going to drink it.' She says at book club, 'This is the book to read,' you read that book.She's an amazing actress, she's an amazing philanthropist, she has a TV channel! Great entrepreneur, but she just seems like a good person. She just seems cool. You never catch her having problems. There's never anything super scandalous. It's Oprah. [And] everybody loves Beyoncé!
Oh, I forgot to add, Oprah plus Beyoncé plus Shonda Rhimes."

Oh, and let us not forget to tell you that she also has a shoe line in the works entitled "Daya" (her family nickname), and is working on music alongside the likes of Babyface and Timbaland. She's up next, no questions!
Check out the gallery for Zendaya's entire Complex spread below!
Photo creds: Complex, Youtube (Bad Blood Video), Ebony & Getty