"My last name is Woods, but you can call me Cheyenne."
Cheyenne Woods is Black Girl Magic and we're all "Fore" it!
---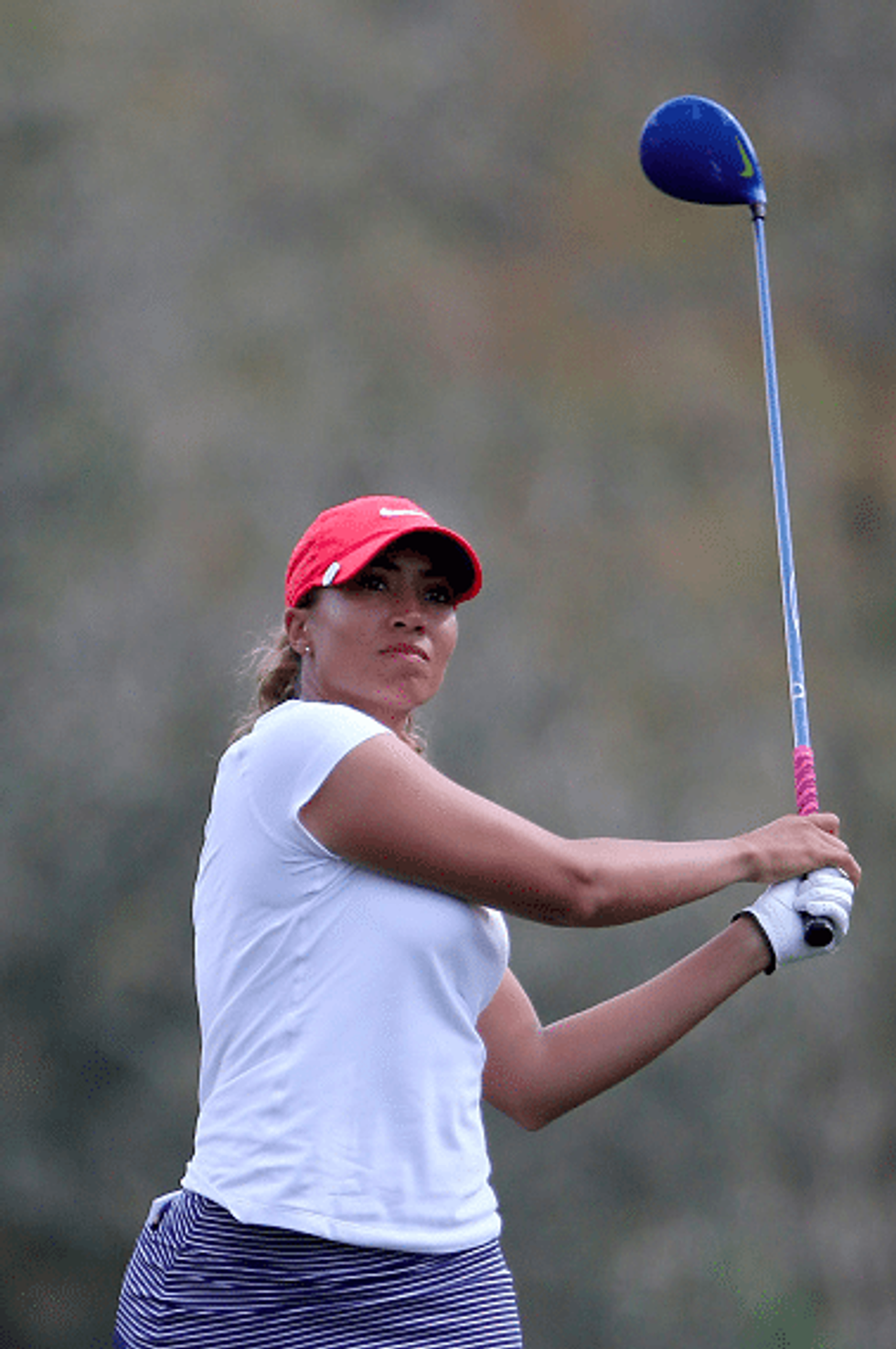 You don't need to keep up with golf to keep up with this girl. Cheyenne Woods is making history in several ways and is serving #BlackGirlMagic to the masses. Thanks to a very familiar last name, Cheyenne Woods is somewhat famous. But thanks to the game, Cheyenne is making history!
In case you missed it, back in December 2015,  25-year-old pro-golfer and niece to Tiger Woods, Cheyenne Woods, earned her LPGA (Ladies' Professional Golfers Association) card, along with the honor of being only one of six women in LPGA history to compete on tour. Cheyenne, who started golfing at the age of five thanks to her grandfather (and Tiger's dad) Earl Woods, would go on to compete in golf all throughout high school and college, where she'd win over 30 amateur games, and turn pro in 2012. The stunning athlete, who is also sponsored by the likes of mega-brands Nike and Rolex, had one of her roughest careers years in golf back in 2015. However, the practice sure paid off- towards the end of the year, Cheyenne earned her Professional Golfers Association waiver and has already started competing in Australia (and winning at that!)
Get to know this gorgeous gal and golfer, below!
1. She is a "Woods," but don't confuse her for Tiger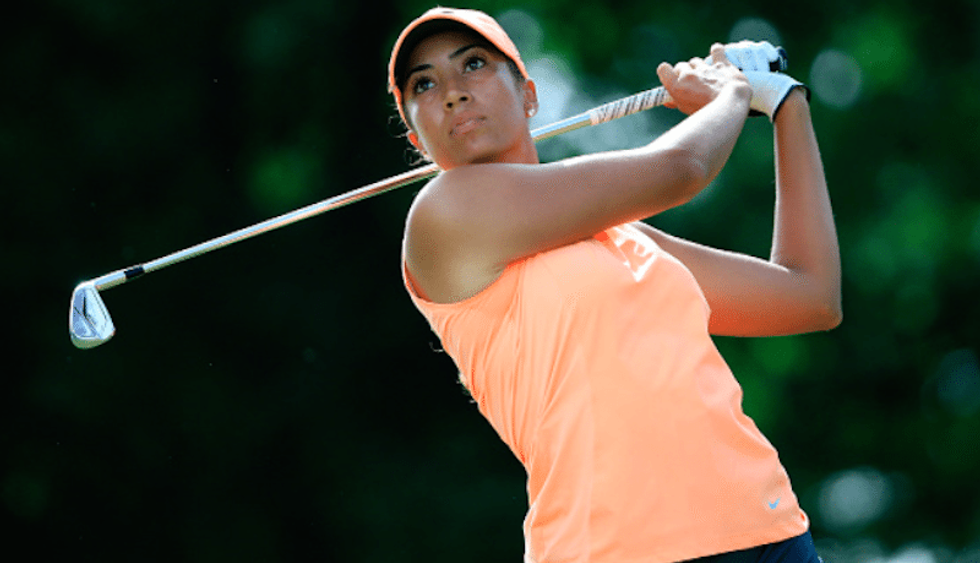 And that's a good thing. Unlike the rest of the 90's kids who claimed Tiger's name back in 1996 (remember the "I Am Tiger Woods" Nike campaign that ruled the world?), Cheyenne wants to make it clear that she is her own woman. Although grateful for her Uncle's support and the weight that comes with the "Woods," name, last year the pro-golfer penned in The Players' Tribune that she is her own girl.. and golfer!
"The very first time I was compared to Tiger, I think I had to be like nine or 10 years old, right around when I first started playing in golf tournaments. I mean, I get it — he's one of the most famous human beings on the planet and we share a last name as well as a profession. But let me clear something up once and for all: I love my uncle, and I treasure the advice he gives me when we speak every few months, but I am not Tiger Woods.

Tiger Woods greets his niece, Cheyenne Woods, near the 18th tee during practice for the U.S. Open golf tournament at Merion Golf Club (Photo Cred: AP Photo/Morry Gash)
Cheyenne continued to say that although she is her own person, she is still very proud of her name and her uncle's contribution to the sports world:
I don't need to be the next Tiger. I just want to become the best version of myself. Of course, I realize that regardless of what I accomplish in my career, there are probably going to be plenty of people who always consider me "Tiger's niece." I'm very proud to be related to my uncle, but it's not what defines me as a golfer or a person. Yes, my last name is Woods — but you can call me Cheyenne."
2. She is a golfer and a scholar (brains and beauty!)
Cheyenne was born in Phoenix, Arizona and is the daughter of Susan and Earl Woods Jr (Earl Jr. is Tiger's brother.) Cheyenne's grandfather (Earl Woods Sr.) was her first coach in golfing. She attended the Xavier College Preparatory school in her teenage years, and won both the Arizona 5A State Championships both in 2006 and 2007.
In 2012, Cheyenne graduated from Wake Forest University with a degree in "Communications," where she played golf for the "Demon Decons," and went on to win more than 30 amateur golf tournaments and turned pro in 2012.
Fore!
3. She is only 1 of 6 African American Women to Compete in the LPGA
Cheyenne may share ties to a famous bloodline who will forever go down in sports history, but she is slowly making HERstory too! At the closeout of 2015, Cheyenne earned her LPGA (Ladies Professional Golfers Association) card, officially putting her in the biggest league in the golfing world. Woods will become the 6th African American woman to compete in this year's LPGA tour-sanctioned women's Australian Open. Just this past week, Cheyenne earned her first major professional tour victory against golfer Mingee Lee and was awarded $51,000 in prize money.
When news hit of Chey's upgrade in the ladies' pro-golf world, she shared a personal testimony:
"After an up and down rookie year, I was sent back to Q school this week to improve my LPGA status. Happy to say I fought through and earned back my LPGA card for the 2016 season!!!"
There have only been 6 African American women to ever play on the LPGA tour. We had 4 of the 6 together today. http://t.co/SMi6qRCDqG

— Cheyenne Woods (@Cheyenne Woods)1434409883.0
#SquadGoals
4. She is all "Fore" Giving Back!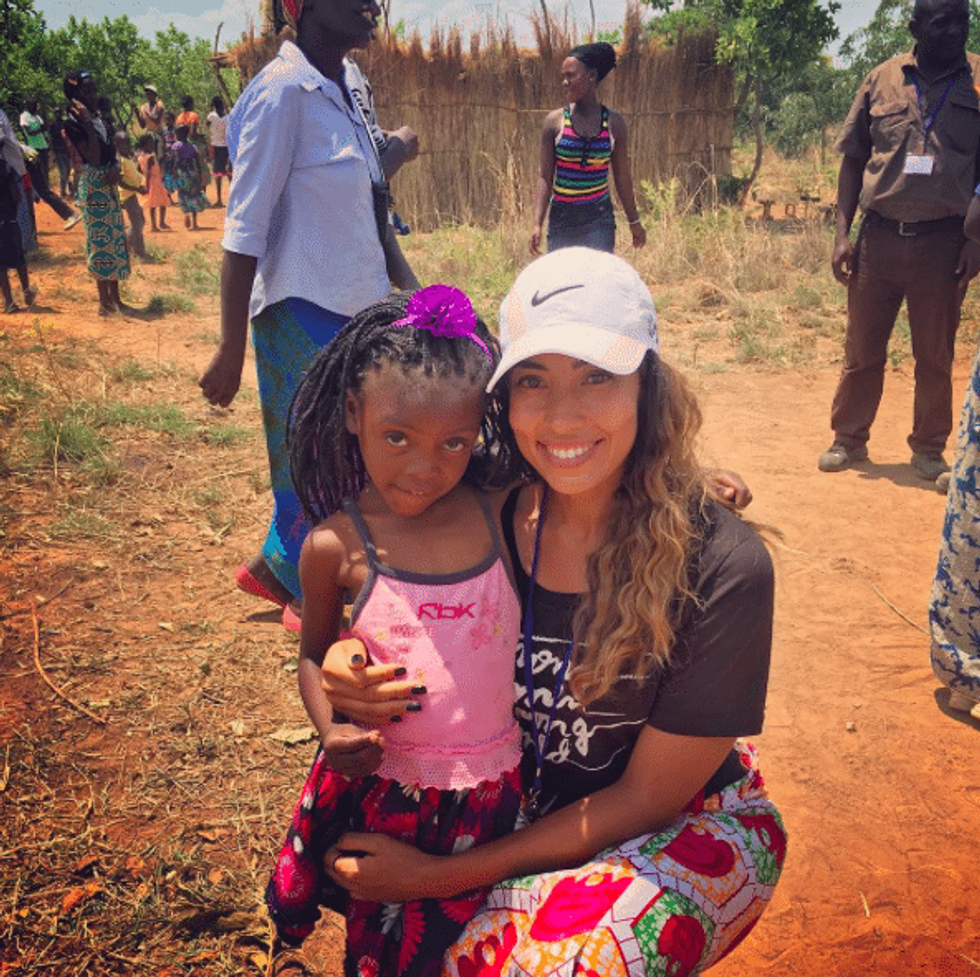 Back in December, in honor of her upgrade in the golf world and her invite to compete in the LPGA 2016 tournament in Australia, what did Cheyenne do? Well, she didn't go on fanciful destination vacation. Or even Disney World. But she did go to another beautiful place!
In a philanthropic effort to give back, back in December Cheyenne and three other female golfers helped raised over $15,000 to bring a fresh-water well to several remote areas of Zambia as part of her "Golf 'Fore' Africa," fundraiser. According to statistics, one in every 13 children in the country dies before the age of five due to the lack of clean waters. Cheyenne opened up on her Instagram, as well as USA Today, to say:
"Before the water wells, it was the women and girls' job to fetch water. This water was extremely contaminated, but their only option. It would take multiple trips and up to 12 hours of walking every single day. Headed to Zambia today!!! Thank you to all of you who helped my fundraiser with Golf Fore Africa this year. TOGETHER we raised $15,805 which will fund an entire well, giving locals access to clean water! @golfforeafrica@worldvision

They were the poorest communities I've ever been to. But they are extremely happy and appreciative of what they do have. They love the little things. You grew to love them. I loved their positive energy. When they saw clean water for the first time in (Chikwampu), it was so powerful."
5. And at the end of the day, she still can ask her uncle for advice!
Because even if you are your own woman, support is what family is for! They might not swing the club for you personally, but they do go up to bat when it comes to having your back!
"That's one thing that's nice to have is to have Tiger to ask for any advice. He's there if I do need it, so I'll be able to reach out to him, but not so much on a regular basis. He kind of leaves me to do my own thing and learn on my own.

"Some advice [my uncle] has given me is really just to trust my ability and just go out there and kick butt. That's Tiger's mentality of dominating so it's something that I try to take on."
Inspiring. Congrats to Cheyenne and all her success.  Be sure to keep up with the talented and Cheyenne on Instagram, including the dates for her upcoming games.