It's finally here!
---
After discussing her new show for most of the year, singer-actress Brandy Norwood has finally debuted the teaser for her new BET sitcom Zoe Ever After. The romantic comedy stars the 36-year-old Brandy as "Zoe Moon," the CEO of cosmetic company Zoe Moon Cosmetics. In the the sneak peek, we peep Zoe balancing her booming business while fresh from a divorce from famous boxer Gemini Moon. And although it appears Gemini (played by actor Dorian Missick) may have missed the mark in the love department, he and Zoe continue to successfully co-parent their eight-year-old son Xavier. It's also said that Gemini will find himself imposing on Zoe's moving-on process while she attempts to date post-divorce because after all, what's a romantic comedy without a meddling ex?
Also in the teaser, we meet a few other castmates, including Zoe's fun friends and staff, Valenté and Pearl. Overall, the show appears as though it will draw inspiration from Brandy's actual life, seeing as to how the mother of one recently called off her engagement last year to ex-fiance Ryan Press, and for the past few years, has been juggling her own brand and life as single mother.
Check out the 5 things we hope to see in Brandy's new rom-com Zoe Ever After.
1. Brandy's Evolved Fashion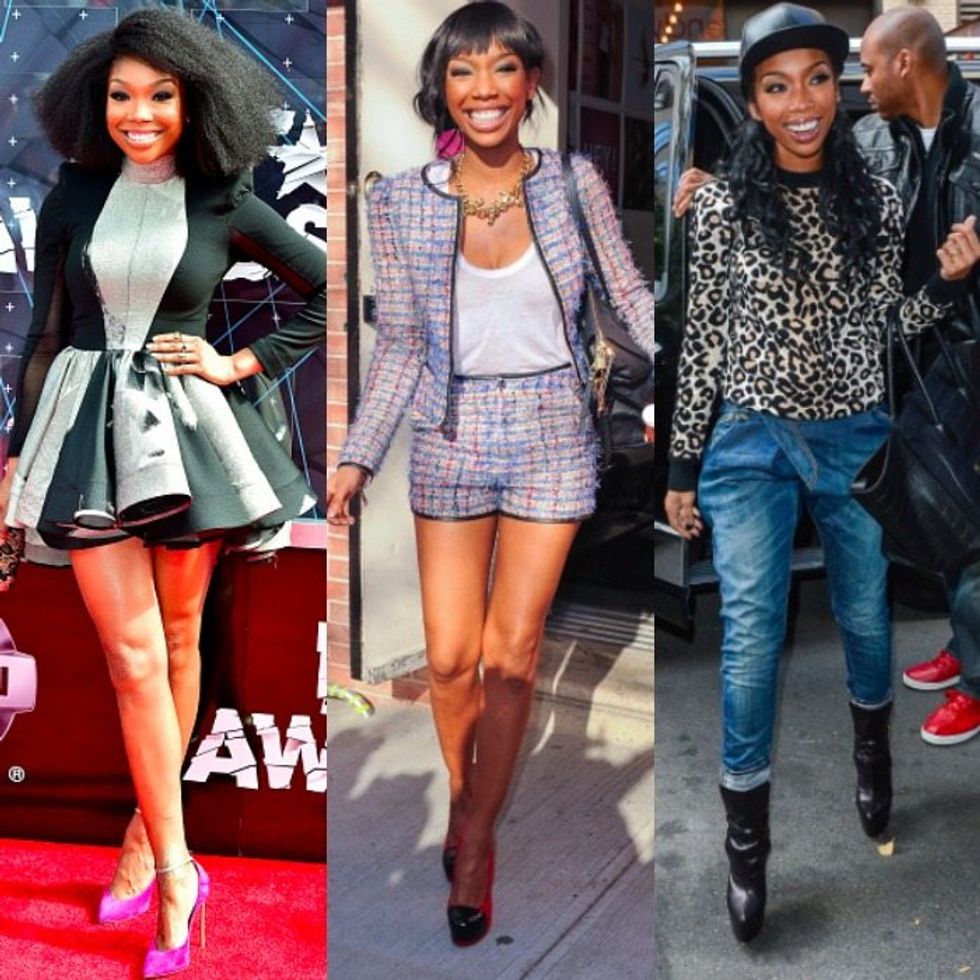 Brandy's fashion has evolved throughout the years and we must say, we're here for it! From her red carpet sense to her street style, the singer-actress has definitely played around with her fair share of hair styles and clothing pieces that we can definitely get with!
Seeing as to how Brandy's character Zoe, a cosmetic line creator, works in the beauty industry and is clearly a fashionista, we can not wait to see how some of Brandy's fashion unfolds in each episode. It already appears from the previews that Brandy is set to be snatched on Zoe Ever After as well!
2. Brandy's Love Evolution and Debut Role as a TV Mom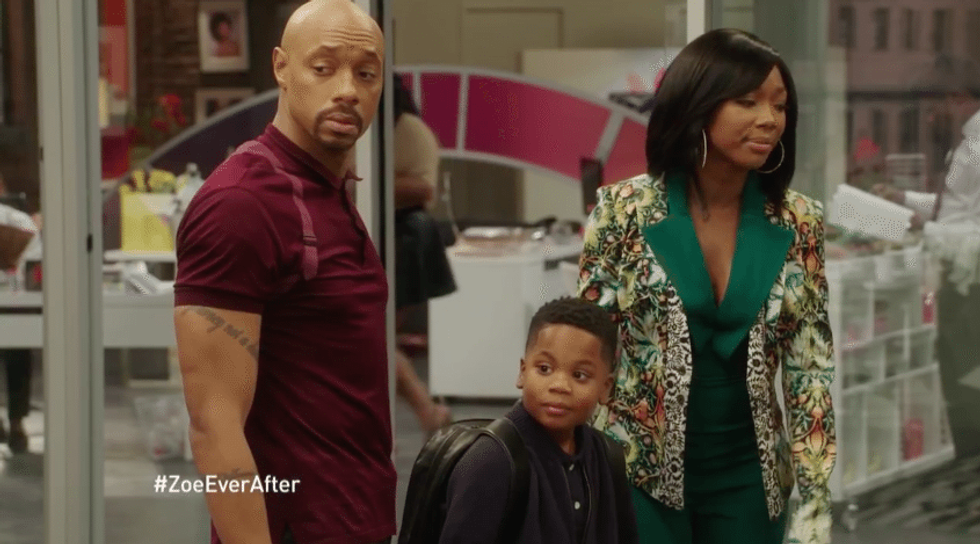 The last time we saw Brandy onscreen as a wife was on BET's The Game, where she appeared in the later episodes as Chardonnay Pitts. However, to see her as a divorcee...with a child, that's all the way new for fans!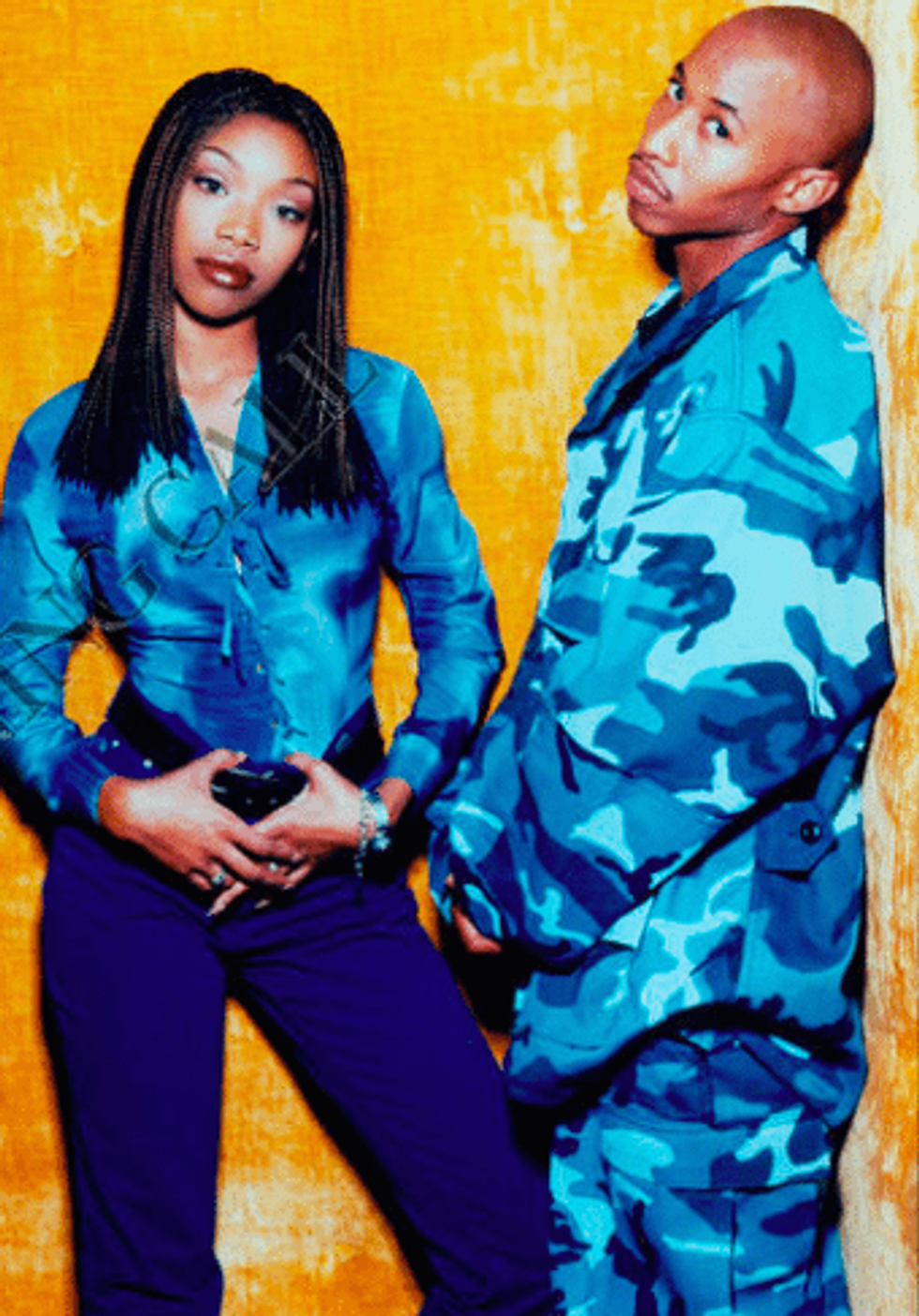 Brandy and Fredro Star as teenage couple Moesha and Q
Aside from a supporting role in The Game towards its final seasons, the last series Brandy starred in where the show was completely narrated around her life was in fact Moesha. Back then, we left off caught up in the adolescent angst of Moesha Mitchell's teenage love affairs, with her dating everyone from Jeremy Davis (played by singer Usher) to the infamous bad boy Q (played by rapper Fredro Starr).
However, it will be interesting to now see Ms. Zoe co-parent alongside her on-screen ex-hubby, boxer Gemini Moon, with their eigh-year-old son Xavier  (played by Jaylon Gordon). In real life, Brandy is the mother to a teenage daughter, 13-year-old Sy'rai Smith, so she definitely is not new to the mommy-and-me crew. Yet, to see that all play out on the small screen will be a new thing for fans, and we can't wait!
3. Brandy the "Brand" and Business Woman
We've seen Brandy play many hats--a waitress, a student, an aspiring journalist, and of course herself (aka "singer!") Just recently she even had a chance to make her big debut as the lead in Broadway's hit play Chicago, as Roxie Hart. But this is our first time seeing Brandy the "Brand," aka the cosmetics mogul and CEO of Zoe Moon Cosmetics.
Serving us a mix of Kimora Lee's Fabulosity, with a dash of Sex and the City fashion realness, Zoe Moon appears to be fierce and fabulous! In the teaser, we even witness her in her posh office with her hilarious assistants discussing the possibilities of snagging actress Lupita N'yongo as the face of Zoe's cosmetics line, as well as quick run in with potential client and model, Jessica White. Bossed up!
4. Speaking of Celebrity Cameos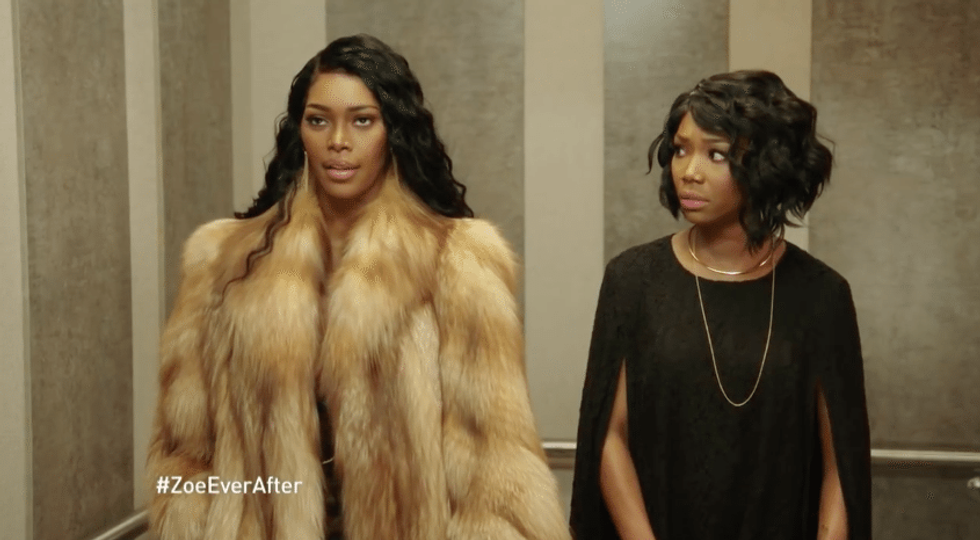 In the teaser, we see Zoe getting some love advice from model Jessica White, who stopped by the Moon offices to more than likely discuss a beauty and business deal with Zoe's company. It'll be fun to see what other celebrity cameos we can expect on Zoe Ever After.
5. More New Friends!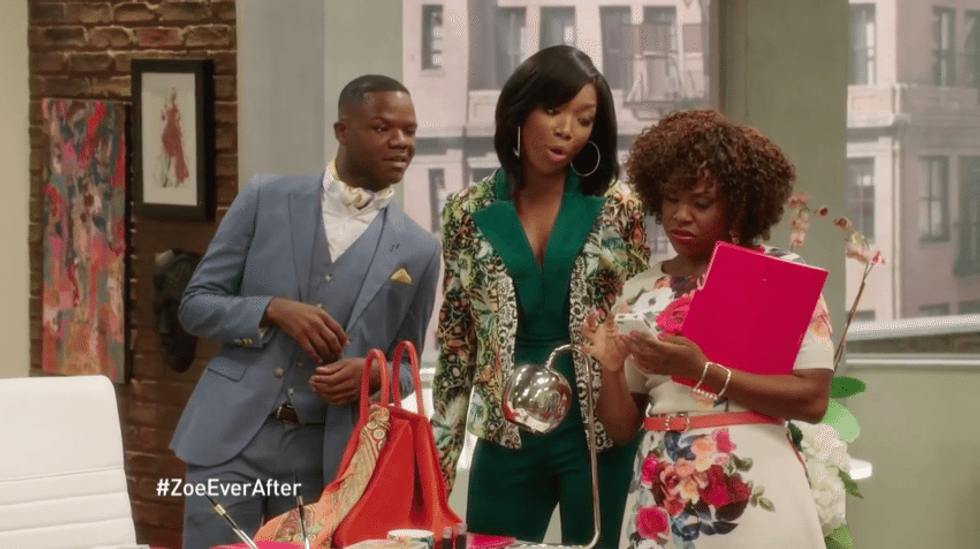 Last time Brandy starred in her own show, she had some memorable friends-- from Kim Parker to Niecy Jackson to Hakeem Campbell-- her childhood buddies turned college pals on 90's-early 2000's sitcom Moesha. However, it's been a while since we've seen Brandy with an onscreen "team" of friends, and it'll be fun to see how they interact with one another. From the looks of it, it appears her assistant Valenté and publicist Pearl, played by actors Tory Smith and Haneefah Wood respectfully, are an eccentric bunch that discuss everything from business to boys (Zoe even chimes in when telling Pearl to "swipe left," on her dating app for a potential online suitor who uses his mugshot as a profile pic). So it will definitely be fun to see Brandy in action with a new crew of sidekicks.
What are you looking forward to most on Brandy's new show?
In the meantime, peep the preview below: