We always hear that we can do anything that we put our minds to, but actually seeing is a different story. Especially when it's a story that involves anyone with a disability.
---
Haben Girma, Harvard Law School's first deaf-blind graduate, has been making headlines after her inspiring story landed her at the White House to introduce President Obama in celebration of the 25th anniversary of the Americans with Disabilities Act (ADA).
As a deaf-blind woman, Haben has faced a tremendous amount of obstacles that other people who aren't disabled may take for granted--like choosing what to eat, for example. After a tense encounter with her undergraduate school cafeteria workers, which included her breaking down the ADA for them, Haben went on to become an advocate for the disabled. She's taken her show on the road, and she's not playing when she demands equal treatment for the disabled. Here's 5 reasons why we're here for Haben, and you should be too.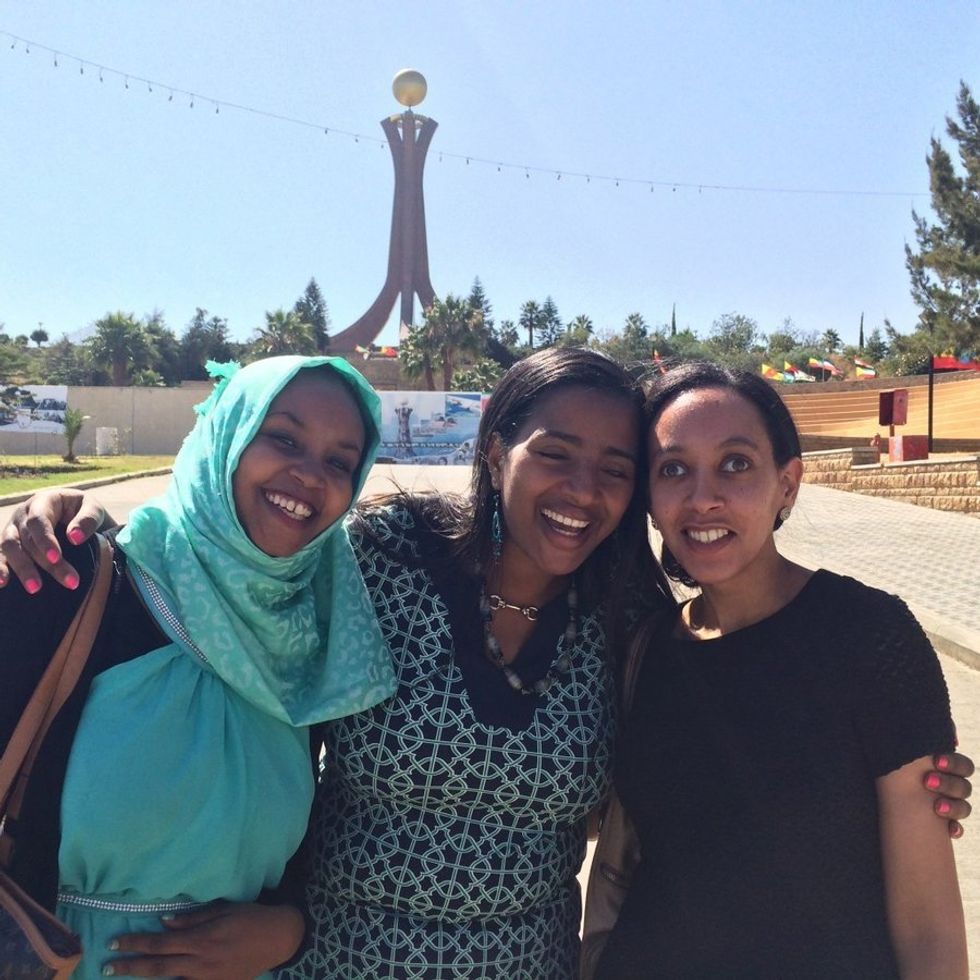 1. Fearlessness is ingrained in her spirit. Before Haben was born, her mom was overcoming obstacles. Haben's mom had trouble getting her brother, who is also deaf-blind, access to an education back in her East African home. When the war of independence happened Eritrea and Ethiopia in '83, Haben's mother made a two week trek to Sudan to escape the fighting. At one point, she slept in a tree surrounded by hungry hyenas. Eventually, Haben's mom made it to the U.S. with the generosity of a Catholic charity.
habengirma.com
2. She fostered a love for reading after mastering braille. During her White House speech, Haben recounted her educational experiences with Oakland's public school district. She said that while she was a student in the district, she would learn alongside other students, and leave classes for an hour a day to learn braille.
For one hour each day, I left my mainstream classes to play a game of guess the dots. The dot game gradually got more challenging, and when I finally developed a love for reading braille, I had a wonderful supply of Nancy Drew mystery books. Not until my teenage years did I become aware of the stigma attached to braille, and I'm grateful to have had excellently trained teachers to teach me to love braille.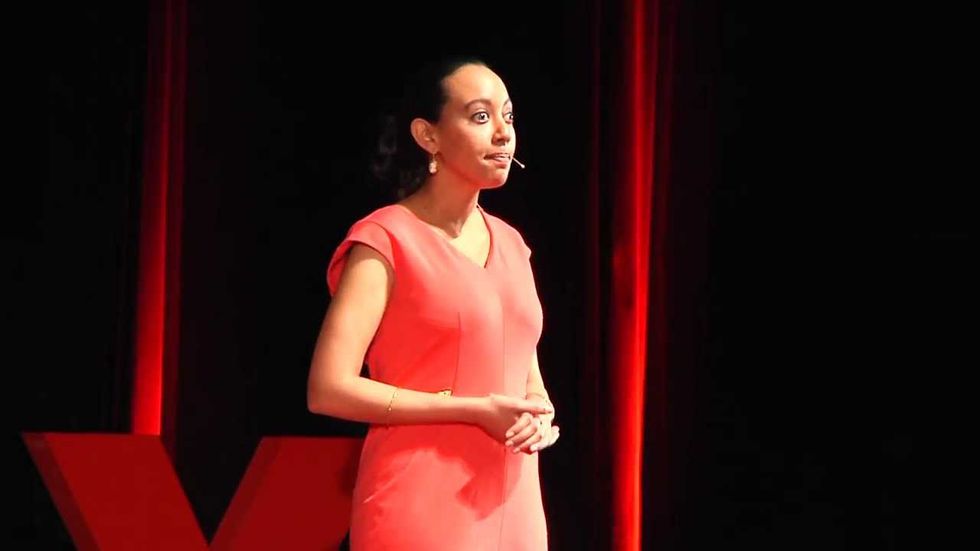 3. She demanded a basic right while she was still in college - chocolate cake.  While her teachers helped her succeed academically, the school's cafeteria staff at Lewis and Clark College in Portland, Ore. had trouble accommodating her with the school menu. While that may not seem like a big deal, to her it was. The staff consistently forgot to email her the menu, so that she could read it on her screenreader. So she took a stand, and threatened to sue the cafeteria for violating the ADA, a law that passed in 1990 to give people with disabilities access to equal treatment. She explained during her Ted Talks x Baltimore session,
I was worried that someone would think that access to a menu was too trivial. That it was a privilege and not a right. But at the same time, I was also excited with the possibility of making the college a better place, even if it was just one other blind student that came after me. 
Eventually the cafeteria staff listened, and began making reasonable accommodations for her as a deaf-blind student. This began her journey to becoming an attorney, and fighting for the civil rights of people with disabilities.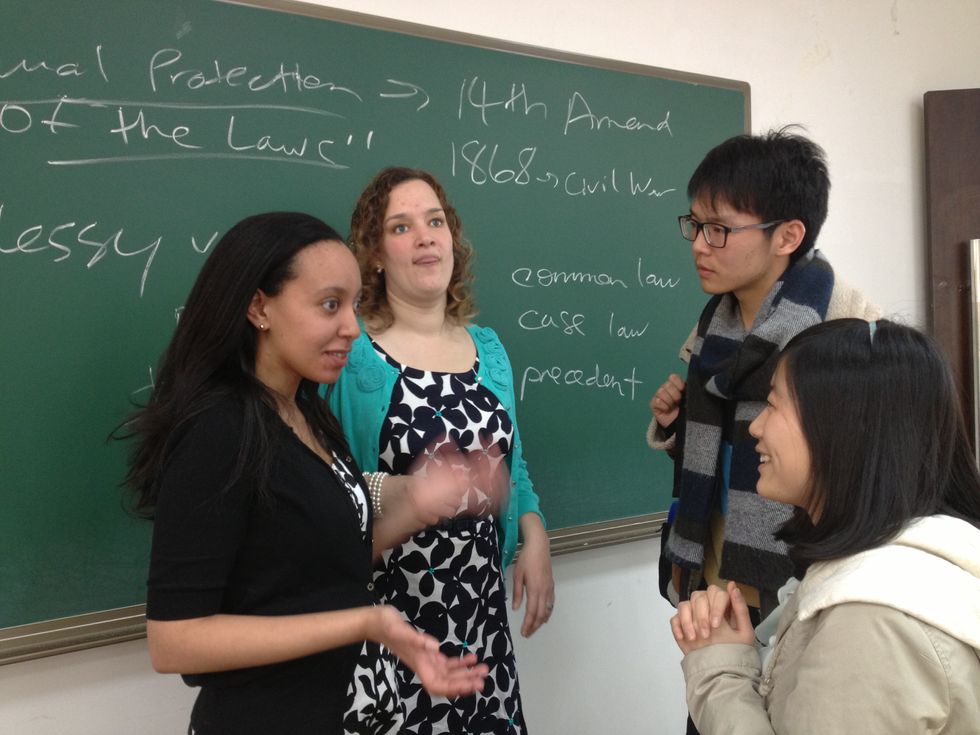 4. She's taken her fight for the disabled on the road. To say that she's something like a big deal since graduating from Harvard Law School in 2013 would be an understatement. At the White House, she got the opportunity to chat with President Obama with the help of technology. NPR reported,
At the White House, Girma talked to the president one on one, telling him "that technology can bridge the gap for people with disabilities." The president typed on a silver, wireless keyboard, and Girma read the message on a digital Braille device (the technology that enabled us to conduct our phone interview with her). The back-and-forth was instantaneous.
A few days after chatting it up with POTUS, she went to talk to Google about the importance of accessible technology in a talk that she called "Bringing Helen Keller to Silicon Valley: Designing Technology with Accessibility in Mind." But the White House and Google was not her only stop on her road trip to fight for those with disabilities.
Girma has taken her advocacy around the world. She has talked about technology and attitudes toward disability on trips to China, Costa Rica and Ethiopia. "Many cultures, including Ethiopian culture, view disability as a curse on the family," she explains. "Advocates around the world are working to change such attitudes, and I help as best I can."
Haben is a success story, as the unemployment rate for people with disabilities (16.1%) was doubled that of people without disabilities back in 2011. Today, the unemployment rate of people with disabilities is still higher than those without them, but is a vast improvement over the last few years (11.3%). Her journey is proof that anyone with or without a disability can do and have it all.
Take a look at her engaging Ted Talks x Baltimore below.