---
And that, ladies and gentleman, is how you make a comeback!
After stealing the Super Bowl halftime show this year with her surprise appearance alongside singer Katy Perry (you know where you were when that "Get Cha Freak On Beat" dropped):
Fans have been eagerly waiting for some more Missy and today, we got just that!
Just in time for "Throwback Thursday," Missy Elliott serves up the perfect amount of nostalgia and new-new with her latest single, "WTF" ("Where they From"). Teaming up with fellow music genius and good pal Pharrell, the 44-year-old rapper and producer shows she's still got the juice on her latest track and visuals for "WTF."
The colorful and choreography-filled video was directed by longtime collaborator Dave Meyers. For those who don't know, Dave has directed a handful of Missy's more memorable classics, including: "Lose Control,"
"Work It," "Pass that Dutch" and more. It's safe to say we haven't seen as much dancing and action like this in a minute, and they made sure to bring back all the bomb moves where they last left off!
Check out the top moments of Nostalgia from Missy's new video that definitely took us back one good time!
1. Killer Choregraphy & She brought back the "Dancing Kid"
Remember dancer Alyson Stoner who we grew to love in such videos as Missy's "Work It" and "I'm Really Hot?"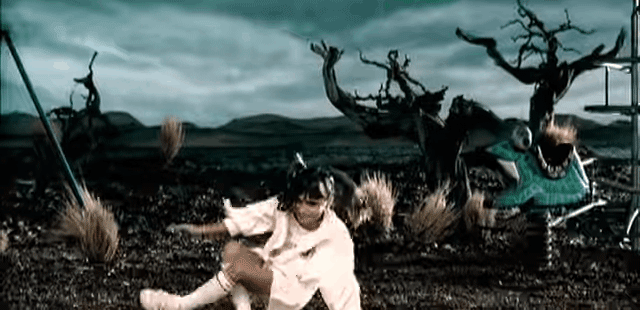 Well, of course the 22-year-old is all grown up now, however, Missy brought back the throwback feel of having another kid dancer in her video. Opening up the visuals with some popping and locking, moving and shaking, we see a young lady alongside Missy, before later turning over the video to a number of dance sequences and choreography that are sure to give you that ol' "Missy" feel!
2. Biggie Tribute "Biggie 97"
Missy and her crew were sure to also bring it back when they rocked matching "97 Biggie" hats for one of their routines. 1997 is the year that the music world lost hip hop legend, Christopher "Biggie Smalls" Wallace. Loved the details and the subtle tribute in their costumes. Dope!
3. Pharrell as a Raunchy Puppet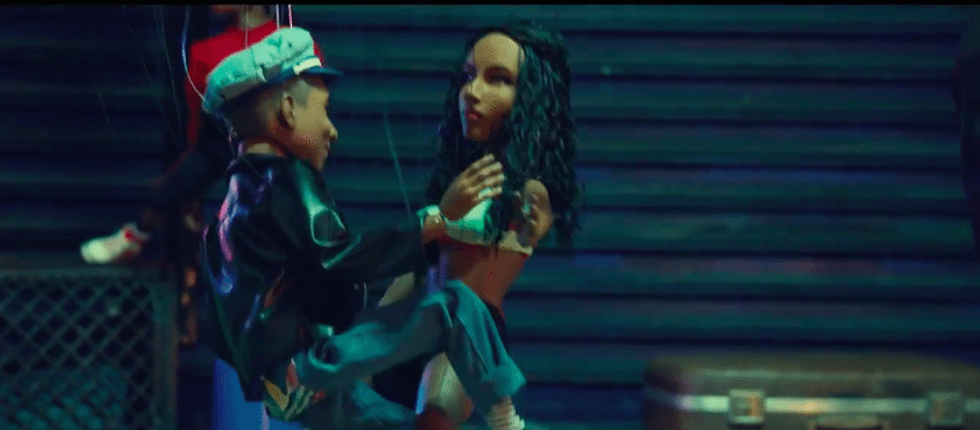 Remember back in the 1990's and early 2000's where puppets and "yuppets" were all the rage? You could see them everywhere from the Sprite commercials to Penny Hardaway's "Lil' Penny," puppet for Nike to Blackstreet doing an entire video with their puppets for the hit track, "No Diggity."
Well, Pharrell did something of the same, and it was too cute! For his feature in the video, Pharrell makes a cameo and gives us a whole old-school feel when he debuts his own rapping and dancing puppet, acquipped with faux video girls and background dancers. He even gets raunchy at one point and throws his puppet leg around one of his "co-stars." Hilarious!
4. Clear Joggers and Shades give us Vintage "The Rain (Supa Dupa Fly)" Vibes
Well hello Missy 2.0! Although an amazingly trim and fit new version of herself, there is no denying the classic Missy appeal when she is spotted rocking somewhat of a see-through rain coat and matching pants. With a dark lip, hoop earrings and a pair of shades to set off the rest of the look, it's safe to say that Elliot took it back to '97 with this look!
5. Speaking of Vintage...
Missy is sure to bring all the looks from her 90's-2000's (with a splash of 80's) look book for this video! Sporting a "Yo! MTV" inspired Adidas fit with a gold chain and 4-finger rings, Missy switches up her looks as much times as she switches up her choreography in the video-- which is a lot. However, she slays each one, so we ain't even mad!
Check out the video on the next page and let us know what you think. Caution: Get ready to dance at your dance and groove in your work chair, if you dare!