Halloween is upon us and let's be real--some of you still haven't bought your costumes yet! Of course you can always take the easy way out and go for a super seductive pin up girl look. As Katie Heron in the film Mean Girls would put it:
---
"In regular world, Halloween is when children dress up in costumes and beg for candy. In girl world, Halloween is the one night a year where a girl can dress like a total slut and no other girls can say anything about it."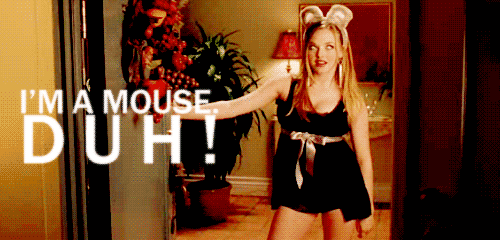 But for those who are looking to switch it up and go for something crazy and creative, no worries. You still have time! Now, I know Halloween isn't considered a holiday to most, but that doesn't stop hundreds of thousands of us from brainstorming on what or who we want to dress up as this year.
Just in case you choose to opt out of sporting ears, wings, or a tail to this years fright night festivities, here are some super cute (and crazy) DIY costume and makeup tutorials for every makeup level, courtesy of some of your favorite YouTubers.
Jessica Rabbit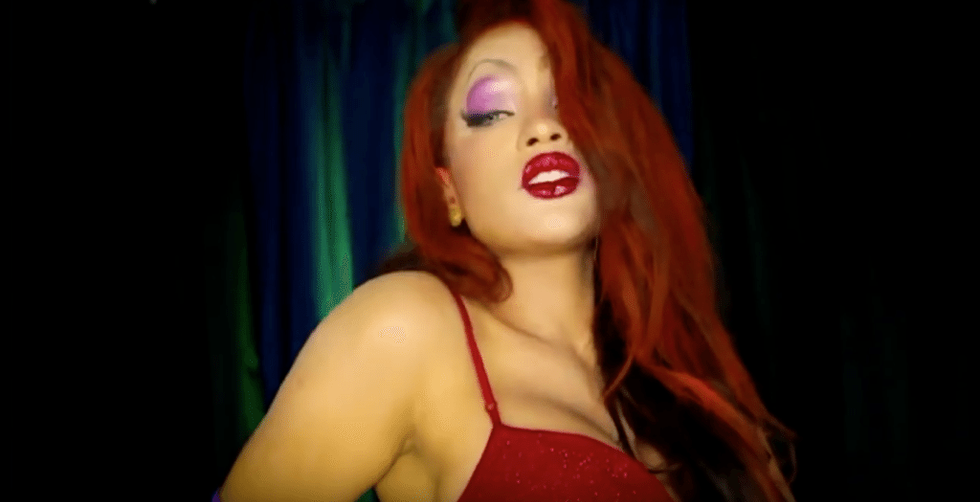 Andrea is known for dishing out creative costume ideas that won't break your pockets. So if you want to keep it cute this year as say, Jessica Rabbit or a sultry mummy, check out her newest Halloween video. My personal fav was one of her looks from last year as X-Men's Storm. I honestly can't figure out if I like the costume or video editing more.
The main focus with Jessica Rabbit are the eyebrows and the lips. Because she's a cartoon, everything needs to be big and animated. For the eyes, take a purple eyeshadow and bring it up to your natural eyebrow covering it up. Apply a lighter purple towards the inside and blend the two shades together. You're going to want to draw on a new set of brows with a mean arch. That's where the sultry look comes in. For those will a full pout this next step is easy, take a ruby red lipstick and make your lips extra plush. If you need to overdraw the lips then do so. The bigger the better. Don't forget to top it off with a clear or red gloss for extra shine. Finally, throw on your red wig, or spray paint your hair red to complete Jessica Rabbit's look. You can rock any red dress for this costume...but you get bonus points for something long and sparkly paired with a set of long purple gloves.
Cleopatra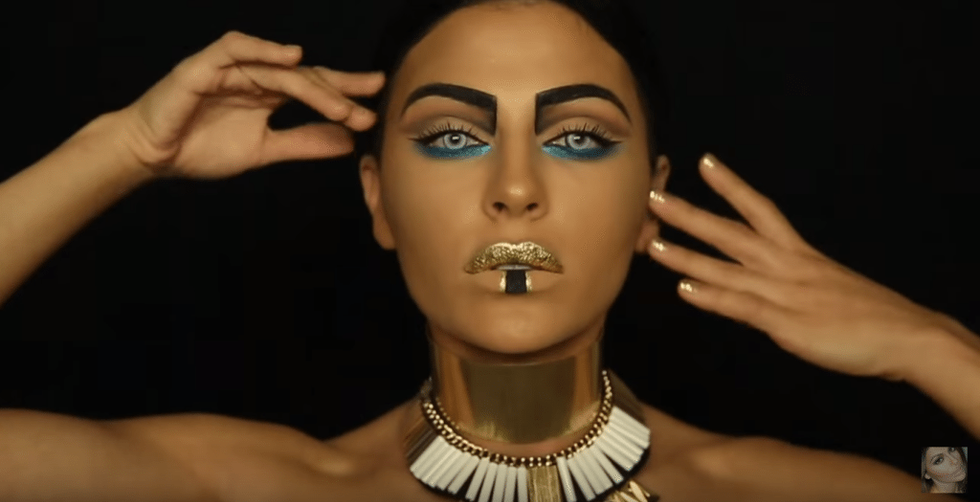 This might just be my costume this year. Teni Panosian created this gorgeous Cleopatra makeup look and with a little patience and precision, it's not too hard to pull off yourself. Start with your normal foundation routine and add a more dramatic contour and highlight to really give depth to the face. You will need a metallic gold dust or shimmer, if you don't have a loose shimmer, try a gold eyeshadow or highlight. NYX has pretty cheap loose powders. After you finish the contour and highlight, dust the gold powder on the temples and cheekbones, down the bridge of the nose, your forehead and chin. Use a natural matte shadow close to your skin color to cover the lids, and cut your crease with a gray and black shadow, carefully creating a winged out effect. Add a little liquid liner with a small wing and finish the eyes with a bright blue shadow in the waterline and under your lashes. Top off with a few coats of mascara.
Now comes the dramatic part, take a gel linger and angled brush and trace your natural brows making them thick and dramatic. Bring the linger down almost to the inner corners of your eyes for a real pharaoh look. This look isn't complete without gold metallic lips. Cover your lips with concealer and set with a powder. Take the same gel liner and draw a rectangle in the middle of your bottom lip. You can take the same loose gold powder and an angled brush to fill in your top lip and create the gold effect around the black rectangle. Bonus points if you use gold foil and an adhesive to really amp up your look. Finish with more gold powder virtually on every area of the face, pile on a couple of gaudy Cleo-esque necklaces and tell the boys to bow down.
Iris Apfel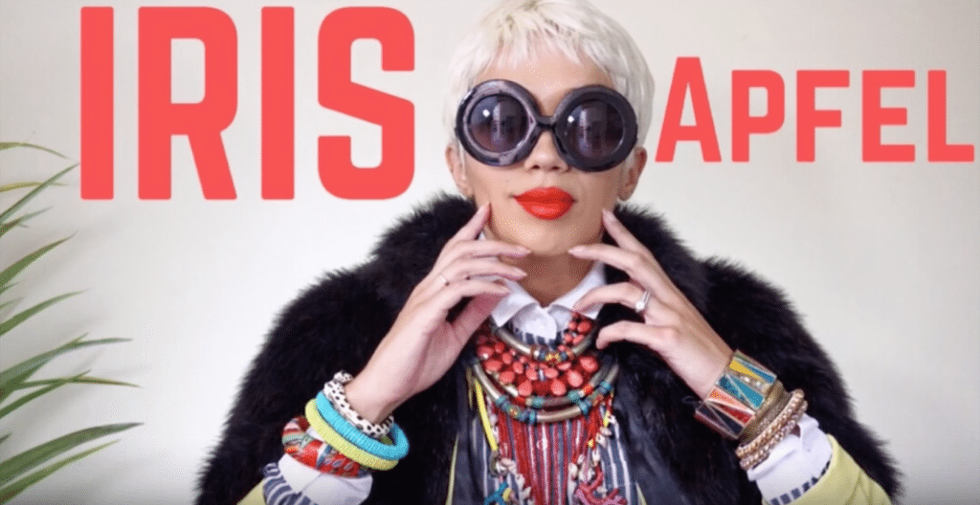 Another creative and budget friendly channel made just for you fashionistas. I was very impressed after watching Charmsie's rendition of style icon Iris Apfel.  It's such a fun costume, especially for those who don't come up short when it comes to accessories and statement items in their closets.
This costume's main focus is the clothes, because let's face it ... that's what Iris is known for. The more you can mix and match the better. And when you feel like you're doing the most, you probably need to add on a few more items. Mix prints, fur, beads, wood, stripes, and feathers for an eclectic approach. The key pieces that you definitely need to finish off this costume, are her infamous bold sunglasses, a white wig and lipstick. Find some oversized circle sunglasses and pop on a red or bright pink lip to seal the deal. If you don't have a white wig, improvise and spray paint your hair instead. Don't forget to check out Charmsie's North West costume tutorial either. A great idea for couples or even for daddy and daughter!
Double Vision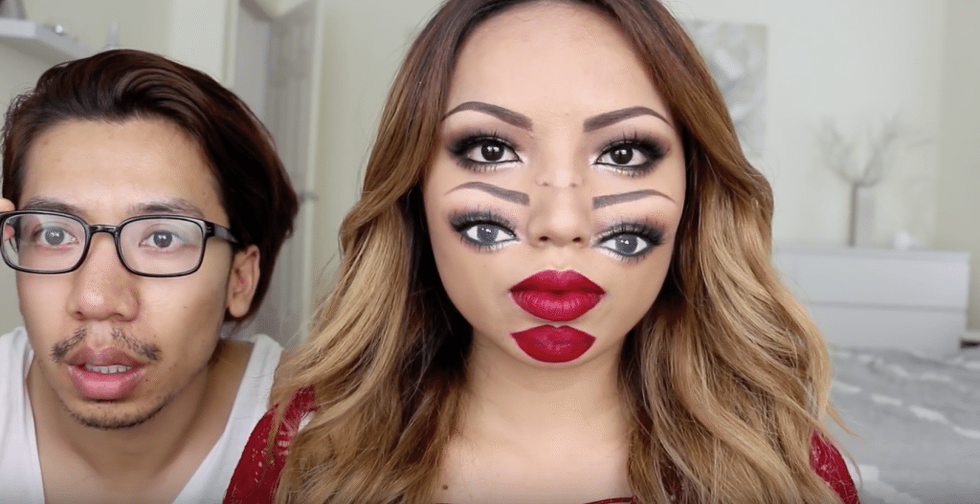 For you intermediate makeup lovers who want to tackle something a little more challenging this year, Dope2111's channel has plenty for you to choose from. You know that feeling when you've had too much to drink and "start seeing double"? We've all been there so no shame in your game if you're too familiar with the feeling. Her "Trippy Double Vision" makeup look will have everyone doing a double take at the festivites.
Think of it as simply redrawing two of everything. Do your makeup like you usually would on a glam night out. Then starting under your eyes, use a brow pencil and redraw your eyebrows. Take a black eye pencil and start creating the shape of your eye under the brow. Use a white pencil for the whites of the eyes and the appropriate shade for your eye color. Next take a liquid liner to wisp on some top and bottom lashes. For added special effect, take a pair of false lashes and glue them on the top lid. Grab a brown pencil and redraw your nose in between your real eyes. Don't forget the nostrils and a little shading. Finally, take a red lip liner and start copying the shape of your lips on your chin. Fill them in and touch up anything that needs it and you're done! This look requires a little more patience, but I guarantee for those who nail it, someone is bound to win best costume this year ... or give someone a migraine.
Creepy Broken Doll
Don't think I forgot about you makeup pros. Dulce Candy offers you a "Creepy Broken Doll" tutorial, complete with fake blood and all.
You will need some white face paint or you can use a foundation 3-4 shades lighter than your natural skin tone. Set the foundation with a translucent powder to be sure it stays put all night. Contour your cheeks with a grey eye shadow for a ghostly look and pop a bright pink blush on the apples of your cheeks. For a new brow, cover your natural eyebrows using a glue stick and apply concealer or foundation on top to make them disappear. After it's done drying, draw on a high arched brow with liquid liner to make your doll look appear evil and creepy. Take a gel liner and start the details on the cracks and outline your eye where you want the shattered look. Fill in the hole with the gel liner and create the tail of the other eyebrow coming out of the hole in the eye. Less is more when it comes to the cracks to make it as real as possible. Apply some dramatic, twiggy like lashes to the top and bottom lashes to finish the eyes. Finally, dolls have tiny lips. Cover your lips with concealer and set with powder. Redraw some little lips right in the center of your natural ones and finish with a pink gloss.
Grab your grandmothers old nightgown and a pink bow, tousle your hair, and for extra bonus points, download some creepy music to play from your phone as you skulk around the party.
These are just a few cool ideas to marinate on. But by all means, go for the gold and see how creative you can get this year. Coordinate with a friend or a date, and try not to wait last minute so your costume doesn't turn out lame.
In the event that you do wait, you could always be "the hardcore girl who shows up in some form of lingerie and animal ears," no worries; it's the one night you won't be judged.