---
Michelle Obama tore the house down last night at the Democratic National Convention with a timeless speech that refocused viewers on what was important this election cycle: Who is going to influence the next generation of voters? Who will focus on the issues, and not 140 characters? Who will strengthen the country post election, and for years to come?
Well FLOTUS answered those questions on Day 1 of the DNC, and it was absolutely moving and empowering.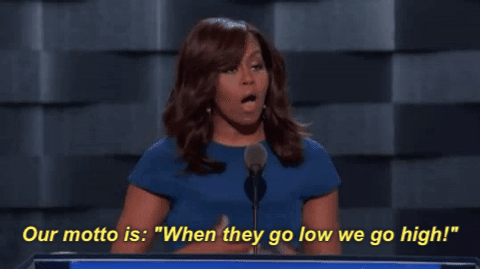 What was most empowering about her speech is that no matter what your political beliefs were, you agreed with her on at least one of her points, and that unifying quality is exceptionally admirable. But FLOTUS was looking to urge the country to unite in endorsing Hillary Clinton, and it probably worked.
Make no mistake: Michelle Obama is #withHer.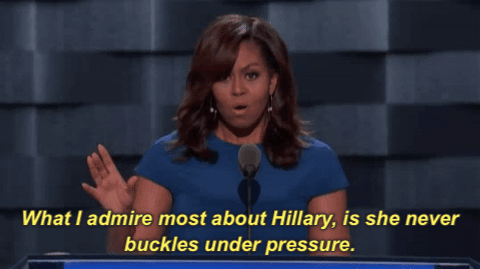 FLOTUS is riding with Hillary so much, that she came to the convention with a pocket full of receipts that supports the reasons why Hillary deserves to be the next person seated in the Oval Office. Her reasoning was so eloquently put, that it was hard not to ignore.
But perhaps you think that maybe FLOTUS embellished Hillary's record a little during the speech. Well I felt the same, until I did a little digging in Hillary's resume, and found that there was a lot of truth in Michelle's words.
Here are four reasons, with receipts, on why Michelle Obama wants you to be #WithHer come November and vote for Hillary Clinton as our next POTUS.
1. MICHELLE SEES THAT HILLARY HAS HEARD THE CRIES OF STUDENTS DROWNING IN DEBT.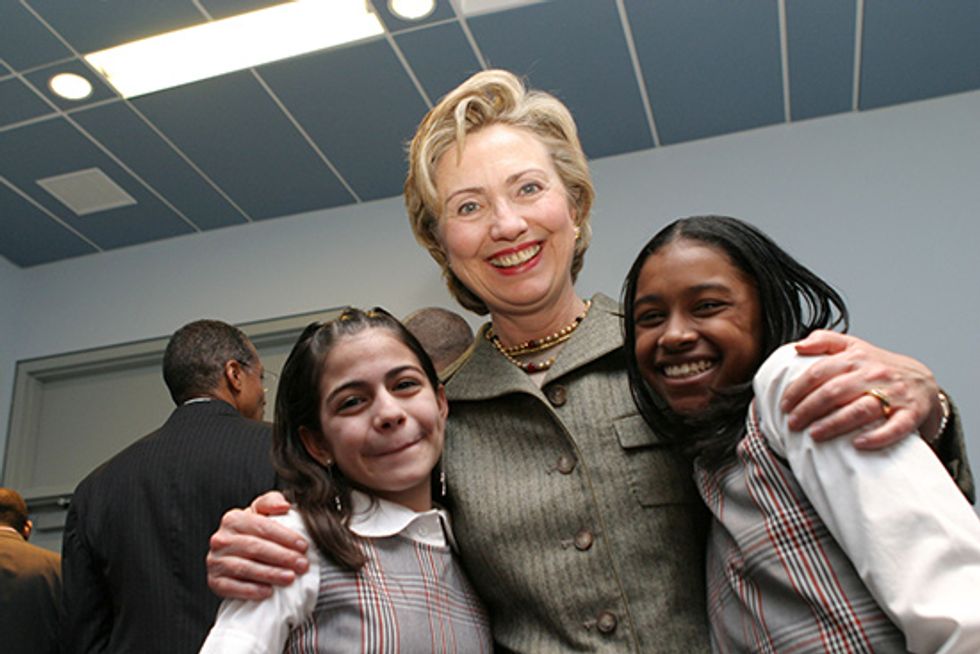 Hillary is not okay with students taking on loans for school, just to turn around and drown in debt.
Perhaps this is why during her campaign, Hillary penned a proposal to allow parents earning less than $125,000 a year to send their kids to college for free - an idea that critics argue is vague and costly. But the fact that a politician hears the cries of students drowning in a lake of debt is definitely a start to fixing the issue. This is why Michelle said,
See, I trust Hillary to lead this country becasue I've seen her lifelong devotion to our nation's children. Not just her own daughter, who she has raised to perfection, but every child who needs a champion. Kids who take the long way to school to avoid the gangs, kids who wonder how they'll ever afford college, kids whose parents don't speak a word of English but dream of a better life. Kids who look to us to determine who and what they can be.
2. MICHELLE KNOWS THAT HILLARY HAS ALWAYS BEEN A PROPONENT OF QUALITY HEALTHCARE FOR KIDS.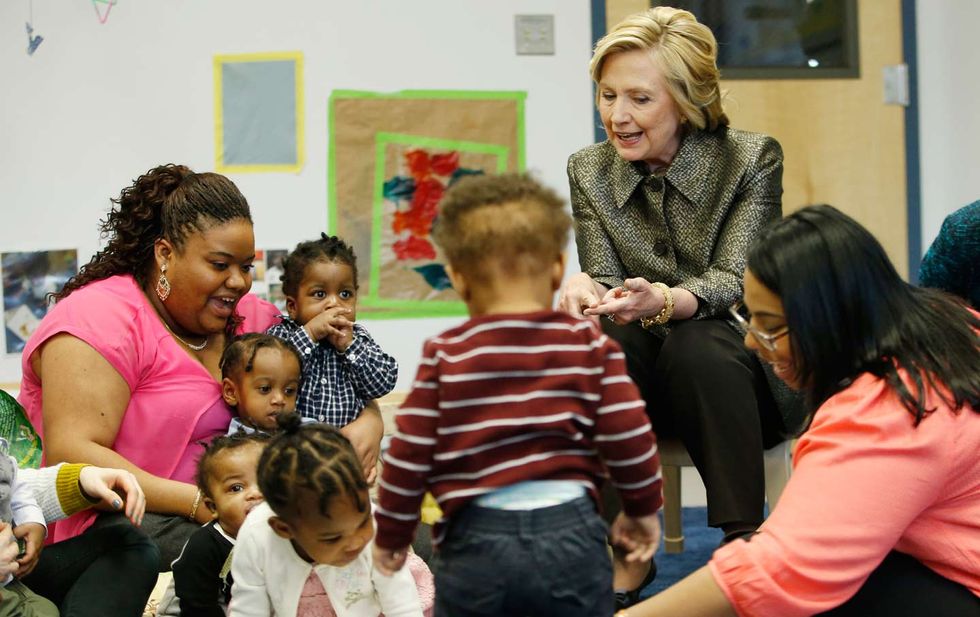 Hillary's resume for helping children to receive quality healthcare goes back to the 70s, when she first became an attorney in Little Rock, Ark. .
She helped to create the Arkansas Advocates for Children and Families, which educates parents on their state rights and laws that impacts them. She also worked with Ted Kennedy and Orrin Hatch to extend healthcare to millions of low-income children by creating the State Children's Health Insurance Program during her husband's second term.
She came down hard on drug companies by helping to author  The Pediatric Research Equity Act of 2003. The Act requires drug companies to study the products they manufacture for kids. According to former Senator Chris Dodd, "The Act is responsible for changing the drug labeling of hundreds of drugs with important information about safety and dosing of drugs for children." This includes drugs to treat diseases ranging from HIV, to seizures, epilepsy, and even headaches or high fevers.
That's perhaps why Michelle said,
You see, Hillary has spent decades doing the relentless, thankless work to actually make a difference in their lives. Advocating for kids with disabilities as a young lawyer, fighting for children's healthcare as first lady, and for quality childcare in the Senate. And when she didn't win the nomination eight years ago, she didn't get angry or disillusioned. Hillary did not pack up and go home, because as a true public servant, Hillary knows this is so much bigger than her own desires and disappointments.
3. MICHELLE LIKE'S HILLARY'S ABILITY TO SEE THE BENEFIT OF GENDER EQUALITY. 
Did you know that economies that embrace gender equality could end hunger in their areas?
It's true, and Hillary knows that there are advantages to economies that embraces gender equality, such as higher incomes, lower unemployment rates, and less government borrowing, among other things. This is something that Clinton has been a champion of since her days as First Lady, when she began pushing for women's issue as a global priority for U.S. foreign relations.
Hillary seems to have made it her business to campaign for gender equality in America. What's impressive is that she knows that there's a direct connection between economic gender equality and eliminating hunger and poverty in America. That's perhaps why FLOTUS was compelled to say,
I want a president who will teach our children that everyone in this country matters. A president who truly believes in the vision that our founders out forth all those years ago, that we are all created equal, each a beloved part of the great American story. And when a crisis hits, we don't turn against each other. No, we listen to each other, we lean on each other. Because we are always stronger together.
4. ALTHOUGH HILLARY CONTRIBUTED TO MASS INCARCERATION, SHE'S LOOKING TO REDEEM HERSELF FOR THE SAKE OF OUR CHILDREN. THAT'S A QUALITY MICHELLE RECOGNIZES.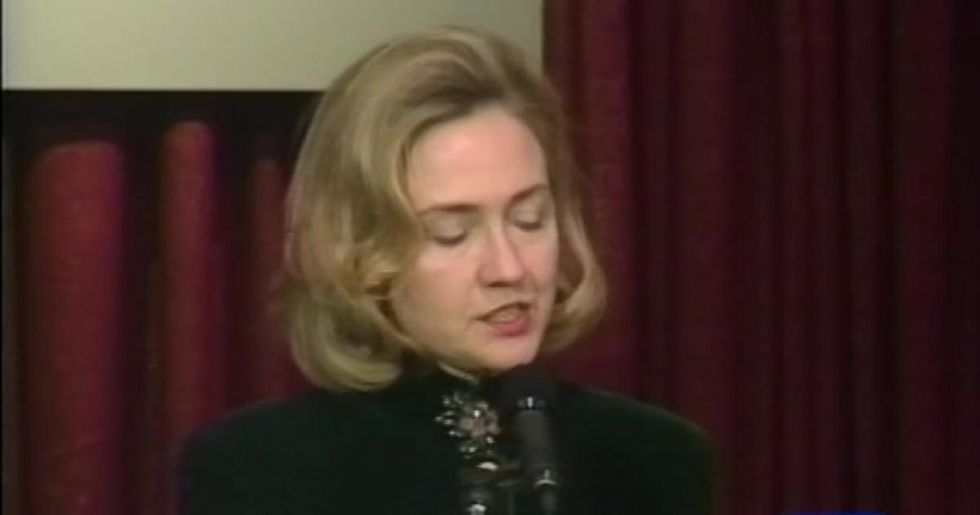 Hillary has a lot of making up to do, and it appears she's open to change.
Aside from contributing to mass incarceration, she's also been guilty of adding to a narrative that dehumanizes black children. On January 28, 1996 at Keene State College, Hillary gave a speech on the high rates of crime and violence among youths. Only, she referred to kids who do violent crimes as "super-predators" who had "no empathy" and had to be brought "to heel." (Watch the video here.)
The problem? Even though she probably meant any kid who was violent, her actions didn't exactly reflect her words. At the time, her husband was able to pass a crime bill that gave incentives to states for building prisons and increasing sentences, which disproportionately impacted black people, especially youths. Thats just one reason why mass incarceration is often looked at as a modern version of slavery.
Even the U.S. Office of Juvenile Justice and Delinquency Prevention agrees that black kids have had extremely higher arrest rates than their white counterparts during the height of the anti-crime bill, and beyond. The coincidence is that numerous studies have shown that blacks are more heavily policed, face harsher sentences, and and are more likely to be incarcerated than their white counterparts.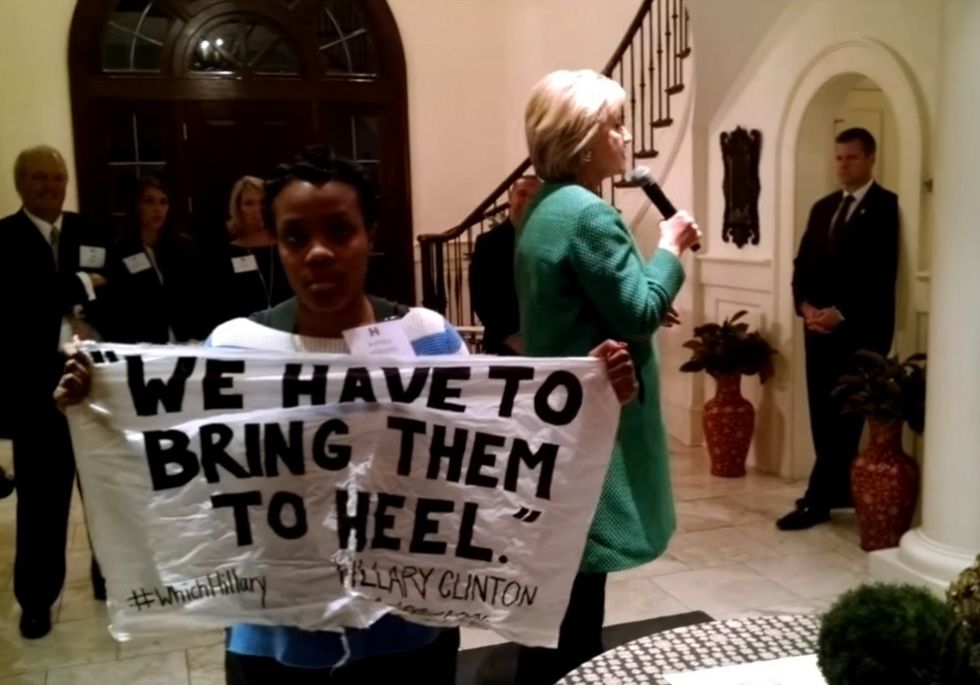 Hillary was taken to task by a lot of people who campaigned against her as a result of her support of the anti-crime bill, and she's admitted that she messed up big time. The difference between 1996 Hillary and 2016 Hillary is that today, she's ready to make things right, especially for our children. For starters, she's invited the mothers of Trayvon Martin, Sandra Bland, Eric Garner, and Mike Brown to speak at the DNC on Tuesday night, where they will discuss how Hilary's compassion could heal our communities for our children.
Michelle Obama agrees.
You see, Hillary understands that the president is about one thing and one thing only. It's about leaving something better for our kids. That's how we've always moved this country forward, by all of us coming together on behalf of our children.

Folks who volunteer to coach that team, to teach that Sunday school class, because they know it takes a village. Heroes of every color and creed who wear the uniform and risk their lives to keep passing down those blessings of liberty. Police officers and protesters in Dallas who all desperately want to keep our children safe. People who lined up in Orlando to donate blood becasue it could have been their son, their daughter in that club.
5. BECAUSE THE GLASS CEILING COULD OFFICIALLY BE SHATTERED. 
FLOTUS let every person in the audience know that the myth of the "glass ceiling" for the country's most marginalized citizens could very well be broken in this election.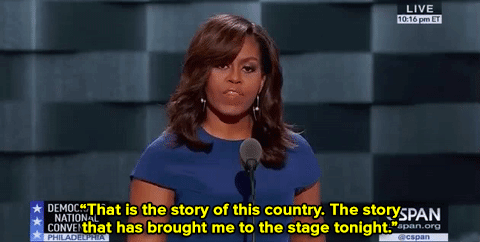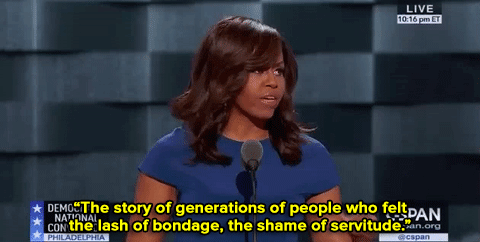 Pretty certain the slaves that built it didn't like it either. https://t.co/iV9p344IYZ

— Kelly Clarkson (@Kelly Clarkson)1469505617.0
#FLOTUSMicDrop
Take a look at the full speech below.