Discovering the backstories behind Google's search engine doodles has turned into a fun activity for all Internet perusers. Especially since the most compelling drawings have commemorated some of the most important dates and people in history, including International Women's Day, classical Bharata Natyam dancer Rukmini Devi's birthday, and Civil Rights activist and journalist Ida B. Wells.
---
But the latest Doodle 4 Google winner, Akilah Johnson, has an amazing back story associated with her drawing, especially considering the contestants she was up against.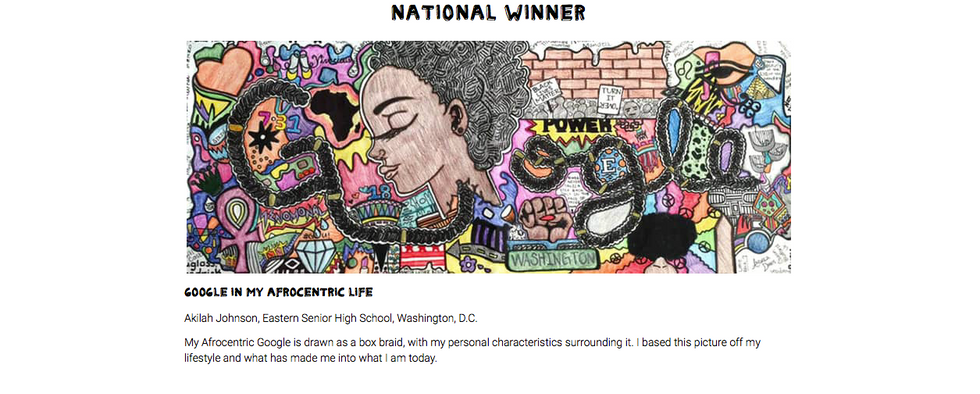 Akilah's doodle, called "My Afrocentric Life," was chosen from about 100,000 student entries from across 53 states and territories, using the contest theme, "What makes me...me." But it was Akilah's detailed story within her art that beat out the 11 other high school entrants - one of them being a student with multiple disabilities, and another who drew art reflecting her own Chinese heritage.
"As a child, I attended Roots [Public Charter School] and Roots [Activity Learning Center], so I was raised in the 'Afrocentric lifestyle,' " Akilah told the Washington Post. According to the Post, the Northwest Washington educational institution touts "culturally relevant curriculum that aims to serve "the specific needs of children of African heritage."
Akilah's doodle encompasses so many messages of heritage, beauty and power, and it's definitely a stand out among the other contestants. Here is what you need to know about the latest contest winner, and her amazing doodle.
1. PRIDE IS WHAT MAKES HER DOODLE SPECIAL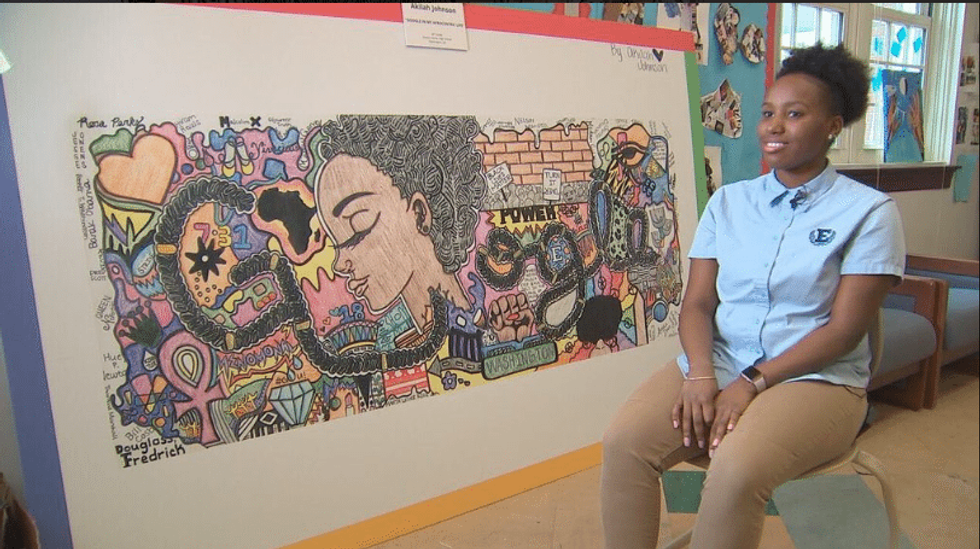 From the woman with an afro, to the black power fist, Akilah's drawing screams her proud black roots, as she honored the black legends who came before her. Nelson Mandela, Malcolm X, Rosa Parks, Ruby Bridges, Angela Davis, Colin Powell and Bill Cosby, are among the featured people in her drawing. She told USA Today,
"I grew up learning a lot about my history as an African American. As I grew older, I realized that the black people that came before us has made us into what we are today, so of course I had to include them in my doodle." 
2. SHE WANTED TO TURN HEADS AND SOULS WITH HER DRAWING

Akilah's mission with her drawing was to "not only turn heads but souls as well," and that's exactly what she did. She wrote on Google's blog that she also wanted people to connect with and understand the drawing, in addition to being amazed by it. She wrote, 
My drawing explores childhood themes and then moves into reflections on our society. Everything surrounding the word "Google" depicts my characteristics. Of all the things I chose to include, the six most special to me are the Symbol of Life (the ankh), the African continent, where everything began for me and my ancestors, the Eye of Horus, the word "power" drawn in black, the woman's fist based on one of my favorite artist's works, and the D.C. flag—because I'm a Washingtonian at heart and I love my city with everything in me!
3. AKILAH IS GETTING SCHOLARSHIP MONEY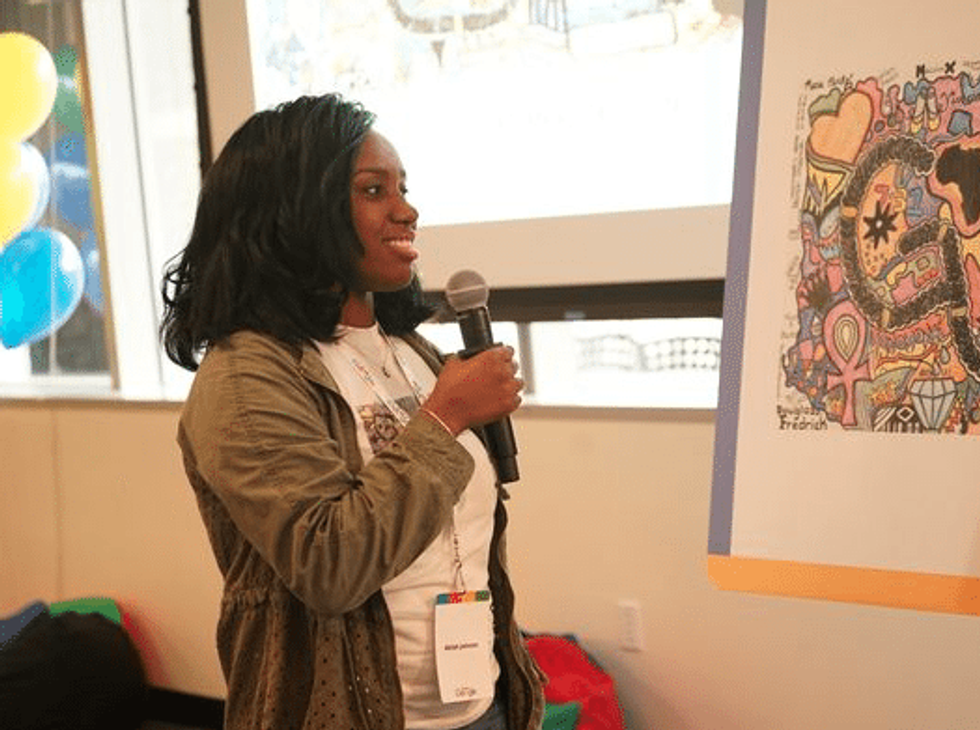 Doodle 4 Google's first ever African American contest winner will be receiving a $30,000 college scholarship, and her high school, Eastern Senior High School in DC, will be awarded a $50,000 education-technology grant, according to USA Today.
While visiting Google with her mom, Tikecia Johnson, and her teacher, Zalika Perkins, she revealed that she planned to study criminal justice or business in college, in hopes of becoming a CSI detective. On top of that, the big dreamer said that she wants to start an arts and crafts studio for kids.
"I'm excited about the scholarship," Akilah told the WaPo, "and I'm excited about [being on] Google's home page even more."
4. AKILAH WANTS TO KEEP INSPIRING PEOPLE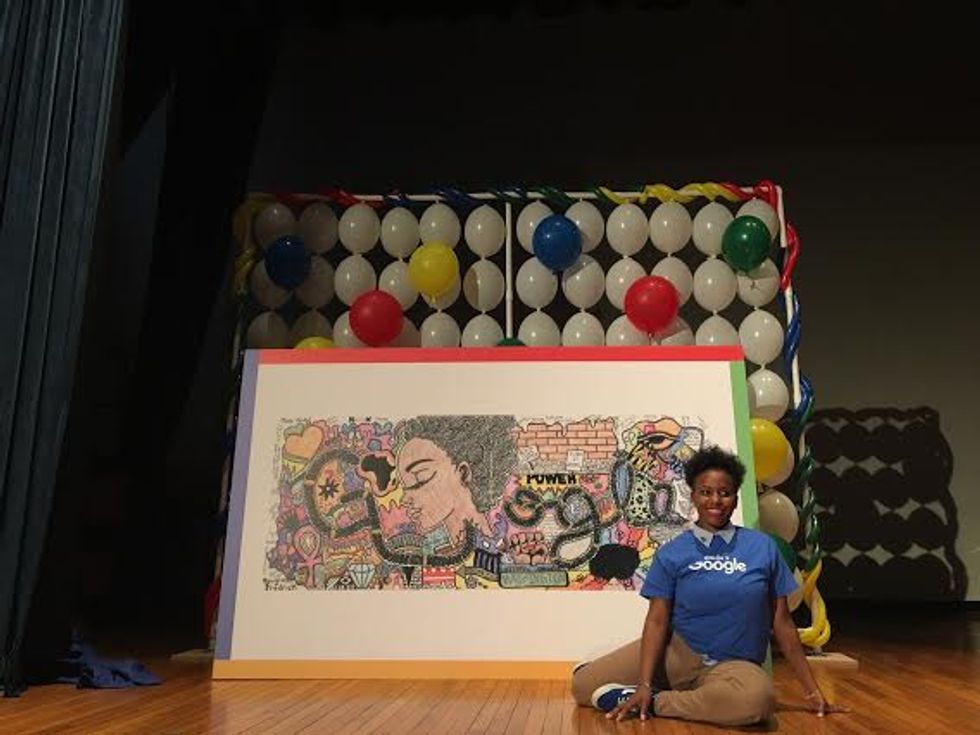 Akilah Johnson, at Eastern Senior High in the District, poses with her winning Doodle. (Via WaPo)
Akilah is grateful for the attention she's getting for her art, but what she loves more is having the opportunity to inspire people. She revealed to Google that the competition has helped to open her eyes to how art could reach people she wrote,
I've always been encouraged to pursue art, especially by my teachers—first Baba Camera from Roots, and now my art teacher Zalika Perkins. But participating in Doodle 4 Google gave me an understanding of why art matters and why MY art matters—because it speaks to people. No matter our differences, everyone is touched by art in some way. Winning this competition opened my eyes to the many types of art and the many ways it can resonate with people. I'm excited to keep creating art that matters.
See more of what's inside of her acclaimed art work in the video below.