We've all been there. Bae hits you with the, "Be ready by 7" text out of the blue and suddenly, your back pocket everyday makeup look just won't do the trick.
Not for date night at least.
---
You want to show up with a new dimension to your glow, show out so that he knows how lucky he is, and all of that requires a bit more digging into your beauty archives.
Many of us—self included— are continuously on the hunt, between YouTube tutorials and Pinterest boards, trying to find the perfect look to wow bae with the true romantic power of our feminine wiles. The proverbial date night is the perfect time to capitalize on those themes, after all.
Undoubtedly, some of our favorite celebrities serve us true beauty looks we can recreate for an impromptu date night, or even a night out with your girls - you deserve it. Here are four different looks and how you can get a similar effect, conveniently in your budget.
Yara Shahidi's Dewy Skin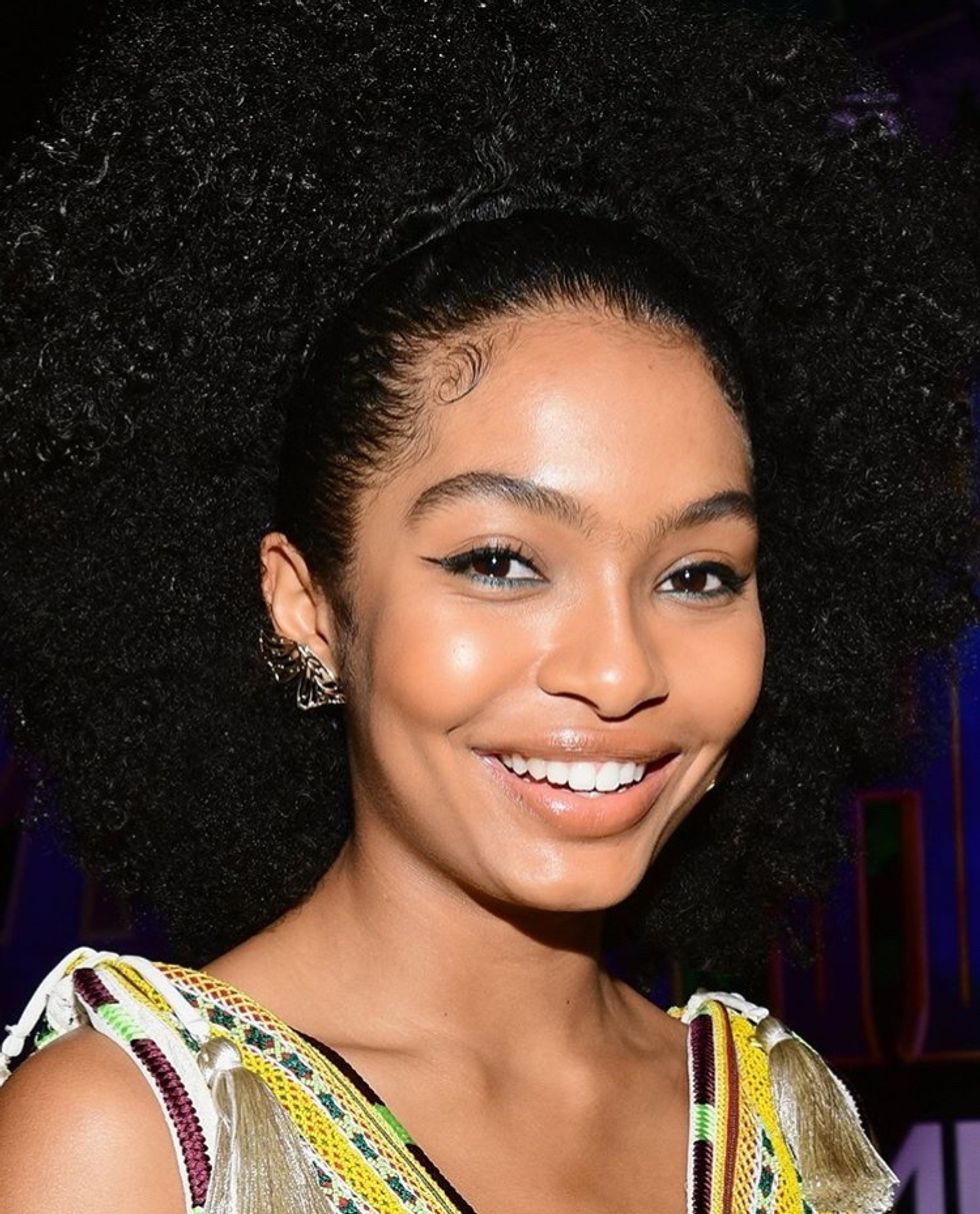 @yarashahidi
Get The Look:
Yara's skin is always flawless and clear (though the teenager claims to have breakouts...where, sis?). Obviously for truly healthy skin, you'll want to ensure you're getting your daily intake of water. Also, using natural products, like witch hazel or aloe vera gel, can act as anti-inflammatories and anti-bacterial solutions to keep blemishes and pimples at bay.
For effortless skin on your night of love, prep your skin with your favorite moisture-induced primer.
A love of many is Fenty's Pro Filt'r primer, but if you're looking for a cheaper alternative, Too Faced's Hangover primer works wonders.
Then, go in with your favorite foundation of choice.
If you need help with that, NARS Sheer Glow gives you a dewy finish and comes in a variety of colors. Set it lightly with a translucent powder or makeup setting spray, like NYX's Dewy Setting Spray (which is only $8!).
For an extra pop of coverage, you can also go in with a concealer.
Use the cult-classic Nars Radiant Creamy Concealer or the $5 NYX's HD concealer to cover up any imperfections.
Kerry Washington's Statement-Making Lip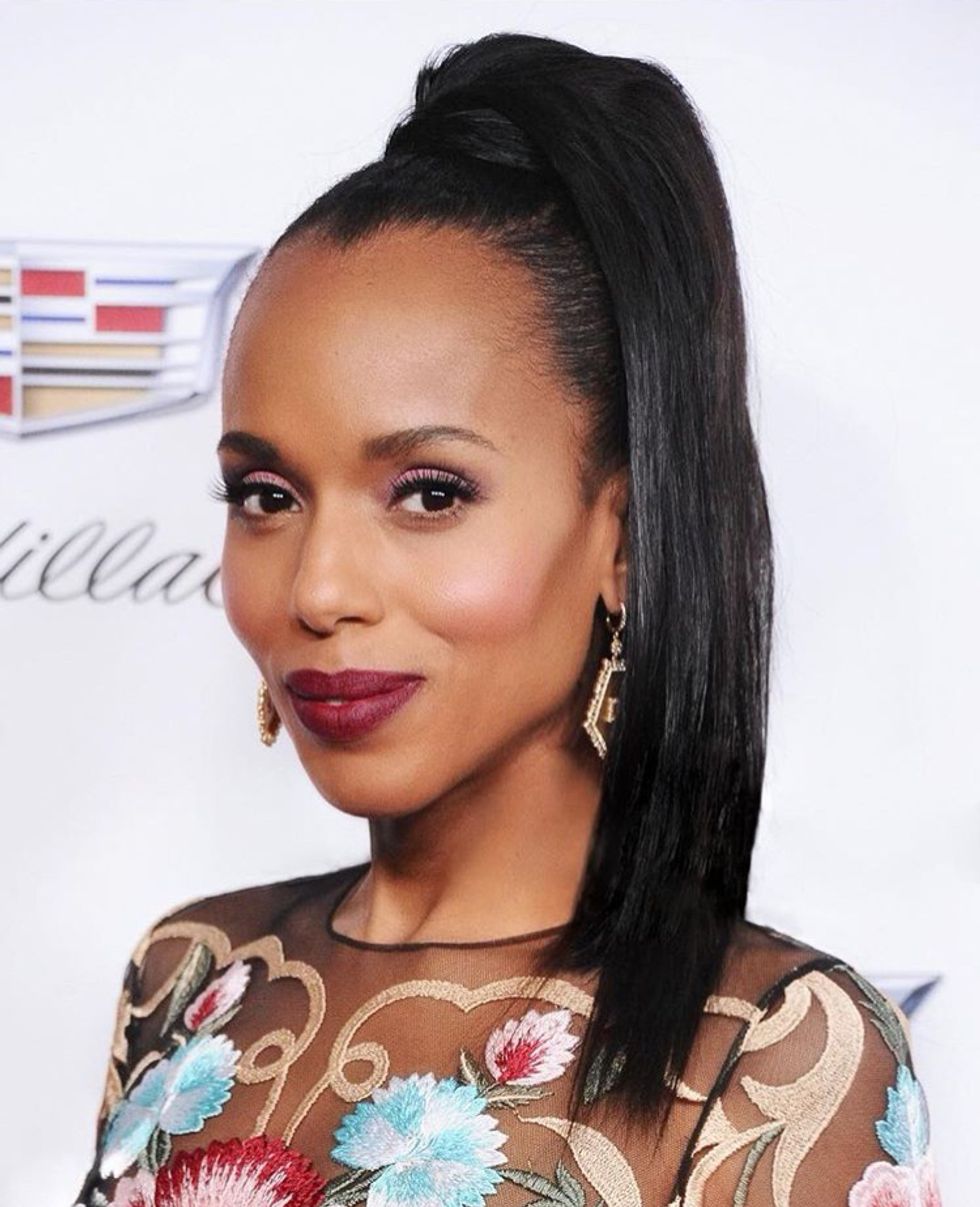 @carolagmakeup
Get The Look:
Naturally, people push for a red lip when talking about romantic looks, and if that's your speed, go for it! Another option is a beautiful berry lip like the one Kerry is sporting, and a great thing about a berry lip is very few require a lip liner unless you want to just add some dimension.
Depending on the finish you're going for, you can go for a lip liner, a lipstick, or even just a pigment gloss.
Urban Decay's 24/7 Glide-On Lip Pencil in the shade 'Blackmail' ($20) is a deep berry wine color, and these liners are absolutely moisturizing and long-lasting. Alternatively, Essence's lip liner in the shade 'Berry On My Mind' is only $2.50 (ulta.com) and will do the trick! For a lipstick feel, you can snag Maybelline's lipcolor in the shade 'Blissful Berry' (ulta.com, $7.50), or even a $3 Elf velvet lipstick in the shade 'Berry Bordeaux'.
A bold lip is always a statement maker, and a berry lip can go with a variety of different color schemes and looks.
Keep your lip as the center of attention or pair it with a bold eye look to match.

Janelle Monaé's Stunning Contour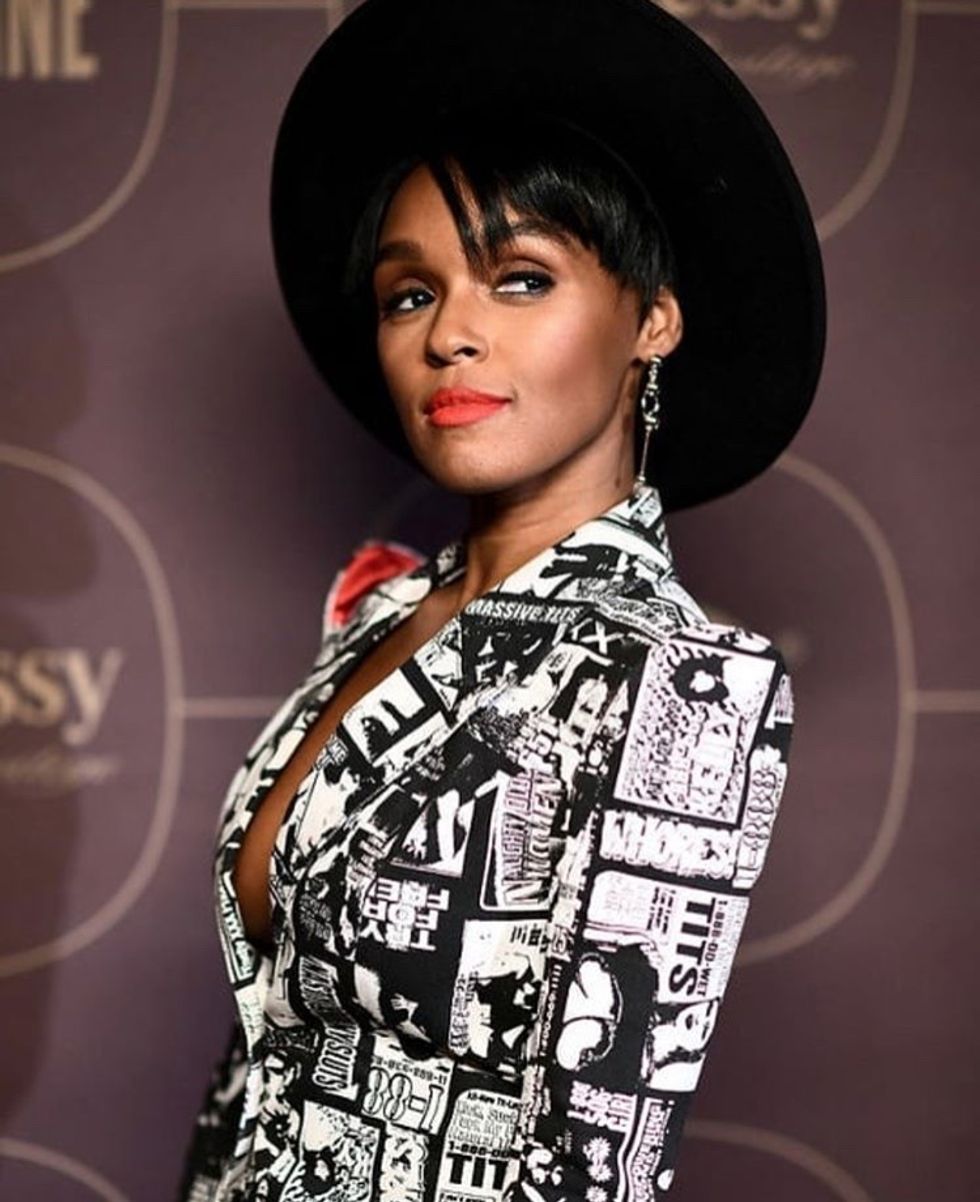 @janellemonae
Get The Look:
When we say to slay your makeup, you have to include a contour to carve out those cheeks! Janelle's contour is perfect for a night out with bae, and easily achievable right at home.
Remember though, for contours you'll want a cool-toned color a few shades darker than your skin, versus a bronzer that is usually more warm and for the summer time.
For stick contours, NYX's Mineral Stick Foundation ($10), Fenty's Match Stix ($54), or even Iman's stick foundations ($9) can all serve as your foundation and your contour. And for powders, MAC's Pro Longwear Pressed Powders ($28) is a timeless staple (also one of the first brands that really had products that were black-girl friendly).
On a bit more of a budget?
No problem, Black Radiance's Pressed Powder retails for only $5 and also comes in a variety of shade tones. For the best results, take an angled brush and start right at the top of the ear and work it in an angled direction, carving out under your cheekbones.
Rule of thumb: always start with less and work your way up to your desired level of slay.
Oh, and to avoid those harsh lines, take a little bit of setting powder and lightly buff it over the line, blending it with the contour.

Danielle Brooks' Pretty (Daring) Eyes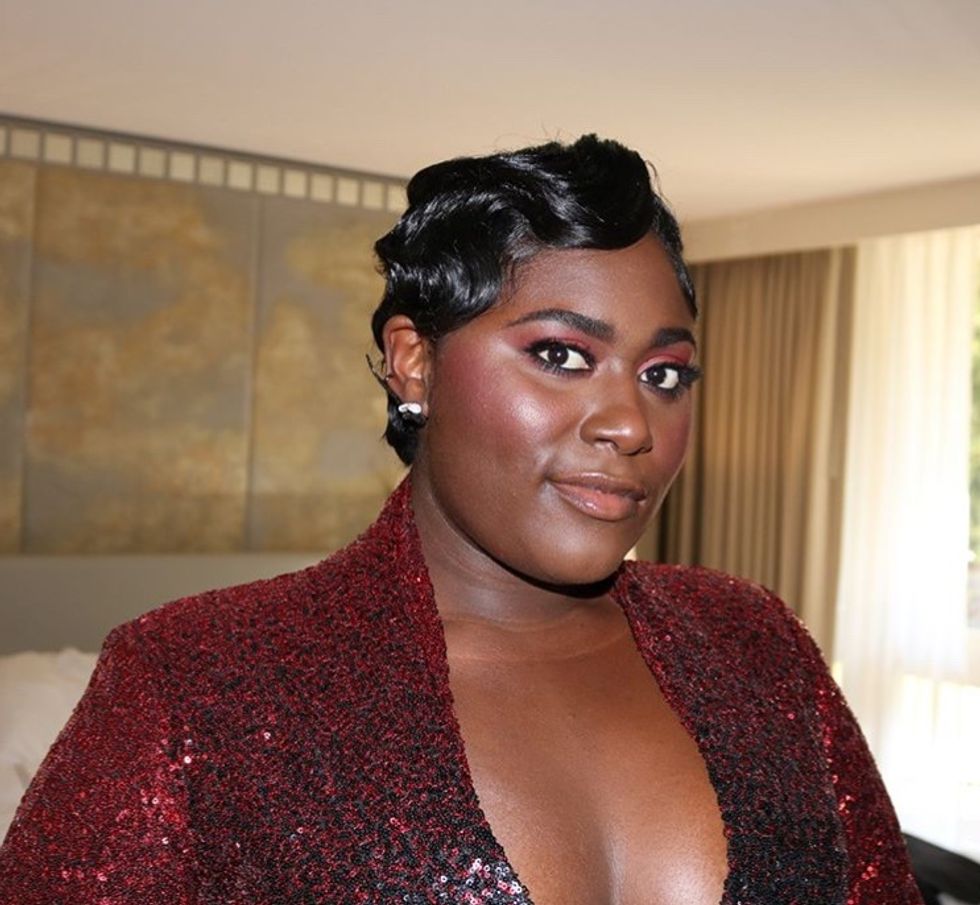 @danieb3
Get The Look:
People who say that browner skin tones can't wear bright eye shadows really need to take a lesson from Orange Is The New Black star Danielle Brooks!
If you're looking to play up your eyes for a date night, you'll want to make sure you apply a primer so your shadow doesn't go anywhere all night.
Pat your primer onto the lid, and then go in with a transitional color (the best ones are when they are slightly darker than your skin), on the outer corner of your eye. After that, it's time to go in with some color! Brooks is wearing a beautiful cranberry eyeshadow, so you can take MAC's 'Cranberry' or Colourpop's $5 'Paradox', and with an eyeshadow fluffy brush, apply it directly on the lid and work your way out. For this part, be sure you're patting the product on and not swiping!

To amp up your look, you've got to make it smokey.
Take a matte black eyeshadow— like MAC's 'Carbon', NYX's 'Raven', or Maybelline's 'Night Sky'— and with a light hand swipe it into the outer corner of your eye, blending it with your crease lid color and the transition shade. My word of caution is to always take your time when applying your 'smoke' color to avoid looking like you've got a black eye.
And to finish off this bodacious look, you know what you've got to have: lashes!
Wispy and fun, lashes will always elevate your look and pull the glam factor all together. Ardell's lashes ($12) are an easy go-to, and the best part is you can reuse your lashes more than once with proper care!
Which look would you try to recreate for your night to remember?