The year is over just as fast as it came, but there were music videos, award-winning moments, and Black Lives Matter movements sprinkled in Black Girl Magic between January and December that made 2015 one for the books. What many would consider small feats, we at xoNecole are defining 25 momentous occasions--Black girls and women as the forces behind America saying our name, including us in the conversation, and etching our names down in history.
---
From politics, to that one song on The Pinkprint that had us captioning every photo with a friend, #Goals, to a special someone taking over the NBA finals more than the players themselves, '15 was saturated with women doing the damn thing.
Check out our countdown of 25 Black women and the year's biggest moments to see who scored the number one spot in the list below. Don't forget to let us know what your favorite #BlackGirlMagic moment of 2015 was.
25. Black Girls Who 'Bond'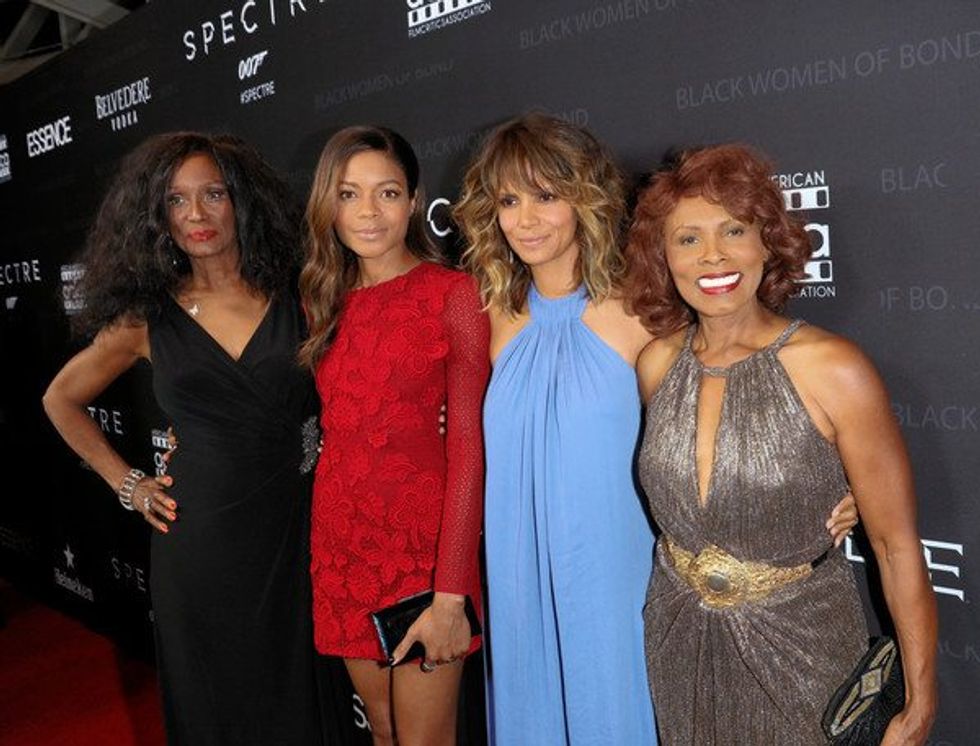 Halle Berry, Naomie Harris, Trina Parks and Gloria Hendry were honored last month at the California African American Museum by Sony Pictures, Essence magazine and the African American Film Critics Association for their roles as Bond girls in the 007 franchise. Parks was the first ever Black actress to appear in the film, Hendry was Bond's first Black love interest, Harris is the first British Black actress and Berry became known as the first Black woman cast in the film in 17 years after her role in 2002's Die Another Day.
24. Comeback Kids Queens: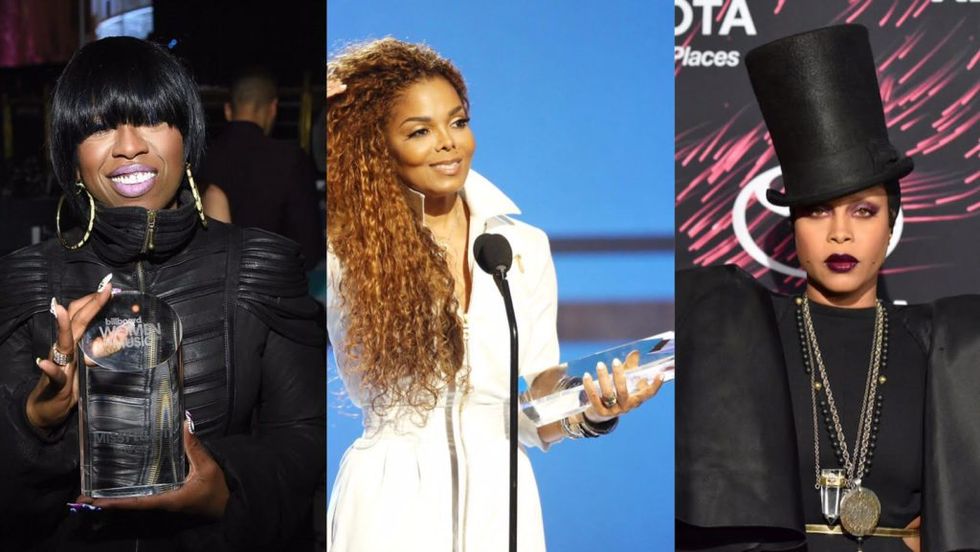 Janet Jackson returned with Unbreakable (and world tour), Erykah Badu dropped heat with But You Caint Use My Phone, and Missy Elliott came back like she never left with "WTF (Where They From)". We're jammin' to new tunes for the new year from iconic women.
23. Cicely Tyson at Black Girls Rock!
Cicely's entire speech is the only fitting caption for this Black Girl Magic moment.
22. Lo' and Behold, Lupita Nyong'o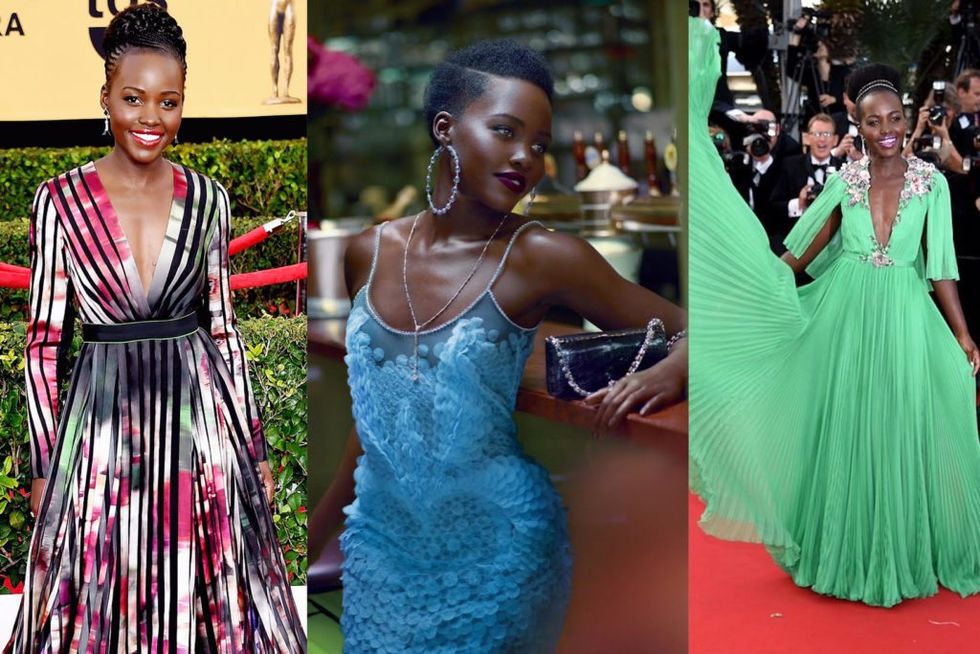 HuffPo named her the Best Dressed Star of 2015, the legendary Star Wars franchise picked her up for their latest film, Vogue decided she needed a second cover, and Harlem declared October 20th Lupita Nyong'o Day. Again, she wins.
21. Tommitrise Collins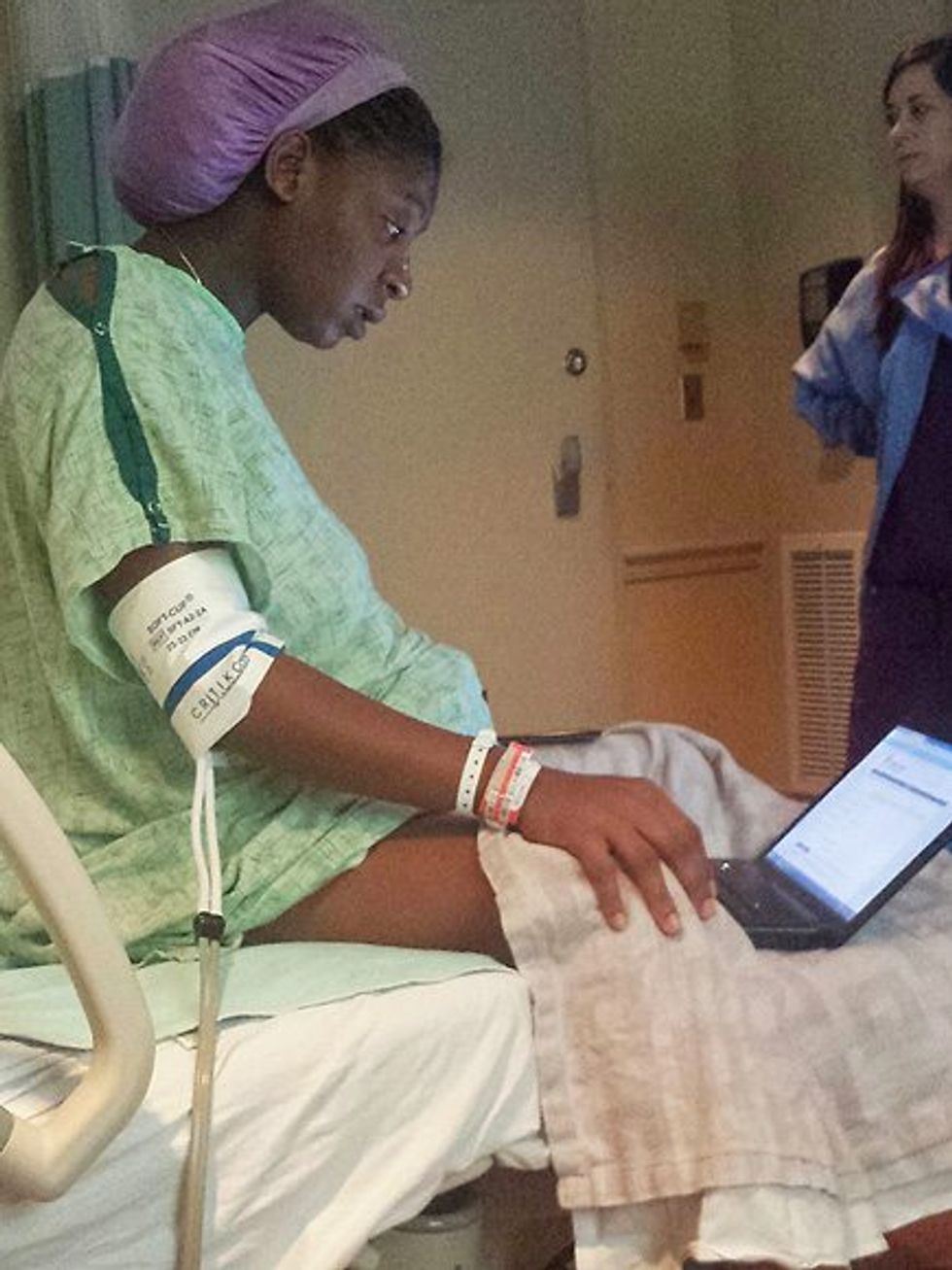 Collins reminded us to stop fussing about the little things when she knocked out her psych exam in the middle of labor. The power of a multitasking (and determined) mama!
20. Black Barbies & Brown Dolls That Look Like Us, For Us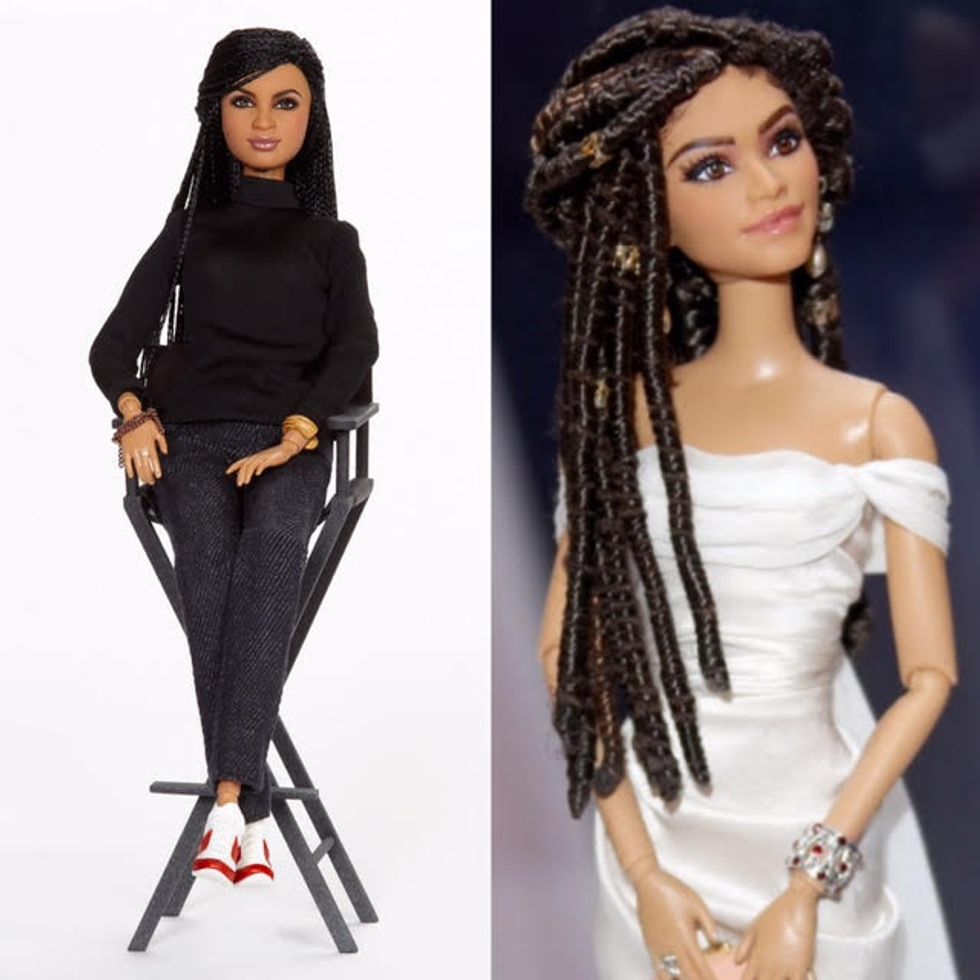 Zendaya Coleman's appearance at this year's Oscars was YAASSS-worthy, but it was how she held it down in response to Guiliana Rancic's infamous "I feel like she smells like patchouli oil or weed" comment that earned her a Barbie made in her likeness from Mattel.
Michelle Chidoni, a spokesperson for Mattel, said Zendaya is "a role model who is focused on standing up for yourself, your culture, and for what you believe in–that's very relevant for girls."
Related: Zendaya Gets A Barbie! — What This Means For Diversity In Toys
Ava Duvernay also had a replica made, but you may not have seen it because it sold out in just 17 minutes on the web and Mater Mea rounded up a list of 9 dolls that resemble brown and Black girls everywhere.
19. BFF Moment of the Year
Beynika dance battle was LIT pic.twitter.com/Gp8wkKdggx — ️ (@runtheworId) October 21, 2015
Nicki Minaj and Beyoncé proved tons of things to doubters and naysayers this year, but it was them teaming up for Nik's "Feelin' Myself" remix that had Monday, May 18, 2015 one of the craziest days on social media.
The duo's musical hook up served as inspiration for Halloween costumes between adult,s and their Tidal X: 10/20 performance back in October had most people in their houses attempting to recreate Bey's solo performance during her "dance off" against Onika.
18. Unity In A Hashtag
Photo Credit: @markusprimelives
We still have a ways to go, but where would we be with #BlackLivesMatter, listed as one of the top 10 hashtags of the year and created by Alicia Garza, Patrisse Cullors, and Opal Tometi, #SayHerName (coined by the African American Policy Forum, the Center for Intersectionality and Social Policy Studies at Columbia Law School) and #BlackGirlsRock, created by Beverly Bond, who had a great response on The Root about the backlash of the hashtag during the 5th annual BET award show this year:
"The affirmation Black Girls Rock! does not mean other girls don't rock, nor is Black Girls Rock! an ornamental phrase used to cloak ourselves in vanity. Saying that we rock is a response to the tremendous neglect that black girls feel when they grow up in a society, or, as Mara Brock Akil said in her 2013 Black Girls Rock! acceptance speech, 'where they grow up in a home where their picture is not on the wall.'"

"All are welcome to take part in this celebration of our history and our contributions to mankind, but know that our empowerment does not limit your own power, purpose, potential or worth. There is enough room for all of us to rock together."
17. Being Mary Jane
Taking over your Tuesdays, Mara Brock Akil's creation has nailed some of very relatable moments this season (dubbed the best one yet), including suicide, police brutality, interracial dating, abortion, people of color in the workplace, and career woes.
At the start of season 3, Gabrielle Union spoke on what's to come for MJ: "I'm most excited about her journey, and the journey the audience will go on when it comes to thinking about the role of beauty. What does it mean to be an aging woman who is in front of the camera? How will Mary Jane internalize that? What are the lies we tell ourselves? 'You're not good enough, you're a joke, you're not enough, you're unlovable, you're unworthy.' It's like cognitive behavior therapy, where little by little we see Mary Jane replacing those negative thoughts and negative behaviors with positive ones, and seeing where she comes out of that."
We cannot wait for season 4!
16. Issa Rae's Awkwardness Wins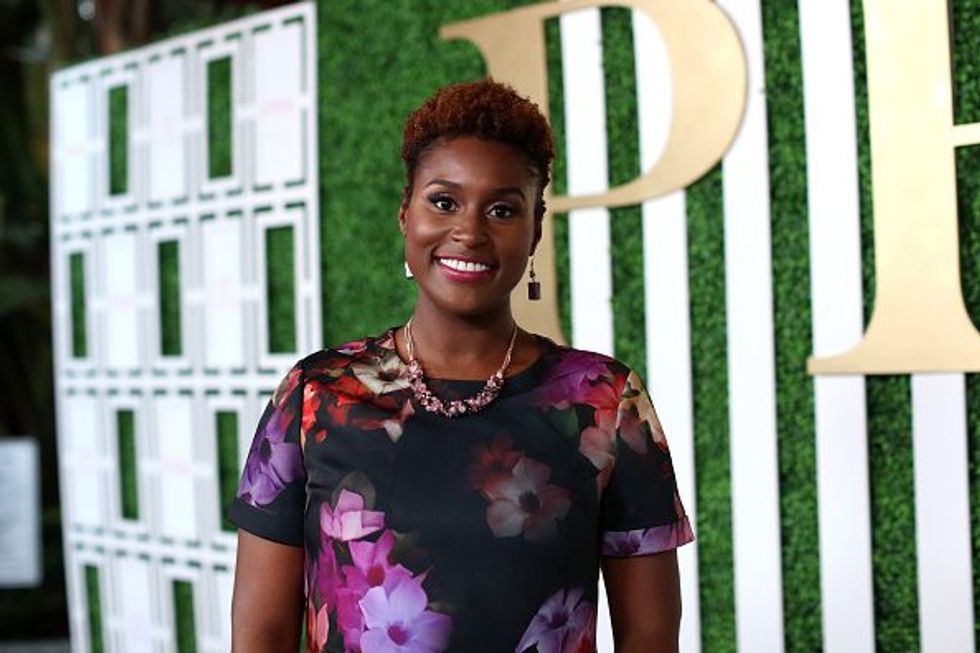 Photo Credit: Mark Davis/BET/Getty Images
From a highly popular web series, to writing her very first memoir, The Misadventures of Awkward Black Girl (which landed on the New York Times Best Sellers List), to co-executive producing and writing her new 30-minute series Insecure on HBO, Issa Rae isn't slowing down anytime soon.
15. Marilyn Mosby
The Baltimore prosecutor made headlines this summer after promptly filing charges against six of the city's police officers after the death of 25-year-old Freddie Gray. It was her commanding and confident nature in a 21 minute speech on May 1st that caught the internet by storm, as she delivered news of the 28 counts the officers would face. 
Deemed a "powerful act that allowed the city to begin healing" by Marc Lamont Hill, the 35-year-old was later profiled in Vogue with highlights of her childhood, her marriage to a Baltimore city councilman, and the criticism she faced due to boldness she brought on the steps of Baltimore's War Memorial. With a retrial date set for June 13, 2016, after a 12-member jury couldn't reach an unanimous decision on four counts of Officer William Porter last week, we haven't seen the last of Mrs. Mosby...or her fire.
14. Loretta Lynch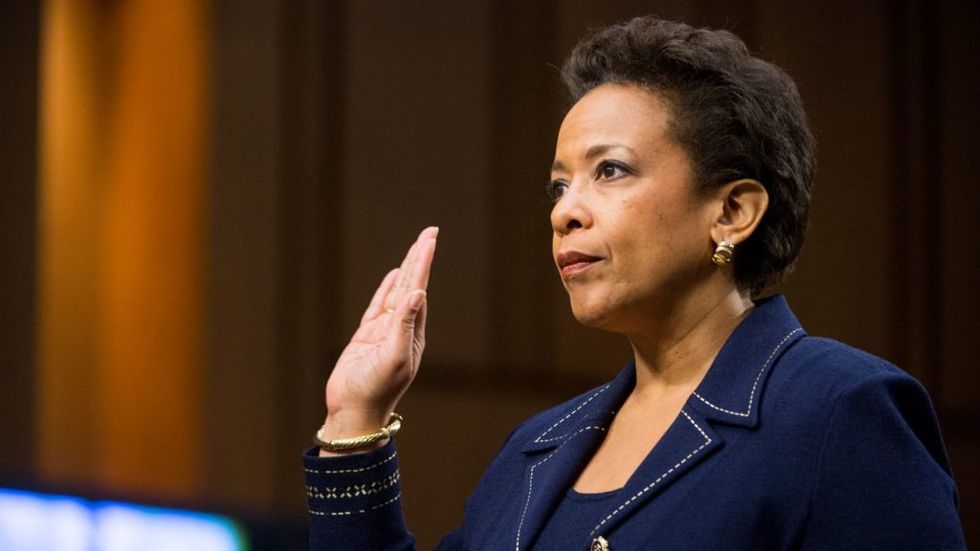 The Harvard graduate was sworn in as the 83rd Attorney General of the United States on April 27, 2015, the predecessor of Eric Holder. Since her tenure, she's tackled everything from the Planned Parenthood  to the San Bernardino shooting, and stood with Muslims saying she will prosecute hateful rhetoric about Muslims that "edges towards violence."
At the National Women's Law Center Awards Dinner last month, Lynch tackled sexual assault, domestic violence, human trafficking, and the overall fight for women's rights in her speech and left a powerful and empowering message for women around the world.
"With all of these efforts, in all of these areas, we are sending a message to every woman in this nation who has been let down, left out and left behind: you are not alone. You are not forgotten. Your struggle is our struggle. And we will never leave your side. After all, for the Department of Justice, for the advocates in this room and for this extraordinary organization, the fight for women's rights is not just about some of us breaking a glass ceiling–it's about elevating all women, empowering all women and making our progress real for them, too.  That is our challenge today. Because when women succeed, America succeeds. When women succeed, the world succeeds. Because when we empower women, we empower a family, a community, a nation."
13. Brands That Love Black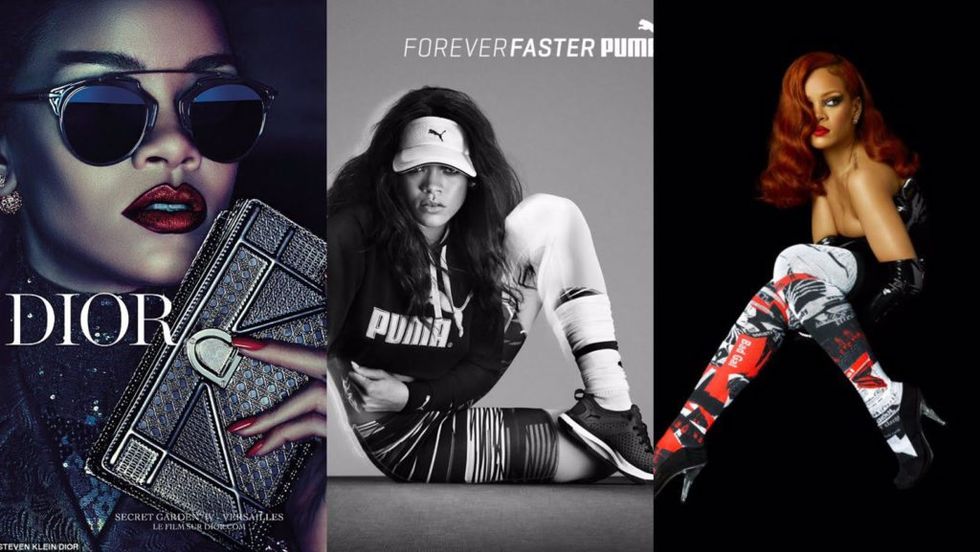 Black girls were the faces of fashion brands and major companies this year. Here's a brief rundown:
Rihanna made history and became the first Black spokeswoman for Dior and was featured in their Spring 2015 campaign "Secret Garden." She starred in PUMA's "Forever Bolder" campaign where she's Creative Director and announced her PUMA Creepers sneaker which sold out within a few hours online, in addition, released her first seasonal sock collection in collaboration with Stance after being named contributing creative director. We also can't forget about that $25 million deal she signed with Samsung for a world tour partnership and album sponsorship.
Related: An Inside Look Into Rihanna's Clara Lionel Foundation And Its Admirable Philanthropic Endeavors
Ciara became the new face of Roberto Cavalli's F/W 2015 campaign, was named ambassador for Top Shop USA and showed us how strong her snapback was on the cover of Shape for their Sept. 2015 issue. Alicia Keys was the declared brand ambassador for Levi's Jeans and Tinashe repped Ralph Lauren for the brand's Denim & Supply fall campaign.
Joan Smalls had quite the year as she was name one of the three faces for Stuart Weitzman's Spring 2016 advertising campaign and put her all-matte lipstick collection with Estée Lauder in motion.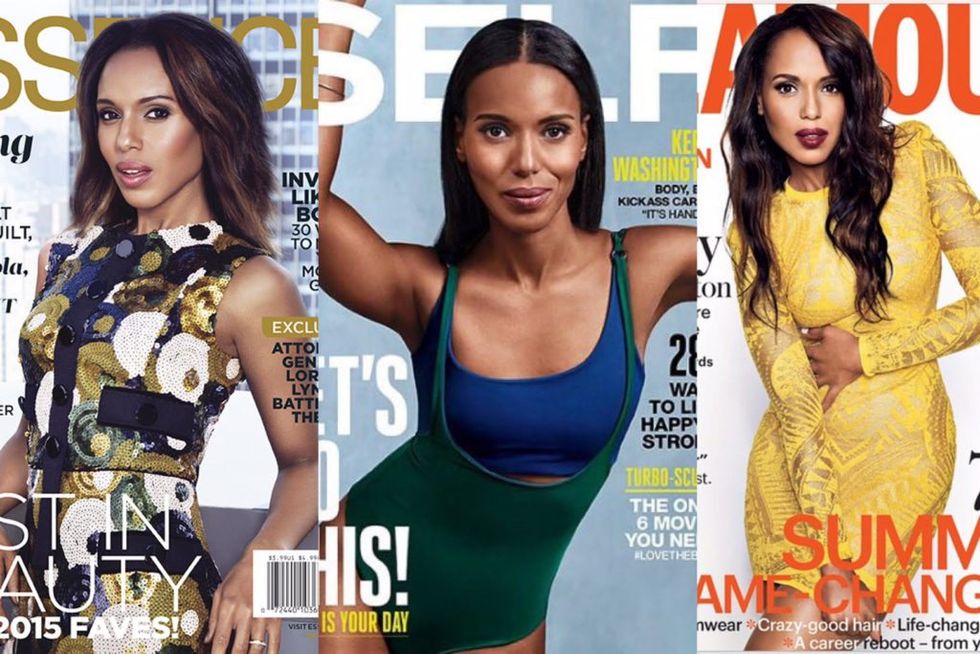 Kerry Washington was queen of magazine covers this year, appearing on InStyle (March), Net-a-Porter's The Edit (March), Ebony (March/April), Marie Claire US (April), Marie Claire South Africa (May), Glamour US (May), Marie Claire UK (June), Glamour UK (July), Vanity Fair (Aug.), Self (Sept.), and Essence (Oct.).
12. Rihanna in Home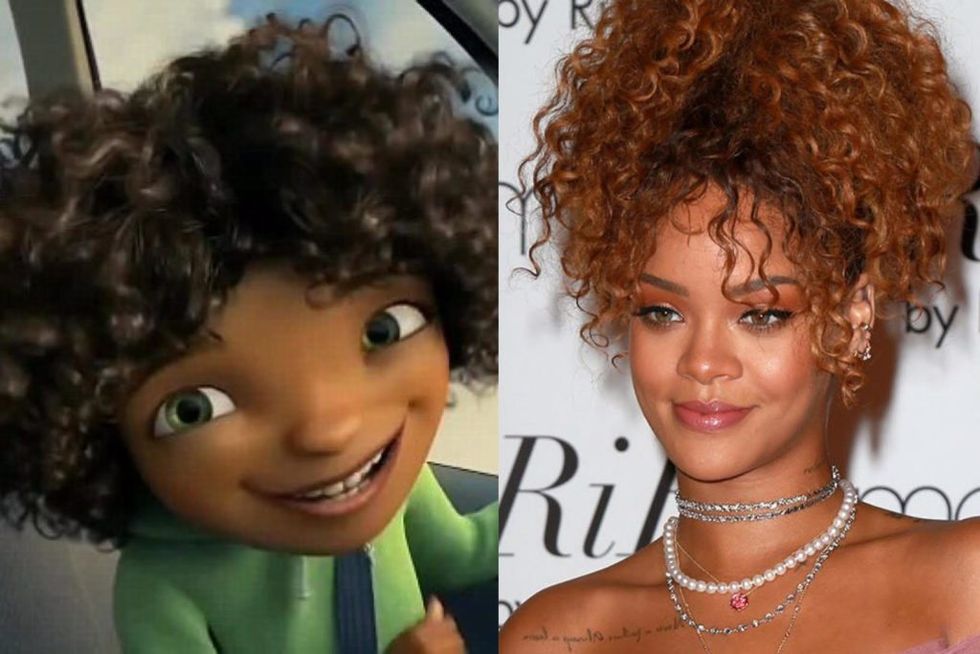 RiRi played protagonist Gratuity "Tip" Tucci in the DreamWorks film representing diversity and showing little girls around the world that they too can be heroes in films. The Bajan beauty spoke on the importance of Tip and what she means for tiny tots everywhere:
"It was both important to me and Dreamworks for this project to be as realistic as possible. We wanted little girls to feel empowered. Little girls of any size, shape, color, race it didn't matter. We wanted girls to just feel strong and brave, empowered, beautiful and that they can do anything. They can take charge of their life or situation, no matter what. I think we were really, really careful especially with the animation to make sure that she wore the right things. That her body was not unrealistic, you know and I think for kids, that's really special for young girls."
The film brought in $54 million its opening weekend. Little girls with baby fros unite!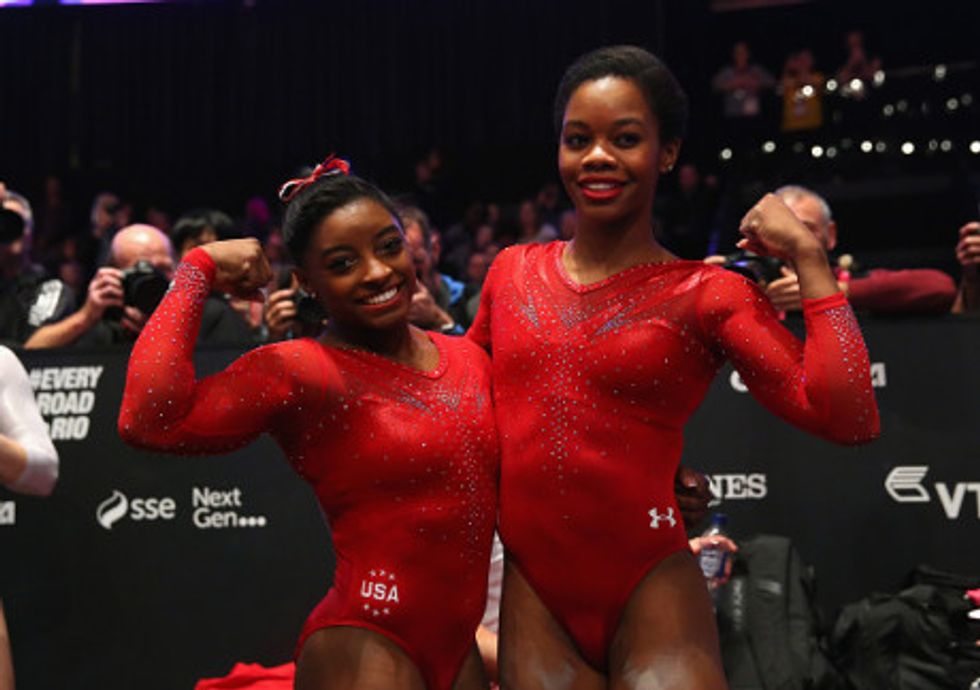 Photo Credit: Alex Livesey/Getty Images
11. Simone Biles & Gabby Douglas Are Gold
It's something special when the first woman to win three consecutive World Gymnastics Championships in the all-around is a 18-year-old Black girl. You can also add a few more checks on her achievement list as she is the first African-American to be crowned world all-around champion and has 10 gold medals–the most won among women in the history of the World Championships.
The petite athlete was also listed as one of Sport Illustrated's 2015 Sportsperson of the Year and hasn't lost in a meet in 2 ½ years. And in case you think she's going to slow down anytime soon, guess again. She hasn't even made it to the Olympics yet. With these two together, it's looking like more growth, gold, and goals.
Gabby's back and helped Team U.S. win another gold at the 2015 World Artistic Gymnastics Championships, becoming the first Olympic-all around champ since '81 to return back to the sport and win big.
10. It's Riley's World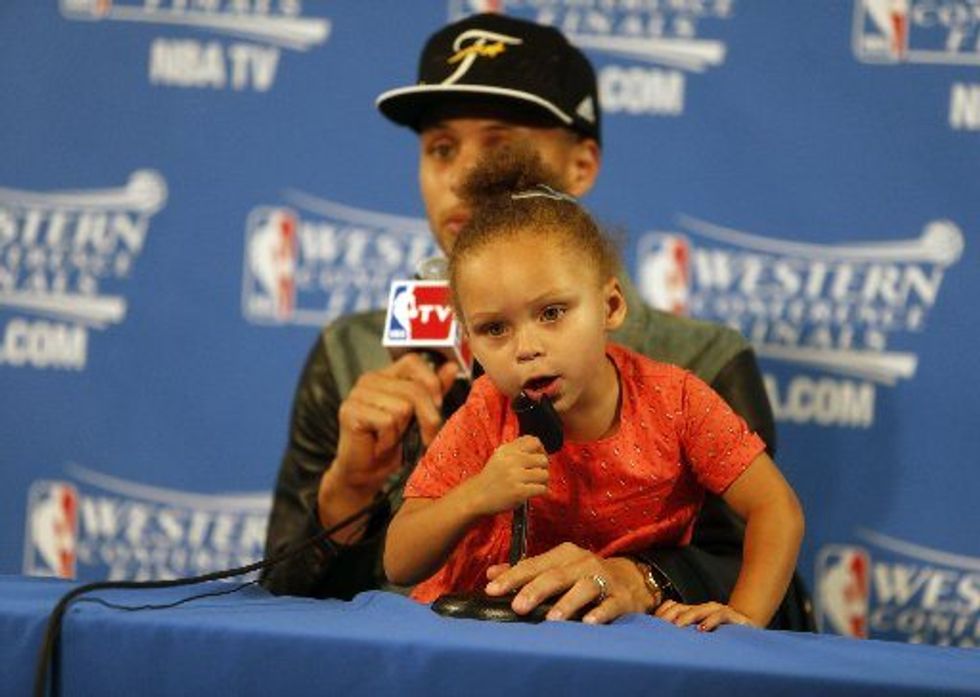 Many tuned into the NBA Finals just to see Riley Curry's commentary after her dad played his heart out in the series. She grabbed the mic and demanded to sing Big Sean's "Blessings" and the rest was meme history. Riley would later whip and Nae Nae into our lives and become a model for Freshly Picked Moccasins. She even became a big sister this year, so Riley's resumé is pretty long for a three-year-old. Our hearts cannot wait to see how Riley takes over the new year.
9. Misty Making Moves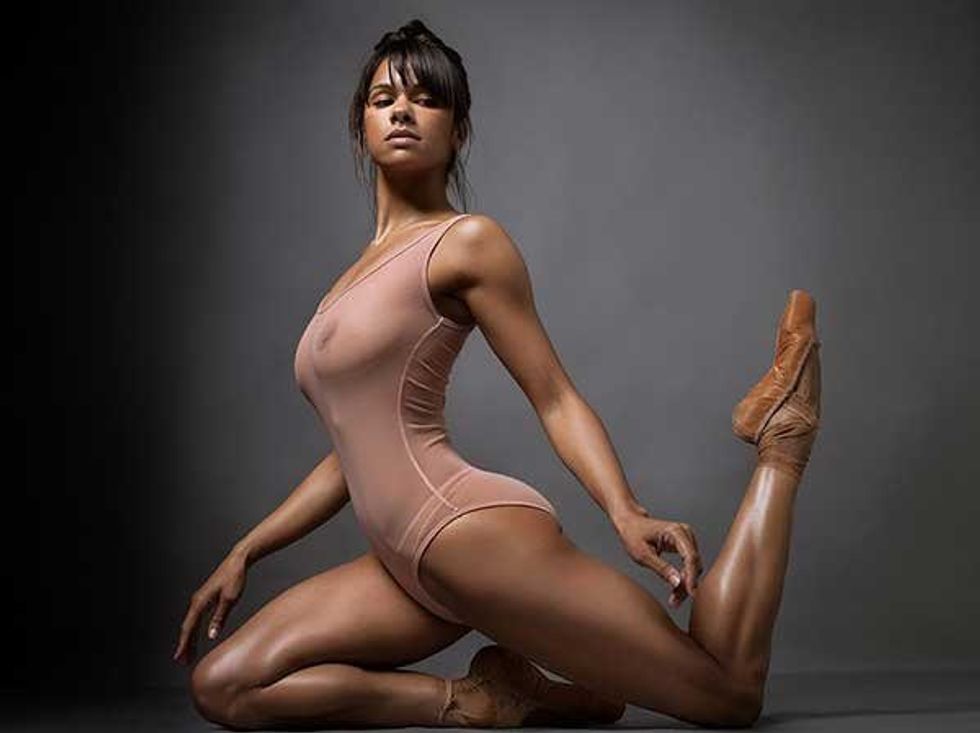 Misty Copeland had one hell of a year. This summer, the ballerina was promoted to principal dancer at The American Ballet Theatre, the first African-American to hold the position in its 75-year history. But that's not all; You can check 'first African-American dancer to star in The American Ballet Theatre's production of "Swan Lake,"' made her Broadway debut in "One the Town," landed on the September cover of Essence, one of Glamour's Women of the Year, and one of TIME magazine's 100 most influential people of 2015 off the list, too.
To close out her year, she had street named after her in her hometown of San Pedro, California recently.
8. Bree Newsome Did What We Were All Thinking & Wanted To Do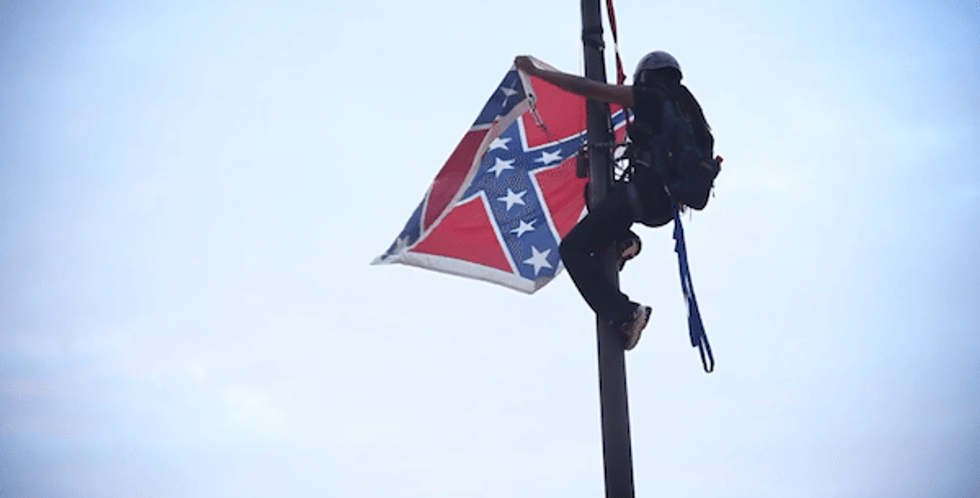 South Carolina Governor Nikki Haley proclaimed confederate flags would be taken down after the horrific Charleston church shooting, but one woman thought the state was taking entirely too long. Activist Bree Newsome became a household name back in June and another notable Black woman of '15 after climbing more than 30 feet up a pole outside the capitol building to take down the flag that represented white supremacy.
Related: Bree Newsome Hailed A Hero After Removing The Confederate Flag From The South Carolina State House
"We removed the flag today because we can't wait any longer. We can't continue like this another day. It's time for a new chapter where we are sincere about dismantling white supremacy and building toward true racial justice and equality," Newsome said in a statement. 
Although the flag went back up after Newsome's arrest, she surely left her mark, ensuring our voices are heard, loud and clear. 
7. Janelle For Justice
Ms. Monae shined in 2015. Janelle confidently stated "You cannot police me, so get off my areola" back in April in her single, "Yoga," her first single as a lead artist to chart on the Billboard Hot 100. She rocked the hell out of signature black and white pieces at the 2015 Met Gala this past winter and the Chanel S/S 2016 show this summer. She was even the declared Tyrese's WCW, who professed his love in a lengthy Instagram post.
Related: Online Chivalry? Tyrese Writes An Open #WCW Love Letter to Janelle Monáe
But although her fashion choices and beauty stood out, it was what she stood up for that did all the talking. This past summer, she took to the streets of Philly to join Black Lives Matter activists with her Wondaland Arts Society family and demanded we say the names of the men and women who have died at the hands of police brutality in America. She hinted at new music that reflected the state of the America and later dropped "Hell You Talmbout," a 6 ½ minute track that named, and demanded listeners name, some of the many victims that have succumbed to race-related violence over recent years.
This song is a vessel. It carries the unbearable anguish of millions. We recorded it to channel the pain, fear, and trauma caused by the ongoing slaughter of our brothers and sisters. We recorded it to challenge the indifference, disregard, and negligence of all who remain quiet about this issue. Silence is our enemy. Sound is our weapon. They say a question lives forever until it gets the answer it deserves... Won't you say their names?
With the work she's doing and the attention she's bringing to relevant issues, Janelle Monae confirmed her name will be remembered for years to come.
6. All Uzo Everything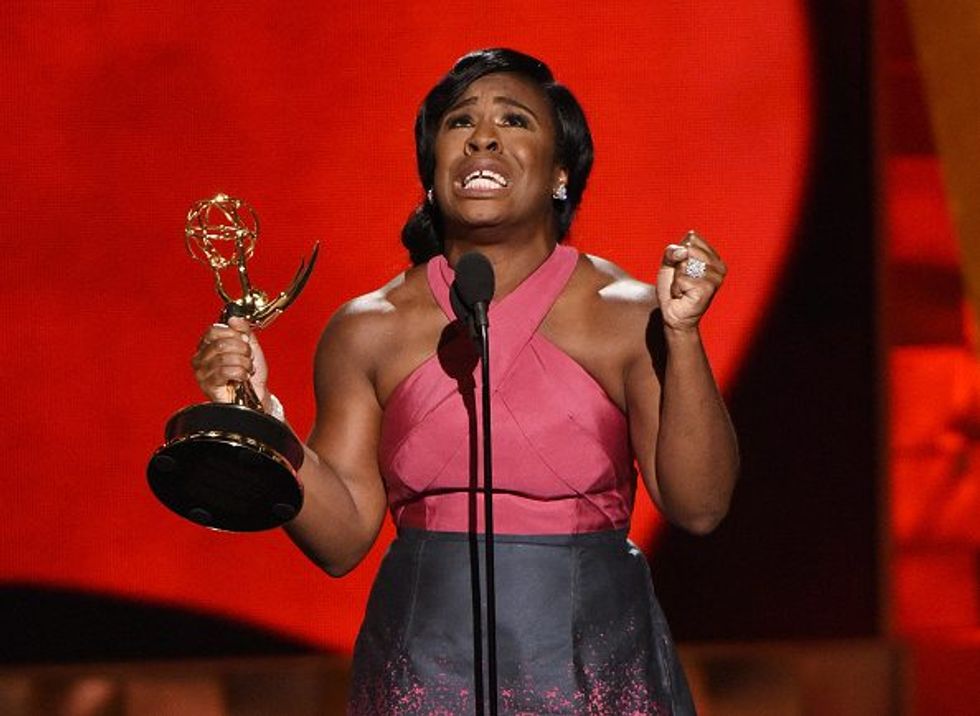 Photo Credit: FOX/Getty Images
Uzo gets recognition once again for her SAG Award Win for Best Female Actress in a Comedy this year and her role as Glinda the Good Witch in NBC's The Wiz Live! These tweets says it all:
A DARK SKINNED BLACK WOMAN DRAPED IN GOLD DESCENDS FROM THE SKY AND IS MET W/ THE WORDS "SHE IS BEAUTIFUL!" #MESSAGE!!!! — Ash Money Records (@LightsPlease___) December 4, 2015
A DARK SKINNED BLACK WOMAN DRAPED IN GOLD DESCENDS FROM THE SKY AND IS MET W/ THE WORDS "SHE IS BEAUTIFUL!" #MESSAGE!!!! — Ash Money Records (@LightsPlease___) December 4, 2015
5. Amandla Stenberg Earns Title of Voice of the (Young) People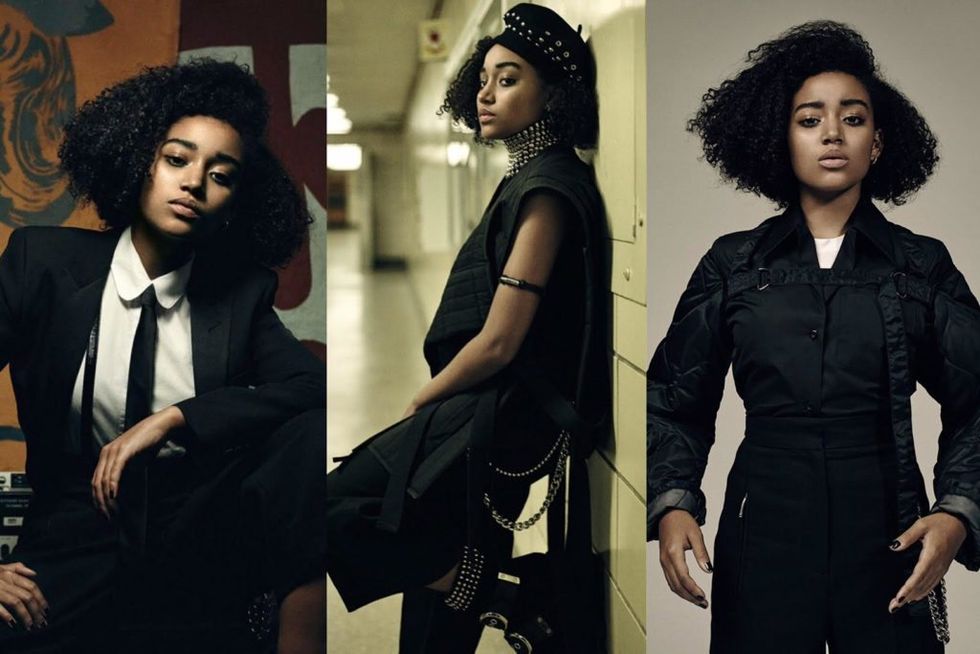 No, that's not an actual award, but after her high school history project titled "Don't Cash Crop My Cornrows" went viral, she publicly vocalized her thoughts on cultural appropriation and how non-white celebrities remain mum on issues that directly affect the Black community. It was a bold move for the 17-year-old who sparked a much-needed conversation on appreciation versus appropriation.
Related: Hunger Games Actress Amandla Stenberg Gives Us a Lesson on Cultural Appropriation
But she used her voice and her influence to do more, like create her own comic book, "NIOBE: She Is Life." The comic follows half-elf, half-human warrior, Niobe Ayutami of the fantasy world, Asunda, who is on a quest to find herself. Stenberg proved this year that at 17, she definitely knows who she is. Eyes and ears will be on Stenberg in the years ahead.
4. All Eyes on Zendaya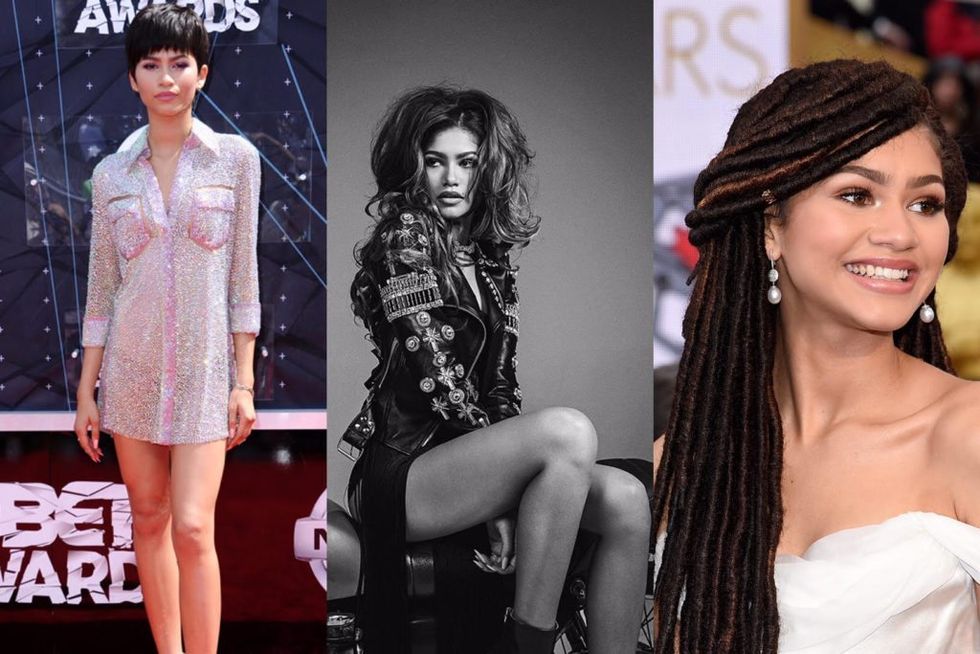 What is left to be said about Zendaya, who dominated headlines and social media this entire year?
From her fashion choices on and off the red carpet, to the sneak peeks of her shoe line, Sole of Daya, the unveiling of her own wax figure at Madame Tussauds, her own Barbie doll, standing alongside Harry Belafonte and Jesse Williams for Ebony magazine's December issue, calling out photoshop in her photos, guest starring in Black-ish, and shooting for the January 2016 issue of Vogue's "Be Yourself" spread to name just a few, Zendaya played no games in 2015.
Related: Why I Love That Zendaya Has Embraced Being A Voice For The Younger Generation
On top of all of that, the 19-year-old still has her day job as the leading lady in Disney Channel's K.C. Undercover. Z's twenties are sure to be filled with milestones and historic moments if she keeps it up.
3. Viola, Regina, Uzo, Kerry & Taraji Give Us Memorable Award Show Moments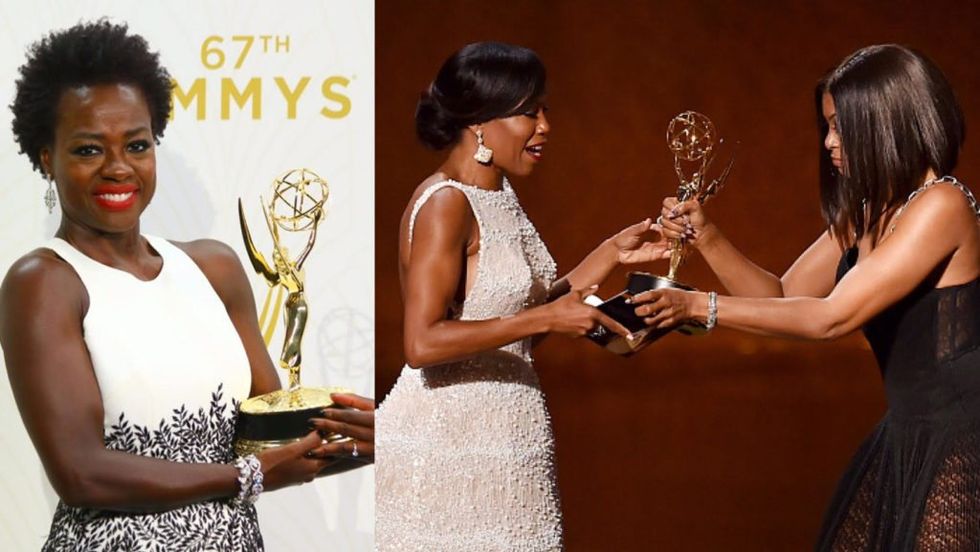 People usually don't do the award show thing anymore unless you have a Twitter account, and then it's like watching TV as one, massive family. But whether you live-tweeted the 67th Annual Emmy Awards or skipped out, one thing that's for sure is Regina King, Uzo Aduba, and Viola Davis brought everyone to tears with their speeches. 
Related: The Most Memorable Moments from the 2015 Emmy Awards
King, who won Best Supporting Actress in a Limited Series or Movie for American Crime and Davis for Outstanding Lead Actress in a Drama Series for HTGAWM (the first Black woman to win in that category) reminded us of the importance in representation in the media. And Uzo, who took home the Emmy for Best Supporting Actress in a Drama Series for OITNB, lifted our souls with her spirit of gratitude.
Taraji and Kerry were the two supportive sisters that cheered you on and understood a win for one Black woman was a win for all of us. Black girls everywhere rejoiced.
2. The Ball's In Serena's Court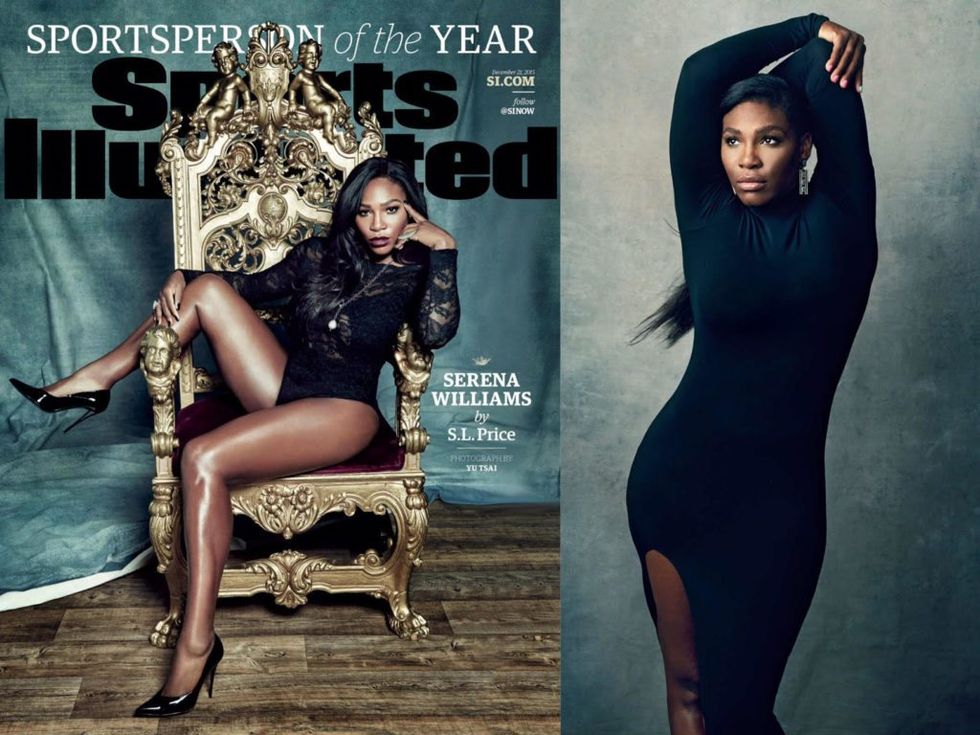 Let's pull out Serena's receipts:
Had a solid winning streak of 24-0 from January to May

The Serena Slam: winner of the Australian Open, French Open, Wimbledon, and U.S. Open, racking up 21 in total and making her third on the all-time list

Played with the flu, kicked ass, and won (when's the last time your fave did that? Jordan in '97?)

Named Sports Illustrated Sportswoman of the Year, the first solo female athlete since 1983, the third ever (but the most Boss cover in all of SI history)
Whether you were discussing her curves or her serves, Serena has been the most talked about athlete this year, a testament that women can dominate the sports world. Insert your black polished hand emoji here.
So who lands in our number one spot?
1. Taraji P. Henson/Cookie Lyon
If you're an avid Empire watcher or get the Wednesday night deets on your News Feed, you can attest to the fact that Taraji's name mattered in 2015. Her style choices on Lee Daniels' hit show spawned fearless fashionistas who could rock bold prints and blog lists on Lyon's best looks. Cookie's Closet, like Nicki and Bey, became a major costume choice amongst women on October 31st. Cookie's flair is a broad collection of hood chic, furs and fedoras, gold chains, and animal prints –and every look is a win for Cookie who lets her personality stand out the most on the show. But enough about the character who indubitably was crowned Time's Most Influential Fictional Character of 2015.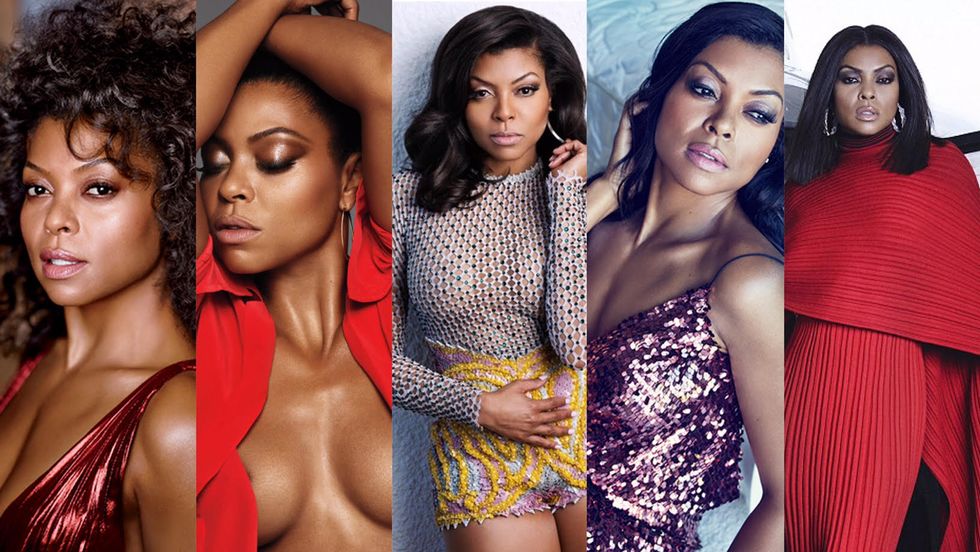 Taraji was the lady of the year as she dominated the pages of Uptown Magazine in March, had the opportunity to host Saturday Night Live in April, won winning Best Actress in a Drama Series for Empire at the 2015 Critics' Choice Television Awards in May, shined on the cover on THR back in June, slayed on the cover of W and in Harper's Bazaar feature in August, graced Allure magazine's July cover, glowed in Ava Duvernay's Apple commercial in September, went natural and stunned in CR Fashion Book's seventh issue and Glamour's October cover, made The Hollywood Reporter and Essence's November covers and was honored at the 2015 Accessories Council ACE Awards and VH1 Big in 2015 with the Entertainment Weekly Awards. She played no games this year, ensuring that you knew who she was and how powerful she is before the new year rings in.
Related: Taraji P. Henson Takes Off Her Wig for CR Fashion Book : 'My Hair Does Not Make Me Beautiful'
And we can't forget about her Emmy nomination that placed her in the history books as it was the first time two Black women earned noms in the Outstanding Lead Actress in a Drama in the same year. Taraji didn't take home any awards, but it was her inspiring display of sisterhood towards Regina King and Viola Davis that made her an automatic winner in our book.
When you see another black queen winning. 👑👊🏾 #EMMYS pic.twitter.com/3oHByQ6DTT

— Alexander McQueen . (@Racheleezy) September 21, 2015
King told Entertainment Tonight she had an indication she might have won the Emmy for Outstanding Supporting Actress when she saw Taraji's reaction:
"I was stunned because that's my girl, when she [gasped], that's when my heart started beating fast. 'She's gotta be doing that for me, it's gotta be me!' And I had no idea she was gonna be doing that category!"
Taraji's proud reaction went viral and women started to declare "Everyone needs a Taraji in their circle." We couldn't agree more. Congratulations to Taraji on her successful 2015. We cannot wait to see what she does next.
Did we get our list right? Who should have honorable mentions? Let us know below!