When you're a broke college student, you sure get creative when it comes to looking good for less. All the girls in my dorm during my freshman and sophomore year of college swore by coconut oil but all for different reasons. It was then that I began first using it, first as a way to moisturize my skin and hair that became really dry from the hard water in Washington DC. Over the years, I've experimented and researched more ways to use this magnificent oil.
---
Coconut oil by far has been one of the most fascinating oils to take the natural health and beauty home remedy world by storm. If you're anything like me, you've also probably wondered how in the world did someone discover oil inside a coconut (everything seems to have some type of oil these days) and where the hell has coconut oil been my whole natural born life?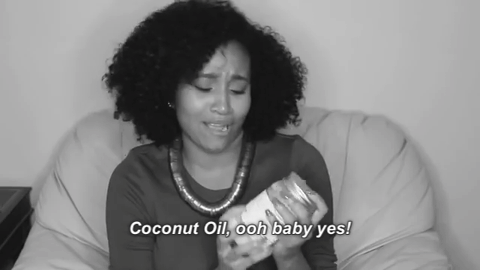 Though it's one of the more pricey oils that we obsess over, coconut oil will definitely give you a lot of bang for your buck considering it's vast number of uses.
Here's 21 ways to use the worlds fav new oil craze:
1. Use as a deep conditioner to repair damaged hair
How many times have you found yourself in the hair aisle in the beauty supply store trying to find a conditioner to bring your hair back to life? Have no fear coconut oil is here.
Tip: Coconut Oil tends to penetrate faster and deeper than most other conditioners. After shampooing your hair, apply heated liquified coconut oil to your hair, put on a shower cap or towel and leave it on your head for 30+ minutes. Shampoo your hair to fully remove all of the oil.
2. Fight the frizz
Usually frizz is not the look we're actually going for and boy can it be a headache to tame it.
Tip: To avoid post air dry frizz (especially for the naturalistas) smooth a little coconut oil through your hair either wet or dry to really give frizz a run for its money.
3. Heat Protectant
We all love to give our locks a nice press and/or curl every now and again but heat damage doesn't have to be the tradeoff for achieving these desired looks.
Tip: When using any heat tools on your hair, apply coconut oil first to your dry hair. Coconut oil compared to other oils doesn't smoke as fast as other oils when put to high temperature, so just imagine what it'll do for blocking out extreme heat on your tresses.
4. Added shine
Has your hair been a little on the dull side?
Tip: Just add a little coconut oil to your hair as needed to give a bit of a luster. No need to walk around with your hair looking sad and dry.
5. Detangler
Detangling hair can become such a task that you may consider cutting it all off. I know I've been there (multiple times a month)
Tip: You guessed it! Coconut Oil. Use this in place of your current detangler and your washdays may be transformed for life.
6. Eye Cream
As you get a little older and start to gain a puff or shadow here and there, you may think about investing in a eye cream. But sometimes that investment can carry a pretty penny.
Tip: Dab just a little under your eyes before completing your facial regimen and watch the puffs, lines and circles slowly diminish over time. REMINDER: The skin around the eyes is 40% thinner than the rest of your face so there is no need to layer on a bunch of coconut oil under the eyes.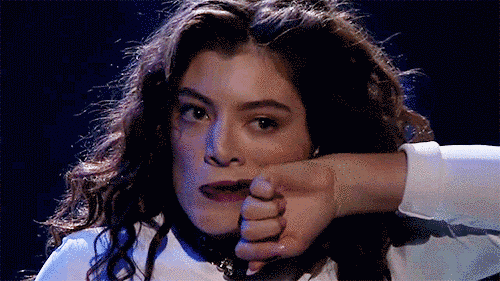 7. Makeup Remover (my personal fav)
Removing your beat face at the end of a long day is a very necessary yet dreadful way to end your day. Coconut oil makes it easier though.
Tip: When it's time to remove your makeup, massage a little coconut oil all your face (including eyes) for 30 seconds- 1 minute or until you feel like the makeup has really broken down. Soak a clean washcloth in warm-hot water and lay the cloth on your face to steam. When the cloth has cooled down, wipe away the coconut oil and proceed to wash. Take if from me, it also works on oily skin (the oil does not clog the pores)
8. Lip Balm (another one of my favs)
The obsession with lipsticks (especially matte) that most of us beauty enthusiast share and the weather combined can definitely take a toll on our precious lips.
Tip: Prep your lips for lipstick by applying just a tad bit of coconut oil before application. Also apply the coconut oil at nighttime before bed to wake up to supple soft lips in the AM.
9. Shave Cream
Shaving is also something necessary that us women don't really look forward to. Coconut oil has also got your back on this one!
Tip: While your skin is still damp, apply coconut to the area that you plan on shaving. The coconut oil will give you a smoother shave, fight razor bumps (coconut oil has antibacterial and antifungal properties) and will leave your skin nice and moisturized.
10. Night Time Moisturizer
Just as an eye cream, a good night cream could run you the price of one of your utility bills but thank GOD there's an alternative.
Tip: At night after doing the proper cleansing and toning, apply some coconut oil to your face and watch how it glows and feels moisturized the morning after.
11. Overnight Foot Mask/ Moisturizer
Dryness, cracks, scales…oh MY! We all don't have the time (and sometimes coins) to take a trip to the nail salon for a pedicure treatment every week. Here's how you survive in between trips.
Tip: After showering/bathing at night, apply coconut oil to damp feet. Wear socks for deeper penetration
12. Coconut Oil and Sugar Exfoliator
Exfoliation is one of those things that us gals frequently overlook, but layers and layers of dead skin (on the face and body) is what comes between us reaching our full fleeky skin potential.
Tip: The foundation of this DIY scrub is coconut oil and sugar but you can add fruit zests and essential oils as you see fit. See this DIY recipe
13. Natural Lotion
Moisturizing the body is necessary no matter what season it is or if you're showing some skin or not.
Tip: Use coconut oil in place of your lotion (or combined) and watch your skin transform over time.
14. Treat Cuts/Scratches
Ouch! Cuts can be a bit annoying and not so attractive if you ask me.
Tip: The anti-bacterial and anti-fungal properties of coconut oil will help your bumps and bruises heal even quicker.
15. Soothing Skin conditions
I'm talking anything from eczema to sore nipples, coconut oil can soothe it.
Tip: Apply coconut oil to the affected area and let the soothing begin.
16. Highlight
The highlighting and contouring craze is something that is more than likely to follow us into 2016 but let's put a little spin on it.
Tip: Carefully blend a dab of coconut oil on top of your makeup onto areas of the face that you'd like to highlight and ta da! You have highlighted on a whole other level. Be sure to carefully blend the coconut oil on top of you makeup, you don't want to smudge it. You can also do this on a bare face.
17. Chaffing
If you're anything like me, "thigh gap" for you is nonexistent and the chaffing gets real but as with everything else, coconut oil has your back.
Tip: Apply coconut oil to the area of the body that is prone to chaffing and bring on the comfort.
18. Hangnails & Cuticles
They can be both unsightly and painful but don't fret!
Tip: Applying coconut oil regularly to cuticles can prevent hangnails and strengthen the cuticle area of the nail.
19. Overall Nail Health
Most of us long for healthy nail growth but don't really know where to start to achieve it.
Tip: Regular application of coconut oil to the entire nail can help nails grow faster and kill any fungus that nails are prone to.
20. Cleaning Makeup brushes
Cleaning your makeup brushes is a must, always.
Tip: Massage liquified coconut oil onto makeup brushes to clean makeup out of brushes. Rinse with a gentle shampoo and/or water after. Lay flat to dry.
21. Cooking
I know what you're thinking. And no, coconut oil will not make all of your dishes taste like a Pina Colada.
Tip: From sautéing to baking, coconut oil can be used as an alternative to some of the less healthy oils that we tend to cook with. Buh bye butter and vegetable oil!
I'm absolutely in love with the COCO, coconut oil that is. Please share with us how this amazing oil has changed your life or at least made it a tad bit easier.