---
Let's be real. When we first score that fancy new job with the corner office (or the equally amazing cubicle), the last thing we're thinking about is updating our resume. After all, we plan to stay there forever right?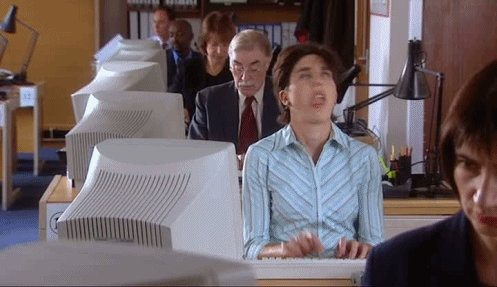 The truth is things happen. From promotions to layoffs, we're often on an employment rollercoaster ride that can have some unpredictable twists and turns, and the last thing you want to be is unprepared when the time comes for you to search for a new job or apply for a better one within your company.
One of the first things you should do when starting a new job (besides flipping through that textbook of a manual) is update your resume. Besides having an excuse to fill in a new job description on your LinkedIn page (meaning a lot of accolades will be coming your way), you just never know when you may need an updated copy to hand out somewhere down the line. It doesn't matter if you are applying for jobs outside of your company or within, you should always have an updated resume that documents your work history and skills.
[Tweet "Be proactive, not reactive."]
About a year ago during my MBA program, I had to submit my resume for a class assignment. Upon receiving the assignment, I realized that my resume wasn't updated and it didn't reflect all of the lateral promotions and bomb skills that I had gained within the past two-and-a-half years.
As a recent graduate that didn't job hop, I didn't have a lot of experience working for several companies. At my job, I had been laterally promoted, and with every change in position, I gained more work skills. Unfortunately, as experienced as I was, I still didn't know how to properly communicate and format that on my resume.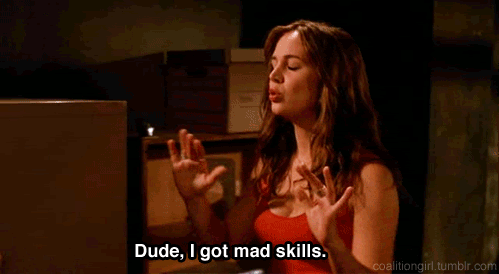 I searched online for resume formatting guidance, but surprisingly found nothing. To make a long story short, it wasn't until I talked with a career counselor at my school that I found a cool way to format my resume in a way that highlighted all of my work experience at my current company (since I have the most experience there). By using the tips the below, I was able to effectively update my resume, which helped me to land unsolicited interviews and attention from recruiters.
Check out the steps below for a quick guide on how to update your resume and highlight your diverse experience so that you are prepared when the opportunity knocks. #ThankMeLater
Step 1:
Format the header of your resume like you would do for any other standard resume. Center your full name at the top of the resume, and don't forget to include your phone number and professional email address (do not include ratchet email address names like lilmama09@gmail.com or thebaddest1@gmail.com). Remember to bold your name, and make the font size for your name slightly smaller than your email and phone number.
Step 2:
Write a simple, one sentence career objective, explaining what kind of career you are seeking and why, and how your skill set would be valuable to employees. Please note: you should never list the name of the company in the objective, and you should cater your objective to the job and industry that you are seeking.
Step 3:
Format the rest of your resume with the following headings: work experience, education, and honors. Please be sure to include enough space in between each heading, and use bold font for the headings.
Step 4:
Under the work experience heading, make sub headings by include each company that you have worked for and the location, and underneath that, your job title and date of employment. Next, include bullet points to highlight your experience and accomplishments for each position.
Step 5:
Repeat the same steps above to highlight diverse experience for other companies that you have worked for. Remember to make sure your formatting, font size, and font type is consistent!
Important note:
If you had multiple roles at a company, but didn't have high-level managerial roles, include the type of job as the job heading instead of the job title.
For example, if you were the Social Media Manager but also had a few roles in the recruiting department, format your experience like this: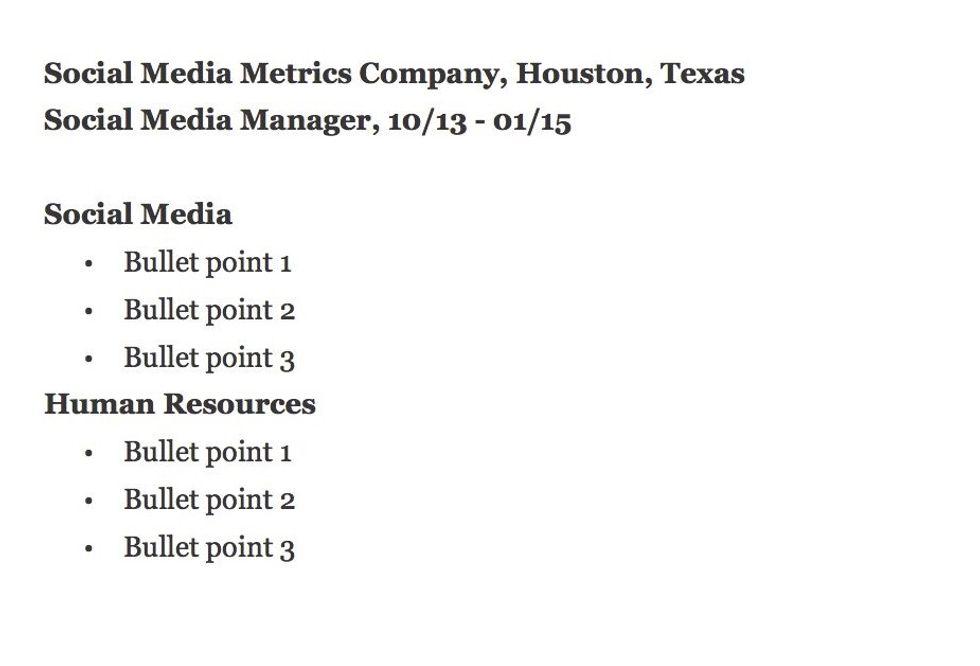 At all times, never downplay your experience or fail to keep your resume updated. Even if you have been at your same company for years, the multitude of experience and skills that you have gained will show the recruiter that you are high performer with an amazing work ethic. It will also show that you have company loyalty (which is very rare these days) and they will be impressed and will want you on their team.
Now that you have the basics, go forth and prosper!