If you thought Amber Rose was just talking a big game in the name of fame when she said she is here to end slut-shaming, think again. As of today, not only has the model and hot mama officially talked the talk, but she has officially walked the walk in the name of anti-slut shaming.
---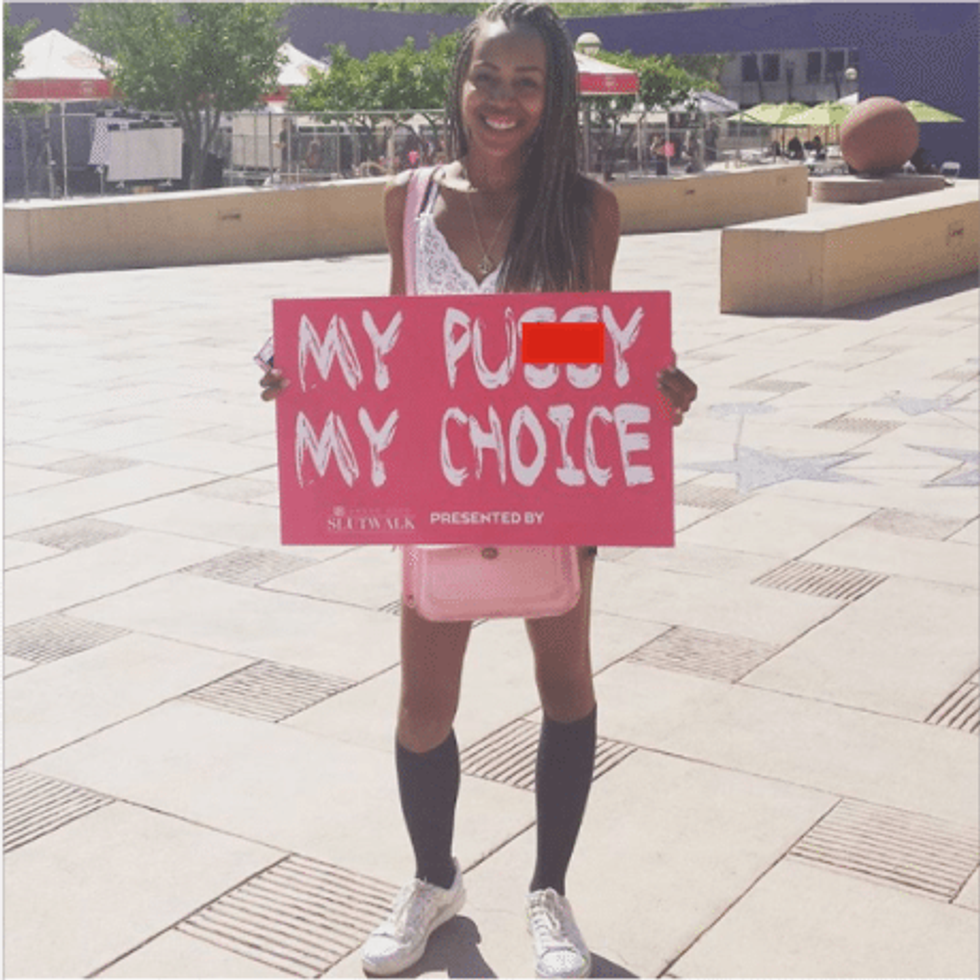 And she had thousands of supporters to back her up.
Today marked the highly-aniticapted debut of Amber Rose's "Slut Walk." Held in Downtown L.A. and lead by a sexy Amber serving all types of "the morning after," tease in black lingerie, the "Slut Walk," drew out thousands of women, who bore everything from bare breasts to signs with provocatively powerful PSA's written across them, such as: "My P*ssy, My Property," "Control Yourselves, Not Women" and "Hoes Can Say No."
Perhaps the baddest banner of them all though, was Amber Rose's mother, Dorothy Rose, who's poster board read: "F**k Yo 30 Showers," a direct response to rapper Kanye West's comments on The Breakfast Club earlier this year, where West said that prior to getting in a relationship with Kim Kardashian after his breakup with Amber Rose, he had to take "30 Showers."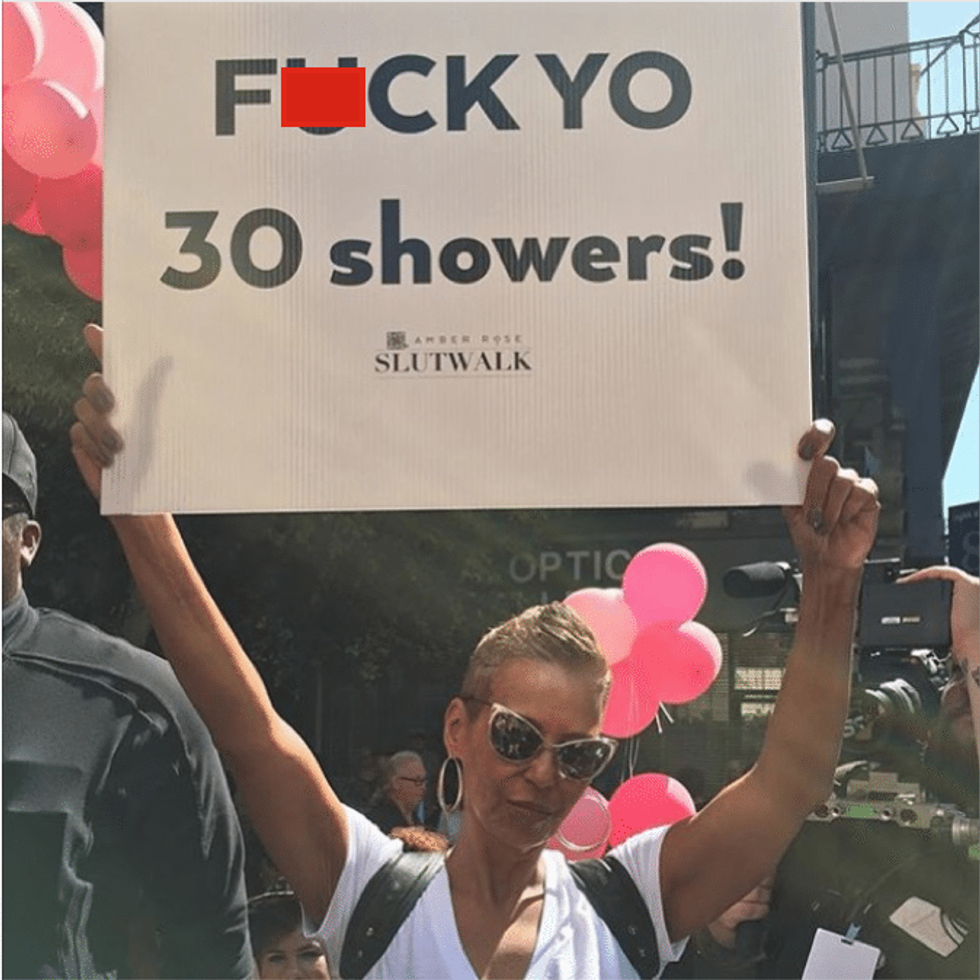 Clearly, eight months later, Mama Rose ain't forget!
The concept of the walk was first made popular four years ago after a police officer spoke at a campus-safety event and told a room full of college women that they should avoid dressing like "sluts" in order to repel rapists. Since then, the phenomenon of the walk has taken over the nation, with different cities in the U.S. and Canada hosting these walks annually. Amber's walk today was not only in honor of all women, but also trans-women and those in the gay community who have been subjected to homophobic slurs and discrimination, many of which Amber claims have effected her and her friends throughout the years.
In a recent interview with Cosmopolitan, Amber recounted her first time with having been slut-shamed, saying that she was only 14 and very much still a virgin:
"My earliest memory of slut shaming was when I was 14 years old. I was still a virgin. I made out with this boy. And it was at the time when, like, all of my girlfriends and the little boys in school, we just start doing Seven Minutes in Heaven and kissing and stuff in the closet. And I was in the closet with this boy, and we kind of had our first kiss or whatever. And he asked me to get down on my knees. And I was like, 'Why? For what?' Not thinking. I guess I kind of knew what oral sex was, but I never like thought I would ever do it at that time or [that he was] even insinuating that that's what he was talking about. And he was like, 'No, just get down on your knees.' And I'm like, 'Okay.' Get down on my knees. And he opens the door. And all of our friends were out there. All the boys, all my girlfriends from school and everyone. And I'm, like, on my knees and I'm looking, and everyone's laughing at me. He has his penis out. I didn't know.

And I went to school, and of course, they said that I was sucking dick in the closet, at 14 years old. And I wasn't. And that was really difficult for me because I was still a virgin, [not having sex] let alone performing oral sex in the closet. At such a young age, I didn't quite understand it. And I wanted to switch schools. I thought it was the end of the world. And it was very difficult for me, so as I got older, I guess I realized that things like that are just out of my hands. Like, I couldn't help it."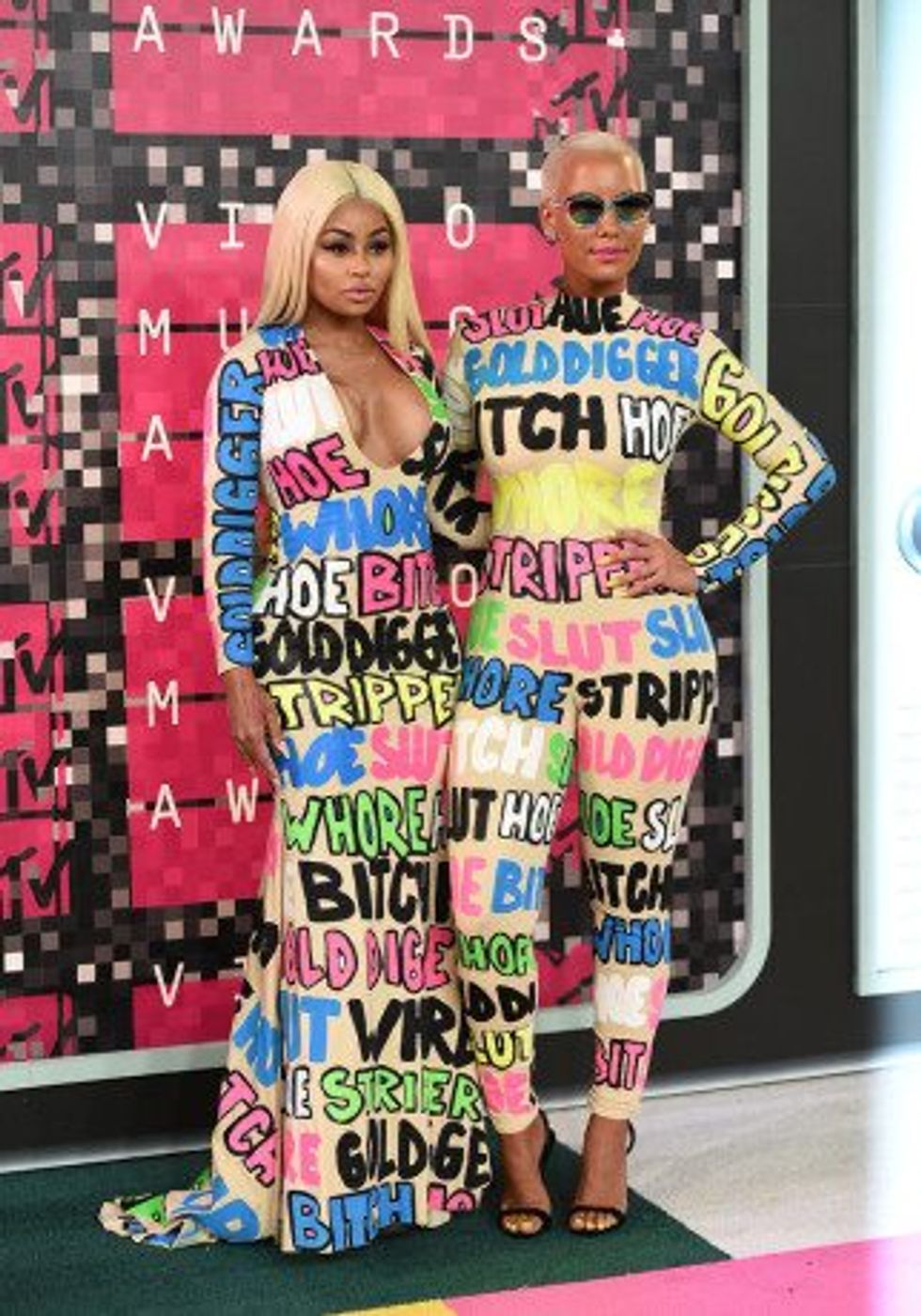 That's tough! The ex-stripper turned model and actress has been going hard to promote the walk for the past few months now. From rocking matching nude body-suits with bestfriend Blac Chyna at this year's VMA's with a slew of painted slurs scrolled across the fabric to dropping a hilarious promo-video via 'Funny or Die,' Rose played no games to spread awareness!
Amber even started a GoFundMe which successfully garnered over $50,000 to help raise proceeds for the walk, including gratuitous donations from the likes of manager Nick Cannon ($14,000) and rapper Nicki Minaj ($5,000), and other industry friends and supporters such as Neyo and blogger, Perez Hilton, making it clear that she is making no money from this event, and that the proceeds went towards organizing the walk.  And although she blasted a few celebrities for wanting to charge her a huge fee to make an appearance, one person who made sure to show their support was soulful singer Marsha Ambrosius who graced the crowd with a mini-concert.
Amber says she plans to bring the walk to a city near you soon, starting with her plans for her hometown Philadelphia, Miami and New York.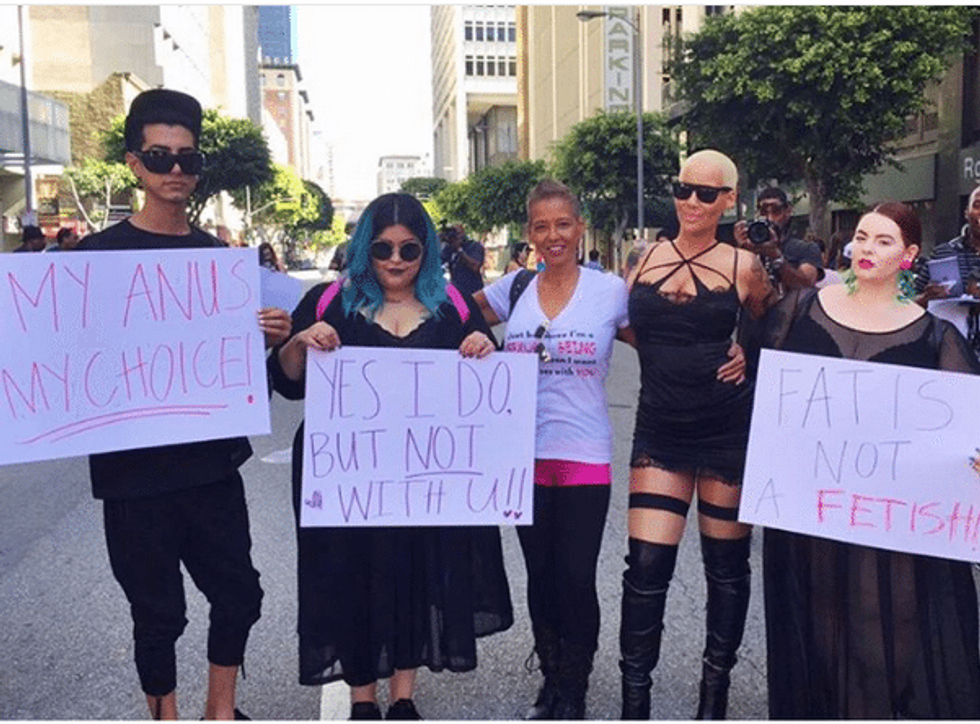 Plus-size model Tess Holliday supports Amber Rose's Slutwalk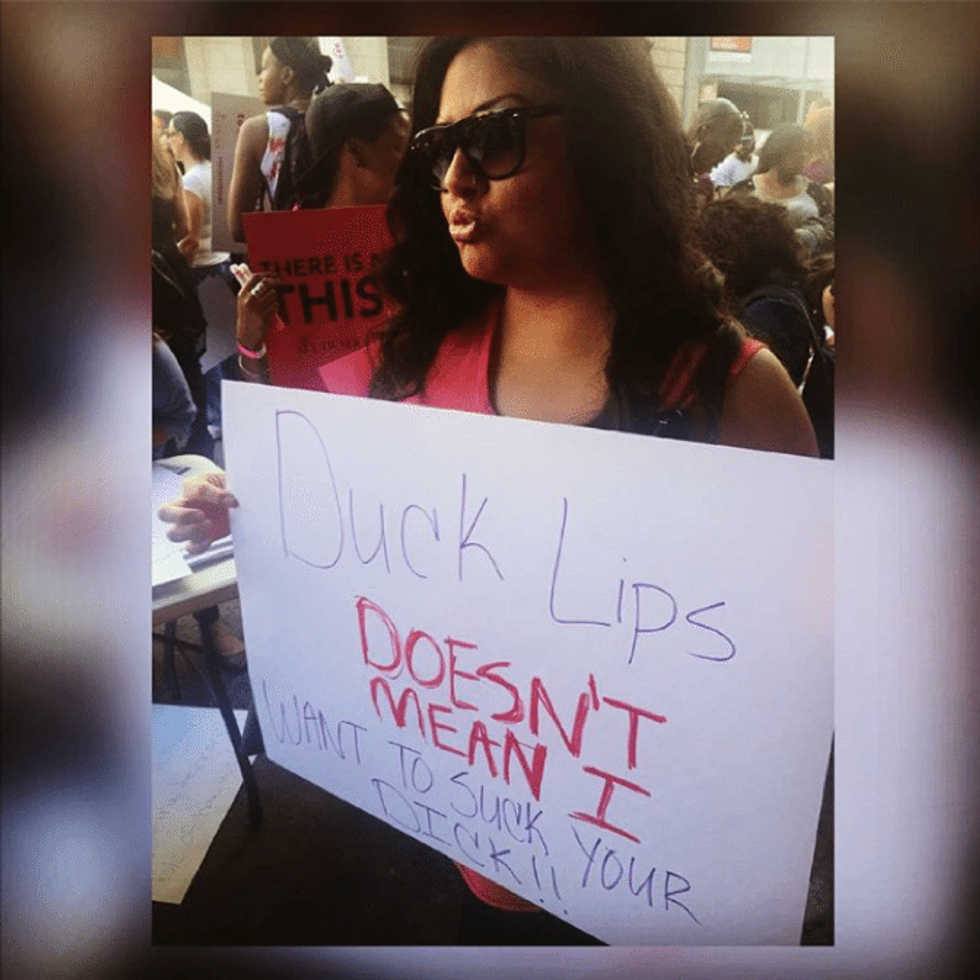 Supporter at the Amber Rose Slut Walk
What a way to "step" to the plate in the name of anti-slut shame.
Catch tons more powerful images and statements from Amber Rose's supporters in the gallery!