This post is sponsored by Cantu
For many of us when we decide to go natural, a lot of it has to do with the desire to have healthier hair. But as I quickly learned, just because we've transitioned from using relaxers, doesn't mean the mission is complete. Our natural hair is fragile and needs continuous nurturing and care to stay healthy and looking selfie-ready—easier said than done with my busy school schedule. For help I turned to my friends, family and the internet and discovered some tried and true moves for keeping my hair health on point. With these tips you don't have to sacrifice the health of your hair to slay!
1.Work Your Protective Styles
Sometimes less is more. By that I mean, let your hair rest. Over manipulating our hair weakens it over time and if you're not careful it just leads to breakage. Protective doesn't have to mean boring! I'm not big on weaves and wigs so my go-to protective styles usually involve some type of braids or twists. I keep it simple so I can do it myself. My go-to is a cute goddess braid type style. I get creative and accessorize with barrettes or a headband to spice it up a bit. With my hair texture I usually need a little extra hold to keep my style in place and flyaways down, so I spray them with the Cantu Coconut Oil Shine & Hold Mist, to ensure soft, moisturized, anti-frizzy hair with just enough hold.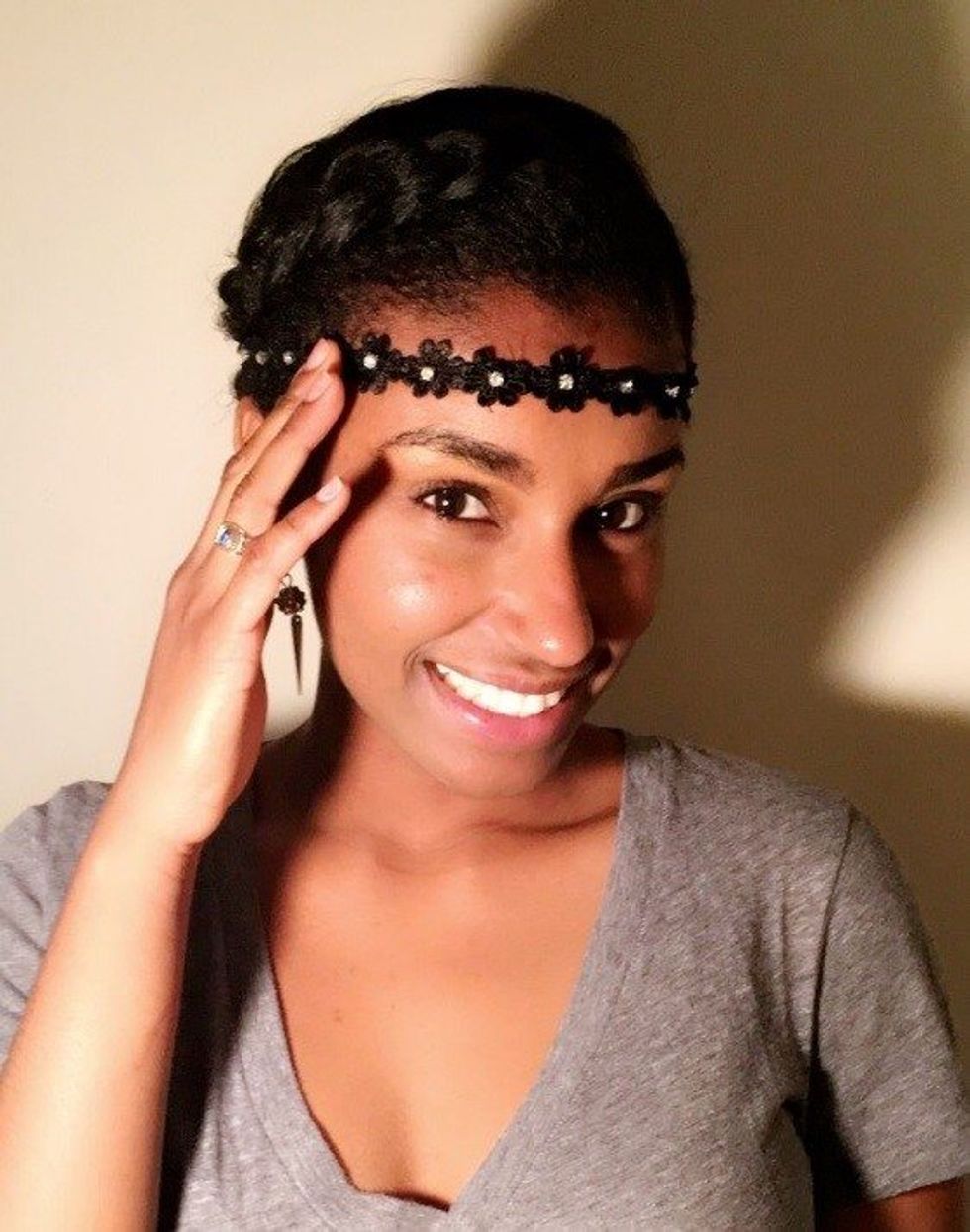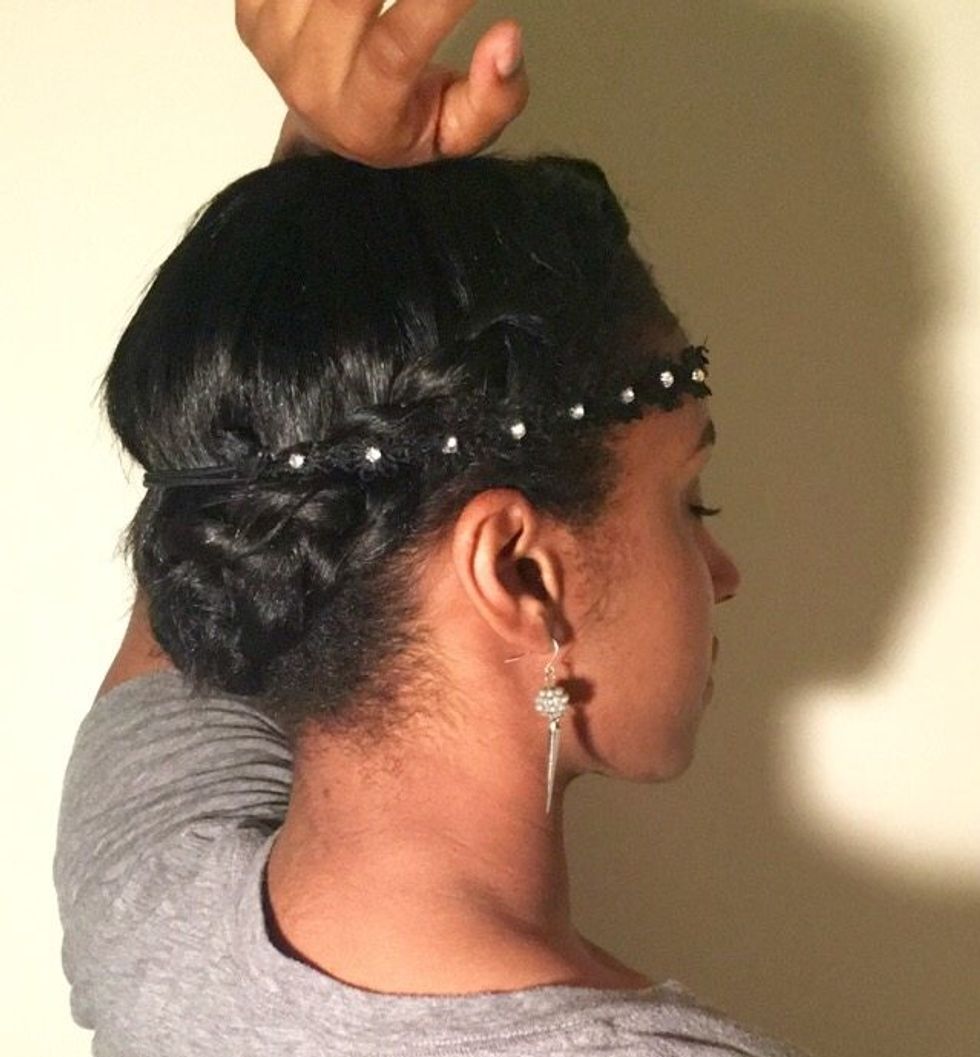 2. Brush & Comb Gently
Styling our hair can do more harm than good if we are not careful. Simply brushing and combing can cause damage--especially when we are detangling wet curls. I found paddle brushes work best on wet and dry hair. They "comb," style, and detangle all at once. For combing when detangling, stick to a wide-tooth comb and always use a detangler with a lot of slip like Cantu's Coil Calm Detangler to soften and make hair more manageable. Remember, before you comb or brush, separate the hair into sections. Working in small portions is like an extra dose of TLC and ensures that product is distributed evenly too.
3. Mind Your Edges
I know in a world of fleek, sleek, and slayed edges it's hard not to be tempted to turn to hard core brushes and not so healthy practices to get the job done. But over time this creates wear and tear and can ultimately lead to breakage and a hairline that you spend more time trying to camouflage than flaunt. Be sure to wrap your hair in a satin scarf or cap at night for extra protection. Use care when you style and use an edge gel that nourishes just as much as it lays those hairs down. Also, avoid drying formulas that contain alcohol. Cantu's Extra Hold Edge Stay Gel isn't harsh on the edges but keeps even the tightest coils sleek. Use a little or a lot, you control how slick you want to go.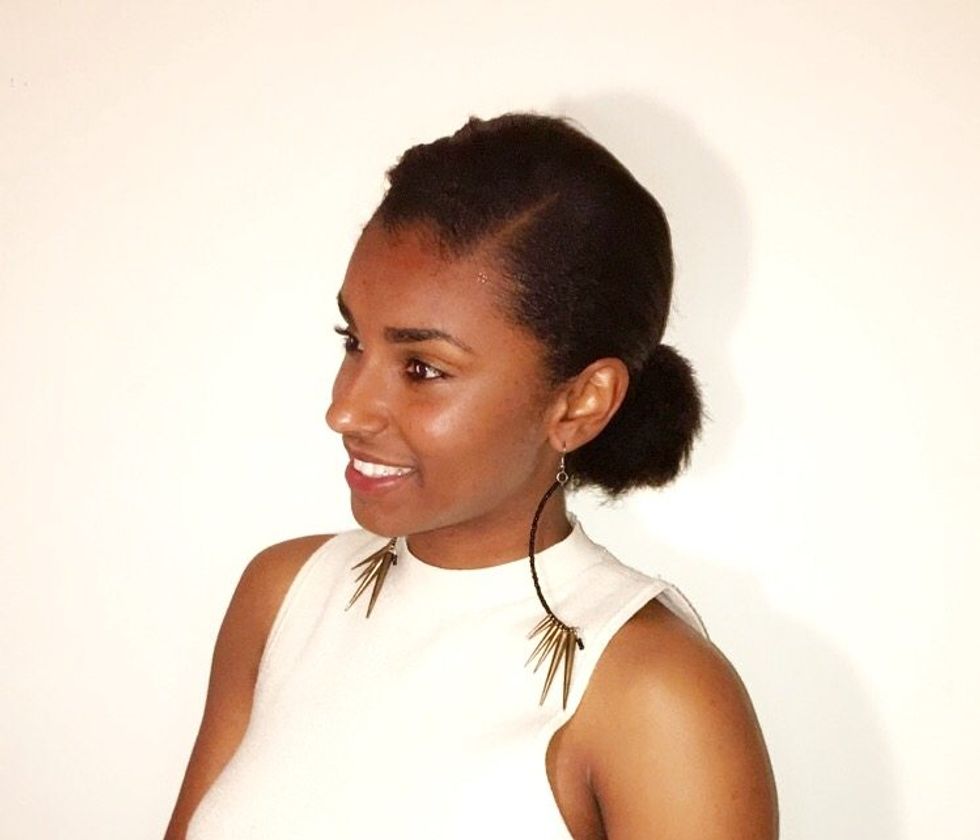 4. Take Your Vitamin D
If you find your hair shedding abnormally like I did you could have a deficiency of Vitamin D. Many of us don't get enough vitamin D in our diet. If you're anything like me and dislike the taste of milk to get your D, try almond milk, soy milk and even chewable Vitamin D candy (sounds gross but they're actually delicious) as substitutes. Vitamin D supplies your hair follicles with the proper nutrients for a normal hair growth cycle.
5. Tend to your ends
Don't forget to trim your ends! You may not have to trim as often as you did when you relaxed, but it is essential to get rid of dead ends if you want your hair to stay and look healthy and full. Wearing your hair in its natural state can cause your split ends to be hidden; straightening or blow-drying the hair can allow for a better view. When I find my hair splitting at the ends or sticking out between trims I apply a bit of olive oil for a quick fix and the Cantu Shea Butter Leave-In Conditioning Repair Cream for a genuine repair. If you want growth and healthy hair get a trim a minimum of at least every 12 weeks and try to stick to a regular trim schedule. It's also important to take steps daily to strengthen hair down to the tips. The Cantu Grow Strong Strengthening Treatment is quick and easy. You can massage in before styling or use it as an overnight treatment.
6. Condition like Crazy!
The key component to healthy hair is moisturizing. The way to get it, condition, condition, condition. I give myself a deep conditioning treatment at least once a month; more frequently depending on the state of my hair. I just separate into several sections to separate and apply. A good leave in conditioner is also essential because it hydrates beyond the wash. I simply apply and plait my hair. I plait my hair because it prevents tangling, shrinkage and also allows your styling to be done easier in the end. I recommend the Cantu Leave-in Conditioning Hair Repair Cream, (add a little more to the ends). The first ingredient listed is water which ensures moisture that won't weigh down the hair down.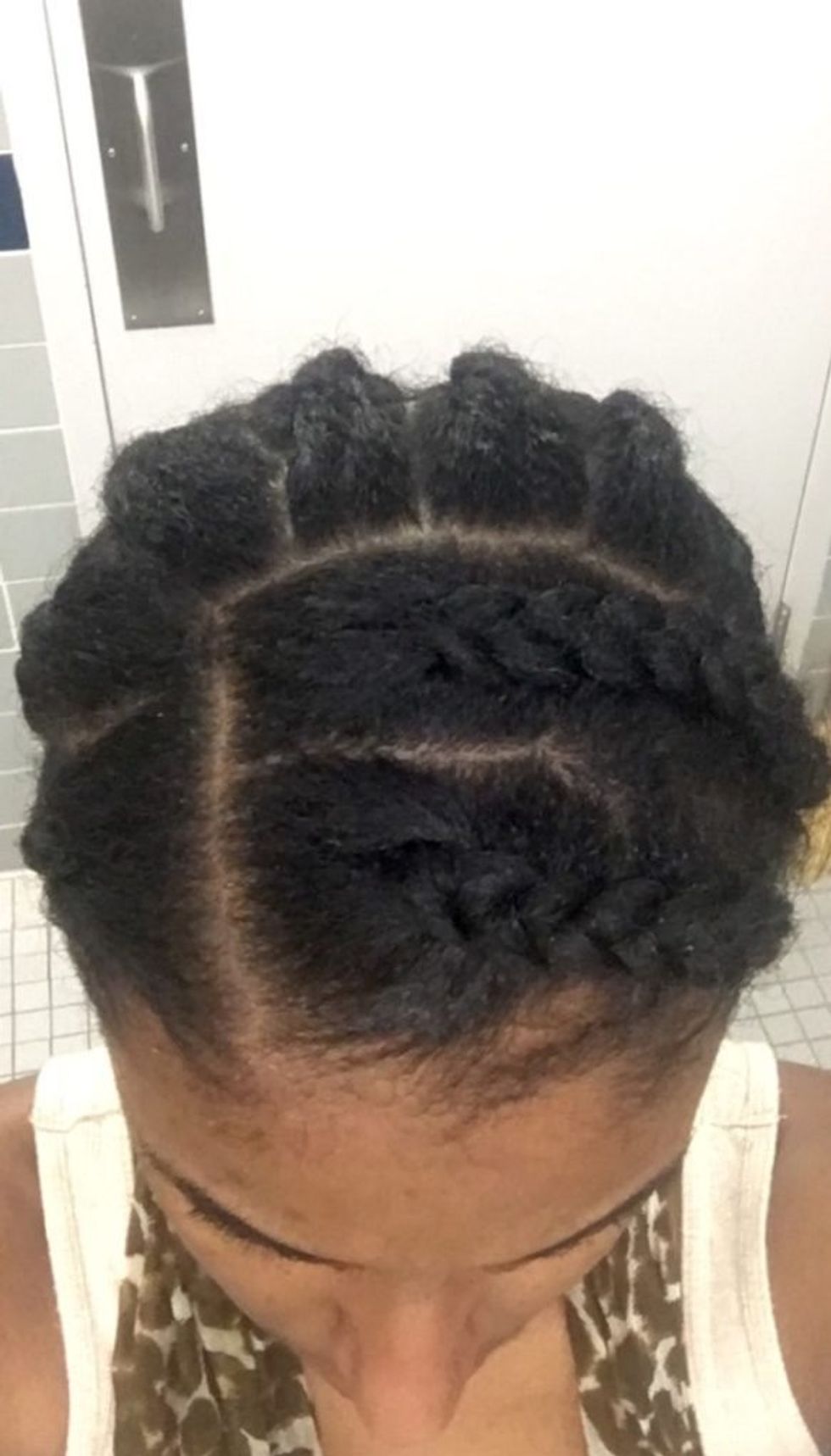 7. Go suds-free
Another move that has saved the health of my hair was changing how I wash it. It's no secret that typical shampoos can be harsh and dry out our already dry natural coils, so I eventually made the switch to sulfate-free formulas. After getting used to less suds, I knew I was doing something good for my hair. The Cantu Shea Butter Sulfate-Free Cleansing Cream Shampoo and the Cantu Shea Butter Sulfate-Free Hydrating Cream Conditioner are two great products to check out. The award winning sulfate-free formula generously cleans and purifies every inch. It's made with pure shea butter mixed in a way that will leave hair moisturized. Another tip: Whether you're washing your hair or co-washing always rinse with cold water! Why, you may ask? While warm water and steam in the shower opens up the hair follicles and allows the shampoo and conditioner to penetrate, rinsing with cold water seals the cuticle and locks in the moisture.
8. Cocktail your H2O
Water! You have to moisturize daily to keep hair from getting brittle and snapping off. When moisturizing the hair always begin with H20, our bodies and hair crave it! I sneak my water in with a DIY mixture. I mix equal parts water and conditioner together to create a hydrating mist and end with a protective lotion or oil. Or try the conditioning Cantu Hydrating Conditioning Leave-in Mist and then seal in all that moisture with the Cantu Dry Deny Gel Oil for a dynamic moisture-boosting duo.
9. Heat with care
Straightening is something many naturalistas avoid, but if you're one who cannot stay away from the heat, you can do it safely. One mistake I made was greasing the hair immediately before applying the flat iron. This is wrong and will literally fry your hair. For a safer way to go, spritz with a heat protectant like Cantu's Thermal Shield Heat Protectant. After applying on damp hair, move on to blow-drying. I hate snagging my hair when I blow dry so I learned through trial and error to comb through the hair first with Cantu's Coil Calm Detangler then I blow-dry by feeding the hair between the paddle brush and the blow-dryer. Keep the blow dryer a few inches away from your hair. You don't want to see smoke!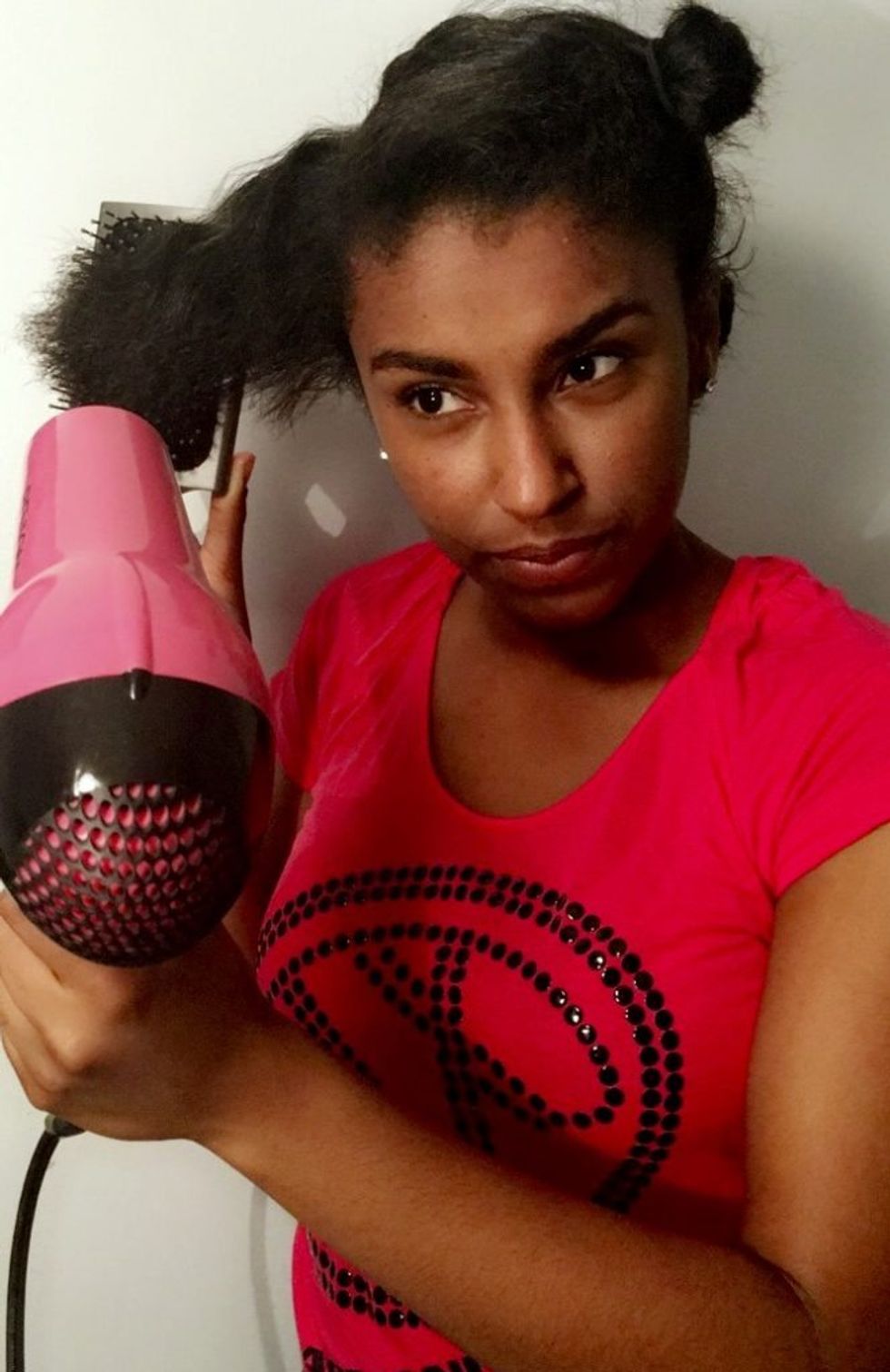 10. Switch it up
Our natural hair is so versatile! When it comes to the health of our hair, we can work that versatility to our advantage. Wearing your hair is the same style day after day, especially those that require bands or pulling, can cause hair to weaken and break. Switching our styles up, not only shows how fly natural hair is, but gives hair a chance to breath and alleviates any tension caused by repeated manipulation in the same spots.
Cantu celebrates living your best life…with your best hair! Learn more about Cantu products and bringing out your unique beauty at cantubeauty.com. @cantubeauty #MyCantu
---
Sianni Cabello is originally from Lorton, Virginia and is a rising senior at Hampton University majoring in Political Science. Follow her on Instagram at @siannijessica.